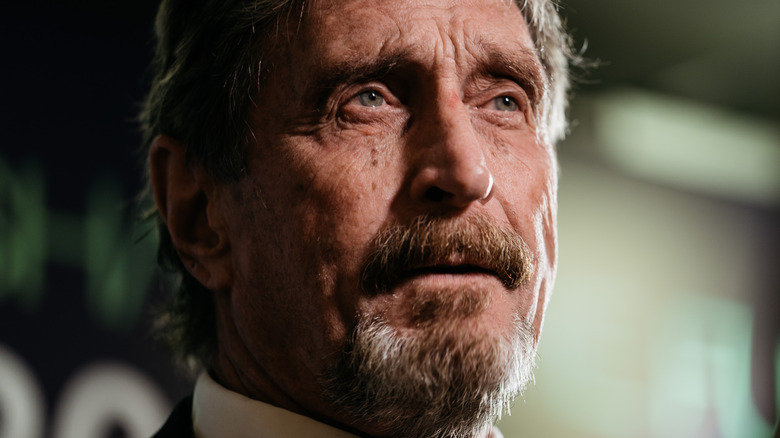 The following article includes mentions of suicide, domestic abuse, child abuse, substance use, and sexual assault allegations.
The late technology pioneer John McAfee was obsessed with — and perhaps even "paranoid" about — hackers. To thwart these threatening interlopers, he came up with ways to deal with them via cybersecurity methods, a new concept in the mid-1980s. As a result, McAfee turned into a household name when his ubiquitous anti-virus software struck gold, according to Rolling Stone.
After this invention took off and he earned tens of millions of dollars, McAfee proved he had genius qualities. However, the tech titan also admittedly exhibited some unhealthy habits he apparently needed to sow, some of which did not follow the law. When these alleged illegal escapades ultimately came to light, McAfee skedaddled out of the U.S. by jumping on his yacht and heading for the open seas. After many zigs and more zags, his life ultimately ended in a Barcelona, Spain jail cell on June 23, 2021, according to The New York Times. His death came as a result of hanging in an "apparent suicide," the New York Post reported, and an autopsy later confirmed this suspicion. McAfee was 75.
So, how did the highly-publicized tech guru end up so far away from California's Silicon Valley in the first place by the time of his death? Follow the highlights and lowlights of John McAfee's twisty tale below.
If you or anyone you know is having suicidal thoughts, please call the National Suicide Prevention Lifeline​ at​ 1-800-273-TALK (8255)​.
John McAfee was a dual citizen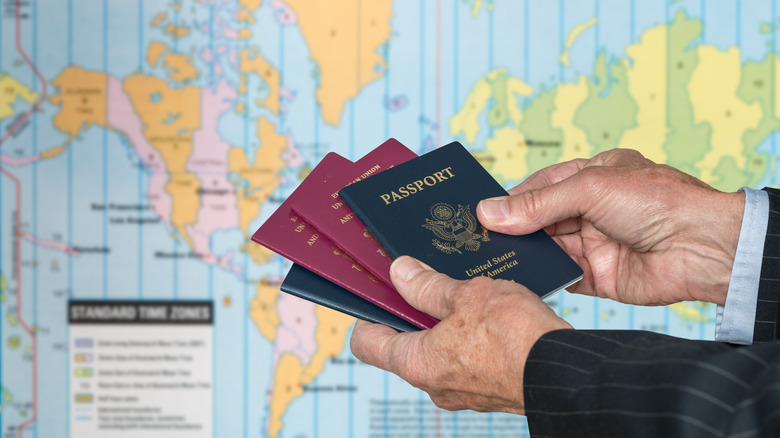 John McAfee wasn't always considered to be such a rebel. The son of a British woman named Joan Ellen Williams and an American soldier named Don McAfee, the future technology pioneer came into the world on an army base in Cinderford, Gloucestershire, England on September 14, 1945, according to the McAfee family tree. His parents found each other during World War II, when he dad was stationed in the UK. Later, when John was little, his family moved across the Atlantic, settling in Roanoke Valley in Virginia, the same state in which his father had been raised. But while in Virginia, his dad — who worked as a road surveyor — was reportedly not an easy guy to get along with. Per BBC News, Don McAfee was said to be vitriolic, abusive, and drank too much.
Despite these apparent problems at home, John excelled in school during his childhood. Meanwhile, the McAfee family also enjoyed dual citizenship, giving them the freedom to easily relocate from one country to the other. This became a handy treat for John McAfee, who would take full advantage of this privilege later in life, an example of which was when he boasted about his provenance on Twitter in 2019.
"I feel as much British as I do American," John told BBC News in 2013. "There's not much difference between our countries."
The entrepreneur's 'abusive' father died by suicide when he was a teen
Tech icon John McAfee's father, American Don Harold McAfee, was dubbed "an abusive alcoholic" by BBC News. Don was said to be heavy handed with his wife and son, often "beating" the future tech innovator "mercilessly," according to Meaww. "I didn't know why he did it," John later told Wired (via The Times). "I just knew a beating could happen any time." Per The Guardian, he also once said of his father's abuse, "Every relationship I have, every mistrust, he is the negotiator of that mistrust."
Don eventually shot himself and died by suicide in 1961. At the time of this father's death, John was 15. Coincidentally or not, the junior McAfee reportedly ended his life in nearly the same way on June 23, 2021. As if foretelling his future, McAfee tweeted out in October 2020, while serving time in a Spanish jail, "Know that if I hang myself, a la Epstein, it will be no fault of mine." He was comparing his potential death not to that of his father, but rather to that of Jeffrey Epstein, who hanged himself in a New York prison, where the multimillionaire was being held "on federal charges of sex-trafficking minors" (via Biography).
Not long after John McAfee died, his widow, Janice, asked Spanish authorities for "a thorough investigation" into his death, according to the AP, as she did not believe he was "suicidal."
If you or anyone you know is struggling with addiction issues, help is available. Visit the Substance Abuse and Mental Health Services Administration website or contact SAMHSA's National Helpline at 1-800-662-HELP (4357).
If you or someone you know may be the victim of child abuse, please contact the Childhelp National Child Abuse Hotline at 1-800-4-A-Child (1-800-422-4453) or contact their live chat services.
If you or anyone you know is having suicidal thoughts, please call the National Suicide Prevention Lifeline​ at​ 1-800-273-TALK (8255)​.
Professor John McAfee was 'fired' after having an affair with his student
John McAfee didn't go far from home when he sought higher education. He matriculated at Roanoke College in Virginia, where he apparently "discovered an ability to con people with a simple, direct approach, selling 'free' magazine subscriptions that required substantial payments for postage," asserts The Guardian. After earning his bachelor's degree, he continued his studies at Northeast Louisiana State College. There, he acted as a teaching assistant while working toward a PhD in mathematics. Unfortunately, that doctorate never came to pass, because young McAfee was reportedly "fired for sleeping with one of his students."
According to BBC News, this controversial mentor-mentee liaison directly led to the first of McAfee's three marriages. However, there's not much more to report on McAfee's wife No. 1, as even her name remains a mystery, but their marriage ended in the early '80s. His second wife's name was Judy, and in 1987, the former flight attendant assisted her husband in establishing his business, per The U.S. Sun. Years after their divorce, John McAfee married his third wife, Janice Dyson — but more on all that below.
John McAfee faced his demons in Silicon Valley
During the first decades of his career in tech, John McAfee unfortunately emulated his father by succumbing to an excess of drugs and alcohol, per BBC News. The younger McAfee began to indulge in substance use in college, and continued long afterward, with his cocaine addiction ultimately leading to his first wife and dog deserting him, according to "John McAfee's Last Stand" by Wired's Joshua Davis.
After that chapter closed, the computer software pioneer relocated to seek work in Silicon Valley, ultimately getting hired. However, McAfee later experienced "a breakdown at work," as The Guardian put it. That's when he joined Alcoholic Anonymous (AA). "It was 1984, the last time that I took drugs, drank alcohol or sold drugs for that matter," McAfee told BBC News in 2013. "I simply stopped … that was my last taste of that world." Following his entrance into AA, McAfee worked hard to tame his demons, but they were "still with" him, as he explained: "My body is covered with tattoos from that period. And I'm afraid some of my ideas and concepts and attitudes that were moulded during that time are still with me. That's why people think, perhaps, I'm a little bit off the wall."
"I've been called paranoid, schizophrenic, the wild child of Silicon Valley," McAfee told the outlet of the reputation this period earned him, but also noted his own view: "I'm an entrepreneur. I always have been. I am curious and I enjoy solving problems."
If you or anyone you know is struggling with addiction issues, help is available. Visit the Substance Abuse and Mental Health Services Administration website or contact SAMHSA's National Helpline at 1-800-662-HELP (4357).
What was John McAfee's net worth when he died?
A discrepancy exists regarding how much money John McAfee was worth at the height of his notoriety after his eponymous antivirus software and other inventions took off in the mid-1990s. Celebrity Net Worth states that, back then, the tech titan was estimated to be worth more than $100 million. However, as McAfee said himself (via ABC News), he had been worth "much more." Deadline is in agreement with that assessment, writing that the technology guru was "a billionaire after selling his self-named antivirus software company for $7.68 billion in 2011 to Intel," as well as by inventing other online gizmos.
As for his net worth at the time of his death a decade later? Celebrity Net Worth noted that he only had $4 million left over from his fortune by June 2021. However, his collaborator in an upcoming biography on the controversial entrepreneur, Mark Eglinton's "No Domain: The John McAfee Tapes," claimed to the Daily Mail that McAfee was "broke" at the time of his death. "The $100 million I got out of McAfee [Antivirus], that goes very quickly," McAfee reportedly told Eglinton.
In addition to those up-and-down money matters, when Tennessee's public officials applied for and gained a warrant for McAfee's arrest in late 2020, he allegedly owed more than $4 million in back taxes, per ABC News. By the time he was nabbed by authorities in Barcelona, the entrepreneur faced 30 years behind bars.
John McAfee had a novel idea for a PC anti-virus
So, how did John McAfee make his initial fortune? To start, he worked as a techie with a knack for coding for a slew of high-profile places — including NASA, Xerox, and General Electric – all while he admitted to doing drugs. "I had to hide [my drug use] from my mother and sometimes from my wife. But in the work environment — depending on where you worked — in some companies, drugs were taken openly at lunchtime in people's offices. It was a bizarre time," he told BBC News.
After getting a job with Lockheed, the programmer was granted security clearance, reports The Guardian. Possibly because of this promotion, McAfee became interested in the meaning of security in his field. He dug deep, coming across information on the Pakistani Brain computer virus. Intrigued, he sussed out "how the virus worked," using his genius to "[create] an antivirus that he gave away to users, hoping correctly that it would build a market to sell licenses to business," per The Guardian.
The idea that personal computers could possibly get infected was a new concept that caught on after McAfee launched his own company in 1987. His unusual marketing practices inspired computer users to try McAfee's invention, causing enormous growth as the PC industry grew, The Guardian reports. After that, the tech pioneer waited for the right moment to sell his money-making business for a fortune. Intel ultimately completed the purchase of McAfee Associates in 2011.
If you or anyone you know is struggling with addiction issues, help is available. Visit the Substance Abuse and Mental Health Services Administration website or contact SAMHSA's National Helpline at 1-800-662-HELP (4357).
What exactly happened to John McAfee's fortune?
John McAfee admittedly blew his fortune on stuff. Big stuff. He built over-the-top compounds, sure, but he also created a Zen yoga institute, bought dozens of antique cars, fostered a rehab center, and opened a flight school, reports The Guardian. And the entrepreneur put these infrastructures all over the place, from Texas to Hawaii.
McAfee particularly enjoyed his tiny airport-turned-training facility for light aircraft. The ultimate daredevil, he did what he dubbed "aerotrekking," otherwise known as "the art of low-level flying in which an airplane follows the contour of the ground." The tech guru and his fellow "adrenalin junkies" were way into this dangerous sport, since, as McAfee put it to Fast Company, "Success for me is, 'Can you wake up in the morning and feel like a 12-year-old?'"
But then, when the stock market crashed in 2008, so did McAfee — at least figuratively and financially. He ended up auctioning off nearly all of his possessions at a massive loss, states writer Mark Eglinton, McAfee's collaborator on his upcoming biography, "No Domain: The John McAfee Tapes," to the Daily Mail. McAfee then headed for the one place he still had ownership: Belize. Keep reading to find out what happened in the Central American country to this eccentric dual citizen who once acknowledged his reputation as "a mad man" (via ABC News' "20/20"). He added, "I don't follow the normal rules. You know, the drummer that leads me is an odd drummer, but I follow the sound."
Inside John McAfee's 'dangerous' time in Belize
John McAfee's Belize adventures reportedly included "assembling a harem of young women," per The Guardian, and allegedly getting into a deadly game with his expatriate neighbor. He systematically seemed to take over his new hometown, partially by presenting equipment to the local police, according to Showtime's "Gringo: The Dangerous Life of John McAfee" documentary. The reportedly "paranoid" McAfee also hired ex-cons as bodyguards, packed a gun and owned multiple others, was accused of cooking meth, admitted to using copious amounts of the drug known as bath salts, and later made it publicly known that he wasn't filing U.S. tax returns, states Reuters (via HuffPost). As The Guardian colorfully put it, "By 2012, McAfee was playing out Conrad's 'Heart of Darkness,' controlling the town, even ordering locals off the streets for curfew."
But let's not get ahead of ourselves. The tech titan initially settled in tranquil Ambergris Caye in 2009 and began looking for a way to create a natural antibiotic. He combed the Belizean jungles for plausible plant extracts, according to Gizmodo, and then took to his mainland lab to concoct his proposed medical miracle.
McAfee had help on this journey. He recruited microbiologist Allison Adonizio to work alongside him, per ABC News. She later mightily regretted this job when McAfee allegedly showed himself to be "unhinged." In "Gringo: The Dangerous Life of John McAfee," Adonizio claimed that McAfee drugged her with an orange juice concoction and then sexually assaulted her. "He went from zero to crazy in like two seconds," she claimed, before concluding, "He's dangerous."
If you or anyone you know has been a victim of sexual assault, help is available. Visit the Rape, Abuse & Incest National Network website or contact RAINN's National Helpline at 1-800-656-HOPE (4673).
To get out of trouble, John McAfee once faked a heart attack
Ultimately, John McAfee's alleged lifestyle in Belize got the best of him. Most infamously, he was accused of being involved in the murder of his American neighbor, Gregory Faull, in November 2012, which was said to have occurred after Faull supposedly poisoned the entrepreneur's ferocious pack of guard dogs, asserts Showtime's "Gringo: The Dangerous Life of John McAfee."
In order to avoid being questioned — and claiming he was being framed — by police, a disguised McAfee slipped out of Belize to nearby Guatemala. Per ABC News, he was there illegally and got caught … so he feigned a heart attack to avoid being taken into custody and was instead sent to the hospital. His request for asylum was ultimately denied, per CNN, but due to his magic act, McAfee had bought his lawyer enough time to get him deported to Miami. When safely on U.S. soil, McAfee admitted that his heart attack was "a ruse" to delay further unsavory actions, such as being sent to Belize for persecution by police.
"I have absolutely nothing to do with the murder in Belize," McAfee claimed at the time (via CNN), adding in reference to the aforementioned methamphetamine lab accusation, "This is not about a murder in Belize. This began on the 30th of April of last year when 42 armed soldiers stormed my property." While he was never formally charged and maintained his innocence, a judged awarded Faull's family over $25 million in a wrongful death suit against McAfee in 2019, which he refused to pay.
Inside John McAfee's third marriage
John McAfee had been married to Janice Dyson for eight years when he was found dead in his Barcelona jail cell in June 2021. The pair met in Miami, Florida not long after the tech giant was deported from Guatemala in December 2012. At the time, Dyson was working as a sex worker. McAfee encountered her at a local café and hired her for the remainder of that day, reports ABC News. Since McAfee was broke at the time, he paid for his time with Dyson with a big stack of cash (all in $5 bills) loaned to him from a buddy.
The duo clicked, and Dyson would go on to become McAfee's third wife. Although more than three decades younger than her famous husband (not to mention the fact that he was already on the lam), she didn't regret her decision to stay with McAfee and eventually wed the tech pioneer in 2013, according to Heavy. ABC News noted that McAfee was "disarmingly sweet" toward wife No. 3, while Dyson called her initial time with the complicated yet charismatic man "magical," per the Daily Mail. According to the outlet, the third Mrs. McAfee also revealed that he saved her "from a violent pimp and years of sex trafficking, allowing her to reconnect with her estranged son and rebuild her life."
When "20/20" visited the couple in 2017, they were living in a remote area of Tennessee — since McAfee was apparently "in constant fear of international plots and assassins" (via the Daily Mail), their lavish estate was filled with firearms.
He made a run for president of the United States … twice
In 2016, John McAfee pulled off a huge political stunt when he ran for U.S. president via the Libertarian party. He did not intend to win, but rather to be heard — and he was. In fact, McAfee earned a standing ovation following his speech during a televised event at the Libertarian National Convention in Orlando, Florida. However, he didn't get as many votes as the party's nominee, candidate Gary Johnson.
But then, in 2019 — while McAfee was living in exile on a boat close to Havana, Cuba, four years after he was arrested (and ultimately released) in Tennessee due in part to a DUI charge, according to CNN, and amid his ongoing problems with the IRS — he made another run for president of the United States. Again, he was vying for the 2020 spot by seeking the Libertarian nomination. His platform notably included an opposition to taxation, something he came up with after tweeting that he had admittedly not filed taxes for eight years.
Following his defeat in this second run for the presidency, which ultimately went to Joe Biden, that election became a non-matter to the complicated tech guru. In September 2020, McAfee shared on Twitter, "Who am I voting for? No-one [sic]. Why would I choose one person over another to control me? Slave masters are the same. We are numbers rather than people, irrespective of the master."
John McAfee played a worldwide game of cops and robbers
To escape the law in 2019, John and Janice McAfee got the heck out of Tennessee via yacht with a handful of hired hands. The boat was on course for the Caribbean, stopping in the Bahamas and Cuba, before mooring in the Dominican Republic, where the entire crew was held by authorities that July. Officials suspected that their ride was full of "high-caliber weapons, ammunition, and military gear," states ABC News.
After being released four days later, the McAfees fled to the UK. From there, they headed south, ending up at El Prat airport and were about to fly to Turkey. That's when, on October 5, 2020, the tech felon was arrested "at the behest of the United States," per Business Insider. The United States Department of Justice maintained that McAfee allegedly evaded taxes on the millions earned for consulting work, speaking assignments, cryptocurrency promotions, and for selling the rights to filmmakers who would make a documentary about his life.
According to Europa Press, John McAfee later said of his potential return to the U.S. (via the Independent), "If I am extradited, it is almost certain that I will spend the rest of my life in prison because the United States wants to use me as an example." Following nine months of incarceration in Barcelona, per Reuters (via U.S. News), and shortly before Spain could arrange his extradition to the United States, the legendary software entrepreneur was found dead in his jail cell.