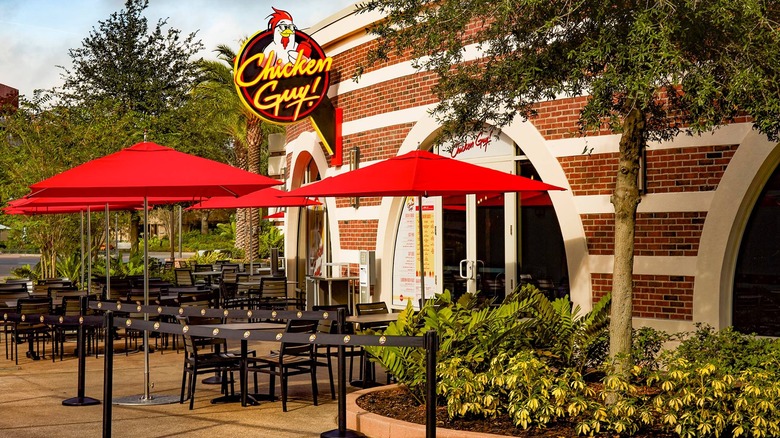 If you've been following Guy Fieri across America for the past 36 seasons of "Diner's, Drive-ins and Dives" then you know that the man knows good chicken. The self-proclaimed mayor of Flavortown has had more than his fair share of delicious, scratch-made fried chicken, in so many glorious forms, all across the country over the past 15 years. Now Fieri is putting his own funkalicious spin on fried chicken, with his most recent restaurant venture, Chicken Guy!.
According to Fieri, fried chicken is universally beloved. He told Food & Wine "every culture has got a fried chicken in one way or another. Everybody can get down with fried chicken." And that's what inspired him to open up Chicken Guy! in 2018. The small, casual chain is enthusiastically looking to rule the roost in a world where fried chicken is the hottest trend in fast food — with the help of Fieri's flare for funky flavors and his Food Network notoriety. Mashed has all the details. This is the truth about Guy Fieri's Chicken Guy!.
Guy Fieri's Chicken Guy! features chicken tenders with a twist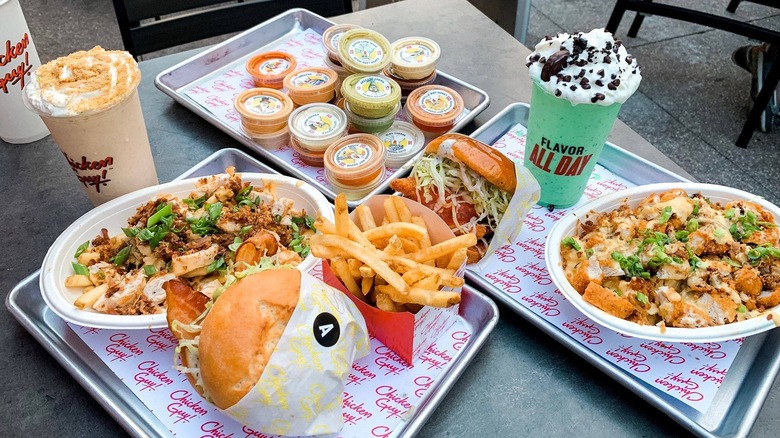 At Guy Fieri's Chicken Guy!, it's all about the tenders. The restaurant features a variety of meals, all featuring the chain's signature chicken tenders in various forms. Customers can keep it simple with basic chicken tenders — crispy fried or grilled — or go for a sandwich or salad combo. The sandwiches are made with two crispy tenders, and you can either customize them yourself or choose from one of the Chicken Guy! creations, like the Bourbon Brown Sugar BBQ sandwich, or the spicy Southwestern sandwich. The budding chain's salads also feature their signature tenders.
But there is more than just chicken at this new chicken joint. To complete your meal, the chain offers tasty sides like seasoned french fries, coleslaw, fried pickle chips with ranch dipping sauce, or Mac Daddy Mac 'N' Cheese. And if you're really trying to impress Guy Fieri, check out one of Chicken Guy's! huge, fully loaded, sharable sides — either fries or mac and cheese smothered in more cheese, chicken, bacon, and green onions.
Don't forget about dessert, either. Chicken Guy! also has a full menu of Flavortown shakes. You can get your classic favorite flavors, or check out their unique milkshake creations, like Triple Double Mint and Apple Cinnamon Cereal.
Guy Fieri's Chicken Guy! made its debut at Disney World
Anything with Guy Fieri's name attached to it is bound to make a splash. Fieri doesn't do things halfway, and he brings the funk wherever he goes. So it's not too much of a surprise that he decided to open up the first Chicken Guy! at "the most magical place on Earth." That's right, Chicken Guy! made its debut at Walt Disney World. Specifically, at the resort's Disney Springs complex near Orlando, Florida. The restaurant is situated in the heart of Disney's dining and shopping district, ready to lure in hungry tourists "with a whimsical design that will delight guests as they place their orders" as well as "innovative packaging that will make carrying out and enjoying food on the go fun and easy," per the chain's press release.
The Chicken Guy! doors first opened in August of 2018, complete with a ribbon-cutting ceremony attended by Guy Fieri as well as Mickey Mouse himself — not to mention tons of free chicken for the hundreds of fans who showed up for the grand opening event.
There are five Chicken Guy! locations, with more openings in the works
Three years after the grand opening of Chicken Guy!, the chain is continuing to grow. As of August 2021, there are currently five Chicken Guy! restaurants in four states. After the Disney Springs locations opened, another followed in Miami, Florida. There are also locations inside major sports stadiums in California and Maryland. And the newest Chicken Guy! restaurant recently opened up in downtown Nashville, Tennessee (via the Tennessean).
Chicken Guy! has no plans to stop there, though. The chain's website confirms that several new restaurants are "hatching soon," including one within the Mall of America in Bloomington, Minnesota as well as in Miami, Sunrise, and Winter Park, Florida. Additionally, other news reports confirm new stores are set to open in Knoxville, Johnson City, and Gatlinburg, Tennessee. And Las Vegas may be getting its own Chicken Guy! soon, too, bringing Guy Fieri's fried chicken dreams over to the West Coast (via Eater).
Guy Fieri's Chicken Guy! is a team effort
It's no question who Chicken Guy! is named for — the frost-tipped, Camaro-driving face of the brand — but Guy Fieri can't take all the credit for bringing Chicken Guy! to life. Fieri partnered with internationally renowned restaurateur Robert Earl for this latest food venture. Earl is most well-known for being the founder and chairman of Planet Hollywood. He also spent years in charge of Hard Rock Cafe, helping to grow the brand into the global presence it is today. So it's fair to guess that he and Fieri have big plans for the future of their chicken chain.
Earl and Fieri first worked together years ago on a menu collaboration at Planet Hollywood. And in Earl's words, "we got on like a house on fire." He told QSR that he and Fieri have kept in touch ever since. "We agreed to look for a business that we could seriously pursue together and we decided that the sector that most interested us was chicken." In fact, as Fieri tells it, Earl is the whole reason Chicken Guy! isn't actually Burger Guy. Fieri told Food & Wine that he initially approached Earl about a burger concept, but changed course at the restaurant mogul's sage advice that "the future is chicken."
The chicken at Chicken Guy! is made with a special, Guy Fieri-approved recipe
In a world where fried chicken is abundant across fast food chains, a brand has to work hard to create their own unique version that will stand out with every bite. Chicken Guy! does just that with a special recipe crafted with the help of Guy Fieri himself. The restaurant boasts that their "one-of-a-kind all-natural fresh chicken tenders" are first "brined in fresh lemon juice, pickle brine, and buttermilk" before being "hand-pounded to maximize crunch" and "infused with fresh herbs" resulting in juicy, crispy chicken tenders that "deliver on flavor and texture."
According to Fieri, the recipe is intended to take fast casual chicken to the next level, and it took a lot of work to get it right. He told the Florida Sun-Sentinel, "I've seen the good, the bad and the ugly in the world of chicken," and he was determined to create something that would win hearts and taste buds. "I think we're bringing more of a culinary sense to our chicken brine, the way we make our sauces, the frying, the breading we use," he said, adding "we spent two years really breaking this down with the chefs I worked with for tastings and adding to the flavor profiles. That's the real deal."
But it's really all about the sauce at Guy Fieri's Chicken Guy!
There's no mistaking what kind of meal you're in for at a place named Chicken Guy!. But the first thing you'll figure out when you visit is that it's really not about the chicken at all. The sauces are the real stars of the show. And that's by design. Guy Fieri and business partner Robert Earl decided to go all in on sauces to differentiate Chicken Guy! from the crowded field of fried chicken contenders. They say the huge selection makes things more fun and gives customers a reason to keep coming back. Earl told QSR, "it makes it a different experience every time."
And when we say huge selection, we mean it. There are a whopping 22 different sauces to choose from at Chicken Guy!, covering every flavor profile you can imagine. You've got classics like buttermilk ranch, honey mustard, and buffalo sauce. There's a range of spicy options to turn up the heat, from Nashville Hot Honey to Sweet Sriracha BBQ. There's also a selection of sauce concoctions known as "Guy! Favorites," which include things like Cumin Lime Mojo sauce, Curry Mayo, and of course, something known as Donkey Sauce.
Customers get two free sauces with every order. And if you don't know where to start, Thrillist tried out every single sauce and ranked the brand's signature Special Sauce — made with a secret seasoning blend — as the best one on the menu.
Keep your eye for the Sauce Slinger when you visit Chicken Guy!
If you're already feeling overwhelmed at the thought of 22 sauces to choose from, we get it. And the folks at Chicken Guy! do, too. They want customers to have a different, saucy experience each time they visit. So they've got a certified Sauce Slinger to help them out. And if you're suddenly picturing a gun-toting cowboy type with a holstered weapon … well you're not too far off actually. The Sauce Slingers at Chicken Guy! do wear a holster and it's filled with all kinds of different sauces for customers to try. The Slingers make their way around each Chicken Guy! restaurant offering guests samples of more unique sauces (via Insider).
So even if you can't help but order barbecue sauce and honey mustard every time, the Slinger makes it easier to try something out of your comfort zone, and possibly get wowed by a new (dare we say funkalicious?) flavor combo you might never have thought to dunk your chicken tenders into.
Serious sauce fans can join the Sauce Squad
For those out there who laugh and say "challenge accepted" in the face of 22 sauce selections, Chicken Guy! invites you to join the Sauce Squad. It's for only the most devoted of dipping sauce lovers. The brand calls it their "inner circle" and it comes with a major perk. Members of the Sauce Squad get two extra, complimentary sauces each time they visit the restaurant. That's on top of the two dipping sauces that already come with each meal, meaning squad members get four sauce choices with every meal. No more nail-biting decisions with every order, followed by wistful regret over the sauces not chosen. Try them all, and then try them again … the Sauce Squad makes it easy. It doesn't cost anything to join — members get their own Chicken Guy! card to activate and then simply show at the register to redeem their rewards. Chicken Guy! says "joining the Sauce Squad is a no brainer," and gets you "more bird for your buck, every time!"
Guy Fieri thinks his chicken can stand up against Chick-fil-A and Popeye's
To some, it might seem like a risky move to open up a fast casual chicken restaurant given that the fast food chicken wars are well underway. With well-established fast food giants like Chick-fil-A, Popeye's, Wendy's, and more already battling it out for our hearts and stomachs, perhaps there's no room for yet another contender. But to others, that reality might make it the perfect time to jump right into the fray and blow the world away with some superior chicken.
If you ask Guy Fieri, that's exactly what Chicken Guy! is here to do. Fieri and his business partner knew what they were getting into when deciding to open up a fried chicken joint, and they believe their recipe for tenders is a recipe for success (via Food & Wine). "I think we will be a contender, no pun intended," Fieri told the Florida Sun-Sentinel, adding "I've seen all the concepts that are out there. I know what people are doing. I think that we are not as well-known, yet, but I think the citizens of Flavortown will make a pretty big statement. And they already have." Of course, if you ask the folks at Chicken Guy!, they're just getting started. Fieri's partner Robert Earl told QSR "I definitely have visions of us being the Shake Shack of chicken. That's our aspiration."
Many reviewers agree Fieri nailed it with Chicken Guy!
When it comes to most dishes, especially ones that come fried in any fashion, you can pretty much take Guy Fieri's word for it on whether or not it's delicious. Of course, when it comes to Chicken Guy!, he may be a little bit biased. However, there are plenty of regular fried chicken-loving foodies out there who have given Chicken Guy! a try — and many are loving it. Several people commented on Reddit that they were "really impressed with the place," saying the "chicken is super fresh and it's affordable," and they "absolutely would recommend." Visitors to the Nashville location specifically said "the food and service is top notch," and called the experience "amazing" (via Yelp).
If you're heading to Disney World and want to check out the Chicken Guy! there, you're in for a treat. Several Disney bloggers have given the restaurant high marks. Disney Tourist Blog says "Chicken Guy nails the tenders … the breading is mildly seasoned, conservatively applied, and perfectly crisp. The chicken underneath is juicy and flavorful, cooked to perfection." Not surprisingly, they added that "it was the Signature Sauces that really put these chicken tenders over the top… literally every single one of these was delicious." The Disney Food Blog review of the food says there's something to make everyone happy at Chicken Guy, calling it "a good option for big families with picky eaters and the adventurous eater who wants to experiment."
Chicken Guy! drive-thrus could be coming your way in the future
Chicken Guy! sits squarely in the realm of fast food and fast casual dining, making it a prime contender for chicken domination across the U.S. Customers can expect relatively quick service, hot and fresh food, and a relaxed environment. In fact, there's really nothing separating Chicken Guy! from its biggest competitors in terms of food and service except for one thing — a drive-thru window. But luckily for Chicken Guy!, that might be changing soon.
One of the newest locations, set to open any day now in Winter Park, Florida, will reportedly have a drive-thru and other features that let customers get their chicken even faster. QSR reports that besides indoor seating and a drive-thru window, the location will also feature some outdoor tables as well as dedicated space in the parking lot for third-party food delivery services and curbside pickup orders. It will be the first corporate-owned, free-standing location to test out a drive-thru concept for the brand. And if things go well, then it certainly won't be the last. Chicken Guy! co-founder Robert Earl told the Orlando Business Journal, "​​once we have the success we are optimistic about, expect a much more rapid rollout" of drive-thru locations.
You could compete for a chance to win your own Chicken Guy! franchise
Chicken Guy! wants to spread its wings far and wide, and that means franchising opportunities are readily available for enterprising chicken lovers who want to get in on the action. But before you put all your eggs in one basket (are we going too far?), it's worth noting that opening up a franchise restaurant can be very expensive. According to Franchise Grade, you need $20,000 upfront to open a Chicken Guy restaurant, and the overall investment can be somewhere close to $1 million.
But don't let that ruffle your feathers too much (okay, we'll try to stop now). Guy Fieri is currently looking to give away a franchise to one lucky winner. And what do they have to win? A cooking competition, of course. According to the Disney news site Chip and Co. Fieri is looking for six contestants with a background in food to go head to head for a chance to own their own Chicken Guy! restaurant. There aren't many details available about what the competition entails, but if you think you're up for it, you can apply online right now through JS Casting for your shot at a winner-winner chicken dinner (and … we're done).