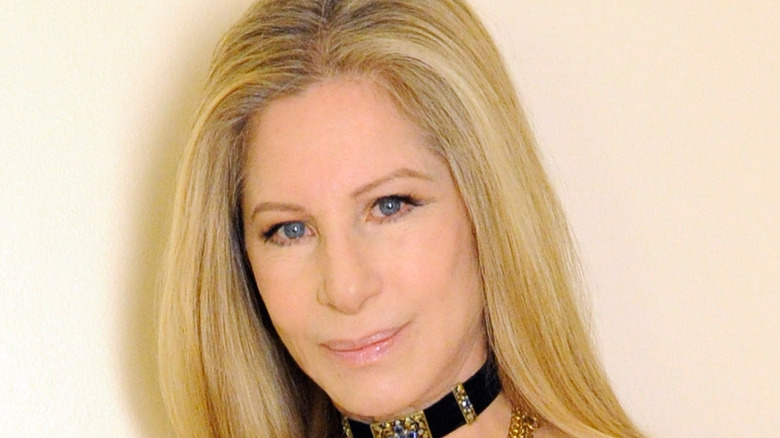 Barbra Streisand was always destined to be a huge star. She knew she had "the voice," as Oprah Winfrey once called it, when she was as young as 5 or 6, and she went on to star in multiple Broadway shows and movies, as well as direct, produce, and write. In addition to reprising her stage role of Fanny Brice in the 1968 film adaptation of "Funny Girl," Streisand has worked on such huge film projects as the 1976 "A Star Is Born" remake and 1983's "Yentl," has released a jaw-dropping number of albums, culminating with "Walls" in 2018 (at least, at the time of this writing), and has long enjoyed one of the most loyal fanbases in the world. Not to mention, Streisand and husband James Brolin have boasted one of Hollywood's most enduring marriages since 1998.
Basically? On paper, it seems as though Barbra Streisand has it all. But while she's nothing short of a legend, the path to success (and happiness) has been far from easy for the multi-talented star. She came from humble beginnings, and tragedy struck her family when she was still a baby. From there, the singer-actor has overcome many obstacles in both her professional and personal lives — and often reflects on these obstacles in high-profile interviews, speaking candidly about her identity, career, family, and relationships.
Here are some of the more difficult life events that have made Barbra Streisand who she is today.
Barbra Streisand's dad died when she was a year old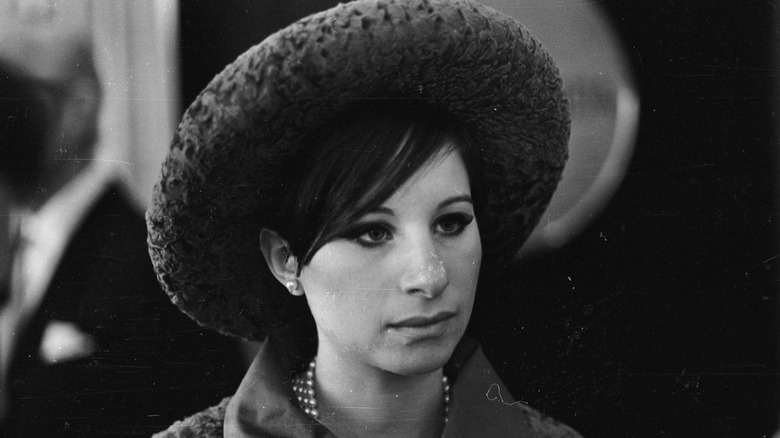 Barbra Streisand's scholarly father, Emanuel Streisand, died at just 35 years old, when the future star was 15 months old. For a long time, Barbra's mother, Diana, told her and her brother, Sheldon, that Emanuel had died from working too much, which led to a cerebral hemorrhage. In reality, he suffered "respiratory failure probably induced when morphine was injected into his neck to halt an epileptic fit," according to People.
Emanuel's untimely death understandably left a gaping hole in Barbra and her family's lives. "I always felt I never had a father," she told People in 1983. "There wasn't even a picture of us together. Only his books down in the cellar, tied up with string." This fact made Barbra Streisand stand out among her peers.
"I was known as the kid who had a good voice and no father," she once explained to Oprah Winfrey. But just because Emanuel wasn't physically present throughout his famous daughter's life doesn't mean he didn't influence her. Revealing to Winfrey that she visited a medium, who claimed to be able to "call up" their father, on her brother's suggestion, Streisand said, "For 39 years, I hadn't even visited my father's grave. So first, I went there and took a picture with my arm around his tombstone. It's the only picture I have with him. Then we met with the woman, and let me tell you, the table moved." Feeling "totally connected" to her father, the experience led Streisand to take the plunge and direct her movie, "Yentl."
Her mom became distant after the death of Barbra Streisand's father
After her husband died, Diana Streisand Kind — Barbra Streisand's mom — pretty much checked out from her family. "Emotionally my mother left me at the same time — she was in her own trauma," Barbra told People. Speaking to the Daily Mail, she further described her mother's mental health by saying, "Prozac dulls your senses. When my mother was on it she forgot to be angry. She had dementia as well and she forgot that she was always very angry, but that pill really helped."
Still, Barbra doesn't resent her mother, who she understands was unhappy. "I think there are parents who don't really like themselves," she said to the Daily Mail. "They don't like their offspring either. My mother meant well. And she never hugged me or said, 'I love you.' I'm more of a toucher than my mother." Instead of being overtly affectionate, Diana used food to establish a connection with her daughter. As "The Way We Were" star explained to Oprah Winfrey, "For her, love was food. When I graduated early from high school and moved out of the house at 16 to study acting, she would schlep to my place to bring me half a cantaloupe and some chicken soup."
Diana Streisand Kind died in 2002 at the age of 93 in Los Angeles, according to the AP. At the time, Barbra Streisand's publicist stated, "The daughter of a cantor, she had a beautiful singing voice, a legacy passed on to her daughters."
If you or someone you know is struggling with mental health, please contact the Crisis Text Line by texting HOME to 741741, call the National Alliance on Mental Illness helpline at 1-800-950-NAMI (6264), or visit the National Institute of Mental Health website.
Barbra Streisand grew up poor
After her father died, Barbra Streisand went to live in her maternal grandparents' too-small Brooklyn apartment with her mother, Diana, and her older brother, Sheldon, according to People. "My grandmother and grandfather slept in one room, and my mother and I slept in another with my brother sleeping next to us on a cot," Streisand explained to Oprah Winfrey. "We didn't have a living room, so we didn't have a couch, which is probably why I love couches now."
Speaking to People, Streisand further stated, "I never had a bedroom to myself until I was 16." It's hard to imagine that this is the same person who now lives in her absolute "dream house" in Malibu, per Harper's Bazaar. And although young Streisand's living conditions weren't ideal, she still speaks fondly of her Brooklyn origins. "Brooklyn to me means the Loew's Kings, Erasmus, the yeshiva I went to, the Dodgers, Prospect Park, great Chinese food," she said in a statement before a 2012 homecoming concert in the borough (via The New York Times). "I'm so glad I came from Brooklyn — it's down to earth. I guess you can come home again."
Her grandparents' apartment on Pulaski Street was also where Barbra Streisand first discovered she could sing.
Her stepdad was 'really mean' to her
Barbra Streisand's mother, Diana, remarried when the star was seven years old, apparently without warning. "My mother never actually told me she had remarried," the "Funny Girl" actor told Oprah Winfrey. "And later, she didn't tell me she was pregnant, either. I'm convinced this is why I cannot stand to be lied to. I can take any truth; just don't lie to me."
Not only was the arrival of this new stepfather, Lou Kind, into the Streisands' life totally unexpected, but he apparently also actively disliked young Barbra, in spite of her best efforts to be accepted by him. "I tried to make him like me for a while," she explained to Winfrey. "I tried calling him Dad and got him his slippers at night when he came in. I'd get down on my belly and crawl so I didn't walk in front of the TV while he watched wrestling. But did he like me? No way."
Streisand's brother, Sheldon, echoed this sentiment. "He was really mean to Barbara," he told People, going on to describe how Kind often pitted Barbra (then Barbara) against her half-sister, Roslyn, who was born from her mother's second marriage. "He taunted her continually, telling her how plain she was compared to Roslyn."
Barbra Streisand's mom discouraged her from pursuing a creative career
Barbra Streisand was undeniably talented even at a young age, and she wanted to be an actor. But her mother, Diana, had other plans for the future star, wanting her to become a secretary instead, according to People, explaining that she wished for Barbra to have security in her life, rather than the uncertainty of show business. "She didn't encourage me to become an actress — maybe she didn't want me to experience rejection," the "Yentl" star told Oprah Winfrey. "She never thought I would make it."
But as Barbra Streisand learned later on, her mother's reluctance to her creative career aspirations was deeper than that: she was apparently jealous of her success. "I remember one Christmas when I was doing 'Funny Girl,' she went nuts," Streisand recalled while speaking to Winfrey. "With tears running down her face, she closed her eyes and said, 'Why is Barbra getting all the presents? Where are my presents?' That's when I realized she wanted to be famous, too."
Speaking to the Daily Mail in 2018, Streisand revealed that she had forgiven her mother for her shortcomings. "She had dreams of her own and she wanted to be a singer," she said. "She was jealous, and that was staggering for me to learn."
Her love life hasn't always been easy
Barbra Streisand's love life was never straightforward until she met her husband of over 20 years, actor James Brolin. Previously married to actor Elliot Gould between 1963 and 1971, Streisand and her first husband had a son together named Jason, but the relationship wasn't meant to last. Speaking to People, Gould explained that Streisand had asked him why they had drifted apart. "And the answer to that is that we didn't grow together and the reason for that was because she became more important than us," he revealed. "Then I also said to her, 'We did great. We made it very fast and nobody has what we have. There's you and me and our kid.'"
Streisand also dated other high-profile people, including former Canadian Prime Minister Pierre Trudeau and Jon Peters, a hairdresser and producer. Her relationship with the latter was pretty tumultuous, if we can trust the words of a former colleague who spoke to People. "He's a predator," they claimed. "Sharp, imaginative and vulgar. But he's been important to Barbra because he's said no to her. They fought like tigers. Most of the time they lived on an adrenaline high." They both allegedly resorted to violence toward each other throughout their relationship, which ended when Streisand went to England to film "Yentl."
Lastly, though Streisand's relationship with Brolin has been mostly positive and happy, the couple isn't immune to some pretty nasty rumors, like a misleading National Enquirer piece that falsely suggested Brolin had cheated on his wife (via Gossip Cop).
People were always telling Barbra Streisand to 'fix' her nose
Barbra Streisand's nose is almost as famous as she is, but people haven't always been kind about this distinctive feature of hers. "At the beginning of my career, I kept hearing, 'Why don't you fix your nose?'" Streisand told Refinery29. The (palpably anti-Semitic) subtext was that it made her look "too Jewish," the principle of which the actor and singer doesn't understand. "Jewish people can have all sorts of noses," she added. "I happen to like my nose, and I'm proud of my Jewish identity."
There seem to have been times when Streisand considered modifying her nose to fit the beauty standards of the time, but she was too scared. "As for my nose, I was afraid of the pain," she told Oprah Winfrey, referring to plastic surgery. "And how could I trust a doctor's aesthetic sense? How would I know he wouldn't take too much off?"
In the end, it was all for the best, and Streisand wouldn't change a thing about her nose, bump and all. "From certain angles, I liked my nose — still do," the star said to Winfrey. "Some people would tell me, 'You could take the bump off.' And I would say, 'But I like the bump.'" (We do, too, Babs!)
Barbra Streisand has suffered from terrible stage fright
During a "Carpool Karaoke" segment on "The Late Late Show" in 2018, host James Corden pointed out that Barbra Streisand didn't perform at one point for 27 years due to stage fright and asked if she still gets nervous these days. "I don't get nervous-nervous, but I don't enjoy it," she said. "… I get scared. I just don't want to disappoint people." The star has a foolproof method to soothe herself before a big show: She tells herself, "Let go and let God." Wow, we might have to try that one out.
Streisand has found something else that helps her overcome her terrible stage fright. "One reason I can perform now is that they have pills for stage fright," she explained to Oprah Winfrey. "I wish somebody had told me about these pills years ago." It also very much depends on where she's performing — and some situations are more conducive than others. "I can sing before a full stadium because it's like looking into a black hole," Streisand added. "I can't perform in front of a few people in a living room."
The multi-Grammy Award winner went on to describe a time when she was with Donna Karan and Liza Minnelli, and the latter was able to sing right then and there — leaving Streisand to wonder how she could be so comfortable doing that. "In a black hole — a theater — I can escape into my own little world," Streisand noted.
She has often been accused of being 'bossy and demanding'
Over the years — and whether justified or not — Barbra Streisand has built up a reputation as a diva, being called "bossy and demanding," according to the Harvard Business Review. But the iconic actor-singer-director has a serious bone to pick with those terms, which she powerfully denounces as pretty obviously sexist. Noting that men would never be called those things, Streisand added, "I addressed this double standard in a speech years ago when I said, 'A man is commanding; a woman is demanding. A man is forceful; a woman is pushy. He's assertive; she's aggressive. He strategizes; she manipulates. He shows leadership; she's controlling. He's committed; she's obsessed. He's persevering; she's relentless. A man is a perfectionist; a woman is a pain in the a**.'"
Streisand has also seen many ill-intentioned people wanting her to fail in the industry — which she thinks is why some of them might invent such wild rumors about her. "One story was that I walk into a room full of musicians, and if a guy plays the wrong note, I fire him," she told Oprah Winfrey. "It's all just diva crap. I'm a normal person. Why would I fire a musician because he played the wrong note? If I sing the wrong note, do I get fired? It's absurd."
We have to say, it's hard to disagree with that logic.
Barbra Streisand has experienced tons of sexism throughout her career
In addition to dealing with those negative "diva" rumors, when asked by the Harvard Business Review in 2012 if she felt there was less sexism in Hollywood now than when she first started out back in the 1960s, Barbra Streisand gave a pretty depressing answer.
"Frankly, I'm not sure how much has changed," she admitted. "Women aren't paid as much as men, and it's still difficult to get films made. Making 'Yentl' in England was wonderful, because they were used to seeing women in powerful positions — with the Queen as the head of state and Margaret Thatcher as prime minister. Strong women weren't a threat to them." Despite this, the movie still took 14 years from when Streisand had the idea for it to make it onto the big screen — a delay which the star credits to sexism and female directors not being given the same chances as men.
This experience clearly marked Streisand, who spoke further about the discrimination she felt when making "Yentl" at the Tribeca Film Festival in 2017 (via Variety). Revealing that there were a lot of men and older people who acted as gatekeepers when she was trying to get the green light for the movie, she also touched on some of the internalized sexism she experienced from women when "Yentl" came out. "None of [the female critics] talked about what the movie was trying to say," Streisand explained. "It was not about what the movie was about — a celebration of women and all they could be."