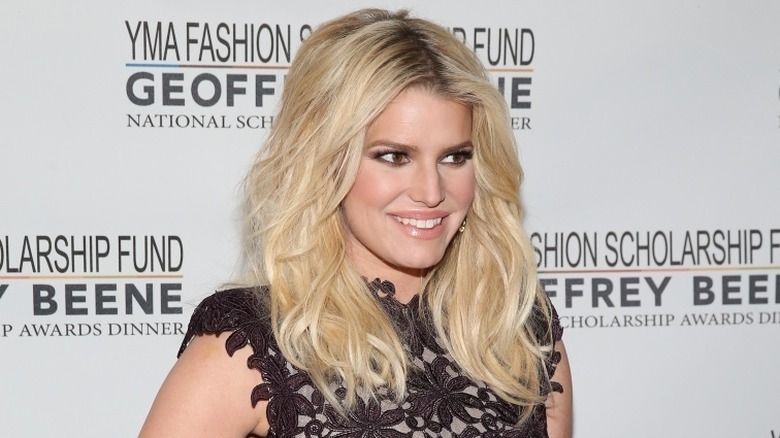 You know that one song. You know those legs. And you sure as hell-o-operator know her shoes. But this Texas-grown superstar singer-turned-billionaire fashion mogul is more than just a pretty pair of pumps.
She is a down-to-earth entrepreneur, style trend-setter, devoted mother of two, and passionate wife. Just check out her Insta. But how did Jessica Simpson go from Baptist-born baby, to abstinent sex symbol, to butt of the joke, to Weight Watchers spokesperson, to total bombshell looking hotter than ever? Let's just say it's been a long time since that "Chicken of the Sea" moment. Simpson's endured unrelenting body-shaming, an ultra-messy divorce, epic career fails and triumphs — all under the harsh glare of the public eye. But she's a woman who leads with her heart, proving that what doesn't kill you makes you stronger. So, saddle up. We're about to find out why Simpson's boots are made for walkin'.
She was the church-girl-next-door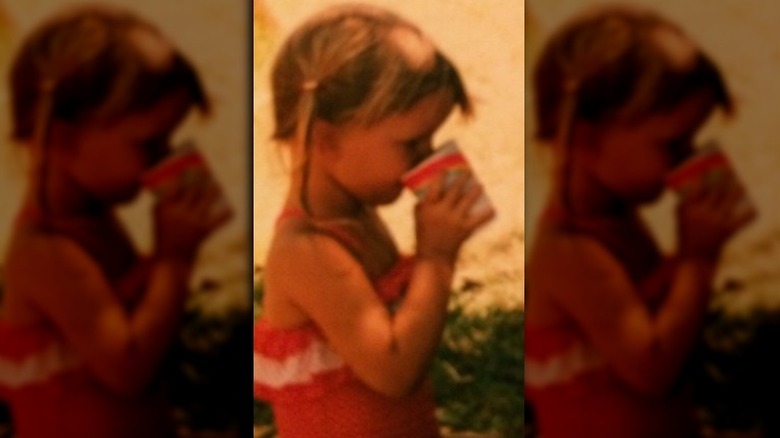 Born in Dallas, Texas on July 10, 1980, when Rainbow Brite dolls, slap bracelets, and jelly shoes were all the rage, Jessica Simpson was raised by minister father Joe, who was committed to raising his daughter in the Baptist faith with mother Tina, as noted by Rolling Stone. It wouldn't be long before little sister Ashlee would arrive in 1984, and the two budding pop-star sisters would form a lifelong friendship — and business partnership. Ashlee would eventually model for Simpson's booming clothing empire, and both would spend years cultivating music careers, to varying success.
She didn't get to wear the mouse ears
As a young girl growing up in Texas, Jessica Simpson regularly sang in her church choir (via Rolling Stone), developing a spiritual foundation that would thread itself throughout her life, as noted by Lifetime. After working those pipes by singing hymns, she eventually auditioned for a revival of The Mickey Mouse Club — the one which launched the careers of Britney Spears, Christina Aguilera, and Justin Timberlake. And she didn't land the part.
But even then, at age 12, Simpson proved that she had the dedication to pursue her dreams, no matter what challenges she faced. She even credited that disappointment as a motivator toward taking future acting and singing lessons. After her grandmother stepped in to bankroll her first album Jessica on the Contemporary Christian Music circuit, Simpson soon landed at Columbia Records where she recorded her first secular album, Sweet Kisses, when she was just 17.
She was hotter than 98 Degrees
With the official release of her first mainstream album Sweet Kisses in 1999, 19-year-old Jessica Simpson found herself struggling against the massive success of edgier Billboard-toppers Britney Spears and Christina Aguilera. While on tour that year with 98 Degrees, Simpson struck up a steamy, real-life relationship with oft-sleeveless frontman Nick Lachey, after playing his diner-waitress girlfriend in his boy-band's music video, "My Everything". And what was Lachey thinking the first time he met Simpson? "I'm going to marry that girl." And he would.
She was becoming "irresistibly" confident
With the release of her sophomore album Irresistible in 2001, Jessica Simpson proved she was maturing as an artist, and as a woman. "Over the past couple of years, I've grown vocally, I've grown spiritually, I've just plain grown up," the 21-year-old told Billboard. "The main ingredient, I know now, is confidence. I really feel equipped for what's going to come."
But there were growing pains, too. For five months that year, Simpson broke it off with then-boyfriend Lachey. "It was during the release of Irresistible and you know, it was just one of those things where I thought I needed to date other guys and see what else was out there," Simpson admitted in a Newlyweds confessional. "Nick was patiently waiting for me to grow up a little. I knew that I never ever wanted to be away from Nick for the rest of my life." — Or, until 2005.
The year she got hitched, she was already trending
In a romantic ceremony fit for a Texas-born bride, 22-year-old Jessica Simpson married Nick Lachey at Smith Family Chapel in front of their friends and family in October of 2002, as noted by PopSugar. Simpson stunned in a strapless Vera Wang gown, her blonde locks framing her face, pinned loosely with gems from Van Cleef & Arpels.
Earlier, in May of that year — in the wake of 9/11, bride-to-be Simpson wiped up the stage at Rockin' for America in Ft. Lauderdale, Fla., singing her hit single "Irresistible" for U.S. servicemen and women, and wearing a cold shoulder-style blouse that would trend again over a decade later in 2016. She knew fashion then, and — a $1 billion fashion empire later — she sure knows it now.
You won't believe what she did to avoid to paparazzi
You might be the most loyal of your girl gang, but would you do this? As Jessica Simpson's then-hairstylist Ken Paves told it, "We were going to Eva Longoria's house for dinner, and Jess said, 'I don't want to go to Eva's house for the first time and bring the paparazzi with us! That's so lame!' I was like, 'Fine, then get in the trunk.' I don't know if her blonde hair was sticking out of the trunk or what, but they followed us all the way from my house to Eva's. And we were talking back and forth, all while she was in the trunk," Marie Claire reported in 2008.
But she may have had more personal reasons for avoiding the papz. In an interview in 2009, Simpson admitted, "I don't know if you ever get used to tabloids and people making up stories about you and writing about you … I really just have to detach myself from the world of gossip and preconceived ideas." She also mentioned how she envies country legend Dolly Parton's ability to keep her private life private, unlike Simpson's lifelong media circus. "I mean, people don't know much of anything about [Dolly's] personal life. That's something I'm absolutely jealous of. I don't know how she did it. I've got to get some tips."
She worked that cardio, both on and off the stage
Celebrity fitness trainer Mike Alexander, who's also worked with Jessica Simpson's sister, Ashlee Simpson, as well as other stars like Kristin Chenoweth and Amanda Bynes, explained that cardio is key for pop stars like Simpson. "They're going to be singing and dancing and running around," Alexander explained in an interview with Shape. "So it's less about how they look and more about conditioning." He also worked with Jessica to tone her arms so that they would look flawless in all those tank tops.
She worked hard to fit into those famous hot pants
Jessica Simpson went from pop star to actress when she signed on to play the iconic Daisy Dukes in the 2005 reboot of the famous TV series Dukes of Hazzard. To fit into those famous hot pants, an already slim Simpson got even more toned. "When I found out I got the role, I went straight to the gym," Simpson told People back in 2005. "Any character that has a pair of shorts named after her, you've gotta at least try to make the shorts look as good as you possibly can."
To get herself Daisy Dukes ready, Simpson enlisted the help of good friend and celebrity trainer Michael Alexander, who created a custom workout regimen that put a lot of focus on her butt and legs. The pair hit the gym for two-hour workouts six days a week beginning one month before the shoot, and then three to four times a week during filming. "I can't promote squats and step-ups enough," Alexander told Shape when asked about backside shaping workouts. "You can do them anywhere with very little or no equipment."
Before taking on the role of Daisy Dukes, Simpson said she "didn't have a butt." But she told People by the time training was done, "I was like, 'You can make the shorts a little bit shorter.'" But it wasn't just exercise that helped Simpson attain her flawless Daisy Dukes figure. She told People that Alexander had her on plan he calls the "Don't Eat Crap Diet," a low-carb, high protein menu that included plenty of grilled chicken, fish, and green veggies.
She was realistic about fitness
After Dukes of Hazzard, Jessica Simpson eased up on her stringent diet and workout routine, although she still hit the gym three times a week. "I can't deprive myself of things because then I obsess about it and end up eating," she told People.
She's all about that body positivity
The singer, who had split from her husband, Nick Lachey, by that time, sparked criticism for her fuller frame when she performed at the 2009 Chilli Cookoff in Florida, and again when she sang the National Anthem at the AT&T National golf tournament hosted by Tiger Woods. "It's not fair that women look in the mirror and feel disgust because of what society has made them believe about beauty," she said in a 2009 interview with Glamour (via HuffPost). "I've been through it myself and understand the pressures. We're all facing the same struggles together, whether you're a celebrity or not."
She went naked and preggers on the cover of Elle
After announcing she was expecting her first child with former NFL tight end Eric Johnson in 2011, a pregnant Jessica Simpson endured even more criticism when haters said she looked like she had "gained too much weight" during her pregnancy. Still, the mama-to-be embraced her new, curvier figure, even posing nude for the cover of Elle magazine.
She worked hard to shed her baby weight
The new mom was glowing after the birth of her daughter, Maxwell, though she admitted slimming down post-baby wasn't easy. "When I had Maxwell I gained a lot of weight. More than I thought I would," Jessica Simpson told the MomFeeds blog. "And when it came time to try to take it off, it felt overwhelming. Stepping on the scale and seeing that number was really scary." She credits Weight Watchers, for which she became an official spokesperson in 2012, for helping her get back on track. She lost a total of 60 pounds post-baby.
With the help of a private chef, Simpson closely followed a Weight Watchers plan with homemade dishes like egg white omelets, chicken satays, whipped chick peas, soba noodles, and shrimp skewers.
Health came first with baby No. 2
It wasn't long before little Maxwell became a big sister. In 2013, Jessica Simpson became pregnant with her second child, a baby boy she would name Ace. She looked stunning when she stepped out for a Macy's event in her full preggo glow. "With Maxwell, I vegged out and laid around. I knew I didn't have to watch what I was eating for the first time in my life," the new mom said in an interview with USA Today. " I kind of let loose, and I gained a lot." Simpson said she maintained a "healthier lifestyle" during her second pregnancy and that she kept exercising.
She continues to work her curves
Two kids later and Jessica Simpson still looked oh so gorgeous in 2015. And she was still refusing to let the body shamers bring her down. "I'd been scrutinized about my weight before I got pregnant, so I refused to let anyone steal the joy of my babies," Simpson said in an interview with InStyle. She also noted that her husband has always made her feel beautiful. "He's always loved every curve on my body," she said.
Body-shaming made her a billionaire
Talk about a girl who takes her own body scrutiny all the way to the bank. "I have been every size there is," she told Women's Health in September 2016. And because of that, this mega successful fashion mogul says, "I know what looks good on a variety of body types. Every woman should feel like she can wear what the model is wearing down the runway."
Putting her money where her mouth is, her athleisure line The Warm Up featured over a dozen plus-size options. "I want to be your friend and dress you and say, 'You look good, girl!'," she said, speaking to all of us.
She became a fashion mogul with a billion-dollar business
"I never thought I'd be some fashion mogul!," Jessica Simpson exclaimed, in a 2011 interview with New York. In the article, her business manager David Levin revealed the secret to her surprising success, "A girl could go to the shopping mall with her mother and she'd have a great new outfit and still have some money left for lunch at McDonald's. She can look like Jessica Simpson, smell like Jessica Simpson, and she can afford it."
Maybe the magic ingredient is Simpson's own authentic sense of what people want and like, as she noted in New York, "I can fill all different kinds of genres in fashion, music, TV, film, personality. I just relate to all of it. So we reach out to all ages. Like just the other day my nana asked for a pair of jeggings because we sent her a pair of boots that went up to her knee, and she was like, 'For this I think I need a pair of jeggings.'"
She can laugh at herself
Years ago, Jessica Simpson famously uttered the words, "Is this chicken that I have, or is this fish?" on the 2003 premiere of her hit reality show with Nick Lachey, Newlyweds: Nick and Jessica. In what was possibly the blondest moment ever, Simpson was referencing a can of Chicken of the Sea tuna. If social media had existed back then, she would have broken the internet.
Even though she can proudly #TBT to that tuna faux pas on Instagram these days, she promises she will not be featuring her husband Eric Johnson and kids on any TV shows anytime soon. "Having a camera on me at all times, I mean we all know I stick my foot in my mouth a little bit too much," she joked with TODAY in 2015.
She has the hugest clothing closet — um, we mean warehouse!
"I'm a vintage buyer so I collect. I have all my prom dresses. All my music video and movie outfits. I went to a lot of proms. That's why we have a warehouse," Jessica Simpson shared with People.
And she's nostalgic about every last thing she owns! She continued in People, "I'm a keeper for my daughter [Maxwell]. All I want to do is keep everything. And everybody is like 'Throw it out, throw it out.' But I'm like, 'No, it's so important, this is the moment one guy gave me a rose…' I have a lot of memories. I keep memories. The clothes are memories."
She finally scored the love of her life
After dating her fair share of celebs since her divorce from Nick Lachey (Oh hey, John Mayer, Adam Levine, Tony Romo, Johnny Knoxville, Billy Corgan, and Jeremy Renner!) Jessica Simpson finally made a touchdown with former NFL tight end — and Yale graduate — Eric Johnson.
"It's all about family for us," Simpson told People, when the couple wed in 2014. Before the gorgeous bride even made it down the aisle in a stunning Carolina Herrera gown, her kids — 1-year-old ring bearer Ace and 2-year old flower girl Maxwell — were already stealing the show. "Before I walked out, I kept hearing all the applause … my kids got standing ovations!" she gushed.
After all her prior love mistakes, this is how she keeps the spark alive with her hubby
After two kids and two-and-a-half years of marriage with Eric Johnson, Jessica Simpson shared some advice (and some sexy pics!) on keeping that spark alive. "I think the secret to a beautiful, loving marriage is just making out! Don't forget to kiss. It's more intimate for a lot of people and if you forget that, you forget why you fell in love in the first place. It always begins with a kiss," she told People.
And for Simpson, her love advice is hard-earned, and well-practiced. She was 30 when she met Johnson, and had already experienced a devastating, and very public divorce — one that she credits as her biggest "money mistake." But she pulled herself up by her signature bootstraps, and ended up finding the love of her life in Johnson.
She supported her dad during his fight with cancer
In September 2016, Jessica Simpson's father Joe was diagnosed with prostate cancer. Thankfully, he is now healthy and in remission. Joe and his daughter have always been close. He gave up his position as church minister in order to be Simpson's and her sister Ashlee's manager back in 1993.
In 2009, Simpson spoke out about her business-heavy relationship with her dad in Vanity Fair, "I can talk to my dad like he's my manager, and put 'Dad' on the back burner. We've been doing it since I was 13. So, at this point, we're in a good rhythm. A lot of people find it strange, but it's the only way I know. And I don't care to know another way, because it suits me. And we've done a pretty dang good job."
She double-dates with her sis Ashlee
There's no bond like that between sisters, and these two have held onto theirs for decades! Jessica Simpson's younger sister, Ashlee, shared with Marie Claire of their childhood, "We slept on trundle beds next to each other until she was 11 or 12. She had her own room, but it was just more comfortable for us to sleep together."
These days, the sisters leave the sleepovers to their kids, and hit the town with their hubbies. At a private party in West Hollywood, Calif. in 2016, they were observed "sipping on wine and cocktails throughout the night […] both [sisters] decked out in black, danced and sang along as Perry, Juliette Lewis, Courtney Love and Christina Aguilera performed in front of the intimate crowd," according to People.
She teased that new music was in the works
In a tantalizing teaser for her fans in November 2016, she posted her 2001 American Music Awards performance of "I Wanna Love You Forever," with the caption "Bring it 2017." "That's how I started. That's always [been] one of my biggest passions in the world," Simpson shared with TODAY, "I love to use my voice."
Her professional foray into music began at age 14, when she wowed an audience at Bible camp. Not much has changed through the years in that regard. In an exclusive with Huffington Post, she dished, "It's been a very exciting time to rediscover music and I definitely have so much inspiration. I've been in the music business for so long, and it's interesting to see what I come up with as a mom and the perspective I have after all the records I have made and all the life situations I've been through. There's a lot to talk about. There's a lot to sing about. There's a lot I feel like people will relate to."
She's living the life of her dreams
In July 2016, Jessica Simpson celebrated her 36th birthday, taking to social media to share photos of her big family trip to Le Taha'a Island in French Polynesia. Simpson continued to follow her Weight Watchers diet, and was staying in shape with regular gym visits and a lot of walking, taking regular morning strolls with her husband. Besides looking gorgeous and toned in an itty-bitty bikini, Simpson looked happier than ever.
She owns who she is
She's overcome the devastating heartbreak of divorce, emerging stronger than ever — discovering an even more profound love, because of those deep cuts. She's endured years of criticism about her weight, only to essentially become every woman's fashion bestie. Now, leading a billion dollar empire, and raising a family, Jessica Simpson has proved that while her life has changed dramatically for the better, she's still the girl we know and love from way back when. She's as relatable, as she is inspiring. As goofy as she is honest, and as genuine as she is loyal. With legs for days, a heart of gold, and the guts to keep on going, she's grabbing life by the heels, and savoring every second of it.
In 2020, Jessica Simpson shocked fans with her incredible weight loss
In December 2020, Jessica Simpson took to Instagram to share her Christmas festivities with fans, but, in the process, the fashion designer also revealed her jaw-dropping weight loss. The photo demonstrated just how much work she'd done to get fit and healthy. Her trainer, Harley Pasternak, made it clear that dropping the pounds following the birth of third child Birdie Mae (who was born in March 2019) wasn't easy, but Simpson remained remarkably committed. She started at 240 lbs, dropping a massive 100 lbs over an intense six-month period, as Pasternak gushed to E! News.
He noted the plan "had to be more than just getting back from her baby weight, but how do I keep whatever I am doing now forever." Simpson ensured she got 14,000 steps a day — she told People running around after her kids helps with daily cardio goals — combined with three meals and two healthy snacks, comprised of lean proteins and veggies. And she did full body workouts once she was strong enough. Overall, Pasternak ensured his long-time client was never bored and never pushed too hard. Striking the balance was what ultimately made the (huge!) difference for the busy working mother.