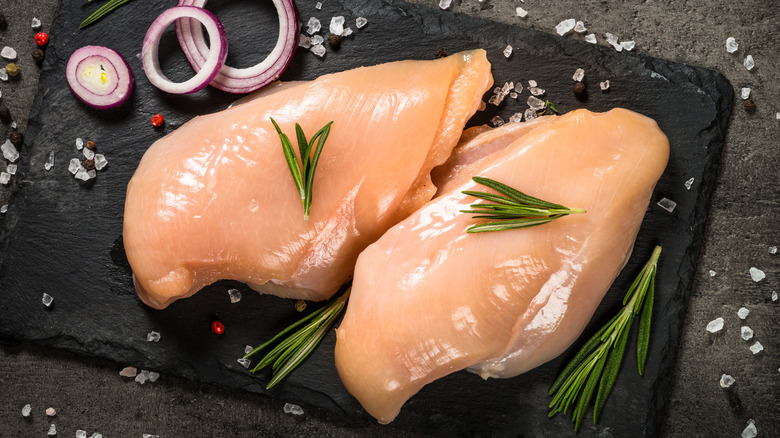 Chicken breast is an inexpensive and lean protein that works in almost everything: soups, pizzas, salads, sandwiches, and more. We love that they cook quickly, whether in the oven, on the stovetop, or on the grill. It's easy to buy and stores well in the freezer, so you can always have some on hand for dinner emergencies. Perhaps the only downside to chicken breast is that it's easy to get in a rut and wind up making the same, tired chicken dishes again and again. Well, the chicken rut is officially over: This round-up of our favorite chicken breast recipes is packed with inspired and creative dishes for weeks of exciting meals.
Most of these recipes are dishes you could make on a busy weeknight, because they're ready in less than an hour — many take only 30 minutes. Slow cooker chicken dishes also make it easy to get flavor-packed and tender chicken with little prep work. Just let it simmer away while you get on with your day! There are also chicken recipes to try in your air fryer and Instant Pot. Some recipes make things especially quick by calling for cooked chicken breast, which can be saved from a previous meal (making the most of those leftovers!) or sliced from a rotisserie chicken that you grab on the way home.
Perhaps most tempting of all? 20 copycat recipes that let you make your favorite fast food and restaurant chicken dishes at home! Who's hungry?
Easy Baked Honey Garlic Chicken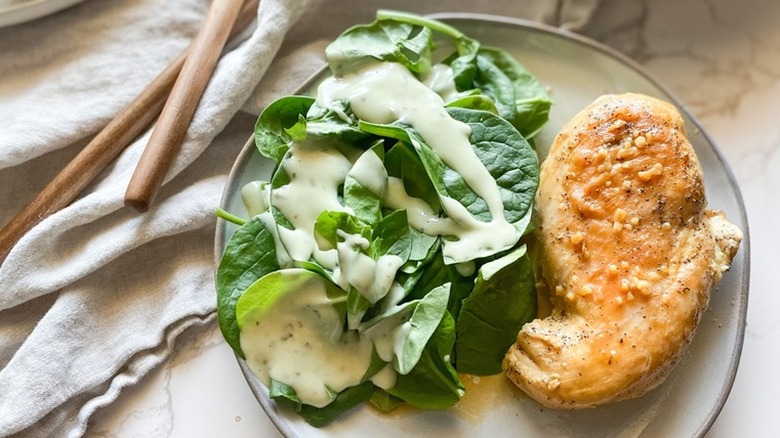 This is a dish loaded with flavor, perfect for dinner, and yet ready in less than 30 minutes. Chicken breasts get seared in a cast iron pan, then finished in the oven where the sweet and tangy sauce thickens and coats the meat. Served it with rice and broccoli, or over noodles with a sprinkle of sliced scallions. This Honey Garlic Chicken also works as a delicious make-ahead lunch to take to work.
Copycat Chick-Fil-A Crispy Chicken Strips
There's no need to head out the door to indulge in Chick-fil-A chicken strips: You can easily make them yourself! Look for packaged chicken tenders in the meat case where you find other cuts of chicken. The tenders get a quick batter before they're fried up, and the secret ingredient? A tangy pickle juice marinade. Bake up a bag of frozen waffle fries to serve with these copycat strips and your favorite dipping sauces.
Slow Cooker BBQ Chicken
You can't help but love a slow cooker recipe, especially one as tasty as this. The chicken cooks up in a homemade barbecue sauce (don't worry: It's really fast to throw together!) Your kitchen will smell ah-mazing as it simmers away, and you don't have to worry about tending to it constantly. Pile the pulled barbecue chicken onto buns for an easy weekend dinner or game day treat. It's also great to serve over rice or in a wrap.
The Best Enchilada Soup
Not only is it the Best Enchilada Soup, it's ready in only 15 minutes! This is a fantastic recipe for using up leftover cooked chicken, or meat from a rotisserie chicken. Throw the chicken plus some diced veggies, canned corn, and beans into a pot and bring everything to a simmer. By the time you set out warm tortillas, and toppings like diced avocado, sliced jalapeños, and shredded cheese, the soup will be done.
Copycat Panera Bread Baja Bowl with Chicken
Get your Panera fix at home for less money and best of all you can build this salad just the way you like it. The chicken breast for this dish is juicy and flavorful thanks to a rest in a bottled lemon pepper marinade. While the chicken soaks up all this flavor, you can cook up hearty brown rice and quinoa. Once the chicken is baked and sliced, build your bowl with layers of the rice and grains, plus corn, beans, avocado and feta. This copycat recipe makes for an amazing lunch or light dinner.
Chicken Bruschetta Pasta
This recipe combines garlicky chicken breast with a vibrant bruschetta sauce made with diced tomatoes, onions, and garlic. While the chicken bakes in the oven, the bruschetta ingredients get cooked quickly in a hot pan to meld the flavors and make the tomatoes nice and juicy. Served over pasta with a drizzle of tangy balsamic vinegar, this makes a lovely dinner — especially in summertime when gardens are overflowing with fresh tomatoes and bunches of basil.
Copycat Chick-fil-A Spicy Deluxe Sandwich
For people who like their chicken sandwiches fiery hot, this copycat recipe is the perfect one to try at home! The chicken breasts are coated in a sweet-savory flour blend and then fried until crisp. Most spicy chicken sandwiches bring the heat by adding cayenne pepper or chili powder to the breading, but this recipe takes the direct approach: dunking the fried chicken pieces straight into a bowl of hot sauce. It's layered with tomato, lettuce, and even more heat from a slice of pepper Jack cheese.
Giada's Chicken Cacciatore With A Twist
Giada de Laurentiis has an amazing recipe for Chicken Cacciatore and we love everything about it, except that it takes nearly an hour to prepare. On a busy weeknight after a tiring day, we just need something a little faster. This Chicken Cacciatore With A Twist cuts that time almost in half by swapping out chicken thighs for quick-cooking chicken breast. In a rich, simmered sauce of tomatoes, wine, and garlic, it's delicious over pasta or with a thick slice of artisan bread.
Easy Chicken Kabobs
When you see a kabob recipe you likely assume that you'll need a grill, but the cool thing about this kabob recipe is that they're baked in the oven. Seasoned chicken pieces and crisp peppers and onions are threaded onto skewers, and in less than 30 minutes, they're perfectly cooked and ready. Pair the flavorful kabobs with hot rice, a cool, crisp salad, or even with your favorite barbecue sides like potato salad and chips.
Copycat KFC Chicken Sandwich
Here is your chance to recreate the signature fried chicken from KFC, complete with a buttermilk marinade and a whole lot of spices. The original KFC formula includes 11 "secret" herbs and spices. This copycat recipe comes close with 10 herbs and spices and many of them, like paprika, oregano, and garlic salt, are likely already in your spice cabinet. The chicken breasts are dredged in egg and seasoned flour mixtures, then fried 'til crispy and golden. Make three whoppingly big sandwiches, or bread and fry smaller portions for sliders.
Sheet Pan Chicken Fajitas
Fajitas are an ingenious dinner choice because it's easy for everyone in the house to customize their fajitas with the exact toppings they love. Create a festive atmosphere by setting a sizzling pan of broiled chicken, peppers, onions next to warm tortillas and bowls of shredded cheese, salsa, chopped cilantro, sliced hot peppers, fresh guacamole, lime wedges, and any other toppings you love. Best of all, this recipe is easy with everything cooking up on the same sheet pan, and ready to devour in less than a half hour.
Easy Cheesy Burrito Casserole
We love this Mexican-inspired dish because it has the bubbling, cheesy goodness of a long-baking casserole, yet it's done in only 20 minutes. Layer tortillas and shredded, cooked chicken in a baking dish along with corn, beans, shredded cheese, and salsa verde. (Use your own, homemade salsa or your favorite bottled brand.) You can make this casserole as spicy as you like by adding in sliced hot peppers or a generous shake of chili powder. Make this recipe as an quick dinner, or to divide into containers for lunches all week.
Copycat Wendy's Apple Pecan Salad
This favorite salad from Wendy's is so easy to recreate at home, and with all the ingredients purchased fresh by you, it'll be even tastier. Strips of chicken breast are quickly cooked up in a skillet, then cooled and sliced. The salad is vibrant and crunchy with a mix of chopped romaine and mixed green lettuces, plus diced red and green apples. Toss everything together with a sweet, pomegranate dressing, cranberries, and toasted pecans. For a more filling salad add in cooled, cooked grains like quinoa or brown rice.
Simple Chicken Kiev With Parsley And Garlic
Chicken Kiev is a vintage recipe that sounds fancy, but is actually easy to make. And it's ridiculously delicious, too, full of buttery garlic and parsley with a crunchy, breadcrumb coating. To make this dish, chicken breast is stuffed with cold butter, fresh garlic, and diced parsley, then coated with egg and panko breadcrumbs. They're quickly fried to create a golden crust, and finished in the oven. Try this hack to make an easy garlic bread while making your Chicken Kiev!
Copycat Chick-fil-A Grilled Chicken Sandwich
It's hard to resist the allure of fast food, crispy chicken sandwiches, but when you want something healthier this grilled chicken sandwich is a fantastic choice. Our copycat recipe gets to the bottom of how Chick-fil-A gets so much flavor into their chicken breast: A brine that includes orange and grape juices, apple cider vinegar, and spices. The chicken stays tender and moist after grilling and really flavorful. Whip up a quick homemade version of Chick-fil-A's sweet sriracha sauce to have on your sandwich.
The Best Chicken Curry Ever
If you're looking to elevate your humble chicken with a sauce that's fragrant and unbelievably flavorful, then you've found the right recipe. This chicken curry has layers of flavor from fresh ginger, curry powder, coconut milk, and chopped garlic. While you cook up a pot of rice or warm some soft naan, the chicken, peppers, and onion simmer away in this incredible sauce, soaking up all that flavor and spice. Try a British approach and serve it with oven-baked fries for a heartier version of curry and chips.
Copycat Popeyes Chicken Sandwich
We love copycat recipes not only for the chance to recreate our favorite restaurant treats at home, but for the chance to have total control of what goes into them. And if we want extra pickles on our Copycat Popeyes Chicken Sandwich, by gosh we'll get them! Brined chicken breasts are coated in a spicy flour mixture, then fried and served on brioche buns with a slather of homemade spicy mayo and plenty of pickles.
Really Fast Instant Pot Chicken
Many chicken recipes that are labeled "quick" or "easy" say this because they call for cooked chicken breast. But if you're not someone who tends to have a lot of leftover, cooked chicken in the fridge, these recipes are suddenly neither quick nor easy — unless you have an Instant Pot. Whole, boneless chicken breasts cooked in your Instant Pot are ready in less than 10 minutes. You can slice or cube the cooked chicken, or shred it for recipes like pulled chicken sandwiches.
Creamy Chicken Carbonara
For those evenings when you just want a deliciously homey and comforting dish, pasta carbonara is one of the best recipes you can make. This rich dish is made by combining eggs with grated Parmesan cheese, and smoky, salty bacon, all tossed together with spaghetti cooked al dente. Add in tender, sliced chicken breast and you have a filling meal with plenty to go around. Try Jamie Oliver's carbonara trick of letting the pan cool before adding in the eggs, to ensure they're silky and not scrambled.
Copycat Trader Joe's Chicken Salad
It's not always easy to get your hands on the delicious, prepared chicken salad at Trader Joe's — that's why you should make this copycat version so you only have to go as far as your fridge. The recipe calls for cooked chicken, but also has instructions for quickly poaching some chicken breast in case you need to. Whisk up a dressing of mayonnaise, apple cider vinegar and poppy seeds, add some cranberries and pecans, and voilà: Your own beautiful batch of delectable chicken salad.
3 Ingredient Teriyaki Chicken
There are lots of chicken recipes out there claiming to be simple, but you can't get much simpler than three ingredients — and that includes the chicken! A flavorful pan of teriyaki chicken is pulled together quickly and easily by tossing cubed, cooked chicken in a sweet-savory mixture of soy sauce simmered with brown sugar. Is your mouth watering yet? Now picture all the ways you can enjoy this teriyaki chicken: Over fried rice, with roasted or grilled veggies, or on a cool salad topped with scallions and toasted sesame seeds.
The Best Grilled Chicken We've Ever Tried
Making really delicious grilled chicken breast should be part of every cook's skillset. It's an economical choice, especially if you're trying to feed a crowd, plus grilled chicken is so versatile. Pull it off the grill to enjoy right away alongside corn on the cob or a tangy potato salad. Slice it into strips to enjoy in fajitas or for sandwiches, and to add to a salad. This chicken gets extra flavor from a marinade of orange, honey, and herbs.
One Pot Chicken Noodle Soup
It's true that chicken noodle soup is the perfect dish for when you're feeling under the weather, but that doesn't mean you have to wait for flu season to make a batch! This homey recipe is full of flavorful chicken, sautéed vegetables, broccoli, potatoes, and of course, noodles. It's comforting, ready in about an hour, and when paired with a loaf of crusty bread, it makes a tasty lunch or dinner. Customize the soup with your own favorite veggies, like peas or kale.
Copycat Burger King Spicy Crispy Chicken Sandwich
A list of favorite BK menu items just has to include their spicy chicken sandwich with that super crispy coating. Well, as is the case with so many fast food goodies, this sandwich tastes even better when you make it at home! Thin-sliced chicken breasts get a double dose of heat from hot sauce and cayenne pepper in the batter. Deep fry or pan fry the chicken until cooked through, then layer it with fresh tomato and lettuce on buns with a slather of mayo.
Everything Bagel Chicken
Love your everything bagels? You'll definitely love this chicken. It's covered with a zingy blend of garlic, onion, sesame seeds, and poppy seeds. The chicken breasts are stuffed with cream cheese, then dipped in flour, egg, and a homemade everything bagel spice blend. (You can also use your favorite, store-bought everything bagel spice.) A quick sauté gives the chicken breasts a crispy exterior, and then they're finished in the oven. Serve it with steamed veggies or roasted potatoes. Or make a chicken sandwich — perhaps on a bagel!
Easy Pulled Chicken
Having a pan of pulled chicken in the fridge means your next several days of lunches and dinners will be incredibly easy to throw together, and it takes hardly any time at all. Chicken breasts are simply poached on the stovetop until cooked through and tender. Then you can shred them with a stand mixer or even just your hands. Use the seasoned, pulled chicken in tacos, nachos, soups, salads, and countless other dishes.
Copycat Panda Express Orange Chicken
We love this copycat recipe because it gets to the heart of what makes the Panda Express Orange Chicken so addictive: The sauce. This recipe explains precisely how to build the orange sauce, and explains the role that each ingredient plays. You can cut up fresh chicken breasts or use frozen chicken pieces to make it a little faster. Once you see how easily and perfectly you can recreate this Panda Express orange sauce, you won't hesitate to whip some up for other chicken, beef, or veggie dishes.
Easy Taquitos You Can Whip Up Any Weeknight
If you're looking for a great chicken recipe that you can make and freeze for future meals, we've got you. Roll up a batch of these chicken taquitos: Our recipe includes green onions and cilantro, but you can use your favorite fillings like black beans, sliced jalapenos, green chiles, or roasted corn. After baking, serve the taquitos with your favorite salsa and a side of rice, or freeze them for one of those hectic evenings when you need a quick dinner.
Slow Cooker Chicken Parmesan
If you love chicken Parmesan, but worry that it will take too long to make, this slow cooker chicken is the perfect recipe for you. Because chicken breast doesn't need as long in the slow cooker as other cuts like chicken thighs, the whole dish is ready in a little over three hours. The chicken filets, breadcrumbs, cheese, and sauce are easy to assemble, then you just let them simmer away. Spoon everything over cooked pasta of your choice, and dig into one delicious meal.
Copycat Olive Garden Chicken & Gnocchi Soup
It's hard to believe it, but this rich, creamy, and flavorful soup is first of all, easy to make, and second of all, takes only 20 minutes! A little sautéing, a little simmer, and you can dive in. Using cooked shredded chicken is one timesaver, and to shave a few more minutes, use frozen, diced vegetables instead of dicing them yourself. Since you saved so much time on the soup, try making a batch of Copycat Olive Garden Breadsticks for dunking.
One Pan Honey Mustard Chicken and Veggie Bake
This is one of those dishes that will amaze the people you make it for. It's so delicious and flavorful that they'll think it took you forever to make! And yet, the beauty of a sheet pan dinner like this one is how easy they are to assemble, and that everything cooks together. Chicken breasts roast side-by-side with diced sweet potatoes, sliced Brussels sprouts, and slivers of bacon. An easy, homemade honey mustard sauce ties the whole thing together.
Chicken Biryani
An traditional Indian dish, biryani is made by layering marinated chicken with rice and aromatics like saffron, ginger, and garlic. The chicken and rice are simmered together, where the flavors and juices meld beautifully. This recipe uses a blend of spices like cumin, garam masala, turmeric, and coriander — if you don't have the individual spices, look for curry or another Indian spice blend to use instead. Biryani makes a wonderful weekend meal or to serve at a dinner party.
Copycat McDonald's Crispy Chicken Sandwich
There are lots of fast food chicken sandwiches out there, and yet they all have their own little twist that makes them unique! This copycat recipe for a McDonald's crispy chicken sandwich is quick and easy to make, with a batter that includes cornmeal, spices, and a pinch of sugar. Serve the fried chicken on toasted potato rolls or hamburger rolls with plenty of pickles.
Simple Lemon Chicken
Fair warning: This may just become your new, favorite chicken dish. To start, thin chicken breast cutlets get a simple coating of flour and egg before being pan fried. The real magic here though is the sauce, made with fresh lemon slices, lemon juice, thyme, and butter plus white wine and stock. The cutlets get a quick simmer in this sauce before heading to your plate. It doesn't seem fair to call it a "simple" lemon chicken, because the flavors are to die for.
Slow Cooker White Chicken Chili
This dish has the hands-off ease of a slow cooker meal, but because chicken breast cooks more quickly, this chili is ready in just a few hours. Chicken breasts are simmered in the slow cooker with ingredients like corn, beans, garlic, and chicken stock until tender, then blended with sour cream to make it creamy. Start this chili in the morning for a midday chili, or in the afternoon for one of these easiest dinners ever. (Just add chips!)
Copycat Wendy's Spicy Jalapeño Popper Sandwich
If you've ever had this Wendy's sandwich, then you know it's a totally over-the-top and delicious indulgence. So how could it get any better? By making it at home with your own fresh spice blend in the batter, hot and crisp strips of bacon, and jalapeño cream cheese sauce. Go all in on this meal, and bake up a batch of frozen french fries or onion rings to have alongside this spicy chicken sandwich.
Hearty Mustard Stuffed Chicken Breast
This chicken is wrapped in bacon … need we go on? Well, there's also creamy filling inside the chicken of cream cheese blended with tangy mustard. The smoky and salty bacon pairs beautifully with this filling to make an elegant entrée that's pretty easy to make. Pair this stuffed chicken with roasted potatoes and garlicky green beans, with a side of simply dressed greens, or with a fresh baguette spread with salted butter.
The Best and Easiest Blackened Chicken
Chicken breasts in this recipe are full of flavor, first from a tangy and spicy marinade and then from a high-heat sear in a cast iron skillet. The marinade ingredients are like already in your pantry, like bottled Italian dressing, cayenne pepper, and garlic powder. Serve Blackened Chicken with wild rice or over buttered noodles. You can also add strips of cooled chicken to wraps, or dice it to toss into a cold pasta salad.
Copycat Wendy's Maple Bacon Chicken Croissant
Be honest: you abruptly stopped your scrolling when you saw this copycat recipe come up, didn't you? What a sinfully good pairing of sweet and savory! A seasoned, fried chicken breast served on a flaky croissant with smoky bacon and maple-honey butter. The sandwiches are ready in less than an hour, and you can save time by making the bacon and flavored butter in advance. Make these for brunch or dinner, with some homefries on the side.
5-Ingredient Chicken Broccoli Mac And Cheese
This recipe is perfect for busy nights and lazy weekends. You only need five ingredients and 15 minutes of prep time, then pop this pan of cheesy goodness in the oven to bake. The recipe calls for cooked chicken which can be leftover from another recipe or sliced from a rotisserie chicken. Or, quickly cook up raw chicken breast in your Instant Pot or poach it on the stovetop.
Copycat Domino's Chicken Taco Pizza
Give the Domino's driver the night off, and make your own spicy chicken taco pizza. This copycat version guides you through making an easy pizza dough, a great recipe to have in your back pocket for future homemade pizzas with any number of toppings. No time to make crust from scratch? Pick up premade pizza dough in the refrigerated case at the grocery store, roll it out, and add the toppings.
Slow Cooker Chicken Tortilla Soup
If you've never had chicken tortilla soup, stop everything and make a batch today! The spicy broth is loaded with corn, chiles, salsa, and chicken. Add garnishes of cheese and tortilla chips to the bowls and it makes a filling meal. This version made in a slow cooker is a cinch: first cook your chicken in a spiced broth, then add everything else to simmer together. You can even save time by substituting using leftover, shredded chicken.
Copycat Wendy's Chicken Sandwich
There are lots of very creative takes on chicken sandwiches out there, but when you're just craving a really good crispy chicken sandwich, this one really hits the spot. This is a copycat of a Wendy's chicken sandwich, but actually it tastes even better. That's because the chicken is seasoned and fried fresh by you, then served with cold, crisp lettuce on a soft bun. Whether you deep-fry or pan-fry the chicken, the sandwich is ready in only 20 minutes.
Herbed Air Fryer Chicken Breast
If you own an air fryer you already know how amazing and versatile it is. Well, here's another delicious recipe to add to the air fryer rotation. Chicken breasts get dredged in a spice blend that includes paprika, oregano, and thyme before going into the air fryer basket. The whole recipe takes less than 30 minutes, and gives you succulent, flavorful chicken that's perfect with mashed sweet potatoes, rice, over pasta, or to make a healthy chicken sandwich.
Simple Chicken Marinade
One of the easiest ways to add a big dose of flavor to simple chicken breasts is with a marinade, and this one is so easy to whisk together. This marinade recipe is sweet with brown sugar and citrus juice, but also has loads of spicy minced garlic. (Check out the chef's secret technique for releasing extra flavor from the garlic!) The marinade itself only takes minutes to make, and after resting in this mixture, the chicken breasts cook up in about 10 minutes.
Copycat Chick-fil-A Nuggets
They're just chicken nuggets, so why oh why are they so addictive?? This copycat of those delectable Chick-fil-A nuggets has the secret recipe figured out, so now you can fry up a batch of your own anytime you want. Cubed pieces of chicken breast are brined in a milk, egg, and pickle juice mixture — brining these small pieces means that every bite will have that juicy flavor. The pieces are dredged in a spicy flour blend that includes pepper and paprika. Fry the nuggets until they're browned and crispy, and serve them hot with a homemade honey mustard.
Chicken Cordon Bleu
Chicken Cordon Bleu is one of our favorites to order while dining out, a really delicious entrée that looks difficult and therefore feels like a special treat. Spoiler alert: It's actually a pretty easy dish to make at home. To make this recipe, just layer slices of good quality ham and Swiss cheese over thin chicken breasts, then roll them up into roulades. Coated in egg, flour, and breadcrumbs, they're fried until crispy with a melty cheese center. Serve Chicken Cordon Bleu with baked or mashed potatoes and roasted vegetables.
Copycat Wendy's Southwest Avocado Salad
This is one of the best fast food salads to copycat at home, since it's healthy and full of protein. The southwest flavor in this salad comes from a dressing of ranch dressing, hot sauce and liquid from pickled jalapeños, which you can adjust to the level of spiciness you like. Use leftover cooked chicken or bake up some chicken breasts ahead of time. (The recipe tells you how.) A quick, homemade guacamole and some diced bacon complete this delicious salad.
Weeknight Chicken Casserole
Here's a recipe that's sure to remind you of dinner casseroles you had growing up. It's full of tender chicken, vegetables, mushrooms, and pasta, with a creamy texture from canned cream of mushroom soup (a helpful pantry staple) plus milk. It's one of those homey, comforting dishes perfect for cool weather nights, potlucks, or to bring to a neighbor. The prep time is quick, and it bakes up in the oven to give you time to get other stuff done. Serve it with buttered rolls or flaky biscuits.
Copycat Chick-fil-A Cool Wrap
If you're paying for this chicken wrap at Chick-fil-A, you won't believe how easily you can make it at home. Our copycat recipe breaks down this fast food sandwich and reveals that it's just cooked chicken, shredded cheese, and lettuce rolled up in a flour tortilla. C'mon, you can totally make this! Amp up the flavor, too with Sriracha mayo, kimchi, pesto, smoky bacon, roasted veggies, or flavored wraps just to name a few possibilities. If you have five minutes, you can make your own cool wrap.
Juicy Slow Cooker Chicken Breast
This is one of the easiest chicken recipes you'll find, and one of many reasons you should definitely own a slow cooker. Just add cut up chicken breast to the pot with broth and spices. (The blend in this recipe includes chili powder and rosemary, but you can customize it to include spices you love.) And, you're done! Three hours later, you have delicious, succulent chicken that you can use in wraps, serve over cooked rice or barley, or even shred to make a batch of cheesy chicken nachos.
Copycat Panera Chicken Noodle Soup
Our popular copycat recipe for chicken noodle soup has everything you love about this Panera menu item. The broth is flavorful, full of chicken, veggies and noodles that are all cooked to perfection. A little cornstarch is the secret to getting a broth that's rich without using any dairy. The veggies in this recipe are sautéed in chicken fat, or schmaltz, which creates an incredible flavor for the whole soup. No worries though if you don't have schmaltz — just substitute olive oil.
Simple Chicken Marsala
Chicken marsala is a sumptuous dish of a chicken breasts topped with a creamy mushroom sauce. It's a great recipe to break out for a date night at home, to treat your family, or to give yourself a few days of a really elevated, make-ahead lunch to bring to work. The whole dish is made in one pan, starting with pan-frying the seasoned chicken breasts, then cooking down mushrooms (cremini or Portobello), followed by a reduction of a good marsala fortified wine with cream.
Fast Chicken Fried Rice
A really good, homemade chicken fried rice is a meal all on it's own, and this recipe has the whole dish ready in only 30 minutes. Just like with a stir fry, have all your ingredients prepped before your start cooking, because it moves quickly once your first ingredients hit the pan. Diced chicken and veggies are cooked with aromatics like ginger and garlic, followed by a beaten egg and cooked rice. A simple sauce of rice wine vinegar, soy sauce, and brown sugar ties everything together.
The Best Chicken Parmesan Ever
Kids and grownups alike love chicken Parmesan, so this is an ideal recipe to have in your arsenal. Though it may seem like a complicated dish to do right, it's actually surprisingly easily. This recipe calls for chicken breasts to be pounded until thin, a technique worth knowing to ensure your chicken breast cooks through evenly and fast. After being breaded and pan-fried, the chicken goes into the oven smothered in sauce and two kinds of cheese. Serve it with pasta and garlic bread.
Easy Sheet Pan Chicken Breast
Let your chicken, vegetables, and potatoes all bake together and be ready at the same time. This recipe calls for carrots and broccoli, but you can easily sap in your favorite veggies that cook up in the same amount of time, like cauliflower, parsnips, or zucchini. The spices in this sheet pan dinner are familiar, yet give everything a big boost of savory, herby flavor. Whether you use fresh or frozen vegetables, the whole dish is ready in less than 30 minutes.
One Pan Tomato Basil Chicken and Rice
One pan dinners are the best, because the last thing folks want after feasting on a delicious meal is to wash a half dozen dirty pots and pans. Chicken and rice may sound ho-hum, but this recipe is anything but. Chicken breasts are coated with spices (make your own blend or pick up an Italian blend at the store) and pan fried. Rice and pasta sauce go into the pan with the chicken where they all simmer together to perfection.
Chicken Stir Fry
This saucy dish of vegetables and chicken is even more delicious the next day, if you can manage not to eat it all in one sitting! The sweet and tangy sauce includes soy sauce, brown sugar, ginger, and garlic — just put it all in a jar and shake. After browning the bite-sized pieces of chicken, steam the veggies until they're crisp-tender. Finish the dish by tossing everything together with the sauce. Serve this stir fry with freshly cooked white or brown rice, or with a batch of scallion pancakes.
Decadent Stuffed Chicken Breasts
We know what you're thinking, but we promise that these stuffed chicken breasts are actually a cinch to make! The filling is a blend of spinach, artichokes, cream cheese, and mozzarella — like stuffing chicken with your favorite hot dip. This recipe walks you through how to make a pocket in the chicken breasts for this filling. Serve the melty, cheesy chicken with red sauce, pasta, or rice, or pair it with a simply dressed salad.
20 Minute Chicken Piccata
A beautifully light, yet flavorful dish, chicken piccata consists of a vibrant lemon and caper sauce that's spooned over thin pieces of chicken breast. The chicken is dredged in a simple flour coating before being pan-fried, to give it a lightly browned and crisp exterior. You'll want to slice or pound your chicken breasts thin, or you can purchase chicken breast filets or tenders to skip this step. Chicken piccata served with angel hair pasta and sautéed greens is perfect for a quick, but elegant dinner.
One-Pot Chicken Parm Pasta
Get all the flavors of a classic chicken Parmesan in a one-pot dish loaded with melted mozzarella and, of course, Parmesan. Bite-sized pieces of chicken breast are breaded and sauteed to give them a crispy, browned exterior. The pasta cooks up right in the marinara sauce and the cheeses get melted in the pan or under the broiler. All you need to complete the meal is a side of buttery garlic bread and a glass of red wine.
Surprisingly Easy Chicken Francese
A classic Italian-American dish, chicken francese combines chicken cutlets with a rich lemon sauce. You can find it on menus of fine dining restaurants, but it may surprise you to learn that you can easily make it for yourself! Chicken breast filets are coated in a simple flour mixture, then fried to give them a lightly crisp texture. Then in the same pan, you'll learn how to quickly bring together a silky sauce of lemon juice and zest, garlic and white wine. The entire recipe is ready in less than 30 minutes, and is delicious with pasta.
Fresh and Vibrant Orange Chicken
This recipe for sweet, sour, and sticky orange chicken is set apart by the freshness of the ingredients used in the sauce. The zing of fresh orange juice and orange zest with the spice of fresh garlic and grated ginger root just can't be replicated with dried spices or store-bought sauces. And the sauce isn't the only amazing thing about this dish: chicken breast pieces are battered and fried to create crunchy bite-sized morsels. Served with rice and sliced scallions, it's so much better than takeout!