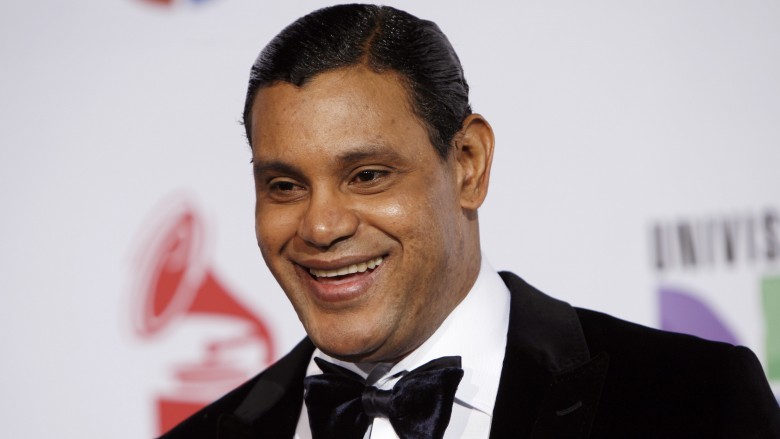 We revere our athletic heroes. Athletes are like superheroes come to life. Built like gods, these perfect specimens can do the impossible — and make it look easy. With all their home runs and slam dunks, it becomes all too easy to forget that they're just people … and some of these people make really weird grooming choices or life choices, leading to physical transformations that would make a Transformer do a double-take. Let's check out these athletes after their sporting days are over.
Matt Birk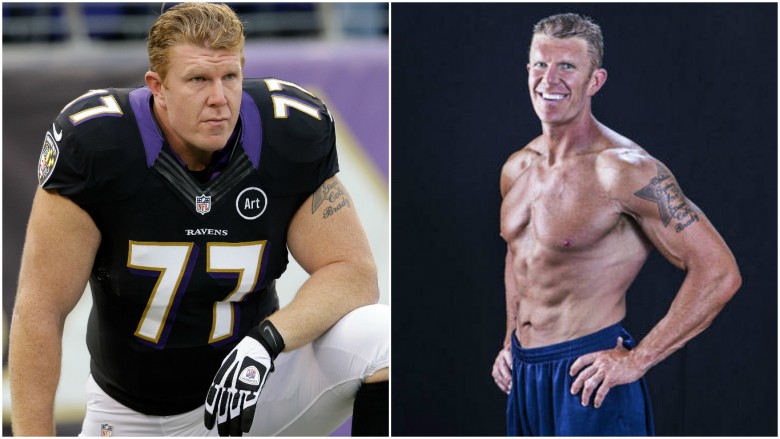 Playing in the NFL can take a toll on your body. It's not just the brain-rattling hits, either. If you want to be a lineman in the league, you need to bulk up and stay the way. Matt Birk knows that better than anyone. At his peak weight of 310 pounds, he developed varicose veins and a habit of eating two burrito bowls for dinner. And here we thought we had nothing in common with professional athletes. Suffice it to say, it wasn't sustainable, and he knew it.
After winning the Super Bowl in his fifteenth season, at the age of 37, Birk decided to walk away and right the ship. In the years that followed, he lost 75 pounds and 10 inches from his waist. The father of six even began a new career as a model, competing in the Vi Model competition back in 2014 to showcase his new physique. We all should hope we look so good when we retire.
Chris "Birdman" Andersen
Chris "Birdman" Andersen has had a lot of ups and downs over his 18-year career. He was the first player called up from the NBA D-League, after spending a handful of years bouncing around from Mexico to China, trying to catch on. A fresh-faced kid with a knack for pulling down rebounds, he soon found a place in the league. Unfortunately, he also soon found trouble, first garnering a suspicion for drug use, and then getting caught up as a suspect in child pornography case. He was never charged, and it was eventually discovered he had been the target of an elaborate "catfish" style hoax gone wrong.
He would come back from all the controversy, winning a championship with the Miami Heat in 2013. Still, the hard living clearly had an effect on him. Now more famous for his legendary ink than he is for his skills on the court, Birdman has one last transformation to conquer: retirement.
Steve Francis
There was a brief moment when Steve Francis looked like the future of the NBA. Nicknamed "Franchise" for his unlimited possibility to transform whatever team he touched, Francis was the co-Rookie of the Year, along with Elton Brand, and a three time All-Star. Unfortunately, he never quite panned out like fans had hoped, bouncing from one team to the next, before finding his way to China, where NBA dreams go to die.
When he returned to the states, sad stories soon began circulating of drinking and DUIs, drug abuse, and even a strange event in which he wandered into a police station trying to turn himself in for robbery, only to be turned away because the cops had no idea what he was talking about. Sadly, if the pictures coming out of his stint in China are any indication, the hard living has taken its toll, because the once-muscular young point guard looks more like an aging Todd Bridges than the franchise player he once was.
Alan Faneca
Alan Faneca looks like a different person, which may be because he shed enough weight to make a different person out of it. The six-time All-Pro, who won a Super Bowl with the Steelers, decided to make a big change after retiring from the NFL. He started by watching what he ate, lowering his calorie intake to 1,800 a day, and doing cardio six days a week.
He told Fox Sports what he really missed, though. "Those chocolate, peanut butter protein shakes with big scoops of peanut butter. They were about 1,000 calories each, and I used to eat three a day. I definitely miss those." Now a marathon runner, he laughs at people's reaction to his drastic weight loss. No, he's not sick. Unless you mean it in the bro-tastic way, like, "You look sick, bro!" In that case? Hell yeah, he does.
Diego Maradona
Legends don't get much bigger than soccer superstar Diego Maradona. Unfortunately for him, we mean that literally and figuratively. While Maradona made a name for himself with his otherworldly soccer skills, and his victorious captaining of the Argentina team in the 1988 World Cup, the years following his retirement have been a bit of a roller coaster. His weight has ballooned and shrunk over and over again, forcing him to eventually get gastric bypass surgery in 2015.
Still, Maradona is a champion, and not about to let a thing like weight gain keep him down. In fact, he turned it into a challenge, taking to Twitter to prove to the world that he was still capable of bulking up the right way. Sure, some claimed it was a computer-generated hoax, but he has always denied that. And let's be honest, computers can only do so much.
Antone Davis
Haunted by his fellow Tennessee Volunteer lineman who had died far too young, Antone Davis knew he needed to make a change. He had swelled to nearly 500 pounds, and carried aspirin everywhere he went out of fear his heart would just stop beating. That's what led him to compete on NBC's The Biggest Loser, in the hopes of turning his life around.
He ended up losing 200 pounds, or more than 45% of his body mass, in the grueling competition, and transforming his life in the process. He's now working with the Tennessee football program as head of their Vol For Life program, helping young players learn about life outside of football, and avoid the mistakes he made along the way. So, maybe put that burrito down. That's right: we know you're eating a burrito right now.
Simona Halep
Simona Halep was a phenom tennis player, holding her own against the best in the world while still a teenager. There was just one problem. Well, two. Halep's 32DD breasts were always getting in the way, and weighing her down.
At age 17, she decided to get breast reduction surgery, dropping down to a more reasonable 34C, and quickly found herself climbing up the tennis ranks. She ended up being ranked in the top 10 in 2014, and won the Women's Tennis Association's Most Improved Player. She's gone on to face off in final matches against Maria Sharapova and Serena Williams, proving that sometimes, less is more.
Barry Bonds
Barry Bonds was the best player of his generation. Some might argue he was the best player of all time. And then he went and messed it all up. While he played clean, breaking records and carrying his Pirates teams to the playoffs, other players started messing around with steroids, and turning into superhuman freak shows. Home run records started dropping like flies. Lesser players like Mark McGwire and Sammy Sosa started taking the spotlight away from Barry, and he wasn't going to let that happen.
The lanky superstar, allegedly started his own performance enhancing habit, and turned into a muscle-bound monster, with a head the size of a tire swing. He broke the records. He took back the spotlight. And now he has to live with what he did. His transformation continued after he retired, as he shrunk back down to his normal, lean self. Like Bigfoot in the woods, sightings of the slight star started popping up on the internet, only proving what many fans had always known. He may have been the best, but he would always have an asterisk next to his name.
Rulon Gardner
Rulon Gardner has had a tough go of it since defeating Russian Alexander Karelin for gold at the 2000 Sydney Olympics. It's still considered one of the greatest upsets in Olympics history, making the Utah wrestler an instant star. Sadly, he struggled with his health in the years after that, ballooning up to an incredible 400 pounds. He also lost his toe to frostbite after a snowmobile accident in 2002 left him stranded in the icy tundra of his native Wyoming, and survived a motorcycle accident and a plane crash. It's been a tough road, folks.
At age 40, he went on NBC's The Biggest Loser, in the hope of losing half his body weight and qualifying for the Olympic team. He failed to make weight, dropping to 280, before putting a hundred pounds back on. The wrestler now finds himself in dire straits, selling off his medals for cash, and trying to find a way back. In the immortal words of Rudy Tomjanovic, "Don't ever underestimate the heart of a champion." Even if that heart's a ticking time bomb.
Sammy Sosa
Oh boy. There are stories of players falling apart after retiring. There are stories of players being reborn. And then there's whatever happened to Sammy Sosa. In a move right out of the late King of Pop's playbook, Sammy Sosa apparently thought it was a good idea to experiment with skin bleaching, and the results speak for themselves.
The controversial slugger told Univision Spanish, "It's a cream that I have, that I use to soften [my skin], but has bleached me some. I'm not a racist, I live my life happily." So that settles that. There's nothing odd or racist about wanting to go from black to white. Take it from the Cubs star, who somehow made his steroid use the second most shameful thing he's done to his body.
McKayla Maroney
It was the expression that launched a thousand memes. For Olympic gymnast McKayla Maroney, it wasn't planned. Sometimes you're just not that impressed with winning a stupid silver medal, when you came to the Games for gold. At its peak, her miffed meme was everywhere. Heck, she even got President Obama to give it a whirl.
In the years since, Maroney has sought out new challenges, from her love of singing to an apparent desire to break the internet. How else to explain the sudden switch to such a sexy image, a new look that left some of her fans scratching their heads? Out was the wholesome All-American, in was the booty-shaking beauty. Some folks even accused her of having plastic surgery, which she's denied.
But it was Maroney who would have the last laugh, posting on Twitter that, "I'm just doing me. If you want me to be a role model so bad, get inspired by how I give zero f*cks and go do you. Not everyone's gonna like you, but if you stay true to yourself they might just respect you." Apparently, she wasn't that impressed with their problems.
Lenny Dysktra
Lenny "Nails" Dykstra was one of the toughest SOBs to ever swing a bat, but it's taken a toll. Court filings claim the outfielder downed a daily cocktail of Dexedrine, Adderall, and Vicodin for decades, often washing it down with a liter of vodka. That may explain the many legal troubles he's faced since. 2011 alone saw him arrested for grand theft auto, possession of narcotics, bankruptcy fraud, and indecent exposure. Unsurprisingly, he soon found himself behind bars.
It was there he ran into his biggest trouble yet, namely the fists of a gaggle of guards. As Dykstra later told Howard Stern, the guards used to mock him by singing "Take Me Out to the Ballgame." One day he snapped and screamed at them to shut up. Well, they didn't take too kindly to the request and allegedly beat him viciously, knocking his teeth out in the process.
According to the AP, Dykstra eventually filed suit against several sheriff's employees, claiming he was "slammed against the wall, his teeth were knocked out and he was kicked and beaten until he was 'barely breathing.'"
A sheriff's spokesman, Steve Whitmore, admitted the fight happened but claimed Dykstra started it and had to be physically restrained. Since his 2013 release, Dykstra has continued to struggle, even saying he acted as a paid escort at times. Thankfully, as he documented in his web series, "Nails Revealed," he got the teeth replaced, or his escorting career might have been over before it began.
Jared Lorenzen
Update: Jared Lorenzen died July 3, 2019, following complications from multiple health issues.
"Right now, if I didn't wake up tomorrow, it wouldn't be a shock to many people." That's where Jared Lorenzen's head was at when he began The Jared Lorenzen Project, his mission to lose weight, and inspire others to do the same.
The project was necessary because of the massive weight gain he experienced after retiring from the NFL in 2008. Back then, serving as Eli Manning's backup for the New York Giants, he had to remain under a league-mandated 292 pounds. By 2017, he was tipping the scales at over 500.
Lorenzen was always on the bigger side, going by "Hefty Lefty" for much of his career, but when he tried to make a comeback in 2014 and immediately blew out his ankle, he knew something had to change. Along with a medical team and a community of fellow weight watchers online, he spent the rest of his life working to get fit and to be there for his family.
David Carter
Being a pro athlete doesn't necessarily mean you're the picture of perfect health. It certainly didn't for David Carter, who could bang away with other players on the football field but could barely lift himself out of his own tub. Carter told Sports Illustrated, the problem was his diet. "I was going to In-N-Out and getting six Double Doubles," he said.
That's when he came across the documentary Forks Over Knives, and rethought his entire life. The film claims that almost any disease can be controlled or even reversed by adopting a vegan diet.
As Carter recalled, "I was drinking a milkshake while I was watching the documentary and poured it out." The new-look lineman soon became something of a unicorn in the NFL, a vegan football player. He says he lost 40 pounds in six weeks thanks to his eating habits.
Since retiring, he's become an activist, focusing his energy on teaching communities of color about healthy plant-based eating. And, just to put the vegan cherry on top, he's been earning extra coin as a model, all thanks to the new physique his greenery-gorging lifestyle delivered.
Brian Wilson
Remember that time Homer Simpson shaved on The Simpsons, and something just felt off about it? Well, it's happened again, this time to former big leaguer and black beard enthusiast Brian Wilson.
That's right, the quirky reliever, a Giants fan favorite thanks to his smoking fastball, bizarre behavior, and World Series pedigree, has gone and cut off his trademark whiskers, and it just doesn't feel right.
For years Wilson became the face of the follically focused Giants clubhouse, with his black-dyed, bushy beard and matching mohawk. But as of 2017, when he was training for a comeback in the big leagues, he'd gone clean shaven and completely unrecognizable.
And that's not the only difference. Because his fastball had become more of an average ball over the years, he was switching up his delivery and attempting to become a knuckleballer. So if you ever see a smooth-faced hurler with a ball bouncing off home plate, you might be watching the new and improved Brian Wilson. Let's just hope, much like Homer, his beard grows back nice and quick.
Keith Tkachuk
In the history of the NHL, no hockey player has faced more scrutiny for his weight than left wing legend Keith Tkachuk. At first the only thing anyone cared about was his shot because he scored 41 goals in his second full NHL season.
And that was just the start. During the 1996-97 season he led the league in goals scored, becoming the first American-born player to accomplish the feat. He would go on to score 538 goals and is only the sixth American player to score 1,000 points.
Sadly, the later part of his career was when weight took center stage. He returned from the 2004-05 lockout with the pounds packed on and struggled to keep them off the rest of his career.
These days he spends his time cheering on his hockey-playing son, which requires a slightly less vigorous fitness routine. More power to him! He's faced enough grief over his physique, so if he wants to just kick back and enjoy life a little, he's more than earned it.
Todd Marinovich
For Todd Marinovich, washing out of the NFL was just the beginning of his rough ride. The hard-throwing QB only played two seasons in the league, for the bad boy Raiders, but the rigid lifestyle of a professional athlete failed to keep his notorious drug habits in check. According to the ESPN documentary The Marinovich Project, the QB got around drug testing by using his friend's urine, but even that he failed at, borrowing the pee from a pal who'd apparently gotten drunk the night before.
During his brief tenure in the league, his habits grew from marijuana and cocaine to amphetamines and eventually LSD, but the brain-altering nature of the drug made it hard for him to focus, and he soon washed out of the league. Years of run-ins with the law would follow, for everything from sexual assault to walking naked through a neighborhood with a bag of weed.
But back in 2017, at the ripe age of 48, Marinovich found himself attempting a comeback with the SoCal Coyotes of the World Developmental Football League, clean and sober thanks to his time in rehab. As he told the Desert Sun, "Recovery has changed every aspect of my life and made it better, so why wouldn't that carry over to the football field?"
Only time will tell what the road ahead holds, but the rough years have surely taken a toll on the once elite athlete.
Donyell Marshall
Donyell Marshall is one of six NBA players to have 10,000 points, 5,000 rebounds, 750 blocks, and 750 three-pointers in a career. The boy could ball. Since retiring, he's shown the same competitive spirit, stalking the sidelines as a coach, most recently at Central Connecticut State University. And thankfully, he never takes himself too seriously.
When a reporter from The Buffalo News once asked him about the stereotype that great players don't make great coaches, he responded, "That's funny because I always sit back and say it's a good thing I wasn't a great player."
But it's underneath the sturm und drang of basketball that the real story seems to be happening. Something is off with Donyell Marshall. In a short period of time, he seems to have aged rapidly, the sacks around his eyes ballooning out to a striking degree. While there have been rumors online, Marshall hasn't come out and said what he may be battling. Whatever it is, we're sure he can beat it with the same focus and determination he showed over his 15-year NBA career.
Brian Urlacher
Can you honestly, ever remember a time when Brian Urlacher wasn't bald? When he played 13 seasons and 182 games for the Chicago Bears, was his dome ever not chromed? When he set a laundry list of franchise records, did he record any of them with a little hair under his helmet? How about during his eight Pro Bowls and four first-team All-Pro appearances? Anything? A buzzcut? Some peach fuzz?
Well, truth be told, he did have a tight do when he first came into the league back in 1999, but it quickly went from short to fully shorn, as his hair made like a running back and ran the heck away from him.
So, boy oh boy, were we all in for a shock in 2016 when the former Monster of the Midway seemingly found a follicular fountain of youth and showed up with a full head of glorious hair.
According to GQ, Urlacher sat for an eight-hour surgery with a group of doctors who carefully took follicles from the back of his head and placed them on top. That's right, after one long day with the docs, Urlacher went from bald to bountiful, and he's been showing off his luscious locks ever since.
Zydrunas 'Big Z' Savickas
Žydrūnas Savickas, otherwise known as "Big Z," is a legend in the strongman world. He's the only powerlifter to have won every major modern competition and holds the world record in the log lift. (If you don't watch lifting competitions, it entails lifting a heavy log. Duh.)
But despite the accolades, Big Z wasn't always the picture of perfect health. Sure, he could deadlift a car, but he never could get rid of those pesky love handles. Of course, on him they were more like love stair rails.
That all changed back in 2017, when he adopted the diet plan of his buddy and fellow strongman Thor Bjornsson. According to Men's Fitness, Big Z would still eat approximately 13 pounds of food a day, but now he'd do it strategically. Lean protein. Clean carbs. Lots of colorful veggies.
The results speak for themselves. The formerly portly powerhouse is now all muscle, the fat melted away, meaning he'll be powerlifting cars, logs, and whatever else he feels like for years to come.