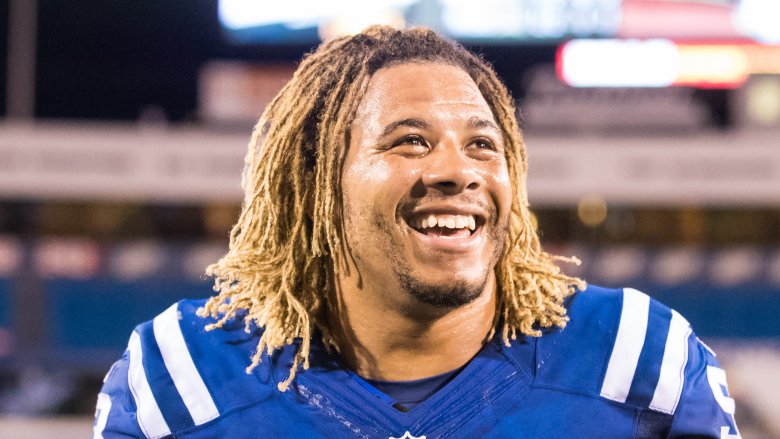 Athletes: Perhaps they are our greatest natural resource. Perfect specimens of humanity, physicality, and athletic prowess, we are entertained, amazed, and bewildered by sports stars' superhuman feats of strength, speed, and agility regardless of the sports-ball field, track, court, diamond, rink, or gridiron upon which they choose to impress.
While they seem immortal when flying through the air to slam dunk a basketball held aloft with a single hand, or hurling a ball 300 feet while giants try to tackle them, or somehow hitting a ball traveling 100 mph with a small wooden stick to make it soar hundreds of feet away, the sad truth is that athletes actually are, at their core, regular human beings subject to the same laws and principles of the universe as the rest of us. That means they die. Athletes are people, often wonderful, remarkable people, but people nonetheless. Here are the sports stars both young and old that left us in 2018.
Dan Gurney can and did race most every kind of race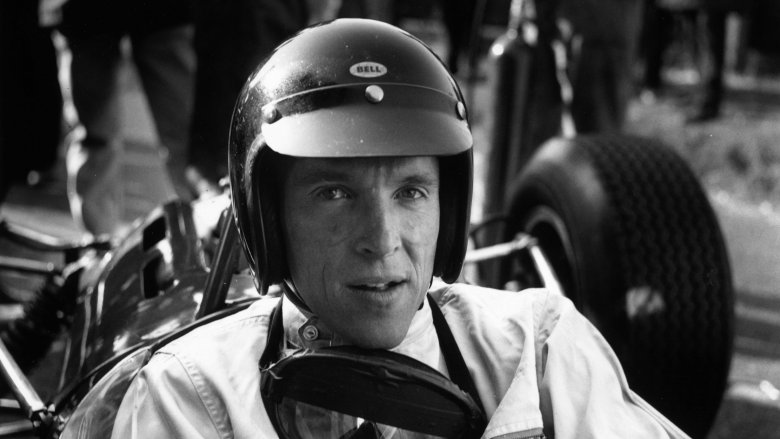 There are several sports that involve racing cars very fast, but they're all actually very different and there isn't a lot of overlap between these different types, even if they look basically the same to the non-fan. To start with, there's the NASCAR circuit, IndyCar, and Formula One. Drivers by and large train for just one of them, and stay loyal to the brand. And yet there are historical curiosities like Dan Gurney. Not only is he one of the few drivers who was good enough to race at the top circles (or ovals) of NASCAR, IndyCar, and Formula One, but he's the first person to ever win a race in all three, creating a previously nonexistent Triple Crown for himself. And for good measure, he won the insane Le Mans 24 Hours endurance race in 1967 with team member A.J. Foyt — which is where he started the now common trend of celebrating a big win with a spray of champagne. Gurney died from complications of pneumonia at age 86 in January 2018.
Oscar Gamble's stats were almost as impressive as his hair
The 1970s were one of the wildest eras ever in Major League Baseball, perhaps a little because of the hair. Sure, you had Rollie Fingers' silly mustache that made him look like he was going to tie a woman to train tracks in a silent movie, and Pete Rose's assortment of little-boy Supercuts classics, but Yankees power hitter Oscar Gamble had the best hair of all, hands down. Cam Martin of ESPN said the outfielder/designated hitter "looked like he'd been dropped off by the mothership of Parliament-Funkadelic," which is to say that the man rocked one of the best afros this side of Billy Preston. That huge dome of hair spilling out of a cap, along with his actual hitting statistics, made Gamble one of the most iconic baseball players of the '70s. Gamble's career stretched from 1969 to 1985, and he racked up a devilish 666 RBIs, nearly 1,200 hits, a respectable .265 batting average, and exactly 200 home runs while playing for a number of teams, including the Chicago Cubs, Philadelphia Phillies, Cleveland Indians, and the New York Yankees. Complications from a rare jaw tumor ended the 68-year-old Gamble's life in January 2018.
Tyler Hilinksi was set to be a sensation in Cougar Town
In the 2017 college football regular season, Washington State finished with a 9-3 record, good enough for third place in the highly competitive Pac-12 North and a spot in the Holiday Bowl (where the team lost to Michigan State). Star quarterback Luke Falk lead the way, with some impressive play from backup Tyler Hilinski. He threw more than 200 passes as a freshman and sophomore and started in the Holiday Bowl, as Falk was injured. He was a virtual lock to become the Cougars' first-string QB after Falk's impending graduation. That's a future that will never come. Just a few weeks after the Holiday Bowl, on January 16, 2018, Hilinski missed a team practice, prompting police to stop by his Pullman, Washington, apartment to see if anything was amiss. That's when the body of Hilinksi, only 21, was discovered. He'd apparently administered a self-inflicted gunshot wound to the head. A note was found nearby, leading the coroner's office to rule the death a suicide, but the reason for the suicide is unclear.
Chameka Scott brought big ballin' to the Baylor Bears
Chameka Scott did what no one else did before 2005: won a women's basketball national title with Baylor University. Scott, a native of the Houston area, played at the school from 2002 to 2006, and averaged about 8 points and 4 rebounds during her junior year (2005) for the Lady Bears, when the team won the championship. (The next year, she got even better, with 9 points and 6 rebounds or so per game.) She parlayed that success into a pro career, both in the WNBA and internationally. Unfortunately, she had to retire from sports early, as the rigorous work of a professional athlete just couldn't be sustained after she was diagnosed with Crohn's disease. Scott then became a performance coach, which is a great job for a retired athlete. Then sickness reared its ugly, nasty head again for Scott — in 2015, doctors discovered a cancerous blockage in her colon. Everything malignant was removed, but the cancer came back, as it often does. The disease took Scott's life in January 2018.
An NBA title is nice, but Jo Jo White didn't stop there
Jo Jo White accomplished just about everything a world-class basketball player can accomplish. He was a standout at perennial college ball powerhouse Kansas, where he was a two-time All-American and three-time team MVP. He was selected for the 1968 men's Olympic team and won a gold medal. Then the Boston Celtics drafted him with a high first-round pick in 1969, and White delivered on that promise, leading the dynastic team to NBA championships in 1974 and 1976; in the latter, White was named NBA Finals MVP. The Celtics traded him in 1979 after 10 seasons, and he wrapped up his career with stints with the Golden State Warriors and Kansas City Kings … but returned to Boston to have his jersey number (10) retired in 1982. White's career stats — 17.2 points, 4.9 assists, and 4 rebounds per game — were good enough to get him into the Naismith Memorial Basketball Hall of Fame. White died at age 71 in January 2018. According to White's daughter, Meka White Morris, the death was due to pneumonia and dementia, complications from the removal of a benign brain tumor in 2010.
Rasual Butler played pretty much everywhere
Sports star Rasual Butler was a journeyman player in the NBA, posting a lengthy 13-season career that included stops with the Miami Heat, New Orleans Hornets, Chicago Bulls, and San Antonio Spurs. His best season came in 2009-2010, when the small forward/shooting guard averaged 11.9 points per game for the Los Angeles Clippers. Butler retired at the conclusion of the 2015-16 season and resided in Los Angeles with his wife, R&B singer Leah LaBelle, best known as a finalist during American Idol's third season back in 2004. Shockingly, both Butler, 38, and LaBelle, 31, died in a single-vehicle crash. At about 2:30 a.m. on January 31, 2018, Butler lost control of his Range Rover, and it plowed into parking meters and a wall at a very high speed before finally rolling to a stop in a parking lot. Butler's former boss, Heat president Pat Riley, released a statement in which he called Butler "one of the greatest people we have ever had play for us; a great player, teammate, and better person."
Edwin Jackson could tackle anything
Edwin Jackson was only just getting started in the NFL. A two-sport star as a young 'un — he lettered in football three times and was a state wrestling champion finalist for Westlake High School in Atlanta — Jackson played linebacker at Georgia Southern. But he went undrafted, eventually signing with the Indianapolis Colts and playing in all 16 regular-season games in 2016, where he recorded 42 tackles. The Colts placed Jackson on their injured reserve list for 2017, which set him up to make a big splash in 2018 … which sadly won't happen because he was killed in a horrific roadside accident. Police believe that around 4 a.m. on February 4, 2018, Jackson's Uber driver, 54-year-old Jeffrey Monroe, pulled over on Interstate 70 in Indianapolis because Jackson was feeling sick. While standing on the side of the road, both men were struck and killed by a pickup truck. Previously convicted drunk driver Manuel Orrego-Savala faces 20 years in prison on charges of causing death while driving while intoxicated and leaving the scene of an accident. His blood alcohol level: 0.19, twice Indiana's legal limit. Edwin Jackson was just 26.
The sad and mysterious on-court collapse of Zeke Upshaw
It's obviously sad when an older, beloved, and groundbreaking athlete dies, triggering a time for sentimental reflection on their accomplishments. But when a young athlete dies basically before their life can even get started, it's downright tragic, just because it's awful when anyone dies before their time, and because it leaves us wondering what could have been. Zeke Upshaw played college basketball for Illinois State and Hofstra before turning pro for leagues in Slovenia and Luxembourg. In 2016, he got very close to the NBA, signing with the Grand Rapids Drive of the NBA Development League (later known as the NBA G League). In his second season with the team, Upshaw contributed 8.5 points per game, helping the team score a 29-21 record and a playoff spot. Tragically, during the team's final game of the regular season, against the Long Island Nets in March 2018, Upshaw collapsed on the court. The 26-year-old was hospitalized locally and died two days later. (A specific cause of death was not released.)
RIP, Le Grand Orange
The Montreal Expos don't have as storied a history as most other Major League Baseball teams. They never went to a World Series, their best season was shortened by a strike, and they struggled to exist until a move and name change made the team the Washington Nationals. Rusty Staub, however, was the team's very first star and still one of its most beloved people. He landed with the Expos in 1969, the team's first season in the majors, and thus the birth of the MLB in Canada. Staub hit .302 with 29 home runs that year while also serving as a de facto ambassador for Canadian baseball — the man even learned French to endear himself to Quebecois francophone fans, who affectionately nicknamed the redhead "Le Grand Orange." Staub was a six-time All-Star (including all three years he played for Montreal), and he later played for a few more teams, notably the New York Mets. He died of a heart attack at age 73 on March 29, 2018. That just so happened to be baseball's Opening Day, and the Mets paid tribute to him with a moment of silence.
Hal Greer, the all-time greatest Philadelphia 76er
Hal Greer was a sports star in the NBA just when it was starting to get popular — in part because of Greer's on-court heroics. He played his entire, 15-year career (1958–1973) with the same team, the Philadelphia 76ers (including when they were the Syracuse Nationals). Despite some major stars on the team through the years, such as Julius Erving, Charles Barkley, Allen Iverson, and Manute Bol, after all this time Greer is still the all-time franchise leader in points scored, games played, and field goals. The league recognized Greer, too, naming him to 10 All-Star teams and including him on its 1996 list of the 50 greatest players of all time. The first Sixer to have his number (17) retired, he led the team to the 1967 NBA championship and was elected to the Naismith Memorial Basketball Hall of Fame in 1982. Greer passed away in April 2018 at the age of 81.
If you like martial arts, you have Jhoon Rhee to thank
If you ever took a taekwondo class in a strip-mall dojo, then you've got Jhoon Rhee to thank for that. Regarded as "the father of taekwondo" in the United States, Grandmaster Rhee is thus one of the most influential athletes in American history, seeing as how he got countless Americans, either directly or indirectly, to take up martial arts. Born in Korea during Japanese occupation, Rhee emigrated to the United States in the 1950s and in 1962 opened his first American studio in Washington D.C. At its peak, Rhee ran 11 taekwondo centers in the D.C. area.
Unlike other major martial arts figures of the mid-century, Rhee, a 10th-degree black belt, didn't much pursue film work. He starred in just one movie, 1973's When Taekwondo Strikes, alongside his friend, some guy named Bruce Lee. But that's not his legacy — his legacy is introducing a whole new sport to one of the most populous countries on Earth. Rhee's son, Chun Rhee, told the media that his father passed away in April while in hospice care after fighting a long-term illness. He was 86.
All hail the Living Legend
You have to be pretty good at whatever it is you do if your nickname is the "Living Legend" — Bruno Sammartino was just that good. It's no exaggeration to say the entire modern world of professional wrestling wouldn't be what it is without him. A slightly-built Italian who knew very little English when he immigrated to the U.S. as a child, Sammartino responded to bullying by his Pittsburgh classmates by becoming a weightlifter and bodybuilder. In 1956, he just missed the U.S. Olympic weightlifting team, but three years later he made up for it by setting a world record bench-press of 565 pounds.
Starting in 1960, Sammartino wrestled with Capitol Wrestling Corporation (owned by Vince McMahon Sr.) off and on until 1963, when McMahon asked Sammartino to contend for the heavyweight championship in the newly rechristened World Wide Wrestling Federation against the legendary "Nature Boy," Buddy Rogers. Sammartino won the match in an astounding 48 seconds … and held that heavyweight title until 1971. That's still the longest-held championship in WWWF/WWF/WWE history. He reclaimed his title in December 1973 and didn't let it go until April 1977, making it the fifth-longest championship in league history. Sammartino retired from grappling in 1981, and in 1984 returned to the WWF as a color commentator. Sammartino was 82 when he died in April.
Racing star James Hylton was never far from a car
Hylton was a solid, competitive, and formidable presence on the race track for years. After working as a mechanic and crew chief in the very early years of NASCAR in the 1950s, he switched to driving in 1964, and just two years later was named the circuit's Rookie of the Year. While he only won two races over his three-decade career, Hylton finished an impressive second in the points standings on three separate occasions. The first was in 1966, his rookie NASCAR year; the other two came in 1967 and 1971 when only Richard Petty could top him. Over a whopping 602 career races, Hylton finished in the Top 10 exactly half of the time. In 2009, Hylton didn't let being 75 years old stop him from racing in the ARCA circuit full-time, where he ultimately started almost 200 races.
In a sad and deeply ironic twist, Hylton died in a car accident in April 2018. He was riding in a truck (hauling a trailer with a race car inside) when, according to the Georgia State Patrol, the driver ran off the road and into an embankment. His 61-year-old son also died in the crash. Hylton was 83.
Only death could keep Doug Ford off the links
He wasn't a household name on the level of Tiger Woods, Jack Nicklaus, or even Lee Trevino, but Doug Ford was a "golfer's golfer," likely due to his prolific play. (The legendary Sam Snead nicknamed him Otis. The reason: "Because he's like the Otis elevator, he's up and down at every green.")
Ford won 19 PGA tournaments (including the 1955 PGA Championship and the 1957 Masters Tournament), all in the 12-year period between 1952 and 1963. But winning is one thing — this guy just liked to play. Between 1950 and 1963, Ford participated in an insane 429 tournaments, which is about 31 a year — it was basically his life. "He'd leave a tournament on Sunday night, go home and play in a pro-am, then get to the next tournament to start practicing by Tuesday," said fellow pro golfer and friend Bob Goalby, who inducted Ford into the World Golf Hall of Fame in 2011.
Ford kept playing even as he got extremely elderly — he played in the Legends of Golf, an event he helped put together, from its founding in 1978 up to 2013. At the time of his death in May 2018, Ford was 95 years old.
Ray Wilson brought it home for queen and country
England is crazy for football, or what we in the States call soccer. Top-flight teams like Arsenal and Manchester United are world-famous, but the national team has only taken home the World Cup once. England claimed that honor in 1966, which was especially sweet because they were also the host country. Ray Wilson was an integral member of that squad.
A speedy and agile left back, Wilson played in every minute of every World Cup game for England. His defensive prowess was just that essential, although he did have a hand in some goals — in the semifinal against Portugal, he delivered a long, difficult pass to star forward Roger Hunt that led to his team's first point of the game. At 31, Wilson was the oldest member of the championship squad, and he left the team in 1968 due to lingering knee problems. He played in English club soccer (which included an FA Cup title with Everton) until he retired in 1971. Then, of all things, he ran a mortuary until 1997. Diagnosed with Alzheimer's in 2004, Wilson passed away in 2018 at the age of 83.
The beat does not go on for The Rockin' Rebel
Back in the 1990s and early 2000s, the WWE made pro wrestling was more popular than ever, propelling the popularity of numerous second- and third-tier wrestling promotions. These regional, lesser-known organizations offered just as much entertainment and athleticism as anything on SmackDown or pay-per-view, and that was thanks to stars like Chuck Williams, better known by his ring name, The Rockin' Rebel.
Trained by the legendary Rock 'n' Roll Express (the duo of Ricky Morton and Robert Gibson), Williams debuted as a pro in December 1988 and enjoyed stints in Combat Zone Wrestling, Eastern Championship Wrestling, Atomic Championship Wrestling, and Valour Pro Wrestling, along with some time in promotions in Japan, South Korea, and Puerto Rico. The Rockin' Rebel was especially successful in the ACW, where he was a four-time heavy champion and two-time tag team champ (with Heavy D and Kitt).
For all his success, Williams' death was sad and shocking. On June 1, the West Goshen Township Police in Pennsylvania were called to a home occupied by Williams, 52, and his wife, Stephanie. They discovered the couple, both of whom had died of gunshot wounds. Police believe Williams killed his wife and then himself.
He was the man who made 'The Catch'
A 10th-round draft pick out of Clemson University in 1979, Dwight Clark was a 6'4" receiver who played for the San Francisco 49ers for the entirety of his nine-season NFL career, and he ranks near the top of all-time franchise lists for catches, yards, and touchdown receptions. But Clark will always be remembered by Bay Area sports fans for a play known in NFL lore simply as "The Catch."
There were 51 seconds remaining in the 1982 NFC Championship Game with the Dallas Cowboys comfortably ahead of the 49ers. Quarterback Joe Montana hurled a pass into the back of the end zone, and Clark leaped into the air and caught it by the tippy-tops of his fingers. That put the 49ers up 28-27 and made them NFC champions, on their way to the first of five Super Bowl victories in the '80s and '90s.
On June 4, 2018, Clark's wife, Kelly, announced via her husband's Twitter page that the legendary receiver had died. Clark had lost his nearly two-year battle with amyotrophic lateral sclerosis, otherwise known as Lou Gehrig's disease. He was 61.
Red Schoendienst bled Cardinal red
There might not have been a guy who ever loved baseball as much as Albert "Red" Schoendienst loved baseball. He spent an astounding 76 years in professional baseball. Schoendienst's extremely long career began in 1945, when he replaced St. Louis Cardinals first baseman Stan Musial, busy serving overseas in World War II. Schoendienst made good on the opportunity, hitting .278 and leading the National League in stolen bases. The next year, upon Musial's return (the two became road-trip roommates and best friends), Schoendienst moved to second base, made the first of ten All-Star teams, and led the team to a World Series championship.
After stints with the New York Giants and Milwaukee Braves, Schoendienst returned to St. Louis in 1961 for the last three years of his playing career … which were only the beginning of another 50 years in baseball. He started as a member of the coaching staff before a promotion to manager in 1964 — and guided the team to another World Series title. He left the Cards in 1976, only to return for interim managerial stints in 1980 and 1990 before settling into a position he'd hold for virtually the rest of his life: team special assistant. (He'd still hit balls in fielding practice — when he was in his eighties.) A career .289 hitter with 427 doubles, the Veterans Committee enshrined Schoendienst in the Baseball Hall of Fame in 1989. Schoendienst was 95 when he died June 6.
Anne Donovan was a champion at every level of hoops
Anne Donovan was one of the most accomplished American basketball players in general, and an icon and ambassador for women's basketball specifically. An imposing, dominant presence on the court (she stood 6'8") who led her Paramus Catholic High School team to two New Jersey state championships, Donovan was the most recruited female player in the country in 1979, with Old Dominion in Virginia winning out over more than 200 other colleges. In 1980, Donovan helped the team log a 37-1 record and a national championship. Over her college career, she averaged 20 points per game, 14.5 rebounds per game, and blocked 801 shots — over 200 more than the men's college record.
Named to the U.S. Olympic team in 1980, the American boycott meant she had to wait until 1984 to win a gold medal. She won then and repeated in 1988. As women's pro basketball in America wasn't very established at the time, Donovan played in Japan and Italy, eventually returning to the U.S. to coach for colleges and in the WNBA. She coached five pro teams overall, notably the Seattle Storm, who won the championship in 2004. But the Olympics came calling once again — at the 2008 Summer Games, the squad led by Donovan crushed an unbeaten Australian team in a surprising 92-65 rout. The basketball Hall of Famer died on June 13 at her home in North Carolina due to complications of a heart ailment. Donovan was 56.
Vader was the second-most famous guy named Vader (still frightening, though)
In the '70s, Leon White was a two-time All-American center on the University of Colorado's football team, and then selected in the third round of the 1978 NFL draft by the Los Angeles Rams. White was on the Rams' Super Bowl-bound roster in 1980. Persistent injuries prematurely ended his football career … but left him open for a three-decade run in pro wrestling where he was primarily known as Vader.
After becoming the heavyweight champion in New Japan Pro Wrestling in the '80s, Vader (also called Big Van Vader) jumped to the WCW in 1990, and the WWF (not yet the WWE) in 1996. He then returned to Asia with All Japan Pro Wrestling and was again a title-holder and wrestled as recently as the spring of 2017. White/Vader rocked a distinctive in-ring look: a traditional wrestling singlet in red and white with a matching (and unsettling) webbed mask made out of leather.
In recent months, White had been suffering from heart problems. After open-heart surgery in March 2018, he developed pneumonia, only to suffer heart failure on June 18. One of his children posted the new to Vader's Twitter account: "Around a month ago my father was diagnosed with a severe case of pneumonia. He fought extremely hard and clinically was making process. Unfortunately, on Monday night his heart had enough and it was his time." The champion wrestler was 63.
The unlikely champion figure skater
Denis Ten made history for the small Asian nation of Kazakhstan. In 2014, he became the first Kazakh figure skater to ever win a medal at the Winter Olympics. While he finished in ninth place in the short program element of the men's single figure skating competition, he finished a strong third in the free skating portion, enough to get him an overall third place finish, and a bronze medal. He sandwiched the Olympic glory with a silver medal at the 2013 world championships and a bronze at the event in 2015, and competed in the 2018 Olympics in Pyeongchang, where he finished in a disappointing 27th place.
Horrifyingly, Ten died in July 2018 in Almaty, Kazakhstan, when he was attacked by two men attempting to steal the mirrors off his car. It turned physical when one of the men stabbed the skater in the thigh. Denis lost several liters of the blood as a result, and he was rushed to a hospital, where, after three hours in critical condition, he died. The Olympic figure skater was 25.
Ray Emery had only just retired
Ray Emery stuck it out in front of the net for 11 seasons as an NHL goaltender. The man they nicknamed "Razor" spent the bulk of his career — five years — with the Ottawa Senators. He was with the team during its first and (so far) only Stanley Cup appearance, a losing bid to the Anaheim Ducks in 2007. Emery also had stints with the Philadelphia Flyers and the Anaheim Ducks, and helped the Chicago Blackhawks through their 2012-13 Stanley Cup championship season. The following season produced one of Emery's most memorable moments: a rare goalie-on-goalie fight with Braden Holtby of the Washington Capitols, which led to a bench-clearing brawl. Emery hadn't set skate on NHL ice since 2015.
One weekend morning in July 2018, Emery went out to Lake Ontario, near his hometown of Hamilton, Ontario, to swim with friends. He disappeared under the water, and police began a search. Nine hours later, they recovered the body of Emery, who was only 35 years old.
The WWF heel that fans loved to hate
In the late 20th century, America's biggest enemy was the Soviet Union, and the WWF (now WWE) responded with Soviet heels like Nikolai Volkoff, who the organization called "one of the greatest villains sports-entertainment had ever seen." He'd even enter his matches singing the Soviet National Anthem and ask spectators rise to their feet. (They responded about how you'd expect.) Volkoff had his biggest success as a tag team wrestler, teaming up with fellow enemy of the state the Iron Sheik, squaring off against all-American good guys like Hulk Hogan and Sgt. Slaughter. Together they won the WWF Tag Team Championship at the very first WrestleMania in 1985, and Volkoff also wrestled as a group with the Executioners, alongside fellow legends Big John Studd and Killer Kowalski. He was enshrined in the WWE Hall of Fame in 2005.
But "Nikolai Volkoff" was a character, played by a real guy named Josip Peruzovic, born in Croatia in 1947. His wife, Lynn, told the Associated Press that she found him unresponsive in July. The former wrestler was 70; he had a history of heart problems. His old tag team partner, the Iron Sheik, movingly memorialized the man on Twitter, calling Peruzovic "My best friend. My partner. My brother. We get more heat than anyone on Earth. I trust him with my life. He take care of me when I was down. I miss you forever."
Brian Christopher brought attitude to the Attitude Era
The full name of the man who wrestled under the name Brian Christopher was Brian Christopher Lawler, as in Jerry "The King" Lawler — that's his father. Wrestling was in the younger Lawler's blood, and he enjoyed huge success during the late '90s Attitude Era under the name Grandmaster Sexay, half of the Too Cool tag team alongside Scotty 2 Hotty and Rikishi. After incorporating hip-hop dance moves and fashions into their act (hey, it was the '90s), they won the Tag Team title in 2000.
Life had gotten a little dark for Lawler as of late. In early July 2018, Memphis police arrested him for driving under the influence and evading arrest … just a month after nabbing him for allegedly skipping out on a hotel bill. Tragically, Lawler committed suicide in his Memphis jail cell. Officers performed CPR and paramedics took him to a hospital, where the wrestler died at the age of 46.
If you or anyone you know is having suicidal thoughts, please call the National Suicide Prevention Lifeline at 1-800-273-TALK (8255).
Stan Mikita was Chicago's greatest hockey player of all time
Stan Mikita retired after a 22-season NHL career in 1980, and decades later he remains the all-time leading scorer in Chicago Blackhawks franchise history with 1,467 points. (That puts him in a very impressive 14th place on the all-time NHL list.) In other words, he's probably the most legendary player on one of the oldest and most storied teams in American sports. Mikita first hit the ice in 1958 for the Blackhawks and played his entire career in Chicago. He'd eventually capture two Hart Trophies (the NHL's MVP award), four Art Ross Trophies (for leading the league in scoring), two Lady Byng Memorial Trophies (for sportsmanship), and perhaps best of all, the 1961 Stanley Cup championship.
But to the hockey non-enthusiast, Mikita is probably best remembered as a part of Wayne's World. Originally, the film was set in Aurora, Ontario, near where star and co-writer Mike Myers grew up, and the metalhead characters would hang out at a Tim Hortons — the chain of donut shops named for a hockey legend. Then the setting changed to Aurora, Illinois, just outside Chicago … leading producers to switch the Tim Hortons to a "Stan Mikita's Donuts," reflecting Mikita's legendary status in the Windy City. Mikita has a cameo in the first film as a donut shop customer, and a donut shop drive-thru speaker in the second film was modeled in his image. Mikita's family announced that the Hall of Famer died on August 7 at the age of 78.
Jim 'The Anvil' Neidhart was a vital member of the Hart Foundation
Jim Neidhart was known by a few names during his professional wrestling career, which coincided with the Hulkamania-fueled extreme popularity of the WWF in the 1980s and early '90s. He was "The Anvil," and he was also a member of the legendary tag team collective the Hart Foundation, a play on his own last name and that of his most frequent teammate, Bret "The Hitman" Hart.
Neidhart was part of two WWF tag team championships, and he was also among the most recognizable and colorful guys in an '80s wrestling ring, what with the pink, black, and heart-adorned costumes he and Hart favored. Their carefully crafted personas also had a hand in their enduring popularity. "Neidhart was such a character back then," Hart Foundation manager Jimmy Hart told the Associated Press. "Bret was more cool; the girls loved him. Neidhart and myself were kind of the evil twins."
Neidhart died at his home in Florida on August 13, 2018, when, as his wife told a sheriff's deputy, he got out of bed to change the thermostat when he suffered a seizure-like episode and fell down, hitting his head. The Anvil was 63 years old.
Tommy McDonald was small but formidable
Tommy McDonald, a two-time All-American (1955 and 1956) never lost a game when he played for the Oklahoma Sooners in college — the squad was in the midst of a 47-game winning streak. He finished third in Heisman Trophy voting (losing to Paul Hornung of Notre Dame), but the Philadelphia Eagles selected him way down in the third round of the 1957 NFL Draft. Listed at just 175 pounds (and later, 178 pounds), every other team thought McDonald was far too small to play in the big leagues.
McDonald suited up for five teams, but his best years came in the City of Brotherly Love, where in 1960, he teamed up with quarterback Norm Van Brocklin to hand the legendary Vince Lombardi his only championship game loss. The Eagles eked out a 17-14 NFL title game win over the Green Bay Packers that year. The following season, McDonald exploded, leading the league with 1,144 receiving yards and 13 touchdowns. McDonald retired in 1968 after 12 seasons, in which he was a Pro Bowl selection six times. Thirty years later, McDonald became the smallest player ever enshrined in the Pro Football Hall of Fame.
McDonald's death was announced on September 24, 2018. The football great was 84.
Willie McCovey was a giant among Giants
Hall of Famer Willie McCovey played for the Oakland A's and San Diego Padres during his 22-year Major League Baseball career, but he spent the bulk of his time with the San Francisco Giants. That's also where he amassed most of his tremendous accomplishments. Among those feats: 1959 Rookie of the Year, 1969 National League Most Valuable Player, six All-Star selections, leading the NL in home runs three times, and 18 career grand slams, still an NL record. When it was all said and done for Willie Mac in 1980, he'd whacked 521 balls out of the park, and he's currently 20th on the all-time home run list.
The Giants have honored McCovey in several ways. Its players vote on the annual Willie Mac Award, given to the squad's most inspirational player, and when the team moved into a new ballpark in 2000, a just-beyond-the-park body of water/home run ball depository was named McCovey Cove.
McCovey had faced health issues for years, including a near-fatal post-surgical infection in 2014. Fellow baseball legend Joe Morgan was at McCovey's side when he passed away on October 31. According to Morgan, the man who wore #44 died at 4:04 p.m.
So long, Silver Fox
NASCAR is one of the most popular spectator sports today, which the association's chairman and CEO Jim France attributes in large part to the on-track performance of driver David Pearson in the 1960s, '70s, and '80s. France said in a statement that Pearson "helped set the stage for NASCAR's transformation into a mainstream sport with national appeal."
After coming up in South Carolina's dirt track circuit, Pearson gave professional stock car racing a try … and became NASCAR's Rookie of the Year in 1960. The following year, he gave the sport one of its most incredible moments. He won the 1961 World 600 in Charlotte despite blowing a tire in the final moments of the race, lurching over the finish line with a wire rim scraping on the ground. In 1966, he won 15 of 42 races, and in the '70s it seemed like races were often a two-man contest between Pearson and Richard Petty. "The Silver Fox" (Pearson's hair went gray early) edged out "The King" in the 1976 Daytona 500, for example, while his career total of 105 wins is second only to Petty's. (But to be fair, he only started in about half as many races as did Petty.)
In a 1999 Sports Illustrated poll of 40 motorsports experts, Pearson was named NASCAR Driver of the Century. In 2011, he was enshrined in the NASCAR Hall of Fame. The Silver Fox passed away on November 12, 2018, at the age of 83.