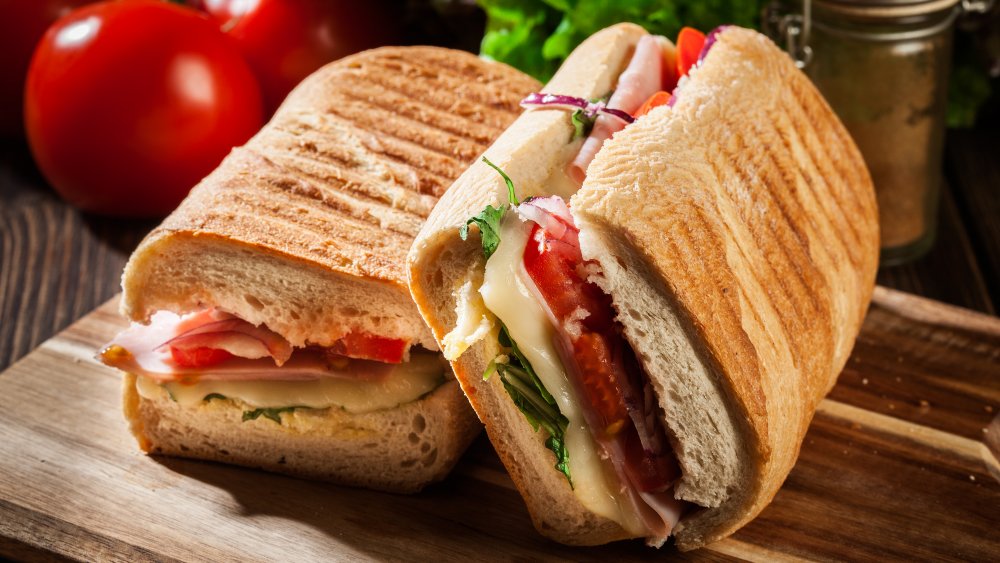 Sandwiches are one of those versatile foods that hits the spot no matter what time of day it is. Waking up early for an important business meeting? Throw a sausage, egg, and cheese biscuit together. What about when you're futzing around your apartment with an afternoon appetite? Well, A BLT makes for a delicious lunch! There are countless ingredients that nestle perfectly in between two pieces of bread, and literally anyone can stack up a creative combination of flavors to return to again and again when that hunger demon strikes at full force.
Now, you might find yourself thinking about how many variations you yourself tried over the years, and you think your resume lands you in the pantheon of sandwich gurus. However, unless you've traveled all over the county and tasted every state's iconic sandwich blend, you fall short of that coveted guru status. If you truly want sandwich bragging rights, hop in your car and plan a cross-country venture through all 50 states to take a bite out of the sandwich each one is famous for. Your own Sandwich Guru status is only 50 stops away!
Alabama: Barbecue chicken sandwich with white sauce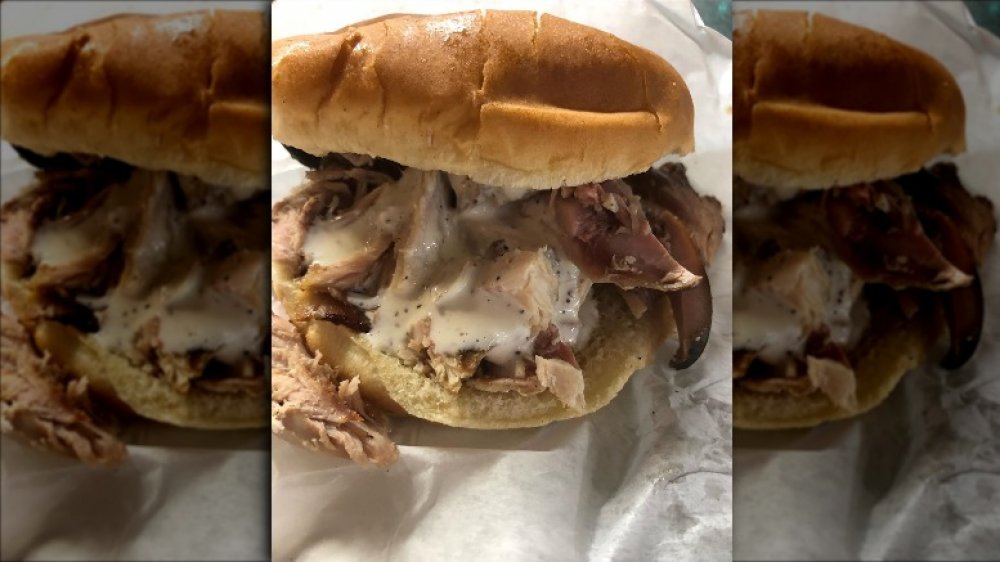 It seems like you can't drive more than a mile down any Alabama road without a illuminated neon sign promoting some stick-to-your-ribs 'que. One of the greatest things to come out of the state sandwich-wise is their mayonnaise-based white barbecue sauce, and the best place to scoop some up is Decataur's Big Bob Gibson's Bar-B-Q.
Big Bob offers a variety of meats, but it's the barbecue chicken that pairs best with the iconic sauce. After a three-hour slow-cook over hickory wood, each filet is dunked into a vinegary white-sauce bath and plopped onto a toasted bun with slaw.
Alaska: Smoked salmon sandwich
When you plan a trip across the country, the immense state of Alaska doesn't even get a second thought. It's just too darn far away! But, if you're the kind of person who loves salmon, skipping the state when creating your itinerary is a huge mistake. Namely, because you won't visit The Saltry Restaurant in Halibut Cove for their incredible salmon sandwich.
This isn't the only place you can get a salmon sandwich in Alaska, of course, and Halibut Cove isn't the easiest place for a vacationer to get to, But, one bite of their house-smoked sockeye salmon on focaccia with a smear of lemon aioli earns this town a valid reason to visit.
Arizona: Sonoran hot dog
You might find yourself one of the people at the heart and center of the "Is a hot dog a sandwich?" debate, but regardless of where your answer falls, you have to dabble in Arizona's famous Sonoran hot dogs. It's a dog dressed to the nines in fixings, and BK Tacos in Tucson is one of the legendary locations to snag one.
Forget what you know about ketchup and mustard. Here, each link is wrapped in bacon before it cooks. Then, pinto beans, onions, diced tomatoes, jalapeno sauce, mayo, and mustard are added for the greatest hot dog you'll ever experience.
Arkansas: Fried bologna sandwich
Bologna gets a bad rap. It's almost as if it's meant for young kids, and once maturity hits, other meats — more "adult" meats — take precedence. But, in Arkansas, people of all ages embrace bologna, and that's why they fry it up and throw it on bread to create their staple sandwich.
Head to Johnny B's Grill, a local favorite, in El Dorado to scoop up this classic. You might not find it on their website's menu, but you better believe they have the ingredients to make one. It's easy: thick-cut fried bologna slices placed between toasted bread. Sometimes simplicity reigns supreme.
California: French dip
"When I dip, you dip, we dip," rapped Freak Nasty in his hit 1997 track "Da Dip." Well, if you make your way out to the West Coast, you'll find plenty of people hop on board with those lyrics when it comes to their sandwiches. The French Dip is perhaps the most popular among residents, so do yourself a favor and get on Freak Nasty's level.
There are so many places that serve these, but the legendary item supposedly started at Los Angeles' century-old Philippe the Original. The biggest seller is the beef double-dip, where both pieces of bread are soaked in savory jus. A knife and fork might serve essential when diving into this soggy mass of yum.
Colorado: Fool's gold sandwich
When you think of Elvis, tunes like "Jailhouse Rock" and "Blue Suede Shoes" probably dance through your head. But, the legendary musician also helped create one of the most iconic — and unhealthy — sandwiches of all time: The Fool's Gold. And, if you head to Nick's Cafe in the town of Golden for one, make sure you have your cardiologist on speed dial.
Legend states one evening Elvis hopped on his plane and traveled to Colorado just to order the Fool's Gold sandwiches. That meant a plate of hollowed-out loaves of French bread coated in margarine and stuffed full of bacon, peanut butter, and jelly. Did you just feel your cholesterol cringe?
Connecticut: Fried clam roll sandwich
Connecticut doesn't often get brought up in conversation when discussing hubs of culinary wisdom. Major cities, naturally, lead much of the charge. However, if fried clams are your thing, this seemingly silent state shouts loud and proud and implores you to eat a fried clam sandwich.
One of the best locations to snag one is Costello's Clam Shack in Noank. They pile high a heap of fried clams onto a warm toasted roll. There are no frills or gags here. Just morsels of batter-dipped clams and your eager appetite.
Delaware: The Bobbie sandwich
Wouldn't it be nice to eat an entire meal, sides included, in one single sandwich? Well, that's why Delaware serves up its iconic Bobbie sandwich. It's basically an entire Thanksgiving dinner between two pieces of bread, and Capriotti's Sandwich Shop is the place that makes them best.
The item hit the menu over 40 years ago, and people were immediately drawn to the busy concoction of ingredients. Turkey runs the show, but the addition of stuffing and cranberry sauce brings on the nostalgia of the holiday season. It's never too early to start celebrating with a Bobbie.
Florida: Cuban sandwich
Our friends in Florida sure know how to soak up the beach sun, but they also know good food. When it comes to sandwiches, all they have to do is look to their island neighbors to get their culinary kicks with Cubanos.
There are plenty of places slinging up awesome Cubans, but Versailles Restaurant in Miami's Little Havana is a huge favorite. They keep it simple with sweet ham, roast pork, and swiss cheese on toasted Cuban bread. Drizzle a little mayo and mustard on as well, and you have yourself a Cuban worth writing home about.
Georgia: Pimento cheese sandwich
Pimento cheese, for all it's delicious glory, usually finds itself towards the bottom of any list of cheese popularity. However, Georgia knocks it up several pegs with their pimento cheese sandwiches, and Fox Bros. Bar-B-Q in the capital of Atlanta puts an insane take on this classic.
Not only is melty pimento cheese scooped onto a brisket burger, but bacon, tomatoes, red onions, pickles, and jalapeño mayo join in the fun. It's a tall ask for a brioche bun to safely hold everything in place, but it does the job like a professional.
Hawaii: Kalua pork sandwich
Hawaii is one of those states many of us dream of one day visiting but never really get a chance to. It's so far away, and plane tickets ain't cheap. But foodies know it's the place to go if they want an authentic Kalua pork sandwich at Kono's.
The only thing that makes the scenery of Hawaii even better is admiring it while munching down the "Old School": 12-hour roasted Kalua pulled pork, guava-infused barbecue sauce, grilled onions, and slaw. Island life sure does have its perks.
Idaho: Huckleberry sandwich
When you're cruising through Idaho, if you're looking for something unique to the area to eat, you should know that the state's claim to fame is the huckleberry industry. That's why Trillium in Boise is a go-to spot for a huckleberry-smeared sandwich.
Huckleberry pairs well with a ton of ingredients, but what Trillium pairs it with is pulled turkey, slaw, and a thick slice of brie cheese on ciabatta bread. It's time you start incorporating more huckleberry into your life, and Trillium is the perfect first step.
Illinois: The Horseshoe sandwich
Chicago is one of the greatest food cities, and it's tough to nail down a meal at any given time of day. Sure, you can opt for the famous deep-dish pizza, but what if you took a route that led you to a sandwich called The Horseshoe instead?
Head to 6 Degrees for an open-faced sandwich with your choice of meat, a pile of shoestring fries, and a hefty drizzle of their signature cheese sauce. Still hesitant? Check out this Yelp review: "The Horseshoes are something that you dream about and wake up licking your pillow."
Indiana: Hoosier sandwich
Fried pork tenderloin is huge in Indiana, and there are tons of places to go to enjoy one. However, Nick's Kitchen in Huntington — the original 1908 creator — is a necessary stop to make on your travels if you want a Hoosier done right.
The people in the kitchen at Nick's don't worry about adding bells and whistles to dress up their iconic creation. An oversized breaded pork tenderloin joins lettuce, tomato, onions, pickles, and mayo on a bun for a pork enthusiast's dream come true. Oh, 1908, what a year you were.
Iowa: Loose meat sandwich
Okay, so Iowa could have done a better job naming this iconic state sandwich. The words "loose" and "meat" really shouldn't be in the same sentence. But Iowa leaves you rethinking that grammatical sentiment with their loose meat sandwiches, and Maid-Rite is the chain to find some of the best.
The "loose" refers to the crumbles of hamburger meat as opposed to a firm patty. They're delicious. But, they're even better when you accompany them with cheese. It's similar to a sloppy joe without the drippy sloppiness. Just have a napkin ready in case your inner savage comes out in appetite form.
Kansas: Burnt ends sandwich
When referring to food, the word "burnt" is an adjective best left out of the description. That is, until you head to Kansas and take a mouth-watering bite of a burnt-end sandwich. You quickly realize the term "burnt" actually holds a helluva lotta flavor.
Gate's Bar-B-Q in Leawood has a stronghold on the burnt game. They gather all the little crispy bits of brisket left over from the entire slab and let them roast separately in spices. Then, the little morsels of meat "bark" are plopped onto a hoagie for a jam-packed mouthful of savory burnt taste.
Kentucky: Hot brown sandwich
Cold weather calls for warm food. But, in Kentucky, the sun could beat down with an army of UV rays and it wouldn't deter anyone from ordering a Hot Brown. Created during the 1920s at the Brown Hotel in Louisville, the Hot Brown puts a smile on the face of every customer who asks for one.
This traditional sandwich contains roasted turkey breast, toast points, Mornay sauce, and Pecorino Romano cheese. After the whole thing's baked, bacon and tomatoes are added. It's a hot, steamy dish sure to warm you on a cold day or leave you more than satisfied on a hot one.
Louisiana: Po' boy sandwich
Ah, New Orleans. The city known for its incredible jazz festival and torrential rainstorms of party beads. But, food also plays a major role, and nothing says Louisiana quite like their oyster po' boys.
Oyster po' boys are prevalent wherever you go in the city, but Domilise's has garnered a cult following for its fresh ingredients, especially on the sandwiches. Fresh fried oysters come together with lettuce, tomatoes, pickles, and mayonnaise for a bite of the ocean that'll have you scheduling a return trip sooner than you think.
Maine: Lobster roll sandwich
Is there really anything better than lobster? Sure, it's not easy to work your way through the tough exoskeleton with a nutcracker, but once you pull out that succulent meat, the battle was worth every scar. And Maine does its lobster like no other.
Kennebunk's Clam Shack is where locals get their crustacean fix satisfied. Customers can choose from two types of lobster-filled rolls: one with mayo or one dressed in drawn butter. It's a real Sophie's choice when you're in the mood, but no matter which you pick, you made the right decision.
Maryland: Crab cake sandwich
"Want some crabs?" is a question no one wants to hear unless it's referring to food. Then, the answer is usually a resounding "Yes!" Maryland tackles the crab game like a boss, and Jimmy's Famous Seafood in Baltimore flaunts its crab cakes as the best in town.
Served in both five and eight-ounce patties, the jumbo-lump cakes are fried golden brown and served with lettuce, tomato, and mayo on a roll. There are few times when having crabs is desirable, but at Jimmy's Famous Seafood, it's a must-have menu item.
Massachusetts: Fluffernutter sandwich
For those of us who grew bored with peanut butter and jelly sandwiches as kids, our love of lunchtime was quickly reinvigorated with fluff, the marshmallow spread that replaced jelly. Most people have no idea where the idea for a fluffernutter came from, but Massachussettes holds the answer.
A Somerville man named Archibald Query created the sandwich in the early 20th century, and it managed to stay relevant for decades. A Boston restaurant named Local 149 is one of the best places to enjoy a fluffernutter with a twist. They add Nutella and then fry the whole thing for a rush of sweet childhood nostalgia ready to bury itself in your memories forever.
Michigan: Ham sandwich
What could possibly be so special about a simple ham sandwich? At first, you're inclined to think there's nothing special about it. But that's only because you never trekked through Michigan and had one of theirs. Ham holds a historic place in the hearts of native Michiganders, and there's no better way to feel like a resident than ordering up a ham sandwich at Mike's Famous Ham Place in Detroit.
The recipe is so simple, yet Mike's makes it seem as though flavor replication is impossible. Thick cuts of glazed spiral ham, Swiss cheese, pickles, and yellow mustard find their way onto an onion roll. You'll want to go ham on one of these iconic sandwiches.
Minnesota: Juicy Lucy sandwich
How can you do anything different with cheese and a beef patty other than place the cheese on top? Well, Minnesota thought hard about its limited sandwich options, and the state found one that works wonders.
They call it the Juicy Lucy, and one of the top places to find one is at Hell's Kitchen in Minneapolis. Instead of placing the cheese on top of their Juicy Lucifer (we love the pun), the chef stuffs each patty with the cheese, creating a hot pocket of queso topped with lettuce, tomatoes, onions, and housemade red pepper jelly. Thinking outside of the box led Minnesota inside the burger.
Mississippi: Pig ear sandwich
There are a lot of parts of a pig you can eat. However, not every part is as appetizing, and when it comes to the ears, you'd be hard-pressed to find anyone chomping at the bit for some. That is, until you're at the Big Apple Inn in Jackson.
Anthony Bourdain actually gave these sandwiches some airtime during an episode of Parts Unknown, so you know they're worth trying. The ears are rendered tender via a pressure cooker and then served on a bun with mustard, hot sauce, and slaw.
Missouri: The Gerber sandwich
After you're finished ooh-ing and ahh-ing at the state's big ol' arch (it's just a big arch, people), wrap up your day the Missouri way by indulging in a Gerber sandwich. Created in 1973 at Ruma's Deli, this open-faced creation will certainly outshine the arch's glamour.
Customers can order the toasted sandwich with ham or turkey, but both meats are smothered in the same two amazing fixings: garlic butter and St. Louis-style cheese. Don't just make it a regular day in Missouri. Make it a Gerber day.
Montana: Pork chop sandwich
There are plenty of reasons to visit Montana. The scenery is straight off of a postcard, the people are welcoming, and far off are the stresses of a bustling metropolis. But, another reason — and perhaps the most important one — is for a pork chop sandwich at the Freeway Tavern in Butte.
They call it the "Wop Chop," and it comes in two sizes, large for adults and "baby" for kids. A burger patty-sized slab of pork is delicately fried and put on a bun with pickles, raw onions, mayo, and mustard.
Nebraska: Reuben sandwich
The iconic Katz's Delicatessen in New York City makes such a great pastrami sandwich that people assume the Reuben is the staple sandwich of New York. However, Nebraska actually holds this honor due to the fact it was created at Omaha's Blackstone Hotel in the 1920s during a poker game.
If you wanna play your culinary cards right (and why wouldn't you?), Swartz's Deli in Omaha is where your royal flush resides. Get the sandwich with either corned beef or pastrami, and then kindly welcome two slices of Swiss cheese, sauerkraut, and Swartz's sauce.
Nevada: Patty melt sandwich
Las Vegas is arguably the biggest draw in this state. The glitz and glamor of the famous Strip offers something for everyone, from casinos to dazzling live performances. But in between activities, you're gonna need to eat, and that's when you search for a patty melt.
Du-par's serves them up inside the Suncoast Hotel and Casino. The restaurant took a grilled cheese on rye and stepped up its game by adding caramelized onions. Just keep in mind you'll have a hard time going back to regular grilled cheese after trying one.
New Hampshire: Monte Cristo sandwich
New Hampshire's the kind of place you might think about moving to after retirement. It's quiet and scenic, and you can wake up every weekend (or any other day of the week) and enjoy an incredible Monte Cristo sandwich to start the day off right. But, it's gotta be from Banners Restaurant.
Why Banners, exactly? Because this restaurant won an award for its Monte Cristo. The people came, they ate, and they voted the combination of turkey, ham, Swiss cheese, and syrup the state's very best. The fact it's served on Texas toast doesn't hurt, either.
New Jersey: Italian hoagie sandwich
This state's immense population of Italian-Americans makes for an unsurprising sandwich favorite: Italian Hoagies. They're made with the kind of love only an Italian can offer food, and one place that's earned a reputation is Cosmo's Italian Salumeria in Hackensack.
If you order up the number one, get ready to enjoy a full spectrum of top-quality meats, including ham, salami, soppressata, and capicola. But that's just the start. Toss on some fresh mozzarella, provolone, and sweet peppers for the win. Everyone has a little Italian in them when they're eating a New Jersey hoagie.
New Mexico: Turkey and green chile sandwich
Green chiles are one of those foods that really need to make their way up from the south. So many southern sandwich dishes include the incredible flavor, so why not share? Until it does finally happen, the city of Albuquerque boasts some fine green chiles, and Relish is the spot to try some.
Green chiles play a role in several of the restaurant's menu items, but it's the Albuquerque Turkey you want to order. Start with honey-roasted turkey on toasted sourdough, then add Havarti cheese, tomatoes, chipotle mayo, and the star of the show, the green chiles.
New York: Pastrami sandwich on rye
The Big Apple is an overwhelming place to visit. So many people, so many things to do, yet seemingly so little time to get it all done. Before you run out the clock if you're visiting, however, it's imperative you dine at the famous Katz's Delicatessen for the NYC staple: pastrami on rye.
The people at Katz's go full-force with the pastrami sandwich. We're talking a pile so high even the most devout carnivore would stare in disbelief. While you can add whatever toppings you want (although you might get a few frustrated stares from the employees for tainting the original), it's advised to stick with only mustard.
North Carolina: Pork sandwich
Few states love their barbecue like North Carolina, and it's obvious when you peruse any of its cities looking for your next meal. While they're down with cooking up any kind of protein you can think of, pork is one of their specialties, which means the pork sandwiches are next level. Especially at Stamey's Barbecue in Greensboro.
A whopping handful of slow-roasted pork is piled onto a bottom bun, and the only topping it needs is their housemade slaw (a super-secret recipe). And, if you love the sandwich enough, you can order a bucket of pork and a bucket of slaw to make your own at home.
North Dakota: Sloppy Joe
As much as we try to use manners when we eat sandwiches (well, most of us anyway), sometimes it's fun to get messy, and few foods offer a messier experience than Sloppy Joes. The name describes exactly how the meal's about to go down, but if you want to make the most delicious mess possible, head to The Fabulous Kegs Drive-In in Grand Forks.
Here, the waitstaff serves you food while you hang out in your car for an authentic drive-in experience. They keep their recipe simple: ground beef, onions, and tomato sauce. But, for whatever reason, those ingredients work the kind of wonders no home kitchen can achieve, and there's a long list of happy customers who think so.
Ohio: Polish boy sandwich
When a hot dog craving strikes, there's really nothing else that can satisfy the urge. And, if you're in Cleveland when one hits, you're in luck. Not because they have hot dogs (they have plenty), but because they have something called "Polish Boys," and a quick trip to Seti's Polish Boys gets you one. You're welcome.
Using fat glistening links of kielbasa sausage, Seti's plops each one in a bun and piles on fries, barbecue sauce (or hot sauce), and slaw. It's what would happen if a hot dog started taking steroids.
Oklahoma: Chicken-fried steak sandwich
As the song states, Oklahoma is where the wind comes sweepin' down the plain. But, you know what else comes down the plain, as well? The best chicken-fried steak sandwich around. And, no one boasts about theirs quite like the people who founded Ann's Chicken Fry House in Oklahoma City.
Located right along the famous Route 66 highway, it's a huge hub for people looking for the staple dish. The kitchen serves half-pound cuts of steak hand-breaded and deep-fried to perfection before being placed on their final resting place of a bun with cream or brown gravy.
Oregon: The Reggie Deluxe sandwich
Even though many of us don't have the time to indulge in it early in the morning, breakfast is (apparently) the most important meal of the day. Oregon received this memo, and the state responded accordingly with a breakfast sandwich known as The Reggie Deluxe. Let's just say you wish every morning kicked off with one.
Pine State Biscuits is the place to go when you wake at the crack of dawn. You really can't start a day off better than with fried chicken, bacon, cheese, and gravy on a buttery biscuit. The "deluxe" refers to an added egg if you so desire.
Pennsylvania: Cheesesteak sandwich
The cheesesteak battle that rages through Philadelphia is tangible even to tourists. Everyone wants to exclaim theirs is the best, but no matter where you order one up, it's still the state's legendary sandwich. However, one place that brags extra loudly is Tony Luke's.
In an era where hormone-free eating garners high importance, Tony Luke's thinly sliced ribeye steak is both hormone- and steroid-free, making for a clean eating experience. Of course, that feeling of healthy eating tends to take a back seat once you start adding Cheez Whiz and other toppings, but c'mon now, you're not ordering a cheesesteak to make your cardiologist smile.
Rhode Island: Hot wiener
It's natural to feel awkward hesitation asking anyone for a "hot wiener, please," but in Rhode Island, you're far from the first person to speak those words. Here, the hot wieners are similar to hot dogs, but any resident will tell you they're so much better.
The best wieners are made with a mixture of meat so they pack a savory punch from several animals. Len's Hot Dog Haven in Pawtucket is one of the best spots to order one, and it comes topped with mustard, meat sauce, onions, and celery salt. (Just a note: You can get all-beef hot dogs here too.)
South Carolina: Tuna melt sandwich
While the Carolina to the north boasts of their pulled pork, its southern brethren goes the opposite direction when it comes to their iconic sandwich. They take a deep dive into the ocean for a tuna melt so good it hurts, and Groucho's Deli is one of the hotspots to get one.
The tuna is caught fresh, and once it's combined with mayonnaise and spices to make the salad, Colby jack and cheddar cheese are melted on top. All it takes is the addition of lettuce and tomato to complete this simple yet incredible staple.
South Dakota: Pheasant salad sandwich
The pheasant is an animal that doesn't find its way onto many menus. But South Dakota wanted to change that, and the aptly named Pheasant Restaurant and Lounge in Brookings has a pheasant salad sandwich that establishes a newfound love of the fowl in anyone who tries it.
Ring-necked pheasant salad — a combination of shredded meat, dried cranberries, apples, and roasted pecans — rests on a bed of greens and veggies. Forget the chicken. Embrace the pheasant.
Tennessee: Hot chicken sandwich
Nashville is known for its hot chicken, and they take things very seriously when it comes to serving customers the best possible sandwich containing the golden-brown poultry. The people at Hattie B's Hot Chicken really take the cake when it comes to making a great hot chicken sandwich.
Five ounces of chicken breast is breaded and fried in spicy oil to give every piece a hefty punch. Then, the glazed cut is tucked into a bun and topped with pickles, slaw, and a one-of-a-kind condiment containing mayonnaise, honey, and spices called "Nashville Comeback Sauce." Yea, you're gonna come back for more.
Texas: Brisket sandwich
Everything is bigger in Texas, or at least that's what native Texans say. And when it comes to food, Texas serves up some of the biggest and tastiest brisket sandwiches in the country. Just head to La Barbecue in Austin if you want proof.
You have the option of getting your brisket either chopped or sliced, and both are just as delicious. The chopped sandwich comes drizzled with their signature Bobby Sauce, but the sliced brisket is paired with pickles and onions — two choices that both lead you down the road of happiness.
Utah: Halibut sandwich with fry sauce
Why would something called "fry sauce" dress any food other than, well, fries? The answer might elude you, but you can find it at any one of Utah's Arctic Circle restaurants. Believe it or not, the ketchup and mayonnaise mixture complements the halibut even more than the fries!
A delicately fried filet of halibut finds its home on a toasted bun with lettuce and, you guessed it, fry sauce. The condiment offers a tang that cuts through the flaky fish sandwich, and if you really can't get enough of the sauce, Arctic Circle also sells it by the bottle.
Vermont: The Vermonter sandwich
Vermont didn't mess around when it came time to name this iconic sandwich. It's as authoritative-sounding as its ingredients are delightfully unique. So, best you find yourself in line at Klinger's Bread Company in Burlington ordering one.
This sandwich is perfect for anyone craving something savory with a hint of sweetness. Ham, cheddar cheese, and Granny Smith apples are topped with raspberry mayonnaise and then nestled between two delicious slices of bread. It's sweet, savory, and well worth the trip.
Virginia: Ham biscuit sandwich
Anyone who's spent even a short time in Virginia knows they can't travel too far without seeing the state's emblematic country ham sandwich advertised somewhere. But, if you want to end up at one of the best ham slingin' spots, venture to Old Chickahominy House in Williamsburg.
You can order up the salted ham solo on a hot biscuit, but you can also up the game by adding bacon as well. The butteriness that seeps through the biscuits' flakes is the perfect partner in crime for the savory ham.
Washington: Bahn mi sandwich
Thanks to Seattle's large Vietnamese population, you don't have to save up for a trip to Vietnam to get your mitts on a fantastic bahn mi sandwich. There are plenty of restaurant options to choose from, and Yeh Yeh's is right up there at the top of the list.
Regardless of which protein you choose for the sandwich (they have a whole bunch), it gets the standard bahn mi treatment: cucumbers, a heap of cilantro, and mayonnaise served on a baked French demi-baguette. It's an amazing Asian treat right here in the States.
West Virginia: Sausage biscuit sandwich
Sure, you can ride off to your local McDonald's if you're looking for a quick and cheap sausage biscuit sandwich for breakfast, but the stuff served there is child's play compared to what Tudor's Biscuit World slings up patrons in the city of Charleston. So hurry up and get yourself there already!
There are a few versions to choose from, but the Ron is what you want if you're trying to avoid a parade of other ingredients taking away from the classic flavor of sausage, egg, and cheese. Start with a Ron, but finish wherever your appetite takes you.
Wisconsin: Grilled cheese sandwich
It's no shock that as America's largest cheese-producing state, Wisconsin, rolls through with an absolute killer grilled cheese. Head to the city of Madison where a food truck called Melted whips up a different menu all the time, and it seems like they never run out of astounding ideas.
Take The Gold Standard, for example. You get not one, not two, but three kinds of cheese: sharp cheddar, Muenster, and Swiss. Or, if you really want a roundhouse kick of flavor, the Southwestern Bacon hits full-force with bacon (duh), cheddar, tomato, chipotle aioli, and a drizzle of ranch dressing.
Wyoming: Beef sandwich
The booming cattle-ranching industry throughout Wyoming assures you of one thing: People in Wyoming know their beef like the backs of their hands, and they want you to know it too. Luckily, finding amazing cuts isn't difficult, and if you want the most bang for your buck, T-Joe's Steakhouse and Saloon in Cheyenne has you covered.
The restaurant offers a more-than-affordable lunch menu so you don't break the bank on your beef. But, don't let your eyes wander away from their beef-focused options. Dive head-first into the prime rib sandwich for an au jus-covered fiesta served on a hoagie bun.