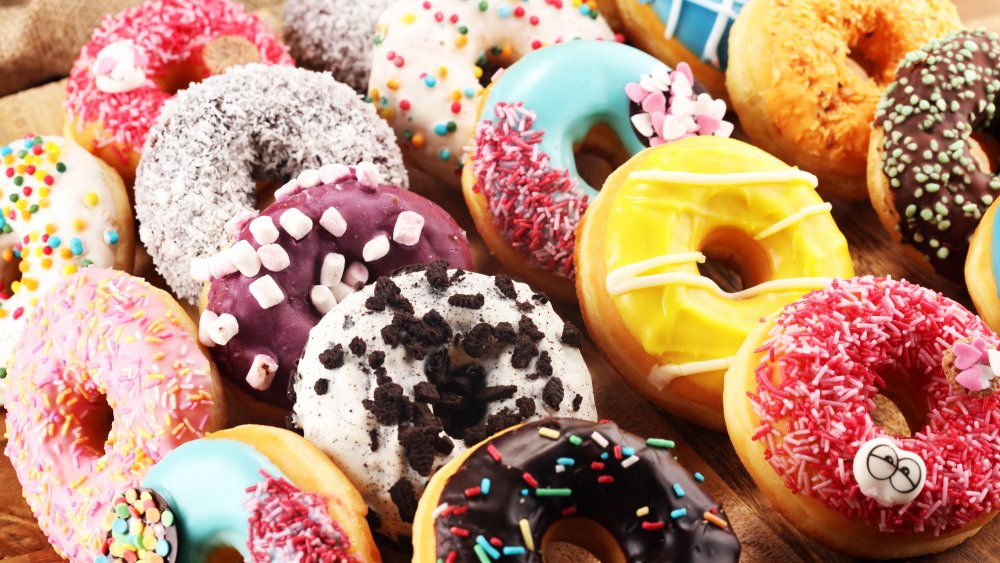 Nothing can turn an early-morning frown upside down quite as quickly as a donut (or three) for breakfast. Bring a box of delectable donuts to work on a dreary Monday morning, and your coworkers will cherish your very existence.
While the thought of acquiring donuts might instinctively lead you to the major players in the industry such as Krispy Kreme and Dunkin', there are actually more than 18,000 donut shops in the United States. Many of these shops are family-owned businesses that make donuts that are so tasty they can make your taste buds do somersaults.
The next time the urge for donuts strikes, demand the very best your state has to offer. We've done the heavy lifting for you by combing over reviews, weighing personal recommendations, tracking down award winners, and, yes, taste-testing donuts. The result is a list of the very best donut place in each state that is as trustworthy as it is delicious.
Alabama: The Duchess Bakery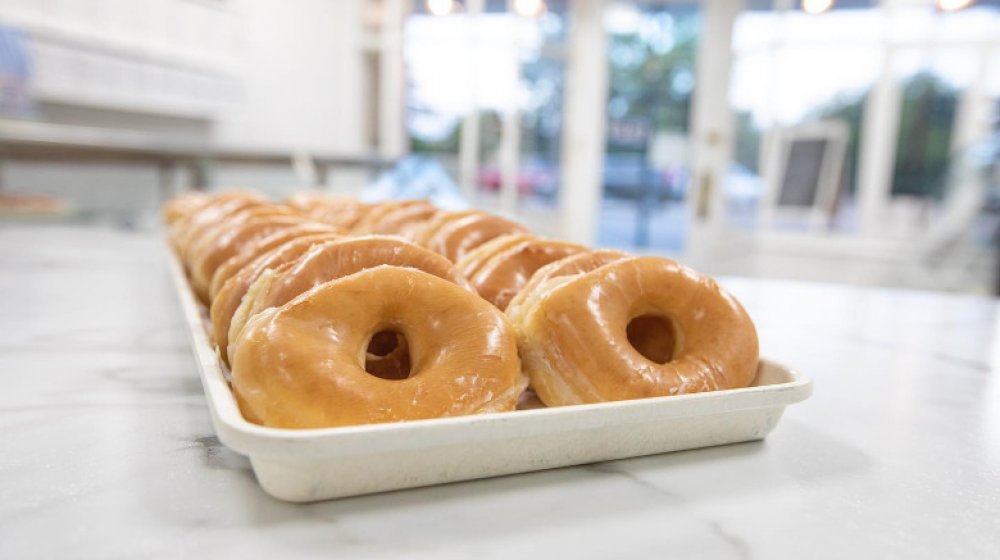 The Duchess Bakery, located in the city of Cullman, is without a doubt the best donut place in all of Alabama. This family-owned bakery, which has been around for more than 80 years, claims to have glazed donuts that are so tasty that they're famous around the world. If you doubt the veracity of that claim, all it will take is one bite of their amazing glazed donuts for your mind to be changed. The Duchess Bakery grades out as virtually perfect and has a legion of loyal patrons.
Alaska: Golden Donuts
No matter the time, no matter the weather, you can count on Golden Donuts in Anchorage, Alaska. This donut shop is open 24 hours a day, which means you can still satisfy your sweet tooth even if it's the middle of the night and it's ten degrees below zero. Golden Donuts offers a wide array of goodies, with reviews specifically naming the Maple Bacon donuts as specifically fantastic. Whenever you're in the neighborhood, be sure to visit this shop — the best donut shop in the entire state.
Arizona: Short Leash Hot Dogs & Rollover Doughnuts
Short Leash Hot Dogs & Rollover Doughnuts started as a food truck, but it was so successful that it soon outgrew its spot. Today, the eatery has a physical location in Phoenix that is, as the name suggests, very dog-friendly. This hotspot serves a variety of hot dogs and dozens of craft beers. However, it's their donuts that customers love most. Favorites from their donut menu include the Spicy Thai Coconut donut and the Bourbon Cream Filled donut that is so boozy that it's explicitly for adults only. Go here for the most delicious donuts in Arizona.
Arkansas: Batten's Donuts and Bakery
The top donut destination in Arkansas can be found in the town of Paragould. Batten's Donuts and Bakery has been serving sweets since 1954. While the possibilities on their menu are endless, it's their donut holes that really steal the show. You can buy them individually or by the dozen and order them to be glazed or blessed with either powdered sugar or cinnamon. Other popular donuts at this extremely highly rated donut shop include their Chocolate Covered Donuts and their Blueberry Cake Donuts.
California: Blinkie's Donut Emporium
The donuts at Blinkie's Donut Emporium are both delicious and beautiful. With glowing reviews found all over the internet, there's no doubt that this place is the best donut shop in California. Located in Woodland Hills, Blinkie's Donut Emporium has a donut menu featuring Old Fashion donuts, Buttermilk donuts, and Raised donuts. If you want the best of the best, get one of their sprinkled-covered donuts with either vanilla, maple, or chocolate icing. You'll inhale the donut and then lick your fingers to make sure you got every last crumb.
Colorado: Yummy's Donut House
Colorado's greatest donut shop is called Yummy's Donut House. To say their donuts are yummy would be an understatement. The owner came to America from Syria, and he's been in the industry for more than 35 years. His expertise is apparent in each donut they sell. While all of Yummy's Donut House's donuts receive full-throated praise, it's their Apple Fritter that loyal customers can't stop talking about. From the icing to the apple pieces, it's perfect. You can find this place in the city of Lakewood, which is just outside of Denver.
Connecticut: Donut Crazy
You'll never feel crazy when you visit Donut Crazy. In fact, you'll feel very wise for selecting Connecticut's top donut spot to satisfy your desire for a delectable treat. With locations in New Haven, Shelton, Stratford, Westport, Branford, and West Hartford, you're always within driving distance to spectacular donuts when you're in this state. At Donut Crazy, go for one of the inventive donuts like the French Toast donuts, which are glazed, topped with powdered sugar and cinnamon, and then gently iced with maple and vanilla.
Delaware: Duck Donuts
In Delaware, Duck Donuts is the premier spot for donuts. This place is known for its made-to-order donuts and delicious coffee, which combines to make a merry one-two punch when you're searching for the optimal way to begin your day. To create your own donut at Duck Donuts, you first pick your coating, such as glazed, cinnamon sugar, or lemon icing. You then pick a topping like Oreo, graham cracker, or chopped peanuts. Finally, you select a drizzle like marshmallow or hot fudge. The result is a donut that patrons absolutely adore.
Florida: Five-O Donut Co.
Five-O Donut Co. describes their donuts as "arrestingly good" — and they're not lying. Florida's best donut shop gets nearly perfect grades for its friendly staff, the uniqueness of its donuts, and, of course, the taste of its offerings. Of everything on the menu, the Glazed Croissant gets recommended the most. This place has two locations in the city of Sarasota and, don't worry, you don't have to be in law enforcement to visit Five-O Donut Co.
Georgia: Sublime Doughnuts
There's little argument that Sublime Doughnuts is the place to be when you're craving a donut in the state of Georgia. If freshness is the attribute you value the most in a donut, you can't beat their Fresh Strawberry 'N Cream donut that features real strawberry slices. Other notable offerings on the menu include the coffee-flavored A-Town Mocha Donut, the Chocolate Banana Fritter, and the candy bar-powered Butterfinger Donut. Sublime Doughnuts has two locations in Atlanta, and they both get great reviews.
Hawaii: Kamehameha Bakery
Since shortly after opening their doors for the first time in 1978, Kamehameha Bakery has been known as the best place to get donuts in Honolulu or anywhere else in the Hawaiian Islands. Their most famous and top-selling donut is called the Poi Glaze Donut. These donuts have a glazed brown exterior and a fluffy purple interior that is gooey and warm. While Kamehameha Bakery has other donuts, you really should order the Poi Glaze Donut — particularly if it's your first visit. You'll quickly understand what all the hubbub is about.
Idaho: DK Donuts
The fabulousness of DK Donuts is difficult to overstate. This donut institution in Idaho has legendary bismarck donuts, and the donuts that are topped with maple and bacon are always the talk of the town. However, it's the old-fashioned donuts that really stand out as the cream of the crop. The explosion of flavor when you bite into one is exhilarating. When in doubt, it's always a smart and safe idea to go with the old-fashioned donuts at DK Donuts in Meridian.
Illinois: Old Fashioned Donuts
Old Fashioned Donuts is an iconic donut shop in Chicago that has been around for nearly 50 years. Undoubtedly the best place for donuts in the state of Illinois, Old Fashioned Donuts was founded by a local legend named Buritt Bulloch who still makes donuts to this day. Despite the name of this eatery, the best donuts here are either the fritters or the French crullers. If ordering a French cruller, the chocolate version is especially tasty.
Indiana: Titus Bakery and Deli
Titus Bakery and Deli is the home of Indiana's finest donuts. They have three locations in the state and a long list of donuts on their menu. The best donut of the bunch is the award-winning Peanut Butter Fluff Long John. This bad boy is covered with rich chocolate icing and pieces of peanuts, and it has a fluffy center that's flavored with peanut butter. If you love peanuts, you would struggle to find a superior donut anywhere in the United States.
Iowa: Ambrosia Donuts
There's only one destination to visit when you're looking to discover the best donuts in the state of Iowa: Ambrosia Donuts in the city of Ankeny, which is a short drive from Des Moines. This place gets phenomenal reviews, and all of their donuts are made fresh every single day. While customers are ecstatic about all their sweet treats, it's their chocolate donuts that patrons won't shut up about. Pick anything with chocolate icing, and you too will experience donut bliss.
Kansas: Hurt's Donut
Hurt's Donut is not only the most magnificent donut place in Kansas, it's the best spot for miles and miles around. While they have awesome Fritters, Chocolate Long Johns, Glazed Donuts, and more on their menu, the easiest thing to do at this dessert joint is to confidently say you want the Hurts Dozen. What you'll receive is 12 of their scrumptious round donuts. Hurts Donuts will do the selecting, and by the time the final donut is entering your mouth, you will surely feel no pain.
Kentucky: Red's Donut Shop
Red's Donut Shop is well-known throughout the state of Kansas for its phenomenal donuts that are without question the best in the state. In fact, it's arguable that they sell some of the tastiest donuts in the entire world. This donut hotspot has been family owned and family operated for more than half a century. Located in the city of Paducah, all of the donuts at Reds Donut Shop are highly thought of. However, the Honey Buns are particularly adored.
Louisiana: Blue Dot Donuts
Police officers know a thing or two about donuts. With that in mind, it's not a surprise that Blue Dot Donuts was founded by three cops on the New Orleans Police Department. Their expertise was so profound that this much-talked-about place on Canal Street now stands as the best donut spot in all of Louisiana. While you can't go wrong with anything off of the menu, the Chocolate Iced Basic Glazed donuts are the creme de la creme.
Maine: The Holy Donut
The Holy Donut is the answer to your prayers when you're begging for the dessert gods to lead you toward the best donut shop in the state of Maine. Eating one of their donuts is such a delight that it can be classified as a religious experience. Interestingly, the secret ingredient within the sweet treats from The Holy Donut is actually potatoes that were grown in Maine. While all of their donut flavors are capable of knocking your socks off, the Pure Vanilla Glaze donut is particularly wonderful.
Maryland: Donut Shack
Donut Shack is a beloved donut spot in the city of Baltimore and all across the state of Maryland. It was started in the 1970s by former Dunkin' Donuts employees who wanted to make an even better donut. It's safe to say that they were successful, as their donuts are routinely called the best around. Donut Shack has an impressive array of donuts on their menu. When available, go for Strawberry Frosted, the Maple Frosted, or the Powdered Cake.
Massachusetts: Mike's Donut Shop
The recipe of this donut spot's famous honey-dipped donuts was created in 1969. However, it wasn't until 1976 that Mike's Donut Shop opened its physical location. Their donuts, particularly the honey-dipped variety, are so good that it was worth the seven-year wait. They've garnered recognition for decades, and their customers continuously sing their praises. After you get a honey-dipped donut in your hand, don't forget to order a coffee from Mike's Donut Shop. That'll make a breakfast so tasty that it could power you through even the bleakest of days.
Michigan: Sweetwater's Donut Mill
If you want what locals consider a perfect donut, head to Sweetwater's Donut Mill. Michigan's top donut shop has two locations in Kalamazoo and one in Battle Creek. Sweetwater's Donut Mill has a history that dates back to 1983 and a menu that features numerous favorites like the Grasshopper donut with mint frosting, sprinkles, and chocolate chips on chocolate cake, and the S'mores donut with bits of graham cracker, a marshmallow topping, and a glorious amount of chocolate throughout.
Minnesota: A Baker's Wife Pastry Shop
The donuts at A Baker's Wife Pastry Shop are ridiculously satisfying. Specifically speaking, their cinnamon sugar donuts are the reason why this place is the best destination for donuts in the state of Minnesota. While these donuts that are coated with a generous amount of cinnamon sugar can get messy, they're completely worth the effort. A Baker's Wife Pastry Shop can be found in Minneapolis, and once you try it, you too will only have good things to say about this donut place.
Mississippi: The Tatonut Donut Shop
Ocean Springs is a city that is located on the Gulf of Mexico and, perhaps more notably, has the best donut place in the entire state of Mississippi. The Tatonut Donut Shop has donuts so good that their reviews literally couldn't be much better. They claim to be home to the only real donut, which sounds braggadocious, but your taste buds may agree after you try your first donut. The Tatonut Donut Shop began handing out irregularly-shaped donuts after Hurricane Katrina to help those impacted by the devastation. Those donuts, called Katrina Pieces, remain a hit to this day.
Missouri: Old Town Donuts
If you're in Missouri, you'll be happy to learn that the best donuts in the state can be had 24 hours a day and seven days a week. If your sweet tooth is calling your name and begging to receive your attention, Old Town Donuts is ready to give you something that will be sure to hit the spot. They've been around for more than three decades and are known to serve donuts that are pillowy soft. The Pumpkin Donuts that are topped with powdered sugar are extremely popular.
Montana: Granny's Gourmet Donuts
It's impossible to find donuts that are as flavorful as the donuts your grandmother used to make. Scratch that, you might actually be able to find them at Granny's Gourmet Donuts, the foremost donut experts in the state of Montana. Located in Bozeman, this place gets heaps of praise no matter where you look on the web. Try the Strawberry PBJ donut, and you too will be a believer. This majestic donut is frosted with peanut buttercream, filled with strawberry jam, and topped with a slice of strawberry.
Nebraska: Bluffs Bakery
You don't need to search high and low for a great donut when you're in Nebraska. Simply wander on over to Bluffs Bakery, and you will be met with a wide selection of magnificent options. Located in the city of Scottsbluff, this place also has fantastic iced coffee in addition to its array of tasty donuts. If you want to try the best of what Bluffs Bakery has to offer, go with one of their chocolate-filled donuts. The chocolate here is rich, satisfying, and worth your hard-earned dollars.
Nevada: Pinkbox Doughnuts
Las Vegas has a lot of outstanding donut places, but it's Pinkbox Doughnuts that's the best of them all. When you're done eating a donut from this joint, you'll be planning a return trip to Sin City with these donuts at the forefront of your mind. If you don't know quite what to choose, select the Pinky's Thirteen, and they'll hand you a box (a pink box, of course) of 13 of their best donuts. If you want to pick just one donut, go with The Loopy Captain. It's half Cap'n Crunch, half Fruit Loops, and 100 percent yum!
New Hampshire: Brothers Donuts & Deli
The ultimate donuts in all of New Hampshire are found at Brothers Donuts & Deli in the city of Franklin. They've been making hand-cut donuts for more than 35 years, and their reviews are top-notch. While all of their donuts are to die for, it's Brothers Donuts & Deli's Blueberry Cake donuts that are truly the star of the show. Another donut that you should consider is their Maple Glazed donut that is filled with a satisfying amount of sweet cream.
New Jersey: Montclair Bread Company
When discussing the best donut spots in New Jersey, Montclair Bread Company not only deserves to be in the discussion, it deserves to reign supreme over all of the competition. This establishment has immaculate reviews, and they richly deserve each word of praise. The Tres Leches donuts at Montclair Bread Company are simply masterful. It's everything you love about tres leches cake but in the form of a donut — with luscious whipped cream and a cherry on top.
New Mexico: Whoo's Donuts
Ask a New Mexican for directions to the best donut shop in the entire state, and they'll point you toward Whoo's Donuts. Located in Sante Fe, they not only make great-tasting donuts, they do so without using any artificial flavors, artificial colors, trans fats, preservatives, or hydrogenated oils. That dedication to their craft and to the health of their customers makes chowing down on their yummy donuts even more enjoyable. Whoo's Donuts has berry-filled donuts that can only be described as exquisite.
New York: Du's Donuts and Coffee
You can't go far in New York City without seeing a donut shop. With all the choices to pick from, you may become overwhelmed. Fear not, one place is clearly the best: Du's Donuts and Coffee. Head over to Williamsburg first thing in the morning and eat a Coffee Cake donut for breakfast. It's so good that it's almost shocking. If you prefer to drink your coffee instead of it being infused in your donut, this place has other really good options such as Pomegranate Dark Chocolate donuts and Brown Butter Key Lime donuts.
North Carolina: MJ Donuts
The top spot in the race for the best donut joint in all of North Carolina is really no contest at all. MJ Donuts in the city of Pineville is just too scrumptious for the competition to adequately compete. These donut experts are in an unassuming location in a strip mall, but they get fantastic reviews for everything they make — from apple fritters to maple donuts topped with bacon. Go to MJ Donuts once, and it'll become a habit you'll never want to break.
North Dakota: Sandy's Donuts & Coffee Shop
Search far and wide, and you won't discover a better donut destination in North Dakota than Sandy's Donuts & Coffee Shop. They will tantalize your taste buds due to the fact that they have more than 75 different types of donuts for sale. Thankfully, it's impossible to go wrong when you're selecting which of their fantastic donuts you should purchase. If the number of choices has you paralyzed with anticipation, go with the mouth-watering Fried Cinnamon Maple donut.
Ohio: Holtman's Donut Shop
Holtman's Donut Shop is the best place in Ohio to go for a donut, hands down. They have five locations in and around Cincinnati and an army of loyal patrons who speak very highly of their impressive assortment of donuts. Whenever you catch their Cherry Fritters in stock, they should be an automatic purchase. Another favorite is the Lucky Charms donut that's topped with vanilla icing and a deluge of Lucky Charms marshmallows. Even if you hate the cereal, don't be surprised if you love this donut.
Oklahoma: Missy's Donuts, Bakery & Deli
Guthrie, Oklahoma, is where the state's top donuts can be found. All the donut options at Missy's Donuts, Bakery & Deli are memorable. However, it's their cake donuts that may cause you to become obsessed. Their fritters are also universally loved. Missy's Donuts, Bakery & Deli humbly states that they have the best baked goods in the state — and one donut is all it will take for you to nod your head in agreement and become a customer for life.
Oregon: Delicious Donuts
All the best donut shops in Oregon are in Portland, and Portland's best place is called Delicious Donuts. From Oreo Vanilla Cake donuts to Peanut Chocolate Cake donuts, and from Coconut Old Fashioned donuts to Maple Twist donuts, Delicious Donuts has it all on their menu. If you eat a vegan diet, you're in luck! They sell vegan donuts at this place that are just as good as the originals. Delicious Donuts has been around since 2005, and their reviews have been perfect since the beginning.
Pennsylvania: Federal Donuts
Philadelphia has fallen head over heels for Federal Donuts — and who can blame the people in the City of Brotherly Love? There are nine locations within the city, which makes it easy for everyone to get Pennsylvania's best donuts in their hands. If you desire the best of the best, the Strawberry Lavender donut is tossed around in lavender buds and dried strawberries — and the result is jaw-dropping. While you're at Federal Donuts, order some of their fried chicken to go with your donuts to make it a meal you won't forget.
Rhode Island: Allie's Donuts
You too can find the best donuts in all of Rhode Island by hopping on over to Allie's Donuts in the city of North Kingstown. The strawberry frosted donuts made at this place are some of the best in the country. What separates them from the competition is that the strawberry frosting is allegedly made with real strawberries, which gives it a natural flavor that can't be beat. The only thing to watch out for when it comes to Allie's Donuts is that they are closed on Monday, so you'll need to find another way to begin your work week.
South Carolina: Sunny's Donuts
Found in the city of Gaffney, Sunny's Donuts is the ray of sunshine you need when your sweet tooth is acting up and only South Carolina's best donuts will do. While they have a number of yummy donut choices like tiger claws, donut holes, and royal cake donuts, it's their jelly-filled raised donuts that will have you coming back again and again. Pick the flavor of jelly you crave, and then stand back and watch Sunny's Donuts fill your donut. Seconds later, you'll be devouring the delicious donut with a smile.
South Dakota: The Donut Shop
What's the best donut shop in South Dakota? The Donut Shop, of course! Located in the city of Pierre, the reviews for this place are off the charts. The objective at The Donut Shop is to order anything with buttercream in it, as their buttercream is simply amazing. Whether you pick the Nut Buttercream Bars, Sugar Buttercream Bars, or the Buttercream Donut Holes, you just can't go wrong as long as the donut has buttercream in it.
Tennessee: Julie Darling Donuts
Julie Darling Donuts in Chattanooga, Tennessee, is the leader in the state when it comes to serving outstanding donuts. Favorites found on the menu include the Banana Split Filled Donut, the Salted Caramel Donut, and the Chocolate Cheesecake Filled Donut. Julie Darling Donuts launched in 2009, and it quickly became Chattanooga's go-to place for delicious donuts and hot coffee. A little more than a decade later, they receive a nonstop river of positive feedback for the quality of their donuts.
Texas: Hypnotic Donuts
The best donuts in Texas are so good that they'll put you in a trance. Hypnotic Donuts, located in Dallas, describes itself as a craft donut shop whose specialty is handcrafting creative donuts with ingredients that have been sourced locally. While all of the donuts here are worth trying at least once, it's the Holy Cannoli that will leave you breathless. This beauty is a chocolate cake donut with hazelnut, orange-cinnamon glaze, and a drizzle of cannoli filling added to the mix to create a masterpiece.
Utah: Fresh Donuts & Deli
Fresh Donuts & Deli is the only place to consider when you want the top donuts Utah has to offer. While you can find delicious donuts of all shapes and sizes here, stay focused on their wondrous bear claws. All their bear claws are fantastic, but if you have to choose only one, go with the apple-filled version — it's epic. Fresh Donuts & Deli is located in South Salt Lake and opens at 5 a.m. every day of the week except Sunday. Get there early for the best selection.
Vermont: Cold Hollow Cider Mill
The Apple Cider Donuts from Cold Hollow Cider Mill are so good that they were listed by Gourmet Magazine as one of the four best donuts in the United States. Needless to say, that makes this place the best donut shop in the state of Vermont — and it's not a tight competition. Reviewers can't say enough about the Apple Cider Donuts and agree that they deserve to be in the running for the best donut ever created.
Virginia: Route 8 Donuts
Found in the town of Christiansburg, Route 8 Donuts is the finest donut joint in the entire state of Virginia. This highly rated donut dispensary has a menu that includes spectacular apple fritters and delectable cinnamon twists. However, it's the Samoa donut that is sure to catch your attention. Just like the Girl Scout cookies you can't get enough of, these donuts are covered by sweet caramel and then topped with toasted coconut plus a drizzle of rich chocolate.
Washington: Family Donut
If your idea of a good morning is feasting on a bacon maple bar, Family Donut is where you need to go. While most donut shops use tiny crumbs of bacon, this place uses big, tasty pieces of bacon that taste extra amazing when mixed with the sweet maple icing. Family Donut was established in 1993 and now ranks as not only the best donut destination in Seattle but the best place for donuts in the state of Washington.
West Virginia: JR's Donut Castle
JR's Donut Castle is an amazing donut shop whose story began in 1969 when they opened their doors in Parkersburg, West Virginia. While they have goodies such as pepperoni rolls, brownies, cakes, and muffins on their menu, it's the donuts that draw a constant amount of adulation. JR's Donut Castle really shines when it comes to classics like glazed donuts and apple fritters. While other donut places have gimmicks that you'll get tired of, this place sticks to the tried-and-true favorites that will be around for decades.
Wisconsin: Greenbush Bakery
Greenbush Bakery has been dishing out award-winning and completely unforgettable donuts since 1996. Located in the city of Madison, they serve the greatest donuts in all of Wisconsin. While their Sour Cream Old Fashioned donuts are extremely popular, it's the Rabbi's Delights that will leave you thanking your lucky stars. This thing is a glazed oblong cruller that is made with buttermilk. It's available in four flavors: chocolate raspberry, double chocolate, chocolate caramel, and strawberry. If you need to just pick one, go with the chocolate raspberry.
Wyoming: Cowboy Donuts
It sounds almost unbelievable but it's true: Some of the best donuts you can find anywhere are located in Rock Springs, Wyoming. For example, Don's Peanut Donut is a fantastic buttermilk cake donut that is completely covered with crushed peanuts. This bad boy tastes even better than it sounds. Wyoming's best place for donuts starts making their donuts at 1 a.m. so that they will be hot, fresh, and ready for your mouth when you wake up.