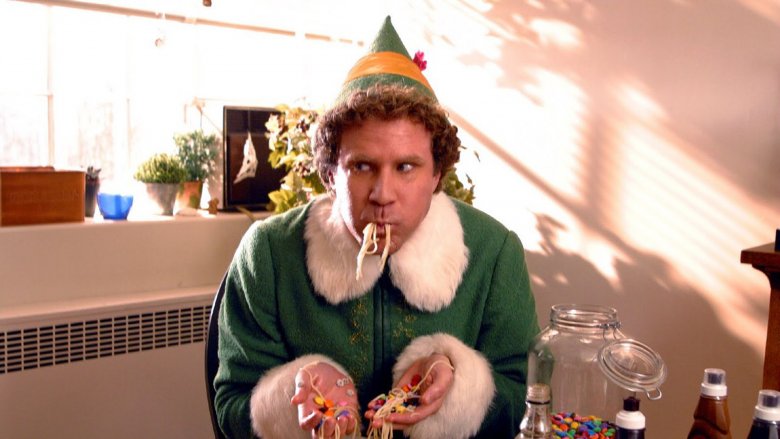 The world first met Will Ferrell on Saturday Night Live, and he's managed to do what not all SNL alumni have — he's continued to stay relevant. When he left after seven seasons, he told The Chicago Tribune he knew it was time, even though he didn't have a plan for the future. He already had a few films in the works, including Elf, but at the time, no one knew if his Everyman schtick was going to fly outside the comfort zone he'd established. It did, so let's talk who, what, when, where, how, and why.
His father influenced him in a surprising way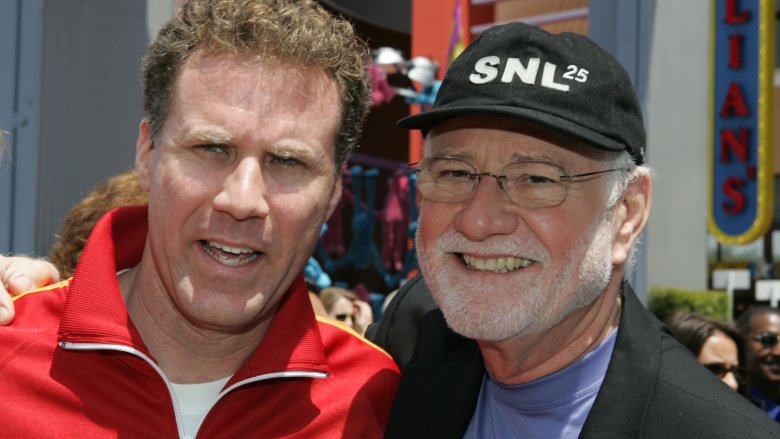 You might not know it, but Ferrell comes from a show-biz family. His father, Roy "Lee" Ferrell Jr., was a traveling musician and keyboard player for The Righteous Brothers. According to Ferrell, (via Channel 24), seeing his father's lifestyle was exactly why he spent "a lot of time at 18 looking for a way to avoid going into the entertainment industry."
The younger Ferrell has also told The Guardian that after his parents divorced, his father spent a whole summer with him and his brother while their mother headed to Japan. It brought them closer together, but it also made his son realize he didn't want to have to worry about the instability of the entertainment industry. He decided to get into journalism, hoping to become a sports commentator. He hated it, though, and when he spoke with his dad, the elder Ferrell gave some advice that probably wasn't too encouraging. He said it was all down to luck, not talent, and while that might not sound reassuring, it convinced him to chase the entertainment world.
His failures and his fear of 'what if'
Ferrell says he's had his share of failures, and when he gave the commencement speech to the University of Southern California's Class of 2017, he said his first foray into stand-up came with equal parts terror and exhilaration. He says that day — and every day since — is still filled with fear of failure.
"But my fear of failure never approached in magnitude my fear of 'what if,'" he added. "What if I never tried at all?"
Bad reviews have helped him stay grounded, and he's even saved some bad reviews and hung them up as a reminder that not only will some people not like him, but that it was all right. He believes the key is enjoying the journey without becoming too focused on the result, and told The Guardian it's not a matter of being fearless, it's a matter of being ignorant to the possibility of failure. "If you know too much," he said, "you will be totally paralyzed."
He auditioned for SNL with the 'Get Off the Shed' sketch
No matter how big celebrities become, they all had to start somewhere. Ferrell's start is his audition tape for SNL, and you might even recognize one of the sketches. The "Get Off the Shed" sketch got a few tweaks and ended up actually being performed on the show, but it's undeniably strange seeing the raw performance. That sketch was one of a few Ferrell did, and when he talked to The New York Times about the whole process, he said for the first part of the audition, he was asked to do any character, a political impression, and a celebrity impression. He did a stand-up bit as Ted Kennedy, the shed sketch, and Harry Caray reading a play. After meeting with Lorne Michaels and being asked to do an entirely new audition, he came with the idea of offering Michaels $25,000 in fake money and just walking out. "But it was not a joking atmosphere," he said, so he never did it.
Instead, he did the shed sketch again, a Bill Clinton impression, and another sketch where he played a businessman in his office, rolling around on the floor playing with cat toys. Everything was met with silence. "And I'm thinking, "Oh, it's over. It's just over now."
It wasn't over, and he got the job.
He has some surprising favorites
Every actor has their favorite work, even if the list of movies and comedy sketches is as long as Ferrell's. So, what stands out to him?
He told The Ringer that Anchorman is his favorite film, and it's more because of the journey than the movie itself. "It's kind of the Cinderella story of the movie no one wanted to make," he said. The idea of a long script in that vein had been kicking around since his SNL days, but the original movie looked incredibly different. While the world didn't get to see the original survival film concept featuring Ron Burgundy crashing a plane full of newsmen into the side of a mountain and then trying to escape a group of orangutans armed with throwing stars, another version eventually made it to the screen.
His favorite scene is from The House, though, and it's when he and Amy Poehler drop their daughter off at college. He told EW it was the raw emotion that made it his favorite scene to shoot. Contrast that with what he told The Guardian when it comes to characters: the "super-sleazy" ones top his favorites list.
He made a game of trying to break costars
Jimmy Fallon was notorious for breaking character on SNL, but let's be honest. Everyone who watches SNL hopes to see the actors crack and break, and Will Ferrell enjoys it just as much as you do.
When he hit the couch with EW, he admitted outright the entire point of the "Love-Ahs" sketch was to make Fallon break completely and be super uncomfortable. It wasn't just overacting and being too enthusiastically affectionate with costar Rachel Dratch, but it was the "slightly Madonna-esque" accent, too. It probably didn't help they've done it five times, and each time had to get worse for Fallon.
He's political, but more for ideas than parties
Ferrell's George W. Bush is the definitive impression of the president, so of course, everyone wanted to know where his political leanings went. When he talked to Elle, he revealed that while he's a registered Democrat, he considers himself a progressive instead. "I'm for whoever has the best idea, regardless of the party," he said, and went on to talk about one of his own ideas for America's political system. He's in favor of instituting a new policy: every Congressman who votes for war is required to send one family member, and he says that'll make them think twice about what they're doing. Not only does he liken his political views to those of the country's Founding Fathers, but he also notes they probably wouldn't get elected in modern America.
In 2016, he created some serious waves when CNN reported he jumped from the Bernie Sanders ship to Hillary Clinton's side. According to Clinton, he not only donated to her campaign but was behind a Los Angeles fundraiser. Ferrell was a little more vague with his true feelings, saying he was simply backing the Democratic nominee, no matter who it might end up being.
His George Dubya
When GQ talked to Ferrell in 2004, he was asked what literally every American had been thinking: did his impression of George W. Bush had helped him get elected, and how did he feel about that?
He might make a good politician because he didn't really answer the question. He did say, though, that he thought of the gig as just one of a number of characters he played, and when Michaels asked him to reprise the character he'd first done in 1999, he had no idea it would be so popular. He simply said Bush's election made him think some of the traits he'd emphasized, like "basic stupidity," are traits that America's totally cool with.
In 2017, Jimmy Kimmel asked Bush himself what he thought of Ferrell's impression of him, and it got the former president's stamp of approval. According to Bush, he had dinner with Lorne Michaels one night, and they got into a discussion about words like "strategery" and "misunderestimate." Michaels credited his writers for those, but Bush was convinced he'd said those words himself. That's the sign of a good impression.
On why he's naked so much
Watch enough of his comedy and you'll notice he's naked a lot of the time, but Ferrell told Dazed he doesn't go out of his way to be naked. He adds that it's not in all of his movies and that there's no "concerted effort on my part to be partly nude in movies. It just seems to happen."
The Talks asked him about the rumor he put on weight to get the "right context" for nudity, and Ferrell says that was never the case, either. "I just kind of have a comedic-looking body, I guess. If anything, I really have to exercise just not to look too fudgy."
And he does more than just exercise, he's even run marathons in New York, Stockholm, and Boston. He told Competitor Running that some of the best ideas would come to him while running. "I learned … to run without headphones and music so I could focus and get into my thoughts." When it works, it works.
There was some major uproar about his proposed film on Ronald Reagan
Not every movie idea is a winner. In 2016, it was announced Ferrell was considering playing another president, this time on the big screen. Supposedly, he would play President Ronald Reagan in a movie The Guardian said was hyped as a "hilarious political satire." The film was based on the idea that Reagan had actually been suffering from dementia while he was in his second term (he wasn't), and it was up to his staff to keep things running smoothly.
After news broke, Reagan's son Michael tweeted, "Alzheimers is not [a] joke … It kills," while the former president's daughter, Patti Davis, wrote an open letter to Ferrell in The Daily Beast. She appealed to him to visit a dementia facility and explain to the patients and families there just why Alzheimer's is a source for some comedic material.
Page Six reported Ferrell dropped the project almost immediately, quoting a representative who said it was one of many movies he was looking at, and while he hadn't committed to it, he did make it clear he wasn't a part of it. His decision was lauded by both Reagan's children and by the Alzheimer's Foundation of America.
Why there won't be an Elf sequel
Elf has become one of those Christmas classics, a movie many of us have to watch to make the season feel complete. Ferrell could definitely make a sequel, sure, but he says he absolutely won't.
There are a few reasons, and his typical response is something along the lines of looking ridiculous if he tried to put those tights on again (via People). But when he talked to British GQ (via Xpose), he admitted there was more to it than just that.
"I thought to myself, the only way I can so this is when I talk I about the movie I would literally have to say, 'I did this for the money, it's not as good as the first one,' and I don't think anyone would want me to say that," he said. He reportedly turned down a whopping $29 million to do a sequel, but he said he's more interested in maintaining the integrity of his work and the film. Strange — that hasn't stopped any of his other bad movies.
He put having a doppelganger to good use
They say everyone has a twin somewhere in the world. When Ferrell hosted an AMA Reddit thread, he acknowledged all the talk about there being an uncanny resemblance between himself and Red Hot Chili Peppers drummer Chad Smith. He commented, "A lot of people think that it's me playing for the Red Hot Chili Peppers. But that would be an insult to Chad Smith. The truth of the matter is there is no Will Ferrell. Only Chad Smith."
Fortunately, Chad Smith has an excellent sense of humor, too.
Things went back and forth, and in 2014 they both appeared on The Tonight Show Starring Jimmy Fallon to compete in a drum-off. (Spoiler alert: Ferrell's not half bad, but he's no Chad Smith … probably.)
That wasn't the end, either. In 2016, the pair organized a massive charity event called the Red Hot Benefit Comedy + Music Show & Quinceanera. Ferrell told Rolling Stone never celebrating his quinceanera was one of his only regrets, so they were going to set it right. Ferrell went on stage representing his favorite charity, Cancer for College, which gives college scholarships to cancer survivors. Smith represented Flea's Silverlake Conservatory of Music, and according to Rolling Stone, great fun was had by all.
Forbes thinks he's overpaid, and he loves it
Sure, Ferrell's movies make a ton of money, but is he worth the salary he commands? Not according to Forbes, which has put him on its list of Hollywood's most overpaid actors a few times.
In 2010, it was Land of the Lost — a big-budget flop — that earned him a place at the top of the list. For every $1 he made, his movies brought in only an average of $3.35. And in 2013, he landed the No. 3 spot (under Drew Barrymore and Eddie Murphy), with Forbes saying for every $1 in his pocket, his movies averaged $3.50.
It's not exactly an honor most actors would like to get, but when Den of Geek asked Ferrell what he thought of it, he called it, "a badge of honor" before pointing out that only a few years before, he was on lists of the industry's most bankable stars. He also volunteered to fix it by starring in the next Terminator movie for only $1, which we'd probably all watch the heck out of.
Joan Rivers hated him
Even people who don't buy into his particular brand of humor have to admit he's pretty much the most normal guy in Hollywood. He doesn't come with much in the way of scandals, there's not too much outrage over his life choices, and if you hadn't seen him on the big screen, he's the guy you might meet at a party. Or the gas station. He gets indifference instead of hate, except from Joan Rivers.
The cranky red carpet diva was always expected to be more than a little catty, but when it came to Ferrell, she was downright venomous. She once said, "You have to be careful of meeting your idols because I met that Will Ferrell and he's an asshole."
Seriously, Joan? Ferrell explained in Rolling Stone, saying he'd been told to go say hi to her at the Golden Globes. When he walked up to her, she was in mid-conversation with Diane Sawyer and Mike Nichols and asked him if he knew who he was interrupting. He responded with, "Yes, they're very big important people," which sounds like something we all wish we'd think of at times like that. She misinterpreted his joke as something else, and the hate stuck. For Ferrell's part, he talked briefly to EW after her death and credited her for opening some serious doors for women in comedy. That's a class act.
The cowbell sketch was his idea
Certain skits and sketches from SNL have taken on a life of their own, and Ferrell's "More Cowbell" — more properly called "Recording Session" — is one of those. It's become synonymous with Blue Oyster Cult's "(Don't Fear) The Reaper," and when Ferrell talked to Rolling Stone about his favorite SNL sketches, he cited that one, largely because it almost didn't happen.
It started with Ferrell, who said he came up with the idea when he was listening to the song and "would hear the faint cowbell in the background and wonder, 'What is that guy's life like?'" He pitched the sketch at an SNL meeting with Norm Macdonald's help. But the time wasn't right, Lorne Michaels didn't really get the joke, and "it died in committee."
The sketch got pushed to the back burner for months, and it wasn't until Christopher Walken signed on to host that Ferrell dug the sketch out, gave it an overhaul, and tried it again. There was something about Walken that make it work, though Ferrell said some people still missed the point. According to him, "it was really about the exuberance of a guy who was given the green light to really express his art," and according to what he's heard, the cowbell guy was "a little bit like that."
He relentlessly pranked Lorne Michaels
Ferrell has talked a little bit about his slight obsession with playing pranks on coworkers and bosses alike, and when he went on Late Night with Seth Meyers, they chatted about how Lorne Michaels was a favorite target, even though he didn't have much of a sense of humor for that kind of shenanigans. Michaels often wouldn't even react, like the time Ferrell ran into his office, slammed a random Emmy on his desk, and shouted, "Now is our time!"
It went on until his very last show, too. Meyers recounted a time when he took an old-school typewriter into his last pitch meeting and clacked away on the keys as everyone else pitched. Ferrell went last, and when it was his turn, he read all the notes he'd taken on everyone else's sketches and walked out.
He's also told Conan O'Brien his pranking days went back to college, starting when he would crash his friend's literature class dressed as a janitor. The professor grabbed him in the hallway about a week later, and asked Ferrell to keep randomly doing it. He considers that professor one of the most important figures in guiding him not just in his career, but in "allowing me to be me."
He hated pitching ideas
It's hard to imagine someone as outgoing as Ferrell failing at expressing himself, but according to what he told Rolling Stone, that's exactly what he did at every SNL pitch session. Every Monday, the cast would get together with Michaels to pitch ideas for that Saturday's show, but Ferrell said he consistently failed at getting any of his ideas across.
"I would literally say things like, 'I have a sketch that takes place in a recording studio'" … and that's it. Sketches wouldn't be written at that point, and he said he was terrible at putting big thoughts together in brief pitches. He credited Michaels for trusting him enough to green-light writing up half-baked ideas from the pitch stage, and said he's grateful he had someone who was willing to take a chance on his material.
He's played Santa before
Elf became a classic and helped cement Ferrell's post-SNL career, but he played Santa first. When Ferrell talked to Spliced Wire, he not only apologized for A Night at the Roxbury, but also said the goal with Elf wasn't just to make something funny, but to make something with heart. Elf's Santa Claus is Ed Asner, who has clearly had plenty of experience playing the grumpy boss. While Ferrell hadn't played an elf before, he had played Santa — and he said it gave him an insight into the second-fiddle life of an elf.
Chris Kattan played his elf during a five-week stint in Pasadena, where Ferrell donned the big white beard and red suit to play Santa himself. He and Kattan were in the sketch comedy group The Groundlings at the time, and Ferrell remembers absolutely no one cared about the elf in the slightest.
Ferrell thinks the whole Santa act is a little worn, too, and in 2015 he appeared on The Tonight Show (via Hollywood Reporter) as "the new Santa Claus," complete with blond wig and Bluetooth earpiece. He delivers presents by drone and sits in other people's laps … probably not the same type of Santa he played before.
He ate so much sugar for Elf
Some actors are willing to suffer for their craft, and Ferrell is one of them, when it comes to consuming sweets, at least. A running gag in Elf is Buddy's four food groups: candy, candy canes, candy corn, and syrup. Take all that candy and factor in some extras — like the cotton balls made from cotton candy — and just the thought is enough to make your teeth hurt.
Ferrell has said in interviews (via ThoughtCo) that he not only ate the sugar, but suffered all the ill effects you might imagine. "But anything for the movie, I'm there," he said even if it means drinking maple syrup.
He once punched Ellen DeGeneres
Love Will Ferrell? Not a fan of Ellen DeGeneres? You might be happy to know that he once punched her in the face, but it was completely accidental.
When Ferrell and The House costar Amy Poehler showed up on The Ellen DeGeneres Show (via People) in May 2017 to promote the new movie, there was a little reminiscing about the 2001 SNL episode she hosted. While they had a tough time remembering some of the sketches, no one forgot how Ferrell accidentally punched her in the face.
He sent her boxing gear by way of apology, and it doesn't seem to have phased her much. In fact, she said, "He felt so bad about it, but I loved that I got punched by Will. It made me happy."
He's brutal when it comes to signing autographs
If you happen to see him on the street, don't be fooled by the super-approachable, down-to-earth persona he projects. Autograph magazine has pretty regularly rated him among the worst autograph signers in Hollywood, but it wasn't always that way. According to Autograph's editor Steve Cyrkin (via BBC), Ferrell went from the best to the worst around 2007.
Ferrell has commented on the dubious honor, saying that he signs tons of autographs, so he's not sure how he's one of the worst. Maybe it's the rest of his statement that puts him in the horrible category, as he also adds he taunts and ridicules people who ask. "I'm like, 'How badly do you want this autograph? … You say you're my biggest fan, really, prove it.' I'll do things like that. They have to earn it."
Maybe that's why you're on the naughty list.
His weird Lifetime movie
Lifetime doesn't seem like Ferrell's typical choice of partner network, so when an entire saga unfolded in 2015 — starting the day after April Fool's — people didn't know what to think. Geek Nation kept tabs on the whole thing, which started with reports that Ferrell and Kristen Wiig had been working on a top-secret Lifetime project called A Deadly Adoption. The day after the news broke, the duo announced they were pulling the project because it had leaked. In June, though, billboards advertising the film started showing up, and it became clear they hadn't pulled it after all.
Even after it aired, those who saw it seemed to have no clue whether it was supposed to be a serious film, a parody, a comedy, or something completely different. Ferrell talked to Deadline about it in 2017, saying not only was it a horrible movie, but that he did the whole thing as a joke. He wanted to make a movie for Lifetime as a complete gag, partnering with another comedian and making fun of all the cliches these movies typically had. But Wiig has gone on record saying it wasn't a joke at all. When she talked to Vulture in 2015, she said they had never intended to make a comedy and suggested it had been completely mislabeled. So, no one knows — not even the people who were in it.
His SNL years involved a lot of alcohol, but the writing didn't
Alcohol might be one of the tools of the trade for writers of all kinds, but according to what Will Ferrell told The Talks, even his wildest ideas didn't come from booze-filled nights out. While he admits he did quite a bit of drinking in college and going out with the SNL cast, he says most of the ideas that started in a bar tended to stay there.
"A lot of ideas get born drunk and then the next morning you are like, 'What were we thinking? That is ridiculous and not funny at all.'" He says it was all in good fun, though, and adds that he's a happy drunk and never had a problem.