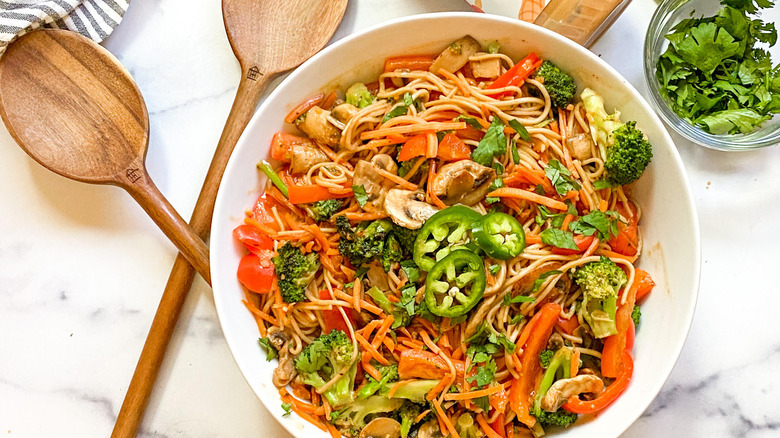 Fans of Japanese cooking will likely know all there is to know about the most popular iterations of the cuisine, including sushi, tempura, yakitori, and teppanyaki. But equally important to the Japanese is the "rule of five," which suggests that all meals should appeal to all five senses (sight, smell, taste, touch or textures, and sound). By the same token, dishes need to also present themselves in five colors: white, yellow, green, black, and red (via Savory Japan).
Recipe developer and wellness coach Miriam Hahn's stir-fried soba dish pretty much ticks all the boxes when it comes to the "rule of five" in terms of senses and colors. After all, who can resist the bright colors of stir-fried vegetables mixed together with the rich flavors of peanut butter and Sriracha to make a magical sauce? Hahn admits that wasn't on her mind when she came up with this delectable main course, saying, "I was inspired to make this dish for several reasons. It is basically a stir fry with a killer sauce. I typically always have these vegetables in the house, so a meal like this is great on the nights when I am short on time and don't have anything planned."
We think this delicious version of stir-fried soba could end up occupying a place of honor in your repertoire of quick and easy meals, too.
Here's what you'll need to prepare this 15-minute spicy peanut soba noodle bowl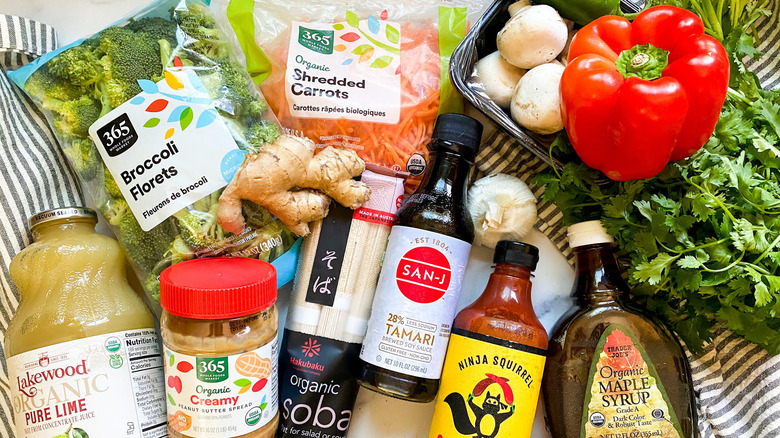 You are likely to find that most of the things you'll need to pull together to make this quick, yet delectable noodle meal are already in your pantry. The ingredients for the sauce that goes into this dish include peanut butter, Sriracha, soy sauce, lime, maple syrup, garlic, and ginger. To make the vibrantly colored veggie mix, you'll need red peppers, broccoli, shredded carrot, and mushrooms. If you're partial to fresh cilantro and peanuts, plan to have them on hand for a perfect garnish. Most importantly, don't forget the two bundles of soba noodles! (Hahn notes, "There are three bundles in a 9-ounce package.")
Whisk together the spicy peanut sauce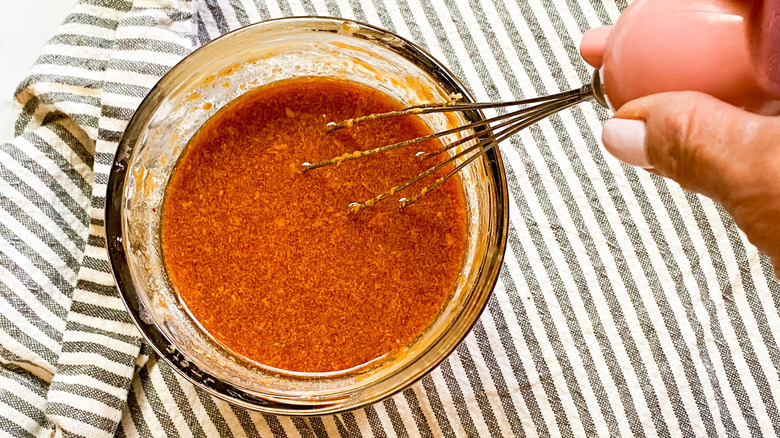 Get the water boiling to cook your soba noodles. After that, take a small bowl, and whisk the ingredients for your sauce together. (These include the peanut butter, Sriracha, soy sauce, water, lime juice, maple syrup, garlic, and ginger.) Set the sauce aside, then slice the red pepper and mushroom. Next, stir fry the broccoli florets and sliced carrots in a bit of oil for about five minutes, stirring frequently. Don't worry about seasoning your vegetables, since the noodles will eventually be served blanketed with a delectably spicy sauce.
Getting the best out of your soba noodles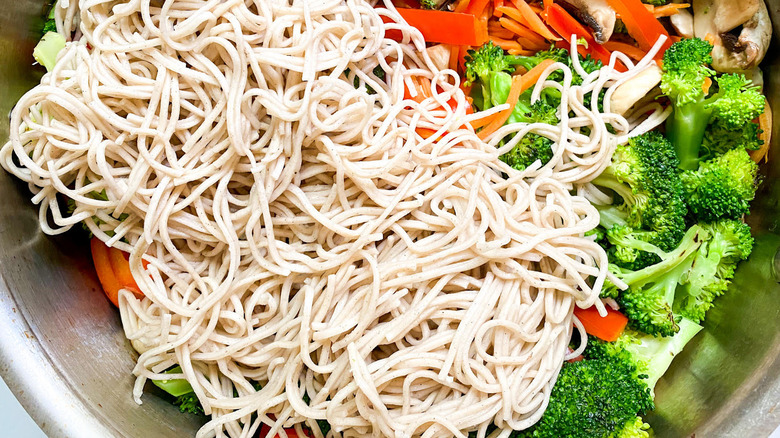 While the vegetables are cooking, prepare your soba noodles according to the manufacturer's instructions. Hahn favors the use of soba noodles for this recipe, because they are minimally processed and only take a few minutes to cook. She also notes, "I love how they taste lighter than pasta and leave you feeling satisfied, but less full. You can also sub rice noodles in the dish."
But if you aren't a fan of soba, because you consider this type of noodle to be a bit temperamental, try using Food52's suggested method of taming this potentially sticky beast. Once your soba is fully cooked, drain and then dunk the noodles into a bowl of cold water so you can wash and rub away the extra starch. Let the noodles sit in the colander to drain before proceeding with the remainder of the recipe.
You can add protein to this dish, if you'd like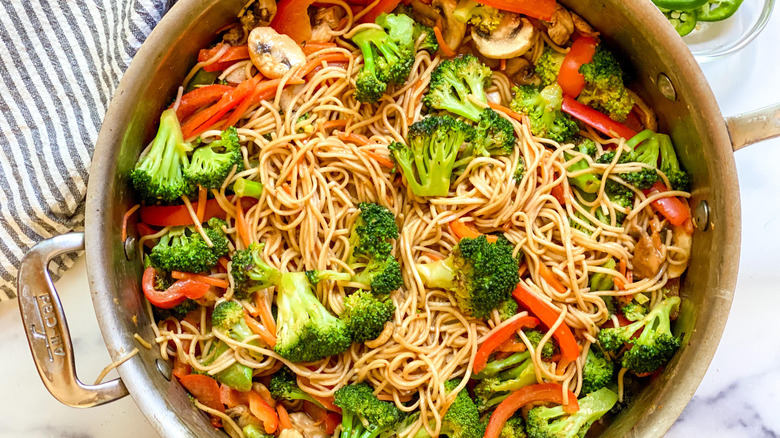 Once your soba noodles are ready, you can add your oodles of noodles into the frying pan. Pour the sauce in, and stir to combine. Top with cilantro and peanuts for extra flavor and crunch, if desired.
While these spicy noodles are vegetarian, the meal can be tweaked with a simple add-on of shrimp or chicken, which has either been grilled or cooked on the stovetop and added to the noodle dish before serving. Hahn says you can even cook the protein and then add the vegetables for a more well-rounded meal.
This recipe is really tasty and fun to eat, so don't skip out on it for a quick and easy weeknight treat!