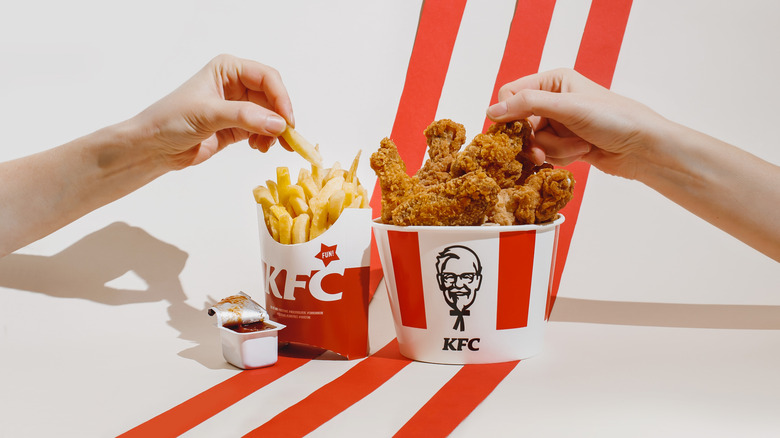 If there's one thing that just about everyone can agree on, it's that there's really nothing quite as convenient as grabbing a meal from your favorite fast food restaurant when you're in a rush. If you just have no time or perhaps aren't feeling your best, or are bogged down by work or family issues, then running to a drive-thru is sometimes all that you can manage. There's nothing wrong with that, particularly when things get hectic.
But when you're on a budget, even a fast food dinner or lunch can get pretty expensive pretty quickly, especially when multiple hungry mouths are involved. Fortunately, that's where value meals come in. Most fast food establishments have some kind of value meal or value menu to appeal to customers who don't want to spend an arm and a leg. And, as it turns out, most are pretty impressive, too. If you play things right, you can get a whole meal for a surprisingly low total.
So, no matter what your budget might be for dinner, there's probably a fast food value meal out there that can get the job done on those busy, energy-depleted nights. While it's no secret that most fast food joints have seen costs go up over the years, there are still a ton of options out there to help make sure you can get a full meal on a scanty budget, whatever it is that you're craving. These are the best fast food value meals for your money.
Burger King 2 for $4 Mix n' Match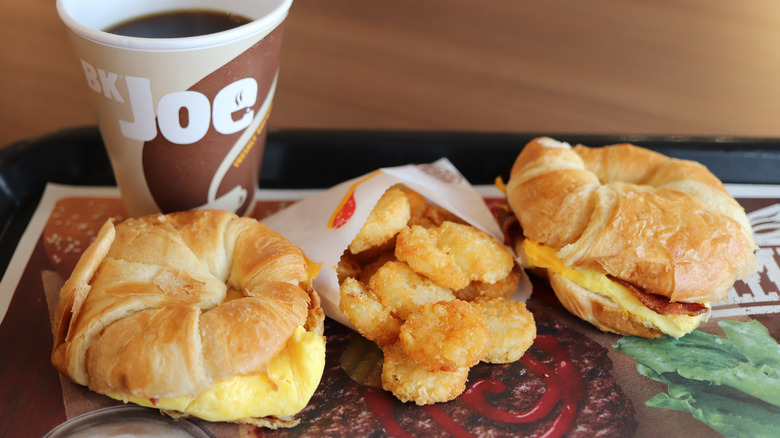 If you're a fan of Burger King, then you probably already know that its breakfast options are seriously impressive and majorly tasty. The fast food giant offers everything from breakfast sandwiches to specialty coffees, sweet morning treats, and more. And fortunately, if you need a quick and seriously cheap breakfast, then Burger King has got you covered, too.
Specifically, while the individual items on Burger King's breakfast menu are all going to be super affordable on their own, the best deal for breakfast is going to be the 2 for $4 Mix n' Match. This value meal gives customers the option of getting two big and filling breakfast sandwiches for only $4.
Really, though, you can't go wrong with the entire breakfast menu at Burger King, which has a variety of items ranging from just $1 to less than $3, according to Fast Food Menu Prices. Some menu items may be a bit more expensive, like those featuring meat-free patties from Impossible Foods, so make sure you read the menu over to get the best price. But, whether you're craving a heartier breakfast or something on the sweet side to start your day off right and on budget, Burger King has got you covered.
Kentucky Fried Chicken Chicken Littles Combo
There's really nothing quite like a good piece of fried chicken, is there? And even if you prefer the homemade stuff, there's no denying that Kentucky Fried Chicken is actually pretty tasty when you get a sudden hankering for fried chicken but don't want to spend the time or effort to make it yourself. Fortunately for your wallet, too, KFC has some great value meals so you can satisfy your craving without breaking the bank.
For the biggest bang for your buck, try out the Chicken Littles Combo, which comes with two crispy chicken sliders, whatever side you choose, and a medium drink all for an average of less than $6 (depending on your exact location).
And if you're looking to feed the whole family, then the 12-piece tenders family fill up is bound to be perfect for you. For only $20, you can get 12 nice and juicy extra crispy tenders, two large sides of the chain's creamy mashed potatoes with gravy, coleslaw, biscuits, and even an array of dipping sauces. Turns out that KFC has some great deals for you and your entire family, so don't overlook them the next time you need a quick and cheap meal.
Burger King Whopper Jr. Meal for 2
Obviously, you already know that Burger King has a great deal to offer at breakfast time, but the fast food spot's real strength comes in for lunch and dinner when its menu gets even bigger and better. For a midday or evening meal, you can get the Small Bacon King Combo Meal for only $5, which includes a bacon burger, small fries, and a small drink.
But your best bet, value-wise, is the Whopper Jr. Meal for 2, which includes two Whopper Jr. burgers, two small fries, and two small drinks for only $4. And who says you even have to split it? With the value meals at Burger King, you'll be pretty full at the end, but you'll have saved so much money you'll probably surprise yourself.
Indeed, at Burger King, the value menu is so expansive that you can almost be guaranteed to get a great meal at a great price no matter where you turn. For more inspiration, consider that Burger King also offers a hamburger, cheeseburger, Crispy Chicken Jr. sandwich, a Spicy Crispy Chicken Jr. sandwich, the Rodeo crispy chicken sandwich, and the Rodeo Burger — all for just $1 each. Considering how much is included on Burger King's value menu, not to mention all the value meals, there's bound to be something for everyone.
Arby's 2 for $6 Everyday Value Meal
While Arby's might not be the most popular fast food restaurant out there, it is still beloved by fans of the chain. Die-hard Arby's fans appreciate the restaurant's commitment to sandwiches, meat, and of course, those curly fries. And if you aren't already amongst those aficionados, you might learn to love the chain pretty quickly, thanks to its value meals. And while nothing at Arby's is too expensive, they do have an especially great value meal that will get you the biggest bang for your buck, and keep you seriously full.
That would be Arby's 2 for $6 Everyday Value Meal, where the chain truly shines. You can choose two of the following, for just $6: a nine-piece order of their new Premium Chicken Nuggets, a Classic Roast Beef Sandwich, or a Classic Beef 'n Cheddar Sandwich. Yes, for just $6 you can get two sandwiches, or a sandwich and a pretty sizeable order of chicken nuggets, to boot.
Now, obviously, you could share this with someone. But if you happen to be really hungry, then you're basically all set for a miniature feast! Just add some of that free water and you've got yourself a super filling meal. And what's best about this value meal is that it offers some of Arby's best and most famous menu items at a low price. So, what are you waiting for? Go and grab this meal deal for yourself!
McDonald's Cheeseburger Combo meal
It's no secret that eating at McDonald's isn't typically a super expensive venture. Sure, you can definitely see your total start to add up if you order extra sides of fries, a dessert, or ice cream (assuming the ice cream machine at your local spot is actually working). But for the most part, McDonald's has plenty of low-cost meals, not to mention an entire section of their menu that's priced below $3 per item.
But, for the best deal at McDonald's, you can't beat the Cheeseburger Combo meal. It's the epitome of a value meal, and you'll definitely want to try it. The Cheeseburger Combo meal at McDonald's is a great option for when you're super hungry, low on cash, and low on time. For less than $5, you'll get two classic McDonald's cheeseburgers, an order of fries, and a medium drink.
Yeah, that's definitely a lot of food for not much money at all. And because the burgers at McDonald's are kind of what they're known for, you also get some of the best things on their menu. If you want to make the most of your McDonald's run, then definitely get the Cheeseburger Combo meal. Rest assured that it's truly the best value meal for your money at the chain.
Subway Sub of the Day
It might seem as if most fast food joints are all pretty unhealthy — and you would often be right, considering that much of the fast food menu landscape is made up of burgers and fries. But fortunately, this is where Subway comes in. Sure, it's not the absolute most healthy option out there, but it's definitely lighter than a greasy burger or some admittedly delicious fried chicken. And believe it or not, you can get a super filling meal at Subway for super cheap.
While the infamous Subway $5 footlong may no longer be a permanent feature on the chain's menu, there are other deals you can look out for. For instance, Today reported that Subway brought back the $5 footlong in 2020, so long as you bought two sandwiches. So for $10, you got two huge sandwiches and could split them with a friend or your partner. That was definitely a good deal, but it's no longer available everywhere.
Your best bet for a Subway value meal, then, lies in the Subway Sub of the Day, a 6-inch sandwich that you can typically buy for less than $4 (via Fast Food Deals). While Subway's prices may have gone up over the years, you can still get a great value meal there. And with so much variety on their menu, why wouldn't you?
Taco Bell Nacho Fries Box
Oh, Taco Bell. This fast food chain is probably one of the most beloved of its kind, and for good reason. It's cheap, it's delicious, and it's open late at night to satisfy all your late night, potentially alcohol-induced cravings. Plus, they are constantly adding new items to the menu to make you fall in love with their food all over again.
Take, for instance, the chain's Nacho Fries. These are french fries that have been seasoned with a Mexican spice blend, then served with a side of nacho cheese. It all might sound simple, but because Taco Bell only brings them out of retirement every so often, you never know when you'll get another taste of this drive-thru delicacy.
Fortunately, when the Nacho Fries are available, they can make up what is arguably the best value meal at Taco Bell: the Nacho Fries Box. For just $5, you get an order of Nacho Fries, a crunchy taco, a beefy five-layer burrito, and a medium Mountain Dew Baja Blast (or another drink of your choice). If that's not a filling and delicious meal, then what is? Truly, any of Taco Bell's $5 boxes are a great way to eat a ton of food without spending a ton of money, but the Nacho Fries Box really reigns supreme.
Wendy's 4 for $4 meal deal
Though Wendy's might not be one of the biggest competitors in the fast food burger game, at least not compared to giants like McDonald's and Burger King, there's no denying that the chain can crank out a good burger, a good chicken sandwich, and some wonderfully tasty chicken nuggets. Honestly, part of what makes Wendy's so great is the fact that the fast food restaurant has so much to offer and at such a great price.
But because Wendy's naturally wants to make its customers happy, the restaurant actually has a ton of value meals that are definitely worth checking out. For just $5, for instance, you can get the Bacon Double Stack Biggie Bag, which features a Bacon Double Stack burger, chicken nuggets, french fries, and a drink.
Or, if you want a little more variety for a little less cash, you can try out their 4 for $4 meal deals, which are arguably the best of the Wendy's value meal bunch. For just $4, you get an order of chicken nuggets, french fries, a drink, and either a Jr. Bacon Cheeseburger, Crispy Chicken Sandwich, or a Jr. Cheeseburger. Clearly, Wendy's knows how to satisfy their customers on a budget, and that's what makes them so special.
Dairy Queen $6 Meal Deal
Though Dairy Queen might be known for its delicious ice creams, Blizzards, ice cream bars, and even ice cream cakes, they actually have a pretty large food menu with some items that might surprise you. Their burgers and fries are super tasty, for one, and so are their chicken strips. And what's more, if you want a great deal on Dairy Queen, their value meal is perfect for you because it's bound to satisfy all that you're hungry for. Yes, even dessert.
For only $6 at Dairy Queen, you can actually get quite a lot of food, plus an ice cream treat to satisfy that sweet tooth. You can choose between one of their delicious Double Cheeseburgers or the 3-piece chicken strips (with dipping sauce, of course). The meal also includes french fries, a drink, and an ice cream sundae of your choice. The meal deal is honestly a great purchase, and if you don't want to spend an arm and a leg but find yourself seriously hungry, then this is where it's at. Because really, who doesn't want an ice cream sundae with their meal?
Del Taco Macho Combo Burrito meal
While Del Taco might not be in every city or state, it tends to be pretty popular wherever it is located. From the delicious burritos to the tacos, and even the burgers, pretty much everything at the fast food chain is totally delicious. And while you might think you can't get a full meal at Del Taco without spending a ton of cash or ordering solely from the dollar menu, you'd be wrong.
For less than $7, you can snag the Macho Combo Burrito meal which includes the massive and seriously tasty Macho Burrito (filled with beans, beef, cheese, lettuce, tomatoes, and sour cream), along with an order of crinkle-cut french fries and a drink. Yes, it might sound strange to order french fries with a burrito, but that's just how it's done at Del Taco — fans of the establishment wouldn't want it any other way. Of course, while this is probably the best of the bunch, it's not the only meal deal worth checking out at this fast food joint.
You could also get the Del Combo Burrito for only $6, which is basically the same thing as the Macho Burrito, minus the lettuce, tomato, and sour cream. Again, the meal comes with fries and a drink and will definitely fill you up for a great price. So, if you're lucky enough to have a Del Taco near you, what are you waiting for?
Little Caesars Classic Pepperoni Pizza
When you think of ordering a pizza, you probably assume you'll need to spend at least $20 on a single pie. But fortunately, even if you're on a strict budget, you can get a delicious pizza for way less than that amount, so long as you're willing to pick it up yourself. And no, you don't have to take it home and bake it in your own oven, either. At Little Caesars, you can get a hot and ready pizza for a shockingly low price.
Little Caesars offers a large pepperoni pizza for only $5, and a large cheese pizza for the same low price as well. If you've never had Little Caesars, then you probably shouldn't expect it to be the best pizza in the world, sure, as there are some better pizza chains out there. But considering the fact that you could potentially feed your whole family for only $5, it's pretty darn impressive.
If a single large pizza is not your style, Little Caesars also offers pizza combos for a great price, too. You could get a large Pepperoni and Cheese stuffed-crust pizza with breadsticks and a 2-liter soda for just over $13. Now that's a value meal. Clearly, Little Caesars is here to make sure you can afford pizza night without sacrificing the flavor or sides that come with your pie.