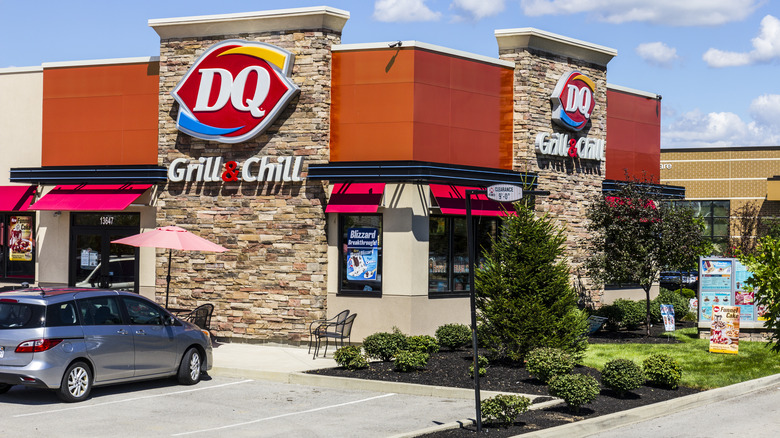 Any dog owner knows that there's nothing quite as joyful as bringing your dog along on a road trip. Well, as long as your pup does well in the car, of course. That said, you also have to plan and consider a lot more when you bring your pooch anywhere with you. And if you're on a road trip, or just out and about running errands with your loyal dog by your side, you might want to know where you can go to grab a snack for you and your pet.
Fortunately, there are actually quite a few fast-food restaurants that want to feed your dog, and you can probably find at least one of them in whatever town you're in. So, if you want to make your fur friend feel included while you treat yourself to lunch on the go or a yummy drink, then here are the best and most common fast-food joints you can count on to get a (sometimes) free snack for your best bud.
Starbucks is famous for its dog treat offering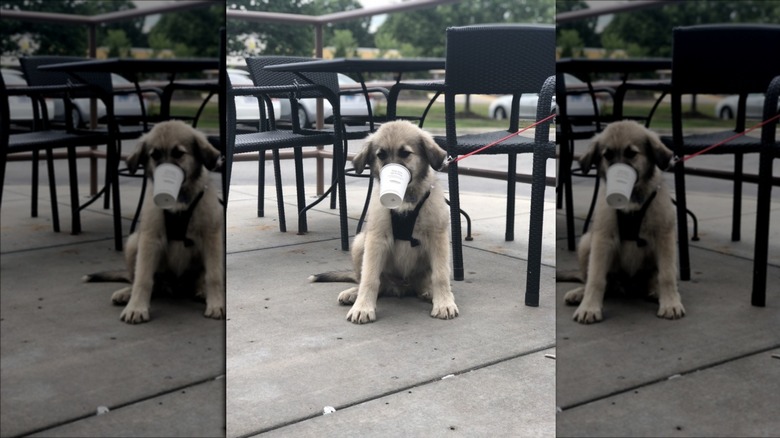 Obviously, if you're feeling low on energy, had to get up super early that morning, or just want to try a fun new coffee or tea drink, there's nowhere quite like Starbucks. You can get an iced coffee with a million different flavors, a tea-infused lemonade, or a delicious pastry all in one place. And if you're on a road trip with your dog, or just want to take your best fur friend out for a special treat, Starbucks is the place to go for both of you.
And that's not just because you're bound to find something you like there, but you can also grab a delicious and free treat for your dog as well. When you place your order, just be sure to ask for a Puppuccino, the adorable name the coffee chain gives to its pup customers. All a Puppuccino is, is a small cup filled with whipped cream. There are no other flavors in it and absolutely no coffee or caffeinated beverages of any kind, so you can feel confident letting your pooch enjoy it.
Dunkin' Donuts offers a similar treat for your pup
Much like Starbuck's offers all their four-legged customers a free Puppuccino, Dunkin' Donuts also offers their version of the simple treat in the Pup Cup. The Pup Cup, just like the Puppuccino, is simply a small cup full of whipped cream. No extra flavors or anything else is added, so it's perfectly safe for your dog. What's more, it's also free at Dunkin' Donuts, you just have to ask for it. Additionally, Dunkin' Donuts has been known to sell their Pup Cups for the low cost of $1 to raise money for charity, though only on select dates.
So really, Dunkin' Donuts is a great place to get a treat for your sweet animal friend. It's pretty much always free, but even when it's not you can rest comfortably knowing that your money is going towards a good cause. In short, taking your dog to Dunkin' Donuts is a win-win.
Shake Shack loves feeding dogs
It's no secret that Shake Shack is a great place for a quality burger on the go. If you're lucky enough to live by one or drive by one on a road trip, then you should definitely take your fur friend along with you.
So, if you're in the mood for a delicious burger and fries, but don't want your dog to feel left out, then Shake Shack is a great option for both of you. Shake Shack is so dedicated to caring for your furry friends that they even have a dog menu section that's available at every Shake Shack location other than the chains in stadiums, airports, ballparks, or any international locations. So, what exactly can your dog get at Shake Shack? Well, they can get a five-pack of dog biscuits or a vanilla custard cup with dog biscuits on it. Basically, your dog can get totally spoiled at Shake Shack so what are you waiting for?
Chick-Fil-A might surprise you
Obviously, Chick-Fil-A is beloved by many Americans, and with so many locations, there's no doubt that you've seen one or been to one at least once. Chick-Fil-A is so beloved, that it's actually been ranked the most popular fast-food restaurant in 2021. And not only does the fried chicken chain offer plenty of tasty grub for you and your human friends, but they also just might feed your fur friend too.
While Chick-Fil-A doesn't have an actual dog menu, if you take your pooch through the drive-through with you, you'll usually get a free dog treat offered to them, or you can ask for one. Honestly, the dog treats at Chick-Fil-A aren't really overtly advertised by the fast food chain, making them somewhat of a secret menu offering. Still, if you ever eat there or find yourself craving a fried chicken sandwich, then bring your dog along with you so they can get a snack as well!
Sprinkles Cupcakes offers their own dog-friendly version
If you've never had Sprinkles Cupcakes before, then you're definitely missing out. The chain cupcake store offers a variety of flavors, and they're all perfectly rich, moist, and flavorful. What's more, if you don't have a Sprinkles near you, you can basically get them delivered almost anywhere. And on top of that, they want to feed your dog some of their delicious cupcakes, too! Only they're called pupcakes, and they're different than regular cupcakes.
According to Sprinkles' menu, their pupcakes are actually pretty healthy for dogs, so you don't have to feel too bad about giving your best bud a ton of sugar and additives. On the contrary, the pupcakes are simply made with buttermilk, egg whites, butter, salt, vanilla, and a sugar substitute. More, the frosting on top is nothing more than yogurt, which is actually super healthy for dogs and not loaded with sugar. Basically, if you find yourself at a Sprinkles Cupcakes, or just want to order some for delivery, don't forget about your dog, because they'll surely love the pupcakes offered by the famous cupcakery.
In-N-Out has some yummy treats for your fur friend
As more and more In-N-Out locations open across the United States, more people are getting to try the once-regional burger chain's delicious offerings. And luckily for fans of In-N-Out, the fast-food restaurant also wants to feed your furry friend. So the next time you find yourself in the car with your dog, both hungry, head to your closest In-N-Out, because they have a menu that will satisfy you and your four-legged companion.
In-N-Out definitely wants to take care of your dogs, too. And with ground beef being one of In-N-Out's biggest menu items, you can guarantee your pup will absolutely love what you order for them from the burger chain. For less than a dollar, you can order a Puppy Patty, which is just an unseasoned beef patty, the perfect meal or snack for your dog. Not only is the Puppy Patty cheap, but it's also exactly the kind of thing every dog can enjoy.
You can ask Sonic for a treat, too
Going to a Sonic Drive-In is definitely a fun experience for most customers. Pretty much whatever it is you're craving — be it an ice cream treat, a burger, a hot dog, tater tots, or even a soft pretzel — Sonic can satisfy those cravings. And more than that, they like dogs, there as well!
Sonic actually can treat your dog in a couple of different ways, it just depends on the location. For starters, you could just ask for a dog treat or get offered one by your carhop once they see your fur friend in your car with you. Or, you can request a Pup Cup from them, which could be one of two things, depending on who makes it. It could be a cup of whipped cream like at Starbucks and Dunkin' Donuts, or it could actually be a small cup of their vanilla soft-serve ice cream. Whatever your pooch gets at Sonic, they're sure to love it, and you're sure to love that they're treated with such love and care.
Johnny Rockets is another great option
While Johnny Rockets isn't your typical fast-food joint, it does have some of the same vibes as a fast-food restaurant, and typically serves up its burgers and fries relatively quickly. More, you can get your food to-go as well, ensuring you're home just as quick as if you had gone through a drive-through.
Though Johnny Rockets is known for its 1950s indoor dining vibe, if you want to take your meal to-go, you can also grab some yummy treats for your dog at home. In fact, some locations even offer a separate dog menu if you choose to dine outside. The dog menu is sure to impress you and your pup as it includes dog-friendly hamburgers, ice cream, cupcakes, and carob ruffles. Basically, it's a dog's dream come true, and if you head to a Johnny Rockets any time soon, you can grab something delicious for everyone in the family, even your loyal pup.
Dairy Queen will offer your pup a sweet treat
Fans of Dairy Queen know that the fast-food chain is known f or its food, and perhaps more significantly its ice cream products and treats. From Blizzards to Sundaes, Buster Bars, and milkshakes, Dairy Queen has it all. And as it turns out, they also like to feed your dog, too. Yes, when you head to the fast-food restaurant to grab a burger and an ice cream treat, you can also allow your dog to feel included as well! Dairy Queen is yet another chain that loves feeding pups, and they do so in the sweetest way.
Not only will Dairy Queen give your dog a small serving of their delicious soft-serve if you ask, but it will be free and come topped with a dog biscuit. Basically, it's a dog's version of heaven, so why wouldn't you grab them a treat while you're out treating yourself? It's free, it will make your dog happy, and it's a fun time for both of you to just get out of the house and go for a nice drive to grab some dinner.
Culver's is super dog-friendly
While you can't find a Culver's everywhere in the United States, it's still a pretty popular fast-food joint. And if you find yourself near one with your dog in tow, definitely stop by. Whether you go through the drive-through or dine outside, you and your pup will get something delicious, and that's the perfect kind of win-win.
Culver's is known for its love of all things dairy. Having been founded in Wisconsin, this makes sense, of course, but there's still plenty on the menu for you to choose from. From burgers to custard, Culver's has a lot for its human customers, but they also treat their fur customers well too. Along with a dog-friendly patio at most (if not all) locations, Culver's will also give your dog a bowl of water to cool off with, as well as a pup cup of vanilla custard. There's not a dog out there who would turn down vanilla custard, so next time you're at Culver's, remember to order a pup cup for your four-legged best friend.