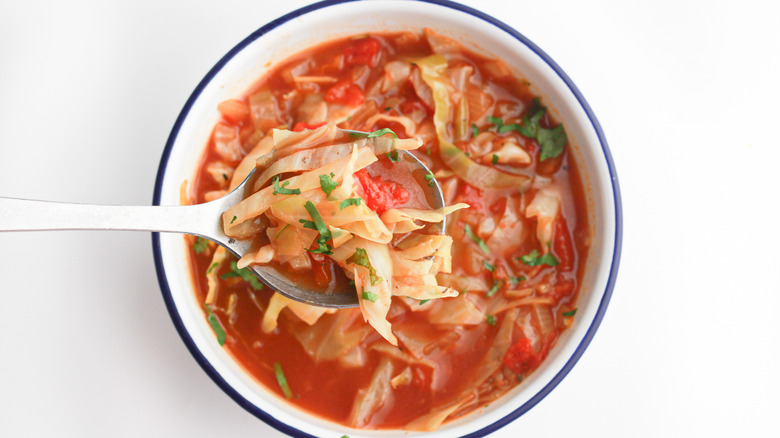 There are plenty of great recipes to make on the keto diet, including this delicious cabbage soup. The keto diet has taken the world by storm, and followers of it always seem to be looking for different dishes to spice up their routine. This recipe for keto cabbage soup not only tastes incredible, but it's an outside-of-the-box option that can make any meal more interesting. It's sure to curb your craving for soup, and if you are a lover of cabbage, this is pretty much a no-brainer.
Susan Olayinka of The Flexible Fridge came up with this yummy recipe. When asked what her favorite part of the recipe was, she replied, "That it gets me eating cabbage in a delicious way!" she says. "I wouldn't think to put cabbage in a soup, but this works so well." Our mouths are already watering just thinking about it.
Keep scrolling to find out how to make this delicious soup filled with spices, garlic, and bone broth, making for a flavor that is out of this world!
Gather the ingredients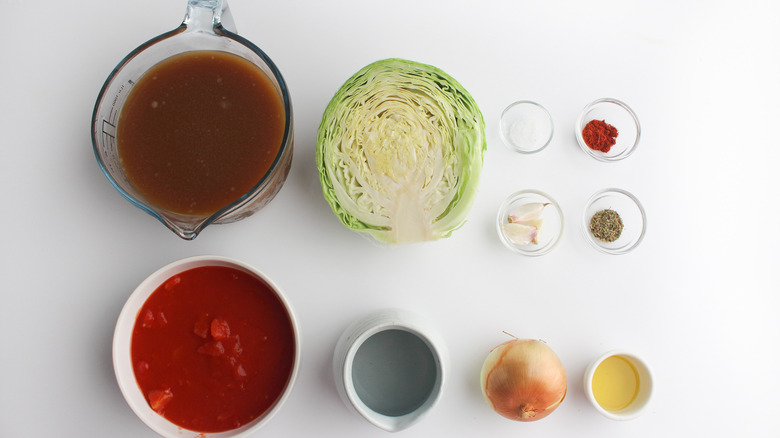 For the first step in the process, gather all of the ingredients necessary to throw together this delicious soup. For starters, you will need white cabbage, garlic cloves, and yellow onion, which all can be found in the produce section. You also need to get a tablespoon of olive oil and a few cups of bone broth.
In addition to those ingredients, grab a can of crushed tomatoes. The remainder of the ingredients are spices, including paprika, oregano, and salt. Once you have everything in front of you, it's time to start!
Get to chopping
First, take out your cabbage and set it in front of you. Then, get a cutting board and a knife, and slice the cabbage into thin strips. Once you've finished slicing, you can place the cabbage in a bowl or a plate and set it aside because you will need it again shortly. Keep the cutting board out to chop the onion into half-inch cubes, and then set aside. Then, mince the garlic into smaller pieces and set those aside as well.
That's it for the chopping part!
Prep the saucepan
Now that you've finished chopping, take out a saucepan that is big enough to fit all of the ingredients. Set it on the stove and turn the heat up to medium-high. First, drizzle in the olive oil, followed by the chopped onion and minced garlic. Stir everything together for about two minutes. Before you add anything else, throw in the shredded cabbage, and give the veggies a few more good mixes. By now, the onions should be translucent, and the cabbage should be starting to get softer.
Add the liquid
Now it's time to add the liquid to the veggie mix. Go ahead and pour in the bone broth and water. Then, add in your the crushed tomato. This ingredient will give the soup more of a liquid consistency. Now, it should start looking more like a soup. Mix everything well and then add the spices, including paprika, oregano, and salt.
Put the lid on the saucepan and turn the heat down to low-medium, then let it simmer. Set your timer for 20 minutes. Once it dings, you can take it off.
Serve and enjoy
Here's the best part: getting to enjoy the fruits of your labor. You can serve the soup however you would like, using either a cup or a bowl. It really just depends on how much soup you're in the mood for. Top each bowl with chopped parsley for a touch of color and freshness that makes this delicious soup even more appealing.
As far as sides accompany this soup? Olayinka shares that "grilled steak, chicken, or tofu would work really well." You can freeze the leftovers for two to three months or stick them in the fridge for four to five days, making it an easy meal prep!
½ medium white cabbage
1 yellow onion
3 garlic cloves
1 tablespoon olive oil
3 cups bone broth
1 cup water
1 can crushed tomatoes
¼ teaspoon paprika
¼ teaspoon oregano
¼ teaspoon salt
Slice the cabbage into thin strips and set aside.
Chop the onions into half-inch cubes and set aside.
Mince the garlic and set aside.
Get a saucepan and turn the stovetop to medium-high heat
Into the saucepan, place olive oil followed by the chopped onion and minced garlic. Stir for 2 minutes.
Next, add the shredded cabbage to the pan and mix with onions and garlic.
Pour the bone broth, water, and crushed tomatoes into the pan. Mix together.
Finally, sprinkle in the paprika, oregano, and salt.
Placed a lid on the saucepan and cook on low-medium for 22 minutes.
Top with optional chopped parsley and serve.