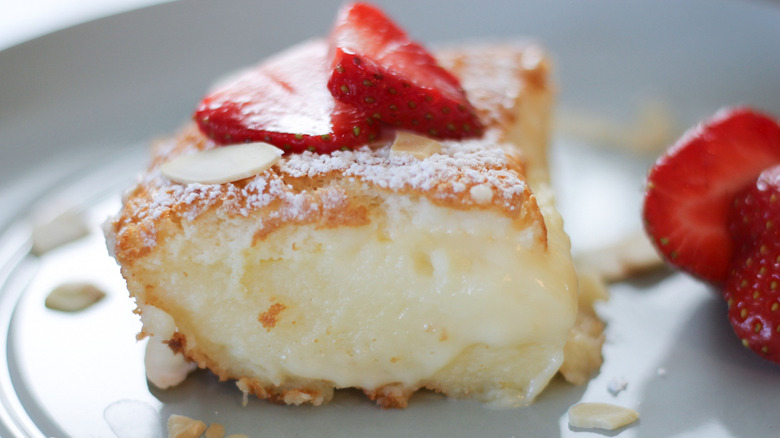 Despite the calendar's insistence that we're hurtling towards fall, summer's heat is still hanging in there. Even if you haven't watched the competitors on "The Great British Baking Show" valiantly attempt complicated bakes in an unconditioned tent, you know certain recipes just pair with the summer heat better than others. While you can save your hearty Sunday roast and pumpkin-spiced everything for later in the year, it's still the perfect season to try out grilled foods, salads, sandwiches, and sweet treats.
What if you are a hypothetical host who wants to prepare a feast worthy of a summertime picnic? Fortunately, Mashed has you covered. Our 15 most popular summertime recipes will start you off with filling breakfast ideas, easy marinades, delicious lunches, and take you all the way to crowd-pleasing desserts. The following list of recipes is perfect for the final hurrahs of August and September.
15. 3-Ingredient Steak Marinade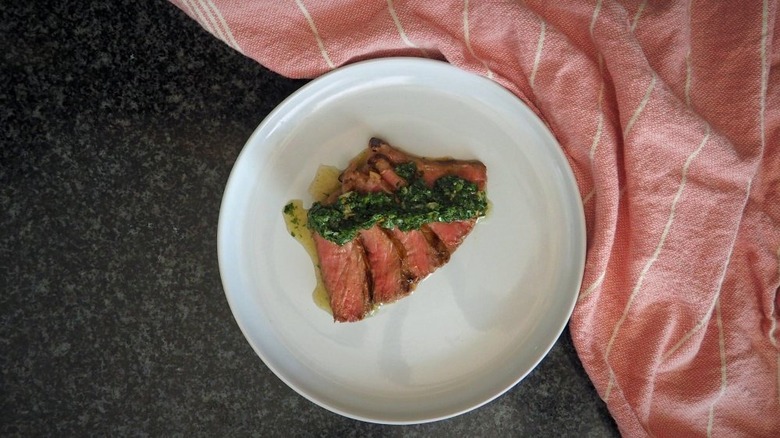 Steaks are an obvious summer staple. However, you may have grown tired of the equally obvious barbecue marinade. For those who want more salt and tang at the fore of their afternoon grill, this marinade of soy sauce, olive oil, and balsamic vinegar is perfect. The simplicity of the ingredients is only matched by the brevity of the prep time, which can be as short as 30 minutes for when you need a last-second twist.
Recipe: 3-Ingredient Steak Marinade That Makes Dinner Easy
14. The Best Fried Cabbage
One of the most versatile dishes on this list, the fried cabbage — and its accompanying bacon bits — works well as a side for roasted meats or as a filling for a wrap. In addition to being versatile, it is also a very forgiving meal to cook. Cut your cabbage into strips, then stir and fry for about 10 minutes. However, as long as you stir, you don't need to be exact about the timing. Throw in your bacon and your parsley and indulge in what used to be a very overlooked vegetable.
Recipe: The Best Fried Cabbage You've Ever Tried
13. Ted Lasso's Shortbread Biscuits
During the initial disruption of the coronavirus pandemic, many found solace in the Apple TV+ series "Ted Lasso," a comedy about a coach for American college football who is recruited to the English Premier League. One especially hygge element of this was the shortbread biscuits the eponymous character would daily bake. Once you have the basics of the shortbread biscuit down, Hayley MacLean, the recipe's developer, encourages you to play with what ingredients you use: "Adding lemon zest or almond extract to these, instead of vanilla, would bring some brightness. Or even adding things like toffee bits would be a great addition!"
12. Marshmallow Fluff Peanut Butter Fudge
Exciting adjective builds upon exciting adjective for this quick, easy, and most of all decadent of desserts. Combine your sugar, your peanut butter, and your marshmallow fluff into one sticky mess, pour into a baking pan, and cool. The actual cooking only takes a few minutes and everything anyone with a sweet tooth could ever want is present. For the best result, you should let your fudge cool at room temperature first, then chill in the refrigerator until it forms a solid block of goodness.
11. Copycat McDonald's Hash Browns
An alternative to french fries, hash browns make a strong picnic side. An important note to this recipe is that if you want the best, most authentic McDonald's experience, you would have to sacrifice the vegetarian aspect of the dish in favor of replicating the beef tallow that was once used for their french fries. For this, you could use beef bullion. If you don't want the beef, use canola oil as listed in this recipe.
10. Egg Salad Without Mayo
For an egg salad that will please anyone at the picnic, this recipe lacks the divisive mayonnaise. Instead, this opts to mix a light olive oil, apple cider vinegar, salt, and pepper for a vinaigrette that will blend into the mashed eggs. Still, the suggestions keep coming with the idea that alfalfa sprouts could add a pleasing crunch to the soft egg salad or red wine vinegar for a different flavor.
Recipe: This Egg Salad Without Mayo Will Transform Your Lunchtime
9. Copycat Costco Sheet Cake
A Costco sheet cake is an incredibly popular dessert, as the 2020 petition against the company's decision to stop stocking them shows (via Change.org). But you can make your own without having to rely on Costco to cater your Labor Day bash. The amount of cake made from this recipe is smaller than the massive mounds of sweetness you used to be able to buy, but it's also more manageable for smaller-scale celebrations. Wow your lamenting and nostalgic friends and family with the missed cake, but remember to sneak preemptive leftovers into the refrigerator for later.
8. Classic Egg Salad
While other recipes reexamine classics, this recipe strips the classic egg salad down to the barest, but best, process. If you have eggs and a bit of mustard and mayo, you are ready to mash, stir, and sprinkle salt and pepper to taste. But just because the recipe is so pared-down doesn't mean that Laura Sampson, the recipe's developer, doesn't have ideas for how you can play with it. Substitute mayo with Greek yogurt or introduce a new ingredient like sriracha, bacon, or relish.
Recipe: The Egg Salad You'll Make Again And Again
7. 3-Layer Magic Cake Recipe
Magic cake requires all the ingredients of a regular cake, but by having a strict yet easy-to-follow recipe, elevates the dessert to something, well, you can guess. If you follow the order of eggs, water, flour, sugar, milk, and butter, the baking process will result in a cake that divides itself into a crispy layer, a creamy layer, and a dense layer. For a fraction of the effort, you can present your guests with a sophisticated, multifaceted experience.
Recipe: 3-Layer Magic Cake
6. Homemade Five Guys Burger
Now, there is probably some law that states all Americans must consume a burger during the summer. If you want to meet this obligation with a homemade version of Five Guys' famous burgers, you will need to choose your meat carefully. Specifically, you need a blend of chuck and sirloin that has never been frozen. Once you have the ingredient, however, it is a straightforward process of balling the meat, forming it into a patty, and decorating your burger with your preferred toppings.
5. Salmon Patties
If you want a protein with a fresher mouthfeel than a heavily flamed meat, you should reach into your pantry for a can of salmon. These salmon patties only take five minutes to make and do not need anything you can't find either among your shelves or the quickest trip to the supermarket. Mix the salmon, mayonnaise, bread crumbs, and other ingredients into a bowl, mold the result into patties, and cook. They nestle best with a side of vegetables, and if you're feeling it, drizzled juice from a squeezed lemon.
4. Copycat Steak 'N Shake Frisco Melt
As with the copycat Five Guys Burger, one of the key things you need to nail with the Steak 'N Shake's Frisco Melt is the meat's freshness. But what really sticks in one's mind is the Frisco sauce that seeps between the melted cheese and meat. To replicate this, Mashed combined thousand island and French dressings with a couple of splashes of Worcestershire sauce. Once made, you will have the most decedent melted meat and cheese sandwich to serve.
Recipe: Copycat Steak 'N Shake Frisco Melt You Know You Want To Make
3. Rachael Ray's Meatloaf
Meatloaf is such a classic American dish that its familiarity can mask what makes it popular. To bring back the initial love of the dish, this Rachael Ray meatloaf recipe substitutes bread crumbs with smashed potato chips. As the dish itself is typically soft and moist, the chips add a contrasting crunch and saltiness that highlight the meatloaf's traditional profile. Similarly, curry powder makes its way into the ketchup sauce, kicking the once bland profile into a flavorful overdrive that is sure to win back its classic status.
2. Copycat KFC Chicken
For many, the K in KFC could stand for king of fried chicken. But sometimes you want it while also maintaining the close family atmosphere of a cookout. Fortunately, you can make KFC without having to go to the restaurant. There are, however, a lot of secret tricks involved in replicating the exact brand flavor, such as the use of MSG. Once you learn them from this recipe, though, there is nothing stopping you from bringing the throne to your dinner table.
1. Whipped Lemonade
TikTok users will recognize this faddish take on the classic drink. As its name suggests, you blend together lemon juice with heavy cream, condensed milk, and ice cubes for a light, fluffy treat that still smacks of refreshing lemonade. For the best results, the lemonade should be freshly made and enjoyed quickly, as that will help maintain the texture of the cream. If you want to go the extra mile, you can add a quick garnish of sprayed whipped cream to give the drink that extra touch.