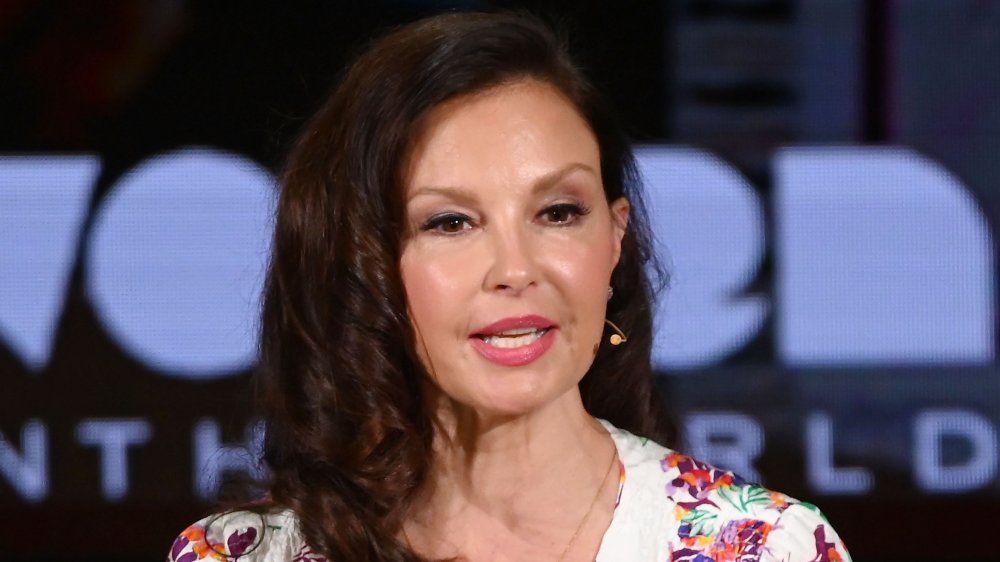 Mother-daughter musical duo, The Judds, have been a force in country music since the mid-1980s, but another member of the Judd family would later make her own mark — not in Nashville, but in Hollywood. Born in 1968, according to her Film Reference bio, actress Ashley Judd parlayed a small part in 1992 feature, Kuffs, into the titular role in 1993 drama, Ruby in Paradise, delivering a critically-praised performance that put her on Tinseltown's radar. Film critic Roger Ebert, for one, stated that Judd had given "one of the very best performances of the year." Further screen credits included such hit movies as Heat, A Time to Kill, Kiss the Girls, and Double Jeopardy.
Judd's career, however, went from red-hot to considerably cooler in the late 1990s, which she would later discover came at the behest of a controversial Hollywood bigwig who, it was alleged, deliberately badmouthed her and cost her opportunities that could have kept her on top. This proved to be just one of many sad facets in the movie star's troubled life, beginning with her admittedly dysfunctional childhood.
Fans may think they know all about this multi-talented actress and activist, yet may not be fully aware of some of the personal anguish she's had to overcome. Let's discover the tragic details of Ashley Judd's life.
Ashley Judd's childhood was marred by abuse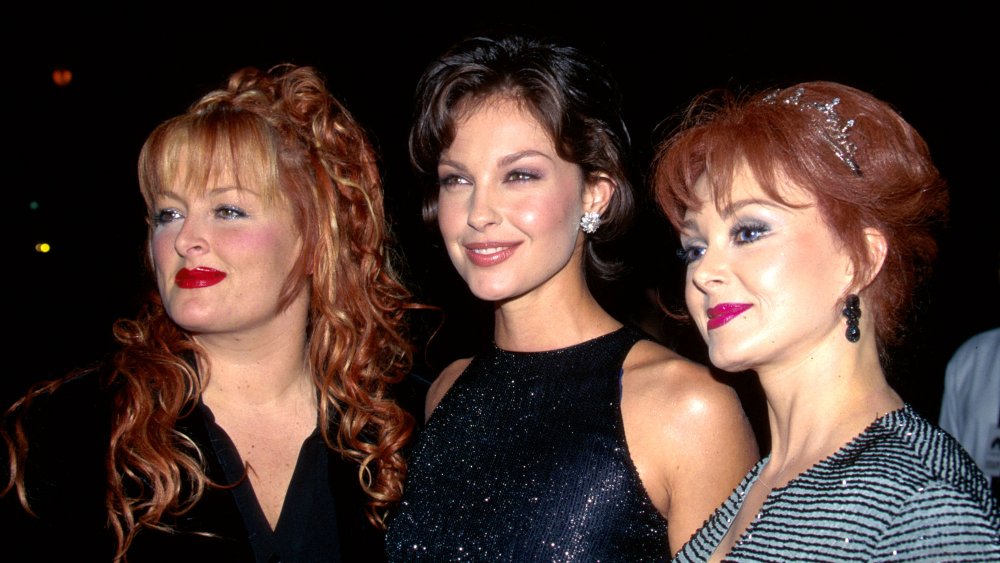 By her own account, Ashley Judd's childhood was a troubled and harrowing one. Per ABC News, the actress revealed in her 2011 memoir, All That is Bitter and Sweet, that she was sexually abused as a child by an unnamed member of her own family. Judd opened up about her painful past in 2017 while speaking at the World Congress Against Sexual Exploitation of Women and Girls in New Delhi. "I was molested for the first time I remember at the age of seven," she said bluntly, adding that during her early modeling days, "I experienced two rapes at the age of 14."
Judd elaborated on the kind of abuse she'd endured during an interview with Today, explaining that it was actually typical of growing up within a "dysfunctional family system that didn't work very well." She recounted how her famous musician mother, Naomi Judd, and her stepfather, Larry Strickland, were "wildly sexually inappropriate in front of [both herself and her older half-sister, Wynonna Judd]." Noting that the sisters were forced, for example, "to listen to a lot of loud sex in a house with thin walls," Ashley said, "I now know this situation is called covert sexual abuse."
Ashley Judd caught her half-sister spying on her amid a custody dispute
A National Enquirer report claimed that Ashley Judd and half-sister Wynonna Judd were embroiled in a messy legal dispute when the actress was reportedly awarded custody of Wynonna's daughter, Grace, after she accused her mom of "verbal abuse, pill-popping and boozing."
In the midst of this family imbroglio, ABC News reported that Ashley had filed a police report in December 2013 after an auto mechanic found a wireless GPS tracking device hidden in her Mini Cooper. According to the police report, she told the detective in the case that she "believed Wynonna had placed or had someone else place the device on her vehicle."
Ashley later issued a since-deleted statement on her website, declaring, "The issue at hand is the illegal violation of my privacy in that a tracking device was secretly and unlawfully placed on my vehicle." Upon discovering the device, Ashley "naturally filed a police report, as any citizen would and should." She then chided the media for "aggressively pursuing and publishing details, some of which should be private and confidential, such as [her] cell phone number, in their attempt to create salacious and divisive 'news.'"
Ashley Judd terminated a pregnancy after a sexual assault
Ashley Judd is both a sexual assault survivor and a staunch pro-choice activist. During a speech for the 10th Annual Women in the World Summit in 2019, she opened up about both while discussing legislation that had recently been passed in the state of Georgia, which would ban abortions if a fetal heartbeat is detected. This is something that can occur before a woman even realizes that she's pregnant (the bill was "permanently blocked" in July 2020, when a judge determined it violated the U.S. Constitution).
"As everyone knows, and I'm very open about it, I'm a three-time rape survivor," Judd said, revealing that one of those sexual assaults led her to become pregnant. As a result, she told the audience, "I'm very thankful I was able to access safe and legal abortion." As Judd explained, her rapist resided in Kentucky, while her legal residence at that time was in Tennessee. If there had been a child, the man who assaulted her would have had paternity rights in both states, which could have led to a potentially unthinkable scenario: "I would have had to co-parent with a rapist."
Ashley Judd's first marriage ended in divorce
In 2001, Ashley Judd married racing driver Dario Franchitti. After more than a decade of marriage, the couple made a shocking announcement in January 2013: "We have mutually decided to end our marriage," Judd and Franchitti said in a statement to People. "We'll always be family and continue to cherish our relationship based on the special love, integrity, and respect we have always enjoyed."
Less than a year after their separation, Judd demonstrated as much — as well as her loyalty — when Franchitti broke his ankle in a horrific airborne crash during the Grand Prix of Houston that October, per UPI. Judd, rushing to be by his side, thanked her Twitter followers for their prayers, writing, "I have only clothes on my back & the dogs but that's all that we need & we are on our way."
The following year, Judd opened up about her ex-husband in an interview with Ladies' Home Journal (via UPI). "He'll always be my loved one," she told the magazine. As Judd explained, both she and Franchitti were firm believers in the notion that actions speak louder than words. "Even before our wedding, we agreed not to tell people about our relationship, but to show them instead," she added. "What we're showing them now is we're human, we're family, and this is what family looks like."
Ashley Judd mourned the loss of her emotional support dog
Ashley Judd has been candid about her lifelong struggles with her mental health. Writing in her All That is Bitter and Sweet memoir that she first experienced depression as a child, she added, "My journey with the disease of depression … progressed as I grew older and many times nearly killed me."
One way she learned to help combat this mental illness was with the help of Shug, her "psychological support dog." Judd was accompanied by Shug during an interview with Nightline, reported ABC News, admitting that even though she was able to function without the dog and her other pets (another dog and five cats), having the animals around "just adds to quality of life."
In 2017, Judd broke the sad news to People (via the Daily Mail) that she was with Shug as he "was getting ready to go to heaven." She spoke about her dog's death at age 17 in a subsequent interview with The Christian Post, revealing what Shug had taught her. "Dogs practice presence," Judd said. "They love us exactly as we are. Sometimes, that's all we need; just sitting with someone and letting our empathy flow is the greatest helpfulness."
Ashley Judd entered rehab to treat emotional difficulties
At times throughout her life, Ashley Judd required more than her support dog, Shug, to help her battle depression, and she's sought professional help. In 2005, the actress entered a treatment center in Texas in order to confront such issues as isolation, codependency, and depression.
"I needed help," Judd told Glamour the following year. "I was in so much pain." As she explained, it was while she was visiting sister Wynonna Judd at the facility, where the singer was receiving treatment for food addiction, that she was approached by counselors who advised her that she and her sister were no doubt experiencing similar issues due to the trauma they both experienced during childhood. "They said, 'No one ever does an intervention on people like you. You look too good. You're too smart and together,'" Ashley recounted. "'But you [and Wynonna] come from the same family, so you come from the same wound.' No one had validated my pain before."
According to Ashley, her treatment made a world of difference. "I was unhappy, and now I'm happy," she declared. "Now, even when I'm having a rough day, it's better than my best day before treatment."
Ashley Judd's foray into politics fell flat
In March 2013, a Fox News report quoted an anonymous insider who claimed that Ashley Judd was planning on mounting a 2014 run for the U.S. Senate. According to the source, Judd was mulling the notion of running as a Democrat to challenge longtime incumbent Mitch McConnell of Kentucky. "At least in Ashley's mind, it is happening," the insider alleged. "She has devoted herself to many important causes and stepped away from the Hollywood spotlight so this seems like the logical next step. I don't know if she will be successful, but her heart is in the right place."
However, less than a month later, the wheels fell off Judd's campaign before it even started when she was unable to gain support from the state's Democratic establishment. According to HuffPost, Kentucky Democrat bigwigs "expressed doubt and opposition" to a Judd campaign, believing she was "too Hollywood" to appeal to voters in the state. She reportedly spoke with "revered" former Kentucky Senator Wendell H. Ford, who was "friendly but noncomittal" when it came to supporting her. "She asked me what I thought and I told her," Ford said.
"After serious and thorough contemplation, I realize that my responsibilities and energy at this time need to be focused on my family," Judd ultimately declared in a statement obtained by USA Today. "Regretfully, I am currently unable to consider a campaign for the Senate."
Ashley Judd has experienced vicious social media harassment
Ashley Judd is a fan of college basketball, and the Kentucky native was deeply engaged while watching the 2015 South Eastern Conference championship game between Arkansas and Kentucky. At one point, she shared her opinion in a since-deleted tweet claiming that Arkansas was "playing dirty." As The Hollywood Reporter pointed out, that caused Judd to get hit by a barrage of abuse as ticked off Arkansas fans began attacking her viciously on social media.
In fact, the vitriol was nasty enough that it inspired Judd to write an essay for Mic. Admitting she'd been the target of ugly social media attacks before, she wrote that "this particular tsunami of gender-based violence and misogyny flooding my Twitter feed was overwhelming." Ultimately, Judd added, what she experienced by daring to comment on sports was simply "the devastating social norm experienced by millions of girls and women on the Internet." Calling this experience "universal," she wrote, "Online harassers use the slightest excuse (or no excuse at all) to dismember our personhood. My tweet was simply the convenient delivery system for a rage toward women that lurks perpetually."
Per The Hollywood Reporter, Judd's decision to speak out against the backlash unfortunately sparked yet another round of social media vitriol.
Ashley Judd has shut down plastic surgery speculation
At some point in the early 2010s, fans noticed that Ashley Judd looked, well, different that she had before. Radar Online contacted a "celebrity plastic surgeon" who offered his opinion that the movie star had reportedly received "a good dose of Botox in her forehead" along with fat injections into her "too puffy" cheeks.
However, Judd's rep, Cara Tripicchio, blasted the plastic surgery speculation as "unequivocally not true," telling E! News that the actress had "been battling an ongoing, serious sinus infection and flu," and was given "a heavy dose of medication" to allow her to fly to Toronto and New York to promote her ABC drama, Missing.
Judd herself fired back in a lengthy essay she wrote for The Daily Beast. The reason she chose to comment on the hearsay about her appearance at all, she explained, was "because the conversation was pointedly nasty, gendered, and misogynistic and embodies what all girls and women in our culture, to a greater or lesser degree, endure every day, in ways both outrageous and subtle." Judd also slammed the media for its role in continuing to "perpetuate with unedifying delight such blatantly gendered, ageist, and mean-spirited content."
Ashley Judd was one of the first actresses to speak out against Harvey Weinstein
During a 2015 interview with Variety, Ashley Judd recalled being "sexually harassed by one of our industry's most famous, admired-slash-reviled bosses," while making the 1997 thriller, Kiss the Girls. Describing the unnamed person as being "very stealth and expert about it" as he "groomed" her, the actress noted that similar incidents had happened to several other women in the industry. After accepting an invitation to talk business in his hotel room, she claimed he asked her, "Will you watch me take a shower?" Judd quickly "got out of there," thankfully, but added, "By the way, I've never been offered a movie by that studio. Ever."
That unnamed predator was unmasked two years later in journalist Ronan Farrow's blockbuster exposé for The New Yorker, in which multiple women detailed their allegations of being sexually harassed and, in some cases sexually assaulted or raped, by movie mogul Harvey Weinstein. Judd was not among the women to speak out in Farrow's article, but she subsequently confirmed that it was indeed Weinstein she had previously referenced to Variety while speaking with The New York Times.
"Women have been talking about Harvey amongst ourselves for a long time, and it's simply beyond time to have the conversation publicly," Judd told The New York Times, becoming one of the first of at least 100 women, including dozens of Hollywood actresses, to publicly accuse Weinstein of sexual misconduct.
Ashley Judd experienced sexual harassment at her very first Hollywood audition
By coming forward to share her sexual misconduct allegations against disgraced movie producer Harvey Weinstein, Ashley Judd became one of the faces of activist Tarana Burke's #MeToo movement. During a 2018 panel discussion called "Univision Communications Behind the Camera: Where Diversity Begins," Judd opened up about the systemic sexual harassment she's experienced throughout her Hollywood career.
Per Entertainment Weekly, Judd recalled a disturbing anecdote from when she was a young actor: It was during her very first audition, in fact, that she received a shocking request when, "[It] yielded a screen test and I was asked to take my shirt off." According to Judd, she was in competition for the role with another actress, but refused to be manipulated into removing her clothing under threat of losing the part to someone else. Speaking to the audience, Judd shared her response to that breast-baring request. "I said, that isn't about our acting, that's about evaluating a pair of breasts," she explained. "And the answer was not 'no' but 'hell no.'"
Harvey Weinstein reportedly squashed Ashley Judd's career after she rebuffed him
In the wake of Ashley Judd's accusations against Harvey Weinstein, the floodgates eventually opened as many more women came forward with similar stories. Director Peter Jackson added another alleged wrinkle by offering evidence that Judd's refusal to succumb to Weinstein's advances came at a high cost to her career.
When casting his blockbuster The Lord of the Rings trilogy, Jackson claimed to Stuff that he had been warned not to hire Judd and fellow actress Mira Sorvino, whose alleged run-in with Weinstein was shockingly similar to what Judd had experienced. "I recall Miramax telling us they were a nightmare to work with and we should avoid them at all costs," said Jackson of the two actresses. "At the time, we had no reason to question what these guys were telling us, but in hindsight, I realize that this was very likely the Miramax smear campaign in full swing." Jackson then shared his suspicions that he'd been "fed false information about both of these talented women — and as a direct result their names were removed from our casting list."
Jackson's revelation confirmed Judd's belief that Weinstein had deliberately attempted to crush her career in retaliation for her refusal to sleep with him. Armed with this evidence, she took Weinstein to court.
Inside Ashley Judd's sexual harassment lawsuit against Harvey Weinstein
In spring 2018, Ashley Judd launched a lawsuit against Harvey Weinstein, alleging defamation and sexual harassment. At the heart of the suit was Judd's claim that she was in discussions for what could have been a career-making role in The Lord of the Rings trilogy, before Weinstein stepped in and badmouthed her to director Peter Jackson.
"I lost career opportunity. I lost money. I lost status and prestige and power in my career as a direct result of having been sexually harassed and rebuffing the sexual harassment," Judd told ABC News. Due to Weinstein's alleged interference, she claimed, her "career opportunities" were "significantly diminished," adding, "I know it for a fact."
Early the following year, per BBC News, the judge in the case dismissed Judd's claims of sexual harassment on a technicality: the law cited in the suit — which had only recently been altered to include producers and directors — was not retroactive and therefore was not relevant to her claims. However, the judge's ruling did permit Judd to proceed with her defamation claim. An appeals court then reversed this initial decision in July 2020, according to the Associated Press, ruling that Weinstein held power over Judd's career, thus giving her the green light to pursue her sexual harassment claim. By that time, Weinstein was already several months into serving a 23-year prison sentence after being found guilty of rape and sexual assault.