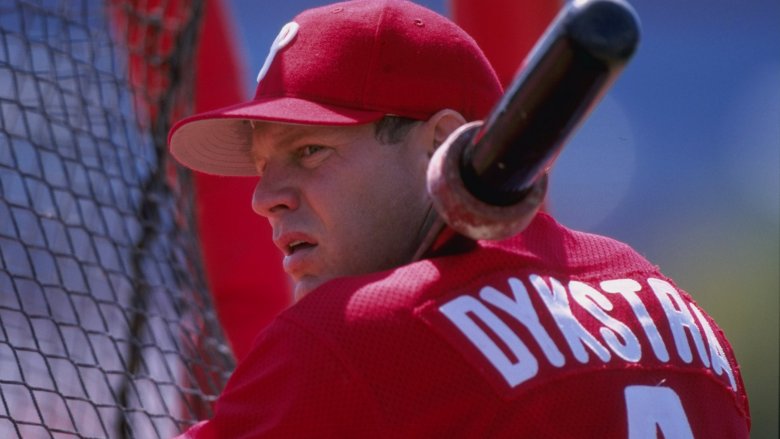 Who didn't grow up pretending to hit that game-winning shot in their backyard? Dreaming of being a sports star is as American as apple pie, but for some athletes, becoming one can turn into a real-life nightmare. According to Sports Illustrated, "by the time they have been retired for two years, 78 percent of former NFL players have gone bankrupt or are under financial stress because of joblessness or divorce." And, no, it isn't just the NFL, folks. "Within five years of retirement, an estimated 60 percent of former NBA players are broke." Those are some pretty stark numbers, considering most of these jock athletes earns tens, if not hundreds of millions of dollars during their careers. Let's take a look at just a few of these broke ballers, and see what happens when the cheers fade and the bank accounts dry up.
Vin Baker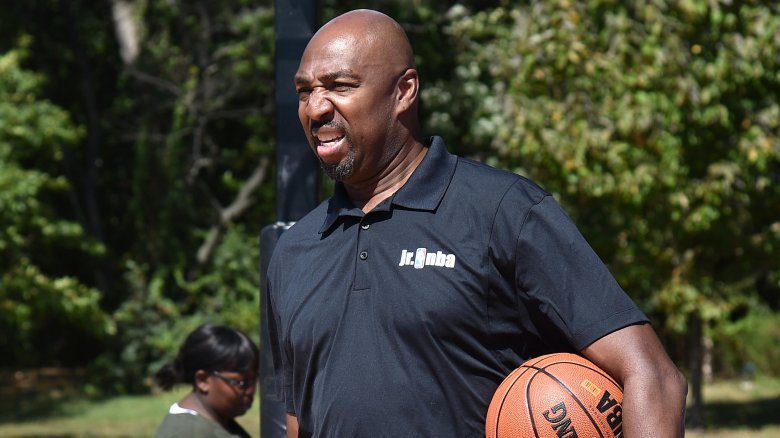 Vin Baker was an NBA All-Star, an Olympian, and an addict. For much of his career he played completely drunk, lying to doctors and himself to keep his lifestyle going. According to an interview with WBUR, it got so bad that the 6'11" power forward found himself drinking Listerine before games to get buzzed without causing suspicion. He would eventually drink his way out of the league and out of the nearly $100 million fortune he earned playing in it.
According to the Providence Journal, a series of bad investments and a tendency to give money to the wrong people bankrupted Baker. His house was foreclosed on and he was forced to auction off his gold medal to pay the bills. With four kids, Baker told WBUR he knew he needed a job if he was ever going to turn his life around.
After getting sober, he reached out to an old boss, former Supersonics owner Howard Schultz. Schultz just happened to own another business, a little coffee franchise known as Starbucks, and offered Baker a job. That's how this former basketball superstar became, of all things, a barista.
He's since moved on, working with the Milwaukee Bucks as a commentator, but he told the Providence Journal at the time, "I get energy from waking up in the morning and … not depending on alcohol, and not being embarrassed or ashamed to know I have a family to take care of. The show's got to go on."
William 'The Refrigerator' Perry
For those too young to remember, no one was bigger than William "The Refrigerator" Perry in the early days of 1985. And Perry was big all right, weighing 350 pounds his rookie year in the NFL. A defensive lineman who moonlighted as the heaviest player to ever score a touchdown, the Fridge was, as one Chicago Sun Times columnist put it at the time, the "best use of fat since the invention of bacon."
But time has not been kind to the Super Bowl shuffler. According to a depressing profile in Sports Illustrated, Perry lives in a retirement home, his every decision dictated by his brother, who has guardianship over him. His fortune has been squandered, and his herculean body has been ravaged. He has severe diabetes and cognitive issues, possibly the result of CTE, which he denied, saying, "I didn't get concussions. I gave 'em."
To survive he auctioned off his Super Bowl ring, according to CBS Sports the largest ever made. These days he makes due on social security checks, earning just $13,921 in 2015.
Doctors have told him to stop drinking, but he can't or won't, instead spending his aimless days throwing back beers with an assortment of hangers-on. His old Bears coach, Mike Ditka, who rode the Fridge to a Super Bowl championship, told SI, "It's tragic. I think he's given up. And the question in my mind is, Why?"
Debi Thomas
Debi Thomas was once the most popular figure skater in America, an African-American trailblazer who changed the face of the lily-white sport. A bronze medalist at the 1988 Olympics, Katarina Witt once told the Washington Post, "She was the only one who could really beat me." It seemed like nothing could stand in her way, but life doesn't always go according to plan.
After retiring from skating, Thomas graduated from medical school and began practicing orthopedic surgery. But her attitude got in the way. Fellow doctor Lawrence Dorr said, "She wanted and expected to be treated like a star, but in orthopedics, she knew she wasn't a star."
She began bouncing from job to job, never lasting more than a year. She divorced and lost custody of her son. She tried starting her own practice, but was unable to make a go of it. According to the TV series Fix My Life, on which she appeared in 2015, she now lives in a bedbug-infested trailer with her fiance. Her medical license has lapsed and she has no real income, outside of selling gold bullion.
In 2012, she approached a police officer, saying she had a gun and that she planned on hurting herself. This led to a bipolar diagnosis, which she denies having. As Thomas told the Post, "I'm very misunderstood because I look at the world differently. You can call it the Olympian mentality."
Kenny Anderson
Kenny Anderson once held the world in the palm of his hands. And what hands he had, making him a star on the basketball court before he'd even hit puberty. But behind the facade of a hoops prodigy, Anderson hid a harder, more complicated life. As he told SB Nation in 2013, he was molested by two different men and spent his childhood in the shadow of his mother's massive addictions.
Even as he rose to the top of the NBA earning over $63 million, his demons remained. He described his life to Mashable as chaos: "I wasn't happy. I didn't even know what happiness was. You don't know who's in your corner because there's a lot of leeches and a lot of fake love going on."
His lifestyle, which included numerous mansions, 11 cars, and eight children by three different mothers, took a toll on his wallet. He filed for bankruptcy in 2005, the year he left the NBA. As he explained to Forbes, "I wasn't a gambler or a drug addict, but I did foolish things."
That's where the 2017 documentary Mr. Chibbs came in. Anderson spent years documenting what it meant to lose so much, at one point saying, "I'm a walking mistake." While Anderson says he "lives comfortably" now, his main focus is being a better parent to his many children. As he told Mashable, "Basketball was simple for me. It's everything else that was hard."
Vince Young
Mack Brown, Vince Young's college football coach, put it bluntly when talking to Sports Illustrated. His former star QB was "obviously one of the best to ever play college football."
It's a notion hard to dispute, based on his performance in the 2006 Rose Bowl alone. Many fans consider it the best game ever played. It bought him a ticket to the NFL and a chance to achieve his dreams. Unfortunately, despite winning Offensive Rookie of the Year and earning two Pro Bowl appearances, Young struggled as a pro.
Clashes with his coaches, and what some called a bad attitude, saw him play his last NFL game in 2011. But that was just the tip of the iceberg. A suicide scare and a DUI turned him into tabloid fodder, and a lifetime of ignoring his finances led to bankruptcy in 2011. As SI documented, Young somehow invested $600,000 in a famous actor's restaurant that he'd never heard of. He also was far too generous, notoriously spending $15,000 for one meal at a Cheesecake Factory. Can you even imagine how many Buffalo Blasts you'd have to order to make that happen?
In recent years, Young has righted his financial ship and taken a job at his alma mater, the University of Texas. Still, the football dream hasn't died. He tried to catch on with the Saskatchewan Roughriders of the CFL in 2017 before an injury forced him to retire, most likely for good this time.
Evander Holyfield
There's no easy exit strategy from the fight game, something Evander Holyfield found out the hard way. Despite earning what the BBC estimates to be $230 million over his career, including a $33 million purse for fighting (and feeding) Mike Tyson, Holyfield has spent a decade battling financial collapse. With a lavish lifestyle that saw him a regular in the casinos of Vegas and Atlantic City, and having sired 11 children by five different women, Holyfield found that even a fortune can disappear when everyone's coming for it.
From the heights of Olympic glory, and heavyweight championships, ESPN reports that Holyfield found himself unable to pay $3,000 alimony checks. His house was foreclosed on, and all his sports memorabilia was put up for auction. Bleacher Report noted there were no holds on anything, from his Olympic medal to the gloves he wore in his famous "bitefight." Everything had to go.
This massive debt forced the pugilist to hold on long past his expiration date, fighting and losing matches into his 50s. "These are difficult days," Holyfield told the Independent in 2012. "Dealing with all the mothers of all my kids –- there ain't no winning here, man, no winning at all. I've had no money to pay lawyers and had to fight on my own in court and that ain't easy." He finally retired in 2014 at the age of 51.
Bernie Kosar
Bernie Kosar, the former NFL All-pro QB and one-time mullet enthusiast, earned millions over the course of his career. And yet when he filed for bankruptcy in 2009, according to court documents, his checking account had all of $44 in it. That kind of cash wouldn't even get him a table at the Kosar Wood-Fired Grill, the Cleveland restaurant that bears his name.
It really shouldn't have been that way for Kosar, who seemed to excel as a businessman when he first retired from football. At one point, according to the Pittsburgh Post-Gazette, he held a 6 percent stake in a company that would go on to sell for $500 million. But bad investments, a bad divorce, and a willingness to lend to the wrong people turned his life upside-down.
Kosar explained that financial advisers mismanaged his money, and too many people came looking for handouts. He estimates he gave out over "eight figures" to ex-teammates, plus another eight figures to friends and family without ever seeing a dime repaid.
According to the ESPN documentary Broke, Kosar's father was the first to get greedy, siphoning off money for mortgages and car payments. Lawsuits and tax troubles followed. If it could happen, it did happen to Kosar, who at one point owed millions to both his ex-wife and his ex-team, the Browns. Talk about making it hard to move on.
Antoine Walker
Antoine Walker earned his money, all $112 million of it. A champion in college and the pros, Walker told CNN Money, "I thought I was set for the rest of my life. My story is sad. It's sad to see other guys work so hard throughout their life — and then they just lose it."
Just two years after his retirement from the NBA, in 2008, Walker found himself declaring bankruptcy.
There were the investments in real estate, which went belly up during the Great Recession. There were the loans he made to friends and family that were never repaid. And there were the cars. So many cars. "I had a car fetish while I was playing," he told SI. "I would always keep six, seven cars. If I would see a guy pull up in the lot with a new car, I would maybe say I like that and go get it." According to the Las Vegas Sun, it got so bad that Walker was convicted of passing bad checks to casinos. A plea agreement kept him out of jail and served as a wake-up call.
These days, Walker is helping other athletes, serving as a consultant for Morgan Stanley. An expert on what to do (and especially on what not to do) with money, Walker counsels NBA rookies on how to not end up like him. First rule? Contrary to Walker's beliefs in his playing days, you can wear the same suit more than once.
Arantxa Sanchez-Vicario
Despite earning $17 million in prize money over her 17-year career and another $40 million in endorsements, Spanish tennis star Arantxa Sanchez-Vicario told a judge in 2015 that she was "in ruins," according to The Olive Press.
Considered one of the premiere players of her era, she won 14 Grand Slams and became only the second woman ever to be ranked No. 1 at the same time in both singles and doubles. She should have been set for life.
"My parents left me with nothing," the icon told Spanish magazine La Otra Conica, "and now I am indebted to the [tax authorities] and I will not be quiet."
And she hasn't been, suing her father and her brother for restitution. According to her lawsuit, while Sanchez-Vicario was living on €1,500 a month, her family was living extravagantly, thanks to offshore accounts and duplicitous dealings. "My father explained that I had to be calm, that what I had earned would be enough for me, my children and two more generations to live," she recalled in court. Sadly, while blood may be thicker than water, it doesn't pay the bills.
Delonte West
"I've never shared this like this," Delonte West told the Washington Post in 2015, "but I used to try to kill myself all the time."
While most NBA fans know West as a former running mate of LeBron James, the problematic point guard's story off the court is far more interesting, and at times disturbing. While he earned $16 million over his eight-year career in the league, by 2012 he was using space heaters to keep his Maryland mansion warm because he couldn't afford to heat it. For many, West's bipolar diagnosis seems to be the reason for his struggles.
From being arrested carrying loaded weapons, to an incident in which he was filmed wandering outside a Jack in the Box in a hospital gown, when West pops up in the news, the stories are often concerning. During the 2011 NBA lockout, he got a job at a furniture store, and told ESPN he was hoping to get another at BJ's selling knives.
In recent years, West seemed to turn a corner. Dallas Mavericks owner Mark Cuban helped him put his finances in order, and he even got another shot at playing basketball through the D-League. Unfortunately, with West, everything seems to be two steps forward and one step back. He was photographed in 2017 panhandling, sparking rumors that he was homeless. While he denied it to Media TakeOut, it can be hard to tell truth from fiction with this former NBA fan favorite.
Lenny Dykstra
For Lenny "Nails" Dykstra, one of the gutsiest ballplayers of the '80s, drugs, sex, and steroids were just a starting point. As court filings would one day lay bare, Dykstra had been taking a cocktail of Dexedrine, Adderall, and Vicodin since his playing days, often washing it down with a liter of vodka. According to Newsday, retirement actually seemed good for the hard-living outfielder at first, turning a car wash empire into a private jet and a mansion built by Wayne Gretzky. Sadly, it wouldn't last.
Despite knowing nothing about the magazine business, Dykstra tried to start his own, a financial glossy geared toward his fellow athletes. But, according to Kevin Coughlin, who got a job with Dykstra and later documented his experience in GQ in 2009, Dykstra was in over his head. Eight issues in, unpaid and unhappy, the entire staff walked out. Dykstra was forced to declare bankruptcy.
That's when the many legal troubles began. 2011 saw him arrested for grand theft auto, possession of narcotics, federal bankruptcy fraud, and indecent exposure. Nails slid into rock bottom like it was home plate. Later that year, he was in jail.
Since his release in 2013, Dykstra has continued his up and down ways, trying to start new businesses, but also claiming to Howard Stern that he was a paid escort. As to what went so wrong, Dykstra told the New York Times, "I became addicted to money. Money was my drug, and a few other ones, too."
Mike Tyson spent it all on legal fees and an extravagant lifestyle
Crowned World Council heavyweight champion in 1986, Mike Tyson went on to win the World Boxing Association belt and the International Boxing Federation championship. He continued to rule the ring into 1989, but after that things started to fall apart. In 1989, his wife, Robin Givens, divorced him, alleging physical abuse. Then in early 1990, he lost the championship to an underdog. Tyson tried to come back, but in 1991 he was hit with a rape accusation, and in 1992 he was sentenced to six years for the crime.
According to Black Enterprise, Tyson's divorce and trial put the first dents in his personal fortune. When he got out of jail (after serving only three years) he returned to boxing and won a couple of fights but was unable to beat Evander Holyfield. Then during a rematch, Tyson was disqualified after he bit off part of Holyfield's ear. In return the boxing commission withheld $3 million from his purse.
After that things just kind of got worse. He lost another big fight in 2002, and filed for bankruptcy in 2003. Evidently, he was no longer earning enough to support his $400,000 a month lifestyle, and his debts — which included $13 million in back taxes and $51,000 in child support payments — totaled more than $20 million. We're just guessing, but at that point he was probably also regretting the $173,000 diamond chains.
Dennis Rodman spent it all at the salon (just kidding)
Just because you're a hall of famer doesn't mean you're set up for life. In fact that huge ego you cultivated on your way to becoming a hall of famer can actually be detrimental to your pocketbook. Just ask NBA star Dennis Rodman, who spent millions of dollars not on diamond chains but on NBA fines. In 1997 he was fined $25,000 for kicking a cameraman. An 11-game suspension for the incident cost him around $1 million. Later that year he was fined $50,000 for the "expletive-laced" comments he made about Mormons while he was in Utah. In 2000 he raked up $13,500 in fines in five games. And that's pretty much how his career went most of the time.
Fines weren't the only things sucking the cash out of Rodman's personal fortune, though. Rodman's lifestyle cost him around $31,000 a month, which granted seems like living on the cheap compared to some other celebs, but he wasn't taking home enough money to pay for it. In 2012, CBS said he owed $860,000 in child support payments, was struggling with alcoholism, and owed about $350,000 in California state taxes.
It sounds very shocking and terrible, but CBS also says that roughly 60 percent of former NBA players spend all their money within five years of retirement. So it sounds like maybe there's a market for pro-sports-specific financial advisers.
Everyone knows how OJ Simpson lost all his money
OJ Simpson's murder trial cost him around $50,000 a day. Just before the trial, CNBC says he was worth an estimated $11 million, after the trial, well, no one really knows. We do know that he continued to generate income while he was in jail, mostly through the sale of memorabilia, which actually increased in demand during the murder trial. One of Simpson's jobs in his off-time was signing autographs from his jail cell, which is something he evidently did a lot of. In fact, OJ Simpson autographs were even more valuable if they were dated from the time of the trial, so that's pretty sickening.
All those autographs helped him pay for his very expensive "dream team," but what happened when it was all over? During the civil trial that followed his acquittal, his attorneys claimed he was $850,000 in debt. As of 2014, the Goldman and Brown families say they've been able to collect less than 1 percent of the $33.5 million they were awarded in the wrongful death case. So evidently, no one wanted those OJ Simpson autographs any more because he was no longer sitting in a jail cell. Isn't the collectibles market an odd thing?
Is OJ really totally broke, though? He has a pension from the NFL worth $25,000 a month, and by law the Goldmans and Browns can't take any of it. So he may have lost millions, but the dude isn't exactly destitute.
Dorothy Hamill says she trusted the wrong people
Dorothy Hamill was just 19 when she won figure skating gold at the 1976 Winter Olympics. So you can hardly blame her for failing to properly manage her money because there's no such thing as a teenager who's capable of being smart about the millions of dollars that suddenly appears in a bank account that once held only babysitting money and Christmas cash from Grandma. "As an athlete you don't learn all these things," she told CNBC. "You're just focused on training."
Hamill filed for bankruptcy in 1996. At the time, she claimed $1.3 million in assets and $1.6 million in debt, with '[no] contracts to perform, to endorse products, to commentate, or to perform other professional services." In other words, the world had forgotten "America's sweetheart" and she could no longer self-market her way out of her financial woes.
Hamill blamed her estranged husband for talking her into bad business ventures, although her friends also told the press that she had pretty terrible spending habits. "She'd get a $100,000 deal and head right to Harry Winston jewelers," one of them said. "Her business managers tried to get her spending habits under control. She'd be good for a month and then start again."
As of 2018, Hamill says she's changed her ways. "The good news is I've finally found people that are trustworthy and I'm a little smarter." It took most of her adult life, but you've got to start somewhere.
John Daly gambled it all away, but hey at least he won sometimes
Golfer John Daly made a name for himself on the PGA tour in 1991, when he won the PGA Championship while playing as an alternate. It was his third major and a three-stroke victory, and his performance earned him the coveted title of 1991 Rookie of the Year.
But Daly squandered the money he earned as a professional golfer in the one of the most devastating ways possible — he gambled it all away in casinos over the course of about 15 years. In a 2014 interview with TMZ Sports, Daly says he calculated his total gambling losses at around $90 million. To be fair, he did also win around $35 million, so that's a net loss of only $55 million though that frankly doesn't seem like it would really soften the blow that much.
Daly told TMZ that he would often take out million-dollar markers and play blackjack. Sometimes he'd have as much as $600,000 on a single table. He says he loved the rush he got when people crowded around to watch. He also said he had financial people who tried to help him but were unable because "it was just fun for me."
For a dude who burned through a pretty large chunk of his fortune, Daly is surprisingly glib about the experience. When TMZ asked him if he regretted his gambling days, he just said, "Man, I had a great time."
Boris Becker lost most of his money in a broom closet
If there were ever a sex-symbol for the game of tennis, it was Boris Becker. In 1985, at the age of 17, he became the youngest men's singles champion at Wimbledon. By 1996 he had three Wimbledon wins, plus a U.S. Open win and two Australian Open wins. By that point he was a superstar — the New York Post says he was worth about $63 million in prize money and sponsorships.
Then in 2017, Becker was declared bankrupt by a court (against his will), which doesn't really seem shocking when you look back at his past — as he collected wins, he also collected scandals and was known for kind of being a brat on the courts. All that isn't necessarily expensive, though. What finally got Becker was his brief broom-closet affair in the '90s with a Russian model named Angela Ermakova (and that's a literal restaurant broom closet, by the way, not just some weird metaphor), which incidentally happened while his pregnant wife was in the hospital. His subsequent divorce cost $25 million and the broom closet incident came in at $1.2 million, since it had resulted in a child and Becker felt at least responsible enough to buy Ermakova a home in London.
So after that he breathed a sigh of relief, except no — the German government came after him for $2 million in back taxes in the early 2000s. Becker claimed that he lost sleep over the "tax business" and was unable to win any more tournaments after that.
Deuce McAllister bought a car dealership
It's hard to know where some of these guys get their business ideas. It makes sense to maybe invest in something that's sort of related to your professional career because then you've got some idea how to manage that business. But it seems weird to, you know, buy a Nissan dealership when you've spent most of your adult life in the NFL.
Deuce McAllister was a bright kid, an honor student, and president of his high school's student body. He got into the University of Mississippi on his own merits and made a name for himself in football, and then he went on to a career in the NFL. He played for nine seasons and was voted into the Pro Bowl in 2003. He became legendary while playing for the New Orleans Saints, setting their all-time rushing touchdown record in 2008.
According to Pro Football Talk, McAllister made "tens of millions" during his career, but then he made a really head-scratchingly weird business decision, which ended up costing him pretty much all of his fortune. He bought a Jackson, Mississippi, Nissan dealership, which went bankrupt in 2009 after Nissan says he defaulted on his payments and went over his credit line. And things didn't improve after that, either. By 2011, Whitney National Bank was after McAllister for an unpaid $1.8 million mortgage. That's not a very comfortable way to retire.
Mark Brunell made some bad investments
Plenty of athletes have lost it all on business deals — Mark Brunell evidently did pretty much that. He was once worth about $50 million, but he squandered it all on nine not-so-great business enterprises. According to SB Nation, five of those nine businesses went under, and as of 2011 Brunell was the subject of six lawsuits, so things were looking pretty bleak. And the worst of all his investments was Champion LLC, which was in the expensive real-estate business at exactly the worst moment in time, just before the market crashed. When that happened, Brunell lost pretty much his entire investment and a lot of his own cash as well.
SB Nation said he was so broke that he planned to get an ordinary, non-famous-person job as a medical sales representative upon his retirement, but in 2018 he landed a job as a local TV sports anchor, which is at least marginally better than medical sales repping. And he also works as a high school football coach for the Episcopal Eagles, which is a gig he says he loves. "Honestly, when I took the job I thought I may do it for two or three years," he told 1010 XL, "and now I'm going into year six and I have no plans of leaving anytime soon." Good for him.
Lawrence Taylor lost it to his addictions
With fame and fortune, unfortunately, comes temptation. Some athletes avoid getting sucked into that downward spiral of drugs and alcohol, but others don't, and it almost always ends badly.
All-Pro Linebacker Lawrence Taylor was a Hall of Fame nominee who played linebacker for 13 seasons and earned about $50 million over the course of his career. He couldn't hang on to that money, though, because he used a lot of it to support a drug and alcohol problem.
"It started out as a recreational thing and then it became an all-day job," he told A Forever Recovery. When he was still in the NFL, he often bragged that he could "outdrink any other linebacker in the game." At its worst, Taylor said his drug habit cost him thousands of dollars a day. In 1988 he was suspended for failing the NFL's drug test, and he was arrested a couple of times for buying crack cocaine from an undercover officer.
But drugs and alcohol weren't the only financial problems Taylor had — he once owned a $10 million business that went bust, and in 1990 he filed a false tax return that came back to bite him seven years later. In 1998, he filed for bankruptcy protection to avoid foreclosure on his $600,000 home in New Jersey. And he's been in trouble recently, too — in 2010 he was arrested on charges of having sex with a minor. He pleaded guilty and got … probation.
Johnny Unitas made a bunch of dumb business deals
In yet another tale of why-did-you-buy-that-business, in 1984 quarterback Johnny Unitas purchased a circuit board manufacturer called National Circuits. According to Forbes, the company turned Unitas' $3.5 million investment into $1 million, which left him deeply in debt that he was unable to repay. He filed for bankruptcy just one year later.
So why a circuit board manufacturer? He'd evidently always had an interest in business — before buying National Circuits, he owned a restaurant in Baltimore and invested in a Florida real estate partnership, which among other things bought a crab and catfish supply company. None of those investments really panned out, either, and it's unclear why he thought National Circuits might be a game changer. Unitas served as vice president of sales at the company, but the company was badly mismanaged and was eventually absorbed by a rival.
Unitas was also plagued with legal misfortunes, the worst of which was his endorsement of a mortgage company called First Fidelity Financial Services. The company's founder was convicted of fraud, and after that Unitas became the subject of a lawsuit because he'd been the guy who was going around telling the public how trustworthy they were. Oops.
Michael Vick had that dog fighting ring
It's easy to feel sympathy for a lot of these guys who just made dumb decisions or were victims of unfortunate circumstances. But at least one athlete who ended up in a bad financial situation sort of deserved it. Michael Vick became infamous back in 2007, when he pleaded guilty to charges related to an illegal dog fighting ring. Vick owned Bad Newz Kennels in partnership with three other guys. The business was training around 50 pit bull terriers to participate in high-stakes dog fights. That's awful enough, but they also "executed" the dogs that didn't perform well, and they didn't do it very kindly, either.
Vick spent 18 months in prison and accumulated $17.8 million in debt. In 2008, he filed for Chapter 11 bankruptcy. Since then he's tried pretty hard to redeem himself — in 2014 he told ESPN that he filed for Chapter 11 bankruptcy instead of Chapter 7 so he would have an opportunity to pay back his debts over time. "I didn't want to stiff people who never stiffed me," he said.
Well that's awesome and super responsible and everything but dude, you killed dogs by hanging them, drowning them, and beating them against the ground. So in the grand scheme of things, most people aren't going to think you're cool because you were nice enough to pay your debts in full.