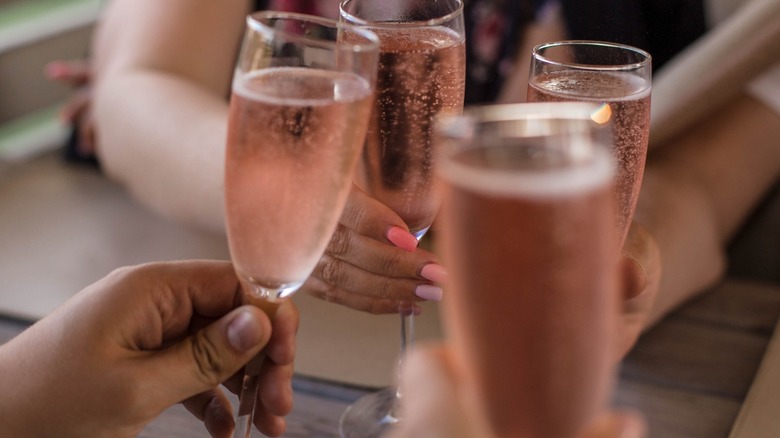 Move over, plain old bubbles! There's a new pink baby on the block called Prosecco rosé, and it's taking the wine world by storm this summer. Like Cava in Spain and Champagne in France, Prosecco is not only a sparkling wine, but it's also a regional designation. Therefore, it's controlled by the Prosecco DOC Consortium — or, more officially, the Consorzio di Tutela della Denominazione di Origine Controllata Prosecco (per VinePair), a regulatory board in Italy. And, as such, it must meet specific designations, as Food & Wine reports. So while Prosecco and rosé have both been fan favorites for years, it wasn't until 2020 that the Italian government actually approved the blush-colored Prosecco rosé as an official category, which officially started selling in the beginning of 2021.
The Wall Street Journal points out that, while many winemakers in the region have been making sparkling rosés for many years, this new category has specific requirements. To start, like Prosecco itself, there are strict rules vintners must follow in order to use the Prosecco rosé name and classification. First, it has to be produced in the greater region surrounding Venice in Italy, and it also must be made from specific grapes. Again, like Prosecco, this new wine classification must be made up of at least 85% Glera grapes, though Prosecco rosé can also contain up 10%-15% of Pinot Nero grapes, the same grapes used for making Pinot Noir (via The New York Times).
The rules create some challenges in making Prosecco rosé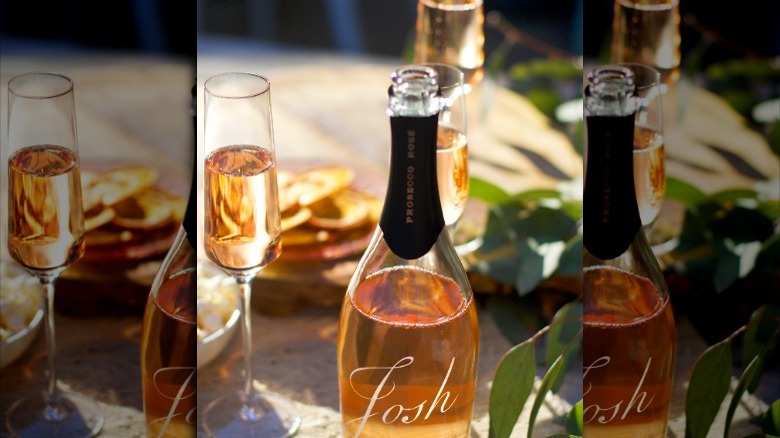 It's not just the grapes and the manufacturing region that make up the staunch rules. The entire winemaking process is also very strictly controlled. In order to follow the rules correctly, California-based Josh Cellars is collaborating with Italian winemakers, The Pozzi Family, to make their own Prosecco rosé. And, as they say, there are many steps in the process they have to follow to ensure it can maintain the designation.
The first has to do with the length of time the wine has to sit in fermentation. Daniele Pozzi, winemaker for Josh Cellars Prosecco rosé, told Mashed, "Italy's DOC guidelines require that Prosecco rosé be fermented for least 60 days in stainless steel tanks. Other sparkling rosé wines do not have this requirement, sometimes only needing to be fermented for as little as one week [to] ten days."
And it's not just that you have to have the right kind of grapes, but they also have to be grown in the correct region and meet the government's strict quality standards. Pozzi further explains, "To be labeled as Prosecco rosé (like Champagne from France), grapes must come from a specific geographic area that has passed the Italian government's quality requirements." The New York Times also points out that the grapes must be at least 85% from the same year as the bottle's displayed vintage.
Though it doesn't stop there. The DOC is really strict about everything regarding Prosecco rosé. As Pozzi notes, " The Italian government has even dictated requirements for the color of the Prosecco rosé."
But, the rules also guarantee a quality product
While the regulations may seem stifling, the intensity of the rules might help consumers take a risk to try something new, as they feel they'll be getting a quality product. As David Gill of Kingsland Drinks told The Drinks Report, "With the DOC for Prosecco rosé, people can have confidence in the provenance, but also the production."
According to VinePair, the consortium has been working since 2017 on setting the standards for Prosecco rosés. As Consorzio president Stefano Zanette stated to the outlet, "There's a long history of rosé production in the area, but it wasn't regulated under the DOC." Those rules took a while to formulate as they ensure consistency in quality and a high standard for the flavor profile. And together that will "determine the practices to follow in the vineyard and in the cellar that will increase the organoleptic sensorial quality," Zanette continued. Organoleptic is a mouthful of a word, but it basically means how your five senses — touch, taste, sight, smell, hearing — experience the wine (via Sensory Spectrum).
While Forbes points out that Prosecco rosés tend to be in the lower budget range, averaging between $12-20 a bottle, it's the rules that the DOC has set down that ensure that every certified Prosecco rosé will meet quality control standards, making them a bargain compared to other, non-certified sparkling rosés.
Different bottles of Prosecco rosé can have different tastes
For all the rules governing Prosecco rosé, there is still some flexibility. While the New York Times points out that there can be a wide variety in flavor profiles for Prosecco rosés, they all will still have the base of a crisp, light Prosecco, which often has notes of light apple, berry, or melon, giving it a crisp, often dry, and slightly sweet fruitiness (via Sparkling Winos).
With the Prosecco rosé, however, Glass of Bubbly notes that the variations will occur primarily within the Glera grapes, including the terroir of the vineyard where they're grown, plus the actual volume of Pinot Noir grapes used in the mix. VinePair also notes that the Prosecco rosés will come in a variety of categories that will designate their level of sweetness, everything from "brut" to "extra dry," with brut being the driest of all.
While there are similarities in the flavor profiles, just the descriptions on some of the bottles alone can show how varied this classification can be. Josh Cellar's Prosecco rosé winemaker Daniele Pozzi described their version as primarily tasting of "fresh wild berry and blackberry [with] refreshing acidity and bright effervescence." Freixenet Mionetto similarly notes berries in their bottle, but further specifies they are "fresh red berries and underlying hints of white flowers and apples." And 90+ Cellar's offering describes "notes of redcurrants, apple blossom, and rose [that] entice the senses, followed by citrus fruits and strawberries on the palate."
Prosecco rosé pairs well with a wide variety of foods
In the United States, rosé wines are often traditionally enjoyed in the warm summer months or in warmer southern climates, as Forbes notes. But that's not always true for Prosecco, as it can be a common celebratory sipper during the holidays, on New Year's Eve, and for other celebrations as well, as the dry fruitiness of the bubbly can also mitigate the sweet richness of a birthday cake, cheesecake, or crème brûlée. Wine Enthusiast notes that because of their sweet/savory balance, sparkling rosés can even do well with special event, poultry-based meals like Thanksgiving turkey or Christmas goose.
Because sparkling wines like Prosecco rosé tend to have a lower pH, Wine Enthusiast writes, they have a natural acidity that helps cut through rich, fattier foods, which cleanses the palate and provides a fresh, crisp balance. A classic charcuterie board, with cheeses, savory meats, and fruits, also pairs well with this type of wine. Glass of Bubbly also suggests a light, creamy risotto. And the fresh crispness of the Prosecco rosé also works well with fish and shellfish, poultry, or other foods traditionally associated with white wine pairings.
Like traditional Prosecco, a Prosecco rosé also does well with typical brunch fare, especially a fresh summer salad, quiches, omelets, eggs Benedict or sweet-and-savory dishes like French toast. However, the complex flavors can be lost with the overpowering juice flavors in a mimosa, though Mindful Avocado raves about grapefruit mimosas using sparkling rosés, so it might be worth a try.
Manufacturers expect big sales as the market grows
Prosecco rosés are popping up everywhere, from fancy wine shops to local grocery stores. While big names like Josh Cellars, Freixenet, and La Marca have put out offerings, plenty of smaller winemakers are joining in on the excitement as well. Even Costco has a Kirkland Signature 2020 Rosé Prosecco on their store shelves. Many smaller manufacturers are getting in the game as well, and some that have been making sparkling rosés are now phasing those out, The Wall Street Journal notes, in order to manufacture bottles under the new designation.
There's a reason winemakers are jumping into this market eagerly — they're banking on the fact that the popularity of both Prosecco and classic rosés will help quickly grow the Prosecco rosé market. VinePair reports that Americans consumed 82,936,113 bottles of Prosecco in 2019 alone. And rosé sales have been rising exponentially over the years, too, Forbes writes, with sales growing 35%-40% over the period of 2014-2019. Given that Prosecco and rosé are two of America's favorite wines, Food & Wine notes, it seems to be a segment for exponential growth.
And so far, initial sales look good, with Prosecco as a category increasing 2.8% in 2020 year-over-year from 2019. It's an increase of approximately 3.5%, boosted at least in part by the new Prosecco rosé category (via Harper's UK). Professionals in the field are likewise hopeful. As Master of Wine Christy Caterbury told VinePair, "The category is set to soar."