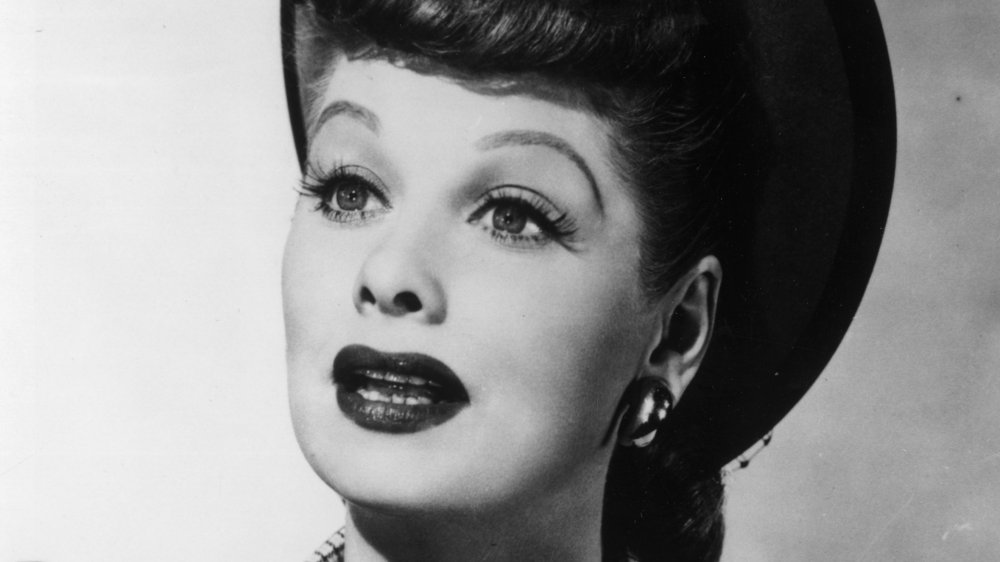 Did you inherit your grandmother's tiny ears or swooped nose? Maybe you have the same curly hair or eye color as your grandfather. There's even a chance you look exactly like your aunt, uncle, cousin, or a long, lost relative. Thanks to the magical science of genes, people who are related to each other can share the same characteristics when it comes to their appearance, even if they come from different generations. This, of course, goes for both regular relatives and famous families.
Granted, most of us know that Ava Phillippe could be a clone of her mother, Reese Witherspoon, and, as Time magazine points out, "There's no denying how much [Zoe] Kravitz looks like her mother," Lisa Bonet. Cindy Crawford and Kaia Gerber, Angelina Jolie and Shiloh Jolie-Pitt, Katie Holmes and Suri Cruise … we could go on and on! But the similarities aren't just passed down from parents to children. Sometimes grandchildren end up twinning with their grandparents.
From silver screen legends who passed on their distinctive attributes to music industry icons whose appearance you'll recognize in their younger relatives, as well as one actress-turned-princess whose granddaughter inherited her glamour (although not the title), check out these grandchildren who look just like their legendary grandparents.
Elvis Presley's grandson shared an 'uncanny' resemblance with the King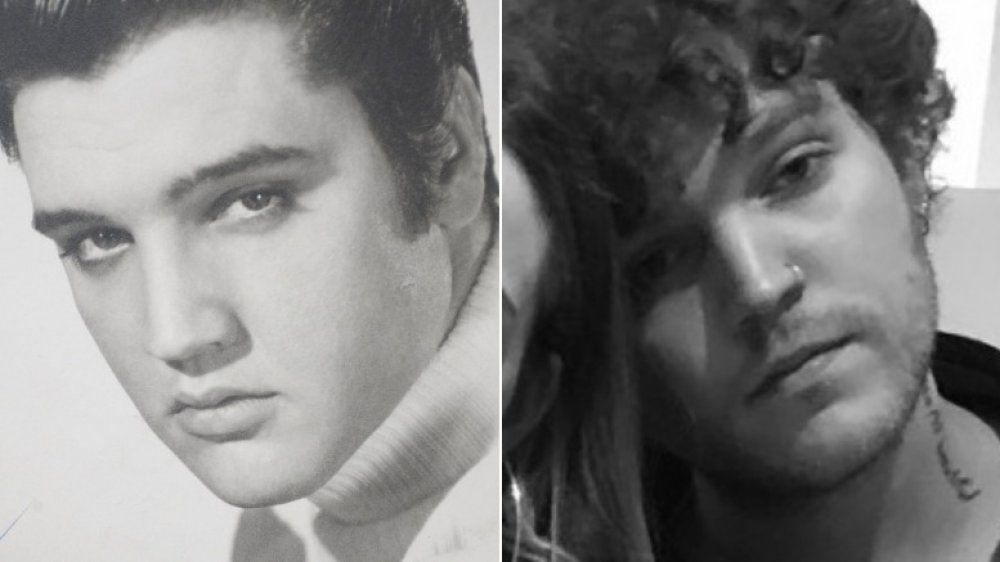 Elvis wasn't only the King of Rock and Roll, he was also the father of Lisa Marie Presley. Although the singer's daughter didn't have children until after he passed away in 1977, she had four kids, Danielle and Benjamin Keough (whom she had with her first husband, Danny Keough), as well as twins Finley and Harper Lockwood (whom she shares with her fourth husband, Michael Lockwood). While Lisa Marie told CMT that her children have "all got a little bit of [Elvis] in them," it's Benjamin who's the "spitting image of his famous grandfather," according to Newsweek.
Born in 1992, Benjamin had an unruly mop of hair – a stark difference to Elvis' slicked-back style. Looking at photos, you can definitely tell they're related, as the millennial had the same enchanting eyes, fine facial features, and sultry expression — just like his grandfather. This is why Lisa Marie admitted to CMT, "Sometimes I am overwhelmed when I look at him." His mom added that when it comes to the resemblance, "It is just uncanny."
Heartbreakingly enough, on July 12th, 2020, tragedy struck when Benjamin was found dead at the age of 27 "from apparent suicide" (via TMZ). As Lisa's manager, Roger Widynowski, told the outlet, "She is completely heartbroken, inconsolable and beyond devastated but trying to stay strong for her 11-year-old twins and her oldest daughter Riley. She adored that boy. He was the love of her life."
If you or someone you know is having suicidal thoughts, please call the National Suicide Prevention Lifeline at 1-800-273-TALK (8255) or text HOME to the Crisis Text Line at 741741.
Elizabeth Taylor's grandson is carrying on her looks and legacy
Screen legend Elizabeth Taylor was an "amazing, rowdy, badass, passionate pioneer, actress, activist, philanthropist, grandma," according to her grandson, Quinn Tivey. The son of Taylor's daughter, Liza Todd, and her husband, artist Hap Tivey, Quinn was obviously fond of his grandmother, describing her as "an amazing matriarch," according to The Morning Show. "I always knew her as grandma, but in her real life, she was still larger than life."
While Quinn is carrying on Taylor's looks, with his dark crown of hair, dramatic brows, fair complexion, and striking eyes (although they're not quite violet in the way that her's famously were), he's also carrying on her legacy in another way. The artist, who is based in New York, took on a new role in 2016 when he became the co-trustee for his grandmother's trust, which is behind the Elizabeth Taylor AIDS Foundation. While speaking about the star's work with the organization, which she started in 1991, he explained, "She could not stand to see social injustice or unfairness around her … But she knew she had the capacity to do a lot. She had a platform by virtue of her celebrity, and she knew how to use it."
Adding that she "always had the courage to speak her mind and stand up for what she believed in," Quinn clearly admired his grandmother, which is a feeling that the next grandchild on this list can relate to.