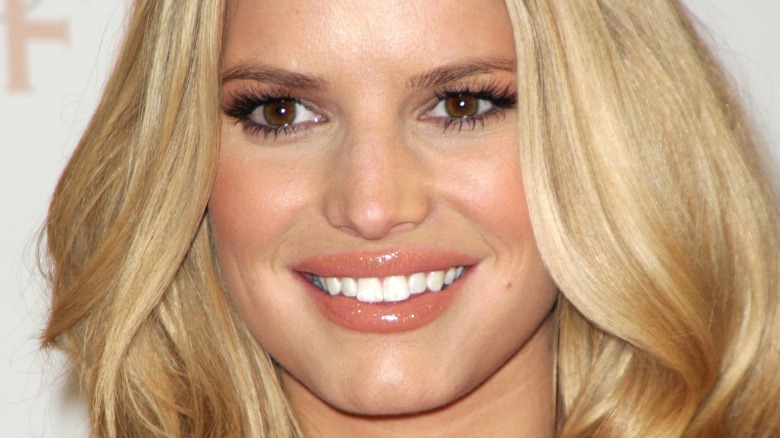 Jessica Simpson is a singer, actor, and entrepreneur who rose to find both fame and a fortune alongside other pop stars of the late '90s and into the '00s, like Britney Spears, Christina Aguilera, and Mandy Moore, according to Bustle. Simpson may have had some major competition, but has always managed to hold her own.
In fact, the successful music industry star — who has branched out over the years in more ways than you might have expected — is the head of a money-making empire, which means that she's now worth more than her contemporaries. Since you're surely curious, Spears has around $70 million, while Aguilera has banked $160 million, and Moore is worth $14 million. As for Simpson, she has brought in a staggering amount of money from her various ventures — there's a reason why she's considered to be the "billion-dollar pop princess" — and has personally taken home some serious cash because of that with $200 million to her name, according to Celebrity Net Worth.
However, thanks to the fact that the star is seriously rich, that means she can afford to spend a fortune on a lavish lifestyle. And she definitely uses her money in impressive, enviable, and arguably excessive ways. Beyond that, she's faced a few sticky issues that cost her a lot. Keep reading to find out exactly how Jessica Simpson has been both making and spending her money, and how that's affected her overall worth.
Jessica Simpson sold millions of albums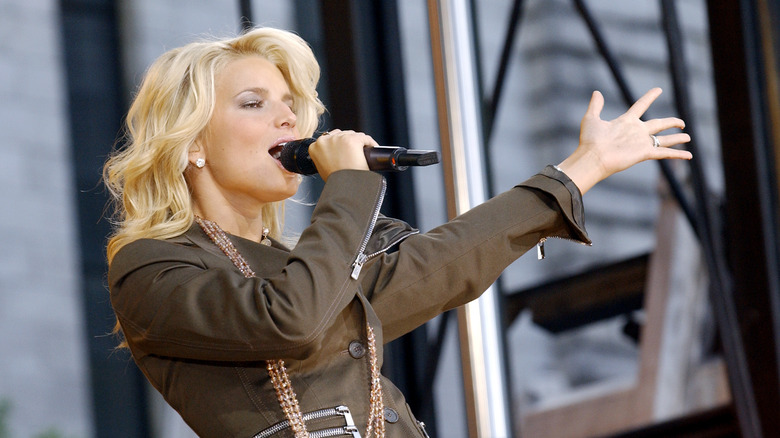 Jessica Simpson was just 17 years old when she recorded her debut album, "Sweet Kisses," according to Billboard. Dropping in 1999, the first single that was released from the album was "I Wanna Love You Forever," and there's no doubt that it was a hit. The Hollywood Reporter points out that it flew up the Billboard Hot 100, landing at No. 3. It also helped to spark an interest in the album, which ultimately sold four million copies around the world. At the same time, the young star also embarked on (surely lucrative) tours, such as the "DreamChaser Tour" and "Reality Tour."
"When you're just growing up, you're trying to be this person and that person. It takes a while to find your place. For me, that meant discovering who I am as an artist and as a person," Simpson told Billboard. While initially finding the kind of success that would take her to the top of the industry, she went on to say that she'd "grown vocally," "grown spiritually," and "just plain grown up." She added, "The main ingredient, I know now, is confidence. I really feel equipped for what's going to come."
In the following years, Simpson continued to release popular music, with 2006's "A Public Affair" selling more than 100,000 copies in just a week, per Rolling Stone (via CNBC's Make It). THR also noted that "three of her seven studio albums have been certified gold," while "Sweet Kisses" went double-platinum, and "2003's 'In This Skin' went triple-platinum."
She jumped over into early reality TV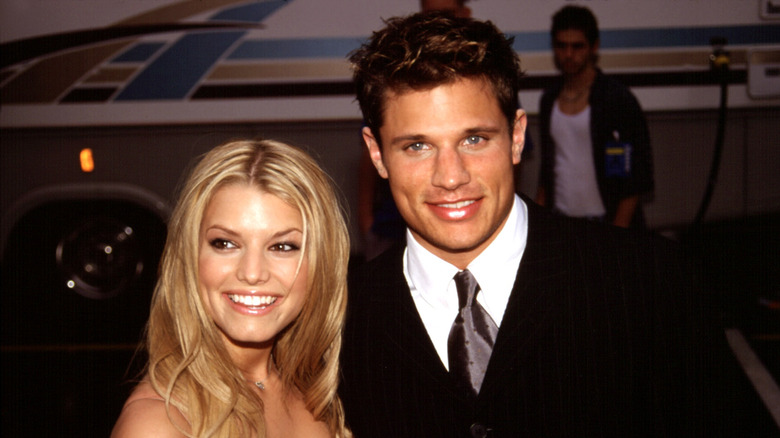 Just as Jessica Simpson was establishing herself as a force to be reckoned with on the music side of show business, she met and then began dating fellow singer Nick Lachey. According to Us Weekly, Simpson and the member of 98 Degrees got engaged in February 2002, and by that October, they were married. Footage of their wedding ceremony was used to help kick off the couple's jump into the television side of the entertainment industry: their reality TV show, "Newlyweds."
Airing from 2003 to 2005, the series followed the ups and downs — and sometimes surreal — experiences that the duo faced in their everyday lives. While the early reality TV show only helped to make the two stars even more famous, the end of their on-camera antics came the same year that the couple separated. Us Weekly notes that by June 2006, they were officially divorced.
While the series didn't wrap up with a happily-ever-after, The Blast explains that "it is safe to say that the couple did not make nearly as much money from that series as the Kardashian family makes these days." Despite that, Simpson still went on to take on other TV gigs (and take in more paychecks) with "Jessica Simpson: The Price of Beauty" and "Fashion Star." Of course, those weren't the only onscreen jobs that she took on. She was also ready and willing to make her mark (and make money) as a movie star.
This multi-talent also moved into movies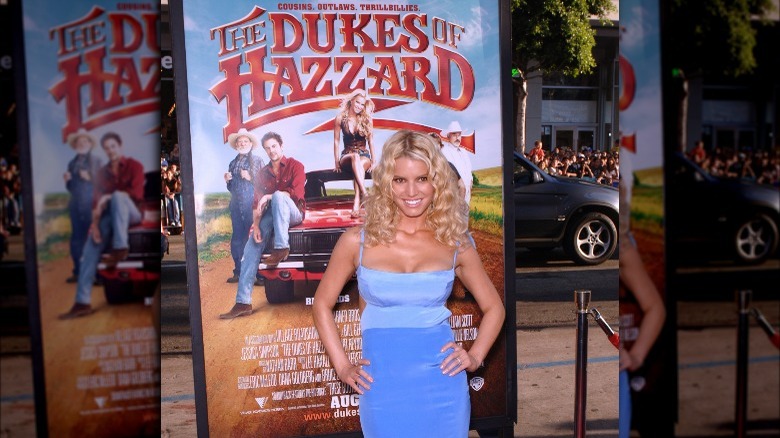 Having taken on both the music scene and the world of television, Jessica Simpson then moved into movies. Although her first acting gigs came thanks to music videos and a role as Kelso's California girlfriend, Annette, on "That '70s Show," she continued to land relatively minor parts until getting her big break on the big screen.
In 2005, Simpson appeared as Daisy Duke in the film version of "The Dukes of Hazzard," which also starred Seann William Scott and Johnny Knoxville. Simpson's performance in the movie — as well as her rendition of "These Boots Are Made For Walkin'" — earned her a Teen Choice Award, as well as nominations for an MTV Movie + TV Award and a People's Choice Award. Unfortunately, it also earned her a Razzie nomination for Worst Supporting Actress. As for what the movie earned, Box Office Mojo reports that it took in $111,069,515 at the worldwide box office. That may seem like a decent amount, but the project originally had a $50 million budget. Still, The Wallet claims that the singer-turned-actor alone was paid $4 million, which surely gave her earlier fortune a nice bump.
From there, Simpson opted to take on a few more movies roles (and take in more movie paychecks) when she appeared in 2006's "Employee of the Month," 2007's "Blonde Ambition," and 2008's "The Love Guru." She may not be the biggest movie star, but she's still done pretty darn well thanks to her acting work.
Jessica Simpson has signed some major endorsement deals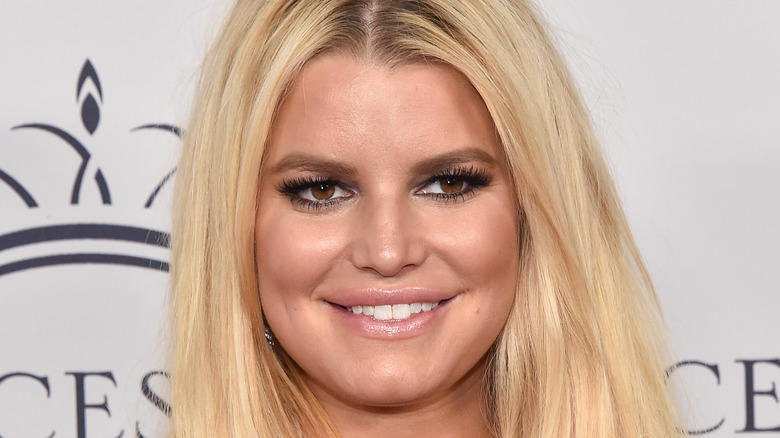 Some actors appear in relatively forgettable low-paying commercials on their way to bigger gigs. However, Jessica Simpson's work in ads came after she became famous. It's also come along with a lot of publicity and a lot of money.
First a pop star, Simpson then became a pizza star when she appeared in Pizza Hut's 2004 Super Bowl commercial alongside The Muppets. She then did another Super Bowl commercial for Pizza Hut after she appeared in "The Dukes of Hazzard," even singing "These Bites Are Made For Poppin'" to the tune of "These Boots Are Made For Walkin'." But that's far from all she's done when it comes to promoting products. Simpson has also teamed up with DirecTV for another ad inspired by "The Dukes of Hazzard," and signed a deal that was worth $2.5 million to be a spokesperson for the Proactiv skincare line, according to Adweek (via GOBankingRates).
However, even Simpson's enviable Proactive paycheck couldn't compare to what she was reportedly paid by Weight Watchers. In an effort to bring in money while also losing weight after the birth of her daughter, Maxwell, the star inked a contract to work with the major brand, which was reportedly worth in the range of $3 million to $4 million. While officially announcing the news on social media in 2012, Simpson tweeted, "So excited to be a part of the [Weight Watchers] family!" No doubt, considering they were willing to pay her so much money.
A billion-dollar retail empire from Jessica Simpson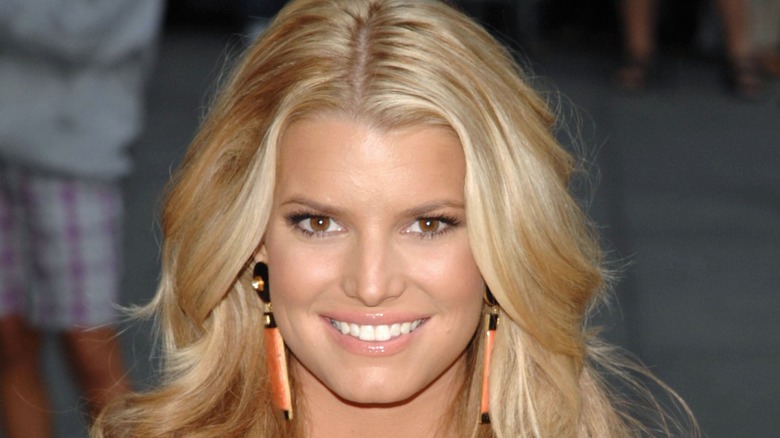 When Jessica Simpson entered the retail world, she surely had no idea how far that decision would take her. Likely, in part, ensuring a certain amount of success, when the star first debuted her brand, she worked with Vince Camuto, the co-founder of Nine West, according to CNBC. "Thank you, Vince, for the humble power that has taken me everywhere," Simpson wrote on Instagram while paying tribute to Camuto when he died in 2015. She added, "You are my mentor, my family, the creator of all my dreams. I will forever walk in your shoes … you made them."
In the following years, The Jessica Simpson Collection has continued to release seemingly endless products, selling clothes, accessories, and shoes, as well as perfumes, cosmetics, and home décor, among other coveted items. In fact, they're so popular that Forbes reported in 2014 that the singer's business had reached the point where it was making a whopping $1 billion per year. As for Simpson herself, she was taking in around $30 million of those earnings annually. Although that was before selling 62.5% of her brand in 2015 for $120 million.
The star talked about her company's success, per Forbes, saying, "My business is the heart of who I am. … I want to make every woman feel confident in what they're wearing. I do feel like we're very fashion-forward, but we also listen to the consumer." She also told CNBC in 2016, "I always say, I'm ready for another billion."
Jessica Simpson's memoir is a bestseller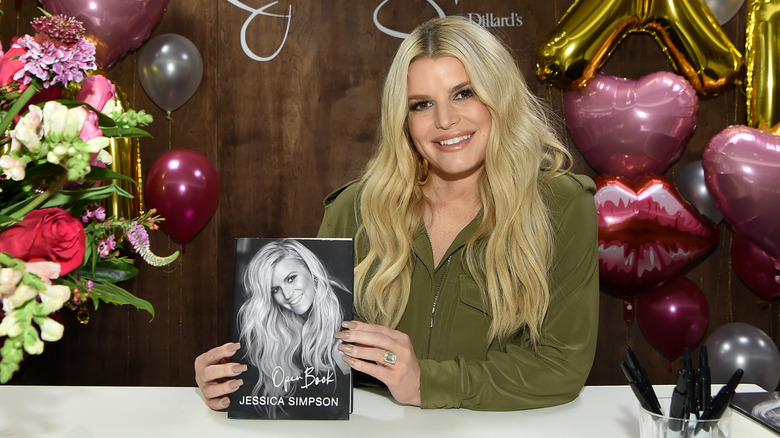 Jessica Simpson has obviously already accomplished (and been through) a lot, which is why she decided to release a memoir in 2020. Given the appropriate title, "Open Book," the star used the opportunity to get honest about her experiences, her failures, and, of course, her success.
While celebrating the fact that her memoir had been out for over a year and was coming out in paperback, she hopped onto Instagram in March 2021 to explain that her "purpose in writing the book was to try and help anyone who might be feeling stuck or know there is something more for them, but needs that extra push." That may have been Simpson's initial intention, but an added result was the fact that the book sold plenty of copies and, in turn, likely made her a decent fortune.
Hitting No. 1 on The New York Times' Bestsellers list, WSJ Magazine reported that it took just 14 weeks for nearly half a million copies of the memoir to be snapped up by eager readers. In fact, the outlet noted that for the star, "redemption means sales." Simpson reacted to the milestone by posting a photo of herself with two of her kids to IG, writing, "The pure joy on Maxwell and Ace's sweet faces is the ultimate blessing I could ever ask for!!! … I must confess that I am completely shocked by this overwhelming honor … I have realized that my greatest expectations weren't even great enough until now."
She didn't have a prenup with Nick Lachey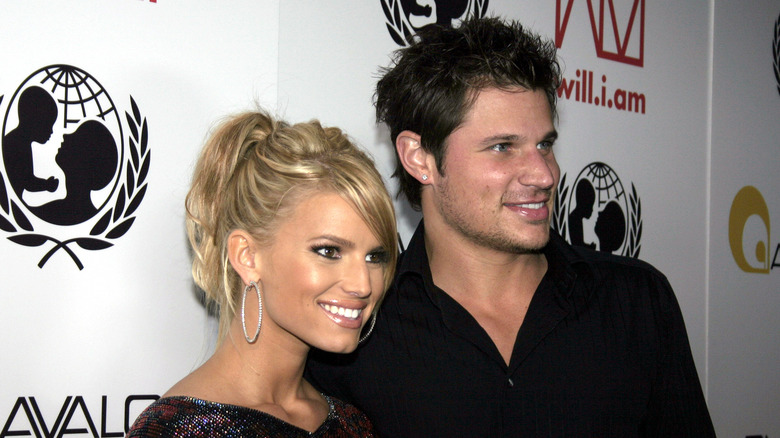 When Jessica Simpson and Nick Lachey split up back in 2006, it was the end of their marriage and the end of their popular reality TV show. However, it was also the beginning of something else: A seriously costly situation for one of them. That's because, when the two were married in October 2002, they didn't sign a prenup.
That was obviously an arguably bad move on Simpson's part; however, she explained during a 2020 interview with Dr. Oz (via CNBC) that it was her choice. "The funny thing is that Nick wanted me to sign a prenup and I was so offended," she said. "I was like, 'But we're going to be together for the rest of our lives!'" However, nowadays, she feels differently. Simpson admitted, "I wish I would have signed a prenup!"
So, how much did Simpson's decision not to sign a prenup end up costing her? Well, by the time she was going through her divorce from Lachey, she was the more successful singer of the two, which meant that she ended up having to pay her ex-husband. "They said Nick wanted a certain number, and honestly I don't remember what it was," she explained in her memoir, "Open Book" (via Distractify). Going on to recall that she told her legal team to "just give it to him," Simpson added that she told everyone, "I'll make it back. … And then I did. Give or take a billion."
Jessica Simpson then married Eric Johnson (with a prenup)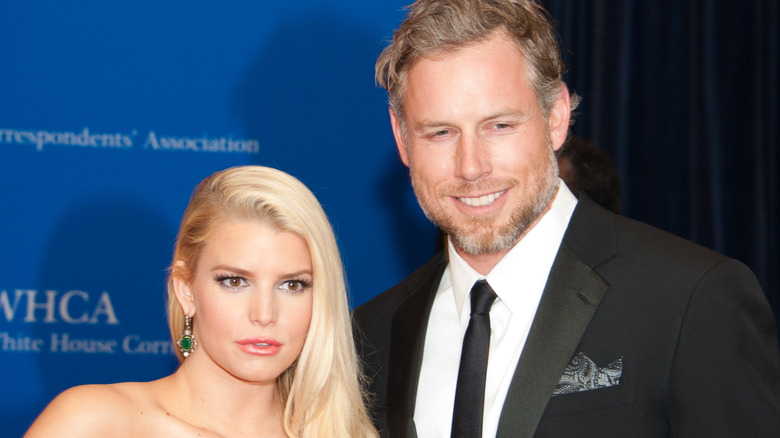 Jessica Simpson's marriage to Nick Lachey may not have worked out — and surely cost her a significant chunk of cash — but that didn't stop her from walking down the aisle again. What it did do is prevent her from saying "I do" without signing a prenup first.
In 2014, Simpson married her second husband, Eric Johnson. A former NFL player who took the field with the San Francisco 49ers and the New Orleans Saints before retiring in 2008, per Hometown Weekly, Johnson has $10 million, according to Celebrity Net Worth. That's clearly a heck of a lot less than Simpson's $200 million. The difference in their fortunes is probably why speculation sparked prior to their wedding that he was allegedly merely marrying Simpson for her money, according to Us Weekly.
That claim was apparently dashed by the fact that, as a source told Us Weekly, Johnson is definitely "not a gold digger." Frankly, the insider noted, "He really loves [Simpson]. He's a low-key guy. He's not into the glitz and materialism of Hollywood at all." That's why the source added, "There will definitely be a prenup. … Jessica has said she wants one. Jessica and Eric have talked about it." On top of that, the person with inside information about the situation alleged that Johnson "understands that there needs to be a prenup" and was "supportive of it." That means if the couple ever ends up divorced, Simpson will be able to focus on moving on instead of having to protect her money.
Lawsuits have been a pricey problem for Jessica Simpson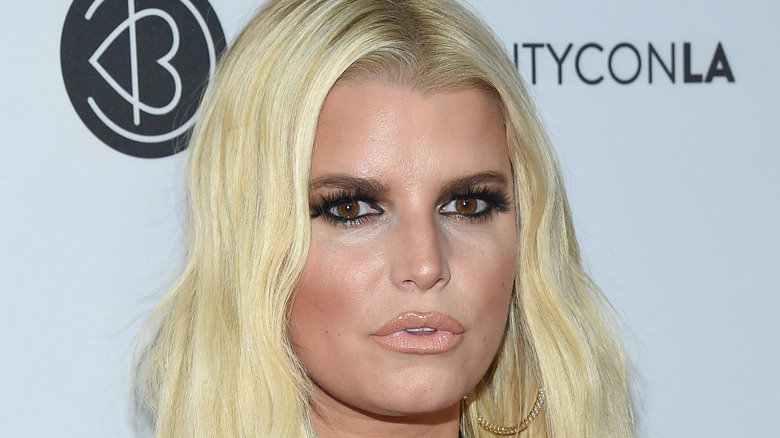 When someone reaches the level of fame and fortune that Jessica Simpson has, it seems like facing lawsuits is unavoidable. That certainly applies to the star's situation, as she's faced a number of sticky legal situations over the years.
For instance, although she's experienced massive success thanks to her retail empire, Celebrity Net Worth also points out that her Jessica Simpson Desserts and Dessert Treats — which didn't actually offer food, but were instead edible cosmetic and skincare lines, per InStyle — were both discontinued "following a series of lawsuits." Indeed, People reported in 2004 that both the star and Sephora were sued for allegedly owing a company called Cosmojet almost $200,000. Trouble cropped up again the next year, when Simpson was sued for copyright infringement over the name used for one of her products, Jessica Simpson's Deliciously Kissable Love Potion Fragrance, according to BlabberMouth.net. Apparently, a similar name had already been claimed by an "'80s all-female hard rock band." Although Simpson attempted to distance herself from the issue, the legal problems didn't help the longevity of the lines.
Unfortunately for Simpson, those weren't the only lawsuits she's faced. In 2018, she settled a $12 million lawsuit that was also tied to her retail empire, while that same year, she was sued (again) for copyright infringement, when a company claimed that she had altered and shared a photo of herself that they owned. Hopefully, this is one celebrity with a very good team of lawyers.
This multihyphenate has spent millions on real estate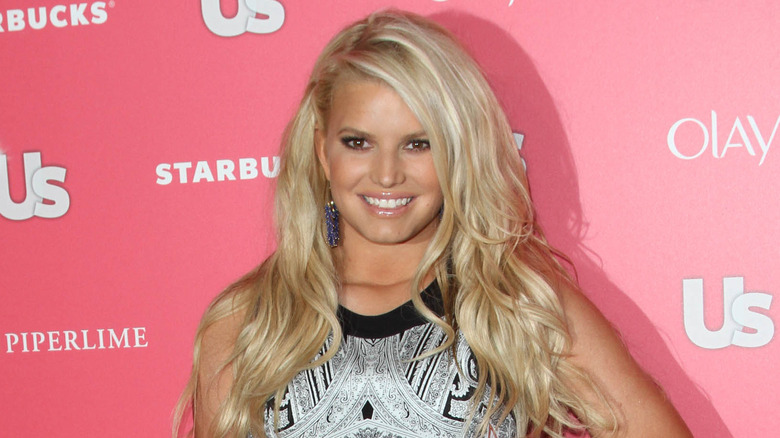 In 2013, the Los Angeles Times reported that Jessica Simpson had put her Beverly Hills home up for sale and wanted almost $8 million for it. At the time, she had already taken a step up the property ladder by spending $11.5 million on a new abode in California's Hidden Hills area.
Formerly owned by Sharon and Ozzy Osbourne, The U.S. Sun claims that the "mansion is perhaps one of the most stunning in the city of Angels." It offers Simpson and her family plenty of enviable features such as "a massive shoe closet," spa, theater, and balconies off the bedrooms which offer stunning views of the city. That's not to mention the swimming pool, garden, and barbecue area that are ideal for entertaining. There are other impressive features, like a separate guest apartment and something that definitely suits the singer: a recording studio. Outside on the more than two-and-a-half acres of prime property, there's a play space for the kids and a giant fake cow. Wait, what?! Yes, Simpson, who was born and raised in Texas, apparently put a large faux bovine in her driveway, which now greets anyone who visits this star's residence.
If you can't imagine living in that kind of massive mansion, then it might shock you to find out that in May 2019, after having her third child, Simpson decided to add an entirely new wing to her house, according to the Daily Mail. That couldn't have been cheap!
Jessica Simpson celebrates special occasions in style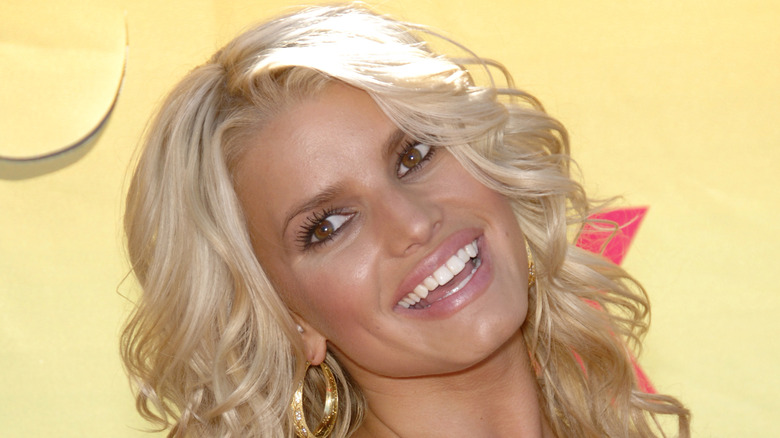 When a special occasion pops up, Jessica Simpson likes to go all out and spend more money than you could likely imagine. Just consider the party that she threw for daughter Maxwell's first birthday in 2013. Us Weekly reported that the event was "a lavish carnival-themed bash in the backyard of their Hidden Hills home."
While that was surely a sweet child-appropriate party, Simpson enjoyed a very different kind of celebration for her own birthday when she turned 35 two years later. Flying to St. Barts on a private plane, according to ET, the star was there to indulge in an "extravagant week-long, adults-only vacation … to mark the occasion." The trip included a stay at "the luxurious Le Sereno Villa," which is where the birthday girl was treated to "the full VIP treatment." Think along the lines of butlers who were there to cater to Simpson's every (reasonable) need. That is, when she wasn't dining at "the best table" in area restaurants or on one of the two "giant yachts" the multi-talent rented to take her party to St. Maarten. Of course, Simpson also made sure to have two planes ready to take her guests home and one plane "for luggage, food, and other miscellaneous items alone." The cost for such a celebration? In the range of $1.5 million to $2 million.
While that's certainly more than just a regular ol' birthday party, Jessica Simpson is definitely the kind of star who can afford such expensive luxuries.