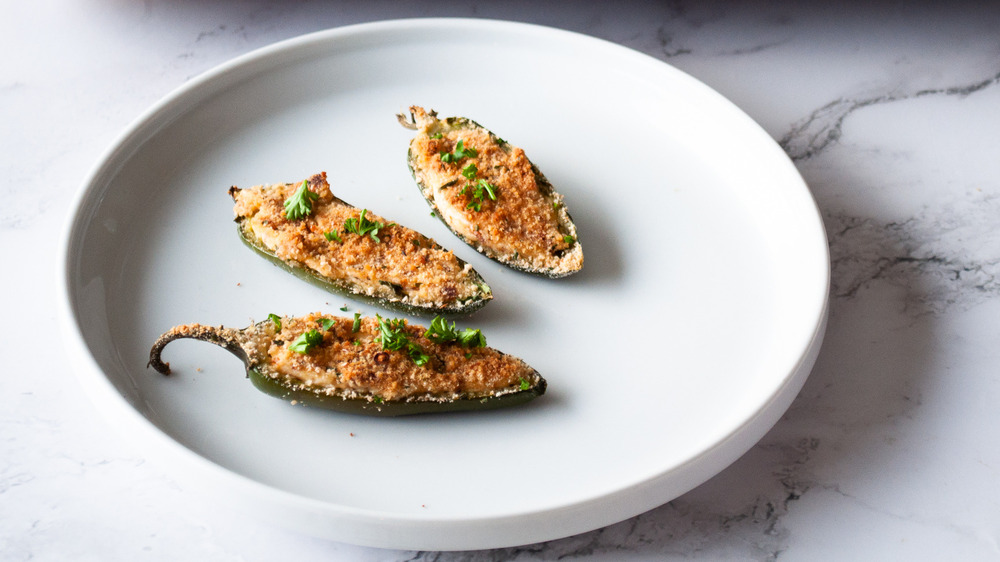 Bell peppers, hot peppers, jalapeño peppers, cayenne, serrano… there's an almost shockingly long list of options out there for anyone who loves peppers, especially if you like a little extra kick of heat and spice in your meal.
Peppers aren't just tasty, though. They're also super easy to grow if you happen to have a sunny window, while a single pepper plant will keep on giving. That makes them a handy addition for things like salads and stews, but there's so much more you can do with peppers!
Whipping up a quick, pepper-filled meal isn't just tasty, it's also good for you. Healthline says that bell peppers have a whole slew of vitamins and nutrients and have also been linked to helping support eye health and circulatory system effectiveness. There's good news for hot pepper lovers, too. Jalapeños (and their heat-giving capsaicin) have been linked to everything from boosting metabolism and heart health, to fighting certain types of cancers, to acting as a pain reliever, preventing infections, and — most surprisingly — helping prevent stomach ulcers!
That's a lot of goodness in those tiny packages, so let's talk about some fun ways you can make the most of these wonderful peppers!
Shakshuka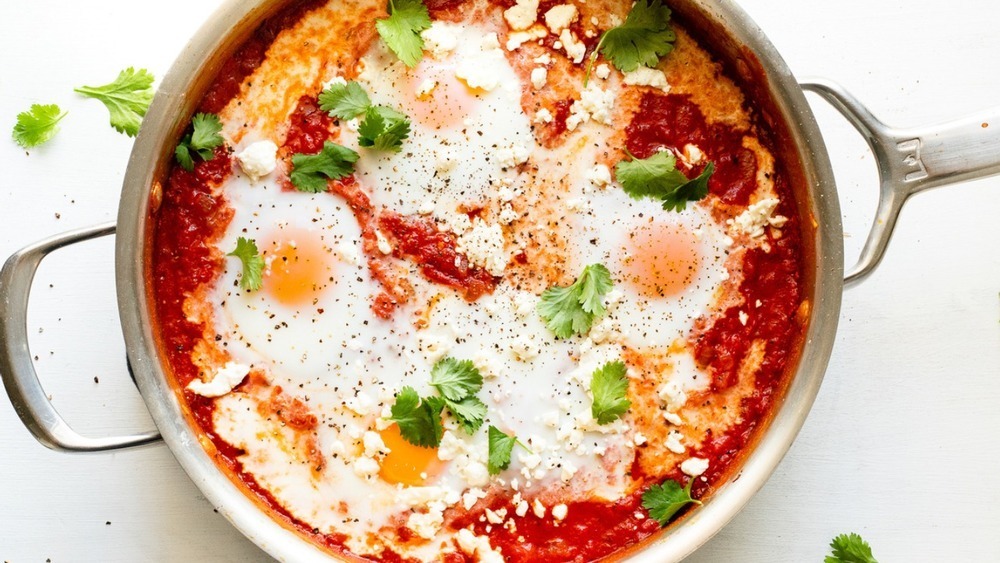 Looking for a meal that's going to have your entire family going, "Wow!" when it hits the table? Check out our recipe for shakshuka, a traditional dish from North Africa that is super delicious, absolutely gorgeous, and can be as spicy as you like. This recipe calls for a base of spicy tomatoes, but you're also going to be throwing in a few bell peppers, some red pepper flakes, and cracking some eggs on the top before baking it. Serve alongside crusty bread and your favorite hot sauce, and this is bound to become a regular meal!
Gazpacho
If you're wondering what you're going to do with all this produce you picked up at the farmer's market or were handed by a neighbor — or that you grew yourself — our gazpacho recipe might be exactly what you're looking for. This cold soup calls for a lot of fresh produce, including bell peppers broiled in the oven while you prep the rest of the veg. There are also onions, cucumbers, radishes, and tomatoes, which you're going to blend into a soup that's as smooth or as chunky as you like.
One-pot stuffed peppers
Just because your day was super busy doesn't mean that you need to compromise on dinner. With help from our one-pot stuffed pepper recipe, you can have a delicious, healthy meal on the table with just about ten minutes of prep and an hour in the oven. That's it! Cleanup is minimal, and perhaps the best thing of all is that it's easy to modify our recipe once you get the hang of it. There's also plenty of opportunities to add some kick to this meal. This recipe calls for green chiles along with bell peppers, so just add pepper flakes and taco seasoning, and yum!
One-pot pizza rigatoni
Love pizza? Love pasta? Love peppers? We have some awesome news for you, and it's our recipe for a one-pot pizza rigatoni. Just imagine rigatoni (or another of your favorite noodles) covered in a delicious marinara sauce, then cooked with pepperoni, garlic, bell peppers, onion, and topped with all your favorite pizza toppings. Perhaps those topping could be a generous helping of mozzarella cheese and pepperoncini peppers, for instance. It's like pizza, without the crust!
American goulash
We call this recipe American goulash because a traditional goulash from Eastern Europe is very, very different. We love both versions but wanted to make it clear that this recipe is for a flavorful dish made with tomatoes, ground beef, bell peppers, and macaroni. That's compared to the European-style dish that's made with beef, paprika, and dumplings. Since you're mixing some of your vegetables in while you're browning your meat, this is a great way to sneak some veggies past those picky eaters, too!
Breakfast burritos
Breakfast is definitely one of those meals where it's easy to fall into the habit of reaching for the same old bowl of cereal or protein shake every morning, but don't start yawning yet. We have a recipe for breakfast burritos that are so easy, they might just become the next great reason you look forward to lazy weekend mornings. In addition to the standard eggs, there are also hash browns and sliced bell peppers that are browned in the oven alongside each other to bring out some serious flavor. Some diced jalapeños would add some extra awesome heat, too!
Jerk chicken
One of the most amazing things about food is that, while it has the ability to bring a family together around a table, it also has the ability to transport them somewhere completely different. That's just what our jerk chicken recipe will do. This delicious chicken recipe comes packed with all the amazing flavors of the Caribbean, and yes, there's the incredibly hot Scotch bonnet pepper involved. Even if you're leery of heat, don't worry, as this is the kind of spice that's about the flavor, not the pain.
Calabacitas
It might be the main dishes that tend to get all the glory, but check out our recipe for calabacitas for an incredible side dish that will get just as much attention as whatever you decide to serve it alongside. For the record, this is great thing to serve alongside meals like tacos and burritos. Calabacitas are basically a side made with corn and zucchini that has a zesty kick thanks to the addition of jalapeño peppers. It's finished off with cilantro and queso fresco. Every bit of that sounds amazing, right?
Mississippi pot roast
Some hot and hearty meals are pretty much like being served a hug on a plate, and that definitely applies to our Mississippi pot roast. What makes a pot roast into a Mississippi pot roast? That would be the massive slabs of butter that get melted over the roast, as well as the addition of pepperoncini peppers. It's the kick from these peppers that makes all the difference and turns this from a regular old pot roast to a Mississippi-style meal of down-home comfort food.
Salsa
Seriously, who doesn't love salsa? Whether you're feeling a bit like a snack or if you're making a whole meal out of nachos, salsa is quite possibly one of the best dips out there, not to mention its use as a burrito or taco add-in. Sure, you can pick some up at the store, but you definitely need to check out our salsa recipe before you do. It's so easy and so good that you might never reach for another jar of commercially made stuff again. Trust us when we say this is better than any store-bought salsa!
Chicken fajita pasta
Chicken fajitas are always a favorite, right? Now, what if we told you that we had a recipe that combined all the flavors of fajitas with the creamy goodness of pasta sauce? Check out our chicken fajita pasta for a fusion recipe that uses chicken, bell peppers, cheese, and taco seasoning from Mexican cuisine and wraps it up in penne pasta and a creamy sauce that, well, if it didn't come right from Italy, at least had a stopover there on its way to the American southwest.
Jalapeño poppers
Order jalapeño poppers at a restaurant and you'll probably get an appetizer that's all deep-fried and battered goodness. Sure, they're great, but if you're trying to make healthy choices, they're not the best. That's where our jalapeño popper recipe comes in. There's still all the bacon, cream cheese, and spice you've come to expect, but we bake ours instead of deep-frying them. There's another bonus, too: a whole half-pepper in each popper. This might be a little labor-intensive, but it's absolutely worth it.
Sofritas
Vegetarian meals have only increased in popularity in recent years, and even if your family isn't ready to go full vegetarian, there are some delicious options that will make even the most dedicated carnivore a happy diner. Those includes our recipe for sofritas. This copycat recipe is as good as what you might get at Chipotle and is a great, flavorful way to start introducing plant-based proteins like tofu into your diet. The roasted poblano peppers and adobo chilis will add some serious flavor to a normally bland ingredient, even if you thought you'd be saying, "No way!" to tofu!
Sloppy joes
These aren't the sloppy joes you remember from when you were a kid. Our recipe for this classic dish has all the nostalgia you want with an adult twist: some serious veggie content. While we suggest using ingredients like bell peppers and onions in your sloppy joes, there's no reason you can't add some diced jalapeños for some extra heat, or even some carrots for sweetness, or zucchini to work toward your 5-a-day. Who would have thought sloppy joes would be a quick and easy meal that you don't have to feel guilty about? They are now!
Huevos rancheros
Let's talk breakfast, especially those mornings when you just want to treat yourself. That's where our recipe for huevos rancheros comes in, and if you want to talk about a breakfast to look forward to, this is definitely it. Just imagine: a warm tortilla, topped with a sunny-side-up egg, served with guacamole and salsa. And the peppers? They're going to be in the homemade salsa, which is a lot easier than it sounds. This spicy, colorful dish is perfect any time of the year, and it's bound to impress!
Greek stuffed peppers
When you think stuffed peppers, you might think of something filled with beef and tomatoes. To be fair, those are definitely great. But we've mixed it up a bit with our Greek-inspired stuffed peppers. We have your attention, don't we? It's the same idea — bell peppers that are hollowed out and doing double duty as the meal and bowl — but this one's filled with things like zucchini, cilantro, tomatoes, and it's all topped with a sprinkle of feta and parsley. They're as pretty as they are tasty!
Enchilada soup
We absolutely love soup. It's possible that the only thing we love more than soup is Taco Tuesday, so we've combined the two ideas in our enchilada soup recipe. This soup is so hearty it makes a full meal, especially when you add a pita on the side for dipping. It might be the perfect way to combine chicken and the spicy flavors of an enchilada with bell peppers, green chiles, and black beans. Kick it up with some diced jalapeños or a dash of hot sauce, but be warned — this one already has some sneaky heat!
Baked rigatoni
We've all been there, feeling that moment of panic when we realize it's almost dinner time and we're out of ideas. Enter our recipe for baked rigatoni. Not only does this call for some pantry staples like rigatoni and cans of fire-roasted tomatoes and red peppers, but it's hearty, filling, and takes just 10 minutes to assemble, with an hour of hands-off baking in the oven. When it comes out, the mozzarella and ricotta will guarantee it's full of exactly the sort of ooey, gooey goodness your family craves, even on a busy weeknight.
Sausage breakfast casserole
Life gets busy, meaning that a good, hearty breakfast in the morning isn't always an option. That's why you should definitely think about making breakfast foods for dinner a real and regular thing. Our sausage breakfast casserole is perfect for just that. It's built around a base of sausage, eggs, and potatoes that are definitely filling enough for an evening meal. Along with all that goodness are not only bell peppers, but any other veggies that you might happen to have on hand. Add some hot peppers, spinach, or mushrooms, and this is definitely a winning dinner!
Pico de gallo
Salsa is great, but if you're looking for something even easier to whip together for your nachos, look no further than our pico de gallo recipe. It's entirely possible that you might find this as your new go-to, because all the ingredients — from the tomatoes and onions to the jalapeño peppers and lemon — need to be fresh. With a little help from your food processor, this takes just about 15 minutes to make — and it's possible it might not last long once everyone starts digging in, but you can't blame us for that.
Szechuan chicken
There's something awesome about ordering Chinese takeout, isn't there? The doorbell rings, those bags get handed over, and the smell that comes wafting out… well, you can smell it now, can't you? If you really want to get adventurous in the kitchen, how about trying your hand at making your own Szechuan chicken? This dish is not only wildly flavorful, but given that it's filled with chicken, bell peppers, broccoli, cauliflower, and green onions, it's also pretty healthy.
Pho
Pho — pronounced "fuh" — is a Vietnamese soup that can take hours to make, meaning that it truly is a labor of love. We've come up with a pho recipe that's a bit faster, taking just about an hour and a half from start to finish. It's full of all the same familiar pho flavors, bathed in a bone broth. Where do the peppers come in? Cooking the pho is just part of it, and topping it with things like bean sprouts, fresh basil, and sliced jalapeños is what takes this soup to the next level.
Sheet pan nachos
Dinner doesn't have to be boring. Just take our sheet pan nachos! Sure, this might be a great way to serve partygoers, but it's also a pretty brilliant way to up your dinner game. Just think of serving up nachos on a sheet pan, layered with bell peppers, jalapeños, onions, and olives, and served alongside salsa, pico de gallo, and guacamole, especially if it's our version with fresh limes and oven-roasted tomatoes. Everyone can dig in and help themselves, and this will definitely make dinner fun!
Instant Pot carnitas
Carnitas might be delicious, but they usually take a long time. Here's where your Instant Pot and our carnitas recipe comes in. It all starts with a 5-pound pork shoulder and about 10 minutes of prep. We'll show you how to whip up a rub, add a kick with some serrano or jalapeño peppers, and honestly? The only thing we're not going to be able to tell you is how to spend the two and a half hours you'll need to wait for this one to be ready… but it's worth the wait.
Sweet and sour chicken
When it comes to Chinese takeout, it's sweet and sour chicken that just takes the cake. There's something about that dipping sauce that just makes it downright delicious. Our recipe for sweet and sour chicken just might be better than what you order from your local takeout place (but don't tell them that!), with pineapple and peppers added to the colorful, flavorful mix. You might just find yourself making this Chinese-American classic on a regular basis.
Shrimp tacos
Tacos are undeniably awesome, but if you ever felt like you wanted to mix up your taco game a bit, we have just the answer for you. You'll have to look no further than our shrimp taco recipe for a change of pace that's going to have the shrimp lovers in your family asking for this one again and again. The addition of jalapeños to the shrimp is an absolute win, and the light, fresh flavor of the other ingredients makes this a perfect option for summertime tacos.
Chicken stir fry
On the chance you're trying to find new ways to add more veggie-heavy meals to your regular rotation, you'll definitely need to give our chicken stir fry recipe a try — especially in the summer. This recipe definitely benefits from fresh produce like bell peppers, broccoli, and snow peas but, really, it's so versatile there's almost no end to the veggies that will be pretty perfect with our chicken and sauce. Jalapeños, serranos, zucchini, and cauliflower will round this out into a full meal you will love.
Mexican shepherd's pie
Shepherd's pie might is a classic British and Irish dish, so you're probably wondering what, exactly, is Mexican about it. If so, take a look at our recipe for Mexican shepherd's pie that pairs traditional Mexican ingredients — like bell peppers, corn, and black beans — along with the meat-and-potatoes tradition of Ireland and the UK. This is another one that you can make as mild or as spicy as you like. Either way, it's bound to be a complete win.