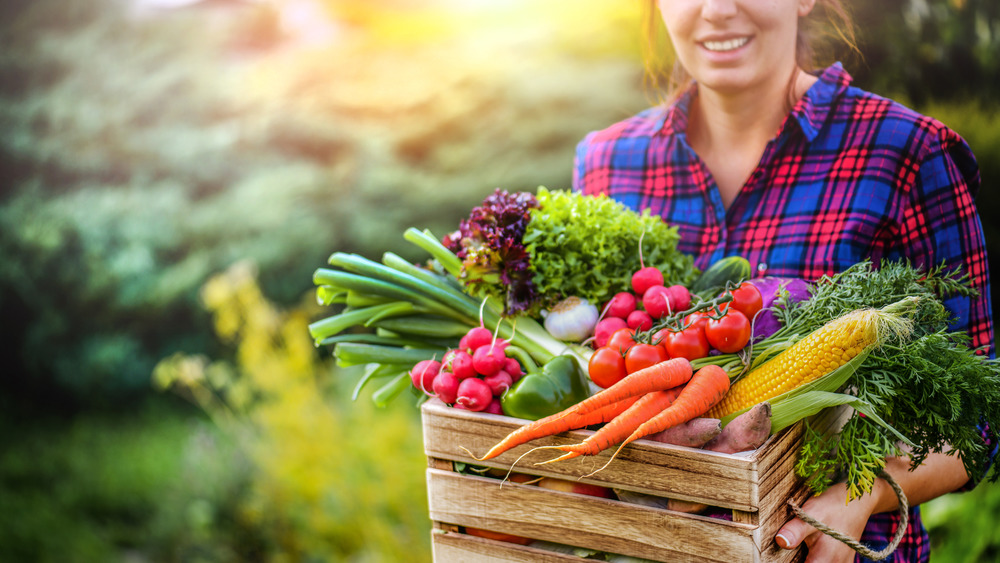 Here's the thing about vegetarian recipes: they have a bit of a reputation as being, well, boring. Meat-loving families might think they'd be hard-pressed to find vegetarian recipes that they'll eat, much less ones that they like enough to put into their regular meal rotation. But that's because there's a bit of an image problem with veggie-heavy dishes and we're going to put the blame directly on those awful frozen veggie burgers of ye olde times.
But vegetarian recipes have come a long way since then. It's no longer necessary to look at a meat-free meal as a chore that comes with an inevitable struggle at the dinner table. We've compiled a list of recipes that are incredibly delicious and just happen to be meat-free. If you're looking to mix up your meals with something that your whole family is going to love — and request again and again — then check out these meat-free options. Who knows? You might stop thinking of them as "vegetarian" and instead just think of them as another tasty meal your family loves.
Okonomiyaki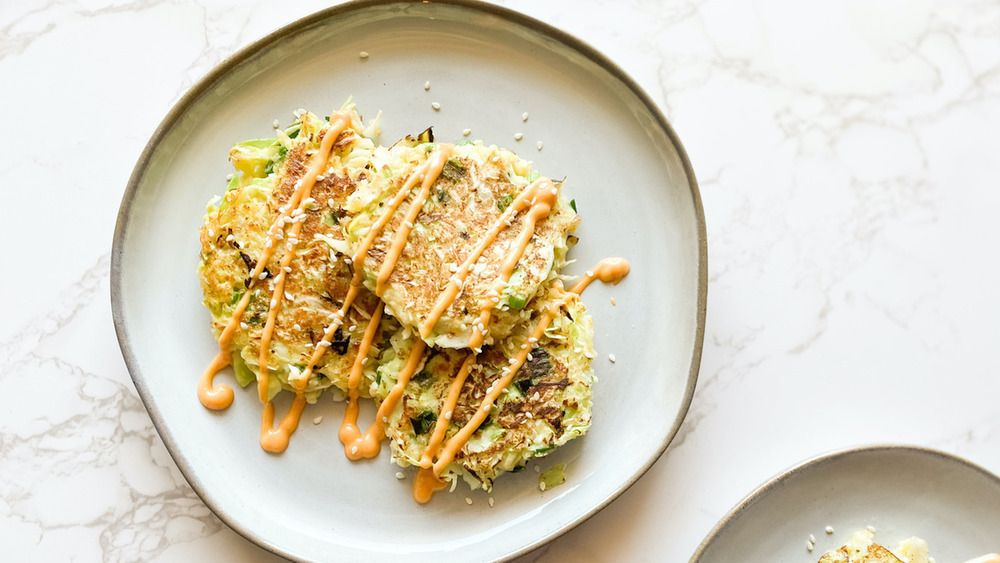 Japanese cuisine is a rich source of various vegetarian dishes, including the beloved okonomiyaki. These delicious cabbage pancakes are spectacularly easy to make, with a meal that will come together in about 15 minutes. It's also a highly customizable dish that's packed with all kinds of nutritional goodness in just a few simple ingredients.
Okonomiyaki is perfect for those nights when you're feeling like something quick and tasty but not too heavy. The best thing of all? They're perfect for almost any sauce, no matter whether you want something light, something creamy, or even a drizzle of spicy Sriracha.
Spanakopita
Spanakopita is a classic Greek dish that, for those new to this meal, you can think of it as a form of lasagna. There's a lot of layering going on, after all, but don't worry. With the help of some phyllo dough, you'll find it's much, much easier than you might think at first. Our spanakopita recipe calls for a mix of frozen and fresh ingredients that create great flavor.
The only catch here is that it's not a dish that you're going to want to keep for leftovers. The dough will get soggy overnight, but it's so good that's really not a worry, as you and your fellow diners will likely eat it all up on the first night.
Dutch baby
Wait, what on earth is a Dutch baby? It sounds like one of the last things you'd want to see on your plate, but don't worry, as it's definitely not what it sounds like! A Dutch baby is essentially a cross between a pancake and a crepe, cooked in a cast iron skillet and served with a sprinkling of powdered sugar and your choice of fruit.
It's pretty much the perfect way to mix up breakfast and try something new, but it's also a great dinner when you're looking for something outside the box.
Fettuccine alfredo
Vegetarian recipes, it turns out, aren't always the healthiest option out there. But, we get it. There are nights when you just want something filling, comforting, and hearty, and there's nothing wrong with that on occasion. If you find yourself in that boat, then look no further than our rich and satisfying fettuccine alfredo recipe.
Best of all? You can whip this together in just about 10 minutes. In other words, that's little more than the time it'll take you to cook the pasta. It doesn't get much better than that, unless you spend a little extra time making some homemade bread to go on the side. Yum!
Borscht
Borscht is one of those Old World dishes that modern foodies have breathed new life into. If you don't believe us, that's all right — check out our borscht recipe to see for yourself.
What is borscht? There are a couple different versions out there, but it's essentially a brightly colored soup made from beets, along with a few other veggies like carrots and cabbage. It has been a hearty, nutritious dinnertime staple for generations. Our recipe has been handed down through several. With a distinctive sweet-and-sour flavor, it's sure to become a favorite in your family, too.
Baked spaghetti
Even if your family loves spaghetti, it can get a little same-old, same-old right? No worries! Just try our baked spaghetti recipe for something super tasty that still draws upon a favorite basic recipe.
This dish is essentially a casserole made with spaghetti, sauce, and cheeses. It's entirely possible you might end up thinking it's better than regular spaghetti. Why? Imagine your favorite lasagna. Now, imagine those crunchy edges. Think of that texture with spaghetti. Delicious, right? The only downside is that there might be a mad dash to get those crispy edges before anyone else.
Caponata
Some veggies are easier to sell to a meat-loving family than others. When it comes to the tough ones, eggplant is very often on the list. It's got a sometimes weird texture that can make it a challenge for picky or skeptical eaters, but never fear. Check out our eggplant-rich caponata recipe for a way to dress this much maligned vegetable up right.
Fried eggplant is at the heart of the dish, and it's also served with other veggies like peppers, tomatoes, and celery. Even if you're not sold, don't abandon hope just yet, as we have some pro tips for increasing flavor while minimizing what can sometimes be an unusual eggplant texture. So, go on and be adventurous!
Buffalo cauliflower
Just because you're making something that skips the meat doesn't mean that you've got to sacrifice flavor, too. Just take our Buffalo cauliflower recipe as an example. Though it's meat-free, it still has all that hot-and-spicy zip you love in a good plate of wings, with none of the chicken.
You can bake or deep-fry these, although we recommend baking for a few reasons. Either way, they're tasty enough that they might be a meal on their own. They might just be your new go-to side for pizza night, too!
Shakshuka
Some dishes look so good that just a photo of the finished meal will make your mouth start to water. Surely, shakshuka is one of those. Even if you're not immediately sure what's in our shakshuka recipe, you want to try it just based on the picture, right?
Shakshuka actually comes from North Africa, and you know right away that this is going to be filled with delicious spices. Cumin, red pepper, and paprika all come together to flavor this bright vegetarian dish that's perfect for serving alongside slices of homemade bread. You're going to want to get every last bit of all that flavor, after all, so be ready to mop up your bowl!
Pierogies
Pierogis are a traditional Polish food, and these filled dumplings might seem like they're the sort of time-consuming recipe that a grandmother and her eldest daughters might make, spending hours and hours in the kitchen in order to churn out scores of pierogis. While that's undoubtedly happened in many fine kitchens, our pierogi recipe proves that they're really not as difficult as you might expect, meaning you could theoretically make them all on your own.
They come together in just a few hours. Even better, they freeze well, so you can definitely plan ahead and make some for later. While we use a traditional cheese-and-potato filling here, they're also great for an almost infinite number of fillings of your own creation, so let your imagination soar.
Butternut squash stuffed shells
Stuffed shells might be frequently made with beef, but we have a vegetarian version that uses one of the most popular members of the squash family: butternut squash. It's super easy, too. Even though you're going to use the whole squash right off the produce display at the grocery store, we have some tricks for quickly turning it from a hard squash into the perfectly creamy, slightly sweet, flavorful filling for jumbo pasta shells. If you've ever wondered what to do with butternut squash, look no further than our butternut squash stuffed shells.
One-pot vegetarian mushroom goulash
Goulash is… well, it's kind of like a state of mind, rather than one particular dish made one particular way. This classic of Eastern European cuisine is incredibly versatile, which means that it can definitely be made vegetarian.
So, that's what we did with our vegetarian mushroom goulash. It's filled with all kinds of vegetables and has a hearty, stew-like quality that will guarantee you don't walk away from the table hungry. It's also got some serious, but not too spicy flavors that you'll surely love. Even if you've never had goulash, this is the place to start!
3-bean vegetarian chili
The three beans in question here are kidney beans, black beans, and pinto beans. As for our 3-bean vegetarian chili? It's so good that you might just want to keep some cans in the pantry all the time for those nights when you just know chili will hit the spot like nothing else. Best of all, this comes together in no time at all. There's no need to slow cook this one, as you'll just mix, simmer, and, in half an hour, eat this hearty, comforting meal.
Incidentally, that's about twice the time it takes for our beer bread to bake, so you might want to go ahead and whip up a loaf of this to have in the oven while you're waiting. You're welcome!
Pasta primavera
Seeing pasta on the menu might make you think of a hearty red sauce, but that's not the case with our pasta primavera. Instead, this calls for a red wine vinegar sauce that makes it so much lighter than what you might expect. Couple that with veggies like zucchini, asparagus, and tomatoes, and you've got a hearty meal that's packed full of goodness.
Even better, it's easy to make a little extra for leftovers, as they'll hold well in the fridge and still be amazing at lunch the next day.
Ratatouille
Ratatouille originated in France, and our late summer ratatouille captures everything that's good and delicious about harvest-time in that region. The stars of the show are late summer vegetables that gardeners tend to have in scores. Those would be zucchini, eggplant, and bell peppers. There's also herbs that add a lot of flavor, but not so much that they compete with the fresh vegetables.
The key word here is "freshness," and when this dish comes out of the oven after a long cook time, you're going to be able to close your eyes and practically see France right in front of you.
Cacio e pepe
If you love spaghetti because it's easy, you're going to love our cacio e pepe. It translates to "cheese and pepper" and that's the basis of the dish right there!
Some things are perfect in their simplicity, like this cacio e pepe. There's just four ingredients, with a prep and cook time that's quicker than your favorite half-hour sitcom. So, really, there's no reason not to have these simple ingredients on hand for those nights when you just don't feel like cooking something complicated.
Instant Pot risotto
Fans of Hell's Kitchen will probably wince when they see the word "risotto," as that's one of the dishes that Gordon Ramsay frequently gives contestants. It's also one that someone inevitably screws up, leading to a patented, expletive-laden Ramsay tirade.
But we're not on Hell's Kitchen, and that means we have access to a tool that Ramsay may not approve of: the Instant Pot. We have an accessible risotto recipe that uses the Instant Pot to take away all of the guesswork of whipping up a rich, cheesy risotto. This recipe takes all kinds of flavor from the sliced mushrooms that are sautéed up front. Impressive? Your dinner guests will certainly think so!
Chickpea curry
If you love coconut, you're going to love our easy chickpea curry. Whether you serve it over rice or in a bowl with some naan on the side, it's exactly what you're looking for on those nights when you want something creamy, hot, but not too heavy. To be fair, it'll take a little TLC to get the most out of this dish. Cooking it low and slow will really allow the flavors to come together and work their way throughout the entire dish.
But, at the end of the day, cooking is just as much about the journey as it is about the meal, right?
Eggs Benedict
When you think of a classy brunch, you probably think of mimosas and eggs Benedict. They're the sort of thing that you might opt to order only when you go to a restaurant, because they're such a pain to make at home. But don't worry — we've taken the challenge and the guesswork out of it with some tips and tricks to go along with our own eggs Benedict recipe.
Sure, it might not be utterly foolproof, but what in life is? And here's the thing: when you master it, you'll be so over the moon that this might turn into a dinner as well as a brunch! To make it vegetarian, simply omit the ham from the original recipe and consider replacing it with a veggie-friendly ingredient like avocado and freshly-sliced tomatoes.
Potatoes au gratin
Potatoes au gratin is another one of those dishes that seems like it's a lot of work. And why bother when they have those handy-dandy instant versions that come right out of the box? While we're all about taking some shortcuts when it's really going to help you streamline meal prep and save your sanity, that one isn't really needed.
You can definitely take your cooking a step further in some strategic cases, especially with help from our potatoes au gratin recipe. It's actually easier than you think to make this classic dish, and while your knife skills will get some practice, it's totally worth it for serving up this hearty, creamy side of potatoes that everyone will love!
Cucumber tomato salad
We love sides, but sometimes, you can definitely get stuck in the rut of just heating up some veggies or making the same-old salad. So, let's talk about this super simple salad you can make with just a handful of ingredients right from the farmer's market or even your own garden.
Our cucumber tomato salad has a little more to it than just cucumbers and tomatoes, but that's the heart of it. It's not only super easy, but it's fresh, delicious, and healthy — but your family might not even notice that last part! Do your best to use the freshest in-season produce you can find for ultimate flavor greatness.
Gordon Ramsay's scrambled eggs with a twist
When it comes to celebrity chefs, there's arguably no one larger-than-life than Gordon Ramsay. Love him or hate him, his talent and charisma is undeniable. Fortunately for the rest of us, he's not just making super-fancy food, but he's also given us tips and tricks on how to perfect some simple but stubborn dishes, like scrambled eggs.
We've taken his advice and used it as the basis for our own scrambled eggs recipe with a twist. Want to take the guesswork out of this classic breakfast? Look no further!
Egg salad with avocado
Egg salad is probably one of those things that seems a little boring. You've had it tons of times and it's always pretty much the same, right? Not so fast. We're here to say that it's a surprisingly underestimated lunch, and we're also here to mix it up a bit with first, our egg salad with avocado recipe. And no, this isn't just for sandwiches. For instance, you could serve it with some nachos, making for a super fun breakfast, lunch, or even a light dinner.
And, if you avoid egg salad because mayonnaise just isn't for you, we also have a mayo-free option that's just as moist and flavorful as the regular stuff without all the extra fat and calories. This might be your new go-to lunch!
Cabbage steaks
The words "cabbage" and "steaks" don't really seem to go together, but it turns out that they absolutely do. Our cabbage steak recipe is a super easy way to turn a head of cabbage into a pretty unique side dish, one that's full of flavor, and has a surprising amount of crispness to it. That is, as long as you're careful not to overcook it. You might not look at cabbage in quite the same way ever again!
Eggplant parmesan
Love chicken parmesan but wish you had a convenient vegetarian option? Check out our eggplant parmesan for another way to serve up a deliciously saucy, cheesy meal — this one, with all the goodness of eggplant.
Eggplant? If you cringe at the idea, don't worry. We have a couple things you can do to help make sure the texture of this sometimes troublesome vegetable stays as something you'll want seconds of. Those simple tips include things like being very careful on just how much sauce you use. You can always add more later, but you can't take it away!
Antipasto salad
Antipasto salad is one of those sides that you might opt to pick up at a Wegmans salad bar and otherwise not think twice about, but we have a super simple antipasto salad recipe that just might be your go-to for every summer night you need a vegetarian side that everyone's going to love. It's filled with all kinds of flavors, has vegetables like tomatoes and artichokes, and is covered in an olive oil and vinegar-based dressing that makes it so much healthier than mayo-covered salads.
Best of all, it's easy to customize this to add — or subtract — some veggies that your family might pick out instead of enjoy. That makes it a win for everyone.