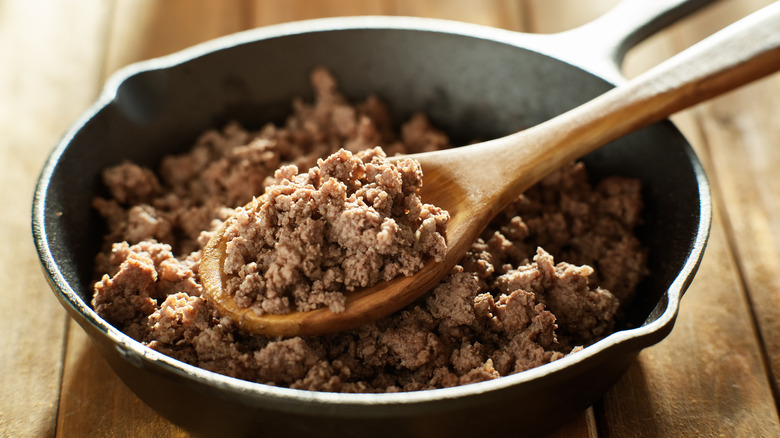 Ground beef is one of those things most of us tend to have in the freezer — maybe we've even got one of those great, big multi-pound logs if we succumbed to the temptation of the budget buy. The problem with ground beef is, sometimes it's pretty hard to come up with new ways to use it. Sure, there are always burgers, and tacos are great too. Spaghetti bolognese (which is the fancy way of saying spaghetti with meat sauce) works as well, but after that, the ideas kind of start drying up a bit.
Well, ground beef is a lot more versatile than you'd think. What's more, it cooks pretty quickly, so it's the basis for a wide range of meals you can whip up in a hurry. If you're more into slow food, though, ground beef also plays a role in long-simmered soups, chilis, and casseroles. The best thing about ground beef is, no matter what other ingredients you've got on hand, as long as you have a package of hamburger meat, you should be able to come up with a tasty meal without much effort. Here are some of our favorite ground beef recipes to get you started. There's enough here for a few months' worth of meals without ever having to repeat your menu.
1. Budget-Friendly Porcupine Meatballs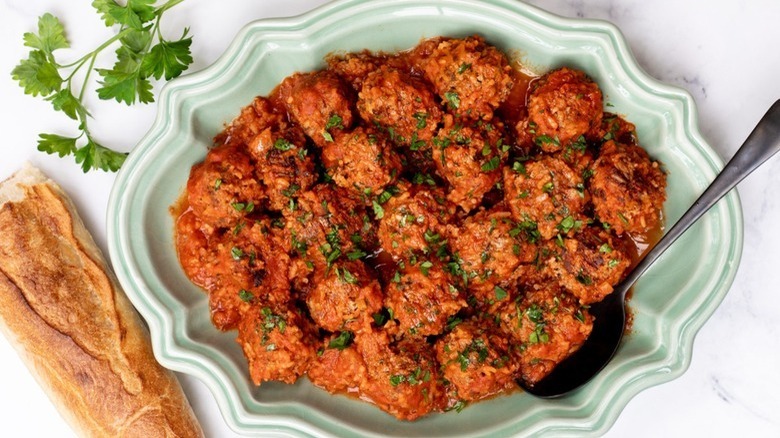 Porcupine meatballs might sound a bit weird, but the ingredient list for this old-timey favorite doesn't include any prickly beasts. The meatballs are made with ground beef, of course, and the "prickles" come from the rice that's mixed into the meat to stretch it out and make the meal budget-friendly as befits its Depression-era origins. The meatballs are then simmered in tomato sauce, and the best part of this dinner is, you don't even have to cook the rice since the sauce does that part of the job for you!
2. Instant Pot Cowboy Stew
This rootin' tootin' cowboy stew takes your typical chili ingredients — ground beef, tomatoes, chiles, beans — and then adds an interesting twist by including sliced kielbasa. The prep time involved is pretty minimal, only requiring as much time as it takes to chop an onion and open a few cans, and then all of the cooking is done in your handy-dandy Instant Pot. By using a pressure cooker, you get a stew that tastes like it's been simmering on the range all day, but can actually be on the table in under half an hour.
3. Baked Taco Pie
Mmm, tacos … plus pie? How does that work? Quite well, actually, kind of like a beef pot pie with a southwestern flair. This taco pie starts with a pre-baked pie shell, and the filling consists of spicy ground beef with all the taco fixings — scallions, tomatoes, salsa, sour cream, and cilantro — stirred right in. There's no top crust on the pie, since you finish things off with a layer of melted cheddar. (There's a hidden cheesy layer underneath the pie filling, as well!). The pie takes just 15 minutes to bake because you cook the ground beef ahead of time. Once the taco pie comes out of the oven, you can add to the deliciousness by topping it with extra salsa, sour cream, or scallions, plus maybe a few pickled jalapeños to add some extra heat.
4. Slow Cooker Tex-Mex Meatballs
While we usually think of meatballs as an Italian dish, something that's served atop a plate of spaghetti, or perhaps a Swedish specialty we enjoy at IKEA, meatballs don't deserve to be pigeonholed like that. Why not spice them up with southwestern flavorings? To make things even better, these meatballs are cooked in a sauce made from melted cheese and Ro-Tel, making for a chunkier, meatier version of the classic Ro-Tel dip. Like the dip, these Tex-Mex meatballs pair well with a side of tortilla chips, though you can also serve them over rice for a tasty main dish.
5. Blue Cheese Burgers
While there's no bad burger but a burnt one, it helps to have at least one real "wow!" burger recipe in your repertoire, and this blue cheese burger recipe certainly fills the bill. These drool-worthy burgers are cooked on the grill, then topped with a heaping helping of melty, cheesy goodness. As a crowning touch, they're finished off with blue cheese's best friend: a Buffalo-style sauce made with Frank's RedHot Sauce.
6. 20-Minute Cheesy Taco Skillet
You know what they say, you can never be too rich or too cheesy, and this goes double for food. Butter may make everything better, but cheese just makes things wonderful. This taco skillet just couldn't be much simpler to toss together: all you need is a can of corn, a can of black beans, a can of diced tomatoes, a pound of ground beef, and some spices, plus, of course, a few generous handfuls of cheese, glorious cheese! Spoon this taco skillet over a bed of rice, scoop it up with chips, or wrap it in a tortilla. Any way you serve it, it's bound to have you coming back for more.
Recipe: 20-Minute Cheesy Taco Skillet That'll Satisfy Your Mexican Food Craving
7. Instant Pot Italian Wedding Soup
While Italian wedding soup may sound like the most romantic of dishes, it actually has nothing to do with weddings but instead owes its name to a mistranslation. Nevertheless, this Neapolitan dish represents the perfect "marriage" of meatballs with greens, grains, and other veggies. (It's kind of an open marriage.) As you cook it in the Instant Pot, the pressure cooker function means it's done in just a few minutes, all the while retaining that slow-simmered taste that will make it seem like you spent a lot more time in the kitchen.
8. The Best Homemade Italian Meatballs
If there's one Italian-American dish that everybody knows and loves, that would be spaghetti and meatballs. Even Lady and the Tramp shared a plate during their doggie dinner à deux. While these meatballs may not turn your meal into a classic movie scene, they're certainly going to elevate any spaghetti dinner into something memorable. These meatballs are made with chopped fresh parsley and garlic, along with a sprinkling of parmesan, and they go together in just minutes before simmering to perfection in a pot of marinara sauce.
9. Slow Cooker Cabbage Rolls
While cabbage is super-healthy, not to mention incredibly cheap, it's also kind of blah on its own. With a tasty, meaty stuffing, however, cabbage goes from dull to delicious. These slow cooker cabbage rolls are a new twist on an old Eastern European comfort food. While these rolls are still filled with a hearty mixture of rice and beef and simmered in a slightly sweet tomato sauce, you cook them using the wonders of modern(ish) technology so the slow cooker saves you hours of standing over a hot stove.
10. Instant Pot Taco Soup
Tacos are one of everybody's favorite foods whether or not it's Tuesday. Sometimes, though, you just don't feel like going through all of the fuss and mess of assembling each individual taco. How about a one-pot meal that takes tacos out of their shells and turns them into a delicious, hearty soup? This recipe couldn't be much simpler, requiring only 10 minutes prep time followed by another 10 minutes of cooking in an Instant Pot, and voilà! Dinner for six is served. Not expecting to set five more places at your table? No worries, just pop the leftovers in the fridge and enjoy them for lunch tomorrow.
11. Bacon-Wrapped Meatloaf
If meatloaf sounds like the kind of uninspired dish you throw together when you're completely out of ideas — and hamburger buns — well, that's just because you've yet to run across that just-right meatloaf recipe. This bacon-wrapped meatloaf transcends the mundane simply by being encased in a bacon lattice, but then it takes things to the next level by including cheesy chunks mixed into the meat. As if that wasn't enough, you don't bake this meatloaf in the oven, you smoke it over a barbecue! While this recipe does take a lot more effort than plain old ordinary meatloaf, one taste and you'll know it was worth all the extra work.
12. Spicy Chili con Carne
While chili means many things to many people, chili con carne is a dish that absolutely has to include meat since otherwise it would be "chile sin carne." The carne component in this easy-to-prep recipe is, of course, ground beef, which is cooked with all the usual suspects: onions, kidney beans, and tomatoes, plus a whole host of seasonings ranging from fresh garlic to powdered paprika, cumin, black pepper, and chili powder. This is another dish in which you can let your slow cooker do all the heavy lifting, then simply serve up the chili over rice, chips, baked potatoes, or hot dogs once it's done.
13. Bobby Flay's Salisbury Steak With a Twist
While school cafeterias and frozen TV dinners did their best to kill off anyone's urge to eat Salisbury steak, Bobby Flay almost single-handedly rescued this dish from this ignominious fate. He flavored his meat patties with spices and parmesan cheese and served them with a tasty onion and mushroom gravy.
Our recipe, dare we say it, takes all Flay's improvements and goes one better, adding the twist of shaping the Salisbury steaks into meatballs, instead. Not only are these bite-sized "steaks" much more fun to eat, but they also cook quickly, too, making this a meal you can have on the table in only half an hour.
14. Copycat Taco Bell Beef
Who doesn't love Taco Bell? That mission bell in their logo might as well be Pavlov's bell since we're all trained to start drooling as soon as we see it. If you're trying to cut down on the amount of fast food you eat, though, you can make even better versions of your Taco Bell favorites at home.
While this recipe doesn't duplicate any one specific menu item, it instead allows you to duplicate the flavor of that spicy beef filling Taco Bell uses in so many of its creations. In addition to the spice blend, this beef is extra tender and juicy because of a secret ingredient you're not going to believe: ground oats! While the oats do not affect the flavor or texture of the ground beef they help it retain moisture so it doesn't dry out when cooked.
15. Italian Rice Ball Casserole
Italian rice balls, aka arancini, are one of the best-loved Sicilian dishes. If you're not familiar with the recipes, "rice balls" might seem like something that would be very bland and boring, but these are anything but. For one thing, the rice may be mixed with cheese and meat and marinara sauce. What really makes rice balls so delicious, though, is the fact that they're traditionally deep-fried, a cooking technique that could turn cardboard into a tasty treat.
With this Italian rice ball casserole, we're keeping all the classic rice ball ingredients but layering them in a baking pan rather than frying them. The dish does retain its signature crunch, however, thanks to a topping of butter-browned breadcrumbs.
Recipe: Italian Rice Ball Casserole That's a Tasty Twist on a Classic
16. Comforting One-Pan Lasagna
If you're anything like Garfield the cat, you hold a special place in your heart for lasagna. While lasagna may be Italy's finest contribution to the comfort food genre, the problem with this dish is that many recipes tend to be somewhat fussy and complicated. If your idea of comfort food is something you can dig into without putting in a huge amount of effort, you're going to love this one-pan lasagna recipe.
The time-saving secret that makes this lasagna so effort-free is this genius hack: We break up the lasagna noodles and cook them in the meat sauce! Even the ricotta cheese gets stirred right into the pot, so there's no need for layering or baking.
17. Copycat Taco Bell Quesaritos
Okay, so a "quesarito" isn't an authentic Mexican dish, or even a word. It is, instead, a mashup of "quesadilla" and "burrito" dreamed up by somebody in the Taco Bell test kitchens. Pretty cheesy, all right, but then, it's Taco Bell, where you can never have too much cheese (or queso). If you want to try your hand at a DIY quesarito, this copycat recipe calls for a few extra DIY ingredients (the beef and the quesadilla sauce), although you can always just substitute store-bought taco seasoning and sauce.
18. Giada's Lasagna With a Twist
Giada De Laurentiis is known for her Italian recipes, although these don't always resemble the more familiar Italian-American versions we've come to know. One such dish is her lasagna, which is made with béchamel sauce and spinach and even topped off with butter for a dish that's oh-so-rich and ever so slightly decadent.
While Giada, of course, makes her own meat sauce, our simplified recipe adds ground beef and sausage meat to spaghetti sauce from a jar, instead. If you have a nonna who wouldn't approve of such a thing, you can always use your own homemade marinara.
Recipe: Giada's Lasagna With a Twist You'll Want To Make Again And Again
19. Easy Slow Cooker Taco Soup
After a long, hard day, nothing is more comforting than a nice hot bowl of soup, especially a soup that's cooked itself in the slow cooker. While some slow cooker soups can be kind of bland and boring, that's definitely not the case with this taco soup. While it's packed with healthy veggies including corn, tomatoes, and two kinds of beans (black and pinto), it gets its zesty flavor from the taco spiced-beef. Prep time for this soup is minimal, five minutes max (plus however long it takes to hunt up the can opener). After that, you just set it and forget it and let the slow cooker take over.
Recipe: Easy Slow Cooker Taco Soup Brings a New Spin to a Classic Mexican Meal
20. Copycat Domino's Cheeseburger Pizza
While the best part of getting pizza delivered is the excitement of having it show up at your door hot and ready, the second-best part is eating the pizza itself. If you're a fan of Domino's cheeseburger pizza, this DIY version can't recreate the thrill you feel when the doorbell rings and someone (perhaps you) shouts out, "Get the door. It's Domino's!", but our version of the pizza tastes every bit as good. It will also be hotter and fresher than any Domino's pizza could ever be since it comes straight out of your oven.
21. Gordon Ramsay's Burger Recipe With a Twist
There are fast food burgers, there are gourmet burgers, and then there are Gordon Ramsay's burgers. Sadly, Ramsay's masterpieces are out of reach of most of us who lack the proximity to a Ramsay restaurant to find out for ourselves just how much better they are than anything you can get from a drive-thru.
You can, however, attempt to re-create one of Ramsay's magnificent burgers on your own backyard grill. Our recipe simplifies Ramsay's original one by calling for the kind of ground beef you can find in the supermarket rather than a custom blend of short rib, brisket, and chunk ground beef. We also hide the cheese inside the burgers rather than using it as a topping.
22. Copycat Wendy's Baconator
Are you a secret — or not so secret — Baconator lover? No need to be ashamed of this. Who doesn't love a heaping helping of cheesy, beefy, bacony, goodness? Fast food isn't as cheap as it used to be, though, nor is it all that fast, either, especially if you pick the wrong time to go through the drive-thru. Instead of swinging by Wendy's to satisfy your craving, why not make your own Baconator at home? The best part of our copycat Baconator recipe is, you can even customize it by upgrading the cheese (cheddar makes everything better) or adding extra bacon. Plus, you get to add all the condiments you like without having to rip open any annoying little packets!
23. Scrumptious Empanadas
Empanadas are a food truck favorite. It may never have occurred to you, however, to try your hand at making these hand pies at home. Well, there's no reason not to try this super-simple recipe. All you need is ground beef, cheese, spices, and a few veggies, and you can use pre-made frozen piecrust to make the dough pockets. Empanadas make for a great snack, or you can pair them with rice or a vegetable dish and make a meal out of them.
24. Ina Garten's Meatloaf With a Twist
Ordinary meatloaf might seem like the most mundane of meals, and even the Barefoot Contessa's own recipe is a fairly straightforward take on the dish. Our recipe, on the other hand, adds a twist that really takes things up more than a few notches: crushed pork rinds! Believe it or not, this gas station snack adds a powerful flavor punch to the ground beef base of your meatloaf, along with a little texture. The addition couldn't be any easier, and only adds maybe 30 seconds to the prep time, or only as long as it takes you to smash up a bag of pork rinds.
25. Copycat Taco Bell Nacho Cheese Doritos Locos Tacos Supreme
Whoever thought of making a taco shell out of Doritos was a genius, all right. Forget the Flamin' Hot Cheetos guy, the Doritos Locos movie needs to happen. If you're starting to feel a desperate need for some Doritos Locos tacos right now but you can't make it to a Taco Bell, we're here to help you out. This copycat recipe for their Nacho Cheese Doritos Locos Tacos Supreme is quick and easy and oh so (nacho) cheesy, and it's guaranteed to satisfy your Doritos Locos craving.
26. Quick Hamburger Casserole
While casseroles tend to rank pretty low on the foodie totem pole, what they lack in prestige they more than make up for in convenience. This hamburger casserole recipe is no exception. It makes use of a few convenient shortcuts such as using canned soup and refrigerated crescent roll dough, and it takes only about half an hour to put together and bake. The end product, though, is an attractive biscuit-topped pie that delivers all the flavor of a tasty cheeseburger!
27. Cincinnati Chili
While Texas may feel it owns the patent on chili, Cincinnati would beg to differ. If you've never eaten Cincinnati chili, it's unlike any other kind of chili you've ever tried. The creation of southeastern European immigrants, this chili makes use of unconventional spices such as cinnamon and cloves and is typically served on a bed of spaghetti noodles. Our Cincinnati chili recipe is a fairly simple version of this chili parlor classic and is something you can have on the table in just one hour, start to finish.
28. Lasagna Roll-Ups
Lasagna is a delicious dish no matter how you make it, but it can be a bit messy and has a tendency to collapse on the plate. These drawbacks mean it might not be something you'd want to serve when you've got company. These lasagna roll-ups, on the other hand, retain their cute little shape right up until you stick in a fork. While you can give the roll-up treatment to any lasagna recipe you choose, our rolls provide a lighter, healthier take on this old classic by incorporating spinach and Greek yogurt along with a cheese and ground beef filling.
29. Quick American Goulash
Goulash is a dish that originated in Hungary, and traditional Hungarian goulash is a delicious dish that takes some time and effort to put together. This American goulash, on the other hand, is a budget-friendly, easy-to-put together, macaroni-beef casserole. It's nothing fancy, but it's plenty kid-friendly, and it even contains some sneaky hidden veggies so it's pretty nutritious, to boot. For an added flavor boost, you could toss in some diced hot peppers or red pepper flakes, and be sure to serve this goulash topped with plenty of grated cheese.
30. Taco Bell Loaded Nacho Tacos
What could be better than tacos? The only thing we can think of is maybe nachos, which are like deconstructed tacos on steroids. What about a taco/nacho mashup, though? Leave it to Taco Bell to come up with such a brilliant idea. If you're craving this dish but don't feel like leaving the house, no need to shell out for those insanely high delivery fees that could triple the cost of your fast food order. Instead, why not stuff your own DIY nacho tacos? They're just as delicious as Taco Bell's Loaded Nacho Tacos (perhaps even better!), and they're incredibly easy to throw together.
31. Hearty Albondigas
"Albondigas" is the Spanish word for "meatball," but should you order albondigas off a restaurant menu, you're going to get so much more than just a plate of plain old meatballs. Instead, the albondigas you'll be enjoying will be swimming in a delicious, spicy soup.
The meatballs in our albondigas recipe are bulked out with rice and flavored with southwestern seasonings. They're then simmered in a veggie-packed broth to make an inexpensive, yet hearty, one-pot meal.
32. Taco Casserole
Tacos are delicious, but messy. Casseroles are easy to make and even easier to serve, although they have a reputation for being a less-than-exciting dinner option. When you make a casserole out of taco ingredients, however, you get something that's super-convenient, yet has all the flavor and fun of everyone's favorite Tuesday night meal.
Our taco casserole includes the classic taco ingredients of ground beef, cheese, salsa, and tortillas, but kicks things up with the addition of black beans and black olives. You can also, if you like, pile on the guac and sour cream and all your favorite taco toppings, and as a bonus, you won't even have to worry about them falling out of the shell when you take the first bite!
33. TikTok-Inspired Tortilla Wraps
TikTok recipe hacks can be, well, a bit dubious, but there are a few decent ones out there. This tortilla wrap recipe à la TikTok is one of the good ones. It's kind of like a Taco Bell Crunchwrap Supreme, involving as it does crunchy corn chips wrapped in a flour tortilla along with spicy ground beef, shredded cheese, sour cream, lettuce, and tomatoes. What makes this sandwich more than just an ordinary wrap, though, is the fact that it's finished off by dry-frying in a skillet, something that makes the cheese deliciously melty.
34. Hearty Cabbage Rolls
If cabbage is one of your favorite veggies, there's no need to sing the praises of this least-exotic of super foods. Cabbage lovers and non-fans alike will enjoy this traditional Eastern European take on cabbage rolls. The cabbage leaves are stuffed with a savory mixture of ground beef and pork and rice, then cooked in a tangy tomato sauce for a hearty one-pan meal.
35. Baked Spaghetti
If you love baked ziti, you're sure to be a fan of its swirlier cousin, baked spaghetti. This dish couldn't be much easier to put together. Simply mix the cooked, drained noodles with marinara sauce (homemade or store-bought, whichever you prefer) and cooked ground beef, then top with lots of shredded mozzarella and grated parmesan and bake until it's hot and bubbly. You can make it in advance for a delicious, satisfying meal ready to go in minutes. Should you have any leftovers, you can freeze them to enjoy another day.
36. Super Quick Taco Pizza
We're not sure who invented taco pizza, but we're grateful to them every single time we can't make up our minds about whether to have pizza or Mexican food for dinner. This super-easy taco pizza recipe starts with pre-baked crusts, then tops them with spicy beef and refried beans and swaps out the pizza sauce for taco sauce and the mozzarella for queso or nacho sauce. From start to finish, it'll take you just half an hour to make, which is less time than it would take to get a pizza from all but the speediest of delivery services.
37. Easy and Quick Lettuce Wrap
If you're just not in the mood for something starchy, the lettuce wrap makes for a delicious, nutritious alternative to a meal based around bread, rice, or noodles. This Asian-inspired creation makes use of ginger, garlic, soy sauce, kecap manis, and mirin to season the ground beef filling, then serves it up on a lettuce leaf along with some sauteed veggies. Our recipe serves two people as a main dish, but you can also use it as an appetizer to serve four or more.
38. Slow Cooker Chili
If there ever was a dish that was meant to be made in a slow cooker, chili would be that dish. While a good chili usually doesn't require much messing with once you've added all the ingredients to the pot, the longer it's simmered, the more time those ingredients have to meld into a richer, more complex kind of deliciousness.
With this simple slow cooker chili, all you need to do is brown your ground beef with some chopped peppers and onions, then add the meat and veggies to the slow cooker with the tomatoes, beans, and spices. Set it, forget it, then get ready for some great eating in 4 to 8 hours.
39. Slow Cooker Swedish Meatballs
Is your favorite restaurant also a furniture store? If you're someone who'll use any excuse to go to IKEA — "I'm out of batteries! I really need another 99-cent dish brush!" Oh no, we're running low on rhubarb syrup!" — It's probably time to admit it: you've got a serious meatball craving.
If your house is already overstuffed with Billy bookcases and Lack side tables, you might want to consider learning to make your own meatballs. Our Swedish meatball recipe makes use of ground beef and pork, slow-cooked in a broth that is then thickened up with sour cream to turn into that delicious IKEA-esque meatball gravy we so adore.
40. Totally Easy Taco Salad
Taco salad is a favorite with messy eaters everywhere. Basically, it's what we end up eating off the plate when our tacos collapse at first bite, but when your tacos are served as a salad to begin with, you're spared the embarrassment of asking for a fork.
Our taco salad recipe is a light, healthy version that uses beans as well as taco-spiced ground beef. While this salad doesn't call for any chips or cheese, you can of course feel free to finish off your salad with those or any other taco toppings you like.
41. Easy Sloppy Joes
Sloppy Joes might be something you haven't eaten for years. You might be surprised to find out Sloppy Joes made from scratch can actually make for a tasty, quick, and nutritious meal. Our Sloppy Joe recipe contains absolutely no mystery meat or other dubious ingredients. Instead, it's a flavorful mixture of ground beef and chopped veggies cooked in a seasoned tomato sauce. You can serve it over hamburger buns in classic Sloppy Joe style, or buck tradition and use it to top rice or pasta instead.
42. Sheet Pan Nachos
What's up with the whole sheet pan food trend? Suddenly it seems there are sheet pan versions of every main dish popping up all over social media. Well, it's easy to see why this particular food fad caught on since it's not only convenient, but larger-sized sheet pans allow you to cook up enough food to serve a whole party (a small one, at least).
Speaking of parties, what could be a better food for a casual get-together than nachos? These sheet pan nachos should serve six, although they're so tasty you just might want to have the ingredients on hand to whip up another sheet.
43. Easy Lasagna
Lasagna is a dish everybody loves, but not everyone has the time or the patience to make it themselves. All those steps, all those ingredients, all that layering … This easy lasagna recipe skips a couple of steps by using store-bought spaghetti sauce and no-cook noodles. As a result, the most labor-intensive thing you'll have to do is brown the ground beef and grate the mozzarella, and you can even skip the latter step by opting for pre-shredded cheese. The lasagna that comes out of the oven won't taste like anything that ever saw the inside of a cardboard carton, but more like something you'd get at a restaurant.
44. Quick Tostadas
What's the easiest thing you can think of to make for dinner that doesn't involve your phone and your credit card? Probably pouring a bowl of cereal, but … blech. That's not much of a reward after a hard day at work. Instead, why not try a low-effort, high-yum recipe like these easy tostadas? This dish of tortillas topped with ground beef, refried black beans, salsa, and sliced avocados can be on the table in under an hour, which is likely less time than it would take for a restaurant to deliver.
45. Simple Salisbury Steak
While Salisbury steak was once found on the menu of upscale restaurants, it's certainly come down in the world to the point where you're only likely to find it at a greasy spoon or, more likely, a budget-brand frozen meal. Still, if you actually take the time to cook the dish yourself, you'll find that it makes a tasty alternative to burgers and meatloaf. The savory mushroom gravy elevates the meat patties into something special, and when you serve the Salisbury steak over a bed of potatoes, rice, or noodles you'll have a hearty meal that's sure to satisfy.
46. Tater Tot Casserole
Tater tots are just so cute: little bite-sized cubes that taste kind of like french fries filled with mashed potatoes. While they were once a staple of elementary school cafeterias and Midwestern hot dishes, they've lately made it onto trendy restaurant menus and even spawned spinoffs like "totchos."
This tater tot casserole is pretty easy to put together, requiring just seven ingredients including its frozen tater-tot base. These are topped with onions, cheese, ground beef, and bacon for a dish that covers all the bases for everything you could possibly want out of comfort food: creamy, cheesy, hearty, and delicious, and requiring very little effort to make.
47. One-Pot Stuffed Peppers
Stuffed peppers make a satisfying meal for a night when you don't want to spend too much time in the kitchen. This one-pot recipe makes use of southwestern seasonings in these slightly spicy, beef-and-bean-stuffed peppers. While they take a little time to cook, the actual prep work involved is very minimal, and when they're done cooking, you'll have your meat and veggies all together to make for a self-contained meal.
48. 5-Ingredient Lasagna
If there are two things we know — or think we know — about lasagna, these would be that it's a) hard to make and b) not too healthy. Which would be too bad if both of these were true, since lasagna is c) undeniably delicious.
With this simple 5-ingredient lasagna, we took "difficult" out of the equation with the genius hack of using frozen ravioli in place of the ricotta and lasagna noodle layers. What's more, we boosted the nutrition of this dish by adding a bag of frozen spinach. All you need are three more ingredients, those being ground beef, marinara sauce, and shredded mozzarella, and your easy lasagna dinner will be on the table in practically no time.
49. Enchilada Casserole
Enchiladas are one of everyone's favorite Mexican meals, and for good reason! Whether they are filled with meat or cheese or veggies or any combination of these, that sauce they're smothered in is sure to make them taste amazing. While they're not super-hard to make, this enchilada casserole recipe makes them even easier to put together since there's no rolling required. All you need to do is layer the tortillas with the seasoned beef, the cheese, and the sauce, then bake them until they're hot and bubbly. The hardest part? Waiting a few minutes to eat them so you don't burn your mouth.
50. Copycat IKEA Meatballs
Oh, IKEA, why do we love you so? You're furniture's kind of a pain to put together, after all, and it's nearly impossible to find anything in the store without spending hours wandering through that maze you call a showroom. So why do we find ourselves returning, again and again? In one word: meatballs.
If you find yourself stranded many miles from the nearest IKEA, this copycat recipe will allow you to recreate what have to be some of the world's finest spherical meat products. These copycat IKEA meatballs come complete with cream gravy, but if you can't find lingonberry jam, you can always serve them with a side of similar-tasting cranberry sauce.
51. 20-Minute Egg Roll in a Bowl
Egg rolls are one of those foods that we usually only get in restaurants or with takeout orders. Somehow, they always seem like something that would be fairly complicated to put together at home, plus the deep-frying … messy and dangerous and best left to professionals. An egg roll bowl, however, is something else entirely.
An egg roll bowl simply takes all the tasty fillings that would go into an egg roll and instead piles them into a bowl (a bed of rice is optional). This 20-minute version starts with ground meat (either beef or pork can be used) plus sliced and shredded veggies, then seasons them with condiments to make a quick, easy meal that's as healthy as it is delicious.
Recipe: This 20-Minute Egg Roll In A Bowl Is Perfect For Busy Weeknights
52. Greek Stuffed Peppers
Stuffed peppers are an often-underrated dish. You're unlikely to see them on restaurant menus, nor do they feature in many frozen meals. If you've got a package of ground beef and a few bell peppers in the house, though, they make for an easy, nutritious meal that comes in an edible container.
This recipe for Greek stuffed peppers makes use of ground beef (or lamb) cooked in an oregano-spiced tomato sauce, then topped with feta cheese. These peppers are pretty simple to put together, just take half an hour to cook, and are absolutely nóstimo — which, as you probably guessed, is the Greek word for delicious.
53. Easy Spaghetti and Meatballs Casserole
Do you love spaghetti and meatballs, but wish there was a way to make it into a one-pot (or pan) meal? Do we have some good news for you! Although you'll still need to cook the noodles and the meatballs separately, once you mix them together with the sauce and the cheese, you have something you can serve straight out of the oven. If there are leftovers, you can freeze individual portions to make a few days' worth of heat-and-eat hot lunches.
54. Mexican Shepherd's Pie
While we usually think of shepherd's pie as a classic British comfort food, there's no reason it can't lend itself to a little culinary experimentation. This Mexican shepherd's pie recipe retains the traditional ground beef filling and mashed potato topping, but takes things south-of-the-border with the addition of black beans, corn and peppers. It also gets a little kick from chopped chipotles, then finishes things off nicely with a generous sprinkling of shredded pepper jack cheese.
55. Copycat Taco Bell Crunchwrap Supreme
Craving a Taco Bell Crunchwrap Supreme? Bet you are now, since just reading those words tends to trigger an irresistible urge. But still, those lines at the drive-thru … Never fear, the whole crunchwrap concept is something that isn't too hard to recreate at home. Sure, it will take some time to make the filling and the tostadas and then wrap them up in tortillas, but making these crunchwraps yourself is a lot more fun than waiting for your order to be done.
56. One-Pot Ground Beef Stroganoff
Beef stroganoff in its original form may have graced the tables of Russian aristocracy, but in mid-century America, it was repurposed as a more budget-friendly, easy-to-make comfort food. Our recipe holds firmly to the more democratic, less fussy casserole tradition, making things even easier by turning it into a one-pot dish.
That's right, this is a true all-in-one meal — you don't even need to cook the noodles separately! Instead, you add the uncooked noodles to the browned ground beef, then cover them with beef broth and simmer until the noodles soften. Finish the stroganoff with sour cream and sautéed mushrooms cooked in that same pot, and you can enjoy your delicious dinner with the satisfaction of knowing there won't be too many dirty dishes in the sink when you're done.
57. Instant Pot Spaghetti and Meatballs
We say spaghetti, you say meatballs, right? It's a classic combo, like donuts and coffee or beans and rice. It's also one that can be pretty time-consuming to cook, what with all its separate components: meatballs, pasta, sauce. This Instant Pot recipe is not only ready to go in under ½ an hour but, here's the truly amazing part, it doesn't even use store-bought spaghetti sauce! True story: all you need to do is follow this simple 6-step recipe, and you'll have a delicious homemade spaghetti sauce complete with meatballs. As an added bonus, the noodles cook right in the sauce, too. This is one recipe you're for sure going to want to bookmark since you'll be making it over and over again.
Recipe: The Instant Pot Spaghetti And Meatballs Recipe That Will Have Your Family Asking For Seconds
58. Copycat Fiery Doritos Locos Tacos
When you're in the mood for fast food, is there anything better than a Doritos Locos Tacos? Why yes, there is. Amazingly enough, Taco Bell found a way to improve upon perfection by introducing Fiery Doritos Locos Tacos.
If you're up for the challenge, though, we've found that this recipe is something that's possible to recreate in your own kitchen. No actual Doritos (fiery or otherwise) are involved. Instead, you'll be mixing together a hot sauce/spice blend and painting it on plain taco shells to transform them into a pretty darn good facsimile of your favorite Taco Bell treat.
Recipe: Copycat Fiery Doritos Locos Tacos to Keep You Away From The Drive-Thru
59. 5-Ingredient Chili
Who doesn't love a good 5-ingredient recipe? Simple, basic ingredients, ones you either already have on hand or can find in about a 5-minute trip to the store, tops. Minimum fuss, minimum mess, minimum cleanup — but can you truly have all of that and have a meal that's worth eating? A lot of these low-ingredient recipes, after all, taste like they cut more than a few corners. Well, we're happy to report, that's not the case with this 5-ingredient chili. You've got your ground beef, your onion, your tomatoes, your beans, and your chili powder, and yes, that truly is all you really need to make a great chili. This is a dish you're sure to enjoy for tonight's dinner, and you'll look forward to having the leftovers for lunch tomorrow, as well.
60. 20-Minute Lasagna
Lasagna is pretty awesome, but what's even better is delicious homemade lasagna that you can have on the table in just 20 minutes. How can this be? Even frozen lasagna usually takes longer than that to cook, and it usually comes up a little short in the taste department. While this lasagna includes all the right ingredients — tomato sauce, ricotta and mozzarella cheeses, ground beef, and noodles — it does take a few shortcuts. For one thing, it makes use of oven-ready lasagna noodles rather than the kind you have to boil. For another, you cook the whole thing on the stove top rather than baking it in the oven. As to the taste, though, we're sure you'll agree it's every bit as delizioso as a lasagna made the traditional way.
Recipe: The 20-Minute Lasagna Recipe That's Perfect For The Whole Family
61. Copycat Shake Shack Shackburger
Do Shake Shack's burgers really live up to all the hype? Shake Shack is one of those fast food restaurants that seems to have built its reputation on trendiness and exclusivity, since unlike certain other burger chains, they're not the kind of thing you find on every street corner. While the buzz may be what gets people in the door, the Shackburgers may be what keeps them coming back.
If you're not in Shake Shack territory and you'd still like to see what all the fuss is about, this copycat Shackburger recipe makes for a pretty close approximation. Even the op secret "Shacksauce" — yeah, we think we nailed that, too.