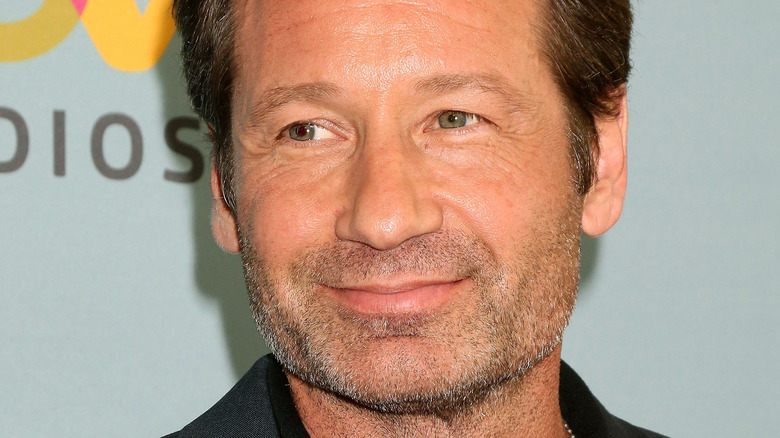 Most people know David Duchovny best from his many years of playing Fox Mulder on "The X-Files" and the show's multiple iterations (though not everyone agrees his presence was a good casting decision the second time around). As per IMDb, the actor has plenty of other credits, including "Californication," "Sex and the City," and "Aquarius." But one role that does not show up on Duchovny's IMDb page is that of Father. Yet, it's a very important role he plays in his life to his two kids: daughter Madelaine West and son Kyd.
Duchovny shares his two children with his ex-wife, actress Téa Leoni. According to People, the pair divorced in 2014 after 17 years of marriage — just one example of a celebrity couple whose relationship didn't last. They had already been through several rough patches, including a separation in 2007 — after Duchovny announced he was entering rehab to be treated for sex addiction (just one type of addiction). The pair then separated again in 2011. The last one stuck, however, as TMZ reported that their divorce documents cited an "irretrievable breakdown of the relationship." Luckily, all this back and forth on the part of Mom and Dad seems to have had little effect on their daughter and son. Not only are they seemingly doing well, but they grew up to be gorgeous!
David Duchovny's daughter is in the family business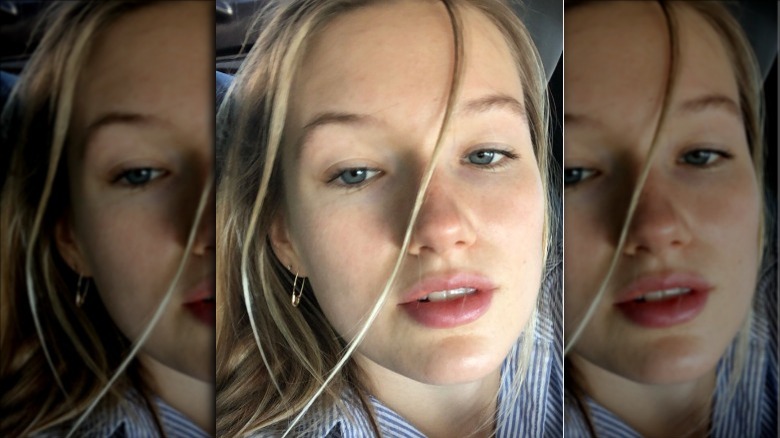 Like father, like daughter. Madelaine West Duchovny, or West Duchovny, as she prefers to be called, is following in her dad's footsteps as an actor. She even resembles her father in more ways than simply her career choice, too, because, according to her IMDb page, Duchovny's first on-screen role was in an episode of "The X-Files" in 2018. The young actress also had a small role in the TV movie "Sick" that same year and has since gone on to appear in the movie "The Report" as well as the TV show "The Magicians."
Also, like her father, Duchovny has seen the downside of Hollywood. In early 2020, the actress shared a Deadline article to her Instagram page announcing that she was set to star in a new HBO Max drama called "Vegas High." She captioned the announcement: "Feeling so honored and EXCITED! This is surreal!" However, about one year later, Deadline reported that the network decided not to proceed with the show. Despite the disappointment, it's easy to assume that Duchovny will soldier on to great success — just like her dad.
This is how West Duchovny really feels about her parents, David Duchovny and Téa Leoni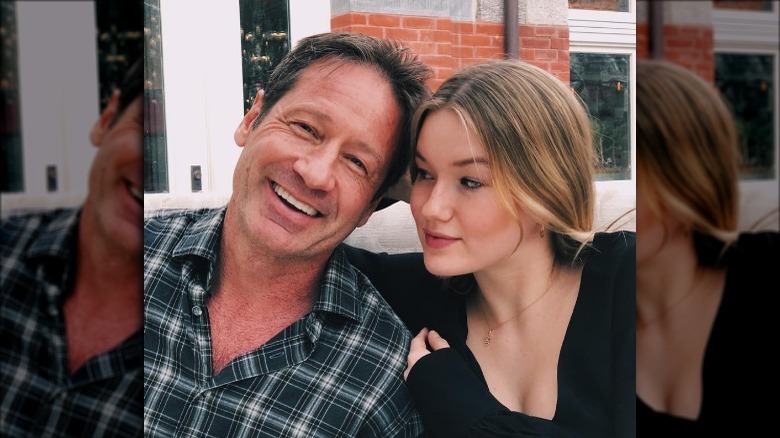 When it comes to West Duchovny's relationship with her parents, it's clear that West has a supportive relationship with both of them. Her father, David Duchovny, has a checkered past, but his daughter only sees the good in him. In honor of his birthday in 2019, West shared a compilation of photos and videos to her Instagram page — each cuter than the last. She captioned the post: "Thank you for the constant inspiration, support, and love — for sharing with me your passion for baseball, literature, music and now acting. Happy birthday Dad, I love you." From that post alone, it's easy to assume that her father is very supportive of her acting career and that they have a close relationship.
West's mom, Téa Leoni, has a different message for her daughter when it comes to a career in acting: Put yourself first. "People tell me I've never really made it," the actress told More (via ABC). "There's not an accolade in Hollywood that could replace time with my kids … It's not about contentment … It's about finding something more. As I tell my daughter, 'Hear your voice first.'" While it's not clear how West feels about this advice, it's safe to say that she has solid support from both her mother and her father.
West Duchovny has a large online presence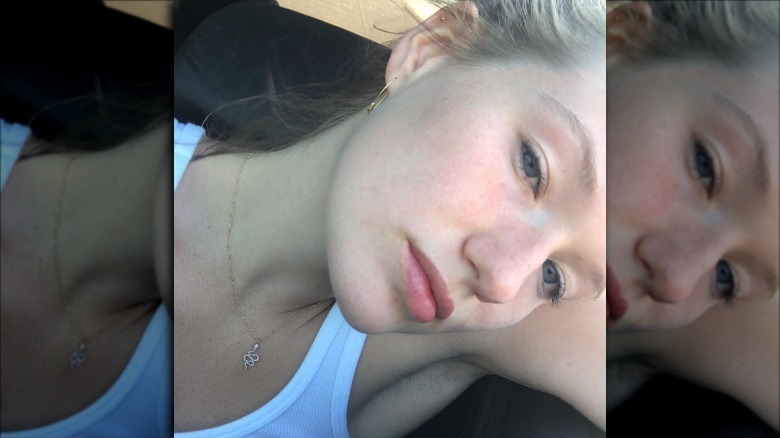 In addition to building an acting career, West Duchovny seems to be well on her way to building an online empire as well. As of this writing, the blonde has nearly 19,000 followers on Instagram. Her page is full of curated photos, career announcements, and behind-the-scenes glimpses into her personal life. Duchovny will go from a sponsored post complete with gorgeous lighting and expensive underwear, like this 2017 photo, to a silly selfie in which she's rocking a face mask, towel, and sunglasses, such as this post from 2018. And, of course, Duchovny shares plenty of snaps from precious family moments, including this sweet photo of her and her brother as children, hamming it up for the camera.
Duchovny also appears to be a budding entrepreneur. Though it's yet to be confirmed, she appears to have a Depop page on which she sells a range of clothing, from t-shirts and jeans to pants, dresses, and shorts.
David Duchovny's son, Kyd Duchovny, prefers the private life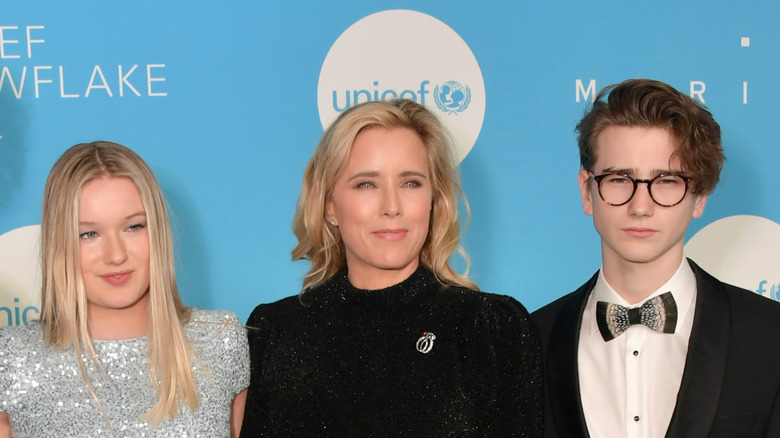 David Duchovny's son, Kyd Duchovny, appears to be quite unlike his sister, West Duchovny. Though they look alike, the young man seems to prefer the private life. Kyd has no social media accounts except an Instagram page, which is set to private. He also is currently enrolled in college, if his Instagram bio is to be believed. The bio simply states, "TMS F '19 Pitzer '25," leading fans to believe that he is in the 2025 graduating class of Pitzer College, a liberal arts school in Claremont, California.
Private though he may be, Kyd does make public appearances with his family from time to time. Like when, as Yahoo reported, he walked the 2018 UNICEF Snowflake Ball red carpet with his mom, Téa Leoni, and his sister, West — he even spiced up his classic black tuxedo with a little personality in the form of Chuck Taylor sneakers. Kyd has also been photographed attending sporting events with his dad, as pictured in this Yahoo article.
Kyd and West Duchovny have a close relationship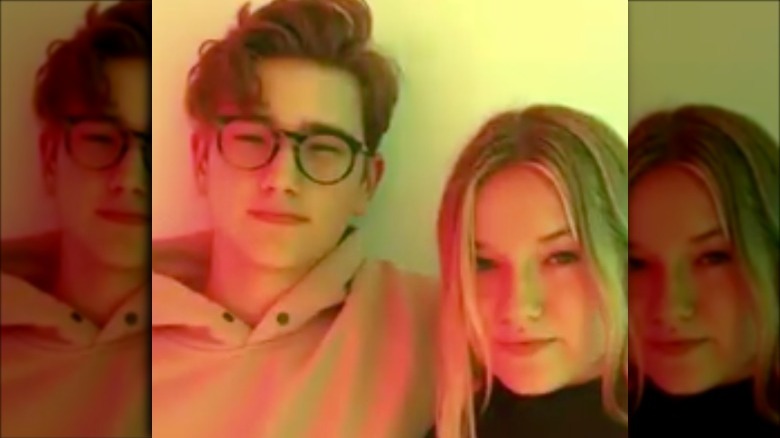 While little is known about Kyd Duchovny, it's very apparent that he's close with his sister, West Duchovny. West's Instagram page is full of fun, silly, and sweet posts about her younger brother, making it clear that they love each other very much. The young actress almost always posts something for Kyd's birthday, like when, in 2018, she commemorated his 16th birthday with an adorable childhood photo along with the caption, "You are by far my favorite person in the world. I am so proud to be your sister. Thank you for all the laughs and all the love these past 16 years." West also wrote a post for his 18th birthday in 2020, saying, "My love for my little brother is the biggest love I know … He is creative and compassionate and observant and caring and imaginative and hysterical. He inspires me every day to be a better human."
And, if anyone ever doubts that West and Kyd are related, they can just look at this Instagram post from West's page in which the siblings do a face swap and look exactly the same!
David Duchovny is "proud" of his kids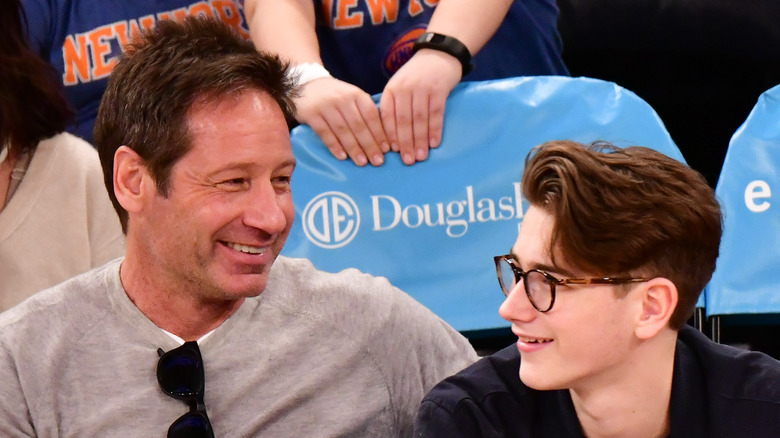 It can't be easy growing up as the child of a celebrity, but West Duchovny and her brother, Kyd Duchovny, seem to be doing great. And David Duchovny, their dad, is certainly proud of them, too. "You know, I get asked, 'Are your kids proud of you?', and I'm like, 'I don't understand that question,'" the actor told The Guardian. "I don't care. I'm proud of them. It's reversed. I'm watching them. I couldn't give a s*** if they watch me." Makes sense to us, too!
Duchovny also doesn't worry that his kids will fail, either. Instead, he focuses on making sure they handle those failures with strength and resilience. "That's what I worry about with my kids all the time. It's not so much [a question of] are they going to win, but are they going to come back after failing?" he said in that same interview. "You want them to remain vulnerable and real, so losing is going to hurt … But you really want to teach them somehow."