Who was the best athlete in the year you were born? Hard to say, since there are so many different sports, athletes, and ways to determine what makes someone the "best." Is it the most championships won? The most money made? The craziest stats? Intangible "it" factors that make you proclaim, with no solid evidence, that so-and-so was the athlete of the year?
There isn't yet a mathematical formula to deduce who the best athlete is each year, but we're going to try anyway. Our criteria is as follows: We looked primarily at the Big Four sports (baseball, basketball, football, and hockey), and picked which MVP of each year's championship-winning teams impressed the most. Sometimes, however, someone outside the Big Four impressed so much that there was no way we could ignore their accomplishments. With all that in mind, here are the best athletes for each year between 1970 and 1990.
1970: Bobby Orr (Boston Bruins)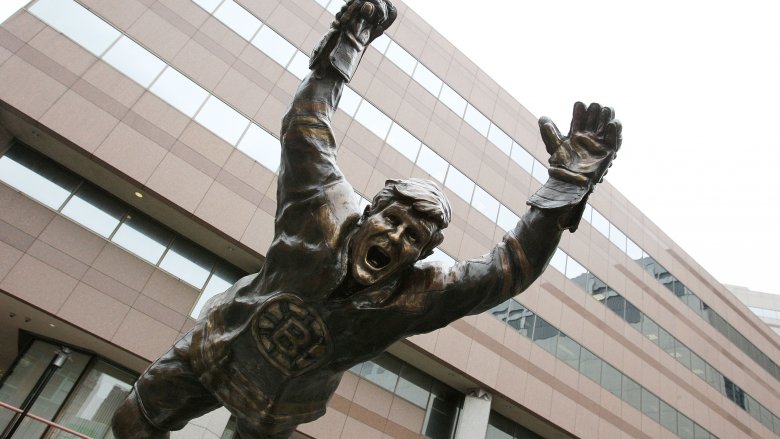 Even people who don't know hockey recognize Bobby Orr as the "flying goal" guy. That goal helped the Boston Bruins sweep the St. Louis Blues for their first Stanley Cup since 1941, 40 seconds into overtime in Game 4. Of course, Orr didn't actually fly — he was tripped by a Blues player after scoring the goal. Still, it's an iconic image of an iconic player who deservedly won the Conn Smythe Trophy (the NHL's honor for the Cup-winning team's playoff MVP).
More than a mere one-goal wonder, Orr scored nine goals throughout the playoffs, along with 11 assists. His MVP award capped off a historic year in which he also won the Hart Trophy (regular-season MVP), the Norris Trophy (best defensive player), and the Art Ross Trophy (top scoring player). Nobody had won all four trophies in a single year before, proof that while Orr may not have literally flown, he was absolutely a hockey superhero.
1971: Evonne Goolagong Cawley (Tennis)
More than simply having a name that's super fun to say, Evonne Goolagong Cawley is one of the best tennis players ever, male or female. She proved as much in 1971, when she won just shy of everything and outshone any MVP of any silly team sport.
In 1971, just her third full year as a professional, Cawley won 13 titles. Of those, two — the French Open and Wimbledon — were Grand Slam championships. On top of all that solo success, she also won the Doubles Australian Open, and helped her team win that year's Fed Cup. Basically, if there was something to win, chances are Cawley won it.
After 1971, she kept on dominating, ultimately retiring in 1983 with 21 Grand Slam championships, along with 84 total singles titles, 50 doubles titles, and three Fed Cups. That's pretty much the definition of "nothing left to prove."
1972: Jack Nicklaus (Golf)
Even people who regularly confuse golf legend Jack Nicklaus with acting legend Jack Nicholson know Nicklaus is almost certainly the greatest golfer ever. (Better than Tiger even.) Extraordinary years like the one he had in 1972 are proof of that.
In 1972, almost a decade into his playing career, Nicklaus won seven championships. Two of them were major championships: the Masters and the U.S. Open. In addition, he won other tourneys in varying stages of dominating fashion. At his most untouchable, he won the Walt Disney World Golf Classic by nine strokes, finishing a ridiculous 21 strokes under par. Nicklaus, unsurprisingly, won the PGA Player of the Year award that year, and he was also acknowledged as the PGA's top money-maker of the year. He kept on winning until hanging up his clubs in 2005. He hit a hole-in-one a decade into retirement, just in case we hadn't gotten the point yet.
1973: Willis Reed (New York Knicks)
Willis Reed had been playing for almost 10 years by 1973, when he won his second NBA Championship with the Knicks. Despite being racked by injuries to the point where he had to retire the very next year, he still played well enough to win Finals MVP and stand out among all other athletes that year. Perhaps as proof to how valuable he was, in 1970 the Knicks won the Finals with him leading the way. He missed almost the entire next season due to injury, and his Knicks lost the Finals. He returned the season after, and they won it all.
The 1973 Finals, where he helped guide the Knicks to four straight wins after losing Game 1, was an effective capper for Reed's short but incredible career. He was a two-time NBA champion (Finals MVP both years) and a seven-time All-Star. In 1996, a panel of basketball professionals and executives named him among the 50 greatest NBA players ever.
1974: Muhammad Ali (Boxing)
1974 wasn't Muhammad Ali's personal best year, but he still made it his year. That's in large part because two of his fights that year are among the most famous in boxing history.
On January 28, Ali faced Joe Frazier for the second time, in "Super Fight II." Three years earlier Frazier had become the first man to beat Ali, and The Greatest wanted revenge. After 12 rounds of back-and-forth action, Ali got what he wanted, winning by unanimous decision. (He would beat Frazier again in a rubber match the following year.) On October 29 came the famed "Rumble In the Jungle" against World Heavyweight Champion George "The Grill Guy" Foreman. Foreman was younger than Ali, but Ali was still Ali. Using his newly-minted "rope-a-dope" technique, Ali let Foreman punch himself exhausted, then went in for the padded kill. One knock-out later and Ali was again champ.
1975: Pete Rose (Cincinnati Reds)
Regardless of how you feel about Pete Rose's gambling issues, there's no denying he's one of the greatest baseball players ever. The all-time hits leader was in top form in 1975, as he not only led the Cincinnati Reds to a World Series championship over the Boston Red Sox, he was their well-deserved Series MVP.
Over the seven-game series, which many consider one of the best World Series matches ever, Rose hit an incredible .370, with 10 hits and two RBIs. It was the best hitting performance of anyone on the team who played full-time throughout the Series. In addition to being the hitting machine he always was, that year Rose (normally an outfielder) contributed defensively by becoming a third baseman. That change helped the team and made Rose a champion for the first time. Years later he got beaten up by pro wrestlers, one of whom one of whom stuck his butt in his face, which is almost as high an honor.
1976: Johnny Bench (Cincinnati Reds)
Cincinnati's Big Red Machine wasn't happy with just one World Series — the Reds went out and won in 1976, too, on the back of Series MVP Johnny Bench, one of the best catchers ever and our pick for 1976's top sportster.
Unlike many catchers, who can certainly play their position but mostly bomb when it's time to hit, Bench produced both behind and at the plate. During the '76 Series, Bench hit two home runs (both in the deciding Game 4) and had eight hits for an almost-comical .533 batting average. He was a huge reason the Reds not only beat the New York Yankees in the World Series, but destroyed them. Over a four-game sweep, the Reds outscored the Yanks 22-8, in no small part because they had a guy at the plate who could make absolutely sure nobody in pinstripes made it past him.
1977: Reggie Jackson (New York Yankees)
No matter the sport, when your performance is so great, so memorable, and so instrumental to your team's success that you earn a nickname because of it, you know you've won the year. Just ask Reggie "Mr. October" Jackson, whose Yankees beat the Los Angeles Dodgers in the 1977 World Series due in large to part to Jackson becoming "Mr. October."
With a .450 average and five homers throughout the series, Jackson's bat was nonstop. But what truly made him iconic that Series was when he hit those home runs. Three of them came in the deciding Game 6. Each one came off a different Dodger pitcher, and he only needed one pitch each time. Oh, and in Game 5 he had already hit a homer off a single pitch from a fourth Dodger pitcher, so Game 6 was simply Mr. October in Super Saiyan form.
1978: Affirmed (Horse racing)
Affirmed is a horse, of course. Of course. A Triple Crown champ of a horse, of course. And apologies to all humans who sported in 1978, but nobody had a better year than Affirmed.
Affirmed wasn't the favorite going into the Kentucky Derby, but once he won by one-and-a-half lengths, he quickly became the Preakness favorite. He didn't disappoint, and so he went into the Belmont Stakes as the favorite to win it all. He almost didn't — he actually started the race incredibly slowly. Eventually, he realized lazy horses get no glory, and so he kicked it up as many notches as he could.
After running the fastest final half-mile in Belmont history, Affirmed dramatically came from behind to win the race, and the Triple Crown, by a literal nose. This earned him American Horse of the Year because there's no way it couldn't, as well as a well-deserved post-retirement studding career, also because there's no way it couldn't.
1979: Terry Bradshaw (Pittsburgh Steelers)
In 1979, the Pittsburgh Steelers became the first team to ever win three Super Bowls, and legendary quarterback Terry Bradshaw was a big reason why. In fact, given his MVP-winning performance that year, he was most probably the reason why.
With 318 passing yards and four touchdowns in a single game, Bradshaw was on fire during Super Bowl XIII. But what's more impressive was how he did it. Three of his touchdowns and 253 of his yards came in the first half, which had to have completely demoralized the Dallas Cowboys. This early hammering probably killed any motivation they might've come into the game with, since they could barely put anything together until two touchdowns in that last-minute panic that often happens near the end of a game for a losing team. But it was too late, as Bradshaw had long taken care of business for Pittsburgh.
1980: Magic Johnson (Los Angeles Lakers)
Magic Johnson, as virtually everyone knows, was incredible at basketball. But he didn't slowly grow into the NBA over a matter of years — he stormed right out the gates in 1980, winning both an NBA Championship and being named the Finals MVP in his rookie year. No veteran was topping a year like that.
Johnson's Los Angeles Lakers beat the Philadelphia '76ers in the Finals and, like during the regular season, Magic was the main reason. Averaging over 21 points a game with 52 assists will do that for a guy. But more importantly, as with Terry Bradshaw the year before, he saved his best performance for the best possible time. Johnson scored an incredible 42 points in the deciding Game 6, ensuring the Sixers couldn't possibly come back. Even the Sixers' Julius Erving said of Johnson's performance, "It was amazing, just amazing." When even the guy you beat sings your praises, you know you've done something special.
1981: Cedric Maxwell (Boston Celtics)
One year after the Lakers win, their archrival Boston Celtics captured another NBA championship, this one on the back of Finals MVP Cedric Maxwell. While he may not be remembered as much today, since just a couple years later Larry Bird and company officially took over the team, that doesn't change how 1981 was a max year for Max.
Despite the Celtics' opponent, the Houston Rockets, finishing the regular season a below-mediocre 40-42, they still clawed their way to the Finals and took the Celtics to six games. They were determined and legitimately tough, and might actually have won if not for Maxwell, who was the team's top scorer and who effectively drove a stake in the Sixers' hearts in Game 5. With the series tied 2-2, Maxwell scored 28 points and had 15 rebounds, as the Celts blew their opponents out and made Game 6 theirs to lose, which they didn't.
1982: Joe Montana (San Francisco 49ers)
Joe Montana was the top athlete of 1982, and the MVP of Super Bowl XVI, though it didn't prove to be his best year ever. That's the true sign of a legendary athlete: When you're the best athlete of the year, and you only get better as time goes on.
Montana's 49ers beat the Cincinnati Bengals in the Super Bowl, led by Montana's 157 passing yards and two touchdowns (one of which he ran in himself, like a boss). Those might not seem like dominating numbers (the Niners scored almost as many points through field goals), but some players become champions for more than just stats. In Montana's case, his poise under pressure and his leadership — traits that earned him the nickname "Joe Cool" — helped his team keep it together when the Bengals threatened late in the game. One victory later, and everyone knew Montana was cool as ice and here to stay.
1983: Martina Navratilova (Tennis)
One of the greatest tennis players ever, Martina Navratilova had a banner year in 1983, one nobody in the Big 4 could touch. 1983 saw Navratilova win three of the four Grand Slam championships; the only one that eluded her was the French Open. She made up for that one blip by winning the PTA Finals and the Fed Cup, however, so she didn't exactly slum it. And it really was just that one blip. The French Open was literally her only loss that year, as she went 86-1 for the entire year, one of the best single-season records of all time.
Making things even more amazing is how Navratilova went one better the following year, winning all four Doubles Grand Slam events in 1984, along with another PTA Finals victory. All in all, if you played tennis in the early to mid-'80s, your best possible hope was to place second.
1984: Mark Messier (Edmonton Oilers)
In the mid-'80s, hockey belonged to the Edmonton Oilers, and 1984 in particular belonged to Conn Smythe Trophy winner Mark Messier, due equally to his scoring and to his sense of clutch urgency.
Messier scored three goals and had one assist in the Finals, which wasn't as good as teammate Wayne Gretzky's scoring total, but when Messier scored he made it matter. (And you can't give every award to Wayne Gretzky, right?) Take Game 3, when the Oilers were down by a goal to the New York Islanders. Sure, being down just one goal isn't awful, but the Islanders had won the last four Stanley Cups. That's some serious intimidation factor. Messier scored the tying goal to begin the comeback that culminated in the Oilers' first Stanley Cup. Messier won the playoffs MVP for being an amazing teammate, and last we checked that's the whole point of team sports.
1985: Wayne Gretzky (Edmonton Oilers)
Remember how in 1984, Wayne Gretzky scored tons but didn't win the playoffs MVP? He rectified that in 1985 because you can't be the greatest hockey player in history and not have a year that's all about you. And Gretzky is definitely the greatest hockey player in history, so he did.
For the Oilers' second straight Stanley Cup, Gretzky turned in a stellar performance, just as he had done all year. (He won regular-season MVP virtually unanimously, with only one voter insisting he was the league's second-best player.) As for the playoffs, he helped the Oilers win simply by being ridiculously dominant. Over the course of the playoffs he scored a record 47 points over 18 games, including 11 in the Finals. His finest performance was Game 3, when he scored three of the Oilers' four goals, including two in the first 90 seconds. There's beating your opponent on the ice, and then there's metaphorically trapping them under it.
1986: Larry Bird (Boston Celtics)
When you're the MVP of one of the greatest single-season teams of all time, there's no way you can't own that year. The Boston Celtics went 67-15 (40-1 at home) and then cruised to a championship win over the Houston Rockets, and Larry Bird was their MVP from Day 1.
In two of the Finals games, Bird led his team in points, assists, and rebounds. One of these was Game 6, the one that put the Rockets away. Bird clearly wasn't thrilled the Rockets had won Game 5, and he made them pay with their playoff lives. With 29 points, 11 rebounds, and 12 assists in the final game alone, Bird made it clear he wanted the title, he wanted it now, and he didn't care if he had to do all the work to get it. And while it certainly wasn't 100 percent on him, it's safe to say the victory was largely his.
1987: Mike Tyson (Boxing)
He's mostly an afterthought now, between the oddball statements, ear-biting, face tattoo, and rape conviction, but Mike Tyson was once truly "the Baddest Man on the Planet." This became evident in 1987, the year Tyson became a champion.
Up until that time, Tyson had fought over two dozen times, but never for a championship. Finally, in November 1986 he won his first heavyweight title. He then jumped into 1987 and claimed virtually all the hardware. Over the course of four fights that year (all of which he won, two by knockout) he added two more championships while retaining his original belt. This made him champion of all three major boxing bodies at the time, as well as the youngest unified champion in history.
He wouldn't lose any of the belts until 1990, and aside from the two decisions in 1987, every one of his victories was a knock-out, and often a stupendously brutal one. Unfortunately, he's a bad person. But good sporting that year.
1988: Steffi Graf (Tennis)
It's one thing (and a rare thing) to win the tennis Grand Slam: all four major championships in one calendar year. In 1988, tennis legend Steffi Graf pulled that off and then went ahead and did even better.
In between winning the year's Australian Open, French Open, Wimbledon, and U.S. Open, Graf participated in the Olympics and won herself a tennis gold medal. This feat, called, the Golden Slam, is exceptionally rare, and Graf is the only person to pull it off in a calendar year … ever. Other athletes, like Serena Williams, have managed career Golden Slams, but haven't been able to get it all together in the same year.
While 1988 was indisputably her year, 1989 wasn't half-bad either. She almost pulled off a Grand Slam the following year, too, winning three out of four majors, and only missing the Olympics because they didn't happen that year.
1989: Jerry Rice (San Francisco 49ers)
Under quarterback Joe Montana, the San Francisco 49ers won another Super Bowl in 1989, but this time somebody else was the star. Wide receiver Jerry Rice put in what might be the performance of his career, and certainly the performance of 1989.
Rice's stats during the game were phenomenal: He caught the ball a Super Bowl record 11 times for an incredible (and also Super Bowl record) 215 yards and one of the Niners' two touchdowns). It's hard to set multiple records in one game and not be MVP of the whole thing.
Rice had been great all year, too, so this wasn't a case of a guy lying low until it truly counted. He was his team's best player (and among the best in the league) from start to finish. He just somehow managed to get even better when the time came, like so many other superstars do.
1990: Isiah Thomas (Detroit Pistons)
'80s basketball was dominated by the Lakers and Celtics, who combined to win all but two of that decade's championships. The Detroit Pistons won one of the remaining two, in 1989, and followed that up starting the '90s with another win, this time on the back of Isiah Thomas.
Over the five-game Finals, Thomas never scored fewer than 21 points. Twice, he broke 30 points, and another time came teasingly close with 29. What's more, he led his team in assists in every game except one, proving he wasn't winning simply by hogging the ball and doing everything himself. Thomas' dominance, and the Pistons' mini-dynasty, didn't last long, as '90s basketball soon became the sole territory of some Michael Jordan guy you may have heard about in passing, but Thomas and the Pistons eliminated Jordan's Bulls from the playoffs in 1990 and both seasons before that. For best athlete of 1990, you'd have to go with Thomas.