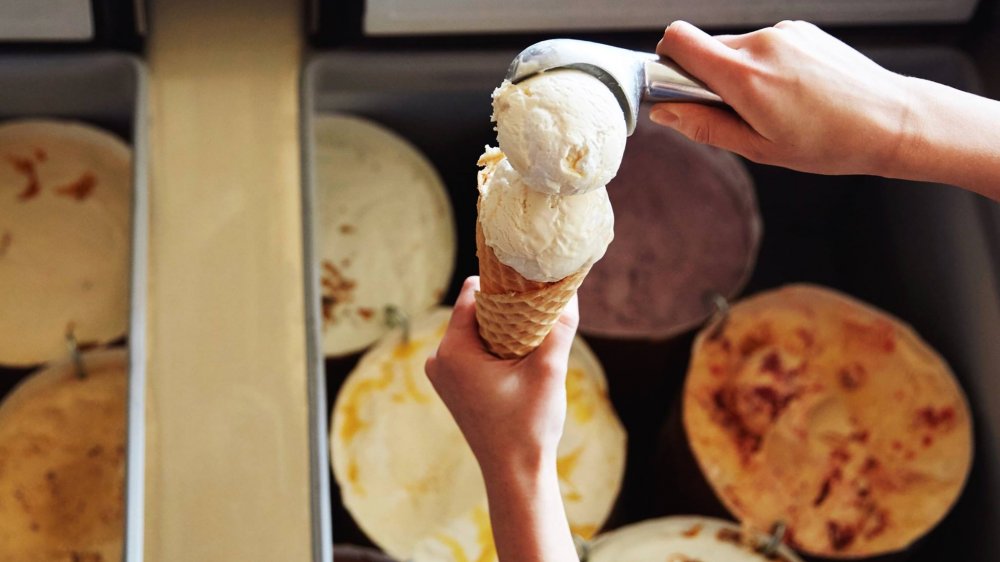 Between "I," "you," and "We All," there's a whole lot of screaming for ice cream that takes place in America. It's a statistical fact that "we all" consume an average of 23 pounds of ice cream a year. Moreover, according to the American Journal of Clinical Nutrition, the more we all eat ice cream, the more we tend to crave it. In other words, it's like a very sweet and creamy, albeit fattening drug — which explains all those long line-ups in front of New England farms, Midwestern custard stands, and organic urban creameries.
Having made peace with our ice cream addiction, the next step is to take action — by getting the best fix possible. All 50 American states are abundant in ice cream shops. But with everyone screaming for ice cream, it can be hard to know where to go to satisfy your cravings.
Faced with this challenge, Mashed went to work, scouring national and local newspapers, journals, websites, food bibles and blogs, interviews with famous chefs, tips from local aficionados, ratings from Yelpers and Tripadvisors, and rankings from listicles. Based on all this online screaming about ice cream, we've compiled a list that, if not definitive, then very delicious, of the best ice cream shops in every state.
Alabama: Cammie's Old Dutch Ice Cream Shoppe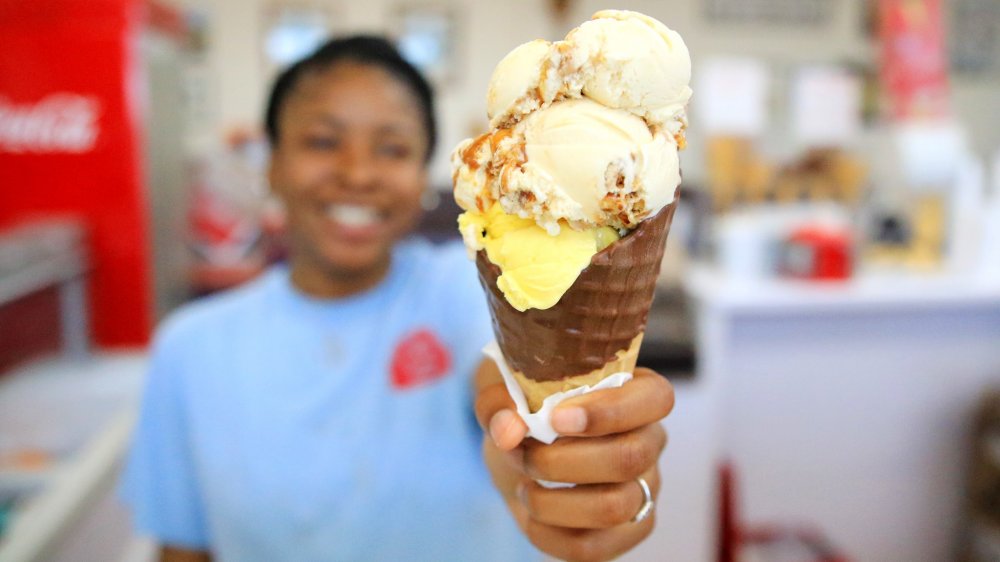 Cammie's ice cream is so good that one reviewer, "not even a huge fan" of c, visited the Mobile shop three times in eight days! Cammie Wayne makes the ice cream herself, having purchased the decade's old parlor back in 1998 (after having cut her teeth there as a teen). Fabled rotating flavors include Prickly Pear, Creole Praline, and Red Velvet. No matter what you choose there, though, you know it's going to be good.
Alaska: Wild Scoops
Who knew that, Arctic climes aside, Alaskans devour more ice cream per capita than any other state? Wild Scoops, for one. This unexpected factoid is on the Anchorage micro-creamery's website, along with some of the more than 100 unique, all-natural flavors created in its test kitchen. Made in small batches, using locally sourced ingredients, flavors change as radically as the seasons and include the utterly Alaskan Fireweed, Spruce Tip, and Sitka Swirl (salted caramel with Alaskan sea salt). Perhaps wildest of all is the Baked Alaska, a waffle cone topped with torched marshmallow cream.