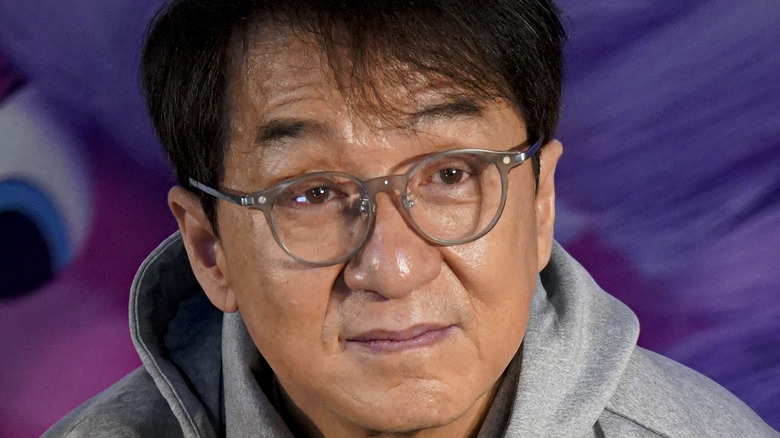 Jackie Chan is one of the most prolific action movie stars in the world. Born in Hong Kong on April 7, 1954, Chan became famous for combining impressive martial arts and comedy skills. The actor is also known for not using a stunt performer in many action scenes, but he requires one when he doesn't have the skills for a scene. "I will use stunt doubles if you ask me to ride an F-16 jet fighter, or to jump over a series of hurdles with a crazy horse, or to perform two 720-degree somersaults," he said." But one somersault, I'll do it. I will do what I could do, and I won't do anything that is out of my capability (via Entertainment Weekly)."
Despite his confidence in movies, Chan is aware of the risks. During a press conference in 2013, he said that he is afraid of ending his days in a wheelchair. "I just have to be unlucky once, and that's it for me," said Chan (via Yahoo! Style). Action scenes aren't his only vulnerable spot. In 2003, the documentary "Traces of the Dragon: Jackie Chan" revealed family secrets that even Chan didn't know.
His mother became a widow during the WWII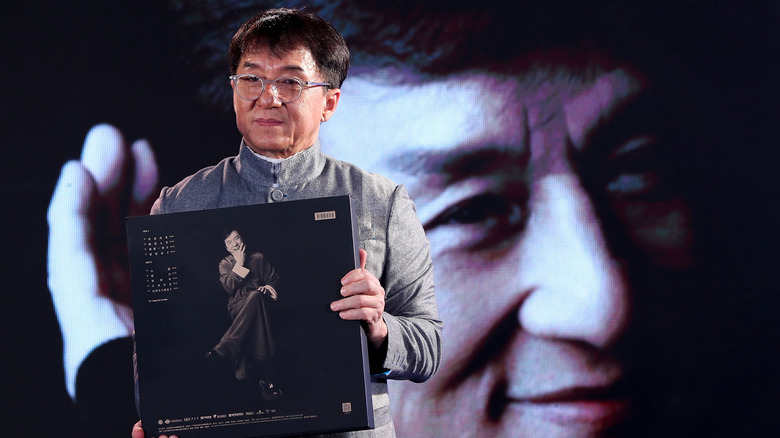 Lee-Lee Chan, Jackie Chan's mother, was born in 1916 to a family of humble means in China (via Family Tron). There is not much information about her life before she met Chan's father, as the public can see in "Traces of a Dragon: Jackie Chan and His Lost Family." She married at a young age, and her first husband died during a Japanese bombing raid (via The Guardian), and she became a young widow with two small daughters, Chen Guilan and Chen Yulan.
Without money, Chan tried to sell her daughters, and later she left the girls behind (via Variety). Although it sounds shocking, it was not something rare in China in the past. "It was so commonplace in China. Life was cheap. It has always been cheap. It's a very common thing to do, abandon your children. In every family, there were abandoned children," said the documentary director, Mabel Cheung (via The Guardian).
Jackie Chan's mother was an opium dealer
Lee-Lee Chan had an ordinary life in Hong Kong, and the actor grew up believing his mother had nothing to hide, but he later found out she had a lot of secrets. After moving to Shanghai, though, she was penniless and had to find a way to survive. She found out that smuggling opium by the docks could be a profitable business (via Variety).
In Shanghai's underworld, Lee-Lee was nicknamed "Third Sister," becoming a legendary gambler. "The fact that his mother was an opium smuggler, a gambler, and a big sister in the underworld was a big shock to Jackie and also to us," said Cheung (via The Guardian)." Sadly, Lee-Lee died in 2001, and Chan never had the chance to talk to her about her past.
Her life would change again when she met her future husband, Charles Chan, a Chinese nationalist agent. However, there was nothing romantic about how they met.
Lee-Lee Chan was arrested by her future husband
Charles Chan was a widower and left behind two children after the war. He moved to Shanghai, where he met Lee-Lee Chan. Appropriately, the circumstances of how they met could be a scene straight out of a film. Lee-Lee was arrested by Chan when she was smuggling opium. According to Variety, he felt compassion for the woman and let her go.
They got married, and the Communists took over China. Chan moved to Hong Kong, and later his wife joined him, leaving her daughters from the first marriage behind. According to The Guardian, there is no information if the girls are dead or alive. In Hong Kong, Chan worked at the French Embassy as a handyman and cook.
When Jackie Chan was born in 1954, his parents had established a completely different life, and he grew up unaware of their past. The actor only found out the truth about his past while filming the documentary.
His father was allegedly a spy
In the late 1990s, Jackie Chan decided to travel to Australia to meet his father, and it was how he found out about his family's past. Chan grew up hearing rumors that his name was false and he was adopted. In Australia, he found out the stories were partially true and his family name was not real: His father's real name was Fang Daolang and not Chan Chi-Long.
Those were not the only revelations about his family's past. While in Australia, Chan discovered that his father was a Nationalist spy, and Fang had two other children living in China. In the documentary, Fang flies to China to meet Shide and Shishen after many years, but it is not a complete family reunion. Fang preferred they not meet Jackie Chan because being related to a movie star would significantly impact their lives (via The Guardian).
Jackie Chan has an estranged daughter
Jackie Chan also has his own secrets. During the 1990s, the married actor had an affair with Elaine Ng Yi Lei, Miss Asia 1990. In 1999, Lei revealed that they had a daughter, Etta Ng Chok, and claimed that Chan never helped them financially. In his memoir "Never Grow Up," published in 2015, Chan admitted cheating on his wife. According to Yahoo, he wrote "In 1999, I made a serious mistake. "When the news broke about an affair I'd had that resulted in a child, the media frenzy was like a bomb going off."
Lei raised her daughter alone, but the two didn't have a good relationship, and the girl claimed her mother was abusive and cruel. Chan reportedly doesn't have contact with his daughter, and in 2018, the girl said she was homeless due to her "homophobic parents" (via Newsweek). That same year, Chok used her social media to announce her marriage to older Canadian girlfriend, Andi Autumn. Meanwhile, Chan has been married to Taiwanese actress Joan Lin since 1982, and they have a 38-year-old son, Jaycee Chan.
His children will not inherit his fortune
According to Celebrity Net Worth, Jackie Chan has a $370 million fortune, but his children will likely not inherit it. Chan never mentions his daughter Etta Ng Chok, so her potentially being cut out of the will likely won't shock anyone. However, people were surprised when Chan said his son, Jaycee Chan, would not receive a dime after his death. The actor plans to leave much (if not all) of his fortune to charity, effectively cutting his son out of inheriting any of his wealth, per Metro.
"If he is capable, he can make his own money. If he is not, then he will just be wasting my money," Chan said in 2012, two years before his son would make headlines of his own (via Insider). The actor also says he regrets not sending his son to the army to achieve life experience and character, according to Metro.
Jackie Chan was named "Narcotics Control Ambassador" in China in 2009, an unusual turn of events for a man whose mother once allegedly worked in the drug trade. Perhaps more surprisingly, in 2014, Jaycee Chan was arrested in Beijing after the police found marijuana in his house. Jackie Chan has expressed shame over his son's mistake. "With regards to the incident involving my son Jaycee, I am very angry and shocked. As a public figure, I am ashamed. As a father, I am very sad, and his mother is heartbroken. I told Jaycee: if you have done something wrong, you must bear the consequences. As your father, I am willing to face the road ahead with you," he wrote (via BBC).