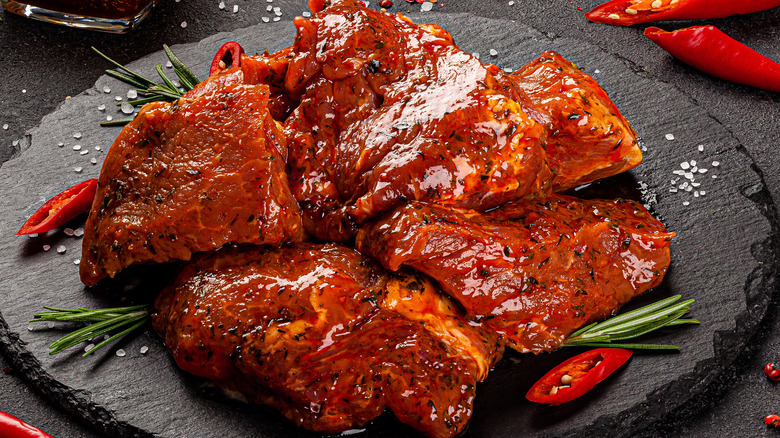 If you've ever dined out in the real Washington, D.C., meaning at a carryout chicken shack in one of the city's less-gentrified quadrants, rather than a K Street steakhouse packed with lobbyists, you've undoubtedly encountered mumbo (or mambo) sauce, the city's unofficial condiment. What is mumbo sauce? Capital City Mumbo Sauce describes it as a sweet, sticky, and tangy chicken wing sauce that Epicurious noted can also be found at Chinese carryouts. Mumbo sauce goes well with everything on such a menu as it's equally delicious as a dip for egg rolls, and makes a great all-in-one substitute for ketchup, barbecue sauce, and duck sauce.
While there are numerous brands of mumbo sauce available if you live in the DC area, there are also a number of recipes available online. While no two recipes are alike, we're partial to a reasonably authentic one from Chuck's Wagon BBQ in Bowie, Maryland (via DC's Fox 5), that calls for ketchup, white sugar, paprika, white vinegar, water, and hot sauce. Measurements? What measurements? Use as much as you like of each of these ingredients for your DIY sauce. That's the true mumbo spirit!
Mumbo sauce was born in a different city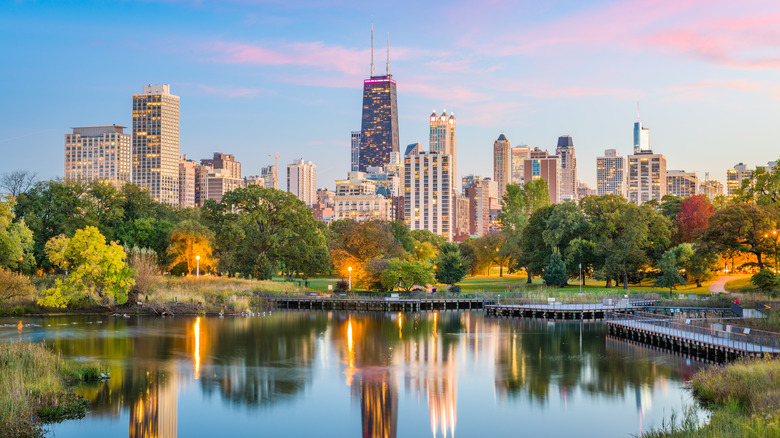 While mumbo sauce is as DC as half-smokes, go-go music, and the Florida Avenue Grill, it's possible that the District may not be the true birthplace of this beloved condiment. According to the Chicago Tribune, mumbo sauce actually hails from the Windy City. They even name the inventor, a 1950s Bronzeville restaurateur named Argia B. Collins. (In case you're not up on your ChiTown history, the Encyclopedia of Chicago relates that Bronzeville is a historically Black neighborhood.) According to Salon, Collins served early civil rights pioneers, including the Reverend Jesse Jackson, for free at his restaurant, leading the outlet to dub mumbo sauce as the condiment that likely fueled the civil rights movement.
At one point, DC-based Capital City Mumbo Sauce sued Select Brands, the company that began bottling Collins' sauce back in 1958, to get them to drop the name "mumbo sauce," as they claimed it was a generic term that belonged more to DC than some nearly-forgotten Chicago company. Capital City lost the case, however, and had to change their own product's name to "mambo sauce," which is not a trademarked term. Other DC mumbo sauce labels soon followed suit, not wanting to face legal troubles of their own.
There have been musical odes to mumbo sauce
If DC's signature sauce is mumbo (or mambo), its signature musical style is go-go. As the National Museum of American History explains, go-go is funky, percussion-heavy party music that incorporates elements of blues, salsa, and soul. And, one DC-based go-go band seems to agree as they've adopted the condiment's name as their own. Mambo Sauce's hit song "welcome to DC" (via YouTube) has been used by major DC sports teams to represent their city, and hit the Billboard charts.
While the song itself is not about the band's eponymous sauce, there is one song that is entirely devoted to mumbo and what it can do for a plate of food. According to Dcist, the song, called "Chicken Wings & Fried Rice," was released in 2007 by DJ Flexx and saw heavy airplay on WPGC, the DC-area radio station where he still hosts a daily show. The song, which includes these immortal lyrics "I can't fake, mumbo sauce keep me half-baked," apparently celebrates the joys of a quick (and saucy!) meal before pursuing other (equally saucy) late-night activities of the adult nature.
Mumbo sauce lent its unique color to this NBA star's signature shoe
Kevin Durant may have played for teams in Oklahoma City, San Francisco, and Brooklyn, but he grew up in Prince George's County, Maryland, right on the DC border (via WUSA-9). And, while he can afford champagne and caviar now, he still has fond memories of his boyhood favorites. In fact, when he released his Nike KD V sneaker, he tweeted the inspiration for the shoe's bright red color, saying, "My fav color of the KDV's are the DC/Seat Pleasant Mumbo sauce joints."
The shoe contains a few other Easter eggs meant to give a shout out to KD's DC roots. As the Washington Post reveals, the shoe also features the 301-area code, the words "Seat Pleasant's finest" (KD himself, of course), and the initials of both of Durant's parents. They did note that some people thought the shoe's red color was a nod to the Maryland flag, but that is obviously not true. Not only did KD himself admit the color was meant to look like mumbo sauce, but pics of the shoe itself show it to be the bright orangey-red of the sauce rather than the true red found in the state's flag.
Mumbo sauce inspired an art show
While mumbo sauce may once have been thought of as a strictly down-market condiment, that's not really the case anymore. The Kevin Durant shoe brought national attention to this local specialty, and once it started getting written-up by the sneaker blogs, DC found itself with another home-grown source of pride.
The following year, after the sneaker's 2012 release, the Corcoran Art gallery hosted an exhibition called Pump Me Up, a tribute to the city's 80s subculture that spawned not just go-go, but also DC's unique hardcore punk scene. As Roll Call tells it, one of the exhibit curators teamed up with a local gallery called the Contemporary Wing to put together an art show featuring the works of select 80s artists and their modern-day successors. Not only did this show feature some of DC's most iconic street art, but they also had a standing-room-only reception. To a crowd of over 800 people, they served two gallons of the sauce that gave the show its name. As even mumbo sauce can't stand on its own, they also handed out 600 chicken wings with which to scoop it up and six kegs of beer to wash it all down.
One of DC's best-selling mumbo sauces is made by a teen entrepreneur
One of the best-selling brands of mumbo, or rather, mambo sauce on the market in and around DC these days is Uncle Dell's. What makes Uncle Dell's so special is that it's not actually made by anyone's kindly old uncle, but rather by a teenager who started his first business at the age of five. Mambo sauce-maker Andy Burton told Thrillist that the sauce itself dates back to 2015, at which time he was looking for a homeschool project. His creation was such a success that he decided to turn it into an actual business a few years later and incorporated the company in 2019.
Burton describes his version of the sauce as "gourmet mambo," and says he feels that it's more versatile that other sauces because it can be used on a wide variety of meats and seafood, as well as vegetables. On his website, he also says it's "awesome" with mac and cheese. But, should you decide to order a bottle, beware! He describes the sauce as "habit inducing."