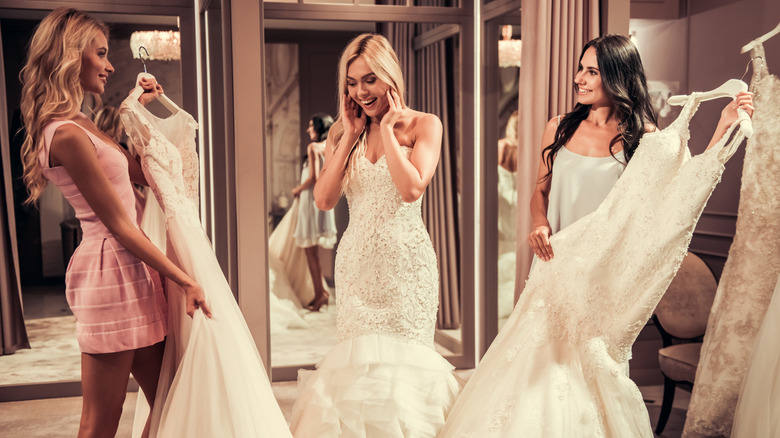 Say Yes to the Dress is more than just a television show. A fixture in Brooklyn's Bay Ridge neighborhood since 1941 for hip, stylish, and wealthy brides-to-be, Mara Urshel and Ronald Rothstein moved their bridal salon, Kleinfeld, to larger Manhattan digs in 2005. Two years later, the owners said "I do" to a proposal from TLC to create a reality show built around Kleinfeld shoppers finding the perfect wedding gown with the assistance of the store's consultants and fitters. Say Yes to the Dress was born, but here's what the show — and store — are really like.
The application process is no joke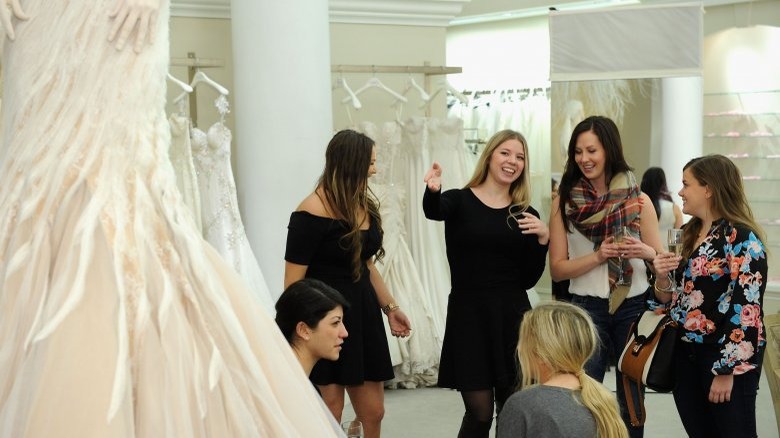 The Kleinfeld application for Say Yes To The Dress and Say Yes To The Dress Big Bliss requires brides to already know a lot about their weddings, and be cool with telling the show things like what their fiancé does for a living. Although there have been brides on the show who didn't yet have a date for their wedding, it looks like TLC is interested in getting a sense of what information you do and don't ahead of time, probably to plumb it for potential drama.
If you ever decide to apply, you must be prepared to describe yourself and your personal style in three words, talk about your wedding budget, any important family traditions, and why you want to be on TV, among other things. The application to be on the Atlanta show is essentially the same, but it also asks if you've ever been convicted of a crime, and if so, to please explain.
What a surprise, it's a Pnina Tornai!
Ever notice how most brides on Say Yes to the Dress end up in a gown designed by Pnina Tornai? That's because the show, and Kleinfeld, are set up to move as many of the Israeli dressmaker's gowns as possible. Tornai approached Kleinfeld pre-Say Yes to the Dress about carrying her line, but they turned down several of her designs before finally saying yes to a dress. Pnina Tornai is now one of Kleinfeld's primary vendors, but the only one with an in-store boutique. Today, a Pnina Tornai is one of the first (if not the first) gowns offered up on Say Yes.
TV magic makes the salon look huge
Say Yes to the Dress really is taped inside Kleinfeld's Manhattan storefront, but it's not very big. Creative camerawork and editing make the charming boutique look much larger than it really is. There's evidently exactly enough space for a bride, a giant gown, her entourage, the cast of the show, and a small production crew.
In real life, the place is packed
A visit to Kleinfeld for a bride not participating in Say Yes, or when the show isn't taping, is much different than one for a bride on the show. Gone is the entire staff paying attention to just one woman who gets the run of the store to herself. The success of the show has turned the store into a madhouse. Prepare to contend with 20 or so other brides crowding for dresses, as well as access to mirrors and platforms. Even brides with an appointment only get 90 minutes to decide on a dress before they have to leave.
Kleinfeld is a tourist attraction because of the show
Fans of the show come from all over to check out the store and try on dresses, whether they have an appointment or not. Some may not even be brides — they're just there for an experience (or possibly, to buy a "Just Say Yes" Say Yes to the Dress-branded T-shirt from a kiosk in the lobby).
The dressing room situation is weird
Brides who appear on Say Yes to the Dress really do have to strip down in a fitting room in front of their consultant — and a camera operator. However, the show does try to use a female camera operator to cut down on the awkwardness, and any images of a woman in her underwear aren't going to appear on the air.
How the consultants are picked
Consultants on Say Yes to the Dress aren't assigned at random to brides. According to one woman, Valerie Bowman, who appeared on the show's Atlanta iteration, she was paired with blond-haired Southern belle Robin because she herself was a brunette with no Southern accent. The contrast apparently makes for more compelling television, like The Odd Couple, but with much less arguing.
Kleinfeld is here for all your modesty needs
Most wedding dresses are strapless, which means if you're required by religion to have a dress with sleeves, it's going to cost you some serious cash to add them. In addition, there's the work of having to explain the fact that your religious standards aren't optional, so you really do need a dress of a certain length and style. Kleinfeld's consultant, Rochel Leah Katz, was hired specifically to work with brides with modesty requirements, such as Orthodox Jews and Mormons. Katz knows it's not only hard to find a dress with sleeves, but also, that not all designers allow their dresses to be modified. She understands that it's not simply a matter of finding a dress, and sending it to get altered — for modesty's sake, it's often a matter of changing the structure of the dress, so the alteration process is often more complex.
Katz has been with Kleinfeld's for over a decade, and it's no wonder. Chana Schwartz wrote in Mode-sty.com: "It likely is the underrated traditional great service, which Rochel Leah gives to each bride, that makes her so sought after — even in London, from where she procured three appointments a short while ago."
Every bride gets the owners' cell phone number
You've probably seen the owners of Kleinfeld, Mara Urshel and Ronnie Rothstein on Say Yes to the Dress, Rothstein talking about how much he loves his job and every bride who comes in, and Urshel traveling to various fashion shows to suss out the latest trends. These two are serious about customer service, on a new level.
In an interview with Brides in 2016, Urshel told Jacqueline Weppner that each bride gets both hers and Rothstein's personal cell phone numbers. "At Kleinfeld, the staff works diligently to ensure that the customer feels that she is the only bride in the store. Every step of the way, the bride receives personal one-on-one attention, from a personal bridal consultant, to her fitter who she will work with for the next few weeks until the gown fits perfectly! Ronnie and I give our cell phone numbers so brides feel they can reach us at any time, day and night."
Some Kleinfeld consultants started out as customers
Kleinfeld consultants and Say Yes to the Dress favorites Camille and Keasha first showed up at Kleinfeld looking for dresses for other people's weddings — Camille was in search for a dress to wear to her son's wedding, and Keasha came to help her cousin find a wedding dress. Having been in the right place at the right time paid off — literally, for Camille, who met owner Ronnie Rothstein on her visit and learned there was a job opening.
There are dresses in the ceiling
Kleinfeld sells 10,000 dresses in a year, but where do you even keep all those? Like anyone who lives in New York City, Kleinfeld has had to get creative about space, so dresses that are waiting to be picked up are kept in the ceiling and rotate via a machine.
They came up with a few solutions to help get sell stock quickly. The store's sample sales bring in hundreds of brides-to-be at a time, who all impatiently wait outside for the Kleinfeld doors to open. They also opened a Sample Studio located across the street from the main store, where brides on a budget and in a time-crunch can pick from over 200 dresses, without the pressure of a 90 minute appointment.
Say Yes to the Dress saw its first transgender bride
Gabrielle Gibson is the first transgender bride to appear on the original Say Yes to the Dress, although not the first on the franchise — that was Precious Davis, who was on Say Yes to the Dress Atlanta in 2016. Gibson, who chose her dress on the episode that aired in March 2017, brought her mom and friends to the appointment. She told People, "I just wanted to have an experience, and to show that we as trans people can love, and be loved, in a normal setting, and do things that are not out of the norm."
You can't look at most of the dresses
At Kleinfeld, most dresses are kept in the stockroom, where consultants are often seen searching for gowns during Say Yes to the Dress. You can look at samples on the floor, but that's only some of the dresses in the store, which is why consultants go to the back to pull more looks for brides. One customer review of the store in New York Magazine expressed frustration with not being able to see more dresses: "Kleinfeld…told me I could try just FOUR dresses (big inventory, but you'll never see it)."
Beads are so important that they get their own room
On Say Yes to the Dress, there's as much drama in the Kleinfeld alterations department as in the process of actually finding a dress, and sometimes more. (See: the episode in which a mother punched alterations manager Vera.) Brides return between two and four times for fittings, and things get more complicated if you're making serious changes to the dress. Brides can add "bling" to their gowns to make them more unique, and it's so vital to make sure a dress looks perfect that there's a whole room devoted to adding beading to a dress.
Kleinfeld now has a Canadian location
Say Yes to the Dress is already a franchise — in addition to the original show based at Kleinfeld, there's Say Yes to the Dress: Atlanta, Say Yes to the Dress: Bridesmaids, Say Yes to the Dress: UK, and on TLC Australia, a 6 part series called Say Yes to the Dress: Australia. A Canadian version of the show, Say Yes to the Dress: Canada, films at the exclusive Toronto bridal boutique Amanda-Lina's, but now there's another upscale bridal salon in town.
In May 2014, Kleinfeld Hudson's Bay opened in Toronto. It's basically a wedding wonderland, over 20,000 square feet of dresses, jewelry, shoes, and everything you could want for the big day. According to Kleinfeld Hudson's Bay publicist Jessica Mulroney, this store is meant to be "more inspiration than a copy of the New York store." As of now, there are no plans to film SYTTD at Hudson's Bay, but regardless of whether or not the store's Canadian brides end up on TV, they're guaranteed to have the "Kleinfeld experience."
Filming an episode is intense
What's it really like to be in front of the Say Yes to the Dress cameras? In 2013, Courtney Wright went with her engaged friend to choose dresses for her bridesmaids (including Wright), and ended up in an episode of Say Yes to the Dress: Bridesmaids, filmed at Bridals by Lori in Atlanta, Georgia, where Say Yes to the Dress Atlanta also takes place.
Wright described her experience of filming the show in an interview for 417 Bride in 2013. The group tried on four dresses (but didn't purchase any of them), and although an episode is 30 minutes long, recording took eight hours. Why so long? Each dress took an hour to discuss and film, followed by post interviews. "I wasn't expecting all the questions," said Wright. "I thought it was just like, "Alright, go."
The questions exist for a reason, of course, it's how the producers create a show worth watching. Wright said, "They want you to act as natural as possible, but you can tell that they want to stir up some drama. If someone says something that could potentially cause a disagreement, the director asks you questions about it."
Randy has a bridal line
He's been dubbed a "bridal gown whisperer" by Kleinfeld customers, and now Say Yes to the Dress star Randy Fenoli has stepped into the world of bridal design with his own collection, Randy Fenoli for Kleinfeld.
Fenoli showed his Spring 2018 collection, made up of twenty five dresses, at this year's Bridal Fashion Week. He told US Weekly that the line "captures the diverse tastes of today's brides, whether she wants to look romantic, chic, bohemian, sexy, ethereal, traditional, fashion forward or become a fairy-tale princess on her wedding day. This collection offers something for every bride looking for her perfect dress." Even better news: while you can easily drop ten thousand dollars or more on a gown at Kleinfeld (as of 2015, the most expensive Pnina Tornai in the store was priced at $37,000), Fenoli's collection is reasonably priced as wedding dresses go: between $1,500 and $3,000.
The show, and the store, have had some legal troubles
In 2013, Kleinfeld brought a lawsuit against designer Mark Zunino claiming that Zunino violated an agreement he had with the store to "not engage in any design activities that would conflict or compete" with Kleinfeld. The store alleged that Zunino broke his contract by designing bridal gowns for Nolan Miller Inc. Zunino's line, Mark Zunino for Kleinfeld, showed at Bridal Fashion Week in 2016, but Zunino is not included as a designer on the store's website.
The legal tables turned in 2016, when Alexandra Godino, a bride who appeared on Say Yes to the Dress, sued the show when she learned TLC planned to air her episode before her May wedding. Godino lost her legal battle, and the show aired as scheduled, after New York Judge Nancy Baron reminded her that she signed a contract when she agreed to go on the show, which mentioned nothing about the dates of the airing being negotiable. Jim Hollis, attorney for SYTTD's production company, clarified that there was never a promise made by the show to hold the episode, and if brides ask for their episode to be held back, they aren't filmed.
Also in 2016, Randi Siegel-Friedman claimed Kleinfeld gave her the wrong size gown, and then refused to refund her the cost of the dress, more than $12,000. In the end, she wore a sample dress purchased elsewhere. According to TMZ, in December 2016, Kleinfeld had yet to review the suit and declined to comment.
The show is actually really into non-traditional brides
Most brides featured on Say Yes to the Dress leave with long white dresses, and while eyebrows definitely get raised when brides come in searching for particularly unique dresses, the producers of the show appreciate folks who are looking to break the mold. In a piece for the Offbeat Bride, a reader and forum contributor named Stacey described her experience on the SYTTD spin-off Randy to the Rescue.
Stacey was clear that she wanted a silver dress, and was concerned that she'd be forced to try on "fluffy white princess dresses," but Randy delivered, and she ended up choosing a gold dress that was only slightly out of her budget. The show also didn't try to mainstream Stacey when it came to make-up. It was then that she learned that the team was were super into her non-traditional requests: "They were tired of the TV brides who all want a white princess dress, beach curls with a low bun, and natural make-up," she wrote. "One of the camera women kept telling me, 'We did a steampunk bride last year and it was so cool. I wish we could film more brides with theme weddings, or like a goth wedding or something.' Even the makeup artist and the hair stylist were excited to do something new."
Being a consultant is tougher than it looks
Have you ever found yourself watching the consultants on Say Yes to the Dress and thinking, "I could definitely do this job?" Watch the episode in which Kelly Ripa spends a day as a consultant and you'll change your mind. Being a bridal consultant is super hard — you likely work on commission, there are entourages to contend with, not to mention the bride, who's the person you're actually aiming to please.
And then there's the matter of salary and health benefits. Even at an upscale salon like Kleinfeld, current and former employees, including folks who work in shipping, operations, as well as customer service, report health care being "too expensive". Pros of working at the store reportedly include travel, an exciting work environment, and enthusiastic co-workers.
The show's announcer doesn't know what he's narrating
Ever wonder about the identity of the voice guiding us through all the action on Say Yes to the Dress? It's Roger Craig Smith, who's been describing gowns, and more, on the show since 2007. If his voice sounds familiar, it's because he's done voice-over for an assortment of cartoons and video games, including Resident Evil.
Smith doesn't actually see any of the scenes he's narrating before he narrates them. He gets the script sent to his home in California, and then speaks with the producer who tells him what's happening, a process that Smith says helps him better connect to the material. He's spent the last ten years getting a crash course in wedding dresses — but doesn't advise brides come to him for dress advice. "The first thing I would say is run for the hills — you would wind up in a burlap sack."
They can say no to the dress
The bride's budget is discussed ahead of time, and the consultants do try to stick to that figure, although they almost always show the brides dresses far out of that price range — it helps cement the show's "fairy tale" feel. One participant says that dresses she couldn't afford were all moved to different closets and stockrooms — the doors stayed closed and taping didn't happen in there. According to Valerie Bowman, the bride is under no obligation to buy any of the dresses shown to her during her episode of Say Yes to the Dress, and can instead say yes to savings.