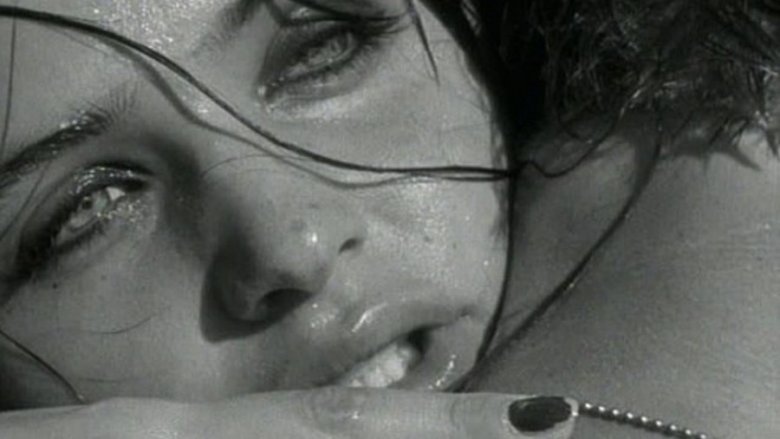 After the launch of MTV in 1981, music videos became a novel concept in the Reagan years. All of a sudden, there was this whole channel of clips of bands and singers lip-syncing to their hits. Videos evolved and became more sophisticated, but in the 1990s, the form made good on the promise of Michael Jackson's "Thriller" and became not just big-budget works of art, but a vital part of a musician's marketing campaign. Sorry, but the whole point of videos is to sell albums and singles, and the adages of the marketplace apply: namely, that "sex sells."
Sex appeal has always been a part of rock 'n' roll, but music videos allowed bands to make tiny, well-produced movies that were sometimes little more than an excuse to show an attractive woman in little clothing dancing horizontally or vertically. The women in those videos became cultural icons despite remaining generally anonymous. Here's a look at what those "video vixens" got up to after the screen faded to black.
Bobbie Brown had a tough time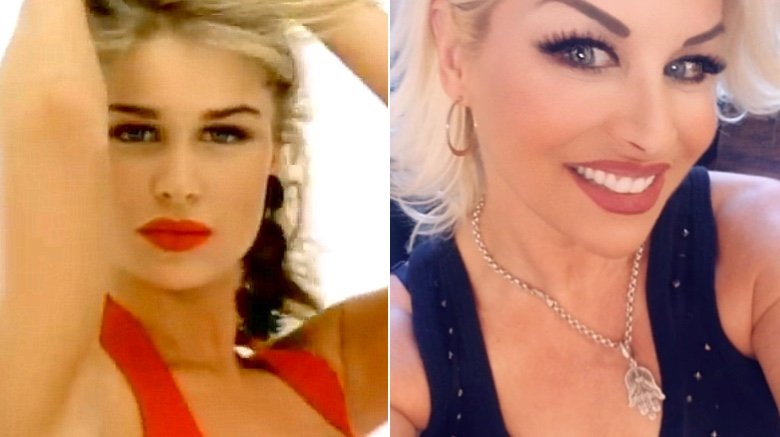 Not to be confused with makeup tycoon Bobbi Brown or former celebrity singer Bobby Brown, this Bobbie Brown — who sometimes goes by Bobbie Jean Brown — is one of the most recognizable music video stars of all time. Hair metal bands' videos often featured a scantily clad woman, and Warrant's "Cherry Pie," one of the last big hits of the genre, featured Brown, wandering around a white space in a tight, red halter top, sucking on maraschino cherries, and dropping slices of cherry pie in her lap. (As if a song called "Cherry Pie" wasn't suggestive enough.) When the camera wasn't trained on this blonde beauty, it was pointed at another one: Warrant singer Jani Lane. And wouldn't you know, these two found each other on the set. In rapid succession, Brown and Lane married (in 1991), had a daughter (in 1992), and divorced (in 1993).
After some more music video appearances, Brown segued into acting, often typecast as a blond bombshell in small parts in things like Married… with Children, Cool as Ice, and Last Action Hero. In 2013, she joined the "celeb-reality" circuit as a part of the Canadian Real Housewives-ish Ex-Wives of Rock. That same year, Brown published her memoir Dirty Rocker Boys, in which she detailed her recovery from addictions to cocaine and methamphetamine as well as her ongoing battle with trichotillomania, the compulsion to pull out one's own hair.
Alicia Silverstone became an actor and activist
"The Trilogy" is universally understood pop culture shorthand for the three classic Star Wars films released between 1977 and 1983. But in Alicia Silverstone's orbit, "the trilogy" likely refers to the three massively popular early '90s Aerosmith videos in which she appeared. Silverstone wasn't a "dancing around and pouting" video vixen, she was an actress, and she proved it in the narrative clips for "Cryin'" (she deals with a nasty breakup and finds peace), "Amazing" (she portrays a virtual reality dream girl), and "Crazy" (she flees private school and has sexy adventures). Those videos found heavy rotation on the highly influential MTV, launching Silverstone to a legitimate acting career. In 1995, she starred in the thriller Hideaway as well as the cultural touchstone Clueless … and stayed in the entertainment forefront. She played Batgirl in Batman & Robin, starred on the TV shows Miss Match, and American Woman, and will play one of the few adults in an upcoming series based on The Baby-Sitters Club books. (She's also a vocal supporter of animal rights and an advocate of the vegan lifestyle.)
Stephanie Seymour is still going strong
The phenomenal success of Appetite for Destruction gave Guns N' Roses a blank check, creatively and financially. As for the former, they released not one but two albums in 1991, Use Your Illusion I and II. To promote those albums' many long, epic, prog-rock-type jams, Guns N' Roses made a series of expensive, symbolism-heavy cinematic videos, connected by a loose narrative theme of love and loss.
In "Don't Cry" model Stephanie Seymour and singer Axl Rose brutally fight over a gun (while Seymour wears a tight tank top), and in "November Rain," Seymour marries Rose (while wearing a skimpy wedding dress) and then tragically dies. Seymour also dated Rose from 1991 to 1993, a relationship which descended into domestic violence allegations and lawsuits. As one of the original "supermodels" of the early '90s, Seymour used that goodwill (and her modeling skills) to be the face of various campaigns well into the 2000s; Estée Lauder named her an official spokesmodel in 2014. More recently, Seymour launched Raven & Sparrow, her high-end lingerie line available only at the tony Barney's department store.
Helena Christiansen was an angel
The smoldering, black-and-white, Herb Ritts-directed, beach-set video for Chris Isaak's "Wicked Game" still makes "sexiest music videos ever made" lists more than 25 years after its 1991 debut. It consists of little more than the hunky, undershirt-clad Isaak hanging out and making out in the sand with a bright-eyed brunette in various states of undress to the sounds of some slowed-down, surfy rockabilly. Portraying the latter: major '90s fashion model (or "supermodel" in the parlance of the time) Helena Christensen. In addition to her appearance in the memorable "Wicked Game," Christensen has appeared on countless magazine covers, and was once one of Victoria's Secret's top models. Christensen's been in a number of notable relationships with high-profile guys, including late INXS frontman Michael Hutchence, Leonardo DiCaprio, Interpol singer Paul Banks, and Norman Reedus, who plays Daryl Dixon on The Walking Dead. They had a son together, so he keeps her busy, as does her Manhattan boutique, Butik.
Janine Lindemulder had a massive career change
Blink-182 is a punk rock band, and what's more punk rock than a unified marketing message? In 1999, the trio released the album Enema of the State, the cover of which featured a woman dressed up like a sexy caricature of a nurse. The band used the same model to play a nurse walking down the street in their video for the record's leadoff single, "What's My Age Again?" That's the one where Mark Hoppus, Tom DeLonge, and Travis Barker do various public activities while totally naked — ironically that clothed model they encounter, Janine Lindemulder, earned her living in the buff, as the star of dozens of adult films in the 1990s. Around the time of "What's My Age Again?" Lindemulder walked away from the world of adult entertainment to raise her kid and work as a kindergarten teacher. A few years later, however, Lindemulder was back making skin flicks, and made headlines for some personal issues. In 2002, she married motorcycle customizer and Monster Garage star Jesse James, and a year later wound up in prison for assaulting the guy.
Dana Patrick became a photographer
Back in the late '70s, Meat Loaf had his big moment with his mixture of hard rock and deep-throated show tunes on his album Bat Out of Hell, certified 14-times platinum by the RIAA. After fading into obscurity in the '80s, he returned with Bat Out of Hell II: Back into Hell in 1993, an almost inexplicable smash. The lead single, "I'd Do Anything For Love (But I Won't Do That)" went all the way to #1 on the Hot 100. It's partially a duet, and a session singer named Lorraine Crosby provided the female vocals. The woman who appears in the epic, Beauty and the Beast-inspired video is not Crosby, but a model named Dana Patrick, who lip-synced to Crosby's vocals while she ran around a castle and hung out on a magically floating bed. This was the first time Patrick appeared on screen, and she was cast on the strength of an audition tape she made for a Levi's commercial that wound up in the hands of the video's director, Michael Bay. (Yes, Transformers and Armageddon Michael Bay.)
After her big break, Patrick starred in another Meat Loaf video, "I'd Lie for You (And That's the Truth)," and scored bit parts on Seinfeld and Two Guys, a Girl, and a Pizza Place. She's now retired from acting and runs her own Los Angeles-based photography business specializing in portraiture, cleverly titled Dana Patrick Photo.
Betsy Lynn George went to college
In 1990, rocker Billy Idol got involved in a horrific motorcycle accident that put him in the ICU and required surgery. But he still had to make a video for "Cradle of Love." He wasn't completely mobile, but, as he related in his memoir Dancing with Myself, Idol says director David Fincher came up with a novel idea: "He explained that I was to be inside a framed picture on a wall that comes to life," hiding his leg injuries, looking down while "an alluring Lolita-type young girl" seduces a nerd.
That Lolita-type: Betsy Lynn George, a Pittsburgh department store model who moved to L.A. and found work posing for Japanese ad campaigns and bit parts on Days of Our Lives and Baywatch. Her most famous role will likely always be "Cradle of Love," which finds her stripping down, writhing on a bed, and crawling on a floor, pushing the limits of what 1990 MTV could put on the air. Starring in a popular video didn't do much for her career — her immediate roles after "Cradle of Love" include "Girl at Party" in Point Break and "Lisa" in something called In the Heat of Passion II: Unfaithful. She enrolled in college in her thirties, studying psychology in part to help better understand her autism-diagnosed son. In 2019, she starred in a short film called "Occurrence at Mills Creek," and reprises her role in the 2020 full-length remake.
Lori Elle and Robia LaMorte stayed in entertainment
Along with soaring vocals, shredding guitar licks, and an overabundance of funk, Prince fans could always expect The Purple One to regularly introduce the world to a new female protégé, such as Vanity or Apollonia. "He always liked to find a female muse for every season of his work, and for the album Diamonds and Pearls the word was that he was looking for a set of identical twins," Robia LaMorte-Scott told The Slow Journalism Company. LaMorte-Scott, not a twin, auditioned for Prince's "Cream" video anyway, and ran into dancer Lori Elle (later Werner), who she slightly resembled. "When Prince saw us together he decided that we could work as the twins." Werner became Diamond, LaMorte-Scott became Pearl, and together they appeared in four Prince videos: "Cream," Gett Off," "Strollin'," and "Diamonds and Pearls."
Prince moved on to other muses after a couple of years, leaving Diamond and Pearl to find their own way. Diamond/Werner returned to professional dance. In 1987, she'd starred in Michael Jackson's "The Way You Make Me Feel," and danced in the King of Pop's live shows for years. Pearl/LaMorte-Scott jumped from music into acting, landing gigs on really cool late '90s television. She portrayed Jill Fleming on Beverly Hills, 90210, and teacher/"technopagan"/love interest for Giles the Watcher in the early seasons of Buffy the Vampire Slayer … before her character met a tragic demise. She decided to change gears again in 1999, and devoted her life to Christian ministry. That life led her back to Hollywood, with a role in the 2019 faith-based film Unplanned.