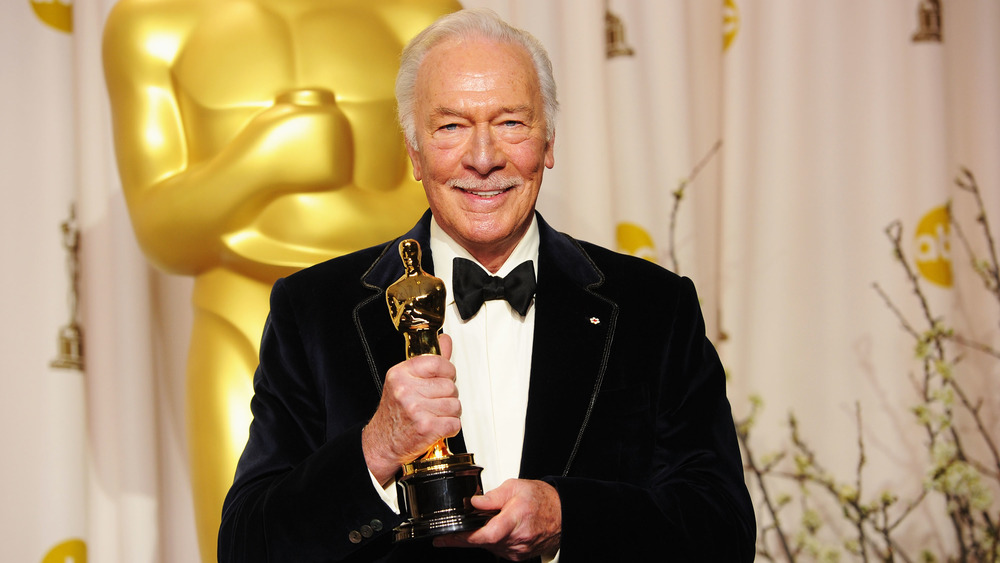 What actors and actresses did we sadly lose in 2021? Celebrity deaths, though they happen often, frequently leave fans reeling. Who hasn't felt the pinch of shock and pain of grief when a beloved celebrity dies?
Despite how common these feelings are, many people feel ashamed or confused about why they're so sad about the death of someone they never even met. But, according to the experts, mourning a celebrity's death is completely normal because, despite the distance of the relationship, it still meant something. "[In our heads], they're never supposed to die," grief counselor Dr. Jill Gross told Well + Good. "When they die a little part of us dies, too — our innocence dies with them."
Psychologist Dr. Natalia Skritskaya also told Well + Good that, "Feelings are important, and they're not to be ignored… Feelings are signals — if you feel sad about a loss, it's a signal it had some meaning to you." That's why it's perfectly okay to grieve the loss of the lives of the actors and actresses we sadly lost in 2021.
UPDATED ON JULY 19, 2021: It's been a tragic year for the performing arts. We want to pay our respects and remember these amazing stars and the projects they worked on, so we've updated this list to honor the actors who made their final bow in 2021.
Jahmil French from Degrassi: Next Generation died in January 2021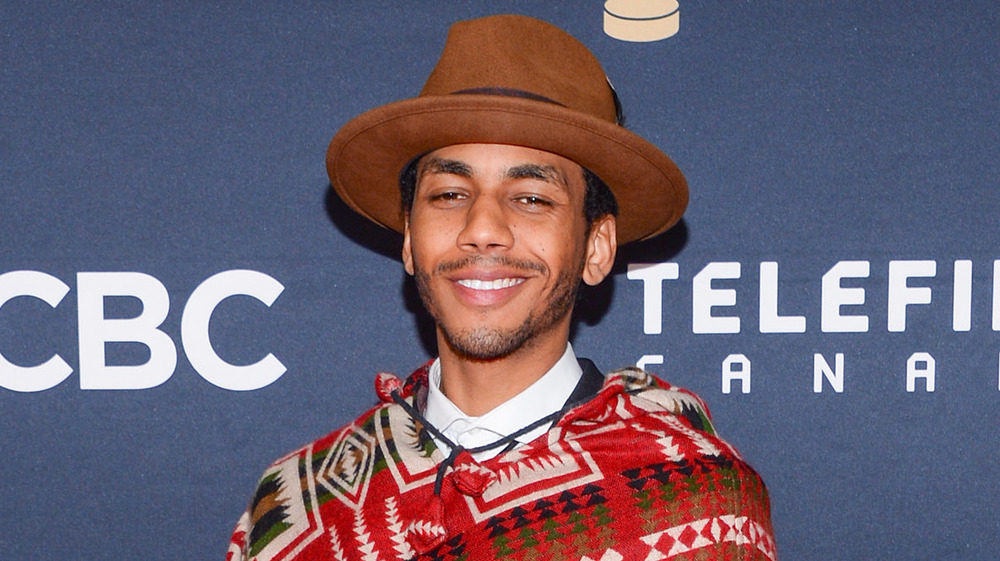 According to People, Jahmil French from the Canadian TV show "Degrassi: Next Generation" died on March 1, 2021. He was only 28 years old. Though the cause of death wasn't released, French's representation and coworkers were quick to post on social media their shock and grief, as well as messages of love for the young actor. "It is with a heavy heart that I confirm the passing of a dear friend and client Jahmil French," one of French's reps said in a statement. "He will be remembered by many for his passion for the arts, his commitment to his craft, and his vibrant personality."
Melinda Shankar, one of French's "Degrassi" costars, posted a tribute to her friend on Instagram. "You will always hold such a special place in my heart," she wrote in the caption. "Thank you for being one of the most talented, compassionate, kindest, funniest friends I have. You were so loved."
French was also known for his work on the Netflix show "Soundtrack," in which he starred alongside Christina Milian. Milian expressed her grief over French's death by commenting on his Instagram page, "You will be missed. Rest peacefully King."
We lost Cloris Leachman to a stroke
Actress Cloris Leachman died in January 2021 at age 94. According to People, the cause of death was a stroke, with COVID-19 a contributing factor. TMZ gave additional details, noting that she was with her daughter in her home in Encinitas, California when she died.
Leachman's career spanned decades, beginning on the stage when she made her Broadway debut in 1947 in "John Loves Mary." The powerhouse actress then made the jump to the screen, appearing in several TV shows and movies. In 1971, she won the Academy Award for Best Supporting Actress for "The Last Picture Show."
Despite her many other successes, Leachman was best-known for her depiction of Phyllis Lindstrom on "The Mary Tyler Moore Show" in the '70s and of Maw Maw in "Raising Hope." "It's been my privilege to work with Cloris Leachman, one of the most fearless actresses of our time," manager Juliet Green told People. "With a single look she had the ability to break your heart or make you laugh till the tears ran down your face." Green also added that the Leachman family was asking that donations in her name be made to Last Chance for Animals or PETA.
Ronald Pickup from The Crown died "peacefully"
Ronald Pickup, a British actor well-known for his work in the Netflix hit "The Crown," died February 24, 2021 at age 80. "[Ronald] passed away peacefully yesterday after a long illness surrounded by his wife and family," his agent told the BBC. "He will be deeply missed."
Though Pickup was famous for his depiction of the Archbishop of Canterbury on "The Crown" and Neville Chamberlain in the movie "The Darkest Hour," he had an awe-inspiring career on the stage and in film and TV. After working at various theaters throughout Britain, the actor got his big break when he was cast in an episode of "Doctor Who" in 1964.
According to his IMDb page, Ronald then went on to appear in a laundry list of shows including "Call the Midwife," "Downton Abbey," "Silent Witness," "Doc Martin," and "Coronation Street." Despite his massive credit list, Pickup did reveal his favorite role in 2012 (per BBC): George Orwell in the TV movie "Crystal Spirit: Orwell on Jura." As reported by Variety, Pickup is survived by his wife, Lans Traverse, and their two children.
Mira Furlan died from West Nile virus complications
Actress Mira Furlan died from complications of the West Nile Virus on Wednesday, January 20, 2021, as reported by the BBC. She was only 65 years old. "It is with great sadness that I confirm the passing of Mira Furlan," her family said in a statement. "She was a woman full of kindness, strength and compassion." The statement went on to say that Furlan "died peacefully at her home in Los Angeles, surrounded by her family."
According to her IMDb page and the BBC, Furlan was born in Zagreb, Croatia, and starred in sci-fi hit "Babylon 5" as Delenn from 1993 to 1998. She also portrayed Danielle Rousseau on "Lost." "Babylon 5" creator J Michael Straczynski tweeted his reaction to her death, writing, "It is a night of great sadness, for our friend and comrade had gone down the road where we cannot reach her… We will catch up with her in time, and I believe she will have many stories to tell us." And as her family's statement read, "We will all continue to celebrate her life and legacy, and know she'll always be here with us."
We sadly lost Christopher Plummer from The Sound of Music in February 2021
Canadian-born, world-famous actor Christopher Plummer died in early February of 2021 at the age of 91. As reported by Variety, he was in his Connecticut home when he died.
Though his career spanned decades and mediums, from Broadway to film, Pummer is perhaps best known as Captain von Trapp from the movie adaptation of the musical "The Sound of Music." Who doesn't love the moment when he sings "Edelweiss" with his guitar? Plummer was also an Oscar winner, taking home the Academy Award for Best Supporting Actor in 2021 for the movie "Beginners." Additionally, many fans don't know that, according to his IMDb page, Plummer also voiced the evil Charles Muntz in the Pixar hit "Up."
"Chris was an extraordinary man who deeply loved and respected his profession with great old fashioned manners, self deprecating humor and the music of words," Lou Pitt, Plummer's manager, told Variety. "He was a national treasure who deeply relished his Canadian roots. Through his art and humanity, he touched all of our hearts and his legendary life will endure for all generations to come."
Tanya Roberts from That '70s Show died
Actress Tanya Roberts, as reported by Variety, collapsed while walking her dogs on December 24, 2020. The Bond Girl was hospitalized for several days and died on the evening of Monday, January 4, 2021 from a urinary tract infection that had spread to her bloodstream and several organs. She was 65 years old.
Roberts began her time in the spotlight as a model and stage actress, but her career really took off when she played Bond Girl Stacey Sutton in the 1985 Bond flick "A View to a Kill." The bombshell then went on to warm hearts and crack smiles as Midge Pinciotti, hippie mother to Donna, on "That '70s Show" (via IMDb).
Another Bond Girl, Britt Ekland, tweeted about Roberts' death. "Rip Tanya Roberts, once a Bond Girl always a Bond Girl," she wrote. Don Coscarelli, who directed the "The Beastmaster," also tweeted about his grief: "I just heard the sad news that actress Tanya Roberts passed away. Tanya was a beautiful person, inside and out. I will always remember Tanya for being incredibly sweet and for her genuine love of animals."
Dustin Diamond from Saved By the Bell died of cancer
Actor Dustin Diamond of "Saved By the Bell" fame died in early February of 2021 from carcinoma; he was 44, as reported by People. "He was diagnosed with this brutal, relentless form of malignant cancer only three weeks ago. In that time, it managed to spread rapidly throughout his system; the only mercy it exhibited was its sharp and swift execution," Diamond's reps shared. "Dustin did not suffer."
Diamond's rep went on to mention his checkered past. "His actions, though rebukable, stemmed from loss and the lack of knowledge on how to process that pain properly," they explained. The rep was most likely referring to the actor's stint in jail after allegedly attacking someone with a knife, his infamous sex tape that turned out not to be of him at all, and his drama-inducing tell-all book "Behind the Bell" (as per Global News). "Dustin Diamond was a character in and of himself: an unpredictable spitfire who always left us shocked, but never left us bored," the rep concluded in the statement. "We are thankful he trusted us enough to share his genuine, authentic self with our team."
We sadly lost icon Cicely Tyson in January
Cicely Tyson, a true acting legend, died at age 96 in January 2021, as reported by People. "It's very exciting to know that you are, hopefully, making a roadway for someone else to follow," the powerhouse once told People in an interview — and make a roadway she did! Tyson worked in entertainment for more than 60 years, dedicating her entire life to depicting strong, inspiring Black women.
Additionally, Cicely Tyson was the first Black woman to be awarded an honorary Oscar, as well as the first Black woman to win an Emmy for a lead role. Tyson was also nominated for an Academy Award for "Sounder." Furthermore, she scored several Emmy nominations for her work in "The Autobiography of Miss Jane Pittman," "Roots," and "King" (per IMDb). Tyson also won a Tony Award in 2013 for her work in the Broadway play "The Trip to Bountiful." "I used my career as my platform in an effort to address [race and gender]," Tyson revealed. "Every now and then when I receive an achievement award I realize… the sacrifices that I made as a result were worth it."
Peter Mark Richman from Three's Company died at 93
Peter Mark Richman, an actor best known for playing Reverend Snow on "Three's Company," died at the age of 93 on Thursday, January 14, 2021, as per People. "Peter Mark's family would like to thank all those who have been expressing their condolences and admiration for his extraordinary accomplishments," Richman's reps said in a statement. "The love he gave — to everything he did, and everyone he knew — will live forever."
Peter Mark Richman really had some "extraordinary accomplishments!" The Philadelphia native was a pharmacist before he joined the Actors Studio in the '50s and began an acting career that would include over 130 television credits.
Richman's first TV appearance was in 1956 in the show "Friendly Persuasion," but he went on to have roles in such hits as "Dynasty" and "Beverly Hills, 90210" (via IMDb). He then gathered credits in movies from "The Strange One" to "Friday the 13th Part VIII: Jason Takes Manhattan." Even Richman himself was aware of his amazing life, writing in his memoir "I Saw A Molten White Light," "God has been good to me, in everything" (via People).
John Reilly's cause of death is to be determined
Actor John Reilly died at age 84 on January 10, 2021, as reported by People. Reilly's daughter, Caitlin Reilly, posted a heart-wrenching tribute to her father on Instagram, writing, "The brightest light in the world has gone out… Imagine the best person in the world. Now imagine that person being your dad."
As per Reilly's IMDb page, his acting career began in the '60s when he appeared on several then-popular TV shows like "Gunsmoke," "Death Valley Days," and "Apple's Way." However, it was his work on "General Hospital" that made Reilly famous.
John played WSB agent Sean Donely for over 11 years, but was written off of "General Hospital" when he decided not to renew his contact in 1994. Reilly did come back as Sean Donely for a brief moment when he appeared in the spinoff "General Hospital: Night Shift" for one episode in 2008, and the "General Hospital" 50th anniversary special in 2013. "I'm so grateful I got to love him," Caitlin Reilly added. "I love you forever Daddy."
Deezer D from ER may have died from a heart attack
Dearon Thompson, better known as Deezer D, died at age 55 on Thursday, January 7, 2021. According to TMZ, Deezer D's brother found him unresponsive in his LA home. His brother also told TMZ that he believes Deezer D died of a heart attack, though as of this writing, an official cause of death hasn't been announced. However, it would make sense that Deezer D died of heart problems, as back in 2009, he told Radar Online (via The Hollywood Reporter) that he'd gone through "over 10 episodes of heart failure in the last eight months alone." The actor added, "I have a heart valve that is leaking and the aorta had expanded to way beyond what it is supposed to be."
As per his IMDb page, Deezer D appeared in 190 episodes of the hit TV drama "ER" as nurse Malik McGrath between 1994 and 2009. In addition to his acting, Deezer D was a Christian rapper and motivational speaker. Emmery Thompson, Deezer D's brother, wrote a tribute on Instagram: "My Big Brother! God is with you. I will miss you."
Marion Ramsey from Police Academy died at 73
"Police Academy" actress Marion Ramsey died on Thursday, January 7, 2021 at the age of 73. According to The Hollywood Reporter, she died at home in Los Angeles of unreported causes. Ramsey's management team from Roger Paul Inc. sent a statement to The Hollywood Reporter about the actress's death, reading, "Marion carried with her a kindness and permeating light that instantly filled a room upon her arrival. The dimming of her light is already felt by those who knew her well. We will miss her and always love her."
Marion Ramsey's first acting credit was one episode of "The Jeffersons" back in 1976, as per IMDb. And though she was a regular on "Cos," Bill Cosby's sketch show, Ramsey is perhaps best known for playing Officer Laverne Hooks in six "Police Academy" movies from 1984 to 1989. She was also a voice over actress, playing characters in cartoon TV shows like "The Addams Family" and "Robot Chicken." Ramsey was also a devoted humanitarian, helping the annual "Divas Simply Singing" event raise money to fight and prevent AIDS.
We sadly lost Trisha Noble from Star Wars
As reported by the Daily Mail, actress Trisha Noble died from mesothelioma at the age of 76 in early February of 2021. Born in Sydney, Australia, Noble was originally a singer who got her start on the Australian variety show "Bandstand." Under her singing name Patsy Ann Noble, Trisha had several pop hits down under, including "Good Looking Boy" and "Busy Lips." She was even awarded the Best Female Singer of the Year Logie — similar to an Emmy — in 1961.
It wasn't until she moved to America in 1967 that Noble became an actress. According to her IMDb profile, some of Noble's earliest credits include TV shows like "The Rockford Files," "The Mary Tyler Moore Show," "Columbo," and "Casablanca." However, it was her work in the "Star Wars" franchise that gave Noble a cult following. She played Jobal Naberrie, mother to Natalie Portman's Padme Amidala, in "Star Wars: Episode II — Attack of the Clones" and "Episode III — Revenge of the Sith."
Helen McCrory from Harry Potter died from cancer
On April 16, 2021, the New York Post reported that actress Helen McCrory died at the age of 52. Her husband, Damian Lewis, had tweeted out the news, writing, "I'm heartbroken to announce that after a heroic battle with cancer, the beautiful and mighty woman that is Helen McCrory has died peacefully at home, surrounded by a wave of love from friends and family."
According to the New York Post, McCrory began her work in the arts when she studied at the Drama Centre in London. She won roles in various stage productions, but moved over to film and TV in 1994 when she appeared in the movie "Interview With a Vampire." Though she also appeared in many hits like "Peaky Blinders" and the James Bond flick "Skyfall," the British actress is perhaps best known for her work as Narcissa Malfoy in "Harry Potter and the Half-Blood Prince."
"She died as she lived," her husband's tweet finished. "Fearlessly. God we loved her and know how lucky we are to have had her in our lives. She blazed so brightly."
Sopranos star Joseph Siravo died at 66 years old
Joseph Siravo from "The Sopranos" died at the age of 66 in April of 2021. His family confirmed his death in a statement to the New York Post, saying "[The] acclaimed actor, director, and teacher died on Sunday, April 11, after a long, courageous battle with colon cancer." Though Siravo was most famous for portraying Tony Soprano's gangster father in "The Sopranos," he was a prolific actor with a laundry list of credits. As per his IMDb page, Siravo was in hits like "Law & Order," as well as "The People vs. OJ Simpson: American Crime Story."
However, it was the New York actor's stage work that is perhaps the most noteworthy. According to the New York Post, Siravo played more than 2,000 performances in the national tour of "Jersey Boys" and appeared in other stage productions like "Gemini," "Oslo," "Mad Forest," and "Dark Rapture."
"I was by his side when my dear father passed away this morning," Siravo's daughter Allegra Okarmus wrote on Instagram (via BBC). "We are both so lucky to be so intensely loved. I am so immensely grateful to have had him here on earth and I know that he hasn't gone very far."
TV and film star Barbara Shelley died at the start of the year
As reported by the The Sun, actress Barbara Shelley died at the age of 88 in early January 2021. Shelley's agent Thomas Bowington revealed that, even though she had recently been in the hospital with a COVID-19 infection, "It wasn't the COVID that took her, she had underlying issues." The actress, a beloved star from the 1950s and 1960s, was perhaps best known for her starring roles in several Hammer Horror movies like "Rasputin: The Mad Monk," "The Gorgon," and "Dracula: Prince of Darkness."
Barbara Shelley was also part of the famous "Doctor Who" franchise, appearing in a four-part episode titled "Planet of Fire" in 1984, and she scored roles in many other TV shows from "The Saint" and "The Borgias" to "Crown Court" and "EastEnders" (via IMDb). Despite her long career, it is her horror days that make her name so recognizable. "She really was Hammer's number one leading lady and the Technicolor queen of Hammer," her agent shared (via The Sun). "On-screen she could be quietly evil. She goes from statuesque beauty to just animalistic wildness."
DMX, rapper and actor from Romeo Must Die, was reported dead after an overdose
Actor and rapper DMX, who's real name was Earl Simmons, died on April 9, 2021, after a drug overdose and subsequent coma, as per Page Six. He was only 50 years old. His family released a statement to the publication, writing, "We are deeply saddened to announce today that our loved one … passed away at 50 years old at White Plains Hospital with his family by his side after being placed on life support for the past few days."
As noted by Page Six, DMX took the rap world by storm with his 1998 release "It's Dark and Hell Is Hot," a rap album that topped the charts and went platinum nearly five times. He went on to release more rap albums and earn two Grammy nominations. DMX was also an actor with almost 60 credits in shorts, movies, and TV shows, including "Belly," "Romeo Must Die," and "Fast and Fierce: Death Race" (via IMDb).
"Earl was a warrior who fought till the very end," his family's statement read. "He loved his family with all of his heart and we cherish the times we spent with him. Earl's music inspired countless fans across the world and his iconic legacy will live on forever."
Harry Potter and Chernobyl actor Paul Ritter died in April at 54
Paul Ritter, a British character actor, died in early April 2021 from a brain tumor at the age of 54, as reported by The Guardian. Ritter's agent confirmed his death and revealed that Ritter was with his family in his home when he died. With a long list of credits ranging from stage productions and sitcoms to famous mini series and movies, Ritter and his talents will surely be missed.
Ritter was most recently in the sitcom "Friday Night Dinner" and also appeared in other famous TV shows like "Catherine the Great" and the award-winning series "Chernobyl," as well as many hit movies like the James Bond flick "Quantum of Solace" and "Harry Potter and the Half-Blood Prince" (via IMDb). In addition to his screen work, Ritter was also an accomplished stage actor, snagging nominations for an Olivier award and a Tony award, as per The Guardian. "Devastated at this terribly sad news," Robert Popper, the creator of "Friday Night Dinner," tweeted. "Paul was a lovely, wonderful human being. Kind, funny, super caring and the greatest actor I ever worked with."
Actor Richard Gilliland left behind 'scores of loving, devastated friends'
As reported by Page Six, 71-year-old actor Richard Gilliland died on March 18, 2021. According to a statement from his representatives, he was briefly ill before he died. An accomplished character actor, Gilliland had been working in TV and film since 1974, as per his IMDb page. He had roles in popular series like "The Waltons," "Party of Five," "24," "Desperate Housewives," and "The Imposters." He was also known for his work in "Operation Petticoat," "The Love Boat," and more.
Some might argue that Gilliland's favorite role was that of husband and father. According to an interview his wife, Jean Smart, did with Northwest Prime Time, the pair met in when "he was kissing someone else" while filming for "Designing Women," on which she starred. They married in 1987, and, as per Page Six, had two children together: Connor, age 31, and Bonnie, age 11. In addition to his wife and children, Gilliland also left behind two sisters, a brother, and "scores of loving, devastated friends" (Page Six).
Arrested Development fans lost an icon when Jessica Walter died
Deadline confirmed that Jessica Walter from "Arrested Development" died in her sleep on March 24, 2021. Walter's daughter, Brooke Bowman, released a statement, sharing, "A working actor for over six decades, her greatest pleasure was bringing joy to others through her storytelling both on screen and off. While her legacy will live on through her body of work, she will also be remembered by many for her wit, class and overall joie de vivre."
Walter did have a prolific career. In addition to her portrayal of Lucille Bluth in "Arrested Development," she won hearts in big movies like "Play Misty for Me," "The Flamingo Kid," and "Grand Prix," and memorably voiced Mallory Archer in "Archer," as per her IMDb page. Walter also won awards, scoring two Golden Globe nominations, three SAG nominations, three Emmy nominations, and one Emmy win for the lead role in "Amy Prentiss."
Her "Arrested Development" co-star Jason Bateman tweeted, "What an incredible career, filled with amazing performances. I will forever remember my time with her, watching her bring Lucille Bluth to life. She was one of a kind."
George Segal from The Goldbergs died at age 87
As reported by the New York Post, actor George Segal died at the age of 87 on March 23, 2021. His wife, Sonia Segal, confirmed he died from "complications from bypass surgery." While Segal had a long, long career on both stage and screen, he is best known for playing Nick in the movie version of "Who's Afraid of Virginia Woolf?," a role that would win him an Oscar nomination. The talented man was also nominated for three Golden Globes and took home two Golden Globe wins, one for "A Touch of Class" and another for "The New Interns."
More recently, Segal brought Albert "Pops" Solomon to life on the hit ABC sitcom "The Goldbergs." Adam F. Goldberg, the series creator, tweeted his despair over the loss, writing, "Today we lost a legend. It was a true honor being a small part of George Segal's amazing legacy. By pure fate, I ended up casting the perfect person to play Pops. Just like my grandfather, George was a kid at heart with a magical spark."
Felix Silla, Cousin Itt on The Addams Family, died from cancer
Actor Felix Silla was perhaps most famous for a role in which audiences never got to see his face or hear his voice: Cousin Itt on "The Addams Family." According to IMDb, Silla played the creepy family member for 17 episodes, stealing scenes with his floor-length hair, bowler hat, and incredible physical comedy. Though he was less than four feet tall, as per The New York Times, Silla was not at all short on personality or acting chops. The actor was also an Ewok in "Star Wars: Return of the Jedi," made an appearance in the "Star Wars" spoof "Spaceballs," and went unseen in other parts like that of a robot on the TV show "Buck Rogers in the 25th Century."
Sadly, as reported by The New York Times, Silla died from cancer on April 16, 2021. He was 84 years old. The actor is survived by his wife and his daughter.
Tawny Kitaen from Bachelor Party died at age 59
Actress Tawny Kitaen died early May of 2021 at age 59, according to USA Today. While that publication reported her official cause of death was yet to be released, her brother told TMZ that he believes his sister died because she couldn't cope with the recent death of their father. "We are heartbroken and saddened to announce the death of our mom," her children, Wynter and Raine, wrote on Instagram. "We just want to say thank you … for always showing her such support and love. You gave her life everyday. We miss her and love her and we know her legacy will live on forever."
Kitaen's most famous acting role was as Tom Hanks' fiancée in "Bachelor Party," but, according to her IMDb page, she also appeared in other hits like "Seinfeld," "Witchboard," and "Crystal Heart." But, as per USA Today, the actress was perhaps more famous for starring in several music videos in the '80s, including "Here I Go Again" and "Still of the Night" by Whitesnake and "Back for More" by Ratt.
Beethoven star Charles Grodin died from bone marrow cancer
As reported by The New York Times, actor Charles Grodin died in May of 2021 at his home in Connecticut from bone marrow cancer. He was 86 years old. Grodin had a very successful acting career that he credits to the Elizabeth Taylor and Montgomery Clift movie "A Place in the Sun." "It was two things," he told the Television Academy Foundation. "One is I think I developed an overwhelming crush on Elizabeth Taylor. And two, Montgomery Clift made acting look like, 'Well, gee, that looks pretty easy — just a guy talking.'" While the all-American comedian had lots of roles in movies like "Catch-22," "The Heartbreak Kid," "Heaven Can Wait," and "Midnight Run," as per IMDb, his most famous role was opposite a giant, drooling dog in the family comedy "Beethoven."
Grodin also had a long list of Broadway credits, including the famous Bernard Slade play "Same Time, Next Year," according to The New York Times. The publication also noted that he had his own talk show, collected more than 70 appearances on other talk shows, and even won an Emmy for a television special.
Samuel E. Wright, the voice of Sebastian in The Little Mermaid, died from prostate cancer
While most people remember him best as the bossy Jamaican crab Sebastian in Disney's "The Little Mermaid," Samuel E. Wright was so much more than that. As reported by The New York Times, the prolific actor was in eight Broadway shows, and originating the role of Mufasa in the stage musical "The Lion King" — for which he won a Tony nomination for Best Featured Actor in a Musical. Wright was also in many other shows and movies like "All My Children" and "Law & Order," as per IMDb.
But no one will ever deny how much he was loved for bringing Sebastian to life in "The Little Mermaid" and other spinoff movies, TV shows, and specials. Sadly, as per The New York Times, Wright died in 2021 at the age of 72 from prostate cancer. "Maybe not every actor would say this, but if I didn't want to be immortal I wouldn't be acting," he told the Los Angeles Times. "I do want to make my little mark on the world." Thanks to a singing cartoon crab and other memorable performances, he did.
Kevin Clark from School of Rock died after being hit by a car
"School of Rock" actor Kevin Clark died after being hit by a car in May of 2021. As reported by Chicago Sun Times, the former child star was riding his bike in the Northwest Side neighborhood of Chicago when he was hit. While paramedics took him to Illinois Masonic Medical Center, he was pronounced dead about an hour later. "The world lost an amazing soul," Clark's "School of Rock" costar Miranda Cosgrove wrote on Instagram. "I'll always remember your spirit and how kind you were to me. I'll never forget all the memories …"
According to his IMDb page, "School of Rock" was the only movie Clark ever made. After, he turned his attention to music, writing songs, teaching kids at a School of Rock, and forming bands, as per Chicago Sun Times. The publication also reported that he'd recently started a new band that was gaining traction. "He told his bandmates just yesterday: 'You know, this is finally the life I want to live. And we're going to make it. You're my musical family — my family — and we're all going to make it,'" his mother Allison Clark told Chicago Sun Times.
The Love Boat's Gavin MacLeod died at age 90
Actor Gavin MacLeod, best known for "The Love Boat" and "The Mary Tyler Moore Show," died in May of 2021. According to The New York Times, the exact cause of his death is unknown, but his nephew did confirm MacLeod had been suffering from health issues before he died. As The New York Times also reported, the actor was almost 40 years old and seriously down on his luck when he auditioned for "The Mary Tyler Moore Show" in 1970. Though he was brought in for the role of Lou Grant, he asked if he could be considered for the role of Murray — which he booked. He went on to play Murray for 168 episodes of the comedy hit, according to IMDb. "Murray represented all the brown-baggers — not just in newsrooms, but in all sorts of professions," MacLeod wrote in his autobiography (via The New York Times). "People felt they knew me."
Right after "The Mary Tyler Moore Show," MacLeod scored the lead in "The Love Boat," bringing Captain Stubing to life from 1977 to 1987. He also had credits in other TV shows like "Perry Mason," "Combat!," and "Death Valley Days."
Romy Walthall of Face/Off died at age 57 from sudden cardiac arrest
Actress and model Romy Walthall died on May 19, 2021 from "sudden cardiac arrest," as reported by Variety. She was 57 years old. "I've resigned myself to the fact that there will never be any appropriate combination of earthly words to accurately describe my mother," Walthall's daughter wrote in an Instagram post, noting, "She was the most beautiful woman I've ever seen and she was wicked and fun and light and dark and she possessed the kind of magic that you truly just don't see."
According to Variety, Walthall got her start in the world of entertainment when she was just 17, working as a model in Europe. As per her IMDb page, one of her first movies was the thriller "Thief of Hearts." She later found the horror genre suited her, as she went on to famously star in a number of horror movies including "Howling IV: The Original Nightmare" and "The House of Usher." She also played John Travolta's secretary in "Face/Off," and scored many TV roles in shows like "The X-Files," "Camp Nowhere," "Quantum Leap," and "Love Boat: The Next Wave."
Arlene Golonka from The Andy Griffith Show died from Alzheimer's complications
Actress Arlene Golonka was perhaps most famous for warming hearts with her cheery, adorable portrayal of Millie Hutchins on the last season of "The Andy Griffith Show," according to IMDb. She ended up reprising her role in the CBS spinoff "Mayberry R.F.D." for three seasons, but that was far from the end of her career. She also appeared on other hit TV shows like "The Mary Tyler Moore Show," "M*A*S*H," and "All in the Family," as well as movies like "The Busy Body," "Airport '77," and "The End of Innocence." Golonka's stage career was equally impressive with Broadway credits like "Take Me Along," "One Flew Over the Cuckoo's Nest," and "Come Blow Your Horn."
Sadly, as reported by The Hollywood Reporter, Golonka died in her sleep at age 85 in June of 2021. She was in a memory care facility as she'd been diagnosed with Alzheimer's.
Clarence Williams III from Mod Squad died from colon cancer
The New York Times reported that actor Clarence Williams III died from colon cancer in early June of 2021 at age 81. Williams, also reported by The New York Times, was one of the stars of "Mod Squad" from 1968 to 1973 — making him one of the first Black actors with a lead role on a TV show. The procedural followed three "hippies" who were arrested and then found themselves on the other side of the interrogation table when they became plainclothes police officers.
The intense, engaging actor perhaps drew on his time in the military for his role in "Mod Squad," as, according to the same article, he was a paratrooper for the 101st Airborne Division before he fell into acting. Williams often performed on the stage, earning himself a Tony nomination for his work in "Slow Dance on the Killing Ground." As per his IMDb page, he also appeared in many movies from "Purple Rain" and "Sugar Hill" to "52 Pick-Up," and had small roles on almost 40 TV shows other than "Mod Squad," including "Hill Street Blues" and "Empire."
Ernie Lively, actor and father of Blake Lively, died in June of 2021
According to The Hollywood Reporter, actor and father Ernie Lively died of "cardiac complications" in June of 2021 at age 74. People previously wrote that he'd had an innovative surgery back in 2013 in which a surgeon injected stem cells into his heart to help heal damaged arteries.
While Lively was famous for roles in big TV and movie hits like "The Dukes of Hazzard," "Turner & Hooch," "The West Wing," The Beverly Hillbillies," and "Passenger 57," The Hollywood Reporter also stated that he didn't get his start in Hollywood until after he served in Vietnam, earned the rank of Captain in the Marine Corps, and worked as an English professor. People also reported that Lively fathered five kids, all of whom have their own successful acting careers. Perhaps his most famous daughter, though, is actress Blake Lively, who he acted with in "The Sisterhood of the Traveling Pants" and "The Sisterhood of the Traveling Pants 2."
Deliverance actor Ned Beatty died at age 83
Actor Ned Beatty died at age 83 from natural causes in June 2021, according to The Hollywood Reporter. Beatty is perhaps best remembered for his role in "Deliverance," the unforgettable survival story that sent waves through Hollywood in 1972. However, as The Hollywood Reporter also stated, Beatty only got the role that made him famous because he flirted with another man's wife at a lunch. "I was quite the heel," he told CBS (via The Hollywood Reporter), "and I think that's what [director] John Boorman liked. He said he thought I was the rudest person he had ever met."
Beyond "Deliverance," Beatty also starred in movies like "Mikey and Nicky," "Exorcist II: The Heretic," "1941," and "Charlie Wilson's War," according to IMDb. The actor was also the voice of the villainous Lotso in "Toy Story 3," and got an Oscar nomination for his role in "Network," even though he was only in the movie for about six minutes, as per The Hollywood Reporter.
Max Rosenthal, actor and Holocaust survivor, died at age 95
If everybody loves Phil Rosenthal, the creator of hit sitcom "Everybody Loves Raymond," then everyone really loves his father, Max Rosenthal. Rosenthal was a beloved actor, stealing scenes with a recurring role on his son's sitcom, as per IMDb. But he was also beloved just for being himself, as, according to Entertainment Weekly, he popped up in several episodes of the PBS show "I'll Have What Phil's Having" and the Netflix hit "Somebody Feed Phil," telling jokes and warming hearts. Rosenthal wasn't just a great actor and provider of jokes — he was also a Holocaust survivor. As reported by The New York Jewish Week, Rosenthal got out of Germany right after Kristallnacht, a night in 1938 during which Nazis burned Jewish property and killed around 100 people, via History.
The world lost a true treasure when, in June of 2021, Rosenthal died at the age of 95. "As heartbroken as we are, we are so grateful that he was our dad, our grandpa, our friend, our favorite and funniest TV star," his son wrote on Instagram, adding, "You live on forever in us, your family, and the friends you've made around the world."
Suzzanne Douglas from When They See Us died in July of 2021
While Suzzanne Douglas had a long, successful career, she most recently fell into the public eye when she played Grace Cuffee in the Netflix hit "When They See Us," a dramatic miniseries about the Central Park Five. Her IMDb page also notes that she starred in the sitcom "The Parent 'Hood" from 1995 to 1999, as well as "School of Rock," "Bones," "How Stella Got Her Groove Back," and "The Good Wife."
Sadly, Douglas' agent told USA Today that she died early July of 2021, issuing a statement that read: "The industry has lost a truly gifted and talented artist … She touched everyone who knew her and was lovely in every sense of the word." The actress' PR representative later confirmed to USA Today that she died from cancer. She was 64 years old. "Suzzanne Douglas was a quiet, elegant force … A gentlewoman. A gem of a lady," "When They See Us" creator Ava DuVernay tweeted. "A confident, caring actor who breathed life into the words and made them shimmer. … May she journey on in peace and love."
Lisa Banes from Gone Girl died after a hit-and-run accident
"Gone Girl" actress Lisa Banes died in June of 2021 from head injuries she sustained in a hit-and-run scooter accident in NYC, as reported by The New York Times. Banes was crossing the street on Manhattan's Upper West Side when she was hit by a scooter that had run the red light. The actress was hospitalized for 10 days before she died. The NYPD also told The New York Times that the scooter driver had yet to be apprehended.
Though films like "Gone Girl" made her famous, Banes was a prolific stage actress with many Broadway credits from "Rumors" and "Arcadia" to "High Society" and "Present Laughter," as per The New York Times. According to IMDb, she also had more than 80 roles in film and TV, including "The Trials of Rosie O'Neill," "Royal Pains," "Nashville," and "The Orville." "Her stage presence, magnetism, skill and talent were matched only by her unwavering kindness and graciousness toward all of us," "The Orville" creator and star Seth MacFarlane tweeted. "A tremendous loss …"
Robert Downey Sr., actor and father of Robert Downey Jr., died in his sleep
As per an Instagram post from Robert Downey Jr., his father, Robert Downey Sr., died in his sleep in July of 2021. The post details that Downey Sr. had been suffering from Parkinson's for several years and "remained remarkably optimistic throughout."
Downey Jr. also called his father a "true maverick filmmaker," as Downey Sr. worked in film for most of his life as both an actor and a director. According to Variety, the filmmaker directed the cult classic "Putney Swope," a satirical, dark comedy about an African American activist who ends up in charge of a Madison Avenue ad agency. Downey Sr. also acted in a collection of hit movies like "Boogie Nights," "Magnolia," and "The Family Man," as well as several popular TV shows like "The Twilight Zone," "Tales of the City," and "1st & Ten," as per IMDb. Variety also reported that he was married three times, and is survived by wife Rosemary Rodgers-Downey, son Downey Jr., and daughter Allyson Downey.