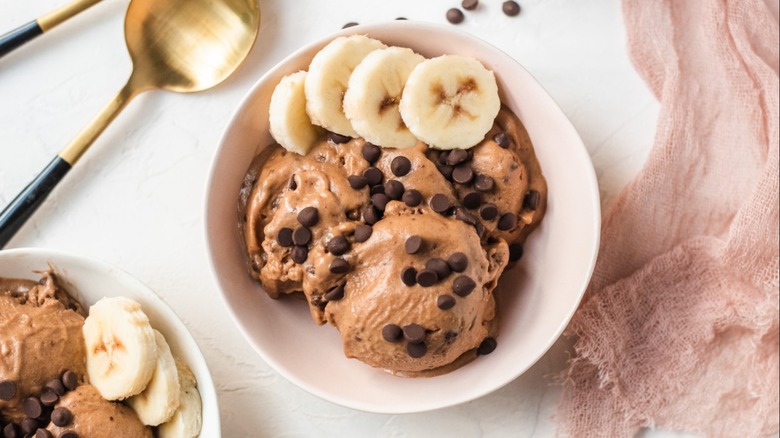 Making a healthy version of ice cream is one of those challenges that just seems like too much work for too little reward. Sure, you can go through the hassle of running an ice cream machine for what seems like forever, but they're heavy, tough to clean, and what comes out just never seems to cut it, right? It absolutely doesn't have to be that way, according to dietitian and recipe guru Jaime Bachtell-Shelbert of Wholly Nourished.
Making healthier choices isn't about depriving yourself, and she's come up with the perfect dessert for those times when you're craving something that feels decadent … but really isn't. Her chocolate peanut butter chunk nice cream checks all the boxes, and you heard that right — chocolate and peanut butter! Together! In an easy-to-make ice cream!
There's absolutely no special ice cream-making equipment necessary, just a blender. Wondering how the texture will come out? Bachtell-Shelbert says, "The texture is smooth and creamy, like soft serve ice cream."
Let's talk nice cream!
Gather your ingredients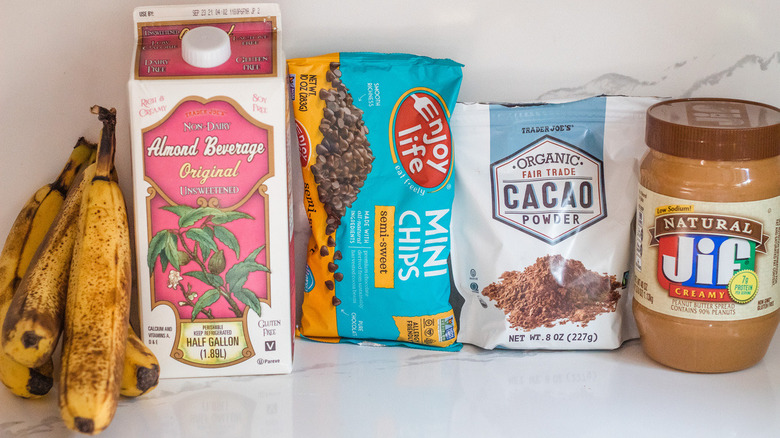 Take a peek at the ingredients of most store-bought ice creams, and you'll find a list that seems way longer than necessary. And that's part of the brilliance of Bachtell-Shelbert's nice cream recipe — you'll only need a handful of very straightforward items, several of which you probably already have. (And, if you don't, these containers will keep in your cupboards for the next batch.)
You'll need four bananas, cacao powder, peanut butter, almond milk, and chocolate chips. That's it! Bachtell-Shelbert recommends dark chocolate chips and says there's no end to the toppings you can add. She suggests other ingredients like more chocolate chips — because it's impossible to have too much chocolate — banana slices, cacao nibs, or some extra peanut butter for making a melted drizzle.
Let's talk bananas
While this whole thing is going to come together lickety-split, it'll take just a touch of planning ahead of time. Bachtell-Shelbert says you're going to want to freeze your bananas completely before starting, and that usually takes about an hour. (You're going to want to check to make sure they're completely frozen, though, as this is what's putting the "ice" in your "nice cream.")
While it might be tempting to use that nice, yellow bunch of bananas you picked up at the store, she advises: "Spotty, ripe bananas work best in this recipe." Riper bananas are going to bring more sweetness and flavor, and Bachtell-Shelbert explains: "Using naturally sweetened bananas negates the need for added sugar. Additionally, you score the added vitamin, mineral, and fiber content of bananas." Not to mention the zero added fat, and that's something we can all get behind.
Add your ingredients to the blender
Once your bananas are completely frozen, take them out and chop them into pieces. Add the bananas, cacao powder, peanut butter, and almond milk to your blender, and then blend.
Bachtell-Shelbert says that you can keep an eye on the progress as it's blending and add more milk if necessary. Why almond milk? It's not just there for added flavor, although the almond milk does make a lovely addition to the chocolate and peanut butter. Bachtell-Shelbert says, "Research shows that dairy can promote growth of inflammatory gut bacteria, which is why I prefer a non-dairy alternative with health benefits to boot."
Add your chocolate chips
Once your nice cream is smooth and well-blended — a process that Bachtell-Shelbert says can be aided by the use of a tamper — add your chocolate chips. These aren't going to need the full blending treatment, so just run until they're mixed completely.
Bachtell-Shelbert's nice cream calls for dark chocolate chips, and that's not a coincidence. While dark chocolate usually has more fat than milk chocolate, Medical News Today says that it also contains less sugar and more flavonoids.
Scoop and serve
Perhaps the best news of all is that this nice cream is ready to go as soon as it's blended — just scoop and serve! There's no waiting required, but Bachtell-Shelbert also says that if you'd like to make it in advance, you can do that too.
"Just pull it out and let it sit for five to 10 minutes before scooping and serving," she advises, and you'll end up with a bowl full of the same goodness that came right out of the blender.
And, of course, don't forget the toppings. A sprinkle of chocolate chips and a few banana slices will go a long way, and she adds that there's more than just the taste to love about this dessert: "Nice cream is a healthy, dairy-free, plant-based alternative to regular ice cream. It uses real, whole food ingredients with no additives."
Ice cream will never be the same!