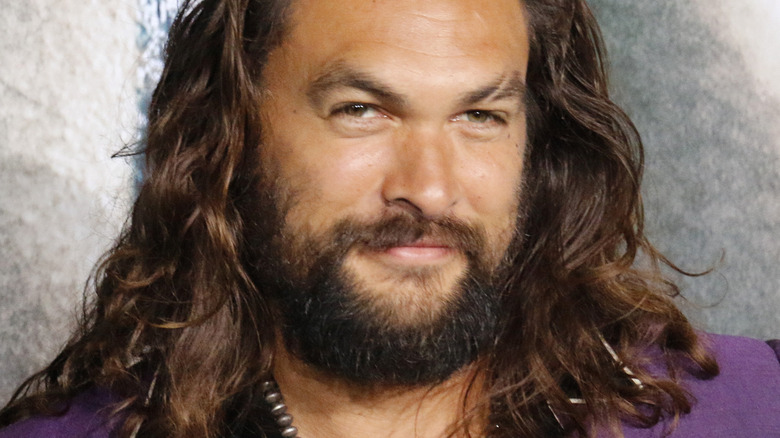 This content was paid for by Netflix and created by Looper.
Jason Momoa is one of the biggest movie and TV stars in the world –- literally and figuratively. The towering action hero has reached the peak of Hollywood, starring in everything from blockbuster comic book adaptations to indie cult hits. He brings a mix of affable charm, intense physicality, and smoldering sexiness to everything he does. He's the life of the party and the guy you'd trust to lead you into battle.
It's not hard to see why Jason Momoa has become a superstar –- just look at him –- but his ascent was anything but promised. He comes from humble beginnings and worked in retail before he broke into the entertainment industry, and he paid his dues in his 20s before he made it to the A-list in his 30s. His life story shows what can happen when a person's natural gifts are combined with self-belief and a tireless work ethic. "If someone says something isn't possible, I'm like, 'Listen here, I married Lisa Bonet. Anything is … possible,'" he famously told Esquire.
Momoa's life has been a fascinating journey. Here's how he got to where he is, from "folding T-shirts in a surf shop" to headlining the billion-dollar "Aquaman" franchise.
Jason Momoa grew up between worlds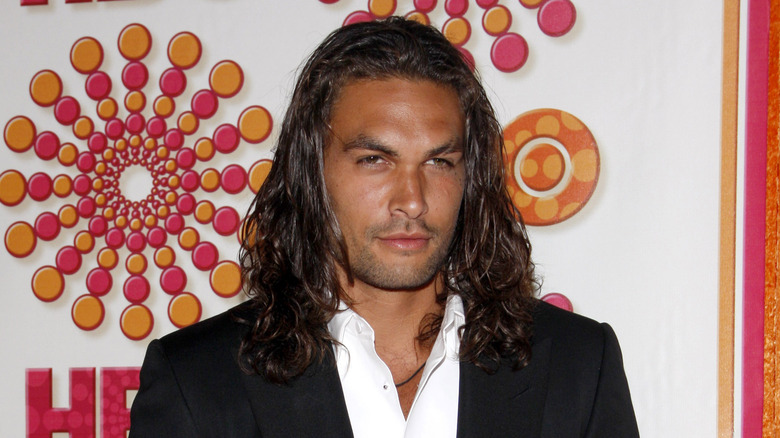 Momoa was born in Hawaii and raised in small-town Iowa by his mother after his parents split when he was a baby, according to the Honolulu Star-Advertiser. He attended Norwalk High School during the school year –- where his soccer teammate was Brandon Routh, who also went on to play a DC superhero in "Superman Returns," which is an extremely weird coincidence –- and spent his summers with his father's family in Hawaii.
Growing up in two places with very different cultures helped inform Momoa's performance as Arthur Curry, aka Aquaman, the half-human, half-Atlantean king of the underwater nation of Atlantis. "I love the Midwest, and it's the same people (as in Hawaii) — people who don't want to leave their land, who are very content where they're at. They take great pride in being farmers. It's the same thing; it's people who love being where they're from, but there's just not a lot of diversity," Momoa told the Star-Advertiser. "And with no diversity, you definitely have a singular view of what the world is, and you're not accepting of what it's like somewhere else … so I can understand what it's like to be from two different worlds."
He went from a surf shop to Baywatch
When Momoa was 19, he was working in a surf shop in Hawaii (he comes from a family of surfers) and as a model when he auditioned for a lead role on "Baywatch Hawaii," the final TV iteration of the campy drama about sexy lifeguards. He beat out 1,300 other candidates for the role of Jason Ioane, a lifeguarding "prodigy" who moves to Hawaii from Galveston, Texas. "I didn't even know how to act," Momoa told Reuters.
"Baywatch Hawaii" lasted for two seasons, and Momoa had a hard time getting work after the show ended. "It took me five years to get an agent after 'Baywatch,'" Momoa explained to Reuters. "No one would take me seriously because it was 'Baywatch.' I lived in the shadow of that for a long time.'"
Things changed for Momoa in 2004 when he landed a role on the Hawaii-set Fox drama "North Shore," which lasted for one season. After that, he found steady work playing dreadlocked military specialist Ronon Dex on the syndicated sci-fi series "Stargate Atlantis" from 2005 to 2009. Things were going well for Momoa during this time –- he began his relationship with his wife, iconic actress Lisa Bonet, whom he described to Esquire as his childhood crush –- but he still hadn't gotten his big break yet. That wouldn't come for another few years.
Momoa reached the next level thanks to Game of Thrones
The year 2011 was when everything changed for Jason Momoa. He starred in his first movie, "Conan the Barbarian," which was supposed to do for him what the original "Conan the Barbarian" did for Arnold Schwarzenegger. Things didn't exactly go according to plan, however. Instead, it was the fantasy drama sensation "Game of Thrones" that made him a star.
Here, he played Khal Drogo, the brutish but honorable Dothraki king who marries Daenerys Targaryen (Emilia Clarke) and helps her begin her quest to take back the Iron Throne for her bloodline. Spoiler alert — his tragic death at the end of Season 1 galvanizes Daenerys to keep going and leads to her obtaining her dragons.
Momoa only appeared in 10 episodes of "Game of Thrones," but his impact on the story and on "Game of Thrones" fans was much greater than his screen time would indicate. And Momoa's profile was raised even though he doesn't even speak a real language on show, only the made-up Dothraki dialect. But when you're ripping a guy's tongue out of his head, it doesn't really matter what tongue you speak.
Aquaman and further success
"Game of Thrones" opened doors for Momoa in a big way, and since then, he's been a remarkably prolific film and TV action star.
He co-wrote, produced, directed, and starred in 2014's "Road to Paloma," a thriller in which he plays a Native American man named Wolf on the run from the law after killing the guy who abused his mother. For three seasons, he starred in and executive produced the historical action drama "Frontier," about a half-Irish, half-Cree outlaw named Declan Harp, who's taking on the Hudson's Bay Company's monopoly of the fur trade in 1700s Canada. He also played a cannibal named Miami Man in the visually striking dystopian hidden gem "The Bad Batch." And in the action thriller "Braven," he played a logger fighting to protect his family from drug traffickers who are using his remote mountain cabin as a stash spot. And he stars on the dystopian drama "See" as Baba Voss, a blind warrior who protects the first children born with the ability to see in centuries after a virus wiped out most of humanity and deprived the survivors of sight.
The role that made him a superhero superstar, though, is Arthur Curry/Aquaman, the tough but good-hearted king of Atlantis and member of the Justice League. He briefly appeared as Aquaman in 2016's "Batman v. Superman: Dawn of Justice" before majorly reprising the role in the original version of "Justice League" and the Snyder Cut. In 2018, he got his self-titled solo movie, which is the highest-grossing DC Extended Universe movie, earning over a $1 billion at the worldwide box office, according to The Numbers.
2021 and beyond
Jason Momoa shows no signs of slowing down. His next movie is the revenge thriller "Sweet Girl," which comes out on Netflix on August 20. He plays Ray Cooper, a grieving widower who sets out to bring the powerful people he holds responsible for his wife's death to justice. And against his wishes, his teenage daughter Rachel (Isabela Merced) joins him in his fight. The film is about some of the things that are important to Momoa and show up in most of his projects: family, integrity, and bone-crunching action. And that's just one of the exciting flicks Momoa has on deck.
Later this year, he'll play a major supporting role in the much-anticipated sci-fi film "Dune" as Duncan Idaho, a great warrior and one of author Frank Herbert's most memorable characters. And in 2022, he'll pick up the trident again for "Aquaman and the Lost Kingdom," the second standalone "Aquaman" film. Further down the line, he'll star in the fantasy comic book adaptation "Slumberland."
Jason Momoa's career trajectory is awesome. He found great success by being exactly who he is. He's gone from working in a surf shop to designing his own signature surfboard, which proves that anything is possible.