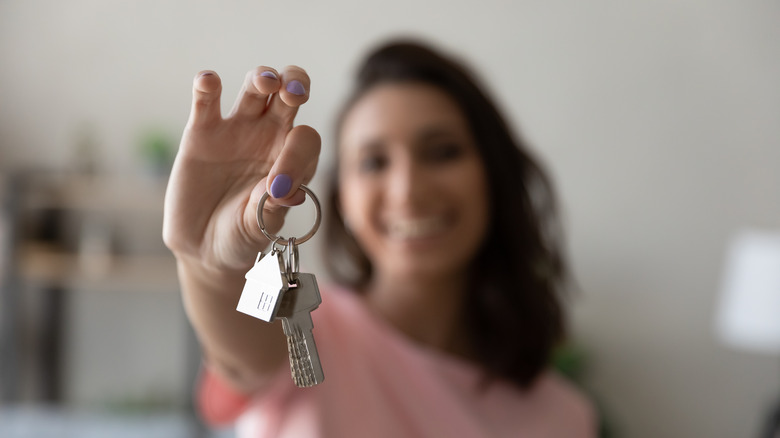 Home ownership has forever been the American dream. But nowadays, any millennial will tell you that renting is king, and the rental market shows no signs of slowing down. As a matter of fact, around 44.1 million households in the United States are rentals, according to iProperty Management. The number of rentals will even be higher over the next 20 years, with predictions showing growth at double the pace of homeowner growth between 2020 and 2040. The predictions would add roughly 9.3 million new renter households during that time, per Norada Real Estate.
So, renting is here to stay — despite the fact that many renters end up signing a lease for an apartment they end up being less than thrilled with for numerous reasons, like noisy neighbors or not enough room. In fact, more than two-thirds of all renters end up having "renter's remorse" when the apartment they've ended up has one or more key things that they later come to regret, according to a survey conducted by HotPads®, a searching platform for houses and apartments (via PR Newswire).
We're here to help you avoid being part of that statistic by addressing the top mistakes that renters make when leasing an apartment, so you are more likely to choose the apartment of your dreams.
Not checking out the neighborhood you're renting in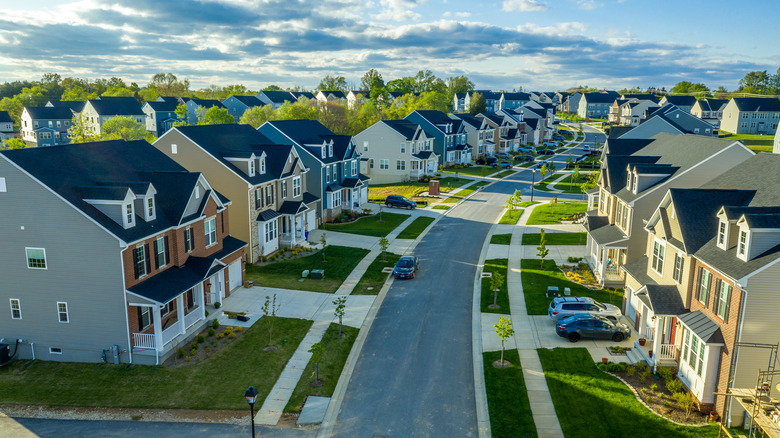 When you finally find the home of your dreams, it can be easy to forget the essential rule of housing: It's all about location. Just as true for renting as it is for homeownership, taking the time to check out the neighborhood you're moving to will help you avoid having renter's remorse in your new place. After all, your building and apartment may be extraordinary and comfy on the inside. But if it's not convenient to the places you will visit, or it doesn't feel safe when you're walking around the neighborhood, it's not actually that extraordinary.
One of the best ways to explore the area around any new digs is to hit the streets and walk around it. By going for a stroll, you'll not only get a feel for the restaurants and shops that'll soon be your local go-to spots, but you'll also notice other important things like road safety and the general feel of an area, according to Moving.com.
It's also wise to do some research on the community, too. If you're really interested in a property, don't hesitate to knock on a few doors nearby. "Talking to people who live there is a sure way to gain inside knowledge about the neighborhood. You'll also get a good idea of whether people are short-timers, which could be a red flag in itself," Roslyn Lash, an agent from Realty Select in Rural Hall, North Carolina told Realtor.
Not getting renter's insurance
Skipping the expense of renter's insurance is an all-too-common mistake. It's tempting to do, particularly after all of the moving expenses you will incur. It's important to remember, though, that renter's insurance gives you vital additional protection while living in the property above standard home insurance, according to Nerd Wallet. "Many renters [believe] that, since their landlord has insurance, it covers damage to their property. This is not the case," noted Yael Wissner-Levy, vice president of communications at Lemonade, an insurance company. Your landlord's insurance will rarely cover your belongings or unintentional damage caused to any neighboring properties — which could leave you in a situation that's not too pretty to deal with.
It's helpful to know that renter's insurance can often cover your belongings when they're not even on your property. "If your laptop was swiped at the neighborhood cafe, or your phone stolen on the subway, your policy could cover you," Wissner-Levy said. With the average cost of renter's insurance being around $14 per month, according to a Jun 25, 2021 article via Nerd Wallet, it's a small price to pay for the protection you'll gain.
Trust us when we say that having the security of renter's insurance is a good step to have when signing a lease. Having a policy is not the expense you want to skimp out on when you are renting a property.
Not taking photos (of the property) when you first move in
It's very easy to forget to do this, but be sure to take a photo inventory when you move in. The quick step could save you a huge hassle down the road! The security deposit that you hand over at the start of your tenancy will cover any damage to the property for the owner when you, the tenant, moves out. So making sure that you've documented the condition of the rental when you first take possession will protect your cash down the line, according to Reader's Digest.
Be sure to set aside some time to take a few snaps or a video before you unpack your personal items and settle in. Focus on nail holes, any damage to the flooring or carpets, the windows, the insides of any appliances or cupboard, and any damage to the exterior of the property as well. Ideally, you'll do this as part of a walk-through with your landlord, but either way, email your landlord the pictures on the same day so you are both on the same page with the condition of the property when you took possession. Ideally, "make sure the place is empty before you begin moving in," advised Donna Gordon, a New York real estate agent, so that you can get a full view of the property without any furniture concealing the damage, although this may be challenging to get done, if not impossible, if the house comes furnished.
Not reading your lease through fully
Reading your lease may not be the most exciting or easiest task in the world to do, but not reading it fully before you sign and move in is a classic mistake that too many people make. A signed lease on a rental is legally binding contract, and quite profoundly impacts how we live our day-to-day lives, according to Trulia. Reading it through before you sign it will give you a full picture of what you're agreeing to and provide the opportunity to make any changes that need to be made before you're locked into a binding contract.
Quite understandably, though, a lease can be overwhelming to review and comprehend at times, so there are a few key points to keep an eye on when reading (via Trulia). Make sure your rent amount and due date are what you thought they'd be, as well as specifics on the move-in, termination, and renewal dates. Look out for any subletting rules, particularly if you're planning on being away for long periods of time, or any points listed when it comes to having guests on the property. It's also useful to establish exactly who is responsible for which repairs (you or the landlord), and whether you're allowed to have pets.
Looking for apartments too far in advance (or too late for when you need to move)
If you're considering making a move to a new rental in the near future, it can be tempting to start scanning the market as soon as possible, or you may be of the mindset you'll be able find something to lease a few weeks before your desired date. There is, however, an ideal recommended window. The best time to start looking for an apartment is roughly one to two months before your planned move-in date, according to Zumper. If you're looking at what's available much sooner than that, you'll find that the apartments you're looking at will most likely be snapped up way before you're ready to move into one.
It's also worth keeping an eye on whether apartments are listed as "available now" when you're looking at them online, as this can mean that a landlord is historically able to find a tenant within the month. Don't assume that the application process is super-lengthy, either. In a quick rental market, an open house that you visit on a Saturday can lead to a signed lease by the end of the weekend (via Zumper).
So if you're looking early to get yourself an education, that's fine. Once you are ready to move and know the building and/or location that you want to rent in, you'll be ready to jump on something that comes available and suits all of your needs in your desired timeframe.
Not making sure the apartment is the right place to suit your needs
It's easy to get caught up in the rental process when looking at new places and imagining where to place furniture and what it will be like to have fun in your new chapter. But thinking through all of the realities of day-to-day living in a property is something too many people don't really do. It's easy to miss or fail to consider details when you're just having a quick look around a property at a viewing, and considering exactly what you need from a rental will help you make an informed choice, according to Fidelity Management.
Asking yourself questions about how long of a commute you're able to handle, whether you'll need parking or not (and whether it'll cost anything additional), and the kind of amenities you'll need to live comfortably can save you a lot of wasted time and hassle. It's possible to do some of this research online before you even look at a space. There are plenty of handy tools that can help you calculate your commute time from your new home to your workplace, such as this one from Smart Asset. You can also find out how close you are to specific stores and services. Does your unit have a washer and dryer? Will guests have parking? Is there additional storage available for bikes or extra items? These are all details you need to think about before you make your decision.
Making your rental decision purely based on square feet
A good amount of living space can be pretty attractive when it comes to renting an apartment, but it's not the be-all-and-end-all factor to think about. In fact, focusing on square footage when it comes to leasing is something that too many people do, to their disadvantage. A well-designed small space can at times be a much better living option than one with a larger amount of square footage, simply due to the actual layout of a particular apartment, according to Jay Kallos, vice president of architecture at Ashton Woods in Atlanta, Georgia (via New Home Source).
It's also worth remembering that a home with smaller square footage will be cheaper, both to rent and to run, and if it's designed well, you may not even notice the difference. "The cost of insurance, taxes, heating, cooling, electricity, etc. will always be less in a home [that's] 1,000 square feet or less," Than Merrill, CEO of FortuneBuilder and former host of A&E's "Flip This House" told Forbes. Merrill pointed out that renting a condo with 1,000 square feet of space will cost you $200 less in electricity alone than one with 3,000 square feet.
Be sure to give the size and floor plan careful consideration. Don't rush the process, but rather do the research and think about the right size that works best for you and your budget.
Not checking out the apartment in person
While renting sight unseen might have been unthinkable once, in a world where 3D virtual tours have become ever so popular, a whopping 72% of people would now consider doing so, according to a survey put together by Zumper and Matterport (via PR Newswire). Renting a property without viewing it in person, however, can come with problems. First off, you're missing out on a host of home details by renting without seeing the apartment beforehand. You might not like the light in the home, the smell, the feel of the place, the amount of water pressure … the list goes on and on, as Real Property Management pointed out.
In addition, if you're not moving locally or to an area you know, you'll generally not have a feel of what the neighborhood is like when renting (or buying) unseen, as Apartment Therapy put it. It's possible, if seeing the home in person isn't an option, to check out areas online, or to even ask your real estate agent to take you on a video tour of the block (via Redfin). But ideally, you want to be able to stand inside the actual building and apartment that you'll be living in before you sign a lease. It's a great opportunity to get a feel for the neighbors and the feel of the actual neighborhood. This will be your new home, and once you commit to a lease, you'll be living there for a bit.
Not holding your landlord to account for breaches of lease or the law
Finding yourself faced with landlord trouble is one of the more unpleasant aspects of renting a home, but now and again, you may need to hold your landlord accountable for something. This is an area, however, where a huge amount of renters aren't in the know. "Tenants give up rights and fail to assert rights all the time," Eric Feinberg, a tenant lawyer based in New York City told Forbes. Unfortunately, too many tenants simply don't fully comprehend what their rights are in a lease, noted Feinberg. This can lead to situations where a landlord can get away with neglecting their properties or breaches of their legal responsibilities, potentially putting you, the renter, at risk.
Therefore, it's a good use of time to get clued in on your rights as a renter. Understanding your entitlement to a habitable home, your claim on your security deposit and its use, and your right to privacy is vital, according to FindLaw, which is an excellent resource that everyone who rents can check out. It addresses basic rights when leasing a property. Understanding your position and the law can offer protection when it comes to anti-discrimination. It's always useful to seek advice from an attorney if you feel a particular situation needs mediation or third-party assistance, so when in doubt it is imperative that you check into it.
Not timing your move for the off-peak periods
Not everyone can time their move perfectly. In fact, so many people don't, and it's a mistake that can cost you big bucks. It's important to keep in mind that like many markets, the rental market is seasonal. By timing your move for the fall or ideally the winter months, you can save big-time on costs, according to Moving.com. Searches for apartment rentals and moves themselves tend to increase steadily from January onward and peak in the summer months, with demand and price dropping towards the end of the calendar year, according to Apartment List.
In addition, you can even time your moving week within a month, or day within a week, to save further costs. As leases generally start and finish towards the end of a month, moving companies tend to be busiest around then, with prices reflecting this flux in activity (via Good Movers). Timing your move towards the middle of the month, and moving Monday through Thursday when companies are less busy, can mean you get a better rate.
In some instances, you may not have a choice in the matter. Your lease may end in one particular apartment, and you don't have a choice in when to move. But if you're looking to move for the first time, the time of year that you decide to make the jump is definitely something that you should take into consideration.
Not having clear lines of communication with your landlord
It's important to feel like the house or apartment you are renting is your home. But at the end of the day, you're living in a place that someone else actually owns, and communicating clearly with your landlord on key issues can not only keep things easy but make you feel at ease in your property.
Establishing a good way of communicating with your landlord can help to avoid any misunderstandings and maintain your relationship, according to Sweyer Property Management (via Wilmington Biz). It's also important to be honest with your landlord, particularly if you're communicating with them regarding a late rent payment. The more clear and up-front you are, the more you can focus on solutions to any problems. Considering how reasonable your requests are to your landlord is also good to keep in mind when contacting them. They're fundamentally responsible for a lot of things to do with their property, but some smaller repairs can (and, if it's in the lease, should) be tackled by you (via T&H Realty Services, Inc). Communication is key, and having good dealings with them right from the start is definitely in your best interest.
Not budgeting for the worst-case scenario
Let's face it: Renting can be pretty pricey, and if you're not keeping an eye on your budget and setting aside enough money for any emergency, it can get bad — and fast. Ideally, this budgeting should begin before you even start searching. Make a monthly budget plan, and figure out how much you actually have to put aside for a rental, according to Trulia. Ideally, you should not spend over 30% of your income on your rent, with other household considerations like utilities and groceries in addition to that portion. You should also have some room in your budget for changing needs or emergencies.
If you're finding that the rentals you're looking at exceed 30% of your income, consider negotiating the lease. It's also worth working out exactly how much the move itself will cost, once you take into account moving companies, packing services, and distance of your move. A local move will cost on average $1,250 for a two to three-bedroom house, but this can skyrocket to $4,890 for a long-distance move, according to Moving.com. You can calculate how much it could cost using tools online ahead of time. You can't predict emergencies like losing a job or unexpected medical expenses, so it's always a good idea to have a bit of extra money put away that you can count on.
Not viewing a rental property with the people you'll be renting it with
It's no surprise that finding the right apartment takes legwork. In fact, over 50% of people take longer than three weeks to find an apartment rental, with over a third of people checking out over 20 properties before they make their final decision, according to a survey from Rent.com. With the sheer amount of time and effort this can take, it's little surprise that, if you're sharing with other renters, not everybody can actually be present at every viewing.
Going solo on apartment viewings, however, is essentially a lost cause in a super-fast rental market, according to real estate agent Brad Malow (via Business Insider). By the time you've managed to organize the rest of your party to take a look at the property, the property will likely be snatched up. Instead, Malow advised having everybody who will be on the lease at the first viewing, to save time and disappointment.
Think about it. If you all take a look at one place, at least you can discuss what you like and what you don't like about an apartment and location. Once you are on the same page, you can spread out and have more luck finding exactly what everyone is looking for.
Getting hung up on amenities instead of the essentials of price, space, and location
The COVID-19 pandemic caused everyone to spend more time at home, and this has been reflected in changing renter preferences. In addition to home offices predictably becoming a desirable feature, open-air amenities like patios or balconies and strong internet connections also became must-haves, according to a survey from Rent Café.
However, it's important to remember that it's easy to get hung up on smaller details that may well be situational, and when it comes down to the crunch, the essentials of price, space, and location are what you should be considering first and foremost. Consider whether amenities that seem so good on paper, like onsite gyms or swimming pools, may not only be underused once you actually live there, but could be causing you to spend more on your rent (via My Move). And if you need certain amenities like parking or laundry, make sure to include them in your search criteria. Think about your priorities and stick with them.