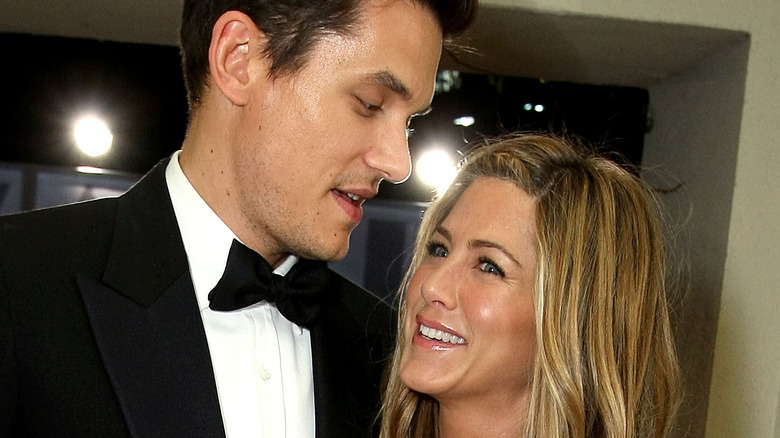 Even with their nine year age gap, John Mayer and Jennifer Aniston's relationship ranks as one of the more iconic celebrity pairings of the late aughts. The hearthrob guitarist, who is a well-known playboy, and America's best friend caught the country's attention with their whirlwind on-again, off-again relationship. Neither the "Waiting on the World to Change" crooner nor the "Marley & Me" actor are strangers to being in drama-filled high-profile relationships — Taylor Swift and Jessica Simpson rank among Mayer's ex-flames, while Aniston has romantic history with Vince Vaughn, Bradley Cooper, and her ex-husband Brad Pitt, among others — and this coupling was no different.
Over the course of the one-year relationship, the pair infamously split up twice (after all, the "Friends" star is familiar with being on a break), yet the formerly hot-and-heavy couple now seem to have found mutual love and respect. Below, we take a look into the real reason that these two beloved stars called it quits.
How John Mayer and Jennifer Aniston's love story started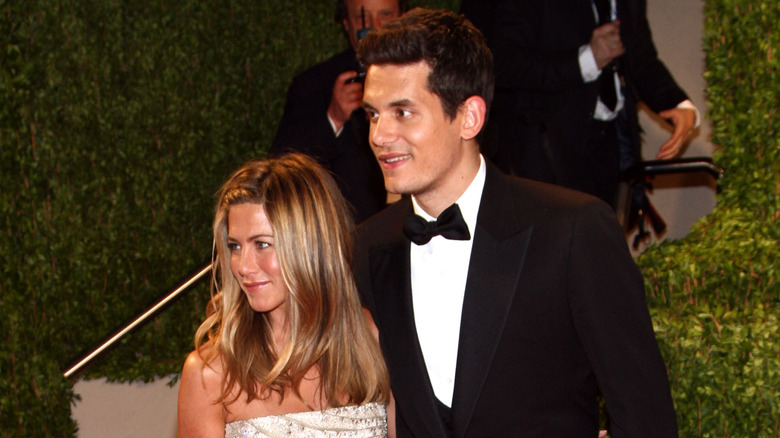 John Mayer and Jennifer Aniston have to thank the Academy for their relationship. The musician and the actor first met at an Oscars party in February 2008, and the rest was history. Though Aniston admitted that when she met Mayer, she "barely knew his music," the pair then "ran into each other a week later, and that was that," the "Just Go With It" star told Vogue in a December 2008 interview. Soon, the guitarist and the actor were hot and heavy, meeting up in Europe before vacationing together in Miami, where they were spotted hanging out "eating salads" by a hotel pool and hitting up the wrap party for Aniston's movie "Marley & Me," according to People.
The paparazzi was rightfully enamored with the pairing — after all, an infamous lothario dating America's sweetheart is sure to turn quite a few heads — and they certainly weren't disappointed by the many dramatic ups and downs to come in Mayer and Aniston's relationship.
John Mayer breaks up with Jennifer Aniston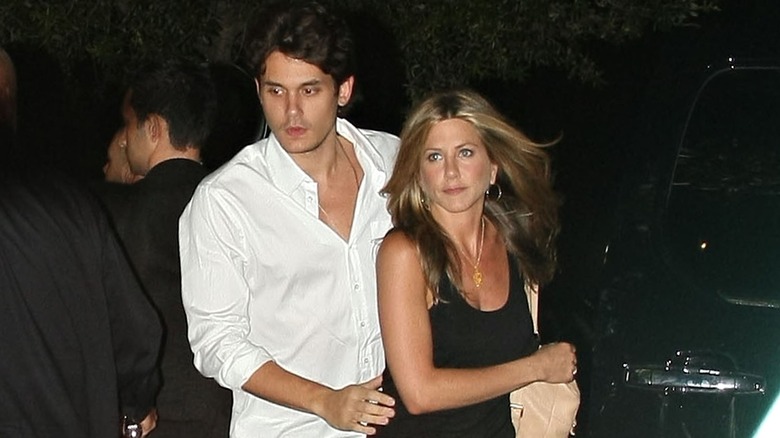 While their relationship started off with a bang, John Mayer and Jennifer Aniston were slow dancing in a burning room before long. In a TMZ video posted on August 7, 2008, reporters caught Mayer outside of his New York City gym and peppered him with questions about the split. The guitarist insisted that he had been faithful, saying, "​​There's no lying, there's no cheating, there's no nothing." He also made it clear that the breakup was not a result of the pair's age gap, telling reporters, "I​​t's not about years, it's about going out with somebody, being truthful on the way in, being truthful in the middle, and being truthful on the way out." We can all agree that honesty is the best policy.
The singer-songwriter had nothing but positive things to say about his recent ex, gushing that "Jennifer Aniston is the smartest, most sophisticated person I think I've ever met" and that "she's one of the most lovely people I've ever met in my life." While Mayer may not speak badly about his exes, he does have a habit of writing about them…
John Mayer and Jennifer Aniston are spotted together post-breakup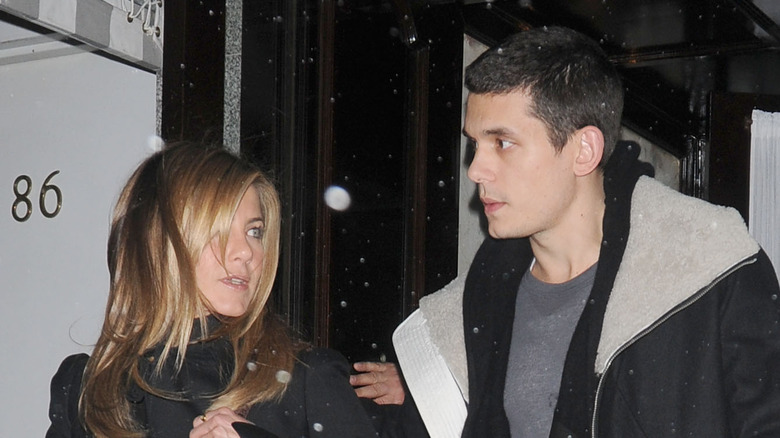 Despite John Mayer and Jennifer Aniston's breakup, all love was not lost between them. The "Your Body is a Wonderland" singer and the "He's Just Not That Into You" star were spotted together again in October 2008, just in time for Mayer's 31st birthday. According to HuffPost, the actress attended the musician's early birthday celebration at the Grand Havana Room, a cigar bar in Beverly Hills. The outlet reported that Mayer "affectionately stroked Aniston's hair," seeming to indicate that the pair had made up.
This was not the only sighting of the pair that week, according to Marie Claire's roundup of the exhaustive tabloid reporting on every possible Aniston/Mayer sighting. Before the birthday bash, Mayer and Aniston went to a party celebrating David Arquette's clothing line, Propr, and had also been seen together at dinner in LA with a few friends the night before. Marie Claire also reported that the two had attended a concert in Boston and dined together in New York City the previous weekend, further increasing suspicion that the two had gotten back together.
Jennifer Aniston reflects on her breakup with John Mayer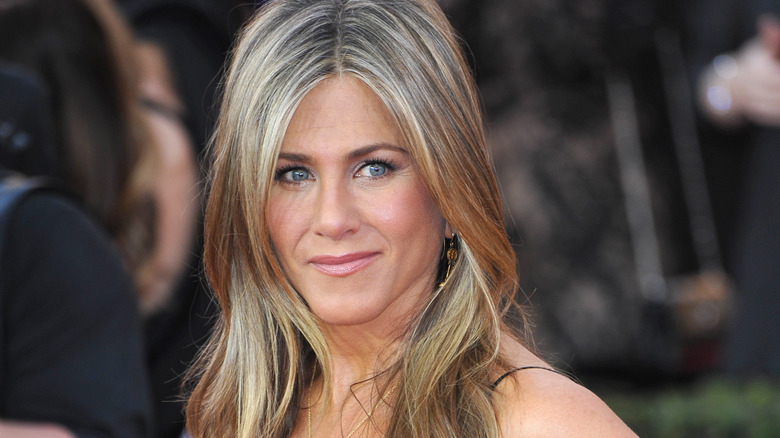 In a no holds barred interview with Vogue that was conducted "in late September" 2008 — prior to John Mayer and Jennifer Aniston's October 2008 reconciliation — Aniston addressed how she felt about the breakup. Referring to the singer-songwriter's off-hand comments outside of his New York gym, the "Friends" star told Vogue, "He had to put that out there that he broke up with me. And especially because it's me. It's not just some girl he's dating. I get it. We're human."
Aniston showed empathy for her musician ex, saying, "I feel seriously protective of him and us. Trust me, you'll never see that happen again from that man. And it doesn't take away from the fact that he is a wonderful guy. We care about each other."
The "Morning Show" star then explained what went awry in their relationship, remarking that it had simply run its course. "It's funny when you hit a place in a relationship and you both realize, We maybe need to do something else, but you still really, really love each other," she said, adding, "It's painful." Like Mayer, Aniston expressed continued affection for her ex, saying, "I deeply, deeply care about him; we talk, we adore one another. And that's where it is." Sometimes when you love something, you've got to let it go.
John Mayer and Jennifer Aniston attend the 2009 Oscars together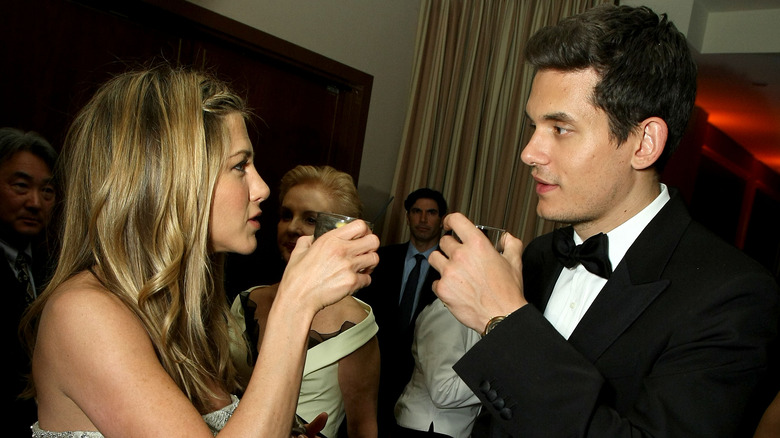 John Mayer and Jennifer Aniston's relationship was back in full swing in time for the 2009 Oscars, where the two made their reconciliation official with an arm-in-arm picture while decked out in their black tie attire. Though the newly reunited couple did not walk the red carpet, the "Gravity" singer was there to cheer on his girlfriend as she presented two awards alongside Jack Black, according to Marie Claire. The outlet also noted that although Aniston and Mayer were seated just 12 rows behind Aniston's ex-husband Brad Pitt and his new girlfriend, Angelina Jolie — talk about drama! — the "Horrible Bosses" star and her Grammy-winning man "were captured on camera gamely clapping along as Nicole Kidman announced [Jolie] as one of the Best Actress nominees."
After the awards ceremony, the two went their separate ways (geographically, that is). People reported that Aniston promptly flew to Europe to do "Marley & Me" promotion but did not take Mayer with her. Then, shortly after the actor returned to the United States, it was reported that her guitarist beau had broken up with her. Sources told People, "They had some disagreements and decided to not continue to see each other," and that "Jen is moving on with her life like she always does. She seems happy."
The couple's age gap was not always easy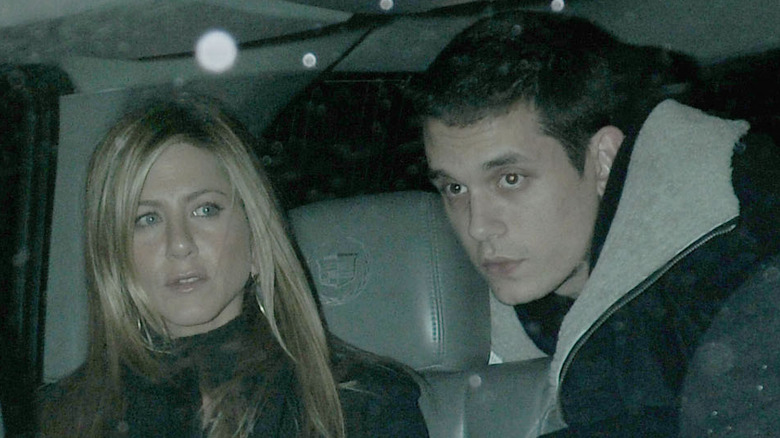 Jennifer Aniston, who's nearly nine years John Mayer's senior, didn't seem to have a problem with the age gap between her and her beau. The actor took fans' shock in stride, telling Vogue, "People need to mind their own business! Did you ever think Claudia Schiffer and David Copperfield made sense?" On a more serious note, she said, ​​"But you know, it isn't designed. Love just shows up and you go, 'Oh, wow, this is going to be a hayride and a half.'" (Aniston and Mayer sure took one bumpy hayride.)
While the "Dumplin'" star seemed comfortable with the age difference, her guitarist boyfriend perhaps felt otherwise. In a March 2010 Playboy interview, Mayer reflected on his breakup with Aniston, citing Twitter as one of their more significant differences. "There was a rumor that I had been dumped because I was tweeting too much," the musician said. "That wasn't it, but that was a big difference." While age might not have been the main reason the pair split, it was certainly an area of disconnect between the two. Mayer elaborated, saying, "The brunt of her success came before TMZ and Twitter. I think she's still hoping it goes back to 1998…. And I always said, 'These are the new rules.'" Heartbreakingly, the "Wild Blue" crooner also declared, "In some ways I wish I could be with her. But I can't change the fact that I need to be 32."
John Mayer further reflects on his relationship with Jennifer Aniston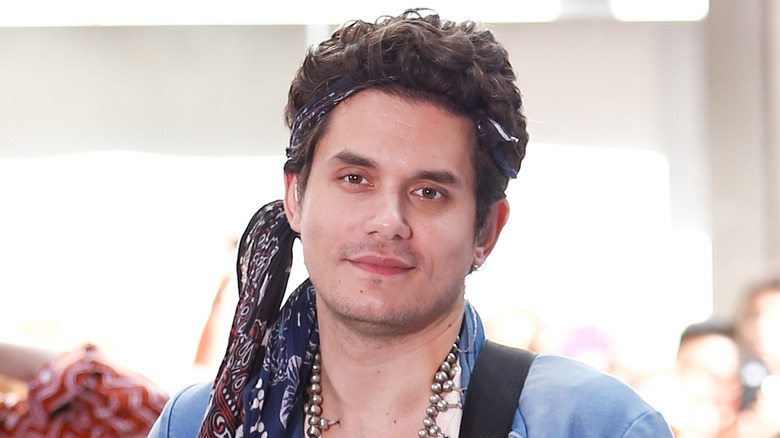 Following their final breakup, John Mayer made it a point not to speak out too much about his former relationship with Jennifer Aniston. In a 2010 Playboy interview, he explained, "​​We just have a regard for each other's feelings that is pretty intense. It's been a deep relationship, and it's no longer taking place at all."
In response to fans guessing that his brutal breakup song "Heartbreak Warfare" was about Aniston, the singer came to her defense. He told Playboy, "I want to go on record saying it's not. That woman would never use heartbreak warfare. That woman was the most communicative, sweetest, kindest person." Clearly, Mayer still had a soft spot in his heart for Aniston; the musician also asked the interviewer, "Have you ever loved somebody, loved her completely, but had to end the relationship for life reasons?" Sounds like it might be a case of the right people in the wrong place at the wrong time.
Then, in 2012, Mayer discussed the infamous TMZ video with Rolling Stone, saying, "I've never really gotten over it. It was one of the worst times of my life." The outlet explained that he had been trying to call himself out for the stupid decision to break up with Aniston, yet had "[come] off like a jerk" who was trying to win the breakup and save face.
Jennifer Aniston and John Mayer are still friends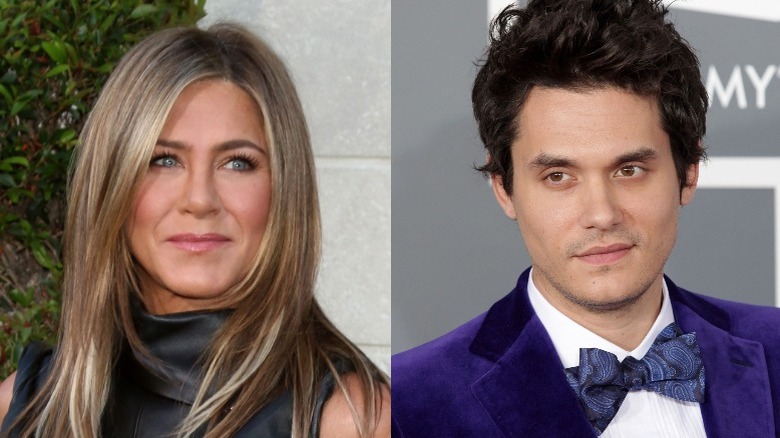 Despite their complicated romantic history, John Mayer and Jennifer Aniston appear to still be on friendly terms. In February 2019, the "Emoji of a Wave" singer attended the actor's' 50th birthday party — which was also attended by Mayer's ex-girlfriend Katy Perry and Aniston's ex-husband Brad Pitt — hosted at the Sunset Tower in Los Angeles, according to People. A source told the outlet, "Basically, every single person who Jen loves attended," a list that included Mayer. Maybe he still felt like her man?
Then, in April 2020, s particularly keen observer noticed that the "Meet the Millers" star had left a comment on one of Mayer's Instagram lives. The "Current Mood" host had been paying tribute to the late Bill Withers, People reported, and noted that "Whether he was speaking to you or speaking to an interviewer 15 years ago, 14, 13 years ago, everything he said is useful."​​ The singer-songwriter then joked that, "Four percent of the things that I say are useful." Aniston, who had apparently tuned into the Instagram live, then commented three crying-laughing emojis in response to the quip.
John Mayer and Jennifer Aniston sparked reconciliation rumors multiple times over the years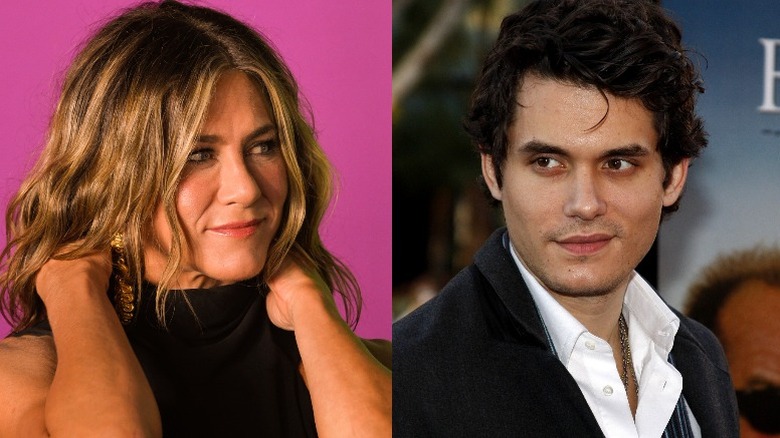 Since their 2009 breakup, John Mayer and Jennifer Aniston have inspired several reconciliation rumors. In February 2020, the two were both spotted leaving Sunset Tower in L.A. — the same spot where Mayer had attended Aniston's birthday party one year earlier — "just seconds apart from each other," according to E! However, sources clarified to the outlet that it was a mere "coincidence" that the famous exes dined at the same restaurant, as both are regulars. The sources made it clear that the two had come separately, revealing, "They weren't in the same part of the restaurant for most of the evening. Jen had her back to the room and was focused on the people she was with."
Then, Mayer liked pictures of Aniston on Instagram that had been posted on November 30, 2020. The carousel of photos, posted by a fan account called jenniferanistonfaniston, were captioned "I just can't with these pictures," followed by a white heart emoji and a crying emoji. The post features several black-and-white throwback images of Aniston riding a bike and has amassed a modest 3,500 likes to date. One observant follower noticed that Mayer had liked the post and commented, "'John Mayer liked,"' along with a crying emoji," according to E! Might the musician still be harboring feelings for his ex-flame?
Wait. Are John Mayer and Jennifer Aniston actually back together?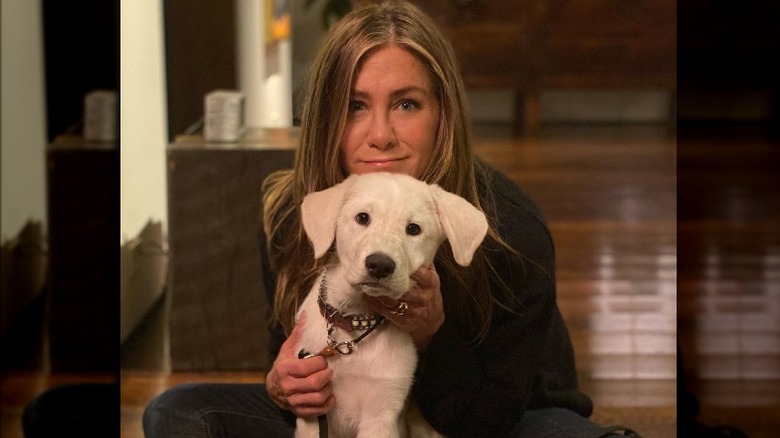 Gravity pulls things back together, and it might be working on John Mayer and Jennifer Aniston. In March 2021, Mayer shared a now-deleted TikTok captioned, "choo choo here comes new music." In the video, the musician could be seen with a dog that many fans have speculated is one of Aniston's pups, Lord Chesterfield, according to The Sun. Celebrity gossip Instagram account Deuxmoi posted a story with side-by-side photos of the dogs with the caption, "​​John Mayer and Jenny An. Is that Jennifer Aniston's dog in JM's new TikTok announcing his new music. A doggy playmate perhaps," The Sun reported.
Both of the dogs in question have similar light coloring, but what really added fuel to the fire was the collar that the dogs (or dog?) were wearing. Fans noticed that Lord Chesterfield's collar in one of Aniston's Instagram posts (shown above) resembled the dog's collar in Mayer's TikTok. In an August 2021 chat with InStyle, Aniston responded to the rumors — but evasively. "It's funny you should say that because the collars are so cool. My trainer's friend makes them….I've received a lot of questions about the dog collars." To keep fans guessing, Aniston changed the subject, asking, "What prompts the question about dog collars if I'm shown at dinner? That's what I'd like to get to the bottom of." John and Jen shippers may not be satisfied with that answer, but Mayer knows "That you love, who you love," so their story might not be over yet.