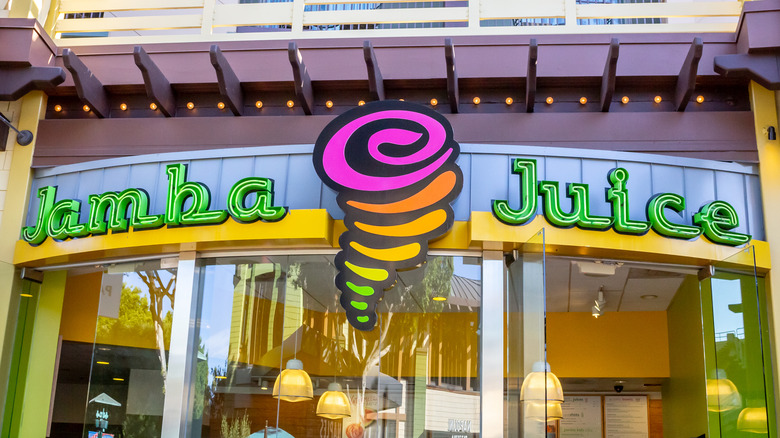 Most of us have gotten used to seeing a Jamba Juice — now renamed to Jamba, by the way — on every corner over the last 30 years or so. The bright colors and tropical smoothies on the chain's menu have become a staple in popular culture and Jamba oftentimes seems to be sort of the big brother of all juice and smoothie places. The signature swirl of its logo is recognized anywhere in the country, too, since Jamba now has hundreds of locations nationwide. The delicious smoothies are suspiciously sweet, sure, but we all love to grab one on the go at least every once in a while, don't we?
Aside from whipping up smoothies in a flash, what do you know about this widespread franchise of smoothies and snacks? Do you know how to order from the super-secret menu? Do you ever wonder how this smoothie giant even got started and when? And what's up with the recent name change that dropped the seemingly important "juice" from storefronts everywhere? Well, we've got you covered on all fronts with the untold truth of the fast food smoothie chain known as Jamba Juice.
Jamba Juice started out as a college senior project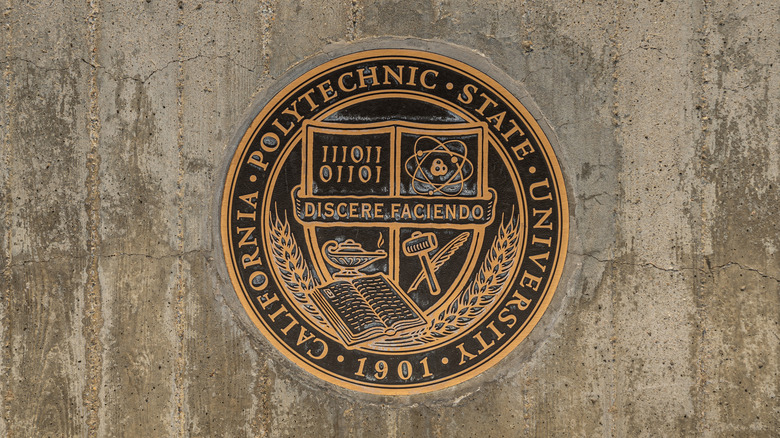 It all started in 1990 in San Luis Obispo, California. 26-year-old Kirk Perron created a juice shop as his senior project at California Polytechnic State University, according to Inside Cal Poly. The avid cyclist and health enthusiast decided to create his own healthy juice shop which he named "Juice Club" but as it grew, the name soon changed to Jamba Juice.
Jamba Juice grew immensely over the next thirty years, reaching over 800 locations nationwide. The original location is still going strong in the quaint downtown district of San Luis Obispo. Many more innovative businesses have come from the students of California Polytechnic State University since the '90s. Jamba Juice isn't the only beverage business to come out of Cal Poly seniors. Guayakí Yerba Mate, those yellow cans you see at the grocery store, was a 1996 senior project from Cal Poly as well. Notably, one Cal Poly student recently started a successful business selling convertible high heels, as seen on Shark Tank.
The idea was inspired by another juice shop
So how did Perron come up with the idea for a juice shop business of his own way back in the 1990s? He told The Tribune that, after his workouts, he used to frequent a different juice shop in downtown San Luis Obispo called Blazing Blenders. He said that his quest for a healthy and active lifestyle led him to start his own business in the health food industry. That appears to have been a pretty smart move overall, considering that smoothies and juices continued to grow in popularity over the next few decades. Blazing Blenders ended up closing its downtown San Luis Obispo doors in 2006, so it appears the super fan beat out the inspirational competition.
Some of those successful business steps that helped Jamba Juice get where it is today included partnering with Starbucks' Howard Shultz, according to the Silicon Valley Business Journal. He also snagged a licensing agreement with Whole Foods in 1997 (via San Francisco Business Times). He later went on to acquire a large number of other smoothies shops that helped to catapult his business forward.
Jamba Juice acquired almost 100 juice shops in the '90s
When you want to become the Starbucks of the smoothie industry, you have to squeeze into every market you can and knock out the competition — or simply buy it out. Nine years after launching, Jamba Juice had laid a solid foundation with its growing popularity and business plan. Determined to keep growing, Jamba Juice acquired a competing business, Zuka Juice, in 1999 (via Phoenix Business Journal). Zuka Juice was a smoothie shop franchise based in Salt Lake City at the time, with nearly 100 locations throughout Utah, Arizona, Colorado, and other states. This acquisition helped Jamba Juice further expand its already growing market into more and more states with practically ready-made locations.
Jamba founder Kirk Perron once referred to the acquisition of Zuka Juice as a "perfect marriage" because of the philosophies and values the two companies shared, according to Beverage Online. Interestingly enough, Zuka Juice's logo was a piece of fruit that had been stylized into a simple swirl, an image that rather closely resembles the current Jamba Juice whirl.
Jamba Juice isn't as healthy as you think
Smoothies are a great way to sneak healthy ingredients like veggies into your diet and make them more palatable to some picky eaters. But, when we're talking about fast food spots, it still comes at a cost. Jamba Juice's smoothies and other juices contain large amounts of sugar. So, while some of those drinks may look healthy (especially the green ones) and they certainly taste good, you may want to take a look at the nutritional information first.
To make their drinks taste as sweet as they do, Jamba Juice adds a lot of fruit into the mix. In some cases, that includes "fruit blends," which is really just a fancy term for juice concentrates, according to the Center for Science in the Public Interest. Concentrates and blends typically contain all the natural sugars found in fruits, but way less of the fiber, vitamins, and minerals from the whole fruit.
At Jamba Juice, you do at least have the option to add in nutritious items such as whey protein and vitamins, but you also have the option of adding more tempting but less healthy ingredients like frozen yogurt and sherbet. In 2019, Jamba Juice actually updated its menu to include more health-conscious options, cutting out high fructose corn syrup and artificial flavors and coloring. Check out the new and improved menu and see if you can't make your next trip to Jamba as healthy as possible.
They have a super secret menu
Most of us know by now that most fast food restaurants have a secret menu, with some truly great gems to be found if you ask employees nicely (and some seriously overhyped secret menu items, too). But Jamba keeps theirs especially hidden, with nary a mention of such a thing placed anywhere on their website.
Yet, if you do some digging, you'll find some secret smoothie names that are incredibly fun and creative (via Hack the Menu). Some are named after classic desserts like Strawberry Cheesecake, Apple Pie, and Chocolate Covered Strawberries. Others are named after candies we all know like Skittles, Sour Patch Kids, and Starburst. Sure, some like the Raspberry Shortcake and Peanut Butter and Jelly require frozen yogurt, while plenty others feature candy, meaning that they aren't strictly the healthiest thing you can snag from Jamba Juice (via Cosmopolitan). Still, the thrill of ordering from a secret menu may be enough to justify a small treat every once in a while.
The most popular of them all surely has to be a version named the "White Gummi," which originally featured gummi bears, per Hack the Menu. The peach and pineapple smoothie proved to be so popular that Jamba has now made part of their permanent menu.
Jamba recently rebranded
Jamba isn't just short for Jamba Juice, at least not anymore. It's now the new official name of the franchise. Yep, they dropped the word "juice" from their name, and, if you were to ask company executives, it's all for a good reason. In an effort to stay relevant in today's health-conscious culture, Jamba decided the word and its sugary connotations weren't serving them anymore, CNN reports.
Along with the name change, Jamba updated and revamped its whole image. With a new logo sporting only the signature whirl, Jamba also updated its storefronts to include an emerald shade and a more simplified, modern look. In addition to all of that, Jamba upped its e-commerce game by making its website more mobile-friendly and launching a brand new app. These updates came at the perfect time, in 2019 right before because we're betting this e-commerce update must have been nice to have during the pandemic the following year.
The menu got a makeover as well. Working with a registered dietician, the franchise updated the menu by removing artificial sweeteners, artificial flavors, and artificial colors. They have also brought in some healthy add-ons like blue spirulina, a type of microalgae, along with chia seeds and vitamin boosts. Lastly, as if all of this wasn't enough to convince you to frequent Jamba again, they now serve steel-cut oatmeal and ginger shots (via Jamba).
The founder of Jamba Juice died in 2020
On June 20th, 2020, Jamba founder Kirk Perron died of a heart attack in Palm Springs California at 56 years old. Yet, Perron wasn't then in charge of the company. The California native sold Jamba Juice in 2006 for a whopping $265 million, according to the Silicon Valley Business Journal. The company was pivoting towards public ownership. In that same year, Perron resigned from the board of Jamba Juice, later telling The Tribune that "Nothing would make me happier than to see Jamba outlive me. I'm rooting from the sidelines for them."
After Perron's death, Jamba honored his memory on Facebook by promising to "continue to carry on his dream" and announcing that they would be making a donation to the Jamba Juice/Kirk Perron Scholarship Endowment Fund, a scholarship for incoming business students at his alma mater of Cal Poly San Luis Obispo (via Cal Poly).
You can visit a drive-through mashup of Jamba and Auntie Anne's
In Wylie, Texas, married couple Shawn and Crystal Bowling decided to bring together Jamba Juice and Auntie Anne's for a combo they described as "Smoothies and pretzels. Salty and Sweet," according to QSR. As such, they opened the first mashup of the two stories in May 2021.
Jamba Juice and Auntie Anne's are both under the same parent company after all, which made starting this franchise combo a little smoother for the Bowlings. Focus Brands is the parent company of both the smoothie giant and the pretzel joint, as well a handful of other restaurants that include Cinnabon, Schlotzsky's, Moe's Southwest Grill, and those ever-popular Carvel ice cream cakes.
The Bowlings told QSR that their combo drive-through location in Texas has met all sales expectations and beyond in the first few months of launching. Perhaps that's in part because the pair focused on the drive-thru aspect of their enterprise, a component they had already seen prove to be useful for other restaurants during the COVID-19 pandemic. Clearly, their customers' love for the salty and sweet combo of Jamba and Auntie Anne's has helped the Bowlings make their unique idea highly successful so far.
They now serve a breakfast "handwich"
In early 2021, Jamba decided to dry and appeal to all of the customers who were finally commuting to work again as, in many place, coronavirus restrictions began to change and lift. They did this by introducing a new breakfast item called a "handwich". The handwich comes with a pork sausage meat patty or, for vegetarians, an Impossible Foods patty. It's a new and unique addition to a chain that's more often known for fruity drinks than more substantial meal items.
The two options both include melted cheddar cheese and a sprouted grain bun, deployed here in alignment with Jamba's new health-conscious vibe. And what of the idea behind the handwich and its name? According to Jamba, the menu item gained the moniker because you should be able to hold the sandwich in one hand and eat it on the go. This is Jamba's debut in the breakfast sandwich space, where there is plenty of competition from other fast food chains that have heavy morning traffic.
You can have your Jamba made by a robot
What if you could get a fresh smoothie from a vending machine? One Walmart location in California now sports a Jamba inside the store. But not just any Jamba, considering that this one has no employees present. It is a co-branded kiosk with Blendid, a robotics company that specializes in contactless food kiosks and aims to help food companies scale their businesses for faster and easier operations.
In this particular Jamba kiosk, a robotic arm makes your smoothie in a mere 3 minutes, according to Insider. But, unlike a human employee, the robot in question can make 9 smoothies simultaneously. This is the first partnership of its kind between Blendid and Jamba, but there is a plan in place to add many more such kiosks in the future. So, be on the lookout for more robot restaurants. Blendid is already planning to expand by adding more locations in California and Georgia.