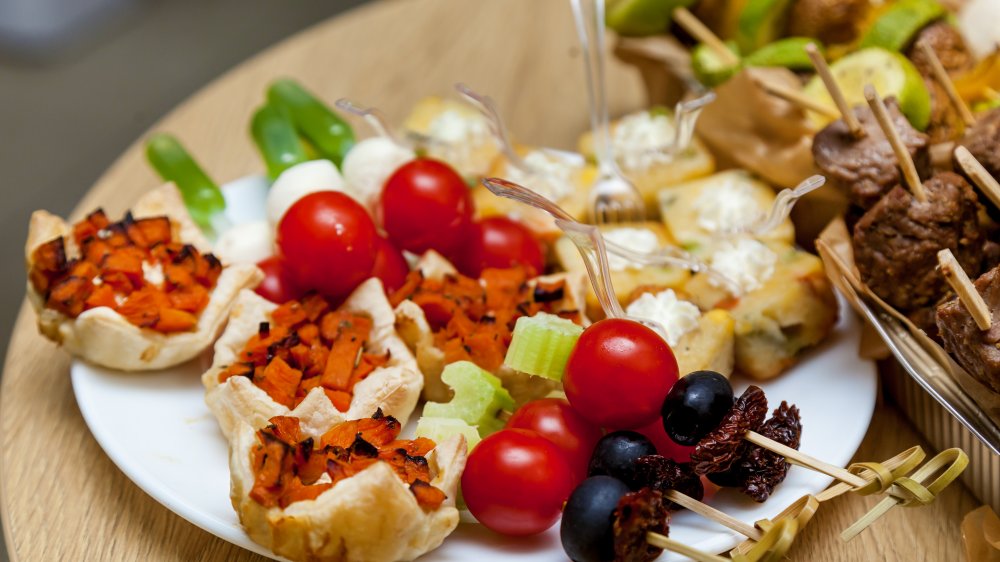 Whether you're at an expensive restaurant or attending an elegant gathering, it's often the fancy appetizers that steal the show. These appetizers are usually visually pleasing, just the right size to eat in a bite or two, and so very tasty that you'll wonder how so much flavor comes is a package so small. Plus, everyone knows appetizers are usually better than the main course, and these are the appetizers that prove that theory right.
Once you find an appetizer you love, your best bet is to learn how to make it at home, especially because appetizers are often overpriced at restaurants. It may take a lot of practice, but mastering a few apps could earn you an invite to every party, celebration, banquet, powwow, and potluck in town.
While there are hundreds of fancy appetizers, these are the ones that you really should try at least once before you die.
Antipasto skewers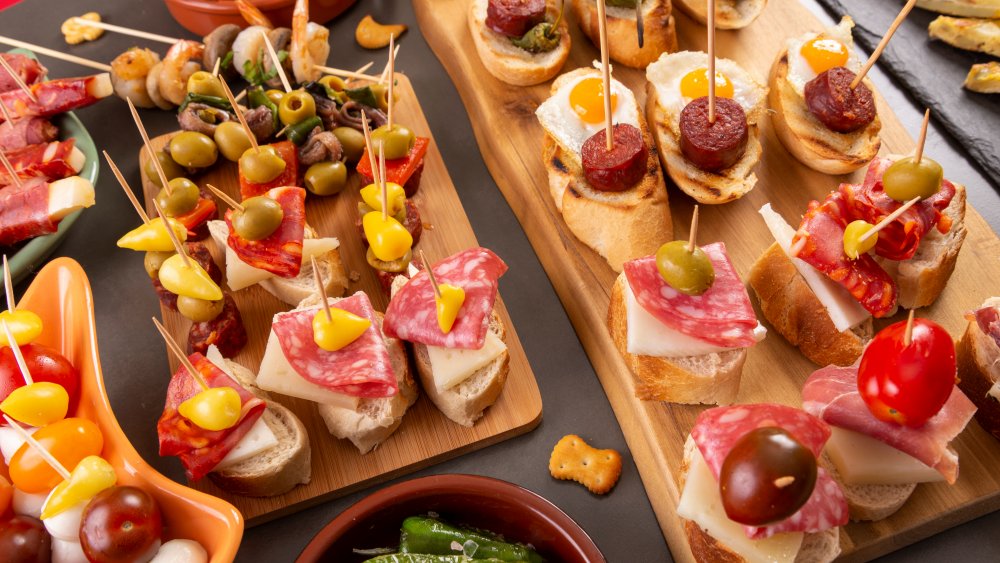 If you love Italian food, you've probably seen antipasto in one form or another. The traditional first course of an Italian meal, antipasto is typically served as a platter of cured meats, cheeses, olives, mushrooms, pepperoncini, and other vegetables. The shared platter is rich in color, flavor, and texture, and can be enjoyed by everyone at the table.
Antipasto isn't only served on a platter, however. Antipasto skewers are also often available at parties. The usual antipasto ingredients are assembled onto skewers to create the perfect portions of everything you want without multiple hands digging into the same platter. Whether you eat one or a half-dozen, you can pick which skewers you want and don't have to worry about someone else at the table getting all the prosciutto before you get a nibble.
Bacon-wrapped prunes
Yes, we know — this appetizer doesn't sound very appetizing. However, you'll have to trust us and give it a try. Smokey, crisp bacon comes together with sweet prunes deliciously. If it makes you feel any better, you can call them dried plums instead of prunes. All you need for this traditional Polish appetizer is the prunes and the bacon, but some chefs like to soak the prunes in apple brandy or other liquor and/or stuff them with various ingredients like chopped apple or nuts. Once you try a bacon-wrapped prune, you will fully believe that bacon makes everything, and anything, better.
Baked brie
You might have had brie in your lifetime, but have you had baked brie? If not, you are truly missing out. You can bake brie in a puff pastry shell or coated with just a little bit of honey. However, one of the best recipes for this cheesy goodness is to add a layer of toasted pecans and maple syrup on top. You'll also love baked brie topped with figs, pears, berries, and other fruit.
No one says you have to throw a party to eat brie. Grab some crackers or bread and go to town on this gooey deliciousness all by yourself while you're bingeing on your favorite Netflix show.
Beef spiedini
Another Italian favorite is spiedini, which are small meat rolls. Veal, lamb, pork, and beef all make for delicious spiedini. However, you can never go wrong with beef cuts such as sirloin or ribeye steaks.
The meat is sliced thin, rolled around your fillings, dredged in bread crumbs and cheese, and then baked or grilled. The filling can be anything from tomatoes and cheese to currants and nuts. If you can't find spiedini at your local Italian place, these are easy enough to make at home for a family dinner or festive party appetizer — and maybe even better since you can fill them with anything your heart desires.
Blini with caviar
At least once in your life, you absolutely must try caviar. Caviar is the expensive roe (eggs) from the sturgeon family of fish. The most coveted varieties of caviar include beluga and osetra, so look for those names on the menu next time you're at a fancy restaurant.
You can consume caviar directly from the spoon if you like, but most people prefer it on crackers or blini (small Russian pancakes). Caviar tastes salty, buttery, and often nutty. Though you might not love it, you should definitely try it . Besides, you will never feel as rich, prosperous, and high-class as you will as you're dining on caviar.
Caprese
Caprese is comprised of fresh tomato, buffalo mozzarella, basil, olive oil, salt, and pepper. This dish is typically served on a plate like a salad, but some people prefer it put on bread for a sandwich, on a skewer for parties, or on a homemade pizza. Though caprese is simple in and of itself, it can take many fancy forms.
The key to good caprese is that the tomatoes need to be at their peak of freshness. Therefore, caprese is best in the summertime when perfect tomatoes are plentiful — whether in your garden or at the grocery store.
Cheese ball bites
Cheese balls don't sound fancy or exciting, but they definitely can be if they're done properly. For cheese balls that are amaze-balls, use cream cheese and cheddar cheese, combined with crispy chopped bacon, fresh chives, slivers of pecans, sunflower seeds, and dry ranch dressing. Roll the balls small enough to just pop in your mouth, rather than making a large party ball for your whole group to scrape with crackers. You can smash the bite-size balls between two crackers, or skip the extra carbs and calories and eat them solo.
Chicken and waffle bites
Who doesn't love chicken and waffles? But we have to admit that a whole plate of them can be a little heavy. The appetizer version, however, is just perfect.
Chicken and waffle bites are tiny toasted waffles, topped with deep fried chunks of chicken and drizzled with syrup. You can find these yummy bites on brunch menus around the country. You can also make them at home as appetizers or snacks, and your family and friends will love you for it.
Chicken lettuce wraps
The chicken lettuce wraps from P.F. Chang's and other restaurants across the country feature layers of flavors to tantalize your taste buds. It's more than just the chicken — it's the hoisin sauce, soy sauce, rice wine vinegar, garlic, ginger, scallions, and everything else that goes into them. If you want some heat, chili garlic sauce is the perfect addition. In between visits to your local Asian eatery, you can try copycat recipes at home to amaze your family. Start with crisp lettuce and experiment with ingredients until you master it.
Chocolate-covered cheese
You love cheese. You love chocolate. So, why not chocolate-covered cheese? We can see you scrunching up your nose in disgust right now, but you are seriously wrong about this. Goat cheese, Monterey Jack cheese, and even cheddar cheese pair wonderfully with dark chocolate and sea salt. If you just can't deal with dark chocolate, semi-sweet or milk chocolate can work nicely as well. You can sometimes find chocolate-covered cheese on brunch menus or in fancy buffet stations. But if you can't, it doesn't take much effort to do it yourself. Eat chocolate-covered cheese once and you'll wonder why you never dared to pair this tasty combination.
Crab cake poppers
You might be familiar with jalapeno poppers, but these poppers are totally different. Crab meat and mayo are combined with other simple ingredients, rolled in panko, and fried until they're crispy, golden brown. Depending on the restaurant, you might find crab cake poppers that feature a ton of cheese, or none at all. No matter which type you're eating, dip them in a spicy aioli to maximize the deliciousness and celebrate the fact that you gave these poppers a try before it was too late.
Cucumber canapes
Canapes are small, decorative hors d'oeuvres that typically feature crackers, pieces of bread, or puff pastry as the base. They can be topped with different spreads and other toppings. While you have probably had some type canapes at one time or another in your life, you may have not had cucumber canapes, and you should definitely try them. They can be as simple as slices of cucumber with a layer of whipped cream cheese and sun-dried tomatoes, or something a lot more fancy. If you have a choice, choose the fancy ones. You'll be happy you did.
Empanadas
Empanadas are baked or fried turnovers that are filled with meats and other savory ingredients. South American and Caribbean countries serve empanadas as starters or main courses, and you can also find them at various restaurants and food trucks across America.
Beef empanadas are a favorite. The ground beef is aromatically seasoned with everything from cinnamon, to cumin, to paprika. Sometimes the meat mixture also contains raisins, toasted nuts, potatoes, and/or olives as well. The result is scrumptious, often addicting, appetizers that you'll thoroughly enjoy. Before you know it, you'll be heading to Latin America to stuff your face with as many empanadas as you can handle.
Escargot
What should you order to start your meal at a French restaurant? The escargot, of course. Escargot is cooked land snails. And no matter how gross you think it might sound, you should definitely try this delicacy before you die. Snails are traditionally cooked in a parsley garlic butter. You eat them by holding the shells with tongs and using your fork to twist the meat out of the shell. Removing the meat can be quite a production, so don't expect to zip right through this course. We aren't guaranteeing you'll love escargot — but you shouldn't pass it over or you may regret it.
Fancy deviled eggs
Typical deviled eggs feature hard boiled egg yolks mixed with mustard and mayo. The resulting mixture is piped or scooped into the egg whites and sprinkled with paprika or pepper. And though it's impossible to eat just one of these simple bites at your office potluck or company picnic, they don't have to be simple. With the addition of everything from crumbled bacon to salmon roe, and bell pepper strips to tiny shrimp, deviled eggs can offer layers of rich flavors and textures that are sure to please. Once you start eating fancy deviled eggs, you won't be able to go back to the original variety.
Fig and goat cheese bruschetta
Classic bruschetta features toasted bread that is rubbed with garlic and topped with ingredients like chopped tomatoes, basil, and balsamic vinegar. And though the classic version is certainly tasty, the more elaborate varieties take things to a whole new level. Some of the best bruschetta ditches the tomatoes altogether and instead slathers the bread with sweetened figs, goat cheese, and walnuts. A couple minutes under the broiler melts the cheese, toasts the nuts to perfection, and allows you to scratch something off your bucket list.
Foie gras
The production of foie gras is definitely controversial, but the taste of this French delicacy is highly touted as well. Despite the surrounding controversy, you will find expensive and decadent foie gras pate or mousse served at French restaurants around the world. Should you try it? If you can get over the production, perhaps you'll find this smooth, rich liver is worth every penny. Judging on taste alone, it's definitely a winner.
Fried calamari
If you have never tried squid or octopus, you're missing out on some delicious seafood. Calamari is a type of edible squid that is often served fried in Italian cuisine. When making this appetizer, squid pieces are usually soaked in buttermilk, dredged in seasoned flour, and then fried until golden and crisp. Fried calamari is typically overpriced in restaurants, but fortunately it's very easy to make at home.
The biggest complaint about squid is that it can be tough. For tender calamari, you need to fry it fast in very hot oil — or braise it very slowly. Traditionally, fried calamari is served with a tomato-based sauce, but garlic-lemon aioli is also an amazing alternative for dipping your squid.
Hogs in a blanket
Pigs in a blanket are basically hot dogs wrapped in croissant dough. They are the perfect cheap snack or appetizer for a kids' party. However, hogs in a blanket are a big upgrade to the pigs and can be served to even your snootiest friends.
Substituting spicy andouille sausage and buttery puff pastry, hogs in a blanket are often served with mustard chutney, cheese fondue, or sweet chili sauce. They are very easy appetizers to make, and you should bake twice as many as you think you should, because your guests will assuredly gobble them down. And if you have leftovers at the end of your shindig, you'll be thrilled to stuff your face.
Lobster roll sliders
Lobster rolls are scrumptious sandwiches served in Maine and throughout New England. Lobster meat is dressed with mayonnaise and other ingredients and piled into a toasted, split-top hot dog bun. While they use the mayonnaise in Maine and other areas, Connecticut-style lobster rolls skip the mayo and just add melted butter and chives to show off the lobster flavor. A pared down version of the traditional lobster roll is served on slider buns to create an appetizer-size version of this New England favorite that can't be beat, and must be tried.
Mac & cheese bites
Macaroni and cheese takes the form of an appetizer with the help of a mini muffin tin. You can find bite-sized portions of mac and cheese everywhere from pricey restaurants to party buffet stations these days. Plain macaroni and cheese is often dressed up with bits of bacon, scallions, and other yummy additions, and then deep fried. When it comes to mac and cheese bites, the best ones are when the bacon is used to create the cup to hold the pasta. Once again, bacon just makes it better.
Mexican shrimp cocktail
Almost everyone has had shrimp cocktail, but have you had Mexican shrimp cocktail? Be sure to experience this flavorful appetizer at least once in your life. The tomato-based sauce for the Mexican version is chock-full of celery, cilantro, cucumber, garlic, jalapenos, and red onion. Shrimp and avocado are added to the sauce right before serving for an unbeatable fresh taste. Next time you're in a Mexican restaurant, ask for the shrimp cocktail with a side of chips and a margarita.
Mini beef Wellington
Beef Wellington is a center-cut beef tenderloin that is coated with pate and duxelles (chopped mushrooms, shallots, and herbs). It's wrapped in prosciutto and puff pastry, then baked. After the Beef Wellington is baked, it's sliced into individual portions and served with a rich red wine sauce. If you've never tried this classic dish, you can indulge the appetizer variety instead. Mini Beef Wellington is basically the same as the full-size edition, except filet mignon is used instead of a large cut of tenderloin.
Mini quiche Lorraine
Quiche Lorraine is the best kind of quiche for one reason — bacon. This classic quiche features eggs, heavy cream, bacon, and Gruyere cheese combined to create a savory custard that is baked in a buttery pie crust. Whether you like it hot or cold, it's the ideal brunch food. But this list of what you need to try before you die is about appetizers, not brunch. So, thankfully, mini quiche was invented. Baked in tart shells in a muffin tin, you'll love mini quiche Lorraine bites no matter when or where you are eating them.
Olive and cheese ring
Appetizers don't have to be time consuming or difficult to make in order to be impressive. To make a fancy olive and cheese ring, first fill the center of a large platter with various types of marinated olives. Next, surround the olives with slices of your favorite cheeses and top the ring with tomatoes. The final step is to drizzle it with a generous amount of balsamic vinaigrette. You'll have a visually appealing appetizer that your family and friends will thoroughly enjoy.
Olive tapenade crostini
Speaking of olives, tapenade — a paste made with a blend of olives, capers, and anchovies — is a key ingredient in a number of tasty appetizers. Spread it on top of slices of toasted bread and munch away. You can also add goat cheese, currants, tomatoes, nuts, and other ingredients, if you want to get even more fancy. Tapenade might not be the most common appetizer ingredient, but it's certainly one you should try before it's too late.
Oysters Rockefeller
If you've never been able to stomach the idea of eating slimy raw oysters, you aren't alone. However, it doesn't mean you should skip eating these mollusks altogether. Originally created at Antoine's Restaurant in New Orleans, Oysters Rockefeller are oysters on the half-shell that are topped with a rich blend of butter, spinach, herbs, and bread crumbs. They are baked or broiled to deliver an amazing appetizer that is crispy on the outside and soft and delicious on the inside. Next time you see them on a menu, go ahead and give Oysters Rockefeller a try. You won't regret it.
Pimento cheese crostini
Many people have never heard of pimento cheese, and it's a darn shame. Pimento cheese is a combination of cheeses, mayonnaise, pimentos, and spices that is popular as a dip in the Southern United States. Though it's great accompaniment to a pack of Ritz crackers, pimento cheese gets even better when you add a few more ingredients, such as chopped bacon and jalapenos, and spread it on toasted bread or unique crackers. This is another appetizer that looks fancy, but is actually simple to make.
Polenta pizza bites
Polenta is boiled cornmeal that can be eaten hot like porridge. Don't confuse it with grits, which are made with white corn and are smooth. Polenta is created from yellow corn and it's much more coarse than grits. Polenta doesn't stay a porridge. When it has cooled down, it solidifies and then can be baked, broiled, or fried.
Polenta pizza bites are disks of broiled polenta that are topped with marinara sauce, mozzarella cheese, and other traditional pizza ingredients. The result is a unique little bite that you don't want to miss.
Pork satay
You don't have to venture to Thailand to get pork satay from a street vendor. You can find it at Thai restaurants all over the country. Thin slices of marinated pork are grilled on skewers and served with peanut sauce for dipping. The coconut milk, fish sauce, brown sugar, and spices in the marinade produce layers of flavors that are absolutely delicious. Don't deny yourself this fancy appetizer. Instead, give it a try before the day comes that you're staring at the inside of your coffin.
Prosciutto-wrapped figs
If you ever see prosciutto-wrapped figs on a restaurant menu, don't hesitate for a second to order them. Prosciutto is a dry-cured Italian ham that is typically served uncooked. Slices of prosciutto are wrapped around fresh figs that are stuffed with goat cheese or blue cheese. Though you can eat them as-is, these appetizers are best when baked at a high temperature until the prosciutto is crispy and brown. Drizzle them with honey or dip them with sweet chili sauce for a tantalizing bite that will be remembered for the rest of your living days.
Salmon mousse
Even if you skipped the foie gras mousse, you should definitely try salmon mousse appetizer. Salmon mousse is a mixture of cream cheese, smoked salmon, and lemon juice. It can be piped on top of the aforementioned cucumber canapes, spooned into pastry shells, scooped onto bread, or simply served in a bowl with a side of crackers. Some salmon mousse is a little bland, but not if horseradish, paprika, and dill are added to the mix to provide a sturdy kick.
Shrimp nachos
You might not consider nachos to be a fancy appetizer, but it's a new ballgame when they're made with the shrimp. You can find shrimp nachos at a number of restaurants, from seafood chains like Red Lobster to mom-and-pop (or madre-y-padre) Mexican cafes. Shrimp nachos are typically baked rather than merely assembled. They feature Monterey Jack and other cheeses, along with jalapeno peppers, red onions, and other typical nacho toppings. Don't forget to add sour cream and guacamole right before eating to get the most out of your nachos.
Shrimp tartlets
Shrimp tartlets vary from cold shrimp salad stuffed into tart shells, to shrimp and Bisquick baked in muffin cups. You can find dozens of versions of these bite-size delights at restaurants and parties all across the country. Many recipes feature shrimp tartlets with creamy cheeses and spicy seasonings for layers of savory, rich flavors. No matter what type of shrimp tartlets you run into throughout your life, you shouldn't overlook them. Like bacon, never shy away from more shrimp.
Steak bruschetta
Juicy, thin slices of steak, caramelized onions, and creme fraiche top crispy slices of baguettes to create some of the best bruschetta that you'll ever taste. This is what you'd call a heavy appetizer — and not heavy in a bad way. When made with high-quality meat, steak bruschetta is so good and hearty that you might just skip the main course and jump straight to dessert. If you are a meat-lover, this is one appetizer that you undoubtedly should try before you die.
Sticky meatballs
Savory meatballs made with ground beef, chicken, or pork are a delectable appetizer, especially when made with sticky garlic sesame sauce. Chopped green onions and sesame seeds add some texture and pizzazz to these yummy Asian favorites. If you can't find sticky meatballs at a nearby restaurant, dare to make them yourself. They aren't that difficult and are absolutely an appetizer you should enjoy at least once in your life.
Stuffed mushrooms
You don't like mushrooms, you say? Impossible! You just haven't tried the right mushroom. Stuffed mushrooms are some of the most delicious and diverse starters you can find. You can fill mushroom caps with just about anything. Whether you prefer spicy sausage, tasty crab meat, or gooey cheese, you are sure to discover a stuffed mushroom that you love. The key is large, firm mushrooms that don't get mushy or collapse when they are baked.
Taco bites
We couldn't get through this list without talking about tacos. Yes, tacos can be considered appetizers as long as they are mini tacos. And don't worry, since they're small you don't have to feel guilty about eating so many of them. Taco bites feature traditional taco ingredients but in smaller shells. In restaurants, you can find them made with everything from fish to chicken to steak. They can be fancied up with different kinds of slaw and colorful salsas. Whether you prefer hard or soft tacos, you can certainly find some taco bites in your neck of the woods that you'll love.
Tostones
If you aren't familiar with Latin American or Caribbean cuisine, you might not have a clue what tostones are. Well, we are here to tell you that they are delicious. Tostones are slices of plantains (which are not bananas) that are fried, flattened, and fried again. You can eat them plain, dip them in mojito sauce, or top them with avocado cream sauce. You might think it's difficult to find tostones, but most major cities have a Cuban, Dominican, Puerto Rican, or other ethnic restaurant that serves up these crispy slices of heaven.
Tuna tartare
If you're a sushi fan, then you have most likely eaten raw tuna before. However tuna tartare is a bit different than traditional tuna sashimi you'd find at your favorite sushi place. Chunks of fresh tuna are combined with green onions, sesame seeds, and other ingredients, and then placed on a bed of avocado, cucumber, or greens. This appetizer is often served with a soy-garlic sauce and rice crackers, or another vehicle for dipping. Though raw fish might sound unappealing to some, tuna tartare is worth a bite to try it at least once while you have the chance.