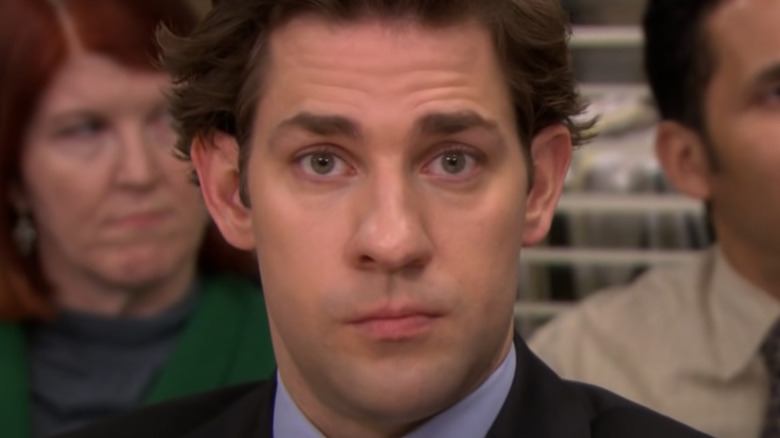 Life is hard, and the daily grind can sometimes feel daunting. That's not to say that life isn't also rewarding, but we humans have always sought ways to cope with the day-to-day churn of family, work, and supporting our general livelihoods by whatever means necessary. Comedy equips us with the ability tackle our problems through laughter. There's a certain satisfaction that comes from trivializing daily adversities — laughter makes them less intimidating. Moreover, comedy fosters connection. When we can laugh at what binds us together, we're not focused on the things that drive us apart.
The sitcom, which is short for situational comedy, is one of the most popular forms of modern entertainment. Ordinary working people and families are at the center of these shows, clumsily stumbling from week to week as they learn life lessons. Sitcoms help us escape by embracing the mundane: In watching someone else's life, we take a break from our own and learn to appreciate what we have anew. Plus, with most sitcom episodes clocking in under 30 minutes, decompressing with a favorite show is easy.
With such a wealth of sitcoms available, how's a viewer meant to figure out what to watch? By reading this list, of course! These are the funniest sitcoms in TV history, presented in no particular order.
I Love Lucy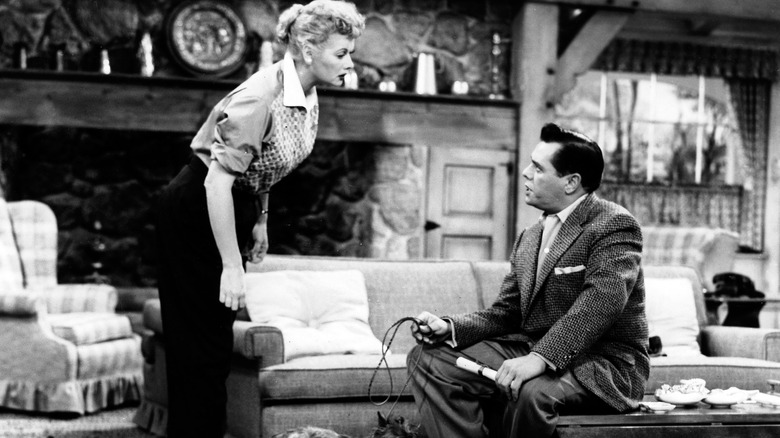 When you think of sitcoms, you think of "I Love Lucy." The legendary show follows Lucy Ricardo (Lucille Ball) and her husband, Ricky Ricardo (Desi Arnaz), a fun-loving couple making ends meet in midcentury America. Ricky, a celebrated bandleader, works in glamorous nightclubs, much to Lucy's envy. She desperately attempts to find a way into show business, but often botches her own schemes in a humorous and clumsy manner.
Not only did "I Love Lucy" establish many tried-and-true sitcom tropes, it broke major cultural ground. With a wildly funny leading lady at the helm and a Cuban-American immigrant as her co-star, "I Love Lucy" was quite progressive for its time. Additionally, the series was also the first show to conclude with a number-one spot in the Nielsen ratings (via New York Daily News). Simply put, "I Love Lucy" is a sitcom for the ages and a triumph of television.
Seinfeld
"Seinfeld" elevates the sitcom by bucking clichés. By putting their histories and experiences to paper, Larry David and Jerry Seinfeld created a snappy show rife with well-timed comedic punches. "Seinfeld" follows the everyday lives of the titular character, comedian Jerry Seinfeld, his former girlfriend Elaine (Julia Louis-Dreyfus), his impulsive neighbor Kramer (Michael Richards), and his timid best friend George Costanza (Jason Alexander). While Jerry is central to the cast, his relationships with the other characters are what drives the show. In contrast to typical sitcoms of its era, these characters aren't a family or colleagues — they're just friends. The show draws humor from its depiction of the mundane and the social faux-pas enacted by its awkward characters.
"Seinfeld" became one of the few shows to achieve the same feat as "I Love Lucy": It nailed a number-one spot in the Nielsen ratings upon conclusion. Today, the show is considered a modern classic. The show's intense nature has even seen it become a topic of analysis in college courses (via BBC). The impact of "Seinfeld" on global pop culture can't be understated. Quite a feat for "a show about nothing."
How I Met Your Mother
Ted Mosby's (Josh Radnor) journey to find his soulmate is fraught with mishaps, hilarity, and heartache. This hopeless romantic requires the support of his friends Marshall Eriksen (Jason Segel), Lily Aldrin (Alyson Hannigan), Robin Scherbatsky (Cobie Smulders), and Barney Stinson (Neil Patrick Harris) as he searches the world for the mother of his future children. At times, things get messy for the crew as a result of their various quirks. Barney's womanizing ways, Marshall's Minnesotan roots, and Lily's habitually manipulative nature all present their own challenges. Years in the future, an older Ted covers every last detail as he tells his kids the story of how he met their mother.
For nine seasons, "How I Met Your Mother" teases the mystery woman that Ted eventually falls in love with. While that promised endgame is a major draw, fans stay for the killer jokes, Barney one-liners, and endearing characters. The road to love is long, but "How I Met Your Mother" makes it one of the funniest journeys around.
Cheers
"Cheers" has a simple premise: Capturing the life and atmosphere among friends in a bar. Ted Danson's Sam Malone, who initially owns and manages the bar, leads the ensemble cast of characters, which includes other bartenders, waitresses, and patrons. Shelley Long portrays Malone's initial love interest, Diane Chambers. At one point, she dates another notable character, Frasier Crane (Kelsey Grammer), who went on to earn his own spin-off series, "Frasier." Notably, Woody Harrelson's career began with his role as Woody Boyd, who adds to the show's fun atmosphere with his less-than-intelligent remarks.
Most of the show's laughs derive from its subtle commentary on social status. The characters' identities are wrapped up in their respective backgrounds: John Ratzenberger's Cliff Clavin, a working class mailman, and Frasier Crane, a denizen of the upper class, are both explored, along with everyone in between. The bar is the place all these characters come together, regardless of wealth. With 11 seasons to its name, "Cheers" finds no end of laughs in the varied lives of its cast.
The Office
One of the funniest sitcoms of the modern day, "The Office" captures the daily grind with raucous humor and a whole lot of heart. Steve Carell's Michael Scott leads the series' wildly colorful cast of characters. His number two, Dwight Schrute (Rainn Wilson), is a brown-nosing know-it-all, even though Jim Halpert's (John Krasinski) pranks prove time and time again how naïve he can truly be. Kevin Malone (Brian Baumgartner), who never seems to mentally grow beyond his teen years, adds to the office drama with his cluelessness. Angela Martin (Angela Kinsey) and Stanley Hudson (Leslie David Baker) draw laughs from their inability to cope with the miseries of work. Pam Beesly (Jenna Fischer) sits up front at reception, biding her time until she figures out what she wants from life. Perhaps the most "normal" characters in the show, Jim and Pam reflect the audience's reaction to their office's wild goings-on, and end up forming one of modern TV's most legendary couples.
"The Office" has had a massive impact on the world of sitcoms. Its documentary-style approach to life among colleagues gives audiences a unique sense of realism, which heightens the comedy. Reckless and inexperienced bosses with a ridiculous need to be liked by all have never seemed so real — or so hilarious. No wonder so many "mockumentary" sitcoms popped up in the wake of "The Office:" It's a stone-cold classic of workplace comedy.
M*A*S*H
Not your typical sitcom, "M*A*S*H" takes its inspiration from the experience of military medical staff during the Korean War. While that sounds like a rather grim setting, "M*A*S*H" is, in fact, a sitcom, and thus largely comedic. While it's hard to entirely escape politics in a show about war, the series puts most of its focus on the characters, and keeps the laughs coming throughout its lengthy run.
Most episodes of "M*A*S*H" present a self-contained plot, often narrated by particular characters. The bulk of the series' comedy comes from the sheer, simple chemistry of its characters interacting with one another. Sarcastic reactions, banter between buddies, and accidental mishaps all elicit laughter from a generation-spanning audience. While drama does occur, the show never feels especially heavy. This proved to be a winning formula: "M*A*S*H" encompasses 11 seasons, and is still considered a classic sitcom to this day.
Living Single
Queen Latifah's career was on the rise in the early '90s. It kicked into high gear with the premiere of 1993's "Living Single." As the name implies, "Living Single" spotlights a cast of single young people, chasing their dreams in Brooklyn. Often compared to "Friends," which it preceded, "Living Single" is unique in that much of its main cast has already achieved major career success. Queen Latifah's Khadijah James, for example, is the ambitious editor of a monthly magazine, while Erika Alexander's Maxine Shaw is a hard-working attorney.
While "Living Single" never earned huge ratings, it was beloved by its core audience and lasted five seasons. Its comparatively modest success is also a lot more complex than it might seem: Queen Latifah has argued that "Living Single" wasn't promoted anywhere near as heavily as "Friends" (via TVLine), leading to its smaller audience. Regardless, its legacy as a sitcom about complex Black characters is far-reaching. Moreover, the cheeky humor and electric acting of "Living Single" aren't just culturally important — they result in a truly hilarious show.
Modern Family
Sitcoms of the '90s mostly feature families consisting of a heterosexual married couple and three or four kids. In contrast, "Modern Family," which debuted in 2009, highlights the fact that families don't always conform to this cookie-cutter ideal. "Modern Family" stars Jay Pritchett (Ed O'Neill), a middle-aged man married to his second wife, Gloria Pritchett (Sofia Vergara), a much younger Colombian-American woman. Together, they have two young sons. Jay's grown children, Claire Dunphy (Julie Bowen) and Mitchell Pritchett (Jesse Tyler Ferguson), have families of their own. Claire comes closest to having the typical sitcom family with goofy husband Phil (Ty Burrell), but Mitchell and his husband Cameron Tucker (Eric Stonestreet) are a gay couple with two adopted children. Plenty of fun and laughter ensues as this three-part clan navigates new stages in their lives.
"Modern Family" won numerous awards and quickly became one of ABC's most highly-rated shows. Notably, it also continued a trend made popular by "The Office" by showcasing the day-to-day lives of the Dunphy and Pritchett families through a faux-documentary lens. The show's confessional moments are full of snark and witty commentary, resulting in some truly unforgettable moments. "Modern Family" is a modern classic.
All in the Family
Anyone who lived through the '70s likely knows all about the rantings and ravings of Archie Bunker (Carroll O'Connor). In capturing him and his loved ones, "All in the Family" presents audiences with a portrait of a changing world. Perhaps most famously, Archie is known for his outdated social perspectives. He isn't presented as a hateful person, but rather as an old coot who's stuck in the close-minded views of his generation. Archie's daughter and son-in-law, who live with him and his wife, provide contrast in this regard. The show constantly explores the clashing ideas of older and newer generations, especially through Archie's daughter, Gloria (Sally Struthers), who jokes about her father's intolerance and ridiculous irritations. As a result, "All in the Family" discusses a wide range of controversial topics, especially for the time.
"All in the Family" left an indelible impact on American culture over the course of its nine seasons: It won countless awards, launched multiple spin-offs, and started an untold number of conversations. Appropriately enough, the Bunkers' chairs now reside in the Smithsonian's National Museum of American History.
Malcolm in the Middle
Every parent has reached the boiling point at least once in their lives. Kids will drive us nuts — it's a given. But Malcolm (Frankie Muniz) and his brothers have likely shortened their already-tightly-wound mother's life by a decade or two. Life as a kid in the early 2000s is what's on display in "Malcolm in the Middle." The irony and humor peppered throughout the havoc these boys wreak on their parents' temperaments (and the neighborhood) is uniquely hilarious to adults and children. Malcolm might be a genius, but that never stops him from being a kid: Fighting with his brothers and navigating life at school as a "gifted" student is all part of his daily routine. Even when Malcolm realizes that his not-so-bright older brother Reese has hatched a bad idea for a prank, he participates anyway, regardless of the consequences.
"Malcolm in the Middle" proved to be as influential as it is hilarious. Notably, the show only uses a single camera, (via The New York Times) and doesn't employ certain sitcom staples such as the laugh track. Succeeding sitcoms like "The Office" and "Modern Family" followed suit. Throughout its seven season run, "Malcolm in the Middle" offers enough pandemonium to make everyone in your house laugh, and make a mark on the culture.
The Jeffersons
Archie Bunker's neighbors, George (Sherman Hemsley) and Louise Jefferson (Isabel Sanford), eventually landed their very own show. "The Jeffersons" follows the family as they move to Manhattan, following the success of George's dry-cleaning business. The very idea of a sitcom about a prosperous Black family (via Variety) was rare and progressive during the show's time on air — "The Jeffersons" broke ground in a major way. Like "All in the Family," the show also tackles tough social topics, ranging from racism to substance abuse. Regardless of subject, however, "The Jeffersons" always manages to strike a light-hearted tone with its endearing cast of characters.
"The Jeffersons" ended abruptly and without a proper conclusion (via BET). The fans, cast, and crew were frustrated by this sudden network decision. However, George and Louise Jefferson have continued to live on through cameos in shows including "The Fresh Prince of Bel-Air" and "Tyler Perry's House of Payne," and above all, the hearts of the show's fans.
Friends
One of the most popular sitcoms of the '90s, "Friends" is about just that: A bunch of friends living in New York City who interact with each other on a daily basis. Characters become wrapped up in their own romantic exploits, chase their professional dreams, and get in a whole lot of trouble over the course of the show. Jennifer Aniston's Rachel Green and David Schwimmer's Ross Geller have an iconic on-again, off-again relationship throughout the series. Ross' younger sister Monica (Courteney Cox) begins a romance with Chandler Bing (Matthew Perry) that eventually blooms into full-fledged marriage. Blockheaded Joey Tribbiani's (Matt LeBlanc) womanizing and Phoebe Buffay's (Lisa Kudrow) outrageous songs, including "You Suck" and "Ballad of the Circumcised Man," keep viewers cracking up amidst all their drama.
While "Friends" earned 10 sterling seasons, it wasn't rated all that highly by critics early on in its run. But as the years went on, it became more and more beloved. Today, it's regarded as one of the best sitcoms of all time. The show's enduring legacy is so profound that a reunion special, "Friends: The Reunion," was released on HBO Max in 2021, 17 years after the series concluded in 2004.
That '70s Show
In the fictional town of Point Place, Wisconsin, Eric Forman's basement is the place to be. Eric, portrayed by Topher Grace, is your average high school kid of the late '70s: Always bending the rules and falling for Donna Pinciotti (Laura Prepon), the girl next door. They're joined by reckless, dim-witted Michael Kelso (Ashton Kutcher), rebel stoner Steven Hyde (Danny Masterson), whimsical and naïve foreign exchange student Fez (Wilmer Valderrama), and sheltered snob Jackie Burkhart (Mila Kunis). Together, this gang of friends experiences life in the '70s. Whenever they step out of line, Eric's dad, ultra-conservative veteran Red Forman (Kurtwood Smith), teaches them a thing or two by threatening to put his "foot up their a**" should they continue to make dumb choices.
At its best, "That '70s Show" resonates with young and old audiences alike. While younger viewers simply relate to the gang and their antics as teens, those who are old enough to remember the era enjoy the nostalgia. It's no surprise, then, that the series became a classic, and one of Fox's flagship shows.
Happy Days
Anyone who's seen "Happy Days" likely has the opening theme song stuck in their noggin at this very moment. That catchy tune sets the stage for one of the biggest sitcoms of the '70s and '80s. "Happy Days" focuses on Richie Cunningham (Ron Howard), an average American teenager living in the 1950s. Eventually, he befriends the ever-popular greaser Fonzie (Henry Winkler). Fonzie quickly became a fan-favorite with his witty humor and slick demeanor. "Happy Days" eventually shifts its focus by making Fonzie a lead character alongside Richie. The show proceeds to take a turn for the bizarre: Plots involving things like the alien Mork (Robin Williams), who wants to take Richie back to his home planet, pop up with increasing frequency.
"Happy Days" earned a healthy 11-season run and gave rise to multiple successful spin-offs, including "Mork & Mindy" and "Laverne & Shirley." Despite the many changes made to the series in the pursuit of continued relevance, "Happy Days" never loses its soul — and never fails to make viewers laugh.
Family Matters
Initially, "Family Matters" centers around the Winslows, a Black family living in the heart of Chicago. The patriarch, Carl Winslow (Reginald VelJohnson), is a police officer with a serious attitude about both his job and life in general. Steve Urkel (Jaleel White) is the family's ultra-nerdy and intrusive next-door neighbor. His need for Carl's attention and friendship, as well as his clumsiness, constantly get under Carl's skin. Steve Urkel irritating the crotchety Carl Winslow proved to be wildly hilarious, making Urkel a household name. The show eventually shifts focus to bring Urkel into the spotlight alongside Carl and his family.
If you've watched the show, you've definitely got Urkel's famous catchphrase reverberating in your mind: "Did I do that?" The line is deployed whenever Urkel causes pain or destruction with his graceless ways. It was mimicked in households across America during the '90s — proof of the series' impact and humor. "Family Matters" made an indelible mark with one unforgettable nerd.
Parks and Recreation
"Parks and Recreation" uses the mockumentary format to portray the lives of the good folks working in Pawnee, Indiana's Parks and Rec department. The show starts out simply: Amy Poehler's Leslie Knope, the department's deputy director, wants to replace a large pit left by a failed condo development with a park. Red tape, town meetings, and a whole lot of hilarity follows. The show finds its humor in the minutiae of local government, as the cast attempts to get something — anything — accomplished for their community. With characters as memorable and colorful as "Parks and Recreation" has, this results in seven seasons' worth of laughter.
"Parks and Recreation" initially earned bad buzz (via L.A. Times). Many felt it was an attempt to cash in on the success of "The Office," with the character of Leslie being compared to Michael Scott. Seasons 2 and 3 saw a rise in critical approval, however, and soon enough, "Parks and Recreation" found its own footing. Today, the series is the subject of warm feelings all over the world.
Schitt's Creek
"Schitt's Creek" follows the Rose family, a wealthy clan who suddenly lose their cash and are forced to live life as middle class citizens. Created by the father-and-son duo of Eugene and Dan Levy, who portray Johnny and David Rose, the series also features Catherine O'Hara as matriarch Moira Rose and Annie Murphy as Alexis Rose, daughter of Johnny and Moira and sister to David. The cornerstone of the series is the "fish out of water" nature of its premise: The only thing the Rose family has left to its name is the rural town of Schitt's Creek, which Johnny bought years ago on a whim as a birthday gift for David. Here, the family is forced to interact with the residents of the town as they attempt to plan for their future and learn to appreciate what they have.
Carried to glory by its colorful characters, "Schitt's Creek" enjoys a six-season tenure and won countless awards. In fact, the show broke historical ground when it won all of the acting awards in its genre at the 2020 Emmy Awards (via New York Post), as well as the ones for writing and directing. "Schitt's Creek" made such a massive impact on the sitcom genre, we'll be feeling it for years to come.
The Golden Girls
What happens when you put a gang of seasoned ladies under one roof? You get "The Golden Girls." This classic sitcom follows the lives of four older women who share a home in Miami: Blanche Devereaux (Rue McClanahan), who owns the home, Rose Nylund (Betty White), Dorothy Zbornak (Bea Arthur), and Sophia Petrillo (Estelle Getty). While older audiences undoubtedly relate to the four leading ladies' position in life, younger fans have no trouble finding humor in the titular girls' exploits as well. With actors this talented, banter about the twilight years becomes cross-generationally hilarious.
Like many other popular sitcoms of the past and present, "The Golden Girls" tackles controversial topics including discrimination, LGBTQ rights, war, and death. Because the characters have lived full lives, they have plenty of experience to draw from and offer insightful perspectives. "The Golden Girls" earned plenty of awards and has garnered a lasting legacy that will doubtlessly continue to endure for years to come.
Married … with Children
"Married … with Children" created a fair amount of controversy during its time on air, and it's not hard to figure out why. Al Bundy (Ed O'Neill) is a narrow-minded individual who enjoys reminiscing about his high school days and magazines of an adult nature. He is joined by Peggy (Katey Sagal), his wife, Kelly (Christina Applegate), his daughter, and Bud (David Faustino), his son. Peggy isn't a typical housewife — she is consistently shown to be too lazy for housework and is prone to spending money the family doesn't have. Kelly is fairly dim-witted, and relies more on her looks than her brains to get what she wants. Bud embraces his immaturity while still managing to be the brightest Bundy of the bunch.
Despite criticism of the show's crudeness and regressive attitudes, it lasted 11 seasons. Public outcry simply couldn't stop it from gaining an audience that still finds humor in the imperfect Bundy family today.
It's Always Sunny In Philadelphia
The award for the longest-running sitcom in American history goes to "It's Always Sunny in Philadelphia." The record-breaking series, which began in 2005, follows an unruly crew of individuals who run Paddy's Pub, a bar in South Philly. Like other successful sitcoms of its era, "Always Sunny" focuses on its wild characters, who constantly prank, undermine, and manipulate each other. While these dysfunctional folks are certainly funny, they're also absolutely ruthless. In fact, they harbor very few redeeming qualities at all. Most of them are dishonest and selfish, and take active pleasure in one-upping each other. This creates an environment ripe with black humor which has often been described as being like "'Seinfeld' on crack."
Critics and audiences agree: That sentiment is accurate, and also hilarious. "Always Sunny" has received plenty of critical acclaim during its time on television, and is poised to receive even more as it continues into the future.
The Middle
"The Middle" reaches into the heart of America by showcasing the lives of a lower middle class family in Indiana struggling to make ends meet. The Heck family, led by parents Frankie (Patricia Heaton) and Mike (Neil Flynn), embrace who they are wholeheartedly. When eldest son Axl (Charlie McDermott), daughter Sue (Eden Sher), or youngest son Brick (Atticus Shaffer) cause the sort of chaos that results in household damage, the Hecks simply move on, whether or not there is money for repairs. Brick's unique personality frustrates his teachers, Sue's undying optimism irritates her older brother, and Axl pranks his siblings, as most teenage brothers do. Life goes on, regardless.
Like little Sue Heck herself, "The Middle" went largely unnoticed during awards season. Still, critics praised the series for its portrayal of life on the frayed edge of the American dream. The show's relatability ensured "The Middle" enjoyed nine solid seasons that still make viewers laugh today.