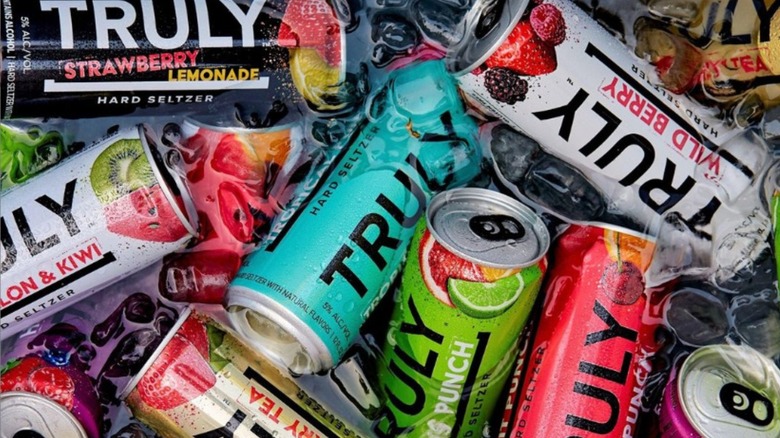 Just in case you haven't noticed, hard seltzers have taken over summertime (and also where have you been?). Whether or not you think it started with White Claw or you're old enough to have tried a ZIMA in its heyday, there's a whole new slew of flavored hard seltzers on the market — and they appear to be here to stay awhile. Even though Truly has been in production since 2016, it's having its biggest moment yet right now. As such, you might not have even realized that there are currently 26 flavors of Truly currently available.
The majority of the Truly flavors are divided up into six different variety packs. There are three mixed packs created in the style of simple seltzers, which include Tropical, Citrus, and Berry. The other three mixed packs are more flavorful sparkling beverages that include hard Lemonades, Teas, and Punches. There are four flavors in each mixed pack, giving you a nice little variety to choose from. Additionally, Truly makes two "Extra" flavors, which are higher in alcohol content and must be purchased separately.
Truly hard seltzers claim to be 5% alcohol by volume, 100 calories per 12-ounce can, and gluten-free across the board, with the exception of the two Extra flavors. Now, we've done the hard work of tasting every single Truly flavor and ranking them from worst to best, all in order to help make your hard seltzer dreams come true this summer.
26. Raspberry Lime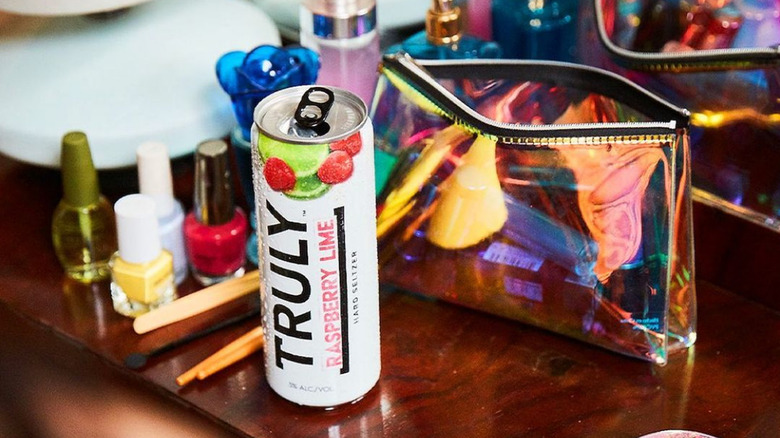 With the first sip of Truly Raspberry Lime, we flat-out didn't like it. It's bitter upfront, a taste that's immediately followed by an almost overwhelmingly fake raspberry taste. It's a lot. Of the simple-style seltzers in the Truly lineup, the Raspberry Lime has one of the strongest flavors, which we weren't expecting. After several sips we did begin to acclimate to it, but at no point did we get the desire to crush the entire can and ask for another one.
This flavor is only available in the 12-ounce format as part of the Berry mixed pack. We imagine that it would be marginally more palatable if eaten with a spicy meal, like blackened fish tacos or Nashville hot chicken, or something else that the bitter lime would do well to cut through. After tasting a few different Truly seltzers with raspberry flavoring, we came to the conclusion that the Raspberry flavor by itself simply isn't that good.
25. Extra Black Raspberry
We really wanted to like this one so much. As one of the Extra Truly flavors, it's got a higher alcohol content of 8% by volume and comes in a 16-ounce can, a prospect which we were initially excited about. But we just didn't like the taste all that much. The fun of the higher alcohol content is dampened by the strong taste of booze. The raspberry flavor is once again too artificially intense and yet does little to offset the flavor of the alcohol.
The black raspberry flavor profile does taste a little more like complex dark fruits than the bright and painfully sweet raspberry in the Raspberry Lime Truly, but not impressively so. On the other hand, if you're into juicy berry flavors, this is a low-risk choice since you can at least buy it one can at a time. That said, at 220 calories per can, we'd rather enjoy two cans of one of the other Truly flavors, or else just have a chilly glass of luscious Lambrusco than spend our calories on this disappointing option.
24. Raspberry Tea
At this point, it probably looks like we're ganging up on all of the Truly raspberry flavors, and to a degree that may be true. But the combination of artificial sweetener and whatever "natural flavor" was used to create the so-called "raspberry" taste seem to be seriously working against one other. If you're a raspberry fan, don't despair just yet, however. It plays a fantastic role in an ensemble cast of flavors further up in our list.
To the Truly Raspberry Tea's credit, it's the best of the raspberry-flavored drinks we've had in the lineup so far. Here, the tea plays a larger and more satisfying role in the overall flavor profile. As a matter of fact, all of the flavors in the Iced Tea mixed pack range from fine (about where we'd rank the Raspberry Tea) to downright amazing! The mixed pack also includes Strawberry Tea, Lemon Tea, and Peach Tea, which make the pack worth buying even if the Raspberry Tea doesn't exactly sing to you.
23. Blueberry & Acai
There's a reason that you don't see very many blueberry drinks on the market. The reason is that the whole concept and, oftentimes the execution, is all a little weird. Here, Truly's version was not bad — as a matter of fact, we thought it was kind of intriguing. But "intriguing" didn't exactly blow us out of the water, either. Truly claims that the sweet taste of the acai balances the bitter taste of the blueberry. Maybe it does for some, but generally, it just tastes like delicately sweet blueberry water. And that's fine. Just not spectacular.
If you're into acai for the nutrients and health benefits, there's really no guarantee that you're going to get any of those from this drink. We tried one Blueberry & Acai, acknowledged it for what it is, and moved on. If you find that you're really into it, it's available in both the Berry mixed pack, as well as a stand-alone 6-pack.
22. Lemonade
There's nothing subtle about this lemonade. It's a full-tilt sweet and sour extravaganza. If you're into lemonades, this one is probably going to do it for you, with one significant caveat. The flavor of the synthetic sweetener used in this beverage is very apparent. Is that a deal-breaker? That depends on your tastebuds. Most of the Truly flavors are sweetened with a pinch of cane sugar, then predominantly stevia. However, some aren't specifically labeled with it in the ingredients, and so it's a little more difficult to say with those flavors.
If you use stevia or an alternative sweetener already, this is probably not going to affect your enjoyment of the Truly lemonade. The strong tart lemon flavor is partially derived from lemon juice concentrate but is also supplied by citric acid (a common natural flavoring). On the Truly website, the Original Lemonade is only listed in the Lemonade mixed pack, but we've also found it in larger individual cans.
21. Tropical Punch
Tropical Punch is one of the four flavors included in the Punch mixed pack, which also includes Fruit Punch, Citrus Punch, and Berry Punch. All of the punch flavors come out swinging and are much stronger than their comparatively lighter hard seltzer counterparts. It's a great mixed pack for someone who doesn't want to commit to only berry or only citrus flavors, but instead wants a few more choices.
While we think all of the Punch flavors will appease someone looking for a fruitier sparkling cocktail kind of drink, we've got a lot of questions about what's in the Tropical Punch Truly. On the can are images of pineapple, watermelon, and dragonfruit, sure, but the term "tropical punch" can cover such a massive range of fruits that the possibilities are endless. The taste is certainly tropical but only in the vaguest sense of the word. On the other hand, maybe we shouldn't overthink it and just enjoy it, because it's a sweet and crisp tropical drink that's pretty good, all things considered. To kick it up a notch, the Tropical Punch would be nice served with a floater of coconut rum with a little additional pineapple juice — paper umbrella optional.
20. Strawberry Lemonade
The Truly Lemonade can come on a little strong, which is why, in a side-by-side tasting, we opted to rank the Strawberry Lemonade just above the Classic Lemonade. The additional strawberry sweetness conjured up memories of pink lemonade with chunks of fresh strawberries in a tall glass on an especially hot summer day. The strawberry flavor is concentrated enough to knock the bitterness of the lemon down a few pegs, without losing the juicy strawberry flavor you signed up for.
Turns out we're not the only ones interested in this classic pairing. Apparently, it's so popular that Truly includes it in the Lemonade mixed pack, as well as individual 24-ounce cans. To turn it into a cocktail, we can see mixing half a can of Truly Strawberry Lemonade hard seltzer with a shot of vodka and half a cup of pink lemonade on ice. Add fresh strawberries and a lemon peel for the perfect garnish.
19. Citrus Punch
With so many Truly options, eventually, it starts to seem like you're turning the volume of a flavor up or down or adding more instruments to the song. The Citrus Punch hard seltzer tastes like the mixed citrus flavors of the Citrus Squeeze were turned up to 10 — or similarly, more citrusy flavors were added to the already intensive Lemonade flavor. It's interesting, though not exactly original.
Truly describes this flavor as, "A wave of juicy orange, zesty lime, and bright lemon aromas," which absolutely comes across in every sip. We think Truly does a great job bringing citrus flavors to life in both the Citrus mixed pack, as well as the Punch mixed pack. All of the flavors shine without overwhelming your taste buds with burning tart citrus. The Citrus Punch is only available in the Punch mixed pack, along with Fruit Punch, Tropical Punch, and Berry Punch. It's a good mixed pack for people looking for a wider variety of flavor options.
18. Strawberry Tea
For some odd reason, strawberry tea isn't a flavor you see on the market very often in non-alcoholic, bottled, or even dried formats. While there are a few, there aren't as many as we'd like to see, given the unique flavor of strawberry. So, the Truly Strawberry Tea hard seltzer is a welcome addition to their Iced Tea mixed pack. The fruitiness of the strawberry is bold and sweet, while the full-bodied black tea stands out, making it more than just a strawberry juice thirst-quencher.
For those who like fruit-infused teas, but who may have been let down by the bitterness and strange fake flavor of the Raspberry Tea, the Truly Strawberry Tea should be more appealing. Generally speaking, we still found the alternative sweetener flavor to be very strong and potentially unpleasant in this drink. But after having had a few drinks, several of our testers became comfortably acquainted with that particular sweet taste and didn't seem to mind it as much as they expected.
17. Mango
Overall, we really enjoyed all four flavors in the Tropical mixed pack. Alongside Mango, Truly includes Passionfruit, Pineapple, and Watermelon & Kiwi flavors in the pack. But if we had to choose which of those four flavors we like the least, it would be the Mango. The general consensus was that it tastes good, but it's a little boring as far as mango-flavored drinks go. It's missing some of the acidic top notes that fresh mango juices have, and leans a little more into the one-note orange juice flavor profile that plagues other mango-based drinks.
Again, we think it's pretty good, just not quite as good as it has the potential to be — and in a lineup of 26 flavors, that's enough to knock you down a few pegs. At least it's not so bad being at the bottom of the best. Ultimately, if you like mango drinks we think you'll still enjoy this hard seltzer rendition.
16. Lemon Tea
There's no shortage of hard lemon teas on the market. Ever since Twisted Tea hit shelves in 2001 (via Twisted Tea), companies have been trying to find the right balance of booziness and flavor to complement this simple and refreshing backyard drink. What we like about this version is that the Truly Lemon Tea is a seltzer first and a hard tea second, making it a lighter option than some other, more heavily flavored hard teas on the market.
That said, the lemon flavor and sweetness don't taste especially real in this drink, but neither are they so synthetic that it's a distraction. The tea itself tastes real, which is more than a lot of other canned teas can say. Truly's version is easy to drink, meaning that just about anyone who likes tea can enjoy it. We can also see turning it into a makeshift Long Island Iced Tea mixer if things get especially exciting.
15. Fruit Punch
Truly's Fruit Punch probably tastes exactly how you'd expect it to taste. It's sweet, powerfully fruity in a vague way, and closely resembles the liquid in a canned Dole fruit cocktail. In comparison to something more familiar, it's definitely got the same red fruit vibe you'd get with a red Gatorade, but a little more cherry forward. As long as you don't have any residual bad memories of jungle juice parties from college, you're probably going to enjoy this grown-up play on a nostalgic classic.
The can also has images of an apple and orange alongside the cherry, but truthfully, it's really not very apparent what individual fruits are actually in this drink. It's just punch, which has never really stopped us from drinking anything in this category before. It is impressive that they've packed so much fruit flavor into a can with only 100 calories, but we're not going to question the methods — we're just going to enjoy the results.
14. Grapefruit
There are people who enjoy the tartness of fresh grapefruit for breakfast in the morning, and there are people who like the sugary grapefruit booze bomb of a drink like the Schofferhofer Grapefruit Hefeweizen. Now, we adore an icy cold Schofferhofer, but this seltzer is really best meant for the former audience. The first taste of Truly's Grapefruit seltzer is clean and slightly tart, almost like carbonated freshly squeezed grapefruit juice. The sweetness is neither fake nor overwhelming, just like a real grapefruit should taste.
The Truly Grapefruit hard seltzer is fantastic on its own, but it admittedly may not go well with every food choice. It could be great served alongside fresh berries, nuts, dark leafy greens, and cheeses like goat, ricotta, or feta cheeses — which of course makes this drink a nice addition to a park picnic. It may not stand up to heavier meals, however, so choose wisely.
13. Watermelon Lemonade
Having tasted a few of the lemonade flavors up to this point, we were skeptical about a few of them. But the addition of watermelon to this lemonade takes some of the harsh bite out of the bittersweet lemonade flavor. When paired with the bright lemonade, watermelon provides a satisfying and refreshing combo that really appealed to us. The fake sweetness of this lemonade was still apparent, but not necessarily off-putting.
According to Truly, the Watermelon Lemonade flavor is only available in the Lemonade mix pack. This is one of the Truly flavors that we'd be glad to see in a larger-format or 6-pack option since it's pretty easy to drink and can be paired with just about any summertime foods. Even if lemonade isn't your summertime drink of choice, this one may appeal to you.
12. Citrus Squeeze
When compared to the three other flavors in the Citrus mixed pack, we weren't immediately able to identify the citrus flavors involved in Truly's Citrus Squeeze. It could be any combination of lime, grapefruit, lemon, and even orange all at once. We're kind of into it. It's one of the lighter hard seltzer options, so don't expect it to be as bold as the Citrus Punch flavor.
This could make an amazing light margarita-style cocktail, perhaps made with a shot of tequila, half a can of the Citrus Squeeze, and a splash of simple syrup poured over ice and into a glass with a salted rim. Sounds like a great way to kick off your next pool party. For the time being, the Citrus Squeeze is only offered in the Citrus mixed pack, so consider setting them aside as mixers when you pick up your next mixed pack.
11. Passion Fruit
For those who enjoy passion fruit, this flavor is a welcome addition to Truly's Tropical mixed pack lineup. Passion fruit is making more and more appearances in drinks and tropical fruit offerings these days, but it often appears alongside other tropical fruits like pineapple or guava. If you've never had fresh passion fruit before, it's part tart, part sweet, and a tad funky — in a good way.
We think the folks at Truly did a nice job distilling the flavor into a light and refreshing hard seltzer. The flavor isn't overpowering, nor is it washed out. Served ice cold on a blistering hot day at the beach or by the pool, this could be like pure paradise. The Passion Fruit flavor is only available in the Tropical mixed pack, though, so make sure to snag one before anyone else lays their hands on your case.
10. Lemon
If the full force of the lemonade flavor doesn't really do it for you, don't write lemon off altogether. The Lemon Truly hard seltzer is a low-key and revitalizing light hard seltzer that won't knock you over with bitterness. We found that it was nice muddled with fresh herbs like mint or basil, or even with a few berries dropped into the glass. The lemon flavor is available in the Citrus mixed pack along with Grapefruit and Citrus Squeeze.
Truly has even created a cocktail for the Lemon flavor called the Truly Citrus Sparkler. The recipe is made as follows, "Combine gin, elderflower liqueur, and lemon juice in a cocktail shaker. Strain mixture into a flute. Top with Truly [Lemon]. Garnish with a lemon twist and edible glitter." The artificially sweet taste of the stevia is almost undetectable in this drink, which makes it even more enjoyable unless you're especially sensitive to the taste.
9. Berry Punch
By the time we got to taste the Truly Berry Punch flavor, we had become a little wary of anything that might include raspberry. But the very first sip of this punch revealed that Truly has made a bold berry-packed beverage that is really delightful. Jammy without being overly sweet, the Berry Punch hard seltzer has images of raspberries, strawberries, and blueberries on the can. The luscious fruits are balanced with just a hint of tartness to make them shine, but not nearly as tart as the Truly Lemonade options.
The folks at Truly compare it to a mixed berry smoothie, but we think it tastes more like summer berry pie in a can. The punch flavor is more intense than the simpler hard seltzers in the Truly lineup, which is perfect for someone who wants all of the flavors of a bold summer cocktail, without all the extra sugar.
8. Black Cherry
Even though this flavor leans more into the lighter seltzer category, it packs quite a punch. The black cherry flavor is strong and enjoyable but also has an essence of Hawaiian Punch, which we're not complaining about. We can see this being great to drink with glazed ribs at a cookout or with a fresh summer veggie and goat cheese salad at lunch outside. When it comes to the sweetness, it's not overwhelmingly fake compared to some of the other flavors in the Truly lineup.
Not only is the Black Cherry available in the Berry Mix 12-pack, but it's also available in a 6-pack of its own. The 6-pack is a good choice since we can easily see drinking a couple of these without getting tired of the flavor. Also, we're not quite as smitten with some of the other flavors in the Berry Mix pack.
7. Mango Lemonade
Mango is one of those flavors that absolutely shines when paired with acidic fruits like lemon. Its bold orange-pineapple tropical flavor is amplified by the lemon while balancing to the overall tartness. When drinking the Truly Mango Lemonade, it seemed less like a hard lemonade and more like we were enjoying a bright and fizzy mango cocktail.
The addition of the lemonade to this drink gives it so much more life and is exactly what we felt was missing in the mango hard seltzer. Would it be wrong to splash in a bit of rum for a mango daiquiri effect? We think not.
Again, this is one of those Truly flavors only available in a mixed pack that we'd enjoy seeing as a stand-alone flavor. But until that happens, we'll be calling dibs on this one whenever we pick up a Lemonade mixed pack.
6. Peach Tea
You've likely had plenty of peach tea at this point and maybe even a few hard peach teas. But this may be the first time you've had one that's technically a seltzer, and that might be what makes all the difference. It's lighter than bottled tea, which we like when there's a long afternoon of drinks ahead. The peach flavor is ripe and crisp, too, but not overwhelmingly sweet, thanks to the black tea. Ultimately, the drink comes together so well you may even forget that it's got alcohol in it.
We can see ourselves drinking the Peach Tea Truly all day until the fireflies come out at night. Where the Lemon Tea Truly is easy drinking and accessible, the Peach Tea is downright dreamy. Unfortunately, none of the hard tea flavors are currently available in stand-alone 6-packs or larger sizes, but if the Peach Tea flavor was offered on its own, we'd buy it.
5. Lime
We weren't expecting much from the Lime Truly but were very pleasantly surprised when tasting it. Lime might theoretically be a simple flavor, but flavored seltzer enthusiasts know that this particular taste runs the gamut from tart and lemony to sickly sweet and synthetic. This hard seltzer is at neither of those extremes. Nor is it boring. It's both mildly sweet and mildly tart, as if lime zest may have been used in the flavor-making process and not just the juice.
Now, we don't actually know how Truly has managed to flavor the Lime hard seltzer, but we're into it. It's a bold statement, but several tasters even claimed to like it more than the La Croix Lime and Key Lime flavors, which is saying a lot. Luckily for all of us, not only is the Lime Truly available in the Citrus mixed pack, but also as a stand-alone six-pack flavor and in individual 16-ounce cans.
4. Wild Berry
For those who enjoy the luscious fruit flavors of a punch or berry smoothie, but want a lighter option for a day outside, we like the Mixed Berry hard seltzer. The taste of strawberries, raspberries, and blackberries don't stand out individually, but you certainly get the gist of the flavors. It didn't immediately wow us, but we found ourselves finishing the cans satisfied.
Aside from the alcohol, it could easily be mistaken for a standard sparkling water flavor. It's the standout flavor in the Berry Mix 12-pack and is apparently popular enough to be offered in several other sizes, including an exclusive 6-pack, 16-ounce, and 24-ounce sizes. If you need a flavored seltzer to use as a cocktail mixer, the Wild Berry would be a nice addition to a spritzer or cranberry or red fruit-based cocktail.
3. Extra Peach Mango
When you pop a can of the Truly Extra Peach Mango hard seltzer open, you're immediately greeted with the fruity and floral flavors of mango and peach for additional sweetness. Peach Magno is a combination of juicy summer and tropical fruits that were meant to be together. The alcohol content is noticeably higher in this option as well, clocking in at 8% alcohol by volume. It's also got more than double the calories of the 12-ounce seltzer cousins in the Truly line, with 220 calories per can.
Luckily the peach mango flavor seems to balance out the alcohol taste and give it a light sparkling cocktail kind of vibe. With that said, this option is only available in the 16-ounce format. Just because it's a lighter flavor doesn't mean it's a light beverage. Don't be shy about pouring it over ice and enjoying it like an actual cocktail.
2. Watermelon & Kiwi
This might be a controversial ranking, but we were absolutely giddy tasting the Watermelon & Kiwi Truly, and think that it doesn't get enough love. What's so exciting about this relatively ubiquitous flavor combo? Well, if you're in the millennial crowd, maybe you remember drinking Wild Watermelon Sqeezits from those malleable plastic bottles in elementary or middle school — and the sensory memory of that flavor is strong with the Watermelon & Kiwi Truly. It's a fantastic hit of nostalgia, mixed with a genuinely thirst-quenching adult beverage that we wanted seconds and thirds of.
If you never had a Sqeezit, but enjoy the summertime bliss of icy cold watermelon juice, you're still really going to enjoy this one. The Watermelon & Kiwi is available in the Tropical mixed pack, as well as in a 6-pack of its own. Please excuse us while we stock our fridge with these, call our friends over for a pool party in the back yard, followed by a sleepover where we may or may not make ice cream sundaes, and watch Boy Meets World episodes till we fall asleep.
1. Pineapple
In general, we think that Truly has done really well with the tropical fruit-flavored beverages they offer. The pineapple is a glowing example of just how refreshing a hard seltzer can be in the summer heat. One of our testers was suspicious that it would taste like a can of pineapple juice, strong and very sweet. Much to our pleasure, it tastes crisply of pineapple but very light — just as a seltzer should be.
Whether you're inside by the air conditioner or outside in the sun, you might not be able to get enough of the Pineapple Truly. We must not be the only ones who think so, because it's offered in a variety of ways. Not only is it included in the Tropical mixed pack, and sold as a stand-alone 6-pack flavor, but it's also available in 16-ounce and 24-ounce can formats. Truly is on to something special with this one.