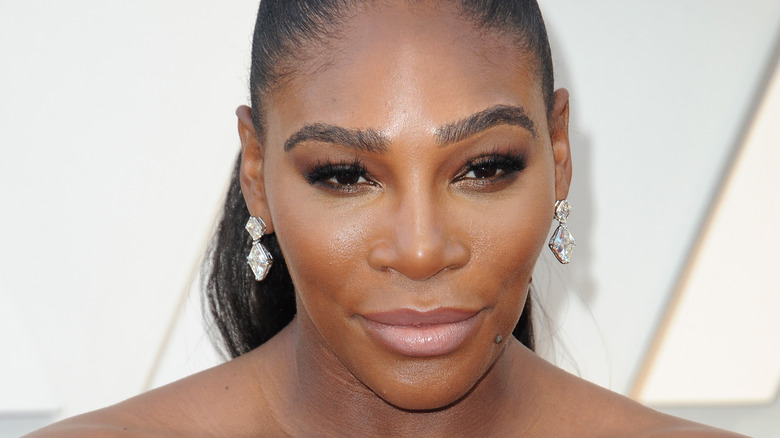 Serena Williams has undergone an amazing transformation over the years from a young tennis star to the entrepreneur, fashion/jewelry designer, philanthropist, advocate, and all-around icon that she is today. Williams is widely recognized as one of the greatest tennis players of all time, having smashed multiple records in the game. To this day, Williams has 23 Grand Slam singles titles as well as four Olympic gold medals, per Masterclass. She is also known for the fashionable tennis outfits that she's worn on the court.
Williams is currently competing for her 8th Wimbledon title at almost 40 years old, which is an age where most athletes have long since retired. But Williams doesn't seem worried about it. When asked how she avoids feeling burnt out, she explained (via World Tennis Association), "I still went to college. I still did a lot of other things. I had other careers. It was impossible to burn out. I mean, I've taken some time off, had a few injuries, which were another mental break."
The tennis star's coach, Patrick Mouratoglou, has also suggested that Williams won't stop playing until she wins one more Grand Slam title, per WTA. And Williams is still enjoying herself. She revealed, per the outlet, "I like my job. I like what I do. It's pretty special I get to come out and still get to do it. I don't think I need any other inspiration behind that."
Let's take a look at William's inspiring transformation over the years!
At age 9, Serena Williams competed in her first tennis tournament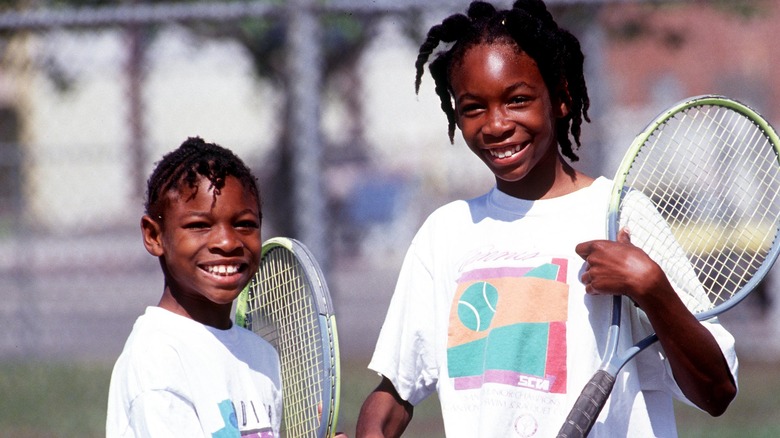 It appears that Serena Williams was always destined to be a tennis player. According to Oprah Magazine, her father decided that she and her sister Venus would play the sport before they "were even born" because he once saw a professional tennis player receive a $30,000 check. The girls began playing at age 4. Williams explained, "He stayed up many nights watching films so he could teach us. He taught our mom, and then they taught us."
Williams also credits her parents for keeping her on the path to success when she was younger. She told Oprah Mag, "Fortunately, we listened to our parents, which I think is one reason we're blessed. We never went out and got crazy." It appears that paid off because in 1991, at age 9, Williams competed in her first junior tournament, according to ESPN. Then in 1995, at only age 14, Williams turned pro and competed in her first match. Only three years later at age 17, she won her First Grand slam during the 1999 U.S. Open.
Williams apparently hasn't forgotten how far she's come and in 2018, she posted a throwback photo on her Instagram of her younger self competing. She captioned it, "Would you believe me if I told you the girl on the left always dreamed of becoming the woman on the right? Keep fighting."
At 20, she was thriving professionally but struggling personally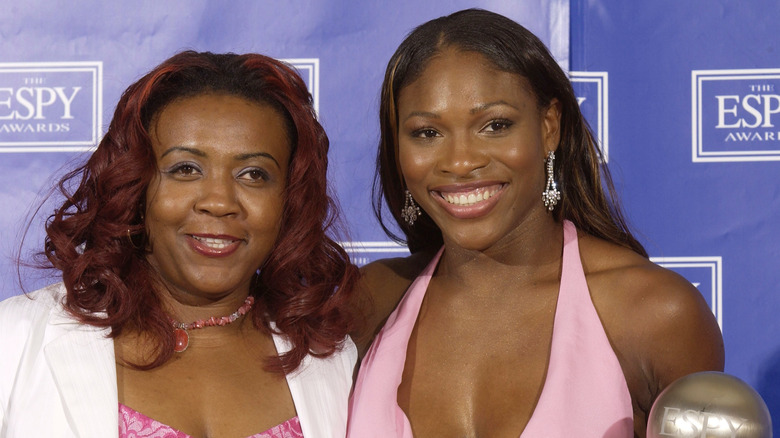 In 2002, Serena Williams was ranked world No. 1 by the Women's Tennis Association (or WTA) for the first time in her career at age 20. Between 2002 and 2003, Williams also completed her first "Serena Slam" when she won all four Grand Slam titles, according to CNN. That includes the French Open, Wimbledon, US Open, and the Australian Open.
However, in 2003, Williams also suffered a horrific tragedy when her older half-sister, Yetunde Price, was murdered in Compton, Calif. She had been caught in a "gang crossfire" while in a car with her boyfriend, according to ESPN. William's sister, Isha Price, recalled, "The thing I hated most about that situation was that Serena was the one who got the call." She added, "We relied a lot on each other; it was us holding each other up at a really difficult time."
"That news hit her very heavily," former tennis player Pam Shriver said, per ESPN. "Her resilience throughout some major personal setbacks, her parents' divorce [in 2002], her sister's killing, her medical situations, she's had her share of heartbreak as far as relationships. It's so impressive she's been able to stay on tennis track through such significant personal adversity." William did stay on track on and off the court. She even eventually created the Serena Williams Foundation to help kids impacted by violent crimes in the U.S., as well as underprivileged children around the world.
She met her future bestie Meghan Markle at age 29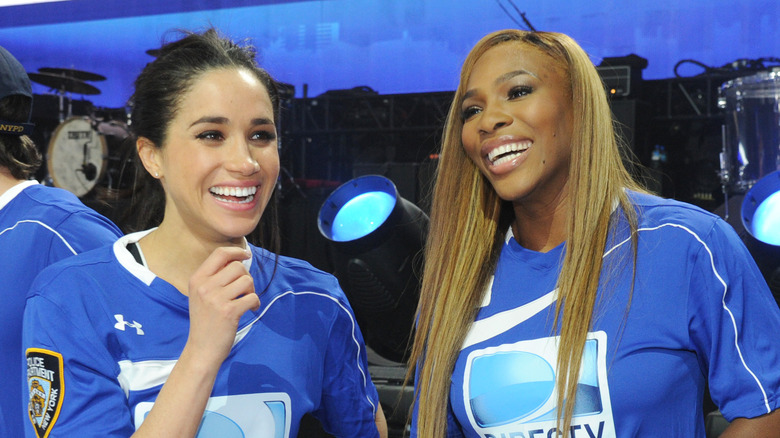 Serena Williams has made headlines for her close friendship with the Duchess of Sussex. Meghan Markle revealed on her now-defunct blog (via Insider) that the two first met in 2010 when they both attended the Super Bowl in Miami, Fla. However, their friendship really took off four years later when they both participated in a celebrity flag football match. "We hit it off immediately, taking pictures, laughing through the flag football game we were both playing in, and chatting not about tennis or acting, but about all the good old-fashioned girlie stuff," she wrote. "So began our friendship."
In 2015, Markle congratulated her on her Australian Open win on Twitter (back when she had one), writing, "So happy for you @serenawilliams!! I was juuuust hugging you for your win at #usopen." Markle summed up their friendship on her blog writing, "She quickly became a confidante I would text when I was traveling, the friend I would rally around for her tennis matches, and the down to earth chick I was able to grab lunch with just a couple weeks ago in Toronto" (via Insider).
It appears the feeling is mutual for Williams, who called Markle (via Us Weekly), "the strongest — literally the strongest — person I know and the nicest [and] sweetest." She added, "I call her, text her anytime, crying, upset — she's always there. Doesn't matter what she's going through, she just sets time away, and she's just so amazing."
At 34, Serena Williams fell in love with her husband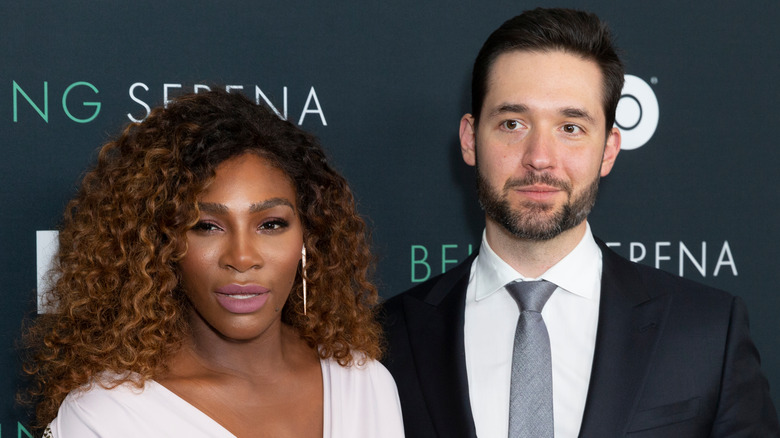 In 2015, when Serena Williams was 34, she met her now-husband, Reddit co-founder, Alexis Ohanian when the two were both staying at the same hotel in Rome. Ohanian had apparently chosen to sit at a table right next to Williams's, despite there being several other tables available. She told Vanity Fair, "This guy comes and he just plops down at the table next to us and I'm like, 'Huh! All these tables and he's sitting here?'" The two, of course, hit it off and Williams invited Ohanian to join her in Paris.
The two appeared to have fallen in love hard — and rather fast, because the next year in 2016, Ohanian proposed to Williams at the Rome hotel where they first met. Williams wrote a sweet poem when she announced her engagement on Reddit (via VF), which read, in part, "And now it was full circle. At the same table we first met by chance. This time he made it not by chance, but by choice. Down on one knee, he said 4 words and I said yes."
The two got married in New Orleans in 2017 in front of several of Hollywood's elite, including Beyonce and Jay-Z. Williams later gushed of Ohanian (via Us Weekly), "He doesn't try to dim my light. He puts me in the light, even if I don't want to be. He pushes me to further points I never thought about."
She often posts about her life with her daughter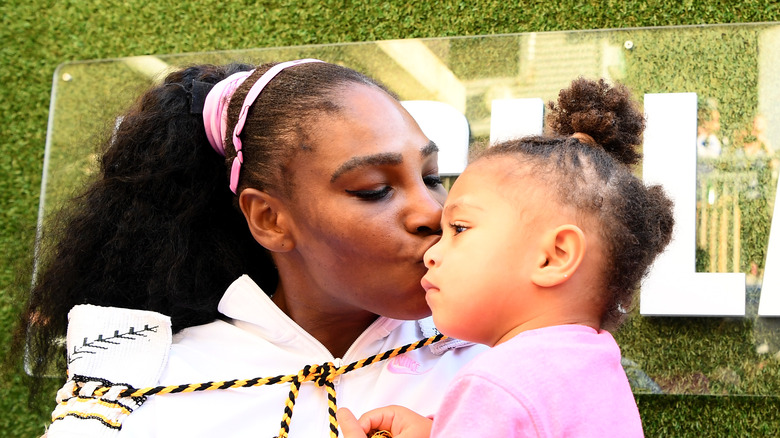 It appears that nothing makes Serena Williams happier than spending time with her daughter, Alexis Olympia Ohanian, Jr. Olympia, as she's called, was born in 2017 and by 2018, she had already landed the cover of Vogue. That same year, Williams opened up about motherhood, telling TIME, "Sometimes she just wants Mommy, she doesn't want anyone else. I still have to learn a balance of being there for her, and being there for me."
These days, Olympia is frequently featured on her mom's Instagram account. In March, Williams even shared photos of them modeling matching outfits together for their campaign with designer Stuart Weitzman. The tennis star has also shared a photo of her and her daughter wearing beautiful gowns on the tennis court, as well as one of them wearing matching pink bathing suits. Williams captioned the latter, "The Shady One and the Wild Child, together we're unstoppable." Aw!
One of Williams' most recent posts is of her and Olympia just being silly for the camera. Williams captioned the photos, "This is us." She even shared a video of her teaching her daughter to play tennis. It appears Williams has transformed over the years from a young tennis star to an amazing wife and mother, who happens to be one of the best athletes in the world!