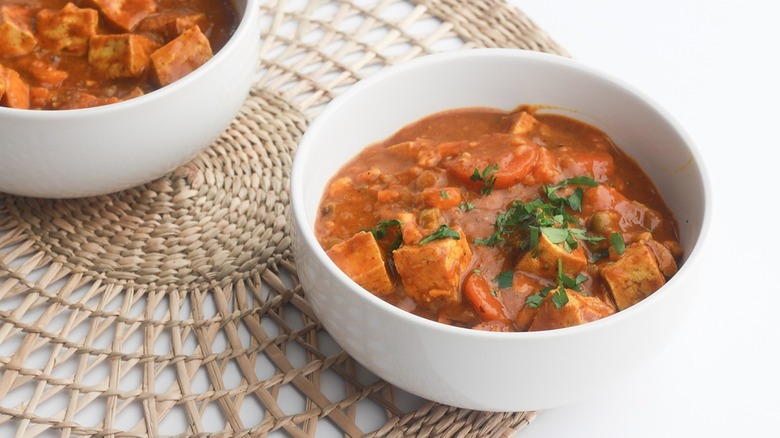 When you're craving curry, you might first consider ordering takeout from your favorite Indian or Thai restaurant. While it is tempting to order in, there are plenty of benefits to making curry at home, like saving money and being able to customize the dish. And best of all, homemade curry is super easy to make!
Recipe developer Susan Olayinka from The Flexible Fridge has a tofu curry recipe that checks several boxes: It's just as delicious as any curry that you can order from a restaurant, it's very healthy thanks to the use of tofu, mixed vegetables, and sweet potato in the recipe, and finally, this curry is incredibly easy to make — all you need is a few simple ingredients and an Instant Pot.
"I like the ease," Olayinka says of this recipe. "You drop everything in the Instant Pot and it does the hard work for you." When you're craving curry and want a filling meal, what more could you ask for? So grab your Instant Pot, tofu, and curry paste, and keep reading to learn how to make this easy curry recipe.
Gather your ingredients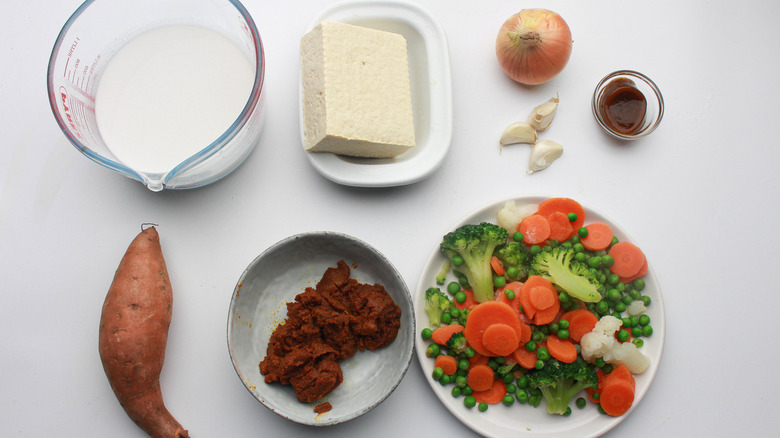 Before you can begin cooking your Instant Pot tofu curry, you'll need to make sure you have the right ingredients. You might have to run to the store to grab a few of them, whereas others you probably have sitting right in your pantry.
First, you'll need a block of firm tofu. You'll also need a sweet potato, a yellow onion, garlic, mild curry paste, a can of full-fat coconut milk, and frozen mixed vegetables. Olayinka notes that this is a mild curry, so if you prefer something a little spicier, you can add chili flakes or chop up some fresh chilis and add them into the mix.
Drain and chop the tofu block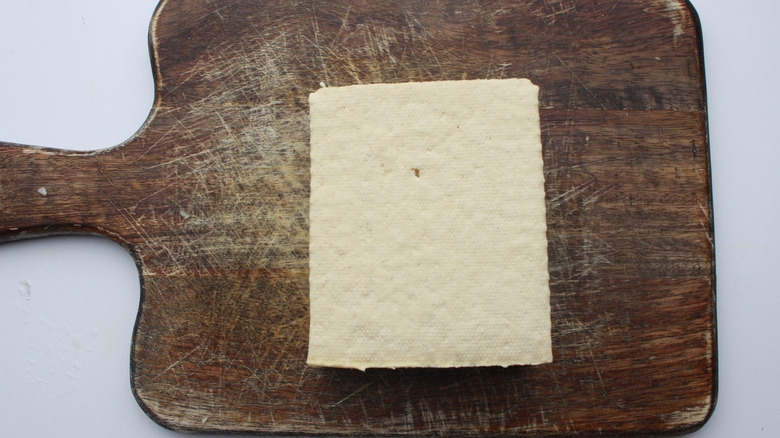 One of the elements that makes this such a healthy dish is the tofu. Tofu is rich in protein and nutrients, not to mention the fact that it pairs wonderfully with curry!
To prepare your tofu, you'll want to start by draining it. Place some paper towels on your cutting board and then place the tofu block on top. Put a weighted item, like a pan, on top of the tofu block to drain the excess water — this should take about 10 minutes. Then, chop up the tofu into half-inch pieces and set them aside.
Chop the sweet potato, onion, and garlic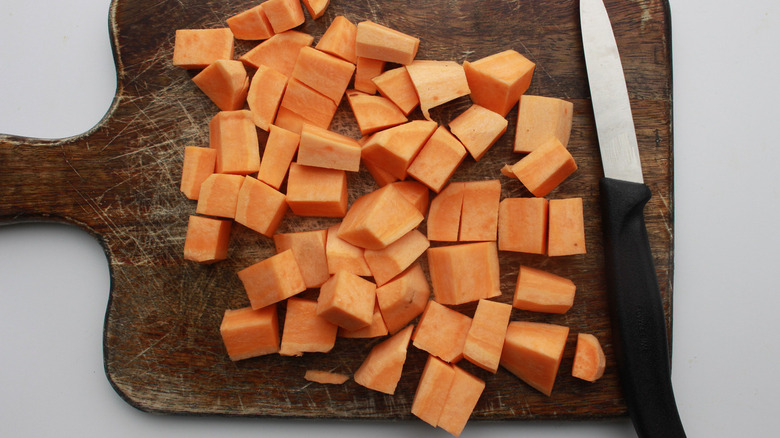 Now that your tofu is ready to go, you can give some attention to the other main elements of the curry: sweet potato, onion, and garlic. Start by peeling the sweet potato and cutting it up into half-inch chunks, exactly like you cut the tofu. Set the sweet potato chunks aside and then grab your onion, peel it, and dice it. Finally, grab your garlic cloves, peel them, and finely mince them, then set them aside with the rest of the ingredients.
Add the curry ingredients to the Instant Pot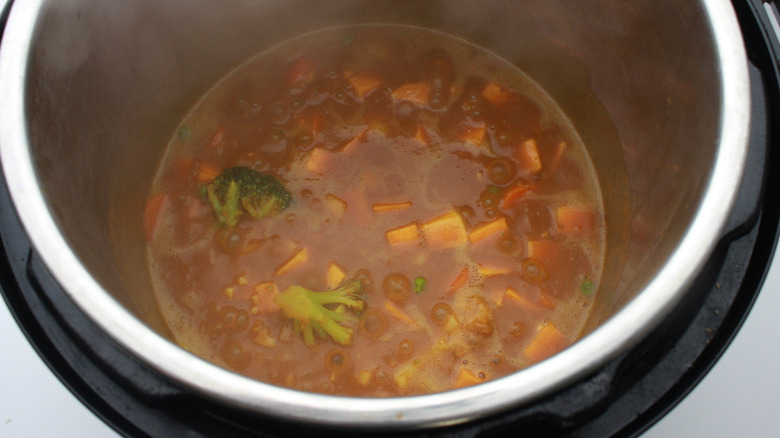 Now that you have all of the curry ingredients prepped, you can begin cooking. First, turn your Instant Pot onto sauté mode. Then, put the curry paste and coconut milk into the pot and stir for a minute. Add in the chopped tofu, sweet potato, onion, garlic, and mixed vegetables, and then stir all of the ingredients together. Turn off sauté mode on the Instant Pot, put on the lid, and switch it to high pressure. Allow your curry to come to pressure and cook for five minutes. Then release the cooker's pressure for 10 minutes.
Serve the curry while it's hot
Once the Instant Pot is done releasing pressure after 10 minutes, carefully remove the lid and stir the curry. Then, serve the curry in individual bowls and enjoy!
This Instant Pot tofu curry is a filling meal on its own, though it would pair wonderfully with rice or some sort of bread, like naan. Also, this curry is best enjoyed warm, so be sure to serve it as soon as it's done cooking to enjoy the wonderful depth of flavor (let it cool a tiny bit so you don't burn your tongue, of course).
With simple, wholesome ingredients and easy cooking with the Instant Pot, this tofu curry recipe will quickly become a go-to for a healthy dinner in your household.
10 ounces firm tofu
1 sweet potato
1 yellow onion
3 cloves garlic
½ cup mild curry paste
1 can full-fat coconut milk
1 cup frozen mixed vegetables
Drain the tofu and place it on a chopping board, with paper towel beneath and on top of the tofu.
Put a weighted item on top to drain the water further. This should take 10 minutes.
After 10 minutes, chop the tofu into ½-inch squares and set it aside.
Peel the sweet potato and chop it into ½-inch pieces and set it aside.
Dice the onion and mince the garlic.
Turn the Instant Pot on to sauté mode on low heat.
Add the mild curry paste and coconut milk to the Instant Pot and stir for 1 minute.
After 1 minute, add the chopped tofu, chopped onion, minced garlic, chopped sweet potato, and mixed vegetables.
Stir everything together gently and turn off the sauté mode.
Turn the pressure cooker to high pressure and cook for 5 minutes.
After 5 minutes, naturally release the pressure for 10 minutes.
Remove the lid, stir the curry, and serve.