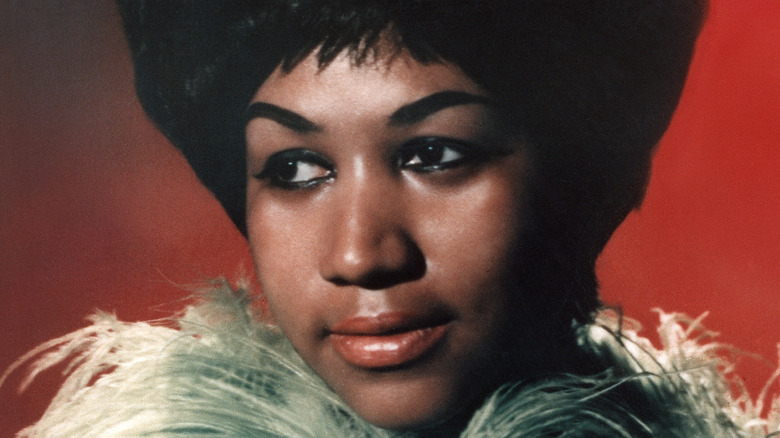 Just about anyone who has spent a decent amount of time in show business has faced the threat of a lawsuit. After all, people need to protect their intellectual property, and lawyers need to get paid. Most litigation happens after a movie has been released, or happens so early in development that it barely registers. Oftentimes it never goes past the threat phase, leaving it a footnote to a footnote.
Then there are the rare few lawsuits that stopped movies dead in their tracks. Often, this takes the form of injunctions or temporary restraining orders that briefly block a film's release. Sometimes it happens while the movie is in production, leaving everyone involved in limbo. Sometimes the distributor is just bad at their job and needs a legal kick in the pants to get going. Here are a few times that movies couldn't get released due to legal action.
Age of the Hobbits should have picked a different title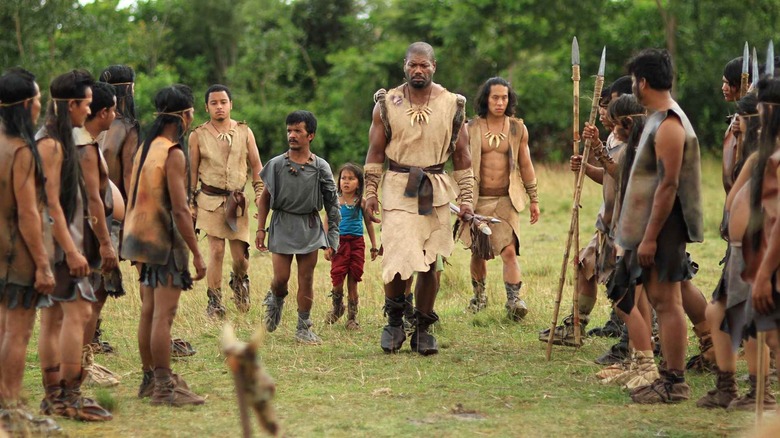 The Asylum is a movie production company known almost entirely for mockbusters. Michael Bay putting out a "Transformers" movie? Asylum puts out a movie about alien robots titled "Transmorphers." Robert Downey Jr. starring in a new movie about Sherlock Holmes? Asylum produces a movie called "Sir Arthur Conan Doyle's Sherlock Holmes" and puts the first four words in tiny font. Most Asylum creations are either original stories or stories with public domain characters (like Holmes), so legal action from studios seldom goes beyond threats — if it's offered at all.
Then Asylum crossed the last group they should have angered: the estate of J.R.R. Tolkien. The author's estate is notoriously protective, once described by Smithsonian Magazine as "a particularly libelous bunch" — so much so that even Peter Jackson had to stay in bounds with the specific "Lord of the Rings" stories to which New Line had the rights. Asylum knew that, with "The Hobbit: An Unexpected Journey" due in December 2012, a fantasy story about diminutive humanoids taking on giants and dragons would be a good way to rip it off.
Asylum's fatal mistake, though? Naming the movie "Age of the Hobbits." The phrase "Hobbit" was invented by Tolkien, so Warner Bros. saw their opening. They filed for a temporary restraining order to block the movie's Dec. 11 release date ("The Hobbit" opened on Dec. 14). Asylum's defense was that "hobbit" was the scientific nickname for Homo floresiensis, a human subspecies discovered in 2003. This specious argument was ripped to shreds in court, where a judge blocked the movie's release date.
Coverage of the legal action dissipated after that, but Asylum renamed the movie at some point after. It can currently be found on multiple streaming services as either "Clash of the Empires" or "Lord of the Elves."
10 Things I Hate About Life had some financial stress
"10 Things I Hate About You" enjoys pride of place in the teen movie pantheon. It was the directorial debut of Gil Junger, who spent the next decade bouncing around Hollywood and largely working in television. His first movie remained his legacy. Then news broke in 2012: Jung was making a follow-up titled "10 Things I Hate About Life." The movie even acquired a pretty solid cast, including Evan Rachel Wood, Thomas McDonell, and Élodie Yung. "10 Things I Hate About Life" started production in December 2012, before halting for various reasons — including financial issues from the producers and Wood's pregnancy.
There were plans for production to resume in late 2013. Some footage and production stills were shared with the public. Then the lawsuit hit.
In 2014, the producers of "10 Things I Hate About Life" filed a breach of written agreement and breach of the covenant of good faith and fair dealing complaint against Wood for over $30 million. They claimed that Wood backed out of the role and thus hurt production, hence the damages. Wood's team (via Variety) said, "The lawsuit is preposterous and simply a bullying tactic from financially troubled producers." They claim that Wood left largely because the producers didn't have their finances in order and couldn't pay her upon her return: "The producers, not Evan, have breached contract."
It's hard to find any recent news on the lawsuit, but production never resumed and it's safe to say that — at least with this cast — it never will.
Lynyrd Skynyrd briefly stopped a movie about their plane crash
Lynyrd Skynyrd will always be best remembered for "Sweet Home Alabama," but the 1977 plane crash that killed half the band is an indelible part of the band's legacy. Drummer Artimus Pyle was part of that crash, but miraculously survived. In the mid-2010s, Pyle helped make a low-budget movie about the crash. There were legal problems from the jump — a cease-and-desist notice nixed the original title of "Free Bird," and it was replaced with "Street Survivors: The True Story of the Lynyrd Skynyrd Plane Crash." The movie was not authorized by the band, which prevented any music from being used, but even that cut too close for some involved.
In the summer of 2017, the surviving members of Lynyrd Skynyrd and the families of those who died in the crash sued production company Cleopatra Entertainment to stop the release. Their argument was that Pyle entered a consent decree in 1988 that limited his use of the Skynyrd name, alongside the crash survivors, and his involvement in the movie violated it. A District Court judge agreed in August and blocked the movie via an injunction. Judge Robert Sweet got a little cute in his verdict, saying (per Hollywood Reporter) that Pyle "willingly bargained away the very right to do just that; in any other circumstance, Cleopatra would be as 'free as a bird' to make and distribute its work."
In mid-October, this injunction was overturned by the Circuit Court of Appeals in a 3-0 ruling. The judges determined that the decree prohibited Pyle from involvement in a movie about Skynyrd's history but it did not block any works based on his own experiences. The ruling noted (via Reuters), "That crash is part of the 'history' of the band, but it is also an 'experience' of Pyle with the band, likely his most important experience." The movie was eventually released.
I Love You Phillip Morris had distributor troubles
"I Love You Phillip Morris" is based on the true story of Steven Jay Russell, a con artist who broke out of prison multiple times to reunite with his lover — the titular Phillip Morris. Steven and Phillip were respectively played by Jim Carrey and Ewan McGregor, two people the general public had to wait a long time to see kiss. The delays had nothing to do with the movie itself and everything to do with the legal issues connected to the distributor.
The first distributor was the young and untested Consolidated Pictures Group (CPG), under which "I Love You Phillip Morris" had a smooth and successful international release in February of 2010. Then they decided to delay the release date and repeatedly kicked it further into the year. EuropaCorp, the film's financial backer, had even more concerns after CPG couldn't pay the money they'd guaranteed and had questions about their ability to raise the money for DVD deals. As such, EuropaCorp sued CPG and eventually got its movie back. "I Love You Phillip Morris" was later acquired by Roadside Attractions, and it went on to modest box office success.
A Lifetime movie about a murderer was briefly banned and still faces litigation
"Romeo Killer: The Chris Porco Story" is one of those sensationalized true crime movies that Lifetime pumps out with alarming regularity. Find a shocking crime from a hyper-specific region of the country, give it a salacious title, and bam, Lifetime fires up the money printer. It's also the kind of movie that normally gets lost to the sands of time a month or two after broadcast. Not so with this movie — it launched a legal case still going on to this day, one that briefly blocked the movie.
The real Chris Porco killed his father and disfigured his mother in their Delmar, New York, home in 2004. He was given a 50-year sentence in 2006, and Lifetime made their movie in 2013. When word of the movie reached him, he sued Lifetime from prison. His reasoning was that the network did not seek his permission to use his name or image for commercial gain, and thus violated his right of publicity. His team convinced a judge to ban the movie from airing and being advertised. An appellate court overturned this not long after, and Lifetime celebrated the lifted injunction by calling it (via Variety) the "Lifetime Original Movie Chris Porco doesn't want you to see." Even though the movie aired and is available for rent, Porco's lawsuit against Lifetime continues.
Warren Beatty and Tribune fought for years over Dick Tracy
There's yet to be a sequel to the 1990 movie adaptation of "Dick Tracy," but it's not for a lack of trying. The biggest holdup has been seemingly nonstop legal battles. It all started in 1985, when Warren Beatty acquired the rights to make a "Dick Tracy" movie or TV show from Tribune Media. This occurred with the 1990 movie, and the rights would stay with Beatty unless (per Reuters) "a certain period of time" passed between projects. This vague phrasing proved important.
By 2005, both Beatty and Tribune wanted to make new Dick Tracy properties. Beatty sued Tribune, claiming that the company improperly tried to regain control of the property from Disney and that he had most of the rights. Tribune was confident enough that the lawsuit would be settled both quickly and in their favor that they began production on a Dick Tracy TV series. It was not quick.
Tribune later wrote Beatty a letter on November 17th, 2006, saying that he had two years to do something with Tracy or they'd get the rights back per the agreement. Beatty then began production on a Dick Tracy TV special on November 8, 2008 — just under the wire, and all of this was on written record. Differing opinions on whether Tribune could still terminate Beatty's rights led to a lawsuit and countersuit, which Beatty won in 2011 on the strength of that TV special. Beatty has still not given up on a new Dick Tracy movie, expressing interest as recently as 2016.
Aretha Franklin legally stopped showings of Amazing Grace for almost a decade
In January of 1972, Aretha Franklin recorded her legendary live album "Amazing Grace" at the New Temple Missionary Baptist Church in Los Angeles. In attendance was filmmaker Sydney Pollack, sent at the behest of Warner Bros. to make a companion documentary. The album recording went great — the movie, not so much. Pollack was an inexperienced director at this point and as such didn't use a clapboard. This made syncing up the audio and the video a nearly impossible task, especially with the technology of the era, and the film was scrapped.
Circa 2008, producer Alan Elliott — with Pollack's permission — took on the project of finishing the project with modern technology. By 2010, he fully matched the video and sound and had a functional movie, but Aretha didn't want it shown. She never made explicitly clear what upset her about the movie's impending release, but her lawyer implied to The Hollywood Reporter that it was using her likeness without compensation. Whatever the reason, Franklin's camp filed several successful injunctions between 2011 and 2015, stopping the movie from being released. In 2018, not long after Aretha's death, "Amazing Grace" was finally shown to the world.
Okafor's Law faced a copyright claim that canceled the premiere
"Okafor's Law" is a 2017 Nigerian rom-com by Omoni Oboli, one of the most important figures in Nollywood cinema. It follows a serial womanizer who must re-seduce three old girlfriends from years past, even though everyone's lives have decidedly changed. It's a pretty novel idea for a movie, one that almost wasn't seen because one party thought it wasn't novel enough.
The movie was set to premiere on March 24 and open in theaters on March 31. Just one hour before the premiere, Oboli was served with a court injunction that prevented "Okafor's Law" from being shown that night. The source of this was one Jude Idada, who had been claiming for months that Oboli stole his story. At the premiere that never was, the Premium Times reported that a heartbroken Oboli said "'Okafor's Law' is my story, my script, my film; was written a 100% by me."
On March 30, the injunction was lifted. TheCable reported that the injunction never should have happened and the copyright claim hadn't been determined at that time.