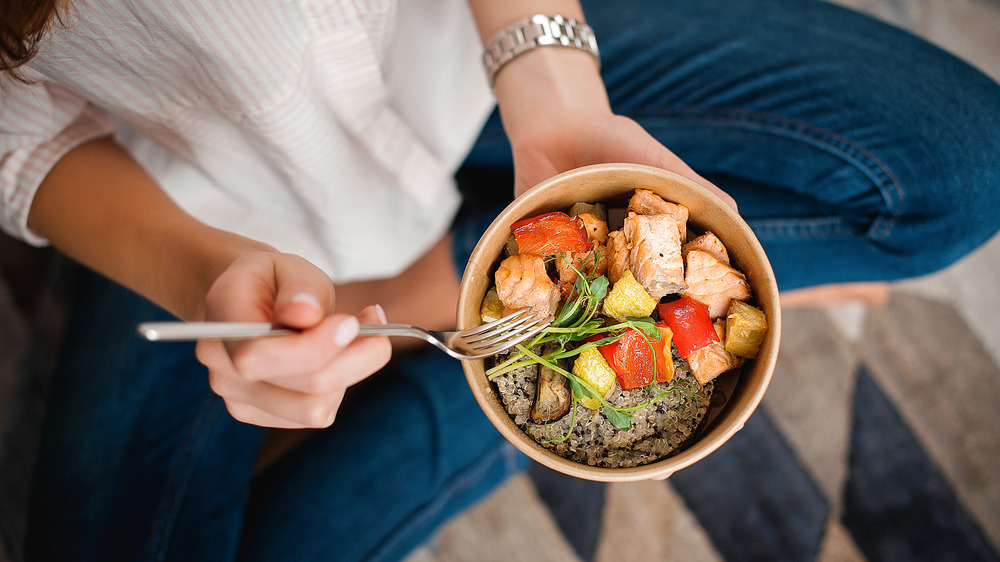 Whether you've been told by your doctor that it's time to eat a little healthier, or you've found yourself having a harder time squeezing into your skinny jeans, switching from the "standard American diet" (known as SAD) filled with processed foods and unhealthy carbs and fats to a healthier meal plan doesn't have to be painful. In fact, there are lots of healthy, veggie- and protein-packed meals that you can whip up at home with little to no effort. And you just might be surprised how good they taste, too. Even your personal favorites, like pizza and cookies, can be given a healthy makeover.
The key is to focus on recipes with nutrient-dense ingredients like lean proteins, fruits, vegetables, and carbohydrates that haven't been highly processed. You don't have to be "afraid" of ingredients like potatoes or rice, or high-fat foods like avocado or coconut, as long as your overall diet is portion-controlled to ensure you're not overdoing your total calorie intake. But really, if you switch a drive-thru lifestyle for homemade meals consisting of recipes like the following, you may just be surprised how good you feel (and how much healthier you look) in a few short months.
Increase your intake of greens with this cabbage salad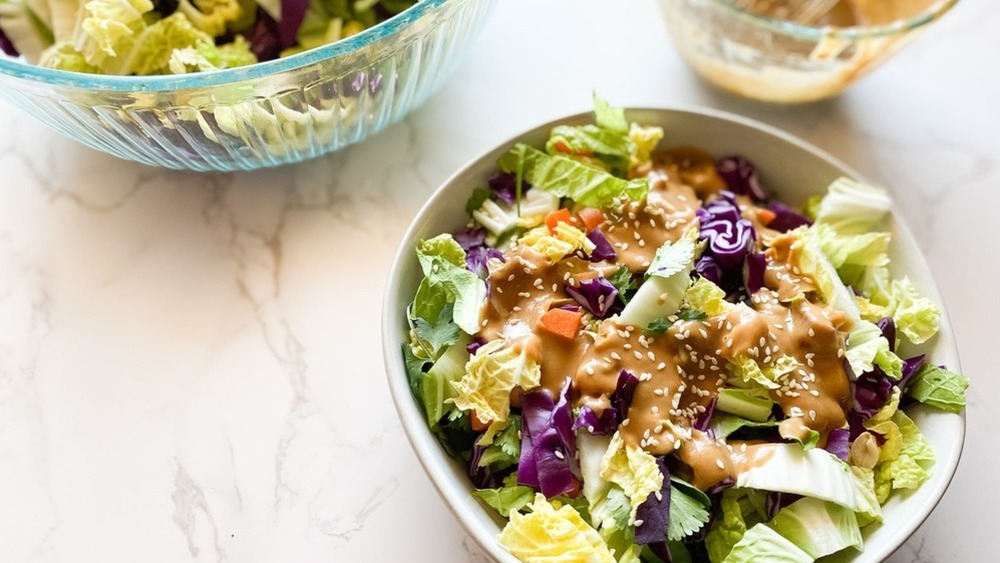 The beauty of this colorful (and tasty) cabbage salad recipe is that it's packed with veggies, it's easy to throw together, and it pairs with practically any meal as a healthy side dish. Plus, because it's topped with peanuts (a healthy source of protein and fat, as well as fiber), a larger serving can sub in as an easy weekday lunch. The soy sauce, sesame seeds, and sesame oil give the salad a distinctly Asian flavor, and if you want to turn it into a heartier meal, you can always top it with grilled chicken, tofu, or tuna for added protein.
Start your morning right with overnight oats
If you find it hard to make time to eat healthy in the morning, look no further than this quick and easy recipe for overnight oats. You simply mix the ingredients together the night before (and you can actually make several days' worth in advance to save yourself some time), then allow them to rest in the fridge overnight — the yogurt and milk soften the oats so you don't even have to cook them. If you pack them in transportable containers, you can grab one before you head out the door and eat your oats (filled with fiber to keep you full) when you reach the office.
This low-calorie pizza recipe will fulfill your cravings
Pizza often gets a bad wrap for being unhealthy, but the reality is, it doesn't have to be an unhealthy choice — it all comes down to preparation. If you skip the fatty meats, the thick crust, and the extra cheese, opting instead for a thin crust, a lighter coating of cheese, and lots of veggies, like this pizza recipe, you can indulge in your favorite meal without guilt. You don't even have to skip your favorite meaty toppings altogether — just cut back. Thin-sliced deli ham (as is used in this recipe) or a smattering of low-fat ground beef can amp up flavor without loading up the calories or fat.
Switch out beef for these cabbage steaks
To be fair, cabbage "steaks" aren't going to fill you up like the real thing. And you probably shouldn't rely on them as the anchor to a major meal, but this crispy, oven-roasted cabbage recipe makes an excellent (and surprisingly tasty) veggie side that you can pair with grilled chicken, a serving of fresh fish, or your favorite sandwich. The prep time and seasonings are simple — you need nothing more than salt, pepper, olive oil, and garlic — but the resulting flavor sensation is full. If you want, add a drizzle of your favorite dressing across the top and eat up!
Lighten up your lunch with this egg salad recipe
Egg salad may not be the first thing you think of when you hear "health foods." It's not that the eggs are bad for you, but the loads of mayonnaise that typically accompany the recipe don't exactly make it a low-fat meal choice (especially for heart-unhealthy saturated fats). And, to be fair, this healthy egg salad recipe isn't low-fat either, as it features avocados and walnuts in addition to Greek yogurt. But the fats are heart-healthy mono- and polyunsaturated versions. When mixed with the eggs, you end up with a tasty and protein-packed salad that is delicious paired with whole grain toast.
Try tacos wrapped with lettuce to meet your Tex-Mex cravings
You don't have to ditch Taco Tuesday when making over your typical meal plan, but a few quick tweaks can turn your tacos into truly healthy options. First, switch out the typical ground beef for ground turkey or chicken when making this healthy taco recipe. Then, load up on the veggies — fresh tomatoes, diced onions, and peppers of your choice are all good places to start. A little cheese and some hot sauce will kick the flavor up a notch. Then, you'll limit your processed carbs by using iceberg lettuce leaves in place of more traditional tortillas.
This cobb salad recipe will fill you up with nutrients
When you're craving a little bacon, there's no reason you can't indulge — just do it in a well-balanced way. For instance, whip up this simple Cobb salad recipe put together by Kristen Carli, a registered dietitian, in collaboration with Mashed. Not only does it include bacon, chicken, and eggs to amp up the protein content, but you'll also take advantage of the fiber and nutrients found in tomatoes and romaine lettuce. It's a slightly simplified version of a traditional Cobb, so feel free to jazz it up with a few extra veggies, like diced onions or avocado, if you prefer a loaded salad.
Another delicious pizza option when you can't kick your cravings
There's no reason to limit yourself to a single pizza recipe in your healthy menu arsenal, especially when there are so many tasty options available. This heart-healthy pizza recipe features made-from-scratch whole wheat crust topped with spinach, mushrooms, and mozzarella cheese. Plus, it only takes 35 minutes to whip up, which is almost the same amount of time it would take for a restaurant to deliver. And if, when you try it, it lacks some of the flavor you were hoping for, try adding a little extra garlic, diced onions, or even slices of jalapenos to the toppings — they won't add much in terms of calories, but they'll certainly amp up the flavor.
The breakfast-friendly egg casserole you'll start craving
The next time you're craving eggs for breakfast, skip the scrambled version and opt instead for this healthy egg casserole recipe put together by registered dietitian, Kristen Carli. It's kind of like a crossover between a quiche and an omelet — you have the thicker, sliceable consistency of a quiche, but without the added refined carbs in a quiche's crust. The recipe calls for nothing more than eggs, milk, a load of fresh veggies and a little bit of cheese. Make one on Sunday night and you end up with a portable morning meal you can take with you in the car to work. Or, if you'd prefer, bake one on a Saturday morning to feed your whole family.
Heart-healthy oatmeal cookies when you need a sweet treat
Who says that cookies can't be included in a well-balanced diet? This heart-healthy oatmeal cookie recipe includes rolled oats, whole wheat flour, flaxseed meal, walnuts, raisins, and maple syrup to serve as the sweetener. In other words, these cookies are made from delicious, mostly whole-food ingredients that make for the perfect breakfast indulgence or after-dinner treat. Bake up a batch before the week starts, then pack one to-go every morning to use as a late-morning breakfast or mid-afternoon pick-me-up.
Heart-healthy fish you'll want to eat every week
You know you should be including fish in your weekly diet, but if you've shied away from trying to make it at home, here's your chance to perfect a delicious and flavorful salmon recipe that takes just 15 minutes to make. The glaze has flavors of orange juice, honey, garlic, and soy sauce, which gives it a light Asian flavor. Pair it with your favorite salad or roasted veggies, or cut the fish fillets into cubes and build your own rice bowl with sautéed vegetables and long-grain rice.
Roasted carrots to pair with any dish
Carrots are one of those veggies that are in almost everyone's weekly diet — they're inexpensive, they taste good raw or cooked, and they're an easy excuse to indulge in a side of ranch dressing. But if you're getting tired of packing a baggie of baby carrots in your lunch bag as your requisite midday veggie, try your hand at this roasted carrots recipe. The prep work is simple — just wash the carrots and drizzle with olive oil, salt, and pepper before letting your oven do the heavy lifting (and by lifting, we mean roasting). In a little less than an hour you'll have the perfect side dish to pair with a lean protein like chicken or turkey, or you can have a batch on hand for quick and healthy snacking.
This veggie-filled Asian dish will become a weeknight favorite
As long as you stay away from deep-fried sides and meat dishes, most Asian meals are really pretty healthy. This moo goo gai pan recipe is no different. It features strips of boneless chicken, a variety of sauces, oils, and spices, and lots of veggies, including onions, mushrooms, celery, snow peas, and water chestnuts. Even the oils are more heart-healthy varieties, including extra virgin olive oil and a touch of sesame oil for added flavor. The one thing to look out for is high levels of sodium. If you're trying to keep your sodium intake in check, opt for a low-sodium soy sauce when mixing up the ingredients.
Aguachile is the perfect healthy meal for hot days
If you haven't tried aguachile, you're missing out. This Mexican-derived, almost ceviche-like shrimp and vegetable dish is loaded with onions, cucumber, avocado, cilantro, lime juice, and hot peppers (choose between jalapenos or habaneros) for a spicy kick. Because it's filled with protein and good-for-you veggies, you can also feel good about using tortilla chips in place of a spoon to deliver it to your mouth. Mix up a large batch and serve it at your next summer barbecue — guests will be so floored by the flavors, they won't even realize what they're eating is downright healthy.
Summer's favorite snack will be this cucumber tomato salad
When you're looking for another great (and healthy) side dish to enjoy on a hot summer day, look no further than this cucumber tomato salad recipe. In addition to the obvious ingredients, you'll enjoy red onion and a slew of herbs and spices that are included in the light and tangy red wine vinaigrette. The trick with this recipe is that it's best served fresh, so only make enough that you (and your family or guests) will eat in one sitting. But go ahead and keep extra ingredients on-hand — you might be surprised how many people end up wanting seconds.
This chicken stir fry is fast and filled with nutrients
When you're looking for the perfect dinner recipe that makes for delicious leftovers, you'll want to add this simple chicken stir fry to your weekly menu plan. Really, aside from pieces of chicken breast, you're looking at a meal packed with colorful veggies including bell peppers, snow peas, scallions, carrots, and broccoli. The only "bad" things in the recipe are a bit of oil (essential for stir fries) and a 1/4 cup of packed brown sugar. But when you consider the fact that the recipe makes eight servings, a little brown sugar isn't going to put much of a dent in your daily calorie consumption, and it'll be well-balanced by all of the other high-fiber, high-nutrient, high-protein ingredients.
Make this salad ahead of time for a fast and healthy lunch
Greek salads filled with lettuce, tomatoes, onions, cucumbers, olives, and feta cheese are an excellent way to boost your daily produce intake, and they make a delicious side for pizzas, pastas, or soups. You can even top a good Greek salad with slices of grilled chicken to turn it into a self-supported meal. But the real trick to making the perfect Greek salad is to get the dressing right. This recipe walks you through how to make a delicious salad and dressing from scratch. It'll only take a few minutes, and you're guaranteed not to regret the 10 minutes it takes to prepare.
The pan of roasted veggies you won't want to stop eating
If you haven't tried your hand at roasting a pan of veggies, then you're missing out. Even if you don't traditionally like vegetables, roasting them offers a whole new flavor and texture sensation — crispy parts on the outside, soft on the inside. This roasted veggie recipe is simple, calling for nothing more than salt, pepper, garlic, and olive oil to help bring out the savory flavors, and you can prepare a whole pan in just 30 minutes. And the best part? Even if you don't have all the vegetables called for on hand, you can make the recipe with what you've got — even subbing in other favorites like cauliflower, Brussels sprouts, or cabbage if you prefer.
Use leftover veggies for these lunchtime lettuce wraps
Sometimes you buy veggies with the best intentions, but then you forget to use them. If you're looking for a way to put your veggies to use before they go bad, consider making these beef lettuce wraps for dinner. All you need is ground beef, veggies like carrots, peppers, and onions, and if you have it on hand, ginger, soy sauce, and garlic to make a decidedly Asian-inspired dressing. Once you've made the ground beef and veggie filling, simply fill leaves of romaine lettuce with the goodies and eat up!
Don't give up chicken wings! Try this baked recipe
It's easy to assume you have to give up all your favorite snacks when you start eating healthier, but while you may have to make some tweaks to your ingredients or preparation, there's really no food that should be completely off-limits. Case in point: chicken wings. Go ahead and whip up a batch for your next game day party, but try this baked wing recipe, rather than throwing a batch of breaded wings into a deep fryer. The real beauty is how simple the wings are to make — you just need salt, pepper, garlic, paprika, and baking powder to give them a dry rub that's to die for.
This hearty turkey chili will fill up your whole family
Very little hits the spot on a cold winter night the way a bowl of hearty chili can. And the reality is, almost all chili recipes can fit within a well-balanced diet because they're mostly made up of beans, tomatoes, onions, and meat — all good sources of important nutrients. That said, if you're trying to lighten up your favorite dishes, switch out the ground beef chuck for leaner ground turkey to make this turkey chili recipe. As long as you don't overdo the toppings (yes, sour cream and cheese are delicious, and they can be enjoyed in small portions, but try not to serve equal parts sour cream and chili — your heart will thank you), this recipe will be a winner for your taste buds and your waistline.
Grilled shrimp make for the perfect light protein pairing
If you're a seafood lover, there's no need to cut back on your favorite fish or shellfish on account of a new diet. Rather, skip the deep-fried versions and opt instead for grilled, baked, or pan-seared recipes like this recipe for grilled shrimp skewers. The marinade is nothing more than lemon, butter, olive oil, salt, pepper, and garlic, and because you're cooking them on the grill, most of the added fat will drip off. The resulting flavor will melt in your mouth, leaving you with the perfect protein to pair with a summer salad or a side of grilled vegetables.
Serve up these collard wraps for your next party
Who says you need tortillas when making a platter of wraps? Skip the added processed carbs and add some greens and fiber to your next "sandwich" by using collard green leaves in place of a sandwich wrap. This collard green wrap recipe has a decidedly Middle Eastern flavor with hummus, falafel, and Greek yogurt as the fillings. When you're looking to bring something unique and fun to your next potluck party, whip up a batch of these bad boys and cut them into bite-sized slices for easy (and healthy) sharing.
Pair this pumpkin hummus with chopped veggies when you're feeling snacky
When you want to jazz up your snack routine, there's really no simpler way to do so than to make this pumpkin hummus recipe. All you need is your favorite store-bought hummus and a can of pumpkin puree (better yet, leftovers from a can you used for a different recipe). With a little added pumpkin pie spice, you'll amp up the flavor and the nutrients in your favorite snack dip, giving it a decidedly seasonal taste sensation. Pair it with your favorite veggies, or use it as a spread on your favorite sandwich (pumpkin goes well with turkey, you know).