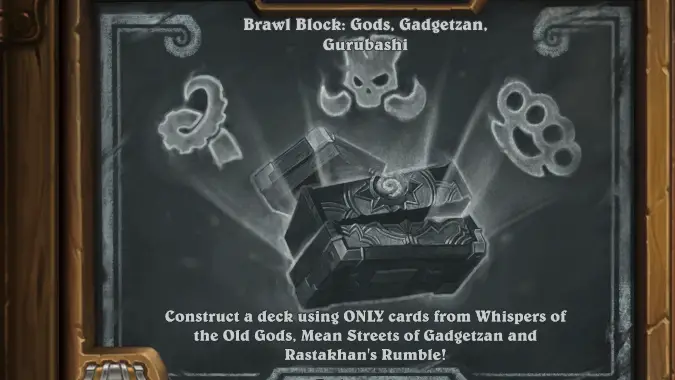 Gus Ferrari would like to welcome you to triple G: Hearthstone's Tavern Brawl Block: Gods, Gadgetzan, Gurubashi. This Brawl brings an interesting twist on deck building as you're quite limited in the available cards. Hearthstone has done a Brawl like this several time, and this exact Brawl last appeared in late June of 2019. The mix of card options makes for some interesting combinations, and it will be fun to see how players bring this disparate group of cards together to form powerful decks.
Tavern Brawl basics
Name: Brawl Block: gods, Gadgetzan, Gurubashi
Description: Construct a deck using ONLY cards from Whispers of the Old Gods, Mean Streets of Gadgetzan and Rastakhan's Rumble!
Fun level: 5/10
Difficulty: 6/10
Replayability: 3/10
Format: Wild with restrictions
Type: PVP
Deck: Constructed
Rewards: 1 Year of the Phoenix pack
For this Brawl, the only cards available are those from Whispers of the Old Gods, Mean Streets of Gadgetzan, and Rastakhan's Rumble. Your Core Set cards aren't allowed this time around, which significantly limits your options.
The Old Gods takes center stage here as they proved more powerful than the totem mechanics from Rastakhan's Rumble. C'Thun and his support cards are popular choices, and they can be tough to beat if the game goes long enough for C'Thun to get into play. Plus, we can't return to the Mean Streets of Gadgetzan without our Jade Golem friends, which made some powerful Druid decks in the day.
The size of your card collection will matter this time around, and some of these expansions are quite old — so newer players may find themselves at a severe disadvantage. While you can play Demon Hunters, you won't have any class cards available. I wouldn't recommend crafting any cards specifically for this Brawl, but if you do, you can still use them in Wild format.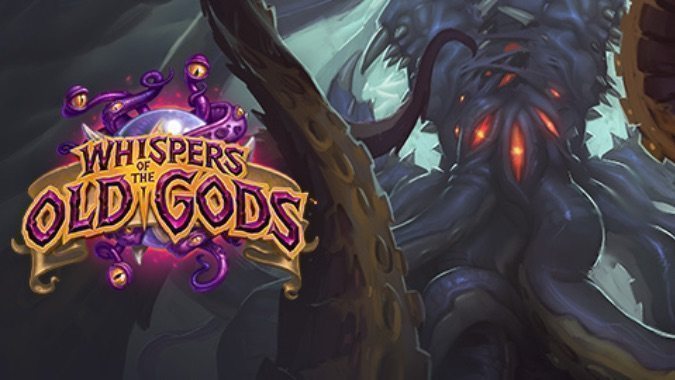 How to win Brawl Block: Gods, Gadgetzan, Gurubashi
The most important thing you'll need to win this Brawl is a good deck. I tried some homegrown options, but, as usual, the ones from around the community proved far superior. The game provides a "complete my deck" feature for this Brawl and you can have it create your entire deck — but I didn't find the decks it created useful or powerful enough to win.
Half of the challenge comes from building a good deck and the other half from "piloting" your deck — making the right turn-to-turn decisions is key, even if you're using the best deck available. Constructed Brawls are the most fun the first day or so. After that, players discover the most powerful lists and the Brawl falls into a similar meta structure as the Ladder.
Community Gods, Gadgetzan, Gurubashi Brawl decks
Most of these decks rely on C'Thun and his support minions. The strategy comes straight from the Whispers meta: play your support cards to build a huge C'Thun and then drop him on the board to wipe the board and kill your opponent.
C'Thun Jade Druid
Author: Bluelights
Deck code:
AAEBAZICBq6rAouvAsmvAuC7ApS9Aq7SAgy+qwKTrQLdrQLLrwLPrwLUrwLirwK0uwLLvALPvALdvgLexAIA
This deck adds the Jade Golem mechanic to C'Thun. Grow your Jade Golems along with your C'Thun. Your big Jade Golems provide a natural soak to help diminish the impact of the enemy C'Thun.

Beast Control Hunter
Author: Arcticfox
Deck code:
AAEBAR8Ex64C7LsCm4UD44sDDbmrAritApO7Auq7Aue9Aum9Auy9AqbBAqCFA6SIA7CLA+SLA9ePAwA=
This starts out as a fast deck that burns through your hand quickly, but also has tools to last into the late game. You definitely want to lean toward the aggro side because those C'Thuns are coming.
Mage C'Thun
Author: Kharnacier
Deck code:
AAEBAR8Gya8CxokD0YkD6okDp4oD148DDMuvApn/Aqr/AqCFA9KJA6KKA+SKA7CLA+SLA6uMA9iMA+yMAwA=
This is simply the Mage version of a C'Thun deck. It gives you Mage-specific minions and Mage spells to support the game plan.
Handbuff Paladin C'Thun
Author: Steelythunder
Deck code:
AAEBAZ8FBtisAoatAouvAsmvAry9AuaGAwyTrQLLrwLUrwLnugKzuwKVvAL3vAKBvQKpvQL5vwLshgPdiQMA
This combines Paladin's handbuff mechanic with the C'Thun mechanic.

Dragon Mix Priest
Author: Orrien
Deck code:
AAEBAa0GCKGsAqmtAvqwAre7AuG/Auq/At/EApeHAwu1uwK6uwLwuwLovwLmiAOwiQPoiQPsiQPrigPqjAPolAMA
A non-C'Thun deck? Yes, yes it is. This one leans into Dragon synergy and has plenty of anti-aggro tools. Be sure you save Seance for Grave Horror to fill the board and soak the enemy C'Thun.
Soulflayer Priest
Author: ShotgunSoul
Deck code:
AAEBAa0GBuCsAoqwAre7AuaIA4uKA5aKAwyhrAK1uwK6uwLlvALovwLqvwKXhwOwiQPoiQPsiQPrigPsjAMA
Another non-C'Thun deck? Yes, again. This uses Deathrattle synergies to fill both decks with Soulflayer damage. Luckily, you're a Priest who can heal that damage back.
Jade C'Thun Rogue
Author: Rargran
Deck code:
AAEBAaIHCNisAuCsAouvAsmvAs2vAua6ApS9AouKAwuTrQLLrwLPrwLUrwLcrwLOsQL1uwLPvAL5vQL6vQK0hgMA
This deck is similar to the C'Thun Jade Druid as Rogue also had major Jade support cards.
C'Thun Warlock
Author: Darkcanter
Deck code:
AAEBAf0GBtisArGvAsmvArC8AsD/ApaHAwy0rAK2rAKTrQL2rgLLrwLPrwLUrwLyrwLdvAL9vwLchgPEiQMA
Our shadowy Warlock friends have to get in on the C'Thun fun, too. With so many of the main C'Thun cards being neutral, this archetype can work in almost any class.

Dragon C'Thun Warrior
Author: Macumbeiro
Deck code:
AAEBAQcE2KwCi68Cya8C8a8CDYKtApOtAtKuAsuvAs+vAtSvAoKwAv68AviGA4GHA4aHA+iJA6qLAwA=
Dragons, C'Thun, and some solid anti-aggro tools make this one of the stronger C'Thun options to play.
Even more Gods, Gadgetzan, Gurubashi decks
One of these decks should see you through, but if you find another great deck, share it with us in the comments.
If you have a smaller collection, try the Beast Hunter deck. If none of these decks work for you, check for more community decks on Hearthstone Top Decks. There are more Tavern Brawl decks being added by the hour.
Overall, this is an Brawl gets a little repetitve. I'm already tired of seeing Disciple of C'Thun. Still, it's great to see these old cards get the spotlight one more time. Good luck getting this week's pack.