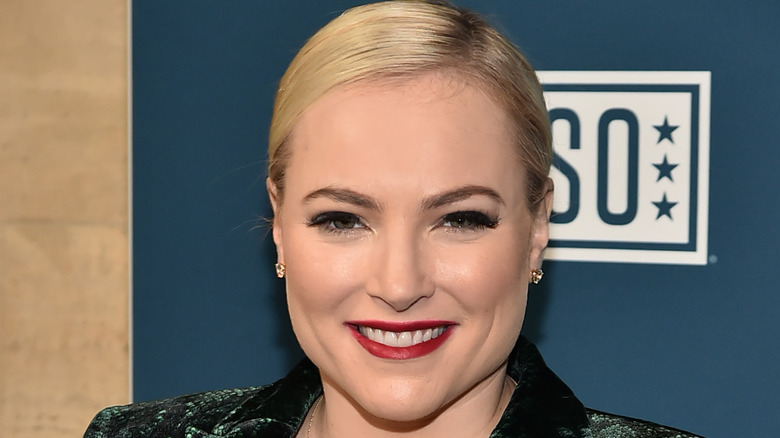 There are a couple of professions — and ways of life — that allow people to boast a pretty expensive wardrobe. Think politicians, political spouses, and, of course, celebrities. But, what if your life touches just about all of these areas? That's the case for Meghan McCain, who has not only carved a space for herself in the media world as a host on the popular daytime show "The View," but has been in the spotlight thanks to the political career of her father, the late Senator John McCain. Meghan has made a name for herself as an outspoken conservative. She rarely shies away from sharing her thoughts on any number of issues, and hasn't seemed to care much about the outcome. Oh, and she's done so, all while looking incredibly stylish.
Most of Meghan's appearances in public came from her time on "The View" — her stint on the show wrapped up in August 2021 — and she was typically only seen from the waist up. That didn't stop her from looking fabulous, and the host often opted for bold and charismatic looks. And, while her time on the show has come to an end, Meghan's stint on "The View" gave us some amazing looks that cost a pretty penny. Here are the most expensive outfits Meghan McCain has ever worn.
This button-down shirt cost Meghan McCain hundreds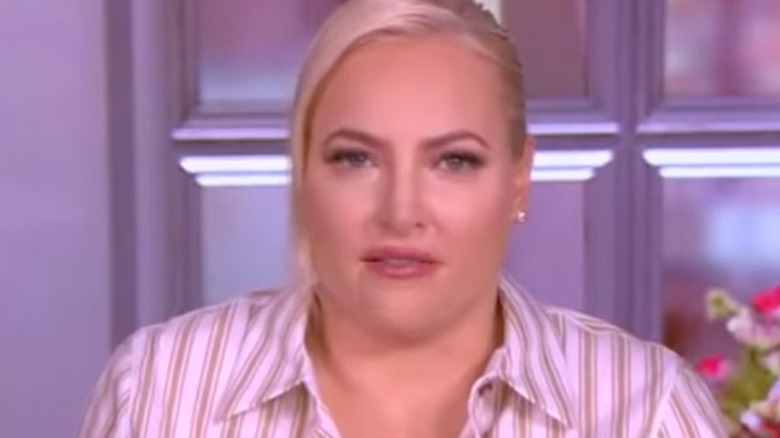 We love a button down, and Meghan McCain opted for a very expensive option while appearing on the June 8, 2021, episode of "The View." From the first glance, the top in question just looks like a vertical striped button down, but thanks to the beady eye of Worn On TV, we found out that there's a lot more to this top than meets the eye. McCain chose the Ruxton Stripe Cotton Blend Shirt from designer Lafayette 148.
The brand, according to Nordstrom, is designed with the "confident, sophisticated" woman in mind and, given the professionalism and simplicity of McCain's choice, it's easy to see why she opted for such a classic look. Known for their "exceptional fit and quality," Lafayette 148 garments are made with fabric sourced from Europe and, even better, they feature sizes ranging from petite to plus, "so every woman can enjoy the perfect fit." McCain's top, specifically, featured a little bit of stretch for comfort and had fun touches like big cuffs and a patch pocket. All of this sounds great, until we get to the price. At a cool $448, it can be yours if you're okay with giving up about a week's worth of pay.
Meghan McCain is a fan of this designer and spotted in this expensive skirt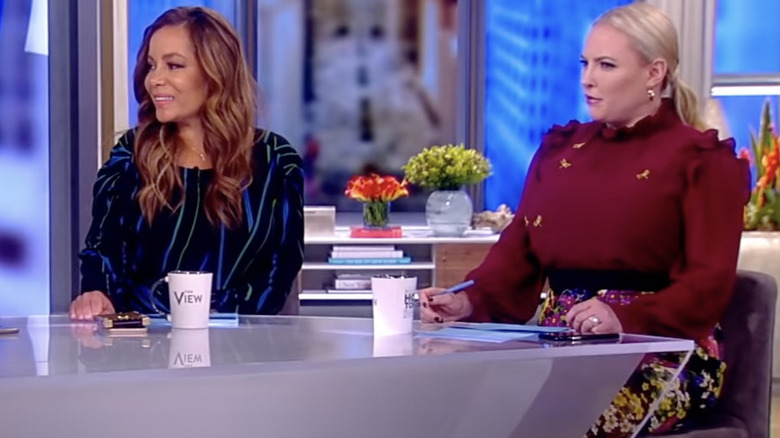 Dolce & Gabbana is one of Meghan McCain go-to brands. The popular media figure told Harper's Bazaar that she likes the designer label because they "appreciate a woman's shape." A self-proclaimed curvy girl, McCain said that the designer label's "beautiful cut(s)" made her feel well-dressed. "(If it) looks good on my body, then I'm going to love you," McCain said of the designer label, and we now know what one of her go-to looks from Dolce & Gabbana is, thanks to Spotern.
McCain opted for the Dolce & Gabbana Silk Floral Pencil Skirt for an episode of "The View," and the peaks of color looked absolutely beautiful. According to FarFetch, an online shop where you can purchase the skirt (in a different pattern than McCain's, but just as beautiful), the garment is made of a stretch-silk that is designed for both fashion and comfort. It has a high-waisted design (the only acceptable option, sorry Gen Z) and it's a mid-length cut, making it perfect for both the office and a night out. Turns out that you'll need a spare $473 (and that's on sale from its original $945) to replicate the look, which is a bit of a bummer.
This ruffle top worn by Meghan McCain will set you back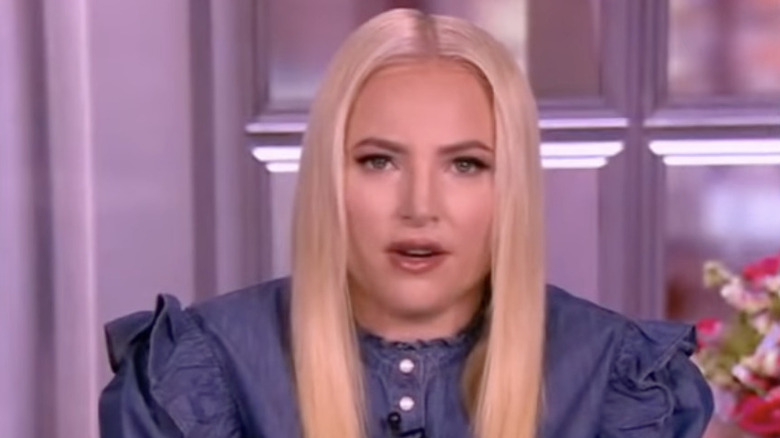 Meghan McCain definitely knows the power that just one amazing garment can hold. While she hasn't existed in the same spotlight as her mom, Cindy McCain (who came under fire for wearing a $300,000 outfit on the 2008 campaign trail, as noted by Vanity Fair) Meghan knows how to dress. As reported by Worn On TV, one of Meghan's best (and most expensive) moments came when she wore the Tes Button-Down Chambray Top by designer Veronica Beard.
The top in question was a chambray shirt that featured a delicate ruffled trim. As described by Neiman Marcus, the garment has a snap front, collared neckline and features cuffs that snap into place. The designer, Veronica Beard, designed the line with sportswear in mind, and created a look that "strikes the balance between cool and classic." Made for the "girl-on-the-go," the chambray top was a perfect compliment to Meghan's cool style. When she wore the look, she paired it with a mic and a stern look, given that she was arguing her perspective on "The View" at the time. If you want the top yourself, you're looking at sacrificing $275 of your hard-earned dollars.
This designer looked gorgeous on Meghan McCain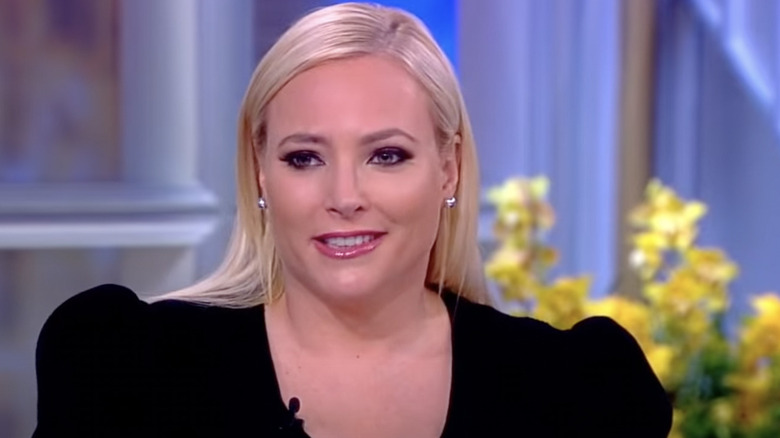 There's nothing that screams sophistication like a designer sweater. Meghan McCain got the memo, because she stunned in the V-Neck Puff-Sleeve Fitted Knit Pullover by designer Carolina Herrera and, even though it'll cost us so much money, we really want to replicate the look. According to by Spotern, McCain wore the Carolina Herrera garment on the May 2, 2019 episode of "The View." However, she had been vocal about the designer label in the past, and told Harper's Bazaar in 2014 that it was a brand she opted for often. "I love brands that appreciate a woman's shape, like Carolina Herrera …"
McCain clearly looked bold and beautiful in the sweater, and she paired the garment with subtle stud earrings and her signature straight, sleek hair. As you may have guessed, this designer look does not come cheap — $690, to be exact. And while the exact sweater that McCain wore is not available as of publication, you can snag the similar Cropped Wool-Cashmere Sweater from Carolina Herrera at Neiman Marcus for a cool $695.
Blazers are always great, like the ones worn by Meghan McCain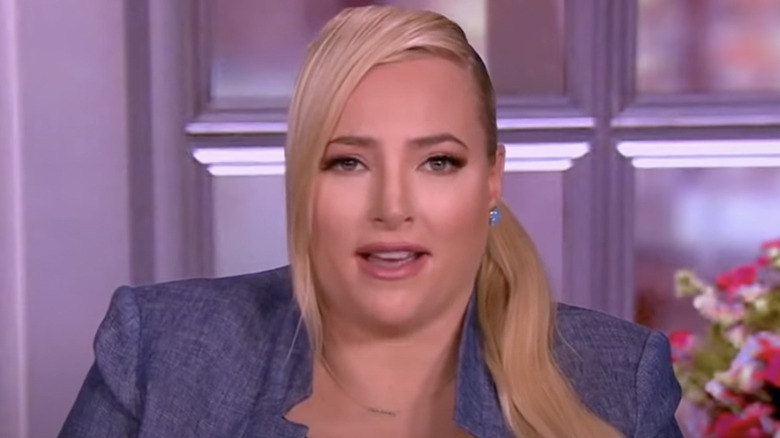 Blazers are the cool girls of the clothing world. Meghan McCain clearly understands the power of a blazer, and she told Harper's Bazaar that the garment is in her arsenal of options. "When I'm on camera, I always go with a black blazer. I have a whole area of my closet that's dedicated to them," she said. "Rebecca Minkoff, Michael Kors, Elizabeth and James, and many others. I like the open neck, which draws the eye up and makes people look at your face."
Want to replicate some of her best looks? You're going to need an advance on your next paycheck, or maybe a dip into your savings might be necessary, but here are some of McCain's most gorgeous options. As noted by Worn On TV, her Upcollar Dickey Jacket by Veronica Beard — a beautiful denim-colored piece with a detailed collar — will set you back $545. McCain's black and white checkered Taja Jacket, by the same designer, will cost you $595. And, last but certainly not least, her fuchsia Miller Dickey Jacket, also by Veronica Beard, will set you back around $695. It costs to be stylish.
This cute outfit cost Meghan McCain a good chunk of change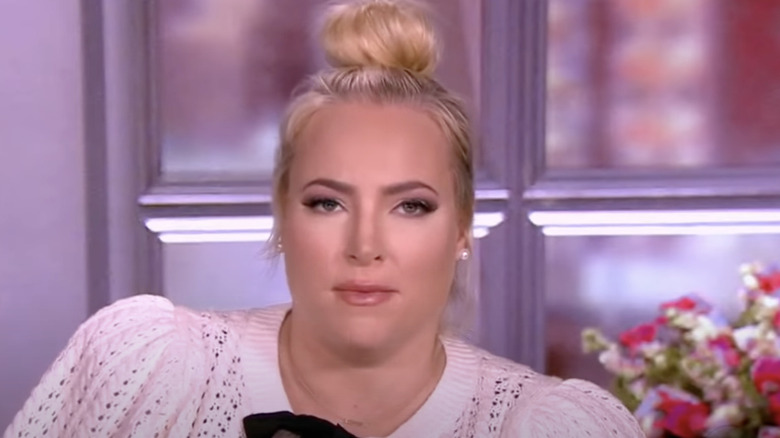 One of the great things about Meghan McCain's sense of style is that she's not afraid to be playful. One such garment that was fun and bold was McCain's Kitty Puff-Sleeve Cardigan by designer Alice + Olivia. She wore the cardigan during an episode of "The View," and its detailing just popped off the screen. As noted by Nordstrom, the garment features puffy sleeves and a bow at the middle neckline. It's a blend of cotton and wool, and features a crewneck style, so it's perfect for the more modest among us. It's dry-clean only, so while you can't throw it in your washing machine, its impeccable style makes it worth a trip to the cleaner's.
As far as the designer, Alice + Olivia is a self-described "girl's girl brand," which makes sense given the feminine nature of the Kitty Puff-Sleeve Cardigan. When she wore it, McCain finished off the look with a sleek up-do and pearl earrings. Of course, you probably won't be surprised when we tell you that this ensemble cost a pretty penny. The sweater itself will set you back $395, according to Worn On TV.
This shirt dress may look casual, but it was an expensive option for Meghan McCain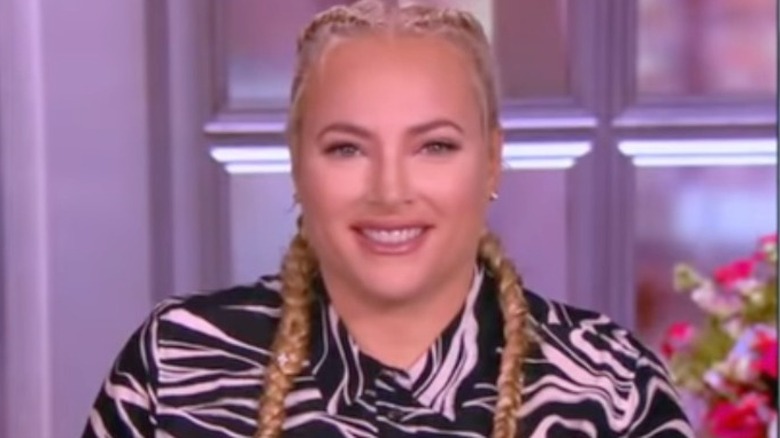 Is there anything better than a shirt dress? Given COVID-19 and the adoption of sweatpants, a shirt dress sounds like the next best option. Who doesn't want to look effortlessly chic while staying comfortable? Meghan McCain must have clued into the same mentality, because she sported a gorgeous shirt dress by the designer Hobbs London during an episode of "The View." The Clarice Shirt Dress, to be exact, is a gorgeous black and white, wave-styled print and it features a classic collared neckline. McCain paired it with a braided hairstyle and small stud earrings.
As noted by the Hobbs London website, it's made of 100% viscose, so it's lightweight and super comfortable. It has a polyester lining, is about 39.5 inches long, and is described as the perfect "multitasking piece that can be styled smart or casual, depending on your day." We don't know if McCain had plans after her appearance on "The View" in the Clarice shirt dress but, if she did, we're sure she blew away the fashion competition. If you've got a spare $270, this gorgeous dress can be yours.
Prints are in, and Meghan McCain dropped serious money to stay on trend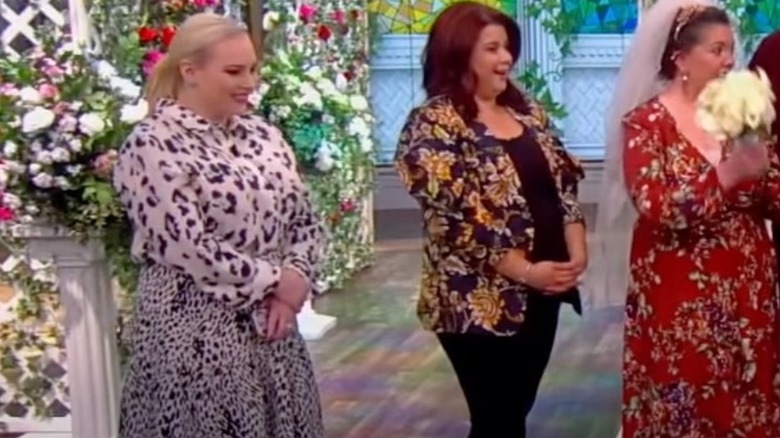 While animal prints come and go, and polka-dots are either in or out, it's fair to say that there's always at least one type of print that designers love to feature. For Meghan McCain, she turned to Lafayette 148, and chose the Scottie Spot Print Silk Shirt. As noted by Spotern, McCain wore the gorgeous top with a coordinated ensemble on the February 14, 2020 episode of "The View." She paired it with a pair of simple heels and a low ponytail, and just looked effortlessly chic. Oh, and we should mention that the top runs for a cool $598.
While the exact print of McCain's top isn't available as of publication, you can get the same blouse, but in a different polka-dot print, from Saks Fifth Avenue. As the famed retailer described, the "playful dot pattern" is perfect for a number of different occasions, and the top's collar, sleeves, and cuffs make it a great option for the office. What's more is that Lafayette 148 was created as "an inclusive line of beautifully crafted clothing for women," so there is something for everyone (if you can afford the price tag).
This gorgeous dress was an expensive option for Meghan McCain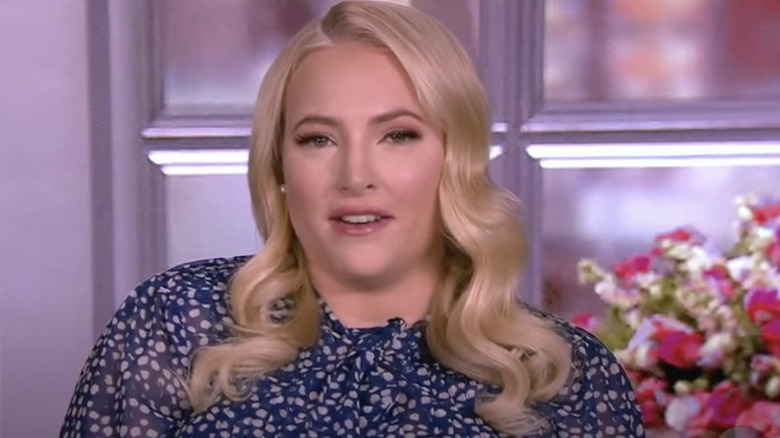 Dresses are the best, there's no doubt about it. It's one garment that you can just slip over your head that serves as an entire outfit. Dresses are perfect for any occasion, whether you're going out for coffee, running errands, attending a wedding, or co-hosting "The View." OK, we know that the last option isn't really viable for most of us, but it was for Meghan McCain and, during one of her hosting duties, she opted for the gorgeous blue print dress from designer Teri Jon.
To get technical, the garment in question was the Mini-Print Bow-Neck A-Line Dress by Rickie Freeman for Teri Jon, as per Worn On TV, and the look was stunning. According to Neiman Marcus, the bow-neck dress features a high neckline and a self-tying bow at the middle of the neckline. It has "long blouson sleeves," an A-line cut, and hits the wearer just around the knee. The designer label itself is described as a collection of "feminine silhouettes and luxurious fabrics" with "distinctive" looks for any occasion. Sounds great, right? Well, the price leaves a couple of us shocked. The dress can be yours if you want to dish out $580.
This top might look subtle, but it cost quite a lot for the former View host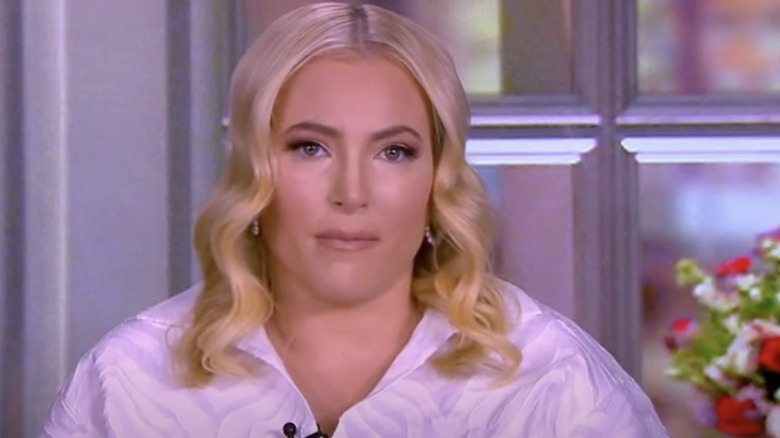 At a glance, a top with a barely-there print can look like just another garment. But a subtle print can add depth, volume, and interest to any outfit, and that was the case for Meghan McCain when she chose the Dales Zebra Jacquard Top by Lafayette 148 (clearly a favorite designer for the media figure). As noted by Nordstrom, the top in question is made using Italian cotton, and features a "richly textured jacquard weave." It has a split neckline that is extremely flattering, and is completed with comfy bell sleeves and a relaxed fit.
Of course, Lafayette 148 is known for the "exceptional fit and quality" of their clothing items, so it's easy to understand why McCain is such a fan. When she sported the top, she paired the look with subtle hoop earrings and loose waves that just passed her shoulders. The entire outfit looked chic and classy, and the top can be in your closet too if you don't mind spending $698. Yes, that's right, and no, we didn't make a typo. The nearly $700 top is definitely an investment, but it might just be worth having.
This gorgeous tweed look cost Meghan McCain hundreds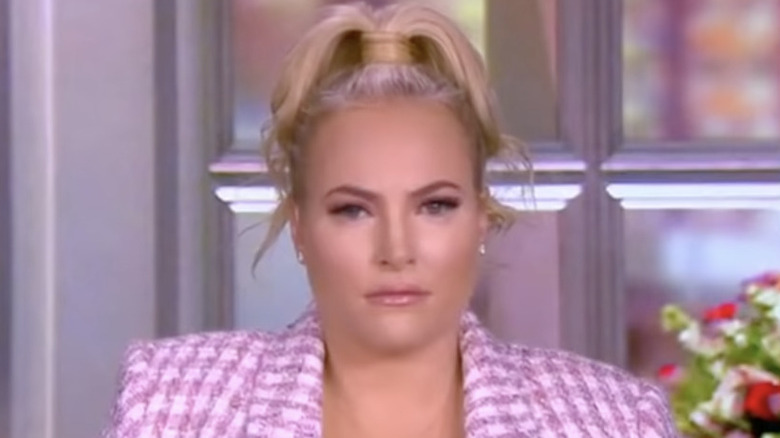 Blazers are a go-to for Meghan McCain. A well-tailored blazer is a go-to for her for work days and appearances and, while we did a whole section about her blazers already, this particular choice stood out from the crowd because it's that beautiful. If we had an extra $650 around, we'd purchase it in a heartbeat.
The blazer in question is the Kenzie Double Breasted Blazer by the designer L'Agence, and McCain wore the garment on the April 13, 2021 episode of "The View." She paired the gorgeous pink-toned tweed blazer with stud earrings and a high ponytail, and the entire look just exuded classy, fun, and flirty energy — who doesn't want that in their life?
According to Saks Fifth Avenue, the blazer is a "classic double breasted" design with a notched lapel. It's perfectly tailored to fit the body in all the right places and, as you probably guessed, it's dry-clean only. The designer, L'Agence, specializes in combining "Southern California ease with chic Parisian style," and that's definitely the vibe we got from the blonde media personality. If you want to complete the look, opt for the L'Agence Ashton Tailored Bouclé Shorts, which are a cool $295 from Saks.
This stunning green blazer set the talk show host back quite a bit
Meghan McCain clearly knows how to pick out a gorgeous jacket and, honestly, we want her advice (and a little help paying for it would be great, given that she's worth a cool $10 million). Our last expensive outfit involving a blazer comes in the form of the Miller Double Breasted Blazer by designer Veronica Beard. The gorgeous green jacket looked stunning on McCain's flawless skin, and she paired the sleek look with a white tee-shirt, natural makeup, and a very loose curl.
According to Revolve, the Miller Double Breasted Blazer is made of 98% viscose and 2% elastane, meaning that it's a touch stretchy (which is always a good thing), and very lightweight. So don't think of this garment as the stuffy, oversized blazer that you snagged from the men's section at Goodwill. This look is tailored, fitted, breathable, and gorgeous. It has a single button that closes its breasted style in the front, features padded shoulders (hello nod to the 1980s), and is adorned with three buttons on either side. It truly is a stand-out piece, and we see why McCain dropped $695 on it alone.
Meghan McCain is also known for her outlandish hairstyles
In addition to her standout outfits and gorgeous garments, Meghan McCain isn't afraid to make a statement with her hair or her headpieces. As noted by TheWrap, McCain has been spotted in hairdos that resemble themselves to Princess Leia or characters from "Bridgerton" and, let's be honest, no matter how out-there her hair looks might be, she pulls them off. It's McCain's unabashed confidence that sells her outfits and her overall aesthetic and, to top off a list of some pretty expensive looks, we're rounding out the list with an expensive headband that made its way onto the screen.
As reported by Worn On TV, McCain opted for the Pearl and Velvet Headband by the designer Lele Sadoughi for the June 30, 2021 episode of "The View." The headband in question is made up of a velvet band that is adorned with fake pearls, and is available for purchase on Saks Fifth Avenue's website. Oh the cost? Right, it's just $150. For a headband. If we had $10 million at our disposal, you best believe we'd drop a couple days' salary for a gorgeous statement headband. But, since we can't, we'll live vicariously through McCain.