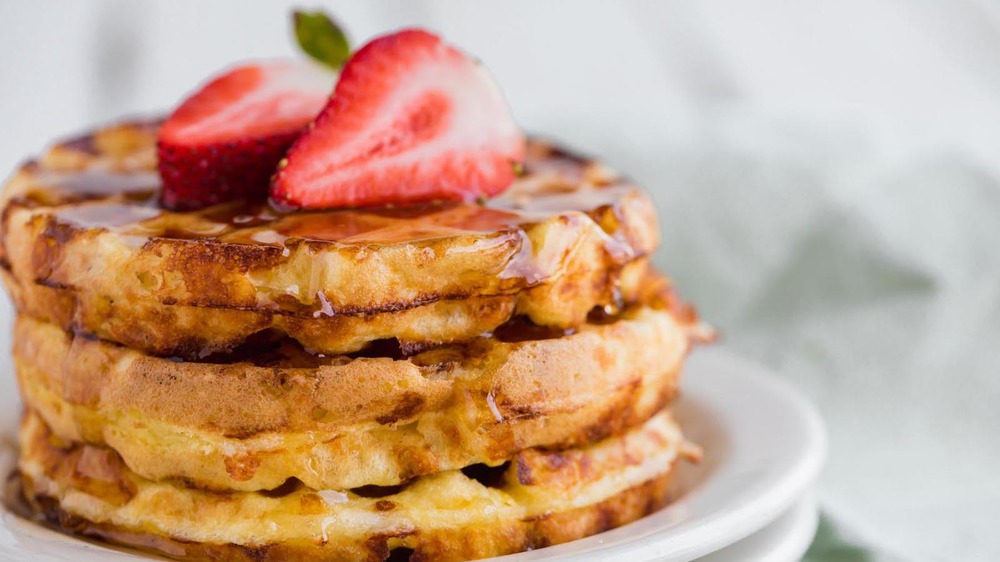 What's better than a chaffle for breakfast or brinner? Wait … what's a chaffle you ask? A chaffle is a low-carb waffle with cheese as the base ingredient. It doesn't use processed flour but rather cheddar, mozzarella or Colby jack to help the waffle form its shape. They're wildly popular with those who are following a low-carb diet or a keto lifestyle because they still taste like a waffle with a crispy crunch on the outside. To make a chaffle sweeter, a cook might use vanilla and cinnamon or a low-carb sweetener.
"A chaffle is a keto waffle primarily made up of egg and cheese. Almond flour is added for substance, and baking powder is added to help the waffle rise. It doesn't taste like egg and cheese, especially when you add butter and your favorite sugar-free syrup on top," said recipe developer Annie Lampella of Keto Focus.
Even better is the fact that this chaffle recipe doesn't require a lot of ingredients to make. Even if you aren't following a low-carb diet or keto lifestyle, these taste great for anyone at any time. It takes just two minutes to prep and three minutes to whip up two chaffles. Perfect for a Saturday morning!
Gather up the ingredients to make this chaffle recipe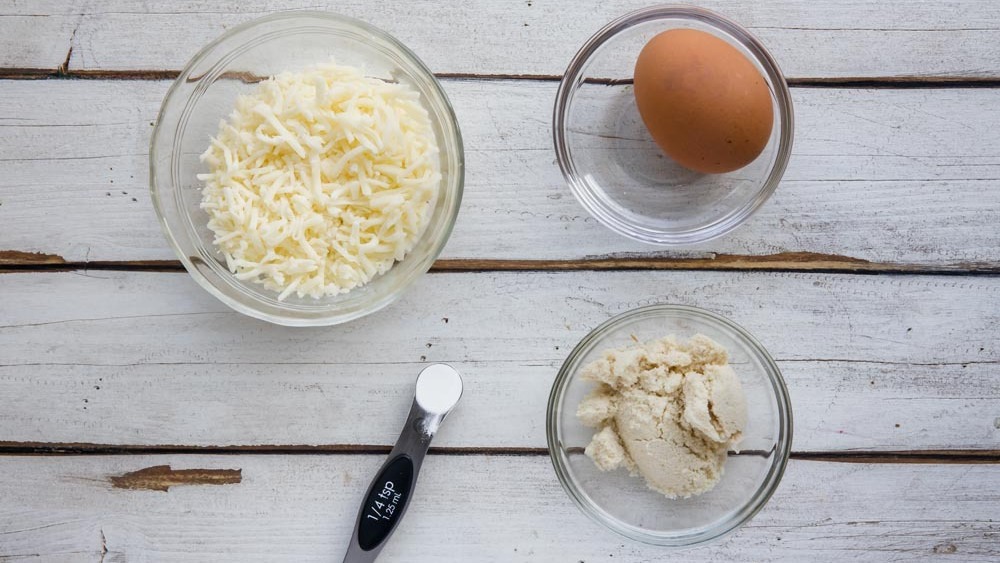 Remember that chaffles do not follow a traditional waffle recipe, but they share their similarities. You'll need one egg, half a cup of shredded mozzarella cheese, two tablespoons of almond flour, and one-fourth of a teaspoon baking powder. You'll of course need a waffle maker.
"Any waffle maker can be used to make chaffles — even a Belgian waffle maker. In this recipe, I used a Dash Mini waffle maker," Lampella said. "There is no need to spray the waffle maker with cooking spray as long as it is a non-stick waffle maker. The fat inside the cheese will release, providing enough oil to keep the waffle from sticking."
Different types of waffle makers for making this chaffle recipe
According to Waffle Makers Hub, the waffle is believed to be a Western culinary tradition. The ancient Greeks made waffles as a flat cake without any indentations. When the recipe arrived in medieval Europe, stamping waffles became a way to identify groups with things like family crests and other signs. Food historians name Thomas Jefferson as the man responsible for bringing the first waffle iron to America in 1789.
Today, there are a ton of different waffle makers to choose from, so just pick whatever works best for you.
Start whipping up this chaffle recipe
Preheat the waffle maker to make this chaffle recipe. In the meantime, crack the egg into a bowl and add half a cup of shredded mozzarella cheese, two tablespoons of almond flour, and one-fourth of a teaspoon of baking powder. Vigorously stir or whisk to combine all ingredients. Pour half of the batter into a small waffle iron of your choice, then close it tightly and let the chaffle cook for approximately three minutes or until the chaffle is firmly set. Gently remove the chaffle from the waffle maker, plop it carefully on a plate, and move on to the next tasty chaffle creation.
Modifying the chaffle recipe
If you're allergic to nuts, swap out the almond flour with coconut flour, Lampella advised. Coconut flour absorbs more moisture compared to almond flour, so to compensate for that by using only two teaspoons of coconut flour for the chaffle recipe.
If you're allergic to eggs, make a flax egg. As crazy as it sounds, a flax egg is similar to an egg in that it will provide structure, support, and volume, Lampella said. So, to make a flax egg, combine one tablespoon of flax meal with two and a half tablespoons of water. Allow the mixture to sit for five minutes to allow it to thicken.
Sugar-free syrups to use in this chaffle recipe
There are plenty of toppings you can pour on your stack of chaffles. Lampella suggested trying a sugar-free syrup like ChocZero or Lakanto. These options have no sugar, so they're appropriate for a keto diet. However, not everyone is going to love the taste of sugar-free syrup. So, if you're not on a keto diet, you can feel free to swap it out with a more traditional syrup. Whatever the case may be, a nice syrup is going to go a long way in pulling this breakfast together, so don't forget it.
This chaffle recipe isn't just for breakfast
Chaffles aren't just for breakfast. They're perfect for brinner: breakfast at dinner. This base recipe can be used as a guide to create all kinds of chaffles filled with your favorite low-carb ingredients, including meat, cheese, and a variety of seasonings. Once you've whipped up this recipe, don't be afraid to go off the rails and try something new.
Of course, it is hard to beat the original. "The kids and my husband love chaffles. The kids don't even realize they are getting a low-carb waffle," Lampella said.