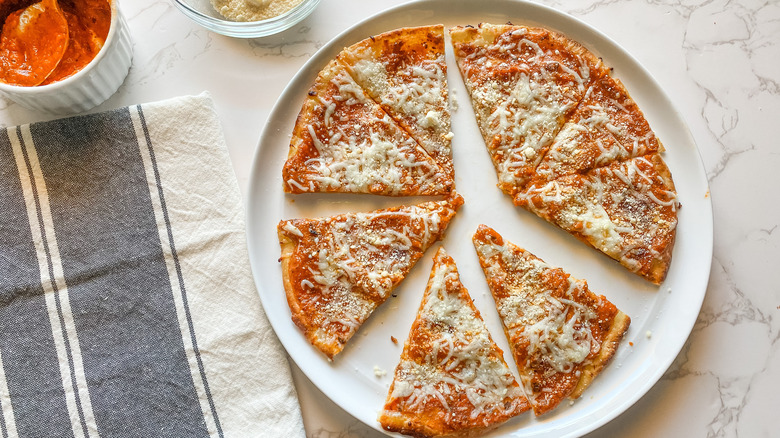 Do you love pizza but are looking for a low-carb option? While cauliflower crust is good, we think that using a tortilla for your pizza crust is pretty genius. Recipe developer and private practice registered dietician Kristen Carli came up with this innovative pizza recipe that swaps out your standard pizza dough for a large flour tortilla. Yes, it's totally possible, and guess what? The pizza still has the same great taste, but it's a friendlier option for those of us who are trying to avoid carbs.
This recipe requires just a few ingredients and a little bit of time to prepare. We're talking about three minutes of prep time and 11 minutes of cook time. It doesn't get much easier than that! Whether you're in a bind and need to make a quick family dinner or you just want something simple for a crowd, then this recipe is great for you.
Carli is a true wizard in the kitchen. She shares that her favorite part of the dish is that it's low-carb. "I love that it is a low-carb and low-calorie way to enjoy your favorite pizza," she notes. So, if this scrumptious tortilla pizza sounds appealing to you, keep reading to find out how to make it right at home. It tastes just as good as the real deal — if not better!
Gather the ingredients to prepare this low-carb tortilla pizza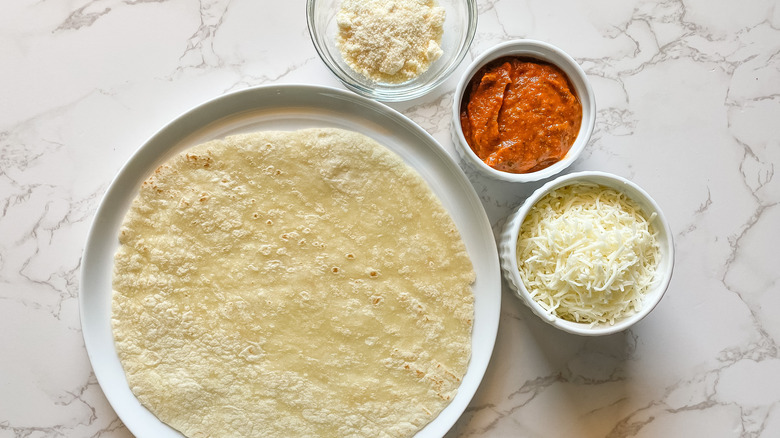 For the first step in the process, you will need to gather all of the necessary ingredients to throw together this pizza pie. For starters, you will need some olive oil and a large flour tortilla, which will serve as your pizza base.
The remainder of the items pretty much go hand in hand with what you would get for pizza night, including some pizza sauce, shredded mozzarella, and grated Parmesan cheese. The more cheese, the merrier, are we right? And if you're wondering what pizza sauce to grab at the grocery store, Carli said, "I recommend using a veggie-packed red sauce such as Otamot Pizza Sauce to get more nutrients."
If you'd like to add some fun toppings, you can totally get creative. As far as Carli's concerned, she notes, "You can really have fun with these pizzas — they are very versatile … I would love this with olives and mushrooms." Once you have all of the items in front of you, you can begin cooking.
Heat up the skillet, and crisp the tortilla
Before you do anything else, preheat the oven to 450 F. Then, take out a large skillet, and place it over medium heat. Add some olive oil to the skillet, and let it get nice and hot. When you can hover your hand over the skillet and feel the heat, it's hot enough to add the tortilla and allow it to crisp up. It shouldn't take more than three minutes on each side. You can either set your timer, or watch the clock to determine how much longer it will take.
When the tortilla is nice and crispy, remove it from the heat, and place it on a piece of parchment paper. Then, it's time to assemble the pizza.
Make the pizza
Now that you've finished the initial step for your crust, it's time to put the pizza together. Using a spoon, spread the pizza sauce on the tortilla, just like you would do if you had actual pizza dough in front of you. Make sure to spread the sauce all the way to the edges. Then, sprinkle the mozzarella cheese over the top of the sauce. Remember that the cheese spreads when it cooks, so while it may not look like a lot initially, it should be plenty. (But of course, there's always room for more cheese if you'd like.)
Put the pizza in the oven, and bake it
Once you have the mozzarella cheese on the top, it's time to put the pizza in the oven. Place the parchment paper with the tortilla into the range, which should already be preheated. Then, set your timer for five minutes, and continue checking the pizza to ensure it doesn't burn. Let the pizza bake until all of the cheese has melted. By now, your kitchen should be smelling pretty amazing.
When the pizza is finished baking, remove it from the oven, and place it on a large plate. There's only one more step until you can enjoy.
Top the pizza with Parmesan cheese, and enjoy
Once you have the pizza on the plate, it's time to add the last topping. Simply sprinkle the Parmesan cheese on top. Be sure to distribute it evenly so there's a little bit of Parmesan in each bite. Then, use a pizza cutter to slice it into equal triangle pieces. If you're more of a square pizza person, you can cut the pizza that way instead.
Carli recommends eating the pizza fresh out of the oven, because that's when it's at its peak taste. Leftovers can get soggy, and they won't be as good. Now, all that's left to do is grab some crushed red pepper or a little more Parmesan cheese, and enjoy!
1 tablespoon olive oil
1 large 10-inch flour tortilla
¼ cup pizza sauce
¼ cup shredded mozzarella cheese
2 tablespoons grated Parmesan cheese
Preheat the oven to 450 F.
In a large skillet over medium heat, add the olive oil.
Once the skillet is hot, add the tortilla, and allow it to crisp up for about 3 minutes on each side. Once crispy, remove, and place on a baking tray that's covered with parchment paper.
Using a spoon, spread the pizza sauce all over the tortilla.
Top the pizza with shredded mozzarella cheese.
Place the baking tray with the tortilla into the oven, and let it bake for 5 minutes, until the cheese is melted.
Carefully remove the pizza from the oven, and place it on a large plate.
Sprinkle with Parmesan cheese, and slice it with a pizza cutter.