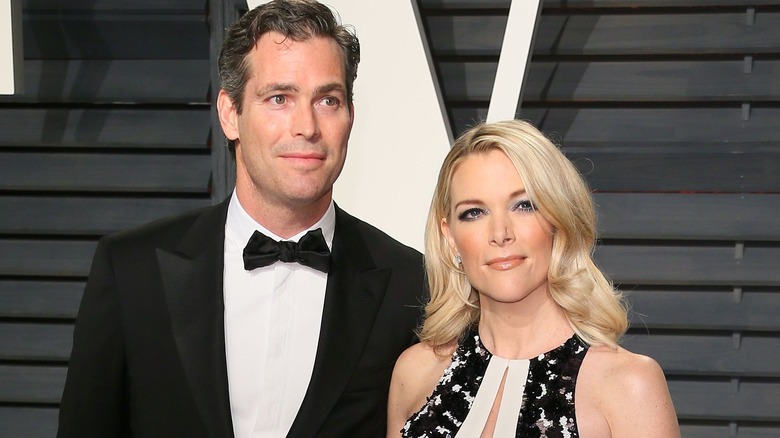 While a lot of news anchors are celebrities in their own right, they usually aren't in the public eye as much as supermodels and actors. News anchors may be highly recognizable public figures, but they are far less likely to become tabloid fodder like Hollywood celebs. Because of this, we tend to recognize news anchors' faces and names from television, but we don't usually get as many updates about their personal lives.
Singers and actors are often seen with their significant others at red carpet events, but news anchors often live more private lives. Unless you are a huge fan of an anchor, you probably don't know very much about what they are like once the cameras are off. It might come as a surprise, then, to see how many of your favorite news anchors are not only married but married to some pretty handsome men. Who knew that these news anchors were had really gorgeous husbands waiting for them at home?
News anchor Katie Couric's husband is her second chance at love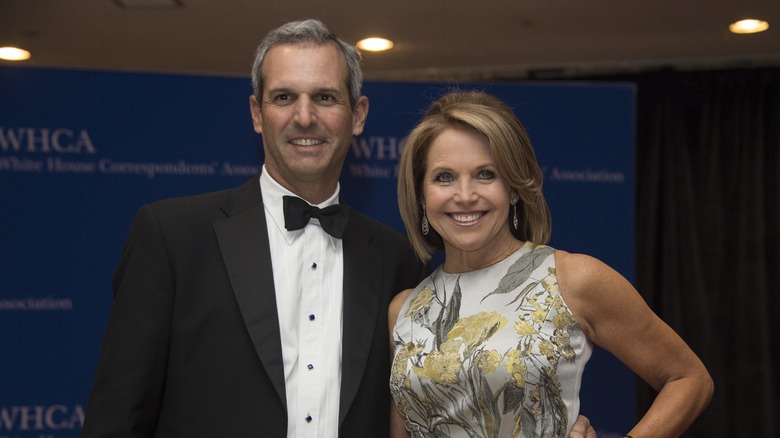 Katie Couric and her gorgeous husband, John Molner, have been married since 2014. Couric, who is one of many news anchors who are unrecognizable without makeup, first met the banker in 2012, after being set up by a mutual friend who nagged him to ask her out. "He finally asked me out, we met at a restaurant and what can I say?" the iconic news anchor said on The Jess Cagle Interview (via People). "He had me at hello."
Couric and Molner are devoted to each other. They even get colonoscopies together, as revealed Couric on Instagram. Couric's relationship with Molner is made all the more special by the fact that she tragically lost her first husband, Jay Monahan, to colon cancer in 1998 (per Fox News).
Couric has never forgotten her first husband, and she thinks he and Molner would have been friends. In June 2019, she honored her first husband on Instagram, writing, "I hope you would be proud of the way I've lived my life and know you'd be proud of your girls who have grown into incredible young women. I think you would like [John Molner] who honors your memory and knows there is room in my heart for you both."
Robin Meade is a news anchor with a decades-long marriage
Robin Meade celebrated her 25th anniversary with her husband, Tim Yeager, in 2018. She commemorated the milestone on Facebook, writing, "25 years later looking at our wedding album, and out pops his handwritten vows he delivered at the ceremony (with no 'repeat after me' coaching needed from the minister). I had no idea we stuffed them in the photo album years ago. What a touching surprise."
The two are college sweethearts. Meade says her gorgeous husband fell in love at first sight. "He says it was like God was telling him 'There she is!'" the HLN news anchor said in an interview with YourTango. "How sweet is that?"
While Yeager is quite handsome, Meade certainly didn't marry him for his looks and doesn't think anyone should marry a person for how attractive they are. "Sooner or later we all age and start to droop," said Meade. "Don't marry someone for their position and don't marry someone for money. Money comes and goes, and since when is that love? Marry someone because they make you laugh. Humor is always sexy. Besides, it's awfully hard to get mad at someone while they're making you laugh."
News anchor Harris Faulkner and her husband have a beautiful family
Harris Faulkner and her gorgeous husband, Tony Berlin, were married in 2003, according to an Instagram post posted by Faulkner. The couple have two beautiful daughters together, Danika and Bella. Faulkner has spoken about what it is like raising her biracial kids, saying that she and her husband are blessed to have such a great family. "It's beautiful for any parent to get the opportunity to have those loved ones in our lives," the Fox News anchor said in an interview with People. "I'm with someone who is religiously Jewish and racially different from me."
Faulkner added that things have gotten a bit trickier since the children have gotten older and hit adolescence, but she said that being a mother is no less wonderful. "It's a whole host of things you are dealing with that are, I think, beautiful issues, and challenging," she said.
Throughout all the challenges that come with parenting, Faulkner says her "forever boyfriend," Berlin, is by her side. "I married an amazing guy. I couldn't do it without [him]," she said.
Paula Faris is a news anchor who married her college sweetheart
Paula Faris and her gorgeous husband, John Krueger, have been together ever since college. According to the news anchor's Good Morning America bio, the couple were married in 2000 and have three children together.
The couple's fairy tale romance wasn't without its hardships. Like any couple, Faris and Krueger have had their ups and downs. The Journeys of Faith with Paula Faris podcast host told Good Housekeeping that the couple even split up at one point. "My husband and I were separated early on in our marriage before we had children," she said. "And we just didn't feel right about [it]. As much as I wanted to walk and as much as I wanted to be done with that marriage and move on with my life, I didn't have a peace about it."
Faris credits her faith with pulling them through the difficult period in their marriage. She and Krueger are now stronger than ever. "Happy Anniversary, babe," she wrote in 2019 on an Instagram photo of the couple in their younger years. "Cheers to when our hair was thicker … We're gonna be so much hotter in another 19 years."
News anchor Thomas Roberts and Patrick Abner make a handsome couple
Thomas Roberts was one of the first national news anchors to come out as gay, according to the Daily Mail. Roberts revealed his sexuality in 2006, making his relationship with his future husband, Patrick Abner, public. The couple met at a party in 2000. "I was warned, 'He has a face that will slay you,'" Roberts told The New York Times of their first meeting. "And it did. I remember thinking, 'I've never met or seen anybody like this.' I was very nervous around him. I didn't know how to compose myself."
The feeling was mutual, according to Abner. "There were sparks, but I played my cards close to the chest," he said. "I was a bit guarded."
The couple were married in 2012, after more than a decade together. The special day was everything Roberts had dreamed of. "That and more," he said. "All of my favorite people, all of the greatest influences in my life, family and friends, in one room. It's incredible."
News anchor Martha MacCallum and her husband have been married for decades
News anchor Martha MacCallum and her husband, Daniel Gregory, have been going strong for decades. According to The New York Times, the couple have been wed since 1992, when they got married in a lovely ceremony. According to Heavy, the couple have three children together.
MacCallum seems to keep her personal life fairly quiet, preferring to control her social media image and to keep her private life under wraps. In 2014, she gave Country Living a tour of her Cape Cod home and gave details about the renovations she and Gregory made to it, but she didn't reveal too many details about their home life. She also doesn't post many personal pictures on her Instagram account, instead sharing more work-related photos. Perhaps it's her dedication to keeping her personal life private that has helped her decades-long relationship with her gorgeous husband thrive.
News anchor Megyn Kelly met her husband on a blind date
Legendary news anchor Megyn Kelly, who's had a stunning transformation, met her gorgeous husband, internet security executive Douglas Brunt, on a blind date that went incredibly well. "He came across as sincere," she told The New York Times of their first meeting. "While we were talking, he leaned forward, really listening to what I was saying. He's also clever and has a great sense of humor."
Unlike a number of celebrities who can't stand Megyn Kelly, Brunt was equally smitten. "She's clear about what she wants out of life," Megyn Kelly's husband told the outlet. "There was such an energy about her that she lit up the room."
The couple were married in 2008 and have remained madly in love since then. Kelly gushed about her happily ever after with Brunt on Twitter in a 2019 post. "You know how you sometimes think, 'I'm not going to find it. It may not happen for me?'" she wrote. "Well it's not true. Keep the faith. Work on making your own life full, with or w/out a partner. Then one day, someone like [Doug] walks in and *that* is your before and after."
Brooke Baldwin is a news anchor who met her husband in a twist of fate
According to AJC, CNN news anchor Brooke Baldwin fortuitously met James Fletcher at a holiday party and sparks flew pretty much from the very start. "I knew he was the guy since I met him," she said. "He's been incredibly flexible being with me."
The British producer and director has been by Baldwin's side since 2015, even interrupting their 2016 vacation in France for Baldwin to cover airport attacks in Istanbul. "It took me 36 years to find him, and it was worth the wait," she told People.
The two were married in an intimate ceremony in 2018, with Baldwin's dog serving as the ring bearer. "There wasn't a dry eye, including James and myself!" Baldwin told People in an interview about her special day. "I'll never, ever forget that moment when our eyes locked. I wanted to run towards him."
News anchor Julie Banderas' gorgeous husband is a financial advisor
In 2009, The New York Times covered the stunning wedding between Julie Bidwell (Banderas is the name the news anchor uses professionally) and her handsome husband, Andrew Sansone. Sansone also has an impressive career, as he is listed on the website of Allied Wealth Partners as a financial advisor. He and Banderas have three children, Addison, Avery, and Andrew.
It's clear that parenthood is very important to both Banderas and Sansone. Both of them brag about their kids on their social media profiles. In Sansone's Instagram bio, he wrote that he is "co-creator of 3 offspring." Banderas revealed in her own Instagram bio that raising their children is her most important job and is her top priority. "Mommy to Addison, Avery and Harrison and FOX News Channel anchor," the news anchor wrote. "So basically I'm a full time mom who goes to my full time job to relax."
News anchor Maria Taylor fell in love at first sight with her gorgeous husband
The moment ESPN news anchor Maria Taylor and Rodney Blackstock set eyes on each other at a 2014 basketball game, they knew something special was happening. "I've never had that feeling before, ever, where you just look at someone and you're like, 'That's the one,'" Taylor told The Knot.
Blackstock proposed after eight months, but the couple ultimately decided to call off their wedding. "I wasn't ready to be a wife and he wasn't ready to be a husband. We just needed more time," said Taylor. "As difficult as it was to break off the wedding, we wanted to be in a better place together — especially when you go through a life-changing event like a wedding."
But in 2019, the couple reunited and decided they were ready to embark on a life together. "We're going through our life together, forever," said the news anchor. "The things that I'm not great at or the things that I struggle with, he's super strong in. … He's definitely that other half."
Bianna Golodryga is a news anchor whose gorgeous husband worked for a president
According to The New York Times, news anchor Bianna Golodryga's gigs have included working for Good Morning America, CBS, and Yahoo News. Her husband's resume is equally impressive. Good Housekeeping reported that her husband, Peter R. Orszag, worked under Barack Obama as the director of the office of management and budget as well as the director of the Congressional Budget Office. The handsome Orszag later gained employment with investment bank Lazard. Golodryga's gorgeous husband also writes a column for Bloomberg.
The couple have been married since 2010, and they have a wonderful family. Golodryga frequently posts pictures of her beautiful brood on Instagram, showing off her kids and her attractive husband. In 2018, she commemorated their wedding anniversary on Instagram with a sweet snapshot captioned, "Happy Anniversary to the best husband, father and friend I could ask for. Love you."
News anchor Lisa Ling's husband is a gorgeous oncologist
News anchor Lisa Ling has two kids with her husband, Dr. Paul Song. She married the oncologist in a celebrity extravaganza in 2010. "Every day with Lisa is a honeymoon," Song told InStyle of their nuptials.
Life is still a honeymoon for the couple as they raise their two kids, although Ling has admitted that motherhood scares her a little bit. "I'm terrified of raising two girls," she told People in 2017. "Just thinking of myself as a teenager and how boy crazy I was and how curious I was, I am absolutely terrified."
With a doctor and a news anchor for parents, their kids, Ray and Jett, are going to have the facts of life presented to them eloquently but in a matter-of-fact way. Ling said that, while her own parents didn't really talk to her about "sex or dating or emotions," she wants her kids to be better prepared. "I want them both to be empowered about everything, to know that they can do whatever they want and not be inhibited about anything — but that they need to be careful sometimes," she said.
News anchor Frances Rivera's gorgeous husband founded his own company
According to the Boston Herald, Frances Rivera is married to Stuart Fraass. Fraass lives his life out of the limelight, but he seems to be just as successful as his news anchor wife. According to Fraass' Twitter bio, he is the principal and founder of Five Borough Capital. Rivera and Fraass have two children together who are turning out to be just as good-looking as their parents are, and it is quite apparent that Rivera is proud of her beautiful family. The NBC and MSNBC anchor regularly posts pictures of her kids and her husband on her Instagram page.
Rivera married Fraass in 2003, after they had been together for five years. In a 2018 Instagram post, Rivera gushed about her husband on their wedding anniversary, writing, "7,300 sunsets and toasts since meeting this guy and 5,475 since our I Do's."
News anchor Betty Nguyen keeps her gorgeous husband's identity a secret
We know from photos that news anchor Betty Nguyen has posted to Instagram that her husband is a good-looking guy, but that's about all we know about him. Nguyen has been careful about protecting her husband's identity, and hasn't revealed so much as his name. She has shared, however, that she and her handsome hubby met on Halloween. "It was his silky blond wig that did the trick," she wrote on Instagram in a since-deleted post.
Nguyen is a doting mom and posts plenty of pictures of her kids on Instagram, but she didn't always want to be a mother. Her gorgeous husband changed her mind. "I've spent most of my life with a to-do list of goals that didn't include having a baby, until I was in my mid-30's," she wrote for Today. "From cable news to network news, it's been an exciting adventure of cameras, travel and living the dream. But when I met my husband that dream changed. I was finally ready for kids."
The news anchor added, "Honestly, that biological clock people talk about started to tick … Once we said our 'I do's' it was ticking so loudly, I literally couldn't sleep."
Sharon Epperson is a news anchor who married another journalist
Sharon Epperson has had quite a prolific career. According to her bio on the Columbia University website (where she is an adjunct assistant professor), Epperson is an award-winning journalist and author who has been a regular fill-in anchor on several CNBC shows. Epperson is also a correspondent for the network. Epperson is also half of a power couple. The news anchor and her gorgeous husband, fellow journalist Christopher John Farley, have been married since 1997, according to The New York Times.
Epperson and Farley have stuck together through sickness and through health. In 2016, Epperson suffered a brain aneurysm. "Without warning, I was suddenly disabled, uncertain of whether or when I could ever be able to return to my career," she told NBC's Know Your Value of the terrifying time. Farley stayed by his wife's side through her recover, which involved re-learning how to walk and get through her daily activities.