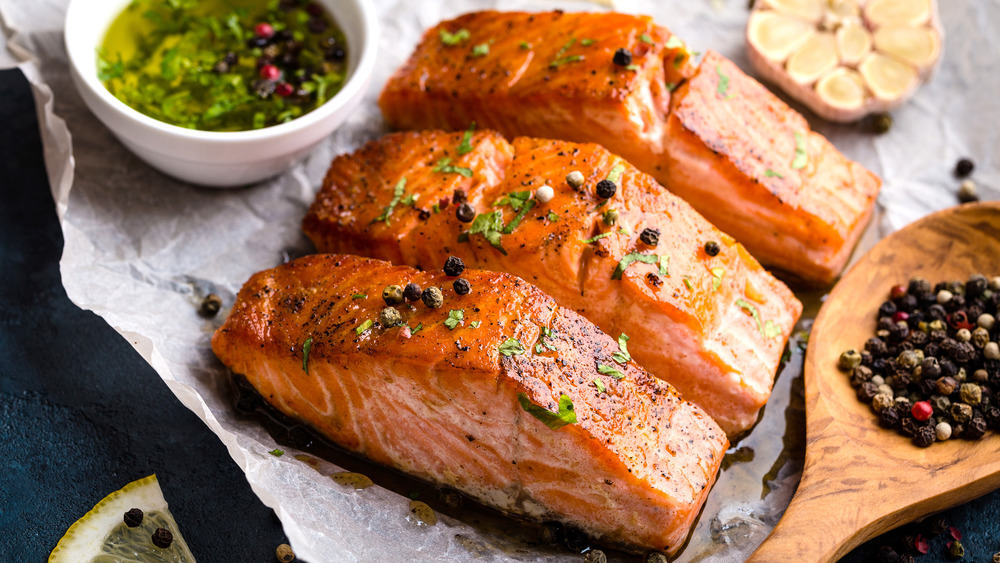 Looking for seafood recipes the whole family will be begging for? If you're not already a big fan of fish Fridays, you should definitely reconsider. Across the spectrum, seafood tends to be leaner than a lot of meat and is packed with a range of vitamins, minerals, and nutrients that can help you look and feel your best — and even live longer. Fish, in its many forms, is actually considered to be one of the healthiest foods on Earth (via Healthline).
Additionally, adding more fish to your diet can make healthy eating more fun because there are so many mouth watering seafood recipes out there. From light and fresh lunch options to creamy, comforting pasta, and everything in between, there's something for any appetite. And we've got no shortage of inspiration for you; we have recipes for shrimp tacos, crab cakes, lobster rolls, all kinds of salmon, and so much more. Keep scrolling to discover seafood recipes the whole family will be begging for.
Coconut shrimp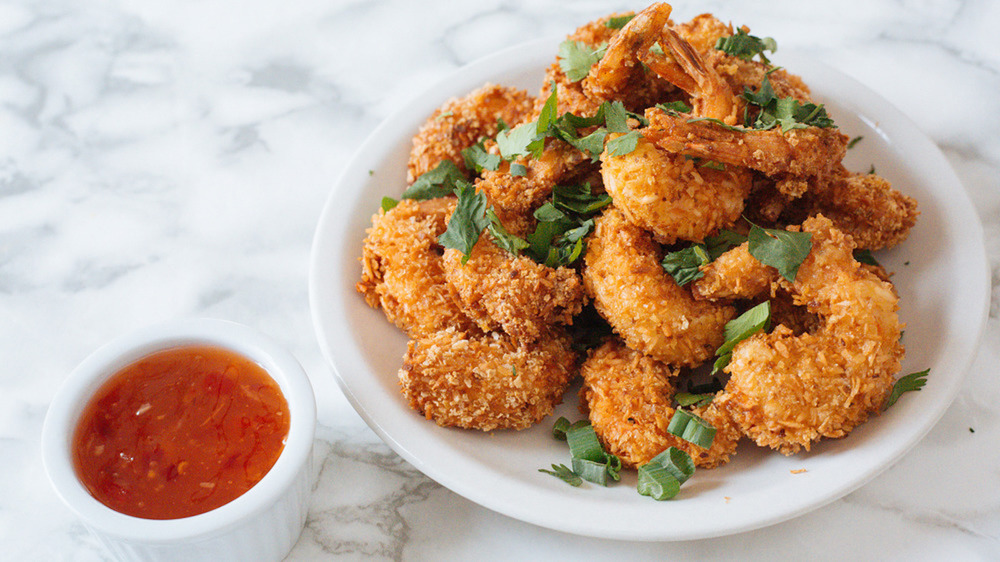 A truly great dish is able to hit every note on your palate, from sweet and spicy to savory and tangy. A good coconut shrimp recipe, served up with sweet chili dipping sauce, has all of that along with the perfect crunch to top it off. And our version makes for perfectly fried, golden brown shrimp that can be on your table in under 30 minutes. It's the perfect weeknight dinner that everyone in your family will love eating.
Crab cakes
Craving a restaurant quality dinner, but don't feel like making the trip or spending the cash? Light some candles on the table and try out this crab cake recipe that everyone will love instead. Our version dresses up the crab with plenty of Old Bay seasoning, dijon mustard, Worcestershire sauce, and fresh herbs. And these delicate little patties are actually easier to make than you think; you can pan fry them in just 10 minutes.
Sheet pan surf and turf
Okay, maybe you want a really fancy restaurant quality dinner instead? In that case, go for this recipe for sheet pan surf and turf, which promises to be "surprisingly easy." This hearty dinner for four includes New York strip steaks, fresh shrimp, Cajun-seasoned sweet potatoes, and asparagus. This recipe requires a little bit of multitasking, but the instructions are clear, and the result will leave you looking like the best dinner party host in the friend group.
Shrimp and grits with a twist
Shrimp and grits is a southern comfort food classic, so it's perfect for those cold nights when you just want to curl up with something warm and satisfying. Our version is inspired by chef Bobby Flay's recipe, served at his former restaurant Bar Americain, but with a few twists. These shrimp and grits are a no-brainer to whip up, made with simple, fresh ingredients, and we're running out of excuses not to drop everything and make them right now.
Easy grilled salmon
Among all the seafood to choose from for your next fish Friday, Salmon is one of your best bets if you're trying to please a lot of palates. This popular fish is flaky, mild, and really easy to make if you follow this easy grilled salmon recipe. The most important thing is to make sure you don't overcook the salmon. The author recommends that you keep checking the fish after ten minutes of cooking, and pull it off the grill as soon as it's cooked through.
Lobster roll
You're probably already thinking there's no way you can make a decent lobster roll at home — but hear us out. You can most likely get lobster at your local supermarket. And we've got a lobster roll recipe for you that's unique, yet very simple, and can be ready in 20 minutes or less. Seriously. Whatever regional lobster roll style you prefer, we're willing to bet you'll love this version made with Sriracha mayo, fresh dill, parsley and lemon.
20-minute shrimp Alfredo pasta
Fettuccine Alfredo is the ultimate comforting pasta dish, and it notoriously pairs well with shrimp to make for a creamy, indulgent seafood entrée. We've got a 20-minute shrimp Alfredo pasta recipe for you that "the whole family will love." Made with simple ingredients — butter, milk, parmesan, and garlic — and just one pan, you have no excuse not to satisfy your next pasta craving with this easy dish instead of heading to Olive Garden yet again.
Pistachio-crusted salmon
Salmon can make for a delicious, lean, and super nutritious meal. But once it becomes a dinner staple, it can get boring if you don't mix up how you make it. Next time you've got the fish in your lineup, try out this recipe for pistachio-crusted salmon that will have you looking forward to dinner all day. It hits all the right notes: a sweet and tangy honey Dijon glaze, fresh and savory herbs, and a delightfully crunchy pistachio nut coating. Plus, the whole process is basically three steps and 20 minutes.
Copycat Long John Silver's fish
No, it's not exactly the healthiest seafood dish, but sometimes there's just nothing better than a freshly fried basket of fish (especially if it's served with chips and an ice cold beer). Indulge your next craving with our version of the dish, inspired by Long John's Silver's recipe. The batter-dipped fish (cod in this case) are coated with a mixture of flour, cornstarch, spices, and club soda, which gives it that fluffy, crunchy exterior we know and love.
Quick shrimp Po Boys
Dreaming about a trip to New Orleans on your lunch break? Maybe you can't make it to Mardi Gras, but you can take a trip with your tastebuds with our recipe for a classic shrimp Po Boy. The Louisiana-born sandwich is piled with battered shrimp and the all-important Remoulade sauce; and like so many iconic dishes, it was originally known as a street food staple to feed workers. While the ingredients list for this recipe is pretty long, fear not — the whole dish comes together in under 30 minutes.
Simple salmon patties
Shout out to everyone else out there who grew up on mom's homemade salmon patties as a go-to weeknight dinner (bonus points if you also ate yours with ketchup!). Now you can make mom proud and recreate the retro dish in just 10 minutes flat with a few simple ingredients, using our recipe for easy salmon patties that everyone in the family will love… even if you don't agree on what condiments should be used.
Aldi 5-ingredient shrimp scampi
We've all been there: work ran late, you're starving, but also low on groceries. But don't give in and hit the greasy drive-thru. Instead, make a quick beeline to your nearest Aldi and we've got you covered with a 15–minute, 5-ingredient shrimp scampi recipe. Grab a box of noodles while you're at it, and you've got yourself a full meal. Oh, and spoiler alert, you can get the simple ingredients for this dish at your local grocery store — it doesn't technically have to be Aldi — if you don't already have them in your kitchen.
Homemade poke bowl
First there was the burrito bowl. Then the world became infatuated with Buddha bowls. Now, poke bowls, a native Hawaiian dish usually featuring raw fish and vegetables over rice, are taking the world by storm. Get in on the trend with our wildly easy and delicious recipe for homemade poke bowls, made with yellowfin tuna steak. Keep in mind, you'll want to be really picky when it comes to finding sushi-grade tuna to use (when eating raw fish, it's best to splurge on the highest quality). The end result will look and taste amazing, great news for your stomach and your Instagram.
Easy shrimp tacos
Feeding a whole family day after day, week after week, is a lot, to say the least. To that end, there's no shame in finding all the shortcuts possible, even if that means repeating Taco Tuesday literally every single week. No judgement. Shake things up next time around with our easy 30-minute recipe for shrimp tacos that will make everyone happy. The shrimp are marinated and seared in a bright, herby chimichurri sauce, with extra sauce leftover to pile on to the tacos along with all your favorite toppings. Everybody wins here.
Herbed salmon en papillote with grape tomatoes
Let your inner Julia Child out, or at least fake it like the best of them, with this recipe for herbed salmon en papillote with grape tomatoes. The french term literally means the method of cooking some lighter proteins by wrapping them in parchment paper before baking, but the trick helps lock in moisture for the juiciest salmon you've ever had (and no one has to know your oven did all the work). For this recipe, the salmon gets dressed up with fresh garlic, dill and rosemary, and served up with tomatoes, roasted right alongside it.
Simple ceviche
Sure, at the next dinner party you can whip out your tired old tray of chips and guac. Or, you can elevate your snacking with this recipe for simple ceviche that you're going to devour. The trick to ceviche is marinating your raw fish in salt and acid, which will cure it in the fridge over the course of a few hours. Our recipe uses salmon cured in lime, mirin, and soy sauce. The fish gets tossed with fresh tomatoes, cucumbers, red onion, cilantro, and mango. The combo of sweet, sour, and salty is downright addicting.
Shrimp Pad Thai
While it's not actually an authentic Thai dish, Pad Thai ranks pretty high on the list of comforting takeout staples. It hits every flavor note on the palate, with soft noodles and crunchy peanuts balancing the textures perfectly. And we've got a homemade version for you that takes a mere 20 minutes to pull together, using a slew of pantry staples and a pre-cut coleslaw mix to keep things as easy as possible.
Seared Salmon with Chickpeas and kale
Sometimes it's the most simple recipes that end up being the biggest crowd pleasers. That's certainly the case when it comes to this straightforward recipe for seared salmon with chickpeas and kale. The fish fillets are seasoned and seared to perfection on a cast iron pan, then served over a bed of sautéed beans and greens, with earthy mushrooms thrown in. Notes of nutty parmesan and balsamic vinegar are all you need to finish off this understated, but oh-so-satisfying meal.
Crab stuffed mushrooms
If you've got a reason to celebrate, or you're searching for a dish to show off your newly-acquired pandemic cooking skills to the world, this recipe for showstopping crab stuffed mushrooms is definitely it. This appetizer is surprisingly simple to put together (in under an hour, too) and guaranteed to impress. With luxurious ingredients like fresh crab, creamy cheese, Italian breadcrumbs, mushrooms, and horseradish, these stuffed mushrooms are enough of a reason to celebrate on their own.
Quick grilled shrimp
You want to know a secret? All you really need to make great seafood is quality fish, (always) salt, and not much more. When done right, the simplest seafood preparations are always the best. Put this secret to the test with our recipe for quick grilled shrimp. It's coated in a mix of lemon, butter, olive oil, garlic, salt and pepper — just the basics and yet still so decadent. And when we say quick, we mean it. The shrimp need all of three minutes per side to cook up.
Shrimp rolls
If you really wanna make a seafood dish that everyone is going to love, then get everyone in on the fun. Our 20-minute shrimp rolls make for a great group activity, and they're full of colorful, healthy ingredients. First, whip up the quick sauce for the shrimp rolls using a few pantry staples. Then have everyone attempt to wrap up their own rolls, stuffed with shrimp, vermicelli noodles, and thinly sliced veggies.
One-pot jambalaya
Let's just cut to the chase: this recipe for one-pot jambalaya is the ultimate comfort food dinner. It's so hearty, with a deep flavor that usually only comes after hard kitchen labor and lots of dirty dishes. Instead, this recipe all goes into one pot, and pretty much makes itself over 45 minutes on the stove. Our twist on the classic version of this recipe uses farro instead of rice (although you could certainly use rice if you'd prefer).
The best shrimp and grits
Because there's no such thing as too much shrimp and grits, we've got another fantastic recipe in our archives that you don't want to miss. This one is loaded with jalapeños and not one, not two, but five different kinds of cheese. There are also a few ways to tweak the spice levels on this dish, so you can also really bring the heat if that's what you love. Either way, we feel pretty confident these will be the best shrimp and grits you've ever tasted.