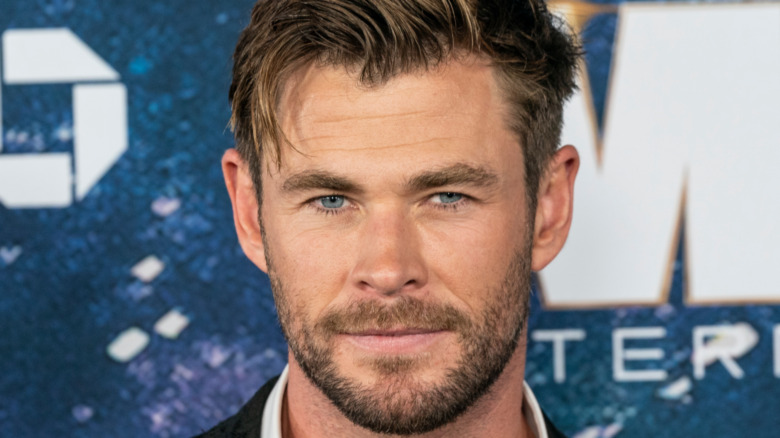 Chris Hemsworth and Elsa Pataky have the kind of swoon-worthy romance that many of us can only dream about. The pair has been married for ten years after a whirlwind three-month romance and has beaten all the odds by staying in love. Although Pataky feels that the secret to a good marriage is "patience [and] understanding" (via The Sydney Morning Herald), they have a lot of other things going for them. For one, Hemsworth can do no wrong as Marvel's "Thor" and Pataky is a successful model and actor in her own right. Who can forget her as Elena Neves in the "Fast and the Furious" franchise?
Perhaps another secret to their Hollywood marriage is that they ditched the glitz and glamor and trekked to Australia. Hemsworth and Pataky decided to upend their young family to lay roots Down Under. As Pataky told SMH in 2021, "We made the right decision in 2014 to leave LA and come to Australia –- it's been great for the kids to be in nature, enjoy animals and go horse riding."
However, the Hemsworth-Pataky family relocated yet again, this time within Australia's borders. They have moved from relaxed and sleepy Byron Bay to big-city Sydney for some work projects and the kids' schools. It seems as if the couple is committed to making decisions that work for the family as a whole. Is this out-of-the-box thinking the reason their union works? Let's delve into Hemsworth and Pataky's relationship and uncover some of its stranger aspects.
Chris Hemsworth and Elsa Pataky are forever inked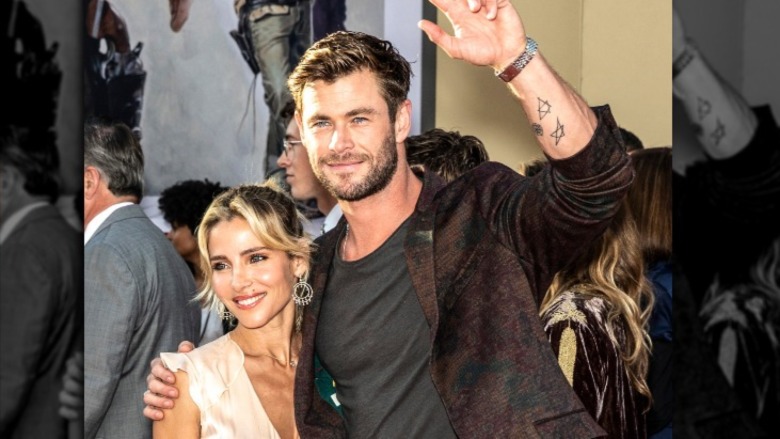 Chris Hemsworth and Elsa Pataky also love art, especially the permanent ink kind. According to Vogue Australia, the mother-of-three has dozens of tattoos sprinkled over her body. Hemsworth, on the other hand, told People (via Sunshine Coast Daily), "They're a pain to cover up when you shoot a movie. It's, like, an hour or makeup." Nevertheless, celebrity tattoo artist, Dillon Forte, spoke to Nicki Swift about Hemsworth's body art and surmised that Hemsworth's tattoos "are about deep family and personal relationships, tied in with sentimental value." He may complain about how long it takes to cover up, but the body art means a lot to him.
The pair also has matching tattoos, according to Hello!. Hemsworth and Pataky both wear five symbols of the Runic alphabet correlating with the English letters C, E, I, T, and S, which are also the first letters of Chris, Elsa, and their kids, India, Tristan, and Sasha. Presumably, the letters represent their children, and they chose to show their commitment to their family with a visible reminder on their bodies. Vogue Australia also reports that the couple went a step further with Hemsworth inking the "C" on her wedding ring finger, while she returned the favor by tattooing her first initial on his. Hemsworth and Pataky committed their forever with ink markings on their skins — what a display of love and commitment!
Elsa Pataky tattooed her own fate
Elsa Pataky may also have the gift of foresight. Decades ago, she made a decision that helped the stars align themselves in her favor and potentially sent her future husband on his way. Pataky was just a teenager when she got a tattoo on her bicep. In 2018, when Pataky spoke to Vogue about her dozens of tattoos, she revealed that she got her Thor-inspired symbol tattoo when she was just 15 years old. At the time, she just got the tattoo because she liked it and had no idea what her marital fate would hold. "Yes, it's about Thor and I ended up marrying who plays Thor!" she laughed.
Her husband, Chris Hemsworth, has become synonymous with the "Avengers" character he has portrayed since 2011. Hemsworth and Thor have become synonymous for many Marvel fans. Even Pataky had to admit, "It is shocking how things in life [turn out]. I just liked that [symbol] and the legend he had was so beautiful and I wanted to keep it," she said. Now she has her own real-life Thor to keep forever. If that's not predestined love, then what is, right?
Thor doesn't keep his hammer on display
Chris Hemsworth has the world at his feet as the God of Thunder, Thor. After the first flick came out in 2011, he quickly rose to fame and became one of the most recognizable faces in the "Avengers" multiverse. But no matter who he may be to the world, Elsa Pataky made sure he realized who ruled the roost at home, especially when it comes to decorating their abode.
In 2019, Pataky spoke to Australian radio show "Fitzy & Wippa" radio host Michael 'Wippa' Wipfli. In a previous interview with Hemsworth, Wippa remembered that the actor had mentioned that he had wanted to display his Thor hammers on the table at home. "Yes, he always picks the best places in the house," Pataky dived in. She dished that she had banned the mythical tools from public display in her house. She went on to explain why she would not have the hammer on her table. "It's not going there. We have five of them for every movie he's done. Like, seriously, no," she said.
Hemsworth confirmed his wife's talent in a "Jimmy Kimmel Live!" episode in 2020. The actor revealed, "I put it on the mantelpiece, my wife puts it back into the cupboard. I'll put it [on display] in the kitchen — it goes back into the cupboard." Yikes! Message received, Mrs. Hemsworth.
Chris Hemsworth is embarrassed when his wife is right
Even superheroes make mistakes. Elsa Pataky, Chris Hemsworth's wife, dished a chuckle-worthy story about how her husband is sometimes too embarrassed to admit that she's right. On the Australian radio show "Fitzy & Wippa" (via Pinkvilla), she shared a story that kicked off at the market. "He gets really nervous to park when everyone's watching him." Uh-oh! Sounds like a recipe for disaster. But the worst was yet to come. Pataky continued, "And the car got bogged, and I'm like, 'Let me get it.' He's like, 'No! Just leave it there! Don't touch it!'" The mom-of-three tried to intervene and told him, "I think if you go backwards," but the action star knew better, saying, "No! We need a crane." Also, Hemsworth wanted to push the car manually. As Pataky put it, "I think he does it on purpose because he loves to push the car. 'Look at this, how strong I am, I move the car.'"
Pataky wisely backed off and went home while Hemsworth enlisted someone to help him get the vehicle home. When Hemsworth returned, she wanted the details, but he only managed, "Yeah, great, it was really deep in there." Pataky ended the story with the punchline. "After a few days, he's like, 'I have to tell you the truth. It actually didn't need anything, it just drove back, and the car totally moved.' He gets really embarrassed." At least, Hemsworth has his honesty going for him.
Elsa Pataky does heroic stunts in real life too
Elsa Pataky wears many hats. Not only is she a wife and mother, but she's an internationally acclaimed model, actor, and polyglot — and she's also quite capable of rescuing herself. The Spanish beauty had a close call in July 2020. She took to her Instagram Stories to share the harrowing tale of how she got trapped in her car on a flooded road, per Entertainment Tonight. Her car had stalled in a pool of water and she needed to escape from her vehicle. In the video clip, she said, "I got stuck, yes. Awesome. Oh god, oh god, what am I doing?" Pataky was slightly unnerved as the water level rose around her car. She eventually escaped via her car window.
According to Auto Evolution, it seemed as if Pataky had been driving the family van when she got "a bit too optimistic," per ET. She revealed, "I was so sure I could cross!" Chris Hemsworth, family friend Luke Zocchi, and their three children were also in the car. Everyone managed to leave the vehicle with only Pataky left at the wheel. Luckily, she has some special skills and squeezed her way through her window.
Their marriage survived a major stressor
Chris Hemsworth and Elsa Pataky seemingly have the world at their feet. Both of them have successful careers that they are able to balance with a fulfilling home life with their three children. They live in sunny Australia and appear to be living life on their own terms. However, Hemsworth revealed it wasn't always this way.
The actor told News Australia that he and his spouse survived one of the most challenging ordeals of their marriage when they purchased and renovated their Australian home that overlooks Seven Mile Beach. "We've been building a house for a while now and that's always fun, isn't it?" At the time, they were nearly finished with the three-year project. Hemsworth dished, "Yeah, I think the vast majority of divorces happen during the process of building a house, so I'm thankful we've survived that. It's been interesting deciding on tap ware, couches and things that I never thought I'd even be bothered about." Luckily, the couple made it through the renovations and have even moved to Sydney in the meantime.
Chris Hemsworth thinks he irritates Elsa Pataky with some of his hobbies
Chris Hemsworth apparently knows his wife well. Besides her distaste for his interior design skills (that's a hard pass on the Thor hammer, Chris), he thinks that Elsa Pataky has other pet peeves. He told News Australia, "I can be pretty damn stubborn, so can she, which is probably where we tend to butt heads occasionally." He then mused, "What annoys her about me?" before listing how he sometimes irritates Pataky. "Probably if I surf a little long or stay out a little late from time to time. But that's usually because of traffic!" he confessed. You've got to keep your eye on the clock, bud!
When asked what annoyed him about Pataky, Hemsworth hilariously revealed that he knows how a marriage works. With careful words, he painted a picture of his wife, "Well, if she's reading this, 'nothing annoys me about her!" he joked. He then divulged, "I gotta make sure there is a place for me in the bed when I get back home." Smart boy! He has obviously learned the unspoken laws of when to air his dirty laundry. Of course, the answer is never!
The real reason Elsa Pataky has not changed her name
Chris Hemsworth and Elsa Pataky have been married for over a decade. The loved-up couple has made huge sacrifices to create an idyllic life for their children. For one, they moved to Australia in 2014, and Pataky also put her career on hold while raising their young children, per Daily Mail. However, there is one change that she hasn't made. In an interview with "The Kyle and Jackie O Show," the "Thor" actor talked about the real reason his wife hasn't changed her last name.
Hemsworth revealed that after tying the knot, Pataky originally wanted to take her husband's last name. "I think that she wanted to [change it]. I think she still may," he mused. However, upon their return to the States, he said that things changed. "I think it was when we were coming back from America. We were living in Europe and deciding where [to go]. It was a complication of passports and so on," Hemsworth explained.
Pataky previously told the Herald Sun (via Who Australia) that last names in Spain were a complicated issue. She uses her grandmother's surname "Pataky" as an actor, but she was born Elsa Lafuente Medianu. She revealed, "That's my Spanish name. We actually have two surnames as one, which is weird — your mum's and your dad's." And that's apparently why she thought her passport may be a nightmare to navigate.
Say what? How Elsa Pataky wins an argument
Elsa Pataky and her husband, Chris Hemsworth, are clearly in love. They have a beautiful family and have so much going for them, but that doesn't mean that everything is always smooth-sailing. Like most married couples, they argue, but Pataky has come up with an ingenious way to win an argument — she fights in Spanish.
Hemsworth appeared on "The Ellen DeGeneres Show" show and revealed that when his wife shouts at him in her native language, he knows there's trouble brewing. As the "Avengers" star noted, "When I hear the Spanish directed at me, it's usually unfortunate, controversial, aggressive situations" (via Entertainment Tonight). He also gave the talk show host a rundown of what was playing out in his mind. "So I'm just thinking, 'What is she saying right now?' and 'What's my comeback to this?'" he continued.
Apparently, Hemsworth believes that Pataky drops all pretenses when she's had enough of a situation. Her native tongue spills out as she gives him a piece of her mind. As he explained, "When we're fighting, basically, which is never! If she gets angry enough she'll drop the English façade." It seems as if Pataky may be on to something. What better way to fight with someone if they don't understand what you're saying but can understand your tone?
A whirlwind wedding for Chris Hemsworth and Elsa Pataky
For some people, they just know when they have found the one. And it seems as if Chris Hemsworth and Elsa Pataky's story may be one of those super-sweet romances where everything fell into place. Hemsworth gushed about their whirlwind romance and spur-of-the-moment wedding when he appeared on "Good Morning Britain" (via Daily Mail).
The couple had met and wed in 2010, setting records for the speed at which they knew that they were meant to be together. Even though he and Pataky had already been married for about five years when the interview took place in 2016, the actor still spoke fondly about their connection. "It did happen quick and it just felt right, it made sense," he explained.
Hemsworth also dished about their December wedding, divulging that they were spontaneous. "There was no great plan to any of it to be honest," he revealed before spilling how they decided to take the big step. "We were on holiday and we said, 'Why don't we get married too?' And then the next minute… There probably should have been some planning but it all worked out," Hemsworth pointed out. He divulged that they had the perfect opportunity and decided to go with it. "Honestly, we had both our families on holiday at the same time, just randomly, and we said this is a good opportunity with everyone together so we just did it," he elaborated. Talk about #vacationgoals
Elsa Pataky was bothered by their age difference
Although she may not look it, Elsa Pataky is seven years older than Chris Hemsworth. Even though their age gap was much smaller than other celebrities, the wife of the Avengers star was not sure what a commitment to someone much younger would look like. She was plagued by the idea that they may not have wanted the same things out of life. When they got married in 2010, per Daily Mail, Pataky was 34 years old and Hemsworth was a youthful 27.
Hello! (via Female First) reports that Pataky had reservations about Hemsworth because they were at different stages of their lives. "Chris is younger than me and I imagined he wouldn't want to start a family any time soon, so I didn't initially think it would work out. But it turned out that he thought the same way I did," she revealed to the outlet. It also seems that she had lucked out because they actually wanted the same thing. Ironically, it also seems as if the passage of time has been the best thing for their relationship. She mused, "Over time we have evolved together and [learned] from each other. I'm so proud to see what he has achieved and how we have grown together. Luck has nothing to do with it because we've worked hard, but we are very grateful for the life we lead." What a mature, thoughtful couple!
One family, two action heroes
The Hemsworth-Pataky children have parents that other kids can only dream about. Both their parents are action heroes in blockbuster flicks. Pataky is well-known for her role as Elena Neves in "The Fast and the Furious" franchise. She played alongside Vin Diesel's Dom Toretto between 2011 and 2017 before her character was killed off. As of this writing, Pataky is filming the action movie "Interceptor," where she has the lead role of a U.S. Army lieutenant, per The Hollywood Reporter.
Chris Hemsworth has been superhero extraordinaire since 2011 when he first joined the Marvel Cinematic Universe as Thor. Together with Mjollnir, he has been saving the universe, one thunderbolt at a time. However, the couples' kids did not always know that their parents were stars. According to News Australia's Kid Spot, Pataky said in 2018, "They don't know who is Thor and who is papa … and [that] he doesn't go [around] with the hammer all the time and things like that." She also divulged that, at that time, they had a limited idea about being an actor. "They don't understand what is the TV yet, and you [can] do that for work. Kind of my oldest one [then six-year-old India Rose] is getting it, but sometimes [the children ask Hemsworth] 'What are you going to be, papa or Thor?' and [he says], 'Like both.'" Now that they're bigger, hopefully they're taking advantage of their parents' kick-ass status.
Chris Hemsworth is the only family member who doesn't do this
Chris Hemsworth is married to Spanish bombshell Elsa Pataky, but that doesn't mean that they always understand each other. Pataky appeared on "Today" in 2017 (via Daily Mail) and lamented the fact that six years had already passed since their wedding, and her husband still hadn't learned her native tongue. "He promised me, he said, 'I'll be speaking Spanish in two months' there we go, we have been together for six years." She also revealed that she speaks Spanish to their kids and explained why she did so. "That's important, that's what my mum did to me, talked in Romanian. I start to speak in English, I'm like, "I don't express myself great." I got used to making an effort to speak to them in Spanish," Pataky said.
In 2018, Hemsworth appeared on "The Ellen DeGeneres Show" and stated his side of the story. When Pataky is correcting their kids in Spanish, Hemsworth launches into actor mode. "I sort of pretend to [understand]," he dished. "My wife will be telling them off … and I'll be standing there like, 'That's right!'" he quipped. However, he also admitted that he usually pulled Pataky aside to ask, "'What'd you tell them?'" It's okay Chris, we all know love is the universal language and your kids understand that. Luckily, you and Elsa have love in spades.